Shopify Email Popup is An Excellent Marketing Tool
Email list popups are a marketing tool of choice if you want to get more subscribers and potential customers for your Shopify store.
Aside from getting more subscribers, you can use pop-ups to promote coupon codes to your customers to get more sales, entice customers to buy from your store, and more.
That said, it is important to keep in mind that not all popups are worth using. A poorly designed popup can do the opposite of what you intend to achieve: drive away your customers and send your sales crashing to the bottom.
You surely don't want that – neither do we!
Therefore, we have compiled a list of 20 inspiring popup templates you can edit, customize, and use to grow sales. These are templates we've handpicked from our library of over 1000 popup templates.
We have divided these pop ups into 4 categories, namely:
Let's get into it!
Best Email Popup for Shopify
We kick things off with email list popups. These popups are ideal if you want to win more subscribers and grow your mailing list. You can also use a free email popup alongside with the list popup.
1. Summer Collection Email List Popup
Use this template
Are you looking to build excitement and buzz for your upcoming summer sales? Or maybe you want to build a base of eagerly waiting customers who will jump at your summer sales offer once you roll it out?
You first need to build an email list for your Shopify store. And there is no tool better fitted for this job than this email list popup template.
It features a captivating image that gives off the feel and vibe of summer. And there is an opt-in form to capture your visitors' email addresses.
You don't have to use this Shopify email list popup just the way it is; Adoric allows you to edit and customize it the way you want.
2. Discount Email List Pop-up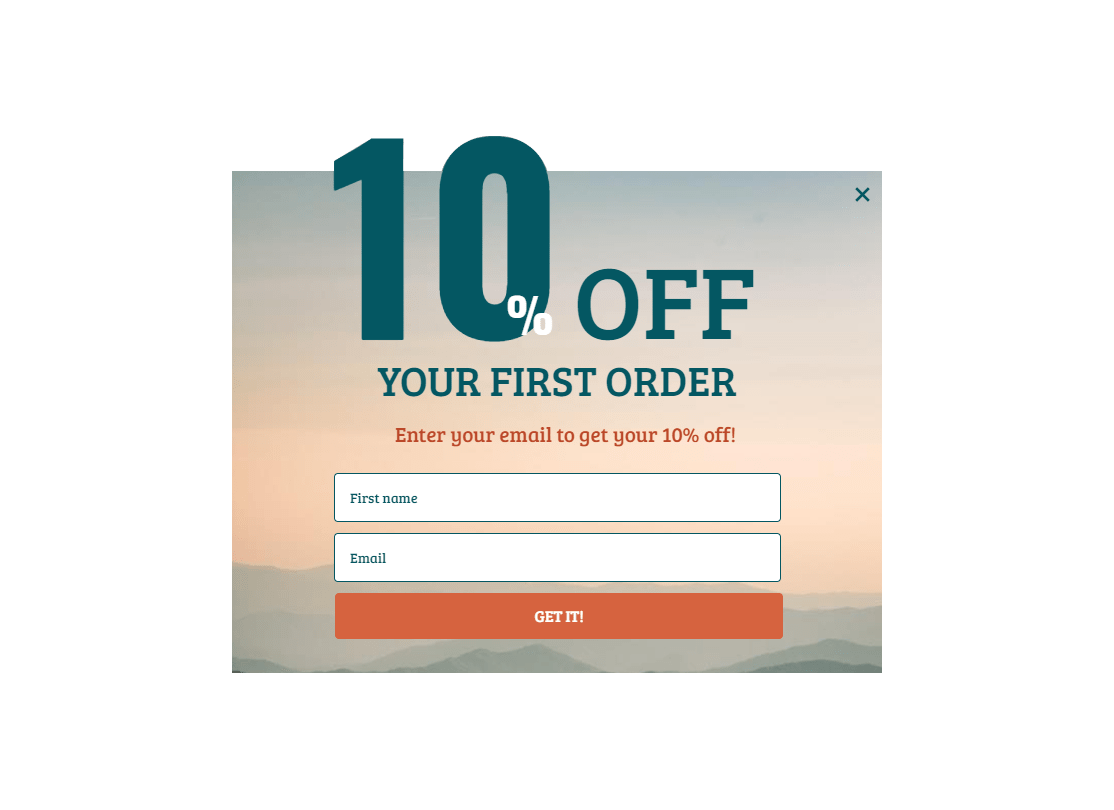 Use this template
Getting first-time visitors to buy from your store can be challenging. Sometimes, the best way to get their attention is by offering them discounts. This will entice them to buy from your store and motivate them to give you their email addresses.
Hence why we created this pop-up template. Use it to capture the attention of visitors to your website and convert them into subscribers. It is easy to edit and customize, and you don't have to know anything about web design or coding to use it.
Nothing on this template is fixed; you can change or remove the text, background image, and colors.
3. Easter Sales Popup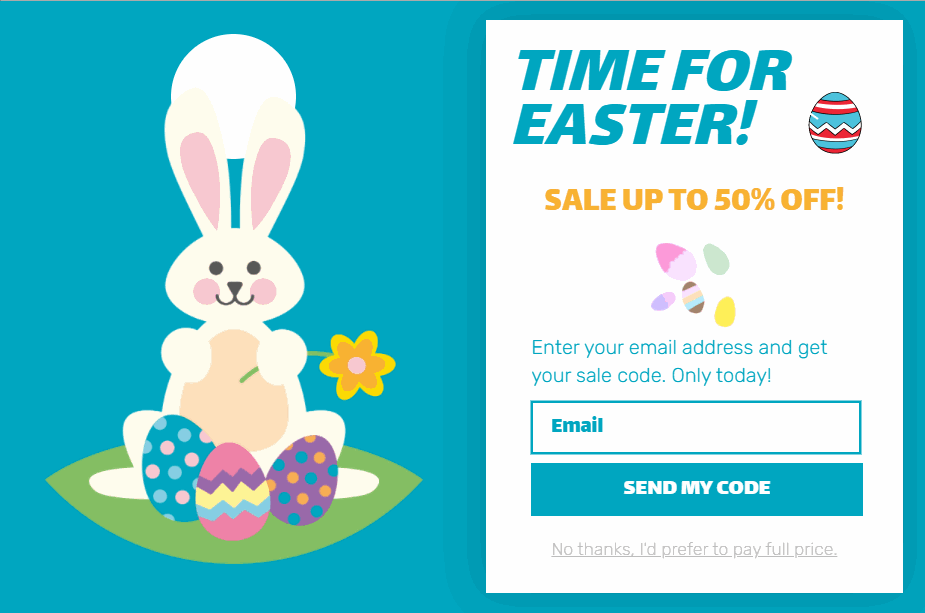 Use this template
Easter is around the corner. Got some marketing plans to make the most of this holiday shopping season? If you do, that marketing plan is not complete without an email list opt-in popup.
With an opt-in popup like this one, you can get a lot of potential customers ready to jump on your easter sales offers.
It features an illustration of a bunny and eggs, indicating easter is coming.
You are at liberty to edit and customize this popup template to your heart's content without using any graphic design application, thanks to our easy-to-use design editor.
4. New Collection Shopify Email List Popup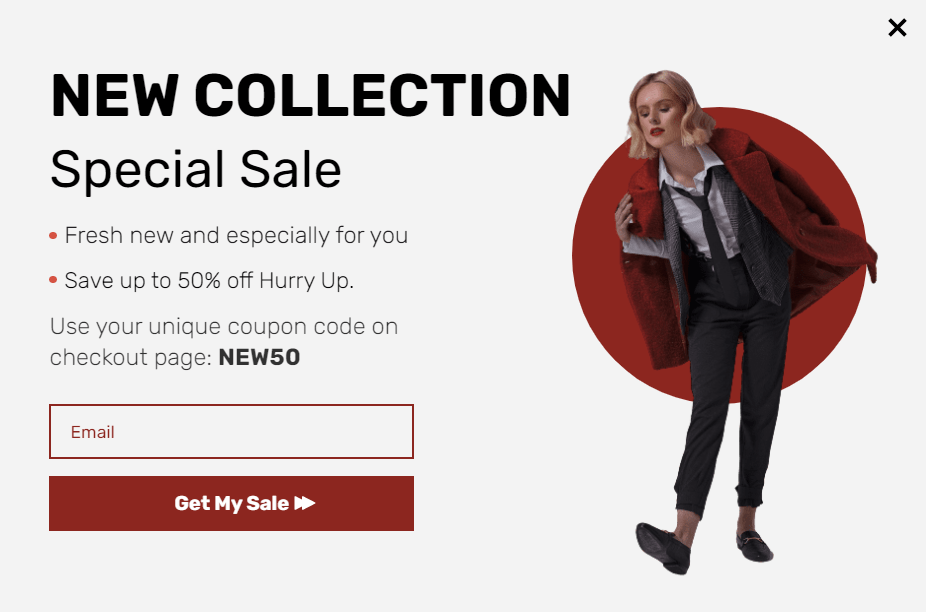 Use this template
Coupon code marketing can generate a lot of sales for your Shopify store. They are more effective when used in an email list popup like the one you see above.
This template features a coupon code, which you can always change to match your store's design. There is also an attention-hooking CTA button at the bottom to prompt visitors to click through to your store.
Don't like the image or color combination? You can always change it.
5. Discount Popup for Returning Visitors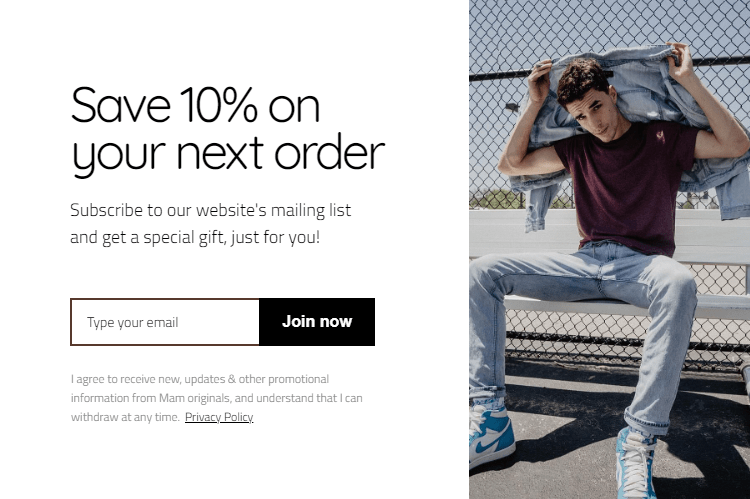 Use this template
You will lose a lot of sales if you only focus on your first-time visitors, leaving out your returning visitors.
In fact, it's a lot easier to get sales from returning visitors than from first-time visitors. Studies have shown that people who have visited your website before are 75% more likely to buy than those coming for the first time.
You will want to incentivize your past customers to make them want to come back and buy some more from you. But you need to get their email addresses. This popup will do the magic.
Why not add it to your Shopify store right away and start driving more sales for your business?
Cart Saver Popups
Have your customers been abandoning their carts before completing their checkout? That can be frustrating because you would have lost a lot of sales.
What if we told you that you could recover most of those sales using cart saver pop-ups? Here are some popups designed for this particular purpose.
6. Cart Saving Popup
Use this template
Your cart-saving popup is of little use if it cannot instantly grab your customers' attention before they exit your website. Hence, why we did our best to make this pop-up template as catchy as possible.
The cart illustration alone is enough to make visitors attempting to abandon their cart rethink their actions.
You can edit this template and make it fit your website branding by using your preferred colors and font.
7. Blue-Orange Cart Recovery Pop-up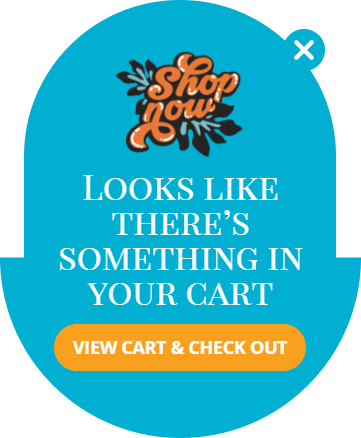 Use this template
Cart abandonment is a serious problem in eCommerce. Studies have shown that about 70% of shoppers abandon their carts without completing checkout.
One effective way to cut down on cart abandonment on your Shopify store is by using a cart recovery popup like the one above.
It is highly editable, mobile responsive, and easy to implement.
The best part is that Adoric allows you to show this popup exactly when a visitor motions to exit your website.
8. Cart Reminder Popup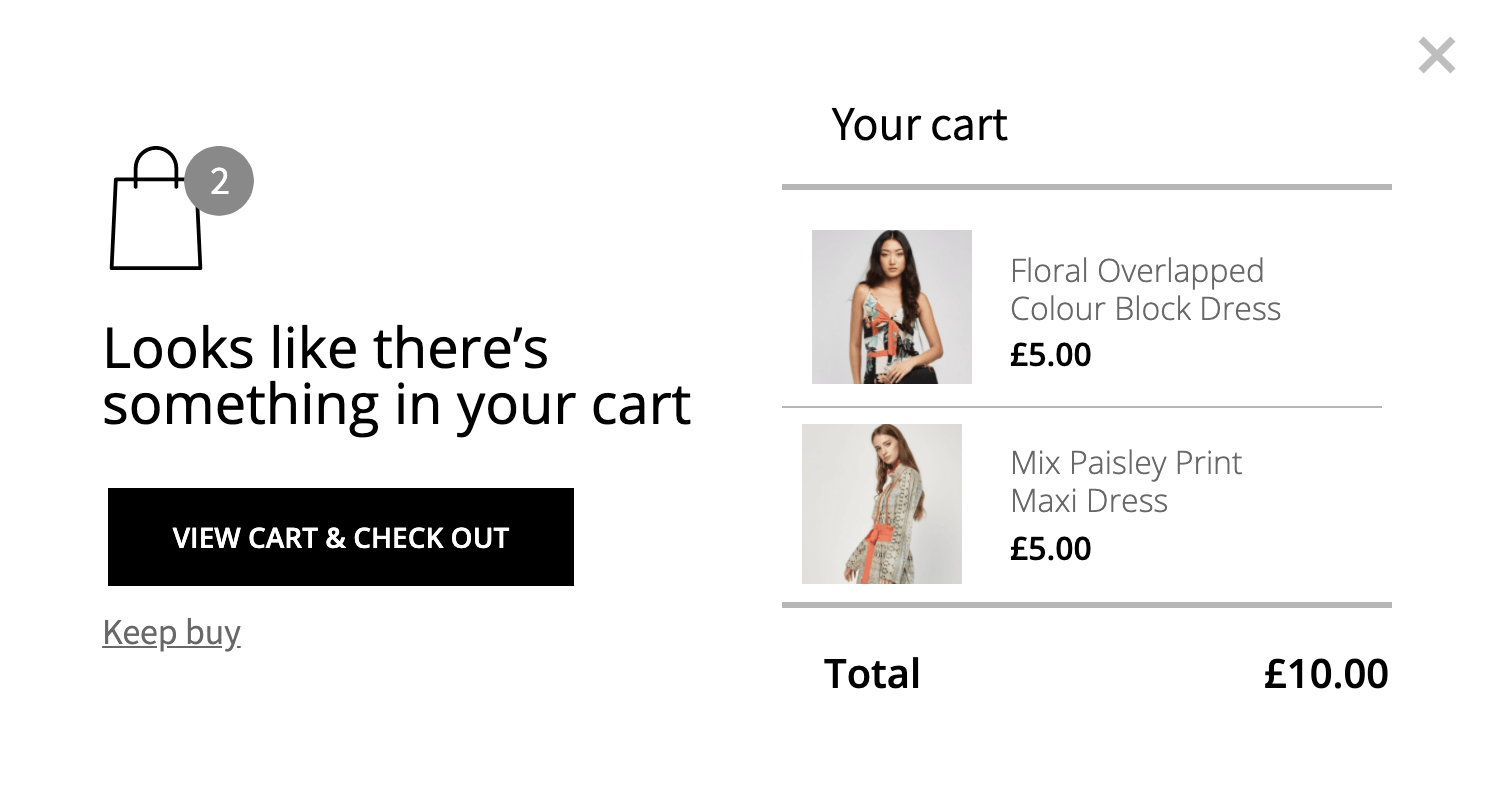 Use this template
Wouldn't it be nice if you could show your customers the products they left in their cart just as they attempt to exit your website? Of course, it will. Why not use this popup to make that happen?
You could even make things more interesting by embedding a discount code. This will make your customers want to complete their checkout without further hesitation.
9. Animated Cart Saver Popup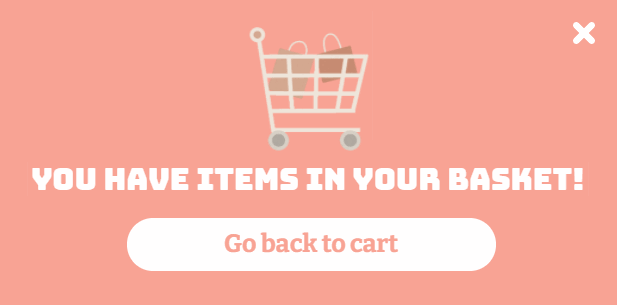 Use this template
When customers abandon their carts, it could sometimes just be that they got carried away and forgot they had started checking out.
You can solve this problem by making this animated popup appear on your customers' screens after a couple of minutes of inactivity. This will help remind them there are products in the cart and prompt them to complete their checkout.
Adoric allows you to time the appearance of this popup however you please.
10. Exit-Intent Cart Abandonment Popup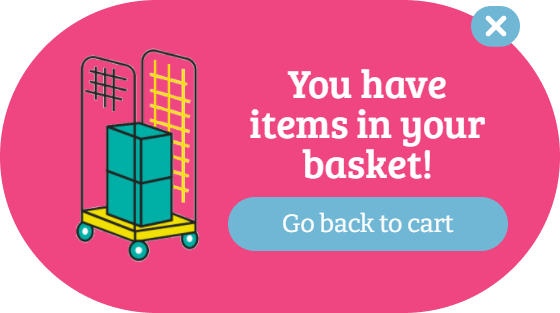 Use this template
The best way to get shoppers to come back and complete their checkout is by showing a cart reminder popup when they motion to exit your website.
And there is no other popup suited for the task than this pink-themed cart abandonment popup.
Don't worry; you can always change the color and font to whatever tickles your fancy.
Coupon Code Promotion Pop Up
Coupon marketing can be effective at boosting your sales. And believe it or not, shoppers love coupons. In 2020, over 90% of online shoppers used coupons for their purchases.
If you aren't using coupons on your Shopify store yet, you are leaving a lot of money on the table.
That said, here are popups to help you promote your sales offers with coupon codes.
11. Yello-Themed Discount Code Popup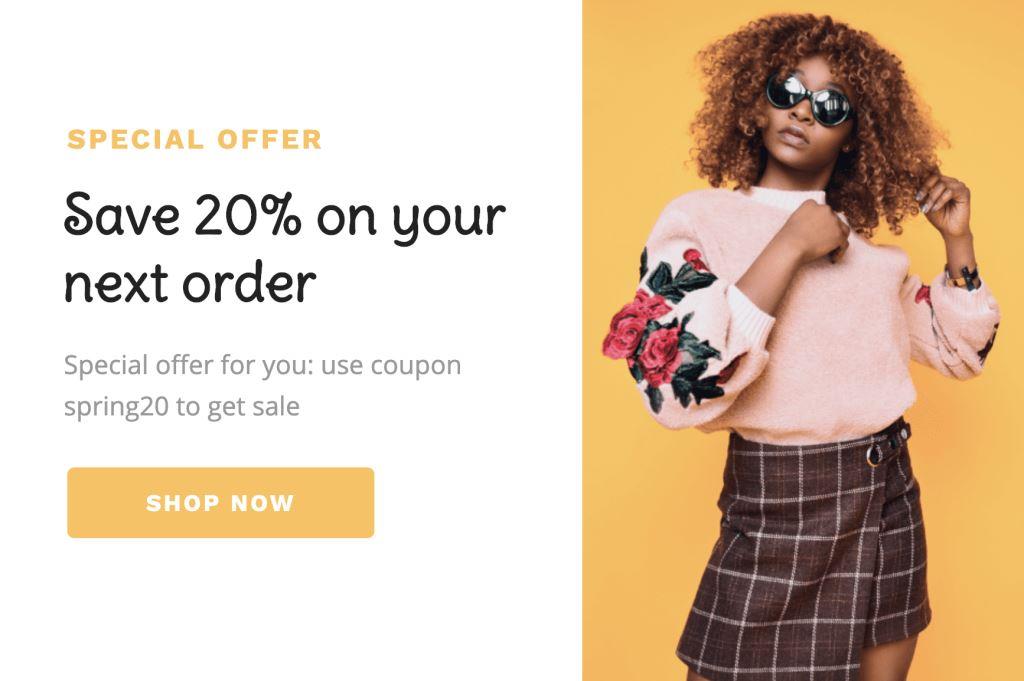 Use this template
A 20% coupon discount is too good of an offer to miss. Thus, your visitors will want to jump at it without hesitation.
You can even kick things up a notch by increasing the discount to, say, 50%.
Of course, you have to be careful with the discount you offer not to hurt your profit margin and ruin your business.
You can always make the color and font used in the template design match your branding preferences.
12. Last-minute Deal Popup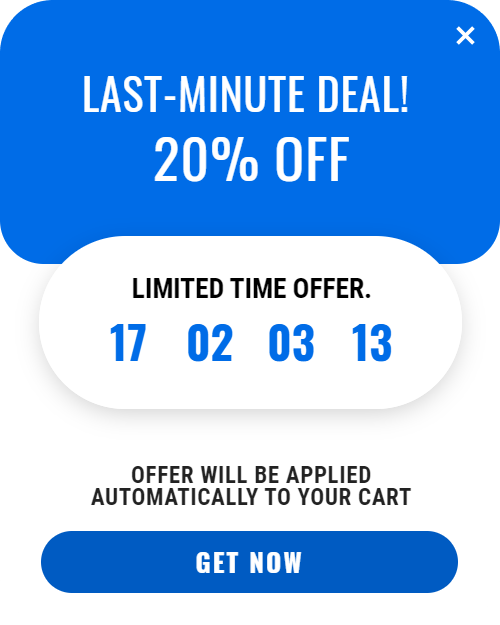 Use this template
Make your visitors jump at your sales offers and promotions by creating FOMO; short for Fear of Missing Out.
This popup uses two elements to create FOMO: a "last-minute deal" text and a countdown timer.
When potential customers know they have a limited time window to make a purchase, they have no option but to act hastily. Isn't that what you want after all?
Adoric gives you the option of showing this popup to a specific demographic of audience. For example, you can show it to visitors from the US or iPhone users.
13. Summer Sales Discount Shopify Popup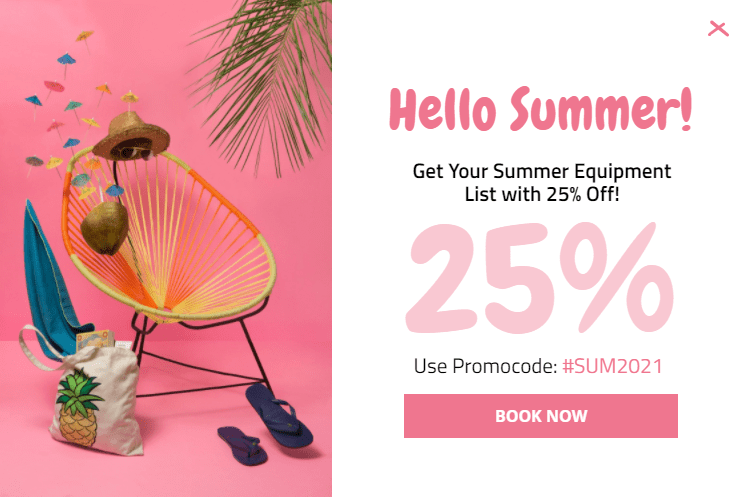 Use this template
The color combination used in this popup gives it a feminine vibe and feel. This popup is for you if you sell women's clothes, footwear, skincare products, cosmetics, etc.
And you don't only have to use it to promote summer sales;  you can also use it to promote Easter, Christmas, Black Friday, etc., sales.
14. 25% Discount Popup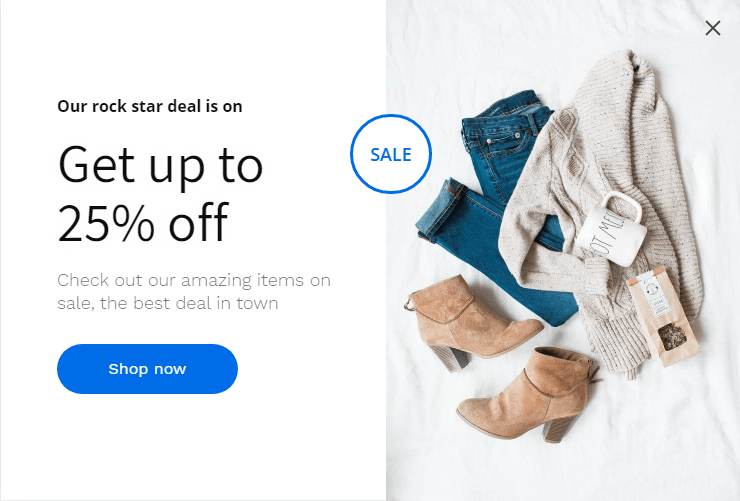 Use this template
Discount marketing is very popular with apparel and clothing online retailers. If you are in the clothing and apparel niche, you will agree that most of your customers will want to get discounts.
Let them know you offer discounts by using this Shopify popup. It's simple, elegant, and at the same time, catchy.
This popup is also ideal if you sell print-on-demand products such as mugs, phone cases, and lots more.
You should know by now that all our templates are highly editable, including this one.
15. Animated 40% Discount Popup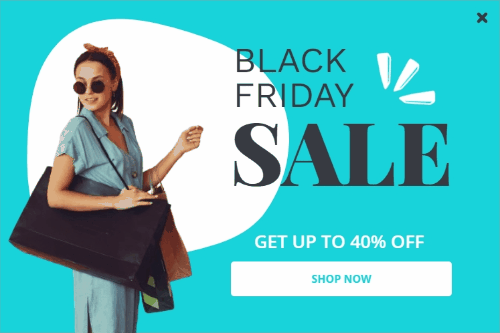 Use this template
A 40% discount is an incredible offer nobody will want to miss for anything. Why not use this popup to entice your visitors and get them to come in droves to your store?
You don't have to wait till Black Friday to use it; with the Adoric design editor, you can always change the Black Friday text or remove it altogether.
You are also free to change the colors to the ones you like.
Multi-step Shopify Popup
Would you like to display a thank-you note after a visitor subscribes to your mailing list? Or would you like to display a Yes/No popup on your website and show visitors a different popup depending on their answer?
A Multi-step popup is your best bet.
We've got quite a number of multi-step popup templates. Here are some of them:
16. 2-step Opt-in Popup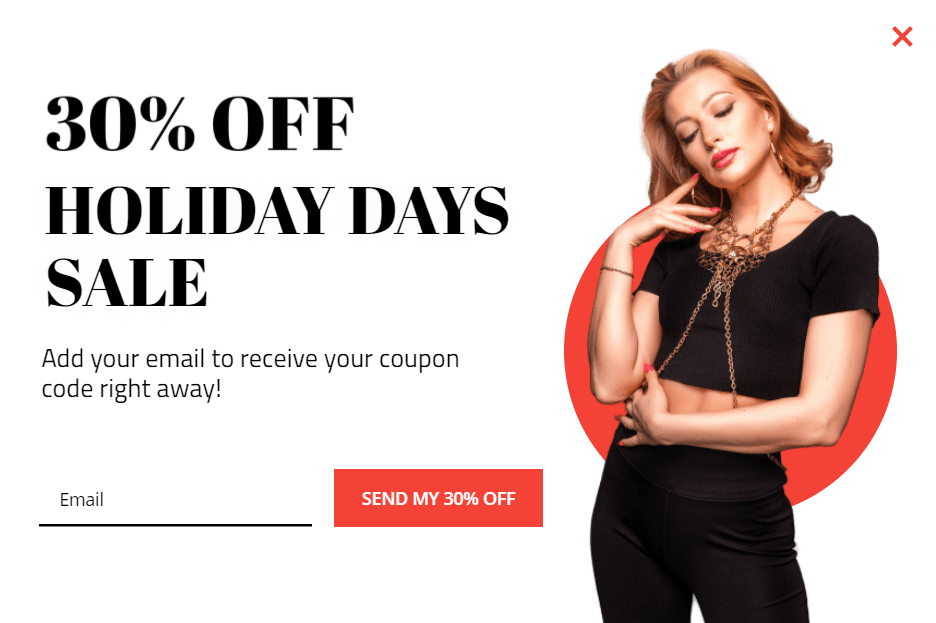 Use this template
Wouldn't it be nice if you could instantly reward your visitors with a coupon discount once they subscribe to your list? It will, surely.
We designed this popup for that purpose. It displays a coupon immediately after a user clicks the send my 30% off button.
Needless to mention that you can customize this template exactly the way you want.
17. Thank-you Popup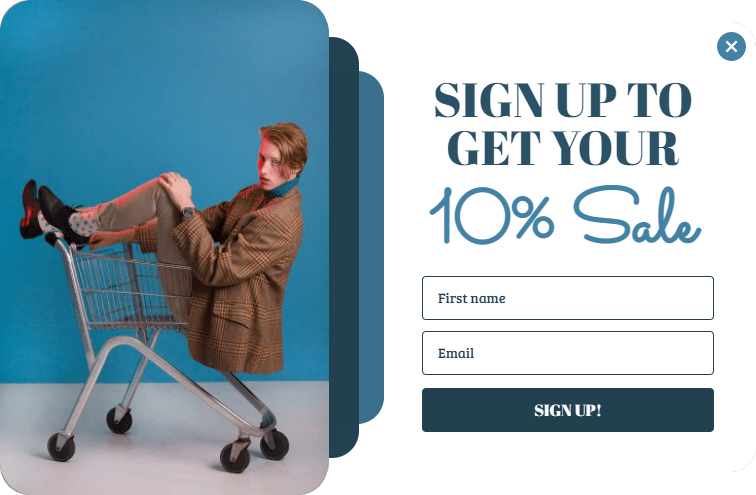 Use this template
So, you want to say a big thank you to your users each time they subscribe to your newsletter? This thank-you popup is all you will ever need for that.
The best part is that you add a custom thank-you message. You could even use a different image that best suits your taste without breaking a sweat.
18. 2-step Spin to Win a Coupon Popup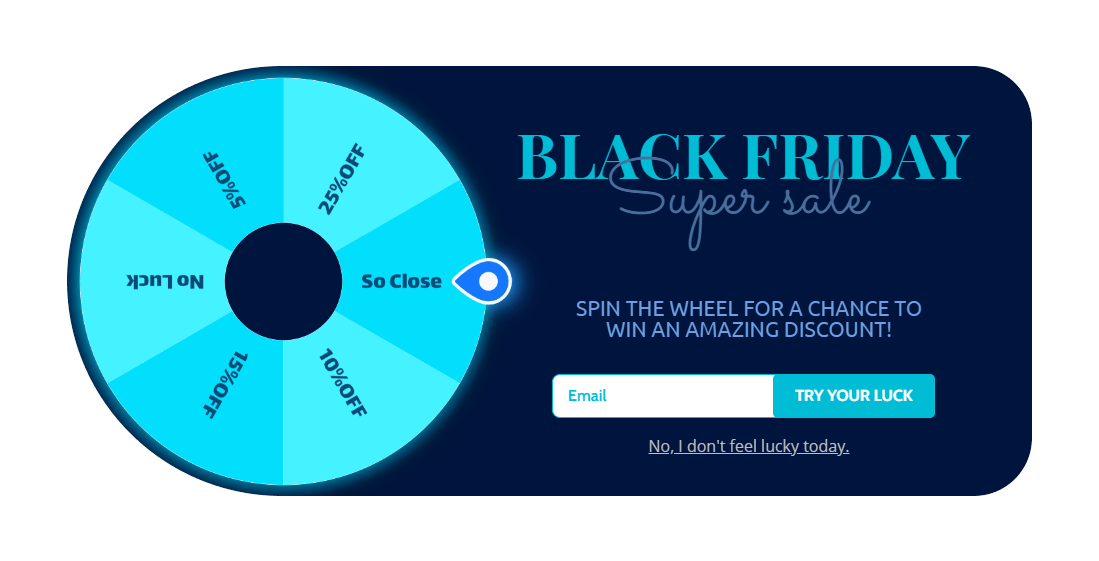 Use this template
Are you tired of showing boring popups that barely create excitement with your Shopify website visitors? We've got this nice spin to win a coupon popup for you.
With this popup, you can create excitement with your visitors by making them play the game of spin to win a coupon. The coupon they win after spinning the wheel will be displayed on another popup that appears immediately.
19. Cyber Monday 2-step Lucky Wheel Popup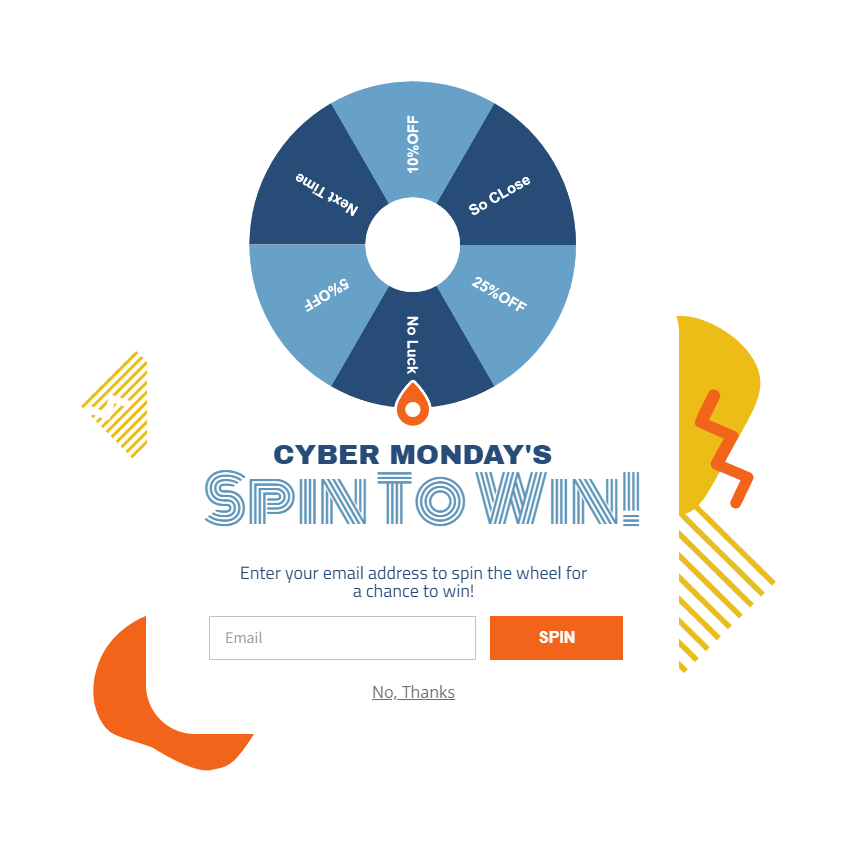 Use this template
Do you want to gamify your visitors' experience by giving them a chance to win coupons by playing the lucky wheel game? This popup is ideal for that.
And yes, you aren't only limited to Cyber Monday sales; with some tweaking and editing, you can use this popup for every holiday sales promotion.
20. 2-step Floating Bar

Use this template
Scared a popup would ruin your visitors' experience and make them abandon your website due to their rather intrusive nature? A floating bar is a better choice.
As the name suggests, a floating bar floats at the top of your website and follows your visitors as they scroll down your web page.
They take up little space, yet are attention-grabbers.
Bonus: Falling Gift Popup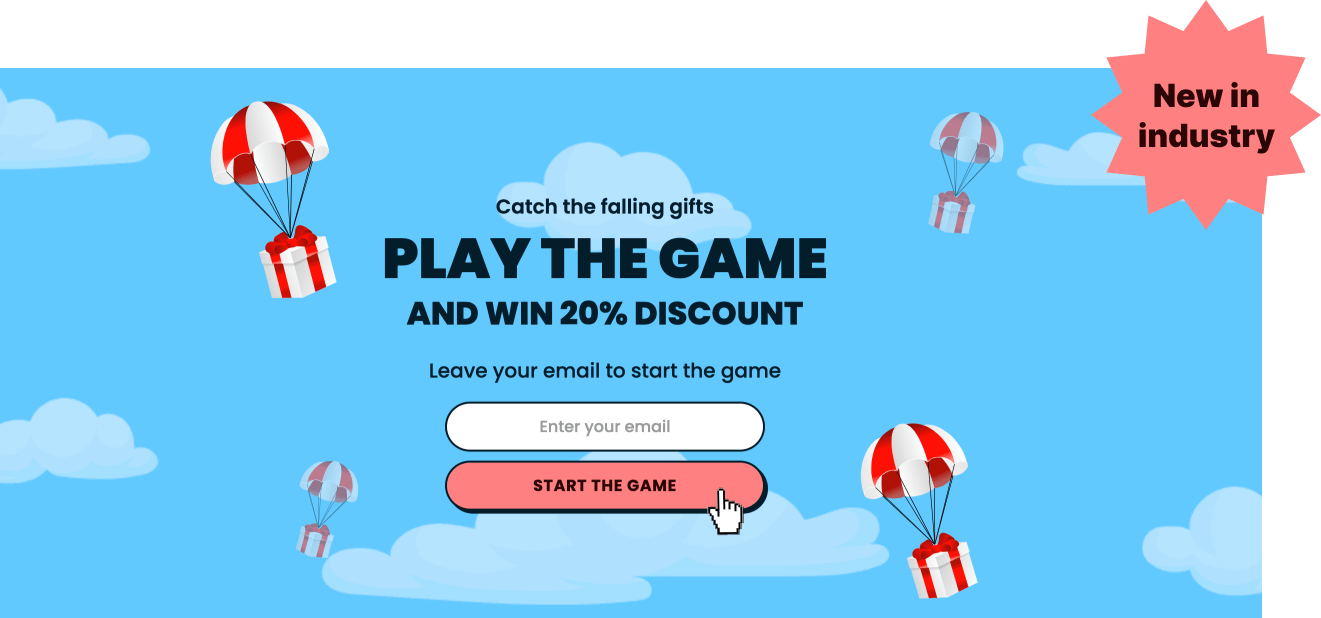 If the popups we've shared so far don't tickle your fancy, you can try our falling gift game, which is a gamified popup. The cool part is that our falling gift game converts better than spin to wins. In an experiment we conducted, we discovered while spin-to-wins get 18% conversion, it's 30% for falling gifts. Plus, this is an innovative tool for eCommerce as no one but us has developed it.
How Does Falling Gifts Game Work?
Well, it's pretty simple. First, a popup appears moments – typically less than 30 seconds, depending on your settings -after a visitor arrives on your website. It could be a full or half-display popup. On the popup, the user will see balloons falling through and then be asked to input his/her email address (this is where the coupon code will be sent after making a win).
All the user needs to do is click on the falling balloons to reveal the gifts embedded in the balloons. Depending on how you set the system, they might have to attempt several times to win a gift, which is usually a coupon. For now, you can only allow them to try 1 to 6 times.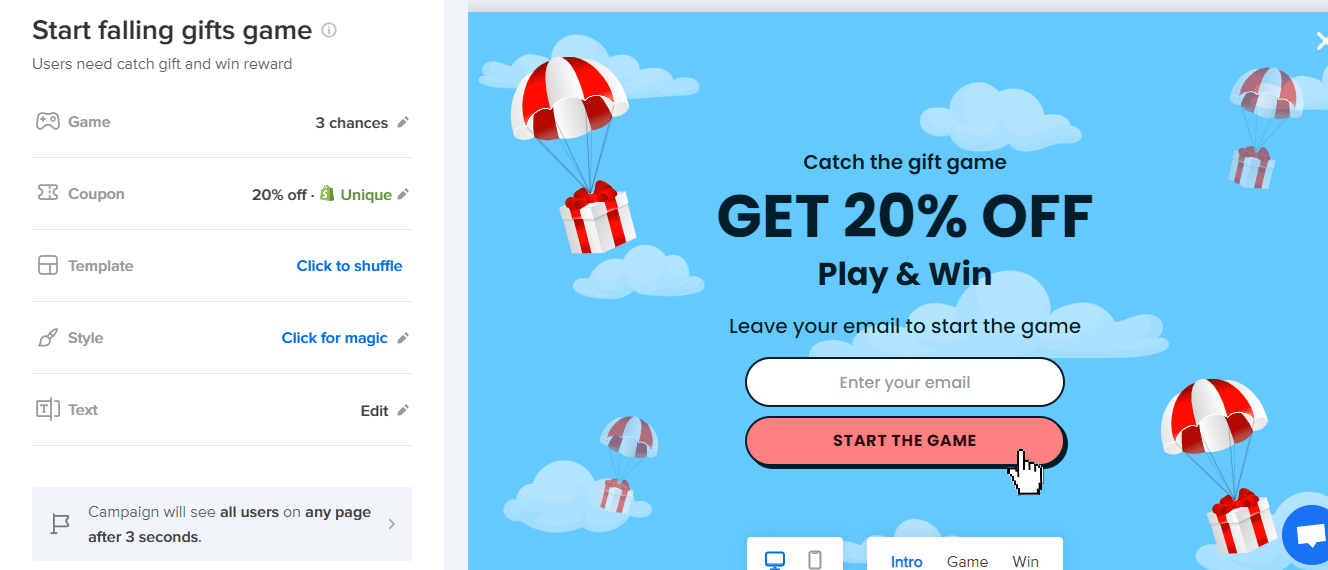 Setting up the falling gift game is very simple, thanks to our intuitive, drag-and-drop editor.
Sign up for an account with us to try out the falling gift game to experience an uptick in your conversion rate.
Conclusion
There you have it; 20 Shopify popups to grow your store.
Adoric makes it easy to create these popups, and you don't need any coding skills.
Ready to take Adoric for a spin?