Alibaba or Aliexpress: which is better and cheaper for dropshipping?
This is one question many people looking to get into dropshipping ask. Another common question we see people ask online is: Are Alibaba and Aliexpress the same?
To begin with, Alibaba and Aliexpress are two popular marketplaces that connect retailers and consumers with product suppliers and manufacturers.
They are both owned by the same parent company, the Alibaba Group. The Alibaba Group is a behemoth in China's eCommerce landscape, holding about 50% of the market share.
That's pretty much the only thing they have in common, as both platforms operate differently and have contrasting business models.
In this post, we will run a side-by-side comparison between Aliexpress and Alibaba to help you understand their differences and know which is best for your business.
Here's an overview of what we will be covering:
Let's get started already
Difference Between Alibaba and Aliexpress

Let's start with Alibaba.
Alibaba caters to B2B businesses looking to buy in bulk at wholesale prices. Often, there is a limit you must cross with your order to qualify for wholesale prices. Alibaba calls this limit Minimum Order Quantity.
Aliexpress, on the other hand,  is a B2C marketplace where just about anyone can buy from without restrictions. No minimum order quantity restrictions. This makes it ideal for beginner dropshippers on a lean budget and individual shoppers.
Let's now have a closer look at both platforms to help you better understand how they differ.
What is Alibaba?
Not to be confused with the Alibaba Group, Alibaba is an eCommerce platform that connects suppliers and manufacturers with wholesale buyers. Alibaba currently has presence in over 190 countries and has a seller base of over 150,000.
Manufacturers looking to source parts and materials for production can do so on Alibaba. You can also buy semi-finished goods from Alibaba at a competitive price.
In addition to that, you can buy industrial chemicals, plastic, rubber, office materials, electrical equipment of any type, vehicles and trucks, auto parts, and a lot more from Alibaba. You can literally buy everything on Alibaba.

What's more, Alibaba makes it easy for you to contact suppliers. You can find these suppliers based on their region, product category, or directly by their name.
Alibaba offers order protection on every order you make. This ensures you get high-quality products delivered at the right time. More details on this shortly.
In addition to order protection, Alibaba has a robust payment solution. You can choose to pay for your orders using a credit card, wire transfer, Western Union, etc.
Key Features of Alibaba
Alibaba has been packed with lots of features to make buying and selling in bulk online a seamless experience. Here are some of them:
Request for Quotation (RFQ): You submit an order request. Suppliers would bid on it by submitting quotations, after which you choose the supplier to work with.
A CRM tool to help you coordinate your orders
Order tracking feature
Supplier background check feature
A messaging center
Transactions and logistics monitoring
Alibaba allows you to set up a buyer and seller account from the same spot, and you can switch between them at will.
You would have to sign up for a Supplier Membership account to sell on the platform.
How Does Alibaba Work?
To sell or buy on Alibaba, you need to sign up for an account. The signup process is simple and only takes about a minute – no need to wait for account approval.
Once you have created your account, the next thing you will want to do is to find a supplier.
There are a couple of ways to go about this. One is submitting a Request for Quotation ticket. To do so, you will have to provide the name of the item(s) you are looking to buy. You will also need to provide your preferred sourcing type, the quantity of products you wish to buy, and other relevant details to help suppliers understand what you are looking for.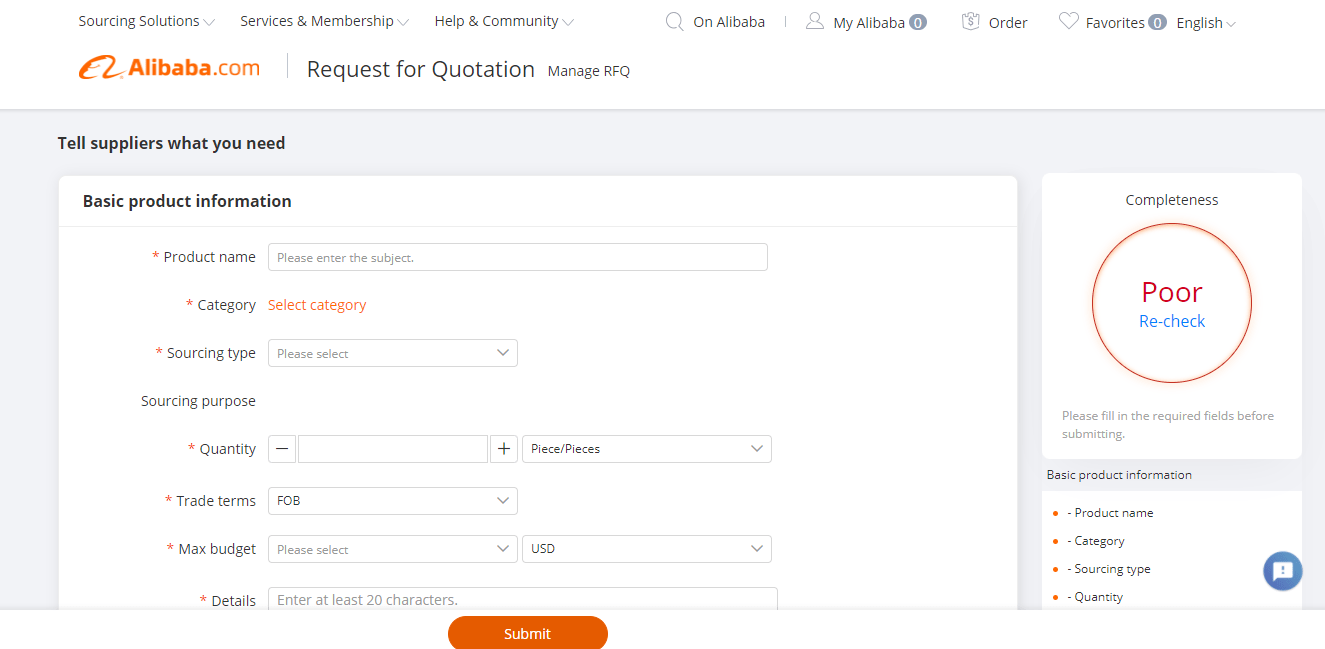 If you don't wish to use the RFQ option, you can find suppliers based on their country of location. Alibaba has suppliers from over 100 nations.
If none of those look like a viable option, you can find suppliers by searching for the product you are looking to buy. You'd see a "Contact Supplier" button on the search result page when you do.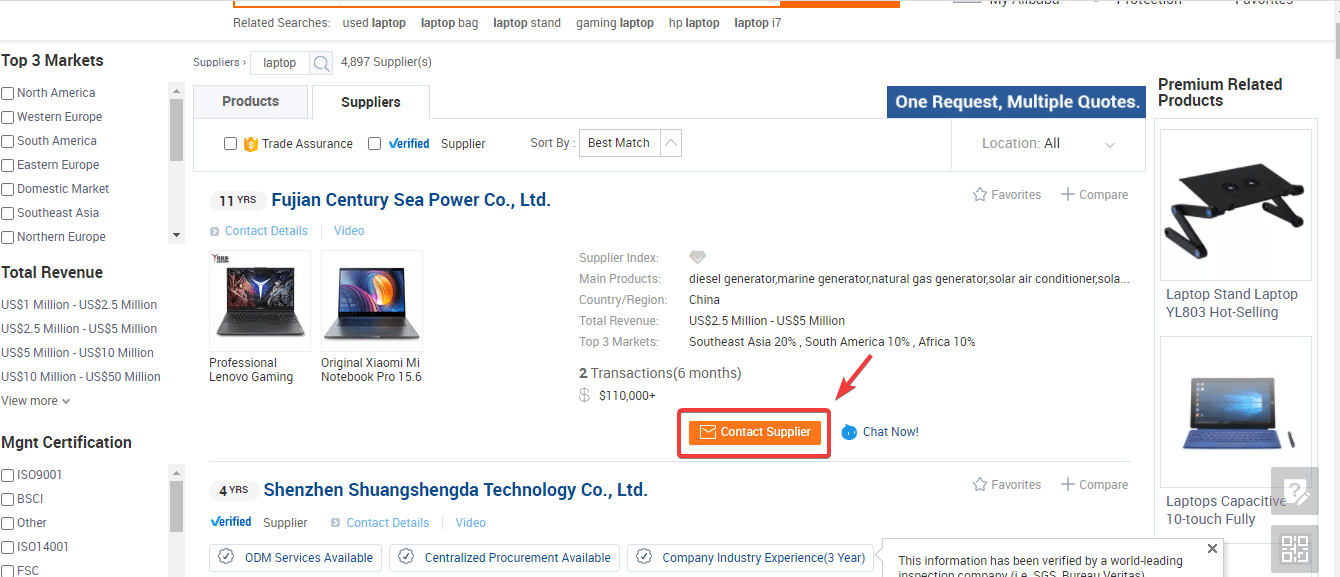 When to Use Alibaba?
Alibaba is the place to be if you want to buy products in large quantities and at lower prices.
What is Aliexpress?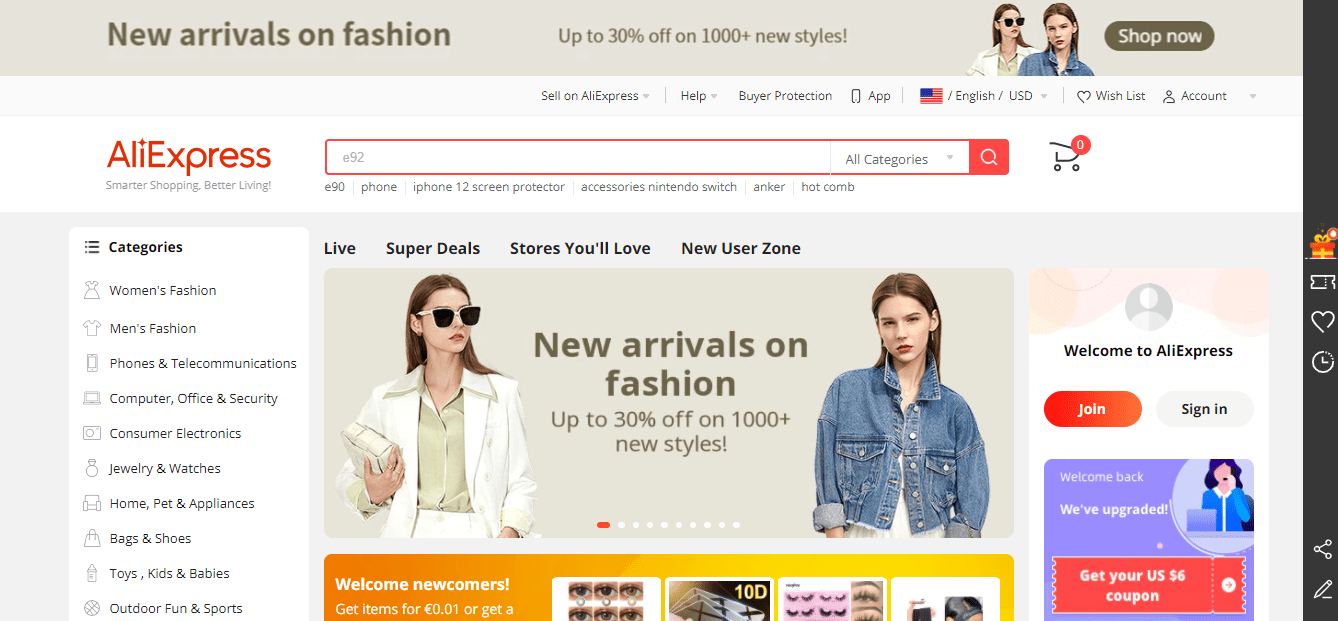 Aliexpress is an online retail outlet that caters mainly to individual buyers. This means you can conveniently buy just a pair of shoes on Aliexpress without contacting any supplier. There are no minimum order limitations on Aliexpress.
But this doesn't mean you can't buy in bulk from Aliexpress at competitive prices. Aliexpress makes it possible for you to contact sellers on the platform and arrange for Wholesale deals. Only that the prices might not be as competitive as that of Alibaba.
Aliexpress has a massive collection of consumer items ranging from automobiles, men's and women's fashion, computers and phones, office supplies, to name but a few.
Key Features of Aliexpress
Order center to monitor your pending, unpaid, shipped, and completed orders.
Dispute settlement.
A coupon center where you can hunt for coupons.
A message center to track your communication with vendors and suppliers.
Buyer protection.
Detailed reporting.
How Does Aliexpress Work
Aliexpress works in the same way as Alibaba. First, you would have to sign up for a free account, which takes about a minute.
After successfully creating your account, the next step is to search for the product you want to buy. That, too, is easy; all you have to do is type in the product's name in the search bar or use the categories section to find it.
If you want to sell on Aliexpress, you will have to create a seller account. Keep in mind that you will be asked to provide financial and legal documents to verify the nature of your business.

Selling on Aliexpress doesn't cost a thing; you will only be charged a fee – typically 5% to 10% of your selling price – for every sale you complete.
When to Use Aliexpress
Aliexpress is an excellent choice if you want to buy in small amounts. Or maybe when you want to buy a product for testing purposes before buying in larger quantities.
Alibaba vs Aliexpress: A Detailed Comparison
Now that you know what Alibaba and Aliexpress are about and how they work, let's compare the two marketplaces to see which is better and cheaper.
We will be comparing them based on:
Alibaba vs Aliexpress: Pricing
First off, Alibaba and Aliexpress are both free to use regardless of what you want to do: buy or sell.
Both platforms come with lots of tools and features to make selling a seamless experience.
If you are looking to buy at a cheaper rate, Alibaba is definitely the place to be. The best part is product prices on Alibaba are negotiable and competitive. What's more, you can get multiple quotations from different sellers and pick which fits your budget.
But you will have to buy in large quantities to enjoy lower prices on Alibaba. Some sellers may ask you to prove you are a business entity before selling at wholesale prices.
Aliexpress, on the other hand, isn't as cheap as Alibaba. The advantage of this is that you are not required to buy in large quantities.
Alibaba or Aliexpress for Dropshipping
Alibaba and Aliexpress are both good choices for dropshipping. Deciding which to go for depends on how far you have gone into dropshipping.
For starters, Aliexpress is a better option. The reason is that you are not constrained to buy in bulk on Aliexpress. Additionally, Aliexpress comes with lots of marketing tools specially designed for dropshippers.
The cool part is that you can easily import products from Aliexpress using the Oberlo Chrome Extension right into your Shopify store.
For veteran dropshippers, Alibaba is a much more viable option in that the prices there are lower. The problem, however, is that the dropshipping features on Alibaba are limited.
As such, you are better off sticking with Aliexpress.
Alibaba vs Aliexpress: Shipping
Shipping is an important aspect of eCommerce, and it can make or mar your business. How do Alibaba and Aliexpress handle shipping?
Starting with Alibaba, the online marketplace gives you the option of shipping your orders by air or sea. It has a shipping service portal where you can find and connect with freight forwarders and courier companies without any stress.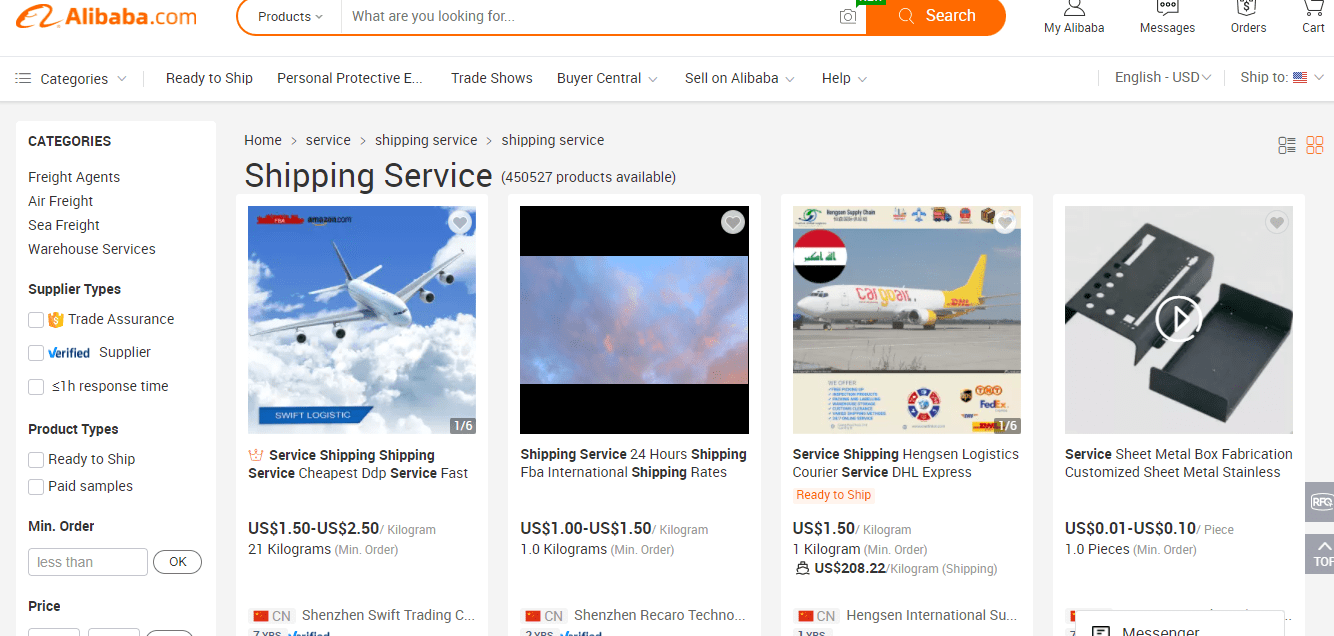 On this portal, you can find shipping solution providers based on product type, category, country of location, departure day, shipment type, minimum and maximum order quantity, and supplier type.
Alternatively, you can use Alibaba Freight, a digital freight platform where you can compare shipping rates, track your shipment, and get quotes from shipping companies.
It might interest you to know that Alibaba allows you to ship to Amazon FBA seamlessly.
As for cost, shipping can be quite expensive on Alibaba. Shipping 1kg of product from China to the United States can cost you north of $1,000.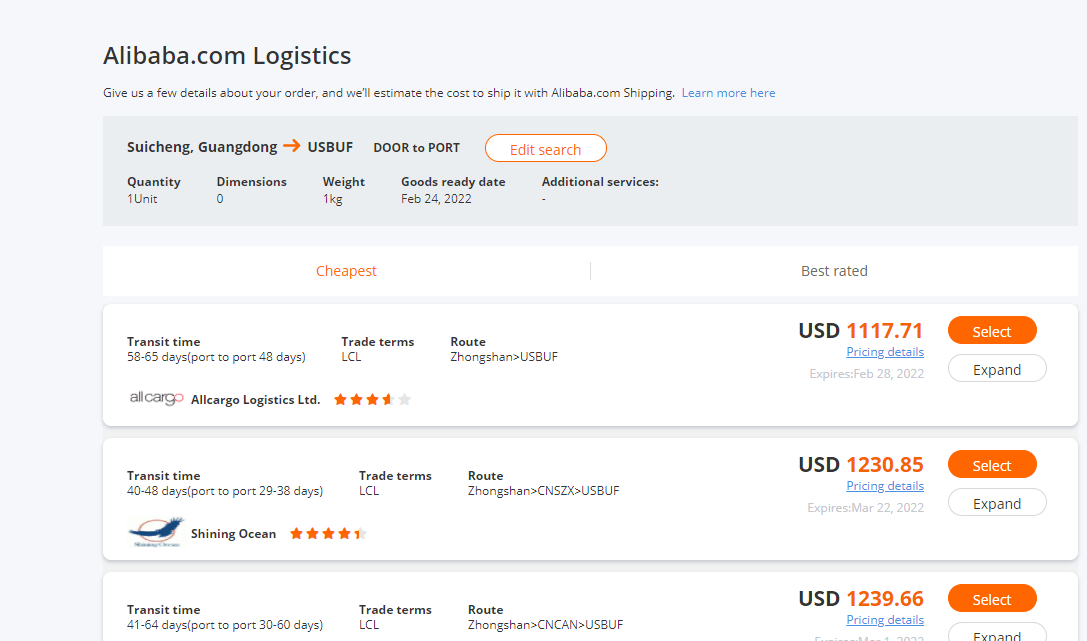 Arrival time on Alibaba can be a bit long – typically up to 60 days –  especially if you are shipping through the Sea.
Shipping on Alibaba makes more sense when you are buying in bulk.
Does Alibaba offer free shipping? Yes, it does, but this depends on the supplier or manufacturer you are buying from.
Okay, enough said about Alibaba, let's now turn our attention to Aliexpress.
Most sellers on Aliexpress offer free shipping. The typical delivery time for free shipping is about a month. If you can't wait that long, you can opt for DHL or UPS shipping. They typically take one to two weeks.
Shipping costs on Aliexpress depend largely on your shipping destination and the seller. It's hardly ever fixed.
Alibaba vs Aliexpress: Which is Easier?
You will want to work with an eCommerce platform that is easy to use. Not only will this make your life stress-free, but it will also help save you a lot of time.
Alibaba and Aliexpress both have user-friendly interfaces that are easy to navigate. However, since Alibaba leans more towards wholesaling, it may take you a while to get the hang of it when you try it for the first time.
Aliexpress, being consumer-focused, is easier to catch up with, so you might find it easier to use.
Alibaba vs Aliexpress: Buyer Protection
Nothing can be annoying as getting a product that is different from what you bought. Or worse, buying a poor quality product and getting it later than expected.
Thankfully, Alibaba and Aliexpress offer buyer protection to guard against this.
Alibaba calls this feature Trade Assurance. However, you are only eligible for this protection when you buy from a Trade Assurance supplier and make payment via Alibaba. Trade Assurance on Alibaba costs absolutely nothing.
Under the Trade Assurance protection, you can request a refund up to 30 days after receiving a faulty product.
On Aliexpress, you are eligible to apply for a refund if a seller ships defective products to you. The refund request can be submitted up to 15 days after receiving the product.
If the product has what Aliexpress calls Guaranteed Genuine protection, you will also get back what you spent on shipping.
Alibaba vs Aliexpress: Customer Service
Customer service should be top on your list for deciding which marketplace to work with. How good are Alibaba and Aliexpress customer service?
Alibaba has a dispute resolution center where you can submit and have your trade disputes resolved. In addition to that, the eCommerce giant also allows you to send an in-mail to suppliers or chat with them.
There is also a help center where you will find tutorials and help documentation for any issue you might have using the platform.
Aliexpress, meanwhile, also has a help center where you will find answers to every bugging question you might have using the platform.
As you would expect, there is a live chat feature that is available on a 24/7 basis.
FAQs
Here are some of the common questions people often ask about Alibaba and Aliexpress
Is Alibaba the same as Aliexpress?
Not exactly. Even though the two platforms are owned by the same parent company, they differ in several ways. The most notable difference is that Alibaba is more suited for buying wholesale, while Aliexpress is okay for consumers.
Is Alibaba owned by Amazon?
No, not by a long shot
Is Alibaba legit and safe?
Alibaba is very safe to buy and sell on. Most sellers on the platform are vetted sellers with a long-standing reputation for quality.
Can I buy from Alibaba?
Yes, you can. But buying from Alibaba will make sense if you buy in large wholesale quantities.
Are all Aliexpress products from China?
While most of the products sold on Aliexpress are from suppliers and manufacturers in China, others come from other countries such as India.
Is it safe to buy on Aliexpress?
Aliexpress offers buyer protection to ensure you buy only quality products and have them delivered to your doorstep on time.
Conclusion
Alibaba and Aliexpress are two great eCommerce platforms on which you can buy or sell products. However, they differ in many ways, and hopefully, you have seen the differences by now.
If you are looking to start a dropshipping business – or you have one running already – Aliexpress is your best bet.
Are you having a hard time converting your website visitors into customers? Adoric can help.
With Adoric, you can easily create eye-catching popups to get your visitors' emails, promote your special sales, and reduce cart abandonment.
Why not take Adoric for a spin and see things for yourself?