Launched in 2004, Shopify has over the years become the go-to solution for entrepreneurs looking to sell their products online. Not only is it easy to use, but you will also find thousands of apps built to help you manage and grow your business, easily.
But finding the best Shopify apps for your business can be quite difficult. You will literally have to filter through thousands of apps to find what you are looking for. This can be time-consuming and stressful.
To save you the trouble, we painstakingly researched and found apps guaranteed to increase your sales. Thankfully, most of the apps we will be reviewing are free. Needless to say, some others are paid.
To make it easy for you to follow through, we've put these apps into categories. They are as follows:
So, if you are ready let's get right into it: must-have Shopify apps for every serious-minded entrepreneur.
Best Shopify Apps to Increase Conversion and Sales

Adoric is a lead generation, conversion optimization software you can use to create pop-ups on your Shopify store.
Whether you are looking to convert more visitors to paying customers, reduce cart abandonment, grow your email list, etc. Adoric has got you covered.
What's more, this app can help you upsell your customers, gather marketing data, run promotions and marketing campaigns, seamlessly.
To start using Adoric, all you need to do is to head over to your Shopify store and install the app.
With that taken care of, the next step is to create your first campaign. To do this, you first need to pick the popup template that you like. And, Adoric has got plenty of them.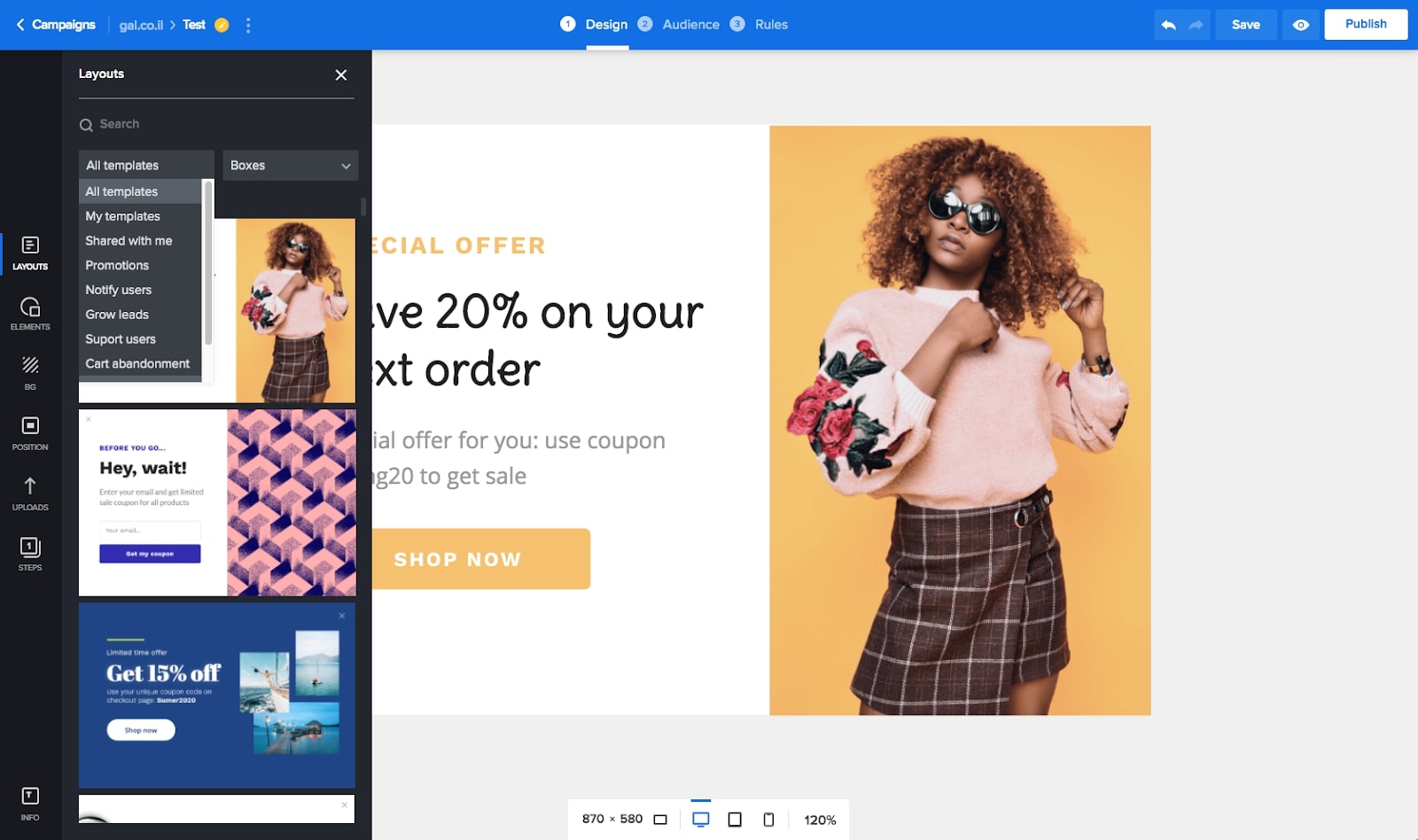 You can customize any of the templates just the way you want.
With your design ready, the next task is to define your audience and then set rules for your campaign. By rules, we mean defining how they will see it, and when they will see it.
For example, you can make your popup appear when a visitor attempts to leave your website. This is because it supports Exit-Intent technology.
How to Set Up Adoric on Your Shopify Store
Installing and setting up Adoric – as well as other apps – on Shopify is simple and straightforward. However, if you are still unsure, here are the steps you will need to take.
Step #1
Head over to Shopify App Market – there you will find Adoric. When you've found it, click the Add app button.

Step #2
Upon clicking the button, you will be prompted to log into your Shopify store. To do this, provide the URL to your store and then click the Login button.

Next, enter your store's login credentials: email and password. Once you've done this, move on to step 3
Step #3
If the login credentials you provided are correct, you will be taken to your Adoric Dashboard, straight away.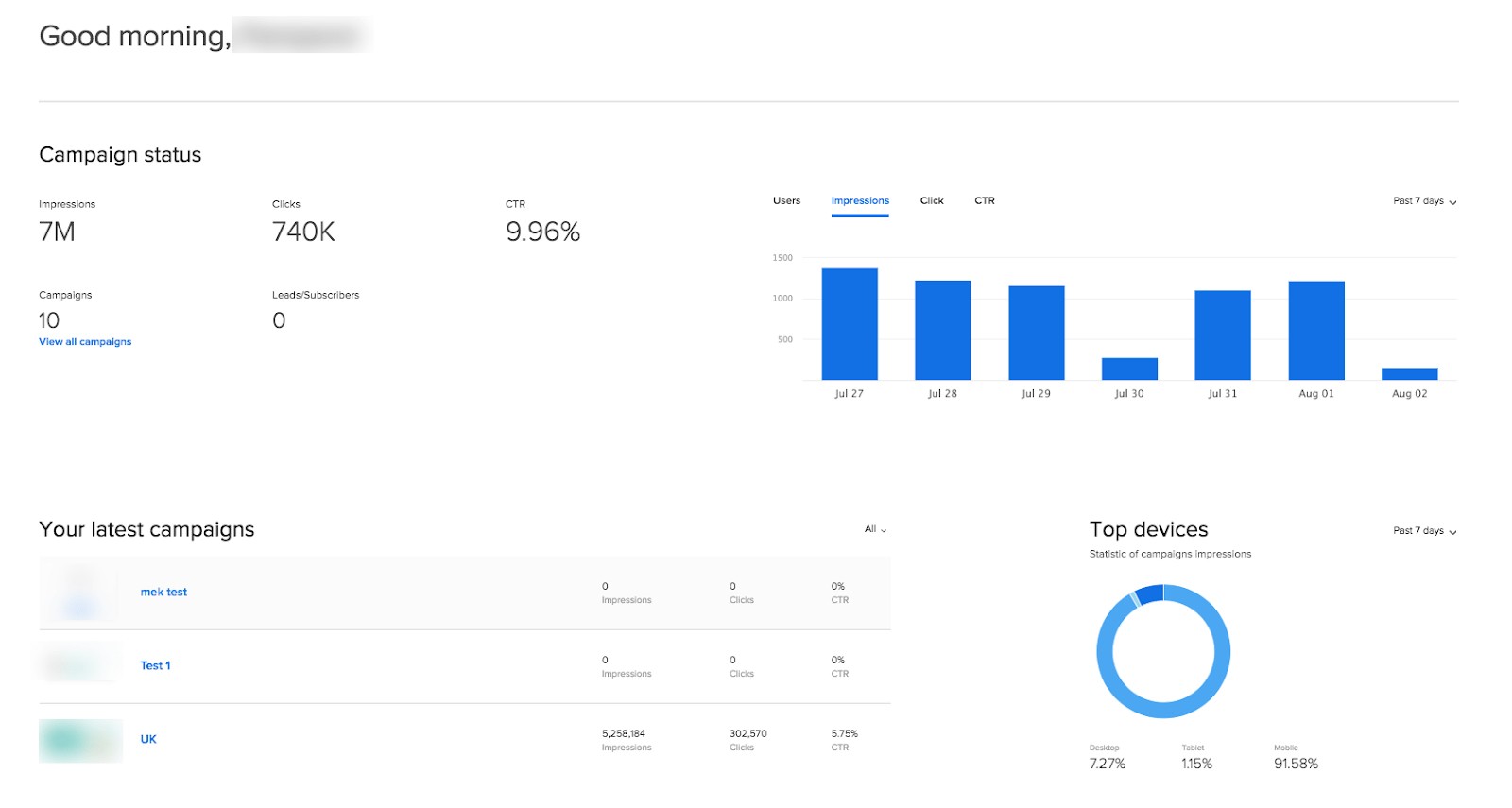 Here's where you create, launch, and monitor your campaigns.
Pricing
Adoric comes with a free plan. On this plan, you can set targeting rules for your campaign. That is, you can specify where, when, and how your campaigns will appear. Also, you get to enjoy customer support, though to a limited extent.
But on the free plan, you're limited to 5,000 monthly page views. To go beyond this limit, you will have to go for the Essential plan. It sells for $29/month.
On this plan, the limit on your monthly page views is 25,000. You also get to enjoy round the clock email support, A/B testing, and campaign scheduling.
The other advanced plans you can go for are the Standard and Pro plans. Their monthly subscription fee is $79 and $199, respectively.
What Others are Saying About Adoric
Here's what Sergey Mihaylov – a marketing manager at Everything5pounds – has to say about Adoric.
"In my years as the head of marketing at Everything5pounds.com, I remember introducing this solution to the business to help us build popups without having the do any coding. The power of Adoric is in its campaign builder. It has almost everything that you would find in applications like Photoshop (layers, lasso, text, colour, background, opacity control etc). This has enabled my entire creative team to use the software – not just the few "tech" guys."

Smile.io is a loyalty and reward program app for Shopify. It lets you build loyalty with your customers, without having to do much work.
And nothing beats loyal customers who are willing to stay with your business through thick and thin. This set of customers will not only bring repeat sales for you, they will promote your business in ways more than you can imagine.
Do Reward and Loyalty Programs Actually Help Boost Sales?
You are probably wondering if investing in loyalty reward programs is worth the time and effort?
Here are statistics that will help you figure out if it is or not
With these facts and figures, it's abundantly clear that loyalty programs work.
But building loyalty into your customers is no easy job. You need to continually run loyalty and reward programs to stand a chance of achieving this goal. This is where you will need the Smile Shopify app.
This app lets you create irresistible reward programs for your customers. Here is a list of some of the things you can do with it
Award points to customers who return after initially abandoning their carts
Reward customers with bonuses when they sign up for an account, make a purchase, leave a review, etc.
Offer coupon codes to customers who get to your shopify checkout page
Do giveaways for customers who refer their friends
Pricing
You can get started with Smile.io for free. The problem is, Smile's branding will be placed on your store.
If you would like to remove the branding from your site you will need to upgrade to any of their paid plans. There are three of them: Starter, Growth, and Pro. They go for $49, $199, and $599 per month, respectively.
What Others are Saying About Smile Loyalty and Reward 
As at the time of this writing, this app has received an average of 4.7-star reviews, totaling 3477.
Here's what a satisfied customer has to say of the app
"The minimal style suits our needs. Would recommend to anyone with a store especially those selling products. Very useful for customers who are loyal and social. Very good integration."
Though there are some customers who aren't happy with the app, from what we saw, the Smile.io team is actively making efforts to pacify such customers.

Recom is an upsell and cross-sell recommendation Shopify app you can't go wrong with when looking to get more sales from your existing customers.
What it does for you, basically, is to motivate customers who have made purchases to buy more items from your store.
It does this by showing your customers products they want to see, and will most likely buy.
And that means more sales for you.
Do Upselling and Cross-selling Really Work?
Like everything else in life, it's always important to establish the "why" of something before getting to the "how". Why should you bother yourself about upselling and cross-selling your customers in the first place?
The truth is, upselling and cross-selling do work. Here are facts to back this claim up
35% of Amazon's revenues come from cross-selling
10 to 30% of eCommerce sales come from upselling
60 – 70% of your existing customers will very likely buy when you attempt to upsell them.
These are just some of the pointers that indicate incorporating upselling and cross-selling into your marketing is worth the effort.
Pricing
Like the other apps we've reviewed thus far, Recom.ai has a free plan. On this plan, you get to enjoy unlimited upselling and cross-selling across your product pages. Additionally, you are given access to detailed analytics of your store.
However, you are limited to 500 widget views. To go beyond this limit, you will have to upgrade to any of the paid plans.
On the basic plan – which sells for $29.99/month – your widget view limit is pushed to 5,000. If your store receives as much as 20,000 widget views per month, you would have to pay $69.99/month to keep using the app. Anything more than that attracts a monthly subscription fee of $149.99.
What Others Are Saying About Recom.ai
After a little bit of research, we discovered most customers are pleased with the support they receive from Recom's team.
Here's what a customer said about the app
"Great app for improving the conversion on site! Have been using it for a while, happy! Great customer support well! Thank you Anton!"
On the flip side, a few customers complained about being overcharged by the app. So, do take note of this.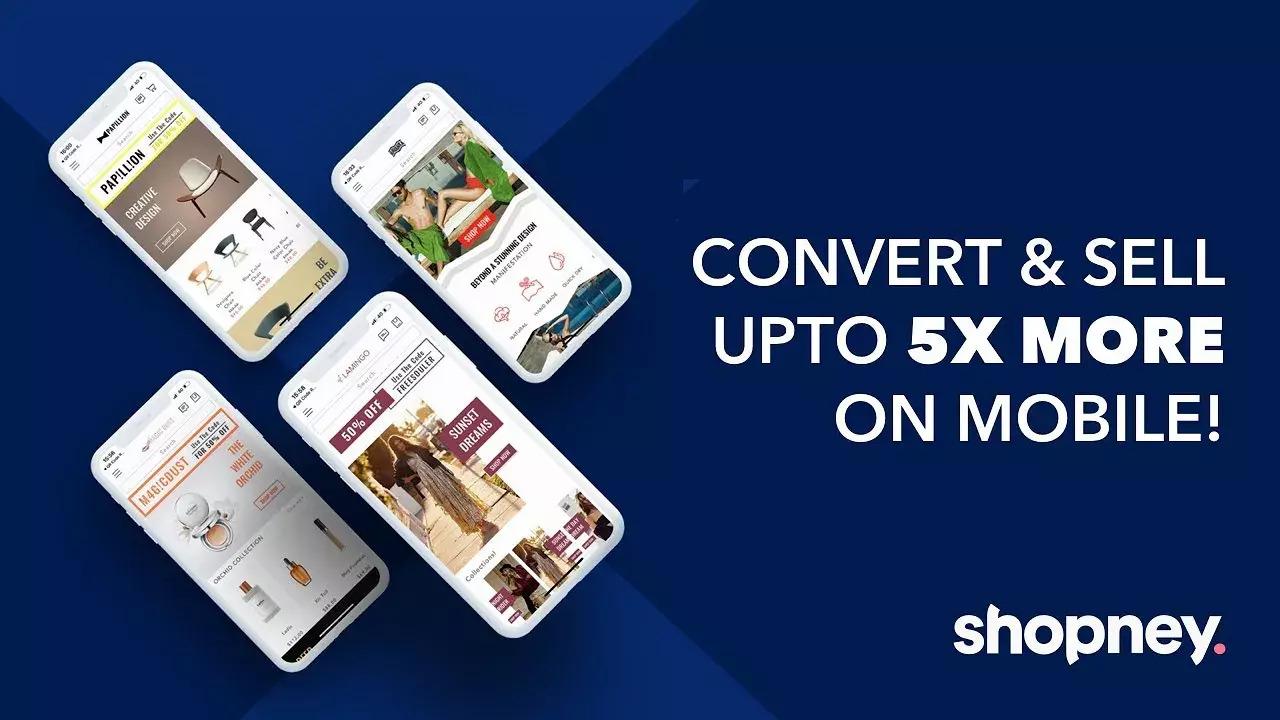 Do you want to turn your Shopify store into a mobile app to give your customers a smooth buying experience on their mobile devices? Shopney is your best bet. 
Shopney is a Shopify mobile app builder solution that makes it easy for you to convert your Shopify store into a mobile app by dragging and dropping. No coding is required, and you can conveniently create the app in 1 to 2 days. 
Why create a mobile app for your store? Well, the reason is that over 80% of eCommerce traffic comes from mobile. By using Shopney to create a mobile app for your store, you would achieve two main goals: increase your conversion rate remarkably and decrease your ad spending by as much as 45%. 
Shopney offers 24/7 customer support, so you are assured of getting help whenever you need it. 
Other reasons to use Shopney include: 
Offers multiple layout options for your store app

Makes it easy to add a live chat feature to your store. This will help to personalize your customers' buying journey and make them trust your business the more. 

Offer fast check-out to decrease abandoned cart rates. 

Providing back in stock and abandoned cart notifications to make customers complete their shopping journey. 

Free, unlimited push notifications, allowing you to create marketing campaigns such as flash offers, product promotions, etc. This will help drop your marketing ad spending by as much as 45% and increase your conversion rate as much as 5 to 22x. 
Pricing 
From $99/month. 30-day free trial
Best Shopify Apps for Handling Inventory

Oberlo is one of the best dropshipping apps for Shopify on the market. If dropshipping is your business model, Oberlo will help you manage your store seamlessly.
With Oberlo, you can source products from suppliers like AliExpress, add them to your store, and ship to your customers, without needing to keep an inventory.
Oberlo comes with an intuitive dashboard that makes it easy to track your customer's orders. What's more, you can track your sales and market trends right from your dashboard.
For greater flexibility, we recommend installing the Oberlo Chrome extension to your browser. That way, you will only need to focus on what matters most: growing your business.
How Easy is Oberlo?
Oberlo works via a three-step process.
Step #1
A customer comes to your Shopify store and places an order
Step #2
You source for the product on your preferred supplier's website, using the Oberlo app
Step #3
The supplier delivers the product to the customer while bearing shipping costs.
In the end, you keep the difference between what the customer paid and what you paid the supplier as profits.
To add products to your store, from your Oberlo dashboard, click Search Product. When you've found the product, import it to your list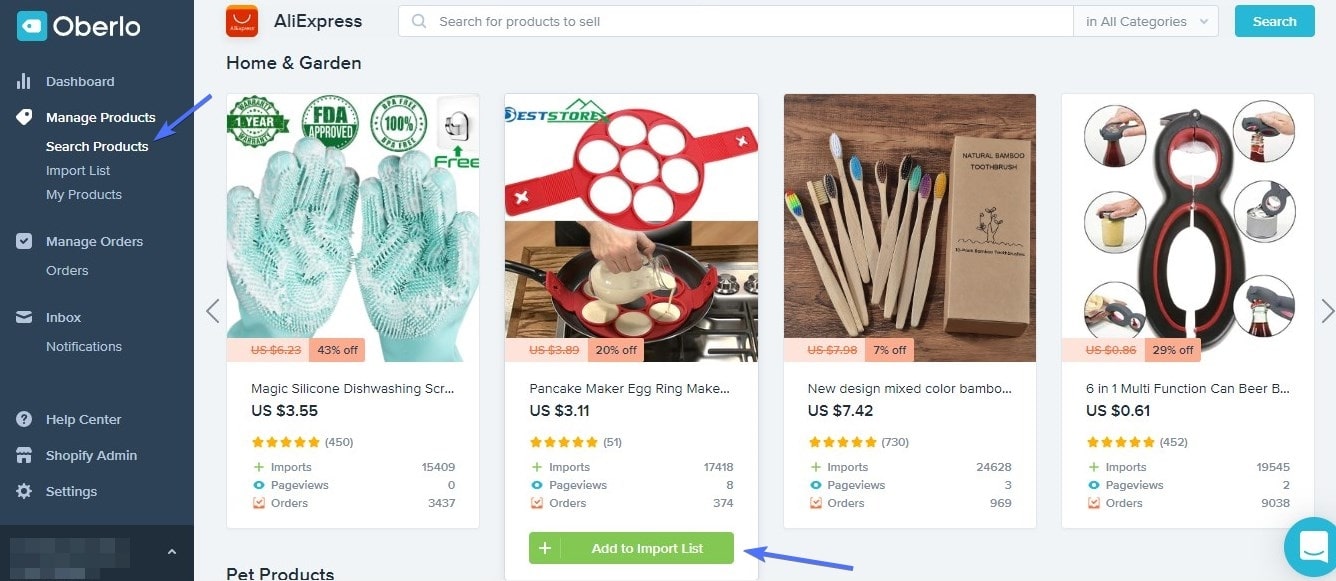 Alternatively, you can import products directly from your supplier to your store using the Oberlo Chrome Extension.
From your dashboard, you can also track all your orders in real-time.
Oberlo Suppliers
Finding the right supplier for your business is a task that's entirely up to you. Thankfully, Oberlo has provided helpful tips for finding the best supplier, regardless of your niche. Here are a few of them:
Preferably, go for products with sizeable order quantity
Look for suppliers that offer ePacket shipping, and go for them
Avoid products with a long processing time
Check through reviews left by other customers of the supplier
Oberlo Pricing
If you are just starting out, Oberlo's free plan will be a good fit. But as your business starts to expand, and you start to process over 10,000 orders, you will have to upgrade to any of Oberlo's paid plans: Basic ($29.99) and Pro ($79.90).
But if you process more than 10,000 orders, the Pro plan is a better option.
What Others Are Saying About Oberlo
Oberlo has received over 2300 reviews, as at the time of this writing. Though most of the reviews are positive, one particular issue customers seem to have with the app is the lengthy shipping time they have to endure.
So, do take this into account before using it.

Printful is another dropshipping app that lets you run your business without having to worry about inventory. Specifically, it's a print-on-demand app that lets you sell shirts, mugs, leggings, etc. without having to produce, store, or ship them.
With the heavy lifting done for you, all that is left for you to do is promote your store.
How Printful Works
Printful works in the same way as Oberlo, but with a slight difference. It works like so:
A customer comes to your store and orders, say, a shirt. The order is then automatically passed to one of Printful's fulfillment centers. It's here that the shirt will be printed based on the customer's specifications.
Next, the printed shirt is shipped to your customer's location. Here is where Printful differs from Oberlo: the finished product is shipped under your branding, and not the supplier's.

Printful Shipping Rates
Before setting your product prices, it's important to take into account Printful's shipping rate. They are fixed and can be accessed from your dashboard.
These rates are calculated based on the product's category and shipping destination. Printful has a detailed guide you can reference when looking to calculate shipping rates for your products.
It is also worth noting that Printful offers overnight shipping. Under this arrangement, your products are shipped to your customers the very next day after making a purchase. However, this option is only available in the US.
Designing in Printful
You don't have to be a top-rated designer to create in-demand products on Printful. The app comes with lots of design templates you can customize and use on the fly.
Alternatively, you can always upload your own custom designs.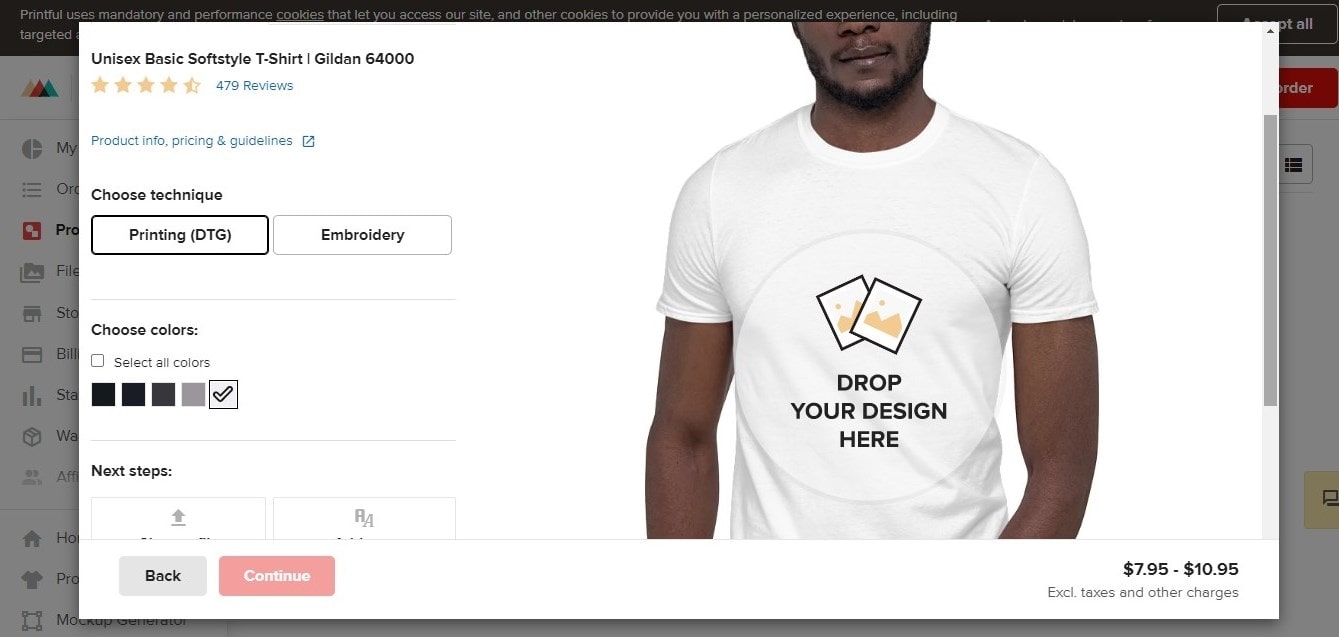 Printful Pricing
Printful is absolutely free.
What Others Are Saying About Printful
After a little poking around, we discovered that most of Printful's customers are pleased with the app's ease of use.
Some, however, aren't that so pleased. They mostly complained about poor customer support from Printful's team.
Best Shopify Apps for Affiliate Marketing

Are you looking to launch an affiliate marketing program for your online retail business to grow your sales? You need the right app solution, and UpPromote happens to be one of the best.
UpPromote is a top-rated, all-in-one affiliate marketing solution that makes it easy for you to build, track, and manage your affiliate marketing campaigns. It also makes it easy to pay your affiliates.
UpPromote comes packed with loads of features, some of which include automated affiliate link generation, PayPal integration, and lots more.
In addition to that, if you own a large business and need some customization features that are exclusive to your store, UpPromote can do that for you.
With UpPromote, no technical knowledge is required. UpPromote makes it super easy to create coupons/referral links for your affiliates and influencers.
Did we forget to mention that UpPromote features a marketplace where you can find affiliate profiles and list your offers for free.
Here are some of the key features of UpPromote:
Simple setup: The quick onboarding process and guideline systems will help you understand how UpPromote works.

Auto-generate referral affiliate links and coupons.

Customer referral feature allows customers to promote merchant's products without the need of joining any affiliate program. It helps you boost sales with positive word-of-mouth as well as connect to your loyal customers.

Track the performance of your affiliates right from your dashboard

Integrates with PayPal, allowing you to pay your affiliates with a few clicks.

Multi-language support

24/7 world-class support
Pricing
UpPromote offers a free plan. However, you are only limited to 200 referrals every month on the free plan. To get more out of the app, you'd have to upgrade to the Grow, Professional, or Enterprise plans. Their monthly subscription fees are $21.99, $69.99, and $139.99.
Best Shopify Apps for Reviews and Referral

Product Reviews app, as the name suggests, makes it easy to integrate reviews into your store and products.
Statistically speaking, 66% of online buyers check reviews of other buyers before making a purchase. Thus, if you haven't implemented reviews on your store yet, you are leaving a lot of money on the table.
Adding reviews to your products is one surefire tactic for attracting more buyers to your product. And that means more sales for you. What's more, it also helps improve SEO.
Product Reviews Alternatives
Product Reviews is a free app. As such, you might not find all the features and flexibility you are looking for on it. Thus, here are alternative apps you can try out.
Judge.me Product Reviews: Judge.me app allows your customers to embed pictures and videos into the reviews they leave. In addition to that, it lets you display reviews in the form of carousels on your website.  Judge.me sells for $15/month.
Yotpo: One feature that makes Yotpo stand out from the other review app is that you can integrate it with any email marketing tool, easily.  It has a free and a paid plan which sells for $19/month.
Pricing 
Products Reviews is completely free.
What Others Are Saying About Product Reviews
Over 1000 users are of the opinion that Product Reviews is great and aptly fits their needs, whereas about 150 think otherwise

With Referral Candy, you can automate your referral programs in a breeze.
Did you know that a happy customer will very likely refer other people to your store, without you asking? For this reason, running a referral program will help you boost sales, without having to spend much on marketing. Not convinced yet?
Proofs That Referral Programs Are an Effective Marketing Tool
Word of mouth referral is likely responsible for 20% to 50% of all consumer purchases
92% of consumers trust referrals from friends and family more than they trust online ads.
84% of consumer buying decisions are influenced by referrals
These stats all go to show that investing time and finances into referral marketing is worth the effort.
Maybe you would like to see a real-life case study of how businesses are growing their sales with referrals?
Case Study: How Riff Raff Increased Sales With Referral Candy
Riff Raff & Co is a toymaker with young parents as their target audience. The company at some point was struggling with sales.
To solve this problem, they tried a mix of marketing strategies. Of all the strategies they tried, referral marketing really hit the spot for them.
In the end, they saw a 35% rise in sales.
But running a successful referral program can be stressful. To this end, you need an application that can handle most of the work, thus freeing you time to focus on growing your business. You need Referral Candy!
Referral Candy allows entrepreneurs to automate their referral programs. It comes with an easy-to-use dashboard that allows you to track referral traffic, and retarget the audience that have at some point interacted with your store.
Pricing
You can get started with Referral Candy for free. But the free trial lasts only 30 days. After that, you will have to upgrade to their paid plan. It starts at $49/month.
What Others Are Saying About Referral Candy
Referral Candy is one of the few apps on Shopify marketplace with very little negative reviews. Of the 1057 reviews it has received as at the time of this writing, only 9 are negative.

If you've been struggling with cart abandonment problems for a while now, it might be that users don't trust your store enough to put in their financial details. This is why it's important to build trust with your visitors so as to minimize cart abandonment.
With Free Trust Badge, you can easily attach trust badges to your product and checkout pages. When customers see them, they will be less scared of putting in their credit card details to your website.
Free Trust Badge Features
700 badges to choose from
Drag and drop editor that lets you place your badges just where you want them
Capable of handling over half a billion page views per month
Highly customizable
Works well on desktop and mobile devices
Pricing
You can use this app for free. However, on the free plan, you are limited to only 145 badges and 250,000 page views.
But on the Premium plan, you can access all the badges, plus your pageviews limit is increased to 2 million. If you want something more, you would have to upgrade to the Plus plan.
The Premium and Plus plans have monthly subscription fees of  $5.99 and $19.99 respectively.
What Others Are Saying About Free Trust Badge
Over 96% of users are of the opinion that this app added security and professionalism to their store. Apparently, Free Trust Badge is worth giving a shot at.
Best Shopify Apps for Social Media Marketing

Wouldn't it be nice if you could sell and manage products directly from your Facebook page? Sure it would – and Facebook Shop Channel app can make this possible.
With this app, you can set up a storefront on Facebook, post photos of your products, fulfill orders, etc. with just a few clicks of the button.
On top of that, you can track your sales on Facebook easily, thanks to the analytics dashboard Facebook Shop Channel comes with.
Note that to use this app, you need to have administrative access to the page you intend to use it on. Also, you will only be able to accept payments in currencies supported by Facebook.
Pricing
Facebook Shop Channel is absolutely free.
What Others Are Saying About Facebook Shop Channel
Unfortunately, this app isn't receiving good reviews from users. Most users complained about the app's inability to connect to their Facebook business pages, despite multiple attempts.
Thus, here are alternative Facebook marketing apps you might want to go for

How about showcasing amazing and vibrant Instagram feeds on your Shopify. Sounds amazing, right? And to ease this process, Tagembed introduced its Instagram Feed + TikTok Videos plugin.
Whether it is a color image or high-quality videos, the tool streams everything on your website without affecting the website's speed. And even if you are looking to widen the scope apart from Instagram, This Shopify app allows you to add social feeds from not only Instagram but all social media channels like Facebook, YouTube, Pinterest, Twitter, LinkedIn, TikTok, Slack, & many more.  
And did we mention the customization option? You should try it. It allows you to personalize your feed, which means you change the font size, font style, theme, background, and more.
Additional features include – Moderation, Responsive feed and easy installation.
Pricing 
It has four pricing plans that you can choose from: Free, Basic ($8 per month), Pro ($16 per month), Plus ($24 per month).
If you are looking just to embed an Instagram feed on the website, then a Free plan is just for you. On the other hand, Basic, Pro and Plus allow 2,4 and 12 feeds, respectively.
What others are saying about Tagembed
Many users are impressed with its pricing plans, as it provides advanced customization and moderation features & advantages at budgeted prices. The app is a value for money and provides a great boost to businesses.

As you might have guessed, Instafeed is an Instagram marketing app for Shopify.
Mintt Studio – the makers of Instafeed – designed this app in such a way that it effectively guides your customers through their buying journey. They did this by eliminating all distracting features that might interrupt them from getting to your checkout page.
There are lots of cool stuff you can do with Instafeed. They include posting content from your Instagram feed to your store, creating social proof, etc.
Did we forget to mention that Instafeed is lightweight, responsive, and fully customizable? Cool, isn't it?
Additional features include image and video support, product filtering with hashtags, fully responsive and more.
Pricing
To start using Instafeed, you will have to choose any of its three pricing plans: Free, Pro ($3.99/month), and Plus ($19.99/month).
In the Pro plan, you can display the number of likes a product has received, use rows and columns to display your product, customize your feed just the way you like, etc.
However, your feeds are limited to 3 and you can't filter products using hashtags. Product filtering is only available in the Pro plan. Plus, you can have as many feeds as you please.
What Others Are Saying About Instafeed
Most users found Instafeed incredibly easy to set up and use. Also, from our findings,  Mintt Studio is receiving lots of kudos for its excellent customer support.

Kit is an AI (Artificial Intelligence) app that lets you run successful Facebook and Instagram ads, without investing so much time. It saves you the cost of having to hire a Virtual Assistant to manage your business.
Here's a quick breakdown of what Kit can do for you:
Recommend marketing activities that will help boost your sales
Retarget your ads
Send out "thank you" emails to customers when they make purchases
Keep track of your sales
Here's a screenshot of Kit in action.
Additional Apps for Kit
To get the most of Kit and, thus, increase your sales, you need to install some additional apps on your store. Here are some of them.
Pricing
Kit is absolutely free.
What Others Are Saying About Kit
Here's what a satisfied customer had to say about Kit
"KIT is super helpful for sending automated follow-up emails to customers. We've been using it for several years without any issues"
Despite the positive reviews, some users complained about Kit causing their Facebook accounts to be disabled.
Best Shopify Apps for SEO

With over 30,000 active installations, Plug in SEO is one app you can always turn to when looking to rank your pages high on Google. It comes packed with lots of features that will help improve the visibility of your product pages on search engines.
Plug in SEO can help you conduct keyword research, fix broken links, edit SEO data in bulk, optimize your blog posts, and lots more.
Additionally, this app can automatically fix SEO issues on your website. Typical of such issues include improper H1/H2/H3 etc headings, mission image alt tags, duplicate page titles, and lots more.
Pricing
Plus, it's super easy to use, and you don't have to be much of a techie to use it.
Like all the apps we've reviewed so far, Plug in SEO comes with a free plan. But if you would like to enjoy 24/7 support and automatic SEO improvement, you will need to upgrade to the paid plan. It costs $20/month.
What Others Are Saying About Plug in SEO
Most users are particularly pleased with the app's ease of use, and the excellent customer support it comes with.

Did you know that you can improve your store's SEO just by optimizing the size, alt text, and file names of the images on your site? This is exactly what this app does for you – and it does it in bulk!
Bulk Image Edit app has a lot of capabilities. It can automatically trim/crop all your product images, so they are the same size. Also, it can compress all heavy images on your website, without loss of quality. That way, your website will load faster, and SEO will improve.
Additionally, it can automatically add alt text to all your images, thus saving you the trouble of doing so manually.
Pricing
If you edit less than 50 images a month, the free plan will suffice. However, if you intend to edit more than 50, you would have to go for any of the three paid plans. They are as follows: Basic ($9.99/month), Professional ($19.99/month), Advanced ($49.99).
In the Basic plan, you can edit as much as 1000 pictures a month, schedule your tasks, and backup your website for 60 days.
But if you are looking to edit 3000 pictures or less every month, the Professional plan will hit the spot for you. Anything more will be on the Advanced plan.
What Others Are Saying About the App
About 95% of Bulk Image Edit app users agree that it does exactly what it is meant to do – optimize images and improve SEO.
The other 5% mostly complained about having trouble adding and removing watermarks from their images.
Best Shopify App for Customer Support

To build trust and loyalty with your customers, it's important to be there for them whenever they need you. And one easy way to go about this is by offering them live chat support.
Studies have shown that 79% of businesses with active live chat customer support have seen steady growth in sales and revenue. Hence, if you haven't yet, it's about time you took live chat support seriously.
Thankfully, Facebook Live Chat app can help you do most of the work. With it, you can answer your customers' questions and provide support via Facebook messenger.
Pricing
Unfortunately, this app has no free plan. Starter ($12.99/month), Express ($29.99/month), and Platinum ($79.99/month) are the plans you will have to choose from. The good thing is that you can take advantage of the 30-day free trial the app offers to test run it.
What Others Are Saying About Facebook Live Chat
Facebook Live Chat app, as we discovered, has a mix of reviews. While some users feel it's very functional, some others feel it isn't worth investing money into.
Best Shopify App for Order Tracking

Earlier in this article, we talked about why it's important for you to build loyalty with your customers.
One of the ways you can go about this is by providing them with a means to easily track their orders. Tracktor Order is one Shopify app you can count on to make this happen.
With this app, both you and your customers can closely monitor parcels in transit – in real-time.
Track Order Features
Plug and play integration with major carriers like DHL, FedEx, China Post, Aliexpress, etc.
Set up order statuses for your customers. Eg. "In production", "warehouse", "in transit" etc.
Notify your customers via emails and SMS as soon as their order gets shipped, and when it arrives at their doorstep.
Attach tracking link to emails you send out to customers
Recommend products to customers based on their purchase history
Pricing
Unfortunately, Tracktor Order has no free plan. To use the app, you will have to go for any of its four paid plans: Basic, Professional, Premium, and Enterprise. Their monthly subscription fees are $5.99, $14.99, $44.99, and $119.99 respectively.
On the Basic plan, you can create a dedicated tracking page for your customers and send tracking notifications via emails and SMS. If you would like to get advanced reporting, recommend products to your customers, etc. the Professional plan is your best bet.
What Others Are Saying About Tracktor Order
Tracktor Order users are continually fussing about the great customer support they are enjoying. Nonetheless, we found out some users had complaints about the app. They mostly complained about being overbilled by the app.
Best Shopify Popup Apps
As an online retailer, your marketing arsenal is never truly complete without a Shopify pop-up app. Such apps allow you to create newsletter opt-in forms and promotional campaigns in the form of popups.
Here are some of the best Shopify popup apps for 2022.

Privy allows you to create eye-catching popups and promotional banners that you can use to convert your website visitors into subscribers and customers. 
The app is so intuitive that you don't need the help of a designer or developer to create elegant-looking popups. 
Privy comes with other additional marketing tools such as A/B testing, exit-intent popup, autoresponders and email reminders, etc. 
Privy Pricing
Lucky for you, Privy has a free version. However, on the free version, you are only limited to 100 email contacts. 
If you want more, you would have to upgrade to any of Privy's premium plans: Starter, Growth, and Conversion. 
They cost $15, $45, and $70 per month, respectively.

Justuno is another popup maker for Shopify that makes it really easy for anyone to create modal popups. 
What's more, Justuno has an upsell, cross-sell, and product recommendation feature that allows you as a merchant to personalize your shoppers' buying experience. 
In addition to that, with Justuno, you can create SMS opt-in forms and use them to drive your SMS marketing campaigns. 
Justuno Pricing
Justuno has a free plan as well, only that it's best suited for websites that receive less than 5,000 visits per month. 
If that won't fit your needs, then you would have to go for Pro Plan 1, Pro Plan 2, and Pro Plan 3, costing $29, $49, and $99 per month respectively.
20. Shopify Multi-Carrier Shipping Label App by PluginHive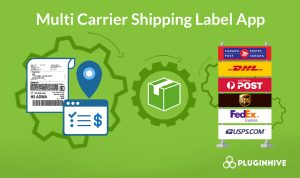 This is the only solution that allows you to perform all the shipping tasks including printing labels, requesting pickups & monitoring shipment tracking status right from your Shopify dashboard.
The app allows you to display accurate shipping rates at checkout, generate labels in a single click & track orders easily right within the Shopify dashboard, saving you time and money. The Multi-Carrier Shipping Label app is officially certified by UPS and FedEx. The app supports all major carriers like UPS, USPS, FedEx, DHL, Stamps, Aramex, Blue Dart, Australia Post, Canada Post, & many more.
Highlight Features –
Supports Multi-Carrier shipping for all the top carriers like UPS, FedEx, USPS, DHL, Canada Post, Australia Post, & many more.
Display Accurate Shipping Rates on your Shopify Checkout Page
Save Time & Effort by Automatically Printing Shipping Labels
Automatically Choose the Cheapest Shipping Services
Carrier Pickup Requests & Manifests
Free Trial – 14 Days, After Free Trail – Starts at $9/Month 
Average Rating (out of 5) – 4.8 (104 Reviews)
Conclusion
So there you have it – 18 handpicked apps that will help boost your sales on Shopify. All you have to do now is install them to your store, and watch the magic happen. By the way, you can also integrate your Shopify store with eBay to effectively boost your sales.
Of course, there are tons of other alternative apps you can try out. But before you install any app, always check the reviews left by other store owners. You sure wouldn't want to use an app that will in the end ruin your store, rather than improve it.