travel
Adoric for travel companies
Recommend travel destinations, sell more tickets, accelerate booking reservations, and ultimately boost your revenue.
Sign up free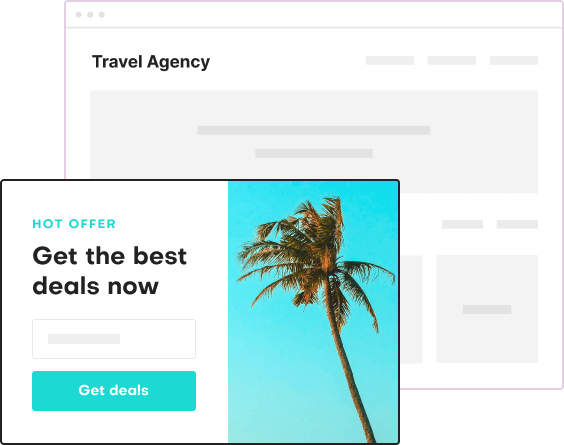 solution 1
Promote personalized offers
With Adoric, you can promote personalized travel and hotel deals, based on your users' location, language, behavior, etc.
Sign up free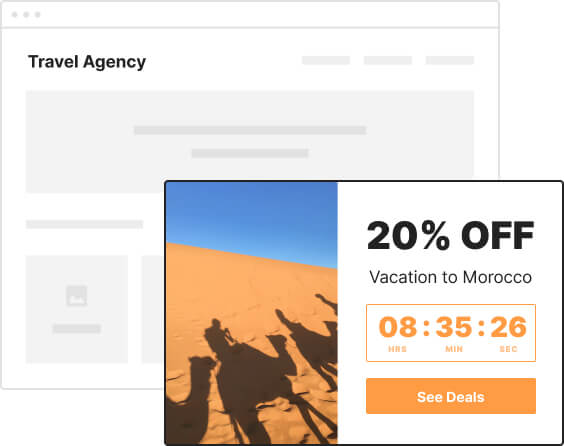 solution 2
Turn visitors to repeat customers
Build loyalty with your customers by rewarding first-time and returning visits with discounts, coupon codes, bonus points, etc.
Sign up free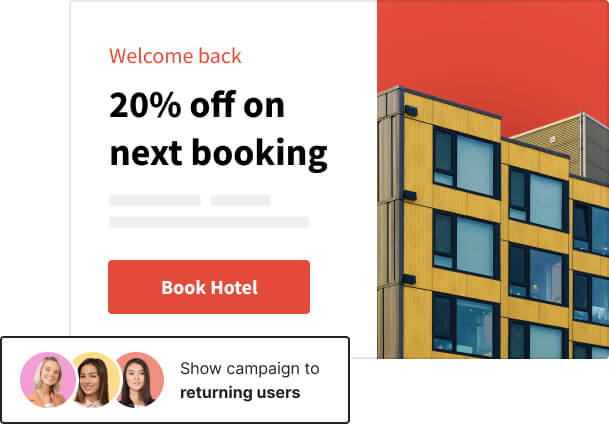 solution 3
Grow email list and get more subscribers
Use Adoric's forms to capture more leads, get more subscribers, and grow your mailing list, instantly! Enjoy precise targeting and higher conversion rate with our elegantly designed forms
Learn more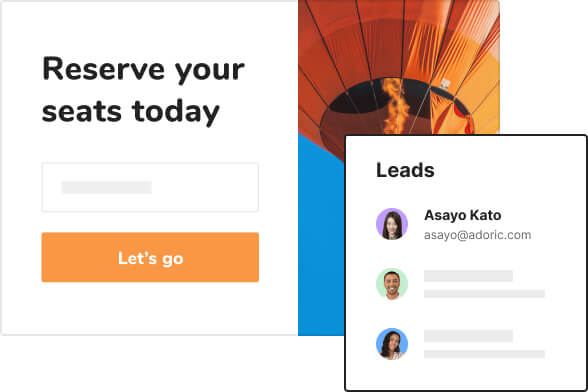 Brands we've worked with
Adoric has helped many global brands optimize their conversion. Here are some of them:
Tons of features, unlimited possibilities
Your imagination is the only limit to what you can achieve with Adoric. Discover how Adoric can help you reach your marketing goals.
See all features
Happy clients
At Adoric, we take our clients' satisfaction very seriously. We want to see you succeed! Here are some testimonials from our happy clients.
Sign up free
I run a number of websites for hotels and tourist companies. I have used Adoric's in a number of ways to grow my business. I have used it to promote my products, ask for feedbacks from our customers, etc. One thing I really like about Adoric is that is easy to use, easy to understand, and intuitive. Plus it allows us to communicate with our customers easily. Whenever I need guidance and help, Yuval is always available. She is a professional.

Yair Oz

Webmaster @ abrahamhostels.com
I would highly recommend Adoric's platform to travel companies. First, Adoric is easy to operate. It is clear, simple, and provides a solution to every need. Second, the accompanying team, led by Shani Lum, proved to be a full partner in fulfilling everything we wanted. We managed to create with Adoric scheduled pop-ups, embedded forms, and personalized events that match the needs of our company. Third and most important, the fast service, the responsiveness, and the real desire to help our business grow.

Amiad Oberman

Web Manager @ smartair.co.il
Create your first campaign today
Create and launch your first campaign in just three steps - it couldn't be any easier.
Sign up free