Search engine optimization is an integral part of E-commerce. With the growing number of online businesses, you cannot afford to rely only on posting product photos or videos on your Shopify website.
According to Ahrefs, 90.63% of content goes unnoticed on Google. Meaning that only about 9.37% of content online ranks on google. That tells you that you need an external force to push your business or content to the front pages of Google and other search engine results pages.
This is why you need to take SEO very seriously. An in-depth understanding of Search engine optimization and how it takes can dramatically change everything about your business.
And you need all the tools and help you can get to succeed. That is why we have created a long list of SEO tools to help you get started. Keep reading to find out more.
Best Free SEO Tools
1. Ubersuggest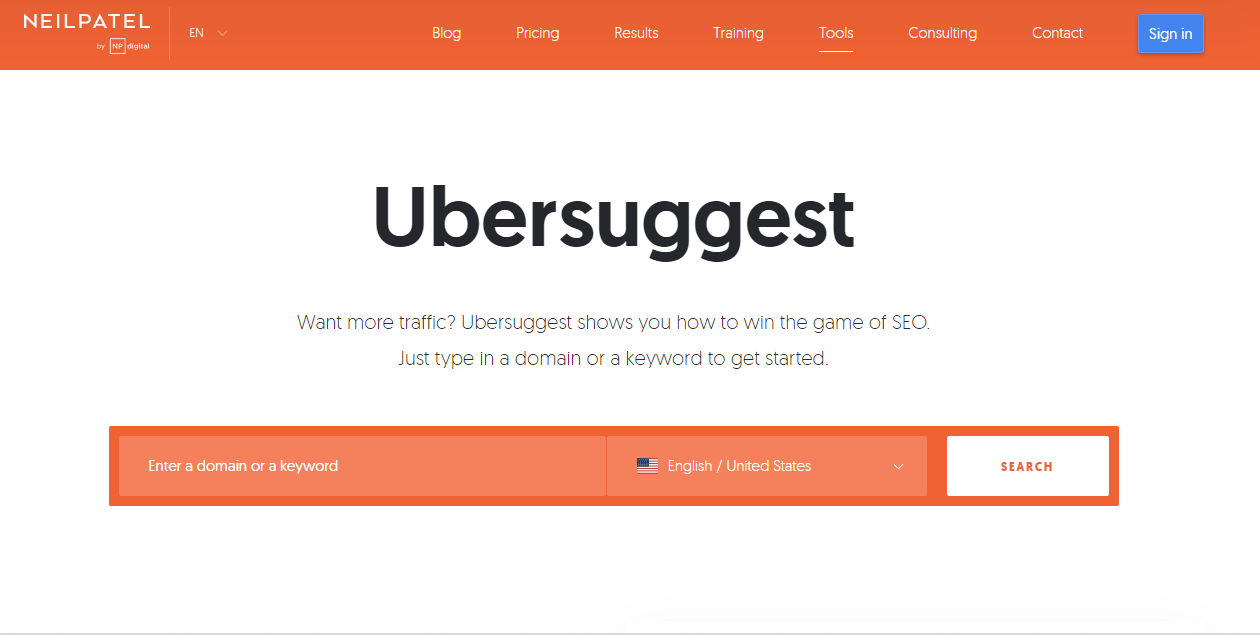 Ubersuggest is a free SEO tool that provides keyword suggestions related to a domain or target keyphrases. It produces a long list of keywords while showing their search volume, estimated visit, cost per click, SEO difficulty, and the probability of ranking.
Ubersuggest helps you identify your top competitors and why they rank high.  You also get content ideas and relevant backlinks. The free account offers you three daily searches. You can either pay a subscription fee to enjoy more access or come back 24 hours later.
2. Answer The Public
AnswerThe Public, as the name implies, is a tool that gives you insight into the minds of your potential customers. Millions of people are constantly searching for answers on the net. And a lot of these questions remain unanswered.
AnswerThe Public help you find untapped keywords and relevant content ideas. Once you type in a keyword, it surfs the internet to generate a list of keywords and published posts related to your search.
It categorizes your search result into questions, prepositions, comparisons, alphabetic order, and related searches. And also indicates their search volumes and cost per click.
3. SEO Review Tools

SEO Review Tools has a suite of free SEO tools in one place. It offers about 64 free tools for different uses. Some of the tools available tools include:
keyword tool
rank checker
domain authority checker
AI content tool
content idea generator
content brief generator
FAQ schema generator
And many more.
SEO Review Tools gives you into your website or that of your competitors. It helps you generate content ideas for your Shopify store.
4. Ahrefs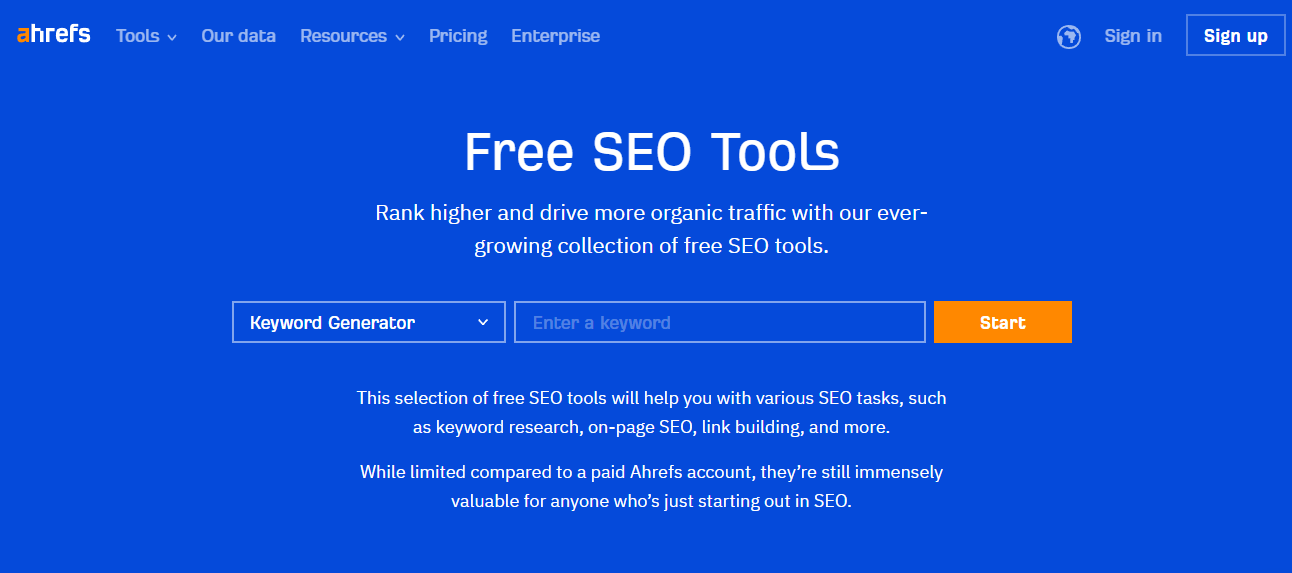 Ahrefs offers users a free and paid account. The free version gives you access to limited features and tools. Notwithstanding, the available free tools are enough to take you through your SEO-beginner journey. These tools are categorized into; keyword difficulty tools. SERP & ranking insight tool, and link build tools. They help you generate keywords that can drive organic traffic to your Shopify store.
5. MozBar SEO Toolbar

MozBar is a free chrome extension that can help improve your website ranking. It is an all-in-one SEO toolbar that gives you vital details about any webpage you visit. It tells you the domain authority, page authority, and spam score of any site. MozBar also allows you to quickly compare metrics from multiple pages.
Free SEO Website Checker
Getting your website to rank high on search engine result pages goes beyond adding keywords to your content. Your metatags, links (internal and external), URL, title tag, homepage, and others need to be well-optimized to generate maximum results. These free SEO checkers can help point you in the right direction for better optimization.
6. Screaming Frog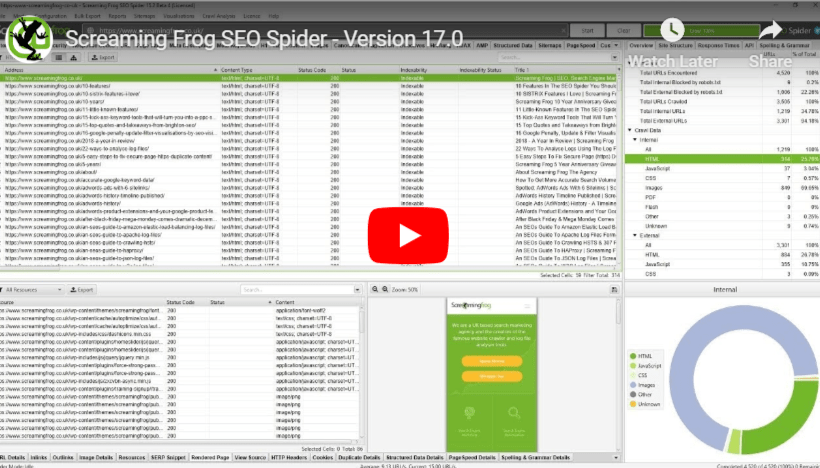 Screaming Frog SEO Spider is a free SEO website checker that crawls your website to find broken links that can harm your website's performance and user experience. Broken links are one of the leading causes of high bounce.
When customers encounter a broken link error, they will likely never return to that website. To prevent this from occurring Scream frog runs an analysis on your website to find these links so you can fix them. Using the free version allows you to crawl up to 500 URLs. you can upgrade your account to gain unlimited access to other features.
7. GTmetrix

GTmetrix is a free SEO website checker that helps boost your website speed. It analyzes your site to track your performance over time, notify you when your page is slow, show how your page loads on different devices, and how it performs around the world.
Create an account to see a video recording of your site performance to identify underlying issues.
8. HigherVisibility Google SERP Snippet Optimization Tool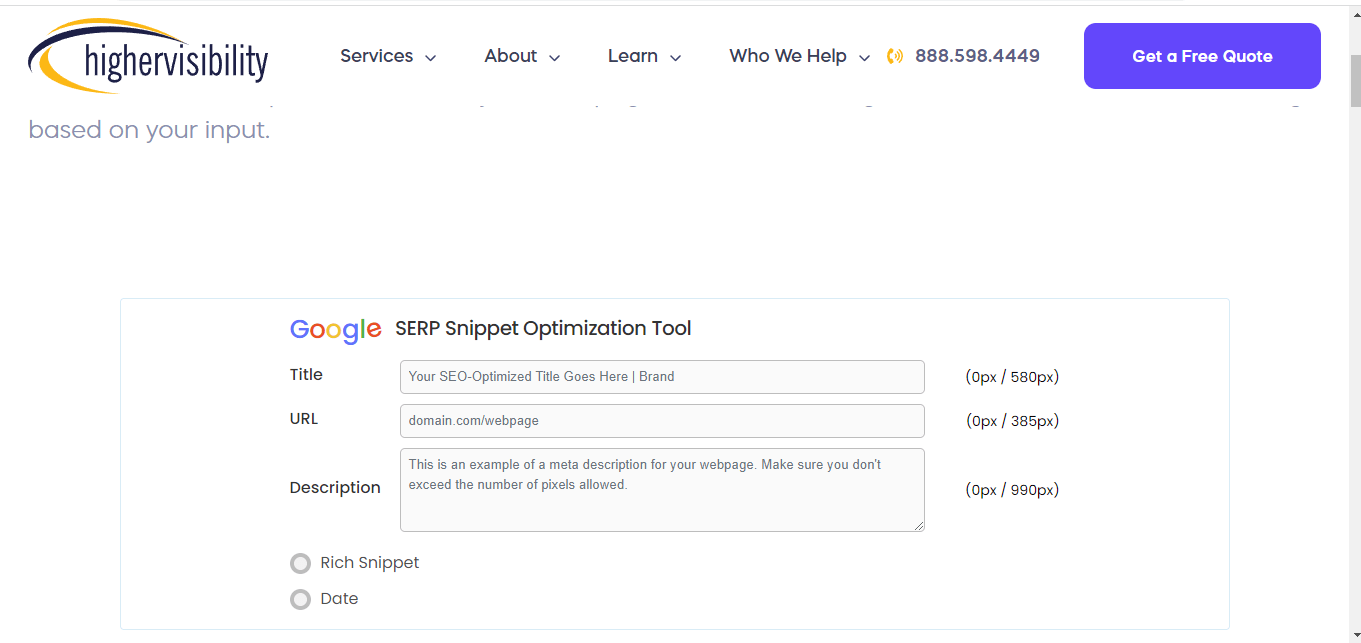 This tool shows you in real-time what your page will look like in Google search result pages as you optimize it. It provides a form where you can input your page details like title, URL, and meta description. Then it creates a visual representation of how your page will appear on Google's search engine result pages (SERPs).
Google SEO Tools
Google is one of the leading search engine platforms that provides several SEO tools and plugins. Most of the tools are free and offer great benefits to the users. Here are some of the Google SEO tools for you.
9. Google Keyword Planner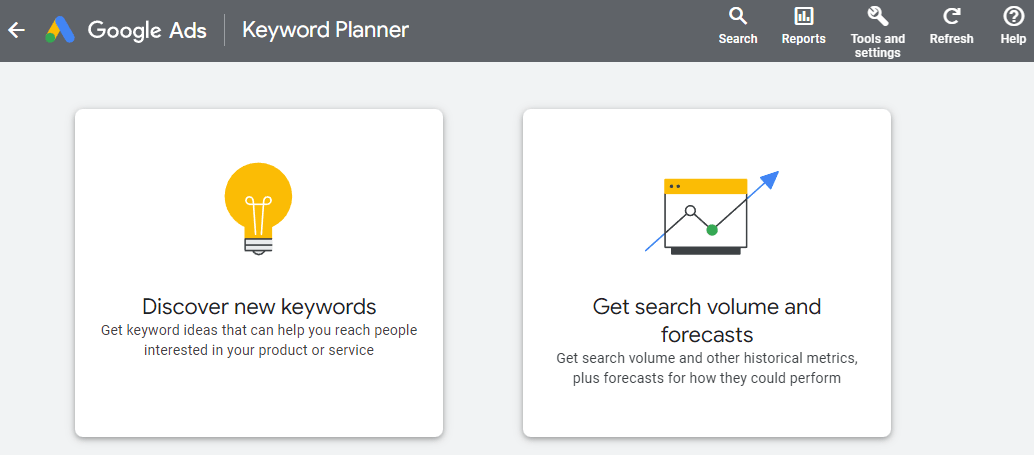 Google keyword planner is an important Google SEO tool that functions in two ways. It helps you discover new keyword ideas for your business. And to research keywords to see the search volume and forecast.
Enter a phrase or word into any of the search options to see a list of relevant keywords and vital details about them like search volume, cost per click (CPC), SEO difficulty, year-over-year performance, and more.
10. Google Analytics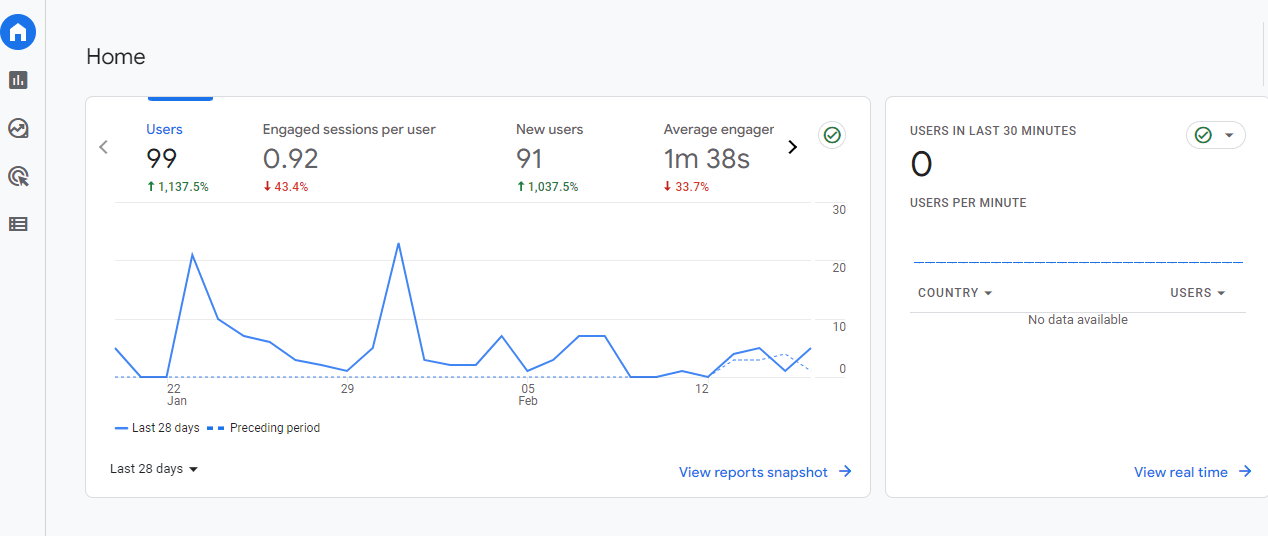 Google Analytics is a Google SEO tool that analyzes your website and SEO metrics to show you your website performance and visibility level. It gives you real-time details like user acquisition, traffic, engagement, demographic, and more. Google Analytics is a free tool. Simply install the HTML code in your website's code to take advantage of it.
11. Google Search Console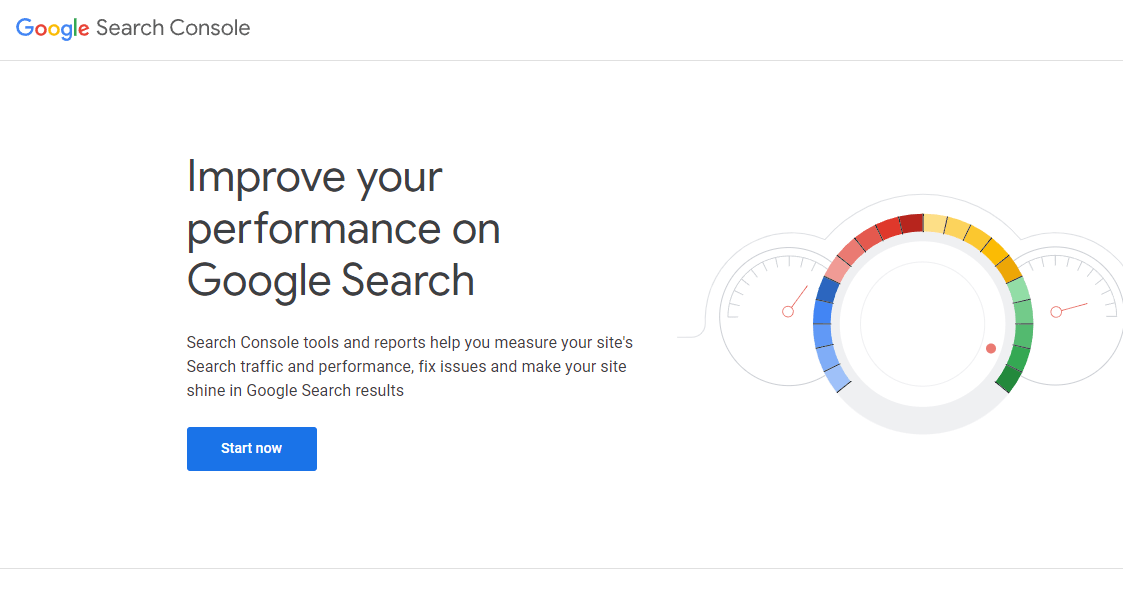 Google Search Console is a tool created to help you analyze your website performance on Google. You can see the keywords or search queries you are ranking for and pages on your website with high performance. On top of that, Google Search Console makes it easy to identify and fix underlying and submit sitemaps and individual URLs for crawling.
12. Google Trend

Google trend is an excellent keyword research tool for discovering what the world is searching for on the net. When you enter a topic or phrase, it shows you a line chart indicating your search query performance in the past. It also indicates places where the phrase is trending and shows related keywords. You can also compare multiple topics or phrases at once.
SEO Tools For Link-building
Search engines love websites that perform well organically. Having backlinks that lead to other domains with high authority is one sure way to boost your legitimacy and increase your chances of appearing on the top page of search results.
13.  Monitor Backlinks Free Backlink Checker SEO Tool

This tool lets you discover backlinks for any website. When you enter a domain URL, it shows you the best 300 backlinks linking to the domain. All the backlinks are sorted by quality, so, you can pick the best. The Free Backlink Checker Tool allows you to check up to 300 links per day. Using this tool will help you find high-ranking websites you can connect with to boost your Shopify website domain authority.
14. SEO Toolbar
SEO Toolbar is a Chrome and Firefox browser extension and is a part of Ahrefs. But it has some unique features that make it excellent for link building.
Unlike other SEO browser extensions that highlight dead and internal links separately, SEO Toolbar does both at the same time. It shows you pages with external and dead links, making it easy for you to make an informed decision.
In addition, SEO Toolbar also provides an On-page SEO report, SERP position, country changer for SERP, and redirects tracer with HTTP Headers.
Free SEO Tools for Shopify
Shopify provides free SEO tools you can seamlessly integrate with your store for website optimization. These tools can help improve your visibility and performance.
15. SEOAnt-Broken Link Redirect

Broken links are one of the major causes of low Google ranking and decreasing sales. The presence of broken links on your website increases your bounce rate which is not good for business. To solve this challenge, the creators of SEOAnt-Broken Link Redirect develop the app to detect 404 errors and fix auto-redirect automatically.
The app allows you to bulk edit 404 links, generate an up-to-date report on 404 errors, and target suggested URLs. SEOAnt-Broken Link Redirect is a free Shopify SEO tool that offers a premium package.
16. SEO Image Optimizer & Speed

SEO Image Optimizer & Speed is a free SEO tool for Shopify that enables you to optimize your web page. Using this tool, you can resize images with the click of a few buttons, generate alt text, identify and fix broken links, generate attention-grabbing meta descriptions, boost page SEO ranking, and more.
The free account lets you optimize 50 images per month, and anything above will require extra costs or a subscription fee. The subscription fee is quite affordable compared to similar apps.
17. Booster SEO & Image Optimizer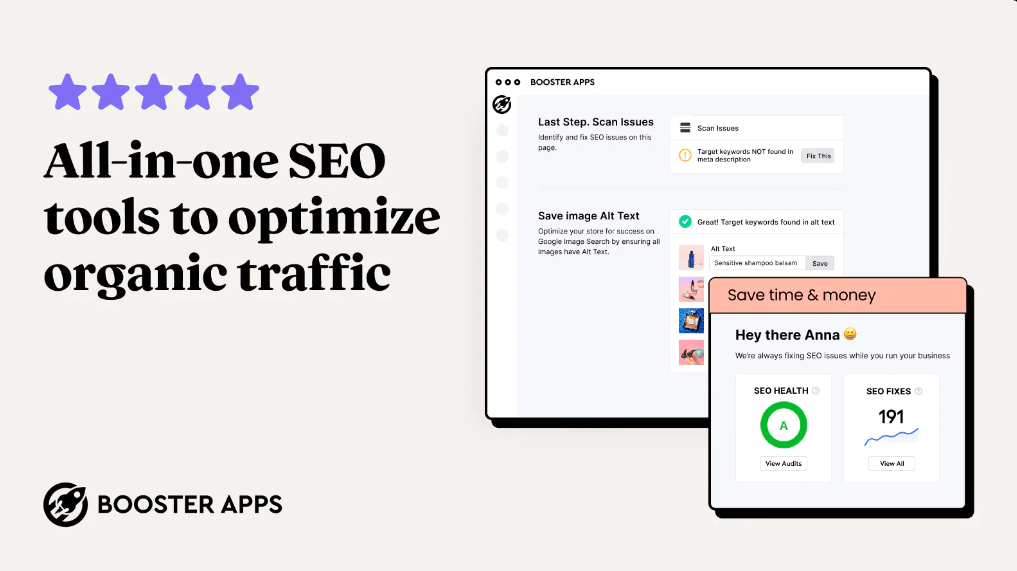 Booster SEO is another great SEO tool for optimizing images and boosting page ranking. The app was built specifically for Shopify, making it easy to use on your Shopify store. Booster SEO works to keep your website continuously ranking high on Google by helping you set up On-page SEO.
The autopilot feature lets you automatically find and fix SEO errors without breaking a sweat. You can identify broken links, compress bulk images, and increase page speed. The free plan gives you access to some great features for a start.
When you need assistance, Boost SEO provides human support that is available to help you at any time of the day.
18. Judge.me Product Reviews

User-generated content and reviews are a great way to build trust. Social proof reveals the authenticity of your business to potential customers. Judge.me is a review app that supports 37 different languages. Integrating it with your website encourages customers to drop reviews, images, and videos about your product. You can customize it to match your brand.
The app allows you to receive multiple reviews as emails, display star ratings and product reviews on your website, share reviews across your social media platforms, and reward customers after leaving a review. The free plan gives you access to many beneficial features.
 19. Plug In SEO

Plug-in SEO is an app that aims to help website owners increase traffic and sales through SEO optimization. It gives you a clear insight into what your Shopify SEO looks like and how to make it better.
The app identifies all SEO issues on your Shopify website and guides you on how to fit them. The free version allows you to perform basic SEO checks, blog checks, and receive automatic email alerts. Upgrade to any of the paid plans to enjoy other great features like identifying and fixing broken links, access to detailed SEO reports, automatic page management, and more.
20. SearchPie: SEO Booster & Speed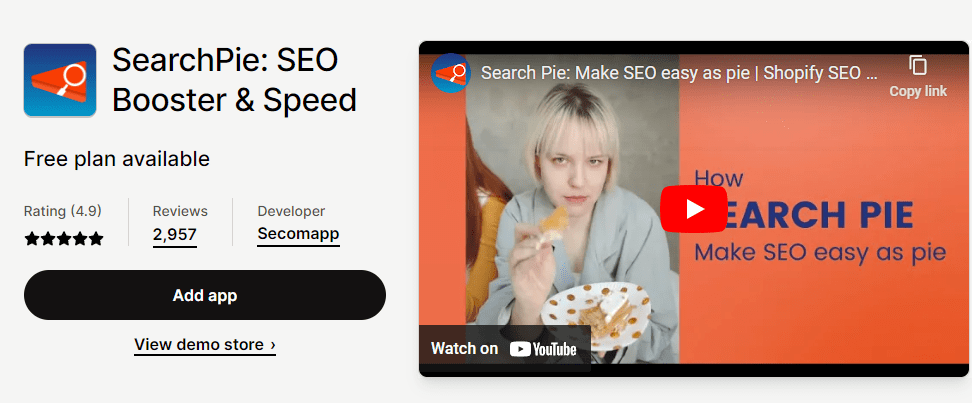 Search Pie is another excellent Shopify SEO app that helps you optimize your page in a way that meets Google's standards. The app focuses on increasing your website visibility and site speed. It integrates with other apps like Facebook, Judge.me, PageFly, Google, Growave, and Weglot.
Here is what you can do with Search Pie SEO Booster & Speed;
Update Meta Titles, descriptions, and Alt tags in bulk
Improve website credibility by automatically addressing 404 issues
Improve website loading time
Compress images into the perfect sizes
Add rich snippets to your page to increase organic traffic
Search Pie provides a forever-free plan and other paid plans. The free plan limits what you can achieve using the app. Consider upgrading to any of the paid plans to enjoy more benefits.
Bonus: SEO Tips for Shopify
Let's say you have successfully created your Shopify store but are not getting the traffic or sales you expected. Try implementing these SEO tips and see how far they can take your e-commerce business.
1. Optimize your store images
Optimizing images is vital to your Shopify store as it helps make your page more discoverable on Google and other search engines. Add relevant keywords to your image alt text, descriptions, and captions. That way, your images will appear in search result pages when someone searches for anything related to your image.
2. Remove duplicate content from your store
Duplicate content refers to content that already exists on your web page or someone else's page. Duplicate content can be harmful to your page because when search engines flag your content as duplicate, it can affect your ranking. On the bright side, once you fix the problem, you have nothing else to worry about.
3. Link your products page from the home page
Your home page is often the most visited page on your website making it very powerful. Linking your product page to your home page makes it easy for customers navigating your website to find the important pages.
4. Build credible backlinks to your Shopify store
Backlinks are one of the holy grails of SEO. Having quality backlinks is a great way to get more eyes on your website. They not only generate more traffic but also adds credibility to your website. We have mentioned earlier in this post some amazing tools that will help you find quality backlinks.
5. Conduct technical SEO on your Shopify store
Simply put, technical SEO is any SEO activity that is not related to the content you share. Here are some things to look out for during technical SEO;
Ensure that your site is crawlable
Fix all crawl and redirect errors
Add sitemap.xml file to Google Seach Console
Validate HTML and CSS
Instal Google Analytics
Tag your headings accordingly ( H1 for title, H2, H3,H4 and so on for other subheadings)
Conduct a website audit to check for site speed, broken links anything that can harm your performance.
Conclusion
Done right, SEO can help drive massive traffic to your Shopify website. And it's inexpensive and reliable.
But it's one thing to get massive traffic, it's yet another to convert that traffic into sales.
This is where Adoric comes into play.
Adoric is a conversion rate optimization tool designed to help you convert your website's visitors into customers. Add Adoric to your Shopify website right away to take it for a spin.