Almost every marketer is looking for reliable lead generation tools to find more buyers and make more sales.
Lead generation isn't only about getting customers to visit your website, it's about making them take your desired action, i.e.: pay you or buy what you have to offer.
In the world of marketing, lead generation refers to collecting information from your visitors so you can turn them into loyal buyers.
This might sound like an easy job on paper but it can be quite complicated unless you have the right lead generation tool. Additionally, If you're seeking for the best SaaS tools, StackGrab is the place to hunt for the best SaaS lifetime deals.
In this article, we'll highlight some of the best lead generation tools to help you grow your business.
Adoric is our number one pick for a variety of reasons. The tool works by creating a personalized path for every visitor. Unlike most lead generation tools out there, this doesn't only help generate leads but also helps to convert them.
It's feature rich and supports a variety of elements including design, communication, analytics, and tracking. You can use it to create multi-step messages to optimize your conversions. It also supports forms and can be connected to a variety of CRMs.
With this tool, you will be able to create personalized messages and compare different elements to find what works as it supports A/B testing, pop ups, geo location, goal tracking, etc.
Our software is perfect for all kinds of users and is very easy to use. Above all, you can sign up for a free account and see how it works.
Leaderfeeder comes with a 2-week free trial. You will, however, need a paid plan to get all the features. 
This app will help you figure out who visits your site and what they do so you can decide who to target. This app can increase your conversion rate by providing contact information for visitors.
It's a B2B lead generation tool that's best suited forB2B companies. It will not be wrong to call Leadfeeder a complete tracking software.
It keeps an eye on who visits your site as it gets connected to Google Analytics and provides up to date results.
The app is easy to use but may not be suitable for very big sites as it can be a little slow at times. On the plus side, it can provide information on visitors who never provided their details.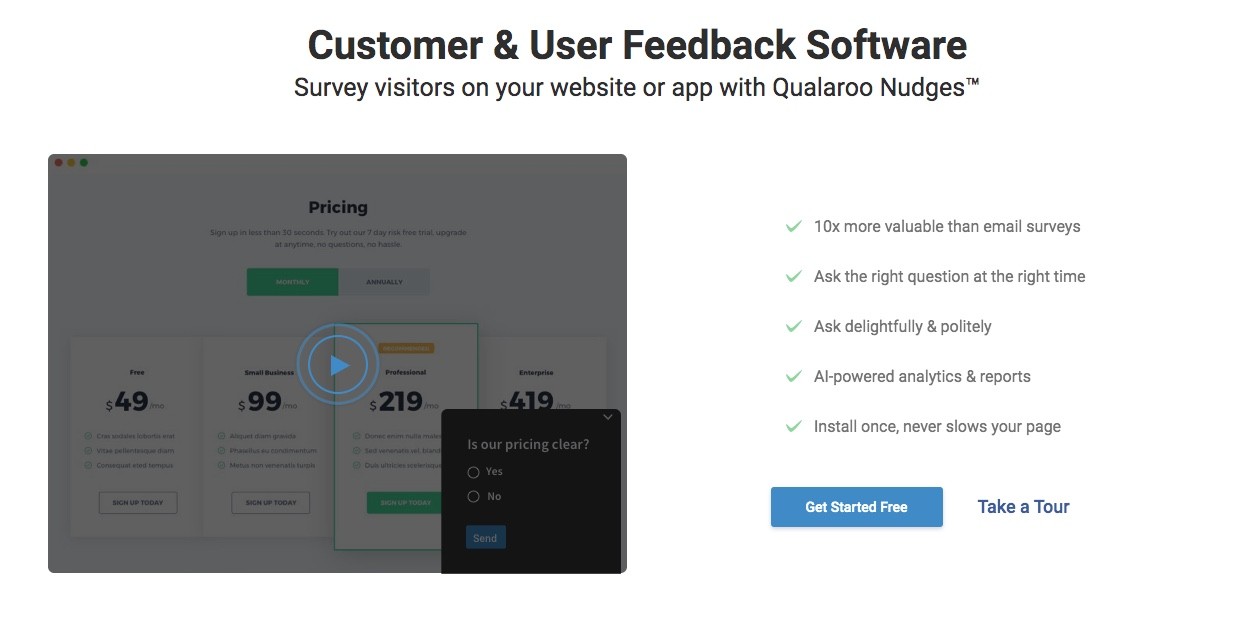 Interested in using polls to gather data? Consider using Qualaroo, a polling tool that allows marketers to collect both emails and feedback that can be used to improve your products and services.
This technique is said to be 10x more valuable than email surveys. The system uses AI to generate reports and give recommendations. You can start with a free demo or choose a paid plan starting as low as $20 per response per month.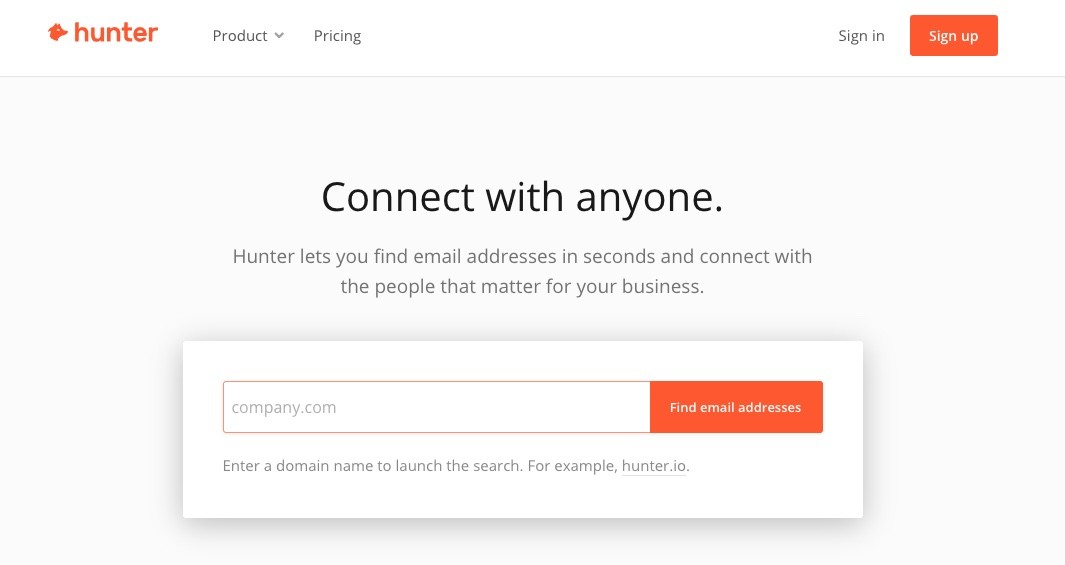 There's a lot to like about Hunter, one of the most fun email marketing lead generation tools. This email finder can be great for both small and big businesses.
You can use it for free (up to 100 requests) or get a paid plan – starting as low as $39/month.
With this tool, you'll be able to find someone's email just by typing their name and company.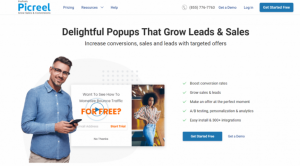 Picreel is best known for its exit-intent technology that helps online businesses to display well-timed and beautiful popups to website visitors. This lead generation and conversion tool allows you to reduce cart abandonment, promote offers & discounts, recommend products, offer a survey, and do much more.
It offers 100+ delightful popup templates that are completely customizable without any coding. You can use these AI-powered high-converting popups to convert your website traffic into customers. The leads generated are updated in real-time.
Some other features include A/B testing, reporting & analytics, and over 700+ easy-to-install integrations. The leads that you capture are transferred automatically to your CRM, CMS, and marketing tools for sales, marketing, and customer support teams to work on.
The company offers several plans starting at just $14/month with a guarantee of increment in leads & conversions.
Right Inbox brings your emailing efforts to the next level. It allows businesses to track email opens, automate email follow ups and set up recurring emails within Gmail. This tool makes it easier to have conversations with potential clients and never lose track of important messages. Right Inbox offers a free trial that you can use to know how it works. The cheapest plan starts as low as $5.95/month.

Here's another free tool that makes it easy to store, nurture, and capture leads. It offers a bunch of features you can use to gather data. They include popups forms, chatbot, live chat, and traditional forms.  But Hubspot isn't really free. The free version is limited, and the cheapest starter plan starts from $45/mo and gets quite expensive later. It might be worth it if you like the complete all-in-one toolset. There are many HubSpot alternatives that can get the job done too, sometimes a better fit. Be sure to check them out!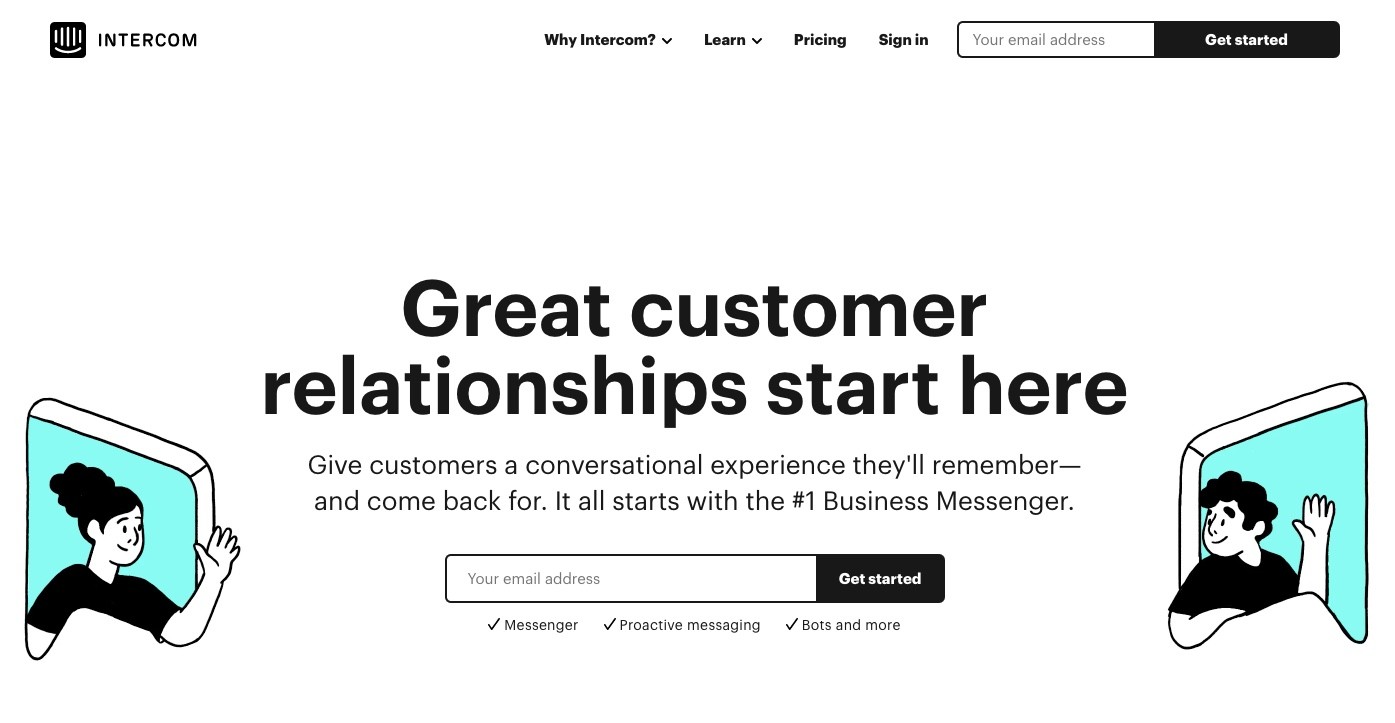 Despite having a a limited number of features, Intercom has several use cases. Its on-site chat and messaging feature can be very useful. 
You can use it to engage with your visitors and collect their information while also answering their questions to convert them into buyers.
The app lets users analyze visitors in-app or on-site behavior and set up triggers to make support, retention, and onboarding easier. 
The cheapest package starts at $39 per month but the most expensive plan, which comes with some additional features, goes for $999 per month.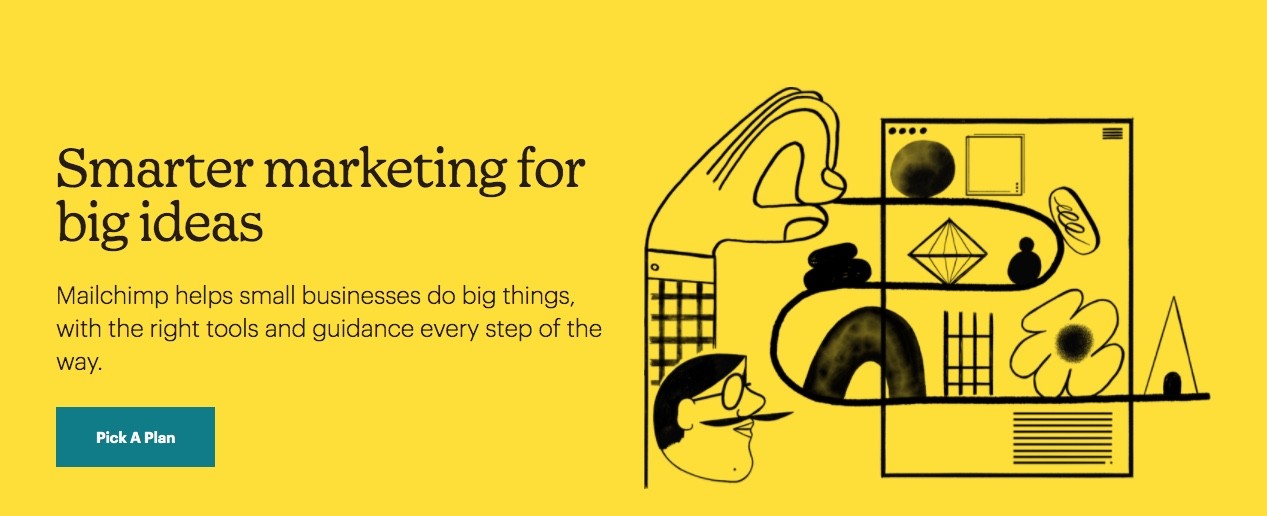 MailChimp is among the most popular and widely used email marketing tools. It is free; however, expect to spend about $10 per month to get access to all the features.
It's a perfect lead generation tool for users looking to reach more people without having to spend a lot of time or money. Additionally, it's fast and affordable. 
The software features a unique intuitive, drag-and-drop application that makes it easy to create emails that can be sent to thousands of users.

Constant Contact is often touted as an alternative to MailChimp but it does have its own uniqueness. 
The best thing about this company is its customer support. You will always get the help that you need. The cheapest plan starts at $20 per month. Plus, you can start with a free trial.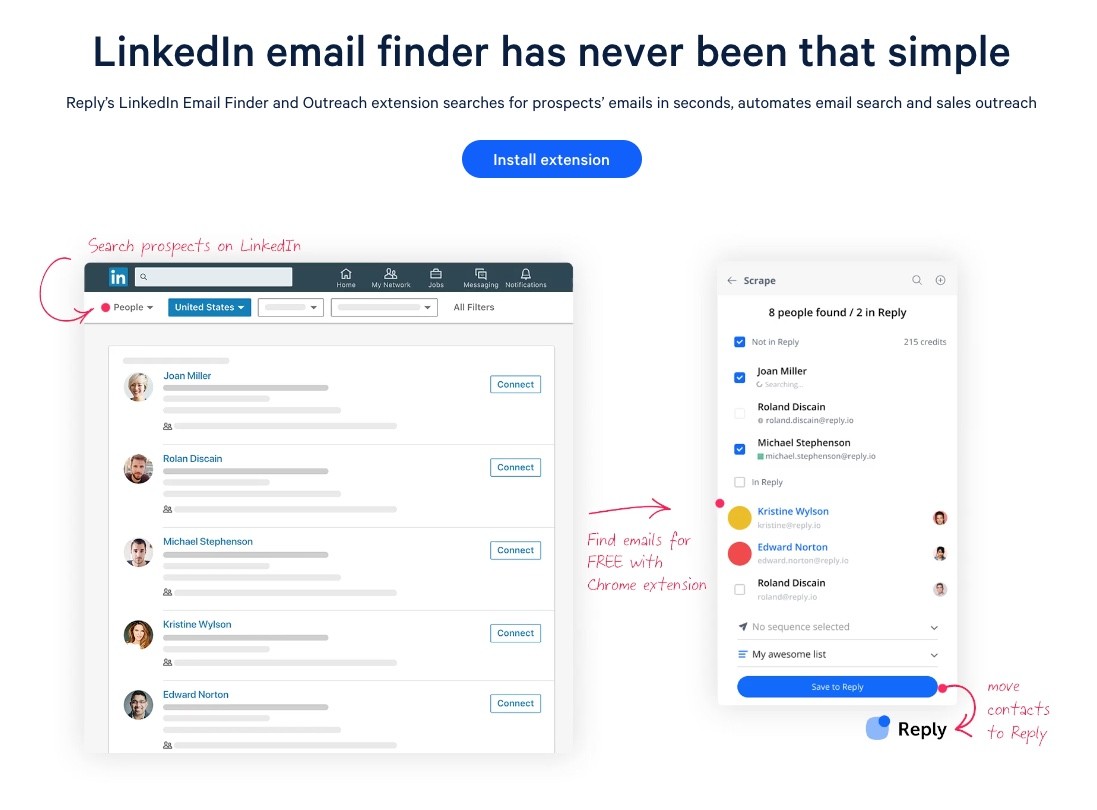 We love the updated Chrome extension that makes it possible to find potential clients on LinkedIn. The tool is pretty fast and allows users to search for individual accounts or in bulk.
In addition to this, you can use it to make direct calls, access tasks, and put things in a sequence for easy management.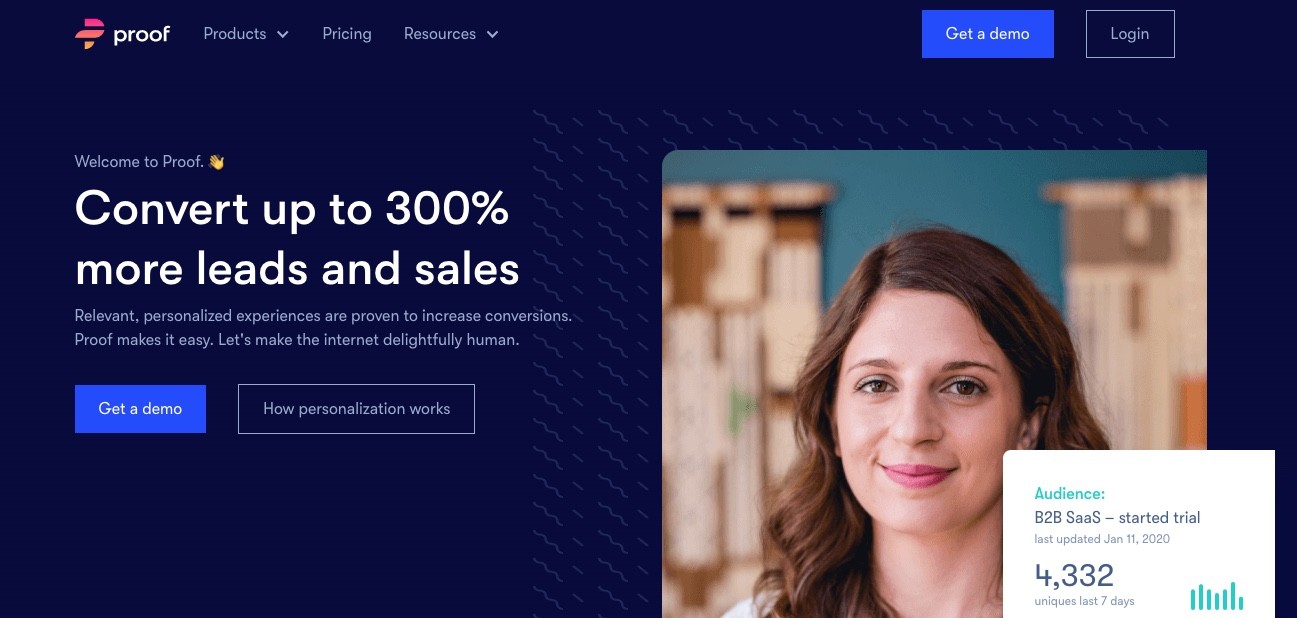 Proof might not be the most popular lead generation tool out there but it definitely deserves to be on this list as it's fast gaining momentum.
This tool allows marketers to use social proof, A/B testing, and personalization to generate and convert more leads. You can use this tool to highlight how a specific product is popular so that more people are interested in buying it.
According to the company, this tool can help convert up to 300 percent more leads. You can start with a free demo; however, you'll have to get a paid account to continue using it. The cheapest plan starts at $79 per month.

This sales tool comes with a free version but that's not recommended since it will allow you to only find up to 50 emails. If you are serious about generating leads then get a paid version of the app – starting as low as $49 per month.
With this tool, you will be able to find someone's email to reach them and promote your products or services. All that you will need is the user's name and company name. 
Also, have a look at the company's bulk email identification feature. In case you're looking for more options, the company also offers a pay-as-you-go plan starting as low as $0.10/lead.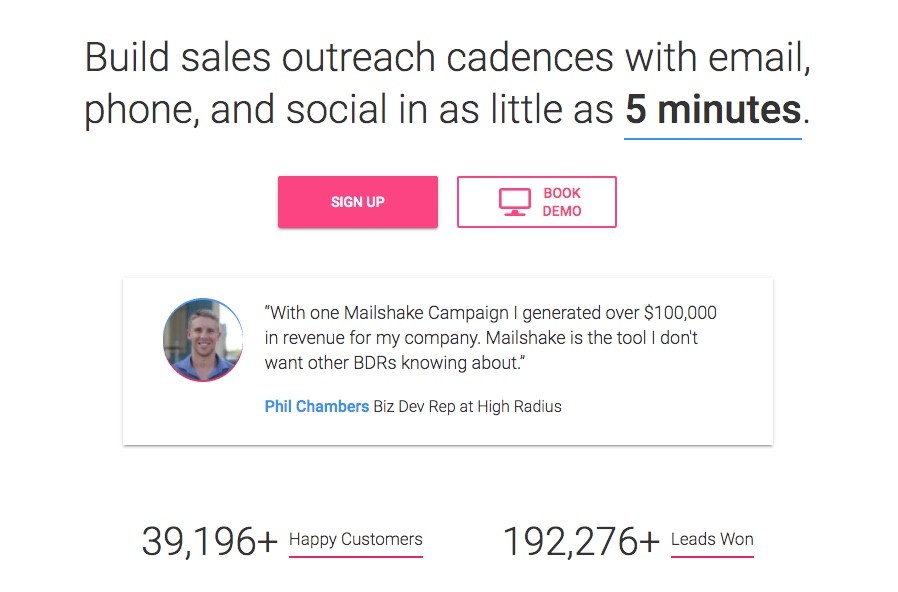 If you're interested in email outreaches, then this tool can be of great help. It allows businesses to optimize, personalize, and automate cold emailing.
We love how easy it is to use. Plus, it comes with some additional features including ready-made templates.
Milkshake can help you promote content, generate links, and raise funds.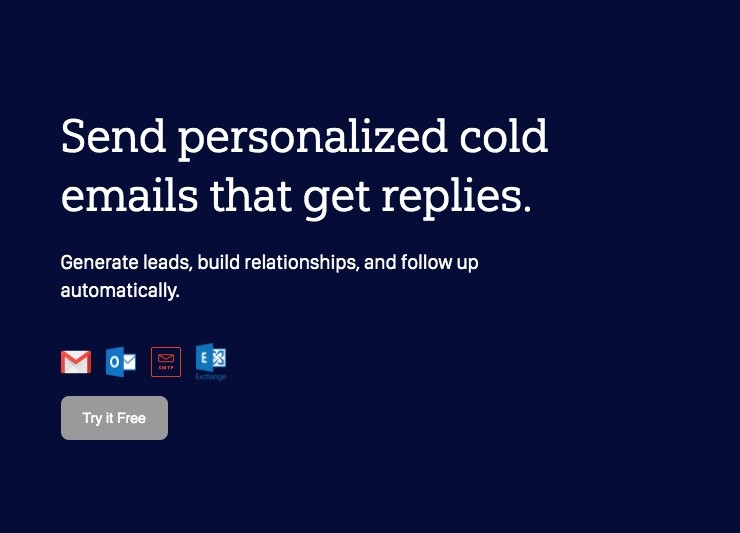 This multi-purpose tool can be great for lead generation. With this software, you will be able to create compelling and personalized emails without having to worry about manual work as it supports marketing automation.
You will find several similar tools in the market but this one is a little different as it allows marketers to find leads.
The company offers a free trial that you can use to know how it works. The cheapest plan starts as low as $18/month.

According to Hoovers, it's the largest commercial database software in the world. While we couldn't verify the claim, we have no reasons to doubt the company as it appears to be doing well and can be great for marketers interested in building targeted lists.
This tool makes it easier to have conversations with potential clients. 
You can use this information to come up with kickass campaigns. The app is available for free but to be able to fully use all the features, you will have to get a quote.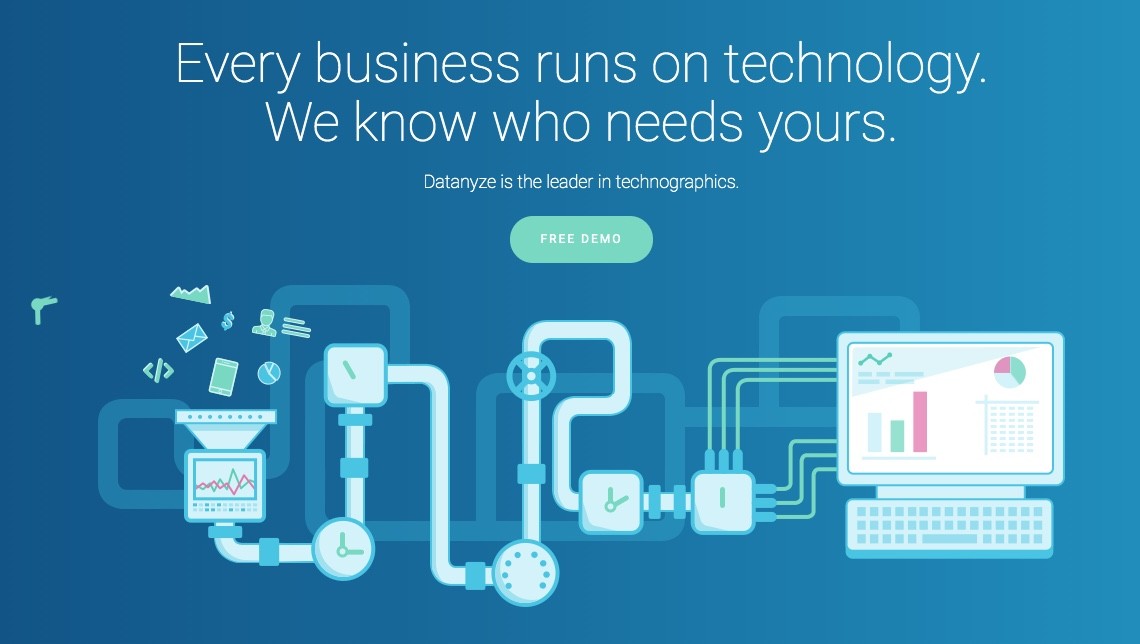 The importance of data cannot be ignored. It's not only important to generate leads but also to convert potential clients into buyers as it can be used to know more about a buyer.
Datanyze makes it possible to access data and use it to generate leads. It can quickly find contact information that can be exported into your CRM for easy management.
Datanyze offers a free demo but you'll need a paid plan to continue using all the features. Get in touch with the team to get a quote.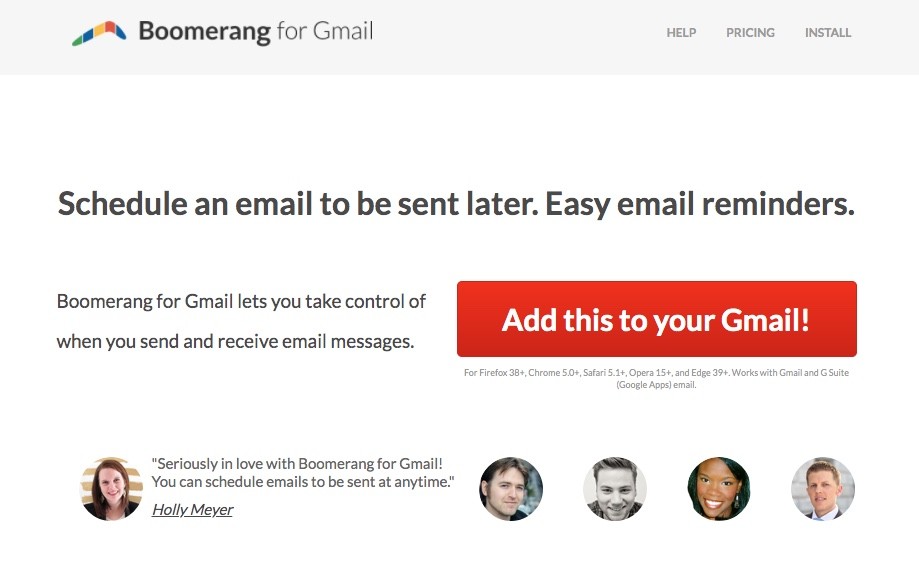 Boomerang is a popular Gmail extension that makes it possible to schedule emails and receive it if you do not receive a response from a recipient within a specific period of time.
The app comes with a free plan (10 credits per month); however, consider signing up for a paid plan to get all the features. The cheapest plan starts as low as $5 per month. 
HubSpot Sales is one of the most popular sales lead generation tools. You can start for free but consider getting a paid plan – starts as low as $50 per month – if you're serious about making sales. 
This is a subdivision of Hubspot and can be suitable for users who do not want to get their hands on the full version.
It comes with a Gmail extension that allows users to track emails and receive updates just as an email gets read. We love how easy this tool is to use. The dashboard is intuitive.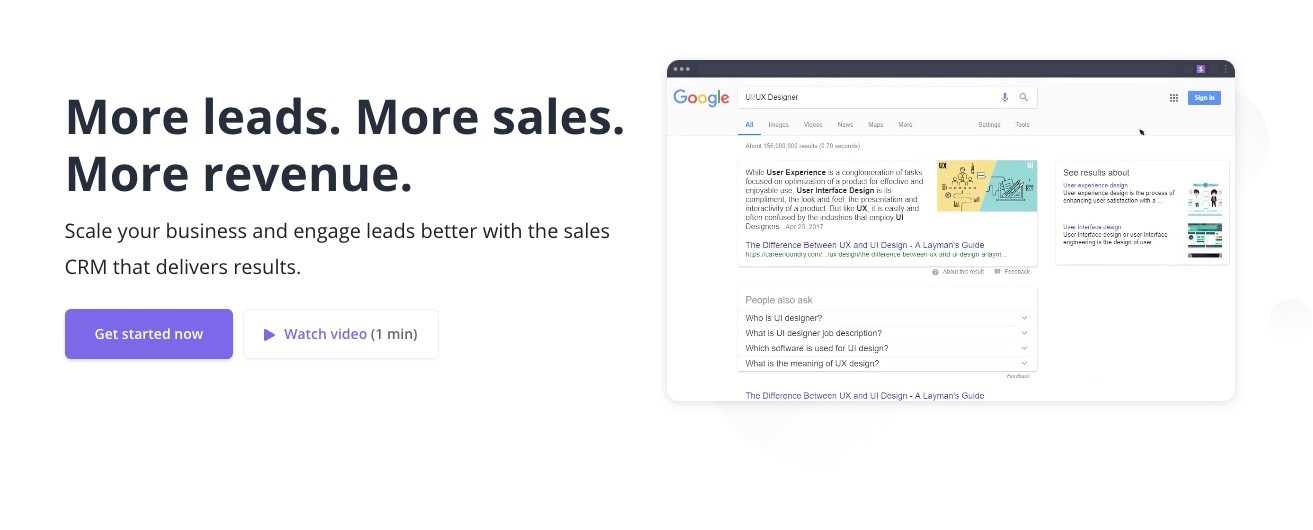 With Snov.io, you can start for free (limited emails) or get a paid version for $39 per month.
This multifunctional tool offers some pretty cool options that can help you find more leads. Consider using it to collect emails through your site, find emails based on domain and personal names, search LinkedIn and Gmail for accounts, and more. 
It offers both a Chrome extension and a web app. Additionally, there's an email verifier to ensure only genuine emails get through to you.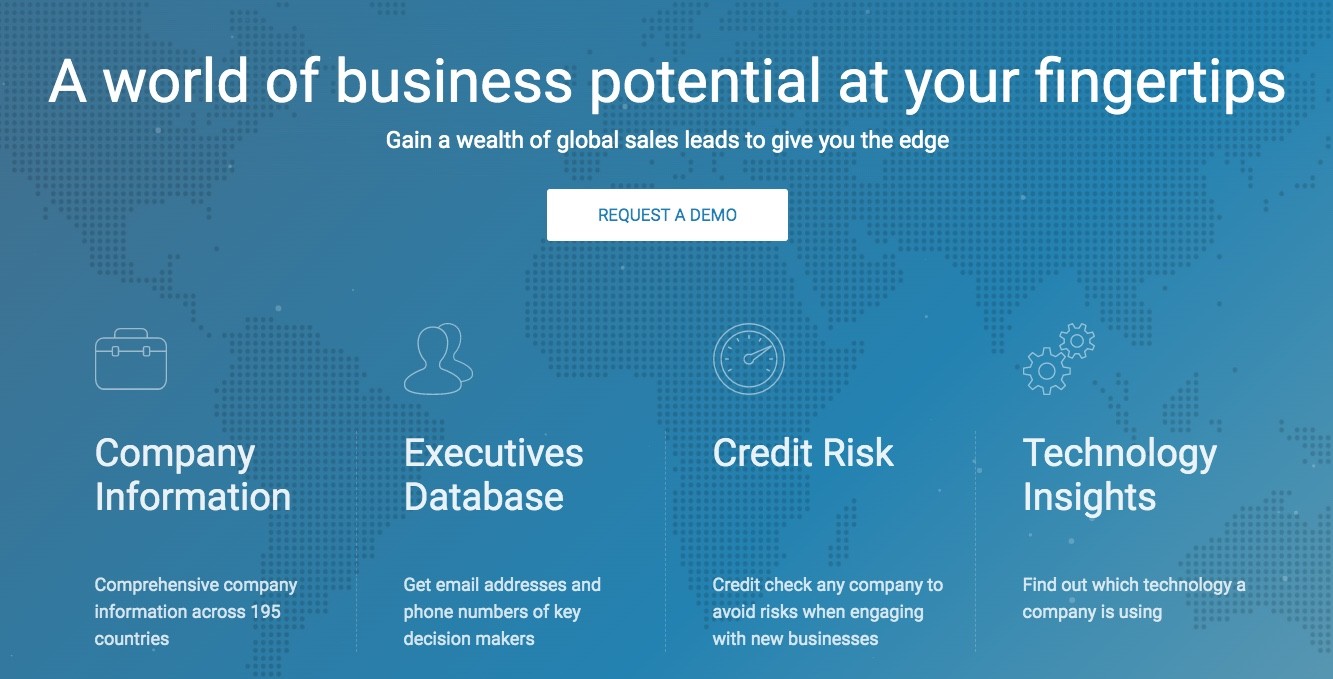 Global Database is among the few lead gen tools that target both big and small businesses. 
The tool can be customized based on your industry and region. It offers up-to-date and verified business information. The system might feel slightly confusing in the beginning due to several filters but it's worth using as you will be able to find targeted emails with the system.
This paid software only offers customized quotes, so get in touch with the company and request one.
You can search for emails based on digital presence, financial state, market position, credit risk, etc.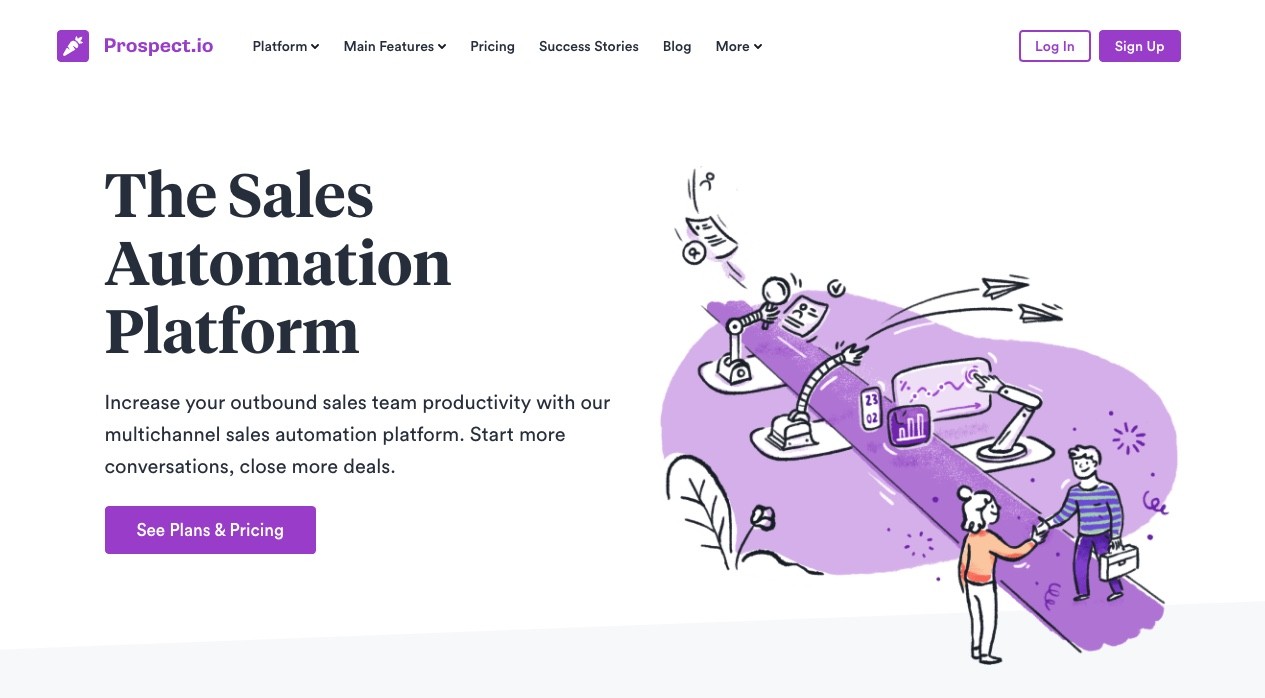 Prospect is best known for automating repetitive tasks but it can also be used as a reliable lead generator tool as it allows users to find emails to add to your list.
It's a little expensive at $99 per month or $74 per month if you sign up for a year, but we feel it's worth the money. The tool can be integrated with popular CRMs like HubSpot, Close.io, and Salesforce. It also has a Chrome Extension that can help you find potential clients with just a click of the button.

AeroLeads Finding leads through client meet ups and get togetherness can be time consuming at the same time would need more resources to pursue with. AeroLeads is one of the best automated lead generation tool that effortlessly procures prospectives from various platforms in one click. It's also well-equipped to work with CRM platforms allowing you to manage the lead generating list and to keep track of the workflow.
Allowing you to access the potential email Id's name, business details, URL's, contact numbers and much more to work with, AeroLeads helps you find prospects with $49 as starting package. Incase, you need more than 1000 credits to work with, there are much more persuasive packages starting from $149 & $499 giving you full access to your leads.

HotJar allows businesses to understand how users look at your site or social media platform.
This customer experience analytics tool offers form analytics, heat maps, on-site polls, session replays, and several other features that can be used to generate leads.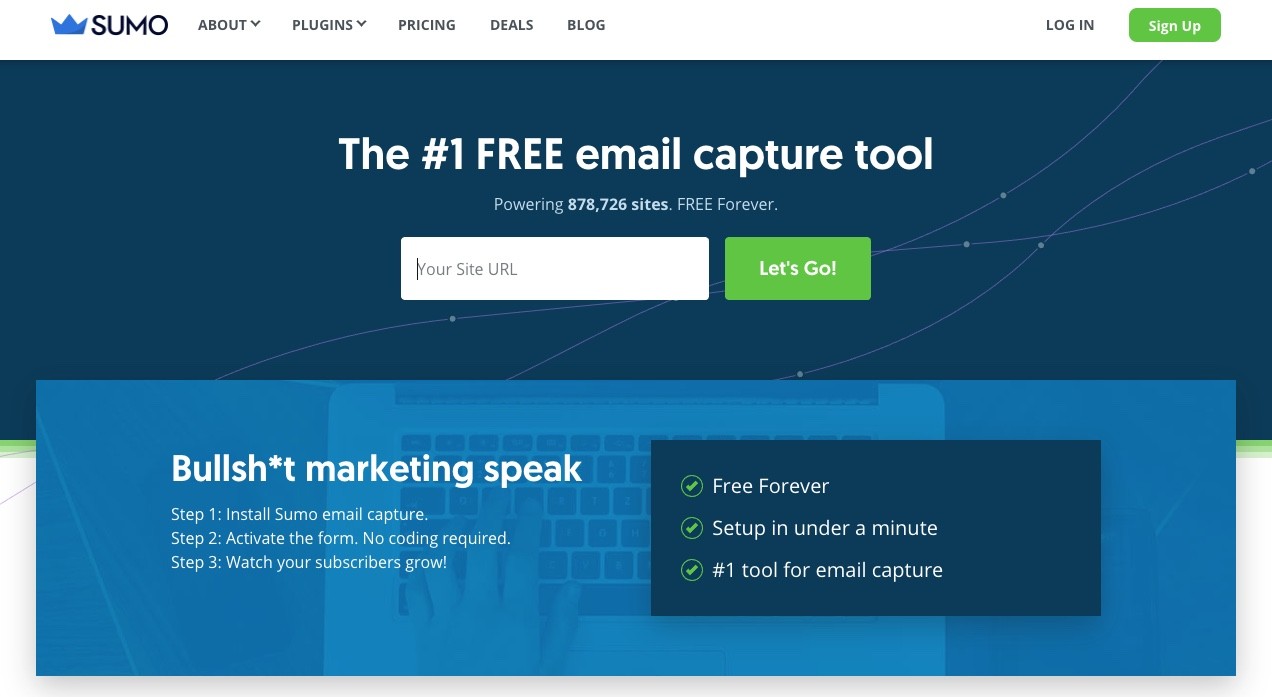 Sumo – a free lead generation tool – can be great for businesses interested in growing their subscriber base. Though free, it has paid options starting at $29/month.
It offers several features including popups, welcome emails, and slide-in popups. Some of these options can take time to master. Make sure you understand how they work so you can use these to generate leads.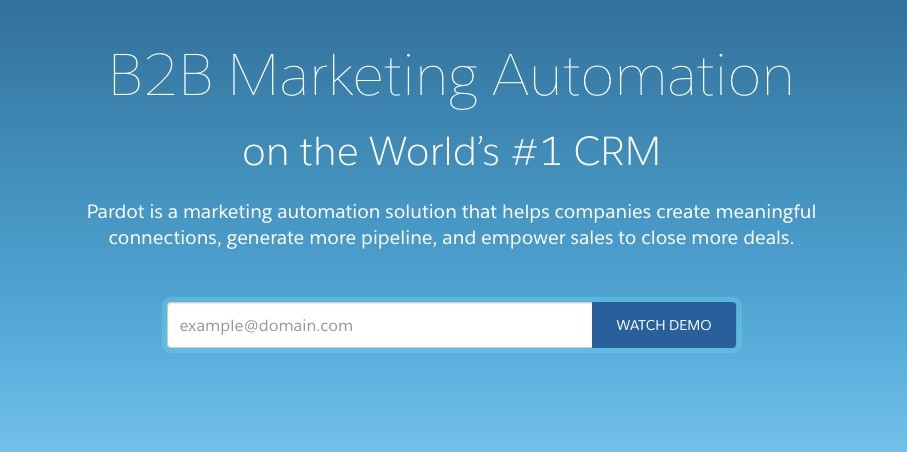 Pardot is a B2B lead generation tool designed to manage and qualify leads. It helps save time by ensuring you only engage with good leads.
It offers excellent automation and segmentation tools. However, it's pretty expensive. The cheapest plan starts at $1,250 per month. You can, however, request a demo to try it before making payments.

SharpSpring springs a surprise as it does not only integrate with most well-known CRM tools but has its own built-in CRM as well. 
With this tool, you will have no difficulties managing leads across multiple platforms. It offers an impressive pipeline overview, and some other brilliant marketing tools.
You can start as low as $550 per month; however, big brands may have to spend $1,250 or more as plans come with caps on the number of emails.

Use this lead management tool to form relationships with potential customers before they get in touch with your sales reps. The tool is said to improve the quality of 'leads' while allowing businesses to use both outbound and inbound marketing. 
We love the customer support the company offers. There are detailed guides on the site that you can use to know how the tool works. The company offers several plans, get in touch with the team to get a quote.

Leadformly allows marketers to build forms to gather information. The company has a total of 11 plans starting as low as 5¢ per lead.  
According to the company, it can help generate 3x lead leads than traditional forms. It offers more than 50 customizable templates that are suitable for all industries. They're easy to use.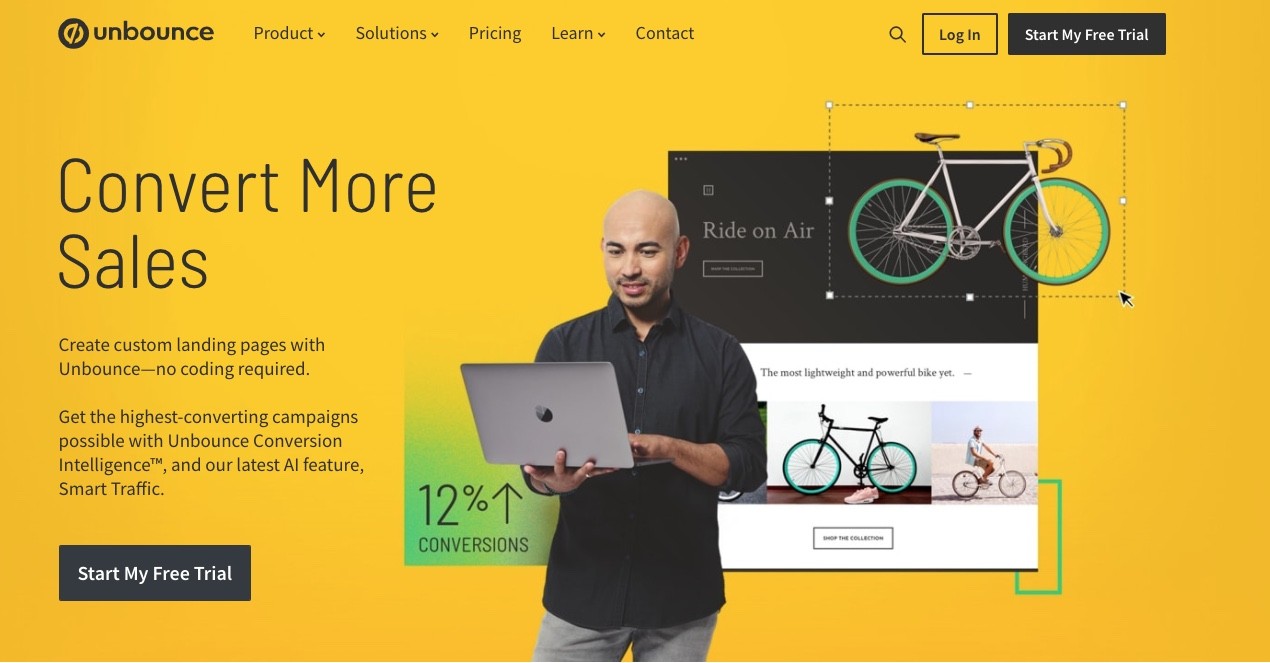 Unbounce can be used to build landing pages. It's among the easiest and most reliable Saas lead generation tools for small businesses. You can start with a demo or sign up for a paid plan – starting as low as $79 per month.
You can use several customizable pre-built designs or create your own using the drag-and-drop builder. Some other features include A/B testing and popups.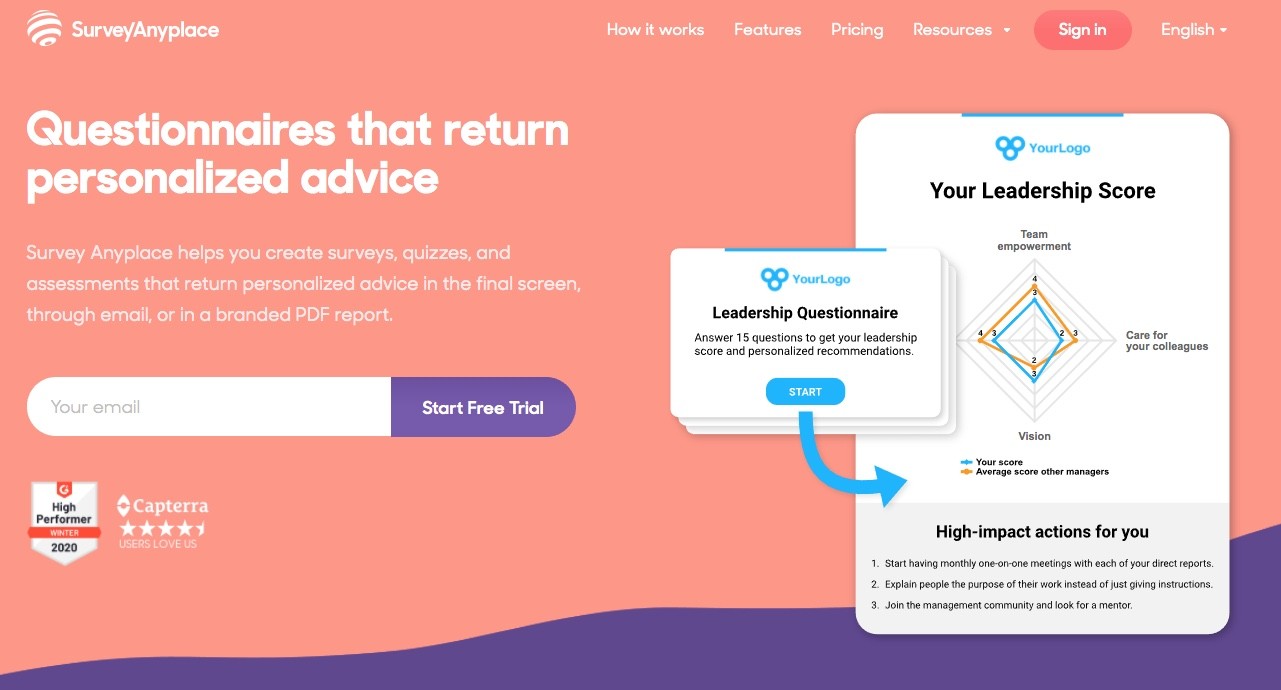 If you believe in surveys then get your hands on this tool.
It makes surveys fun and engaging. With this tool, you will be able to create a variety of surveys and quizzes. The best part about Survey Anyplace is how easily it integrates with third-party tools.
Moreover, the tool allows businesses to use 'responses' to personalize follow-up messages.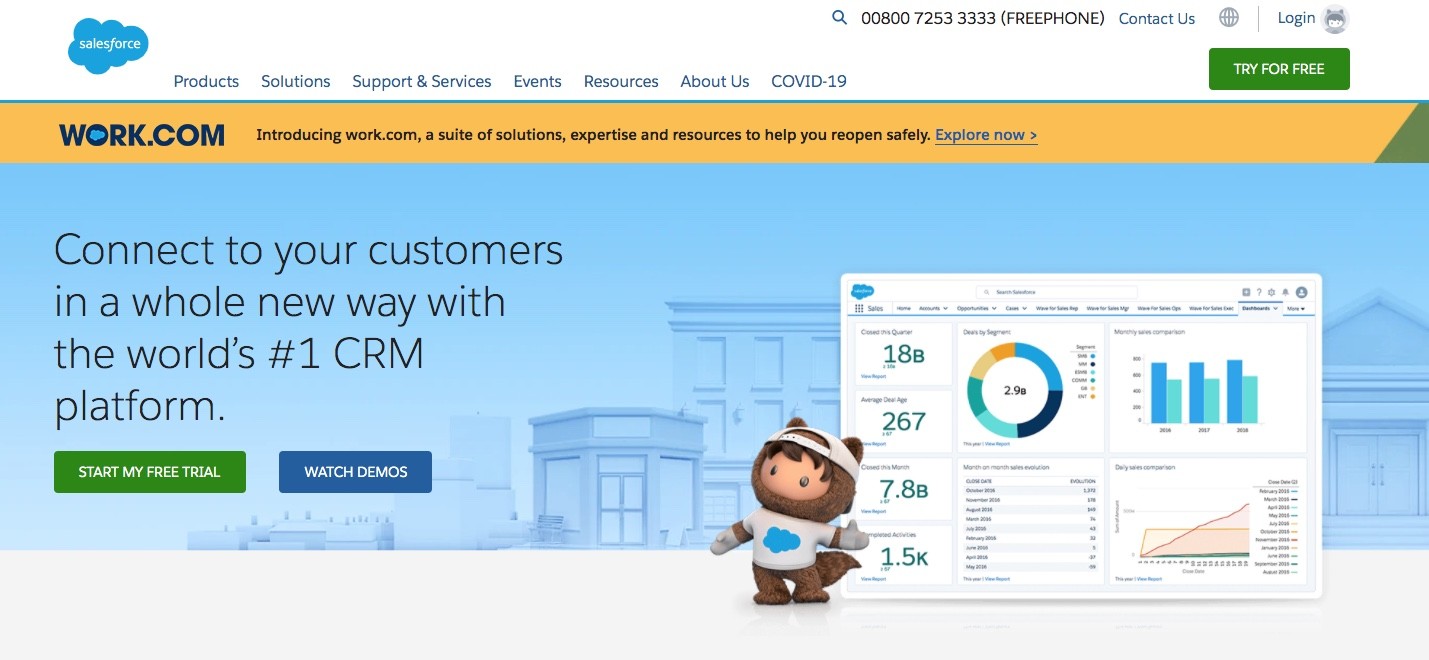 Salesforce is one of the most widely used lead management software. With this tool, you will be able to manage customers, leads, teams, and much more. It's marketed as a complete solution for small businesses and is used by top names like KFC and HCL.
It easily integrates with different sales and marketing software. The cheapest plan starts at $25 per month. 

Since LinkedIn is used by executives, it can be great for businesses looking to get in touch with companies and entrepreneurs. 
LinkedIn's lead generation tool offers advanced lead recommendations and searches. Moreover, it comes with sales updates and CRM integrations.
The cheapest plan starts at $64.99 per month. The company also offers nterprise solution for large businesses, but only available on quote.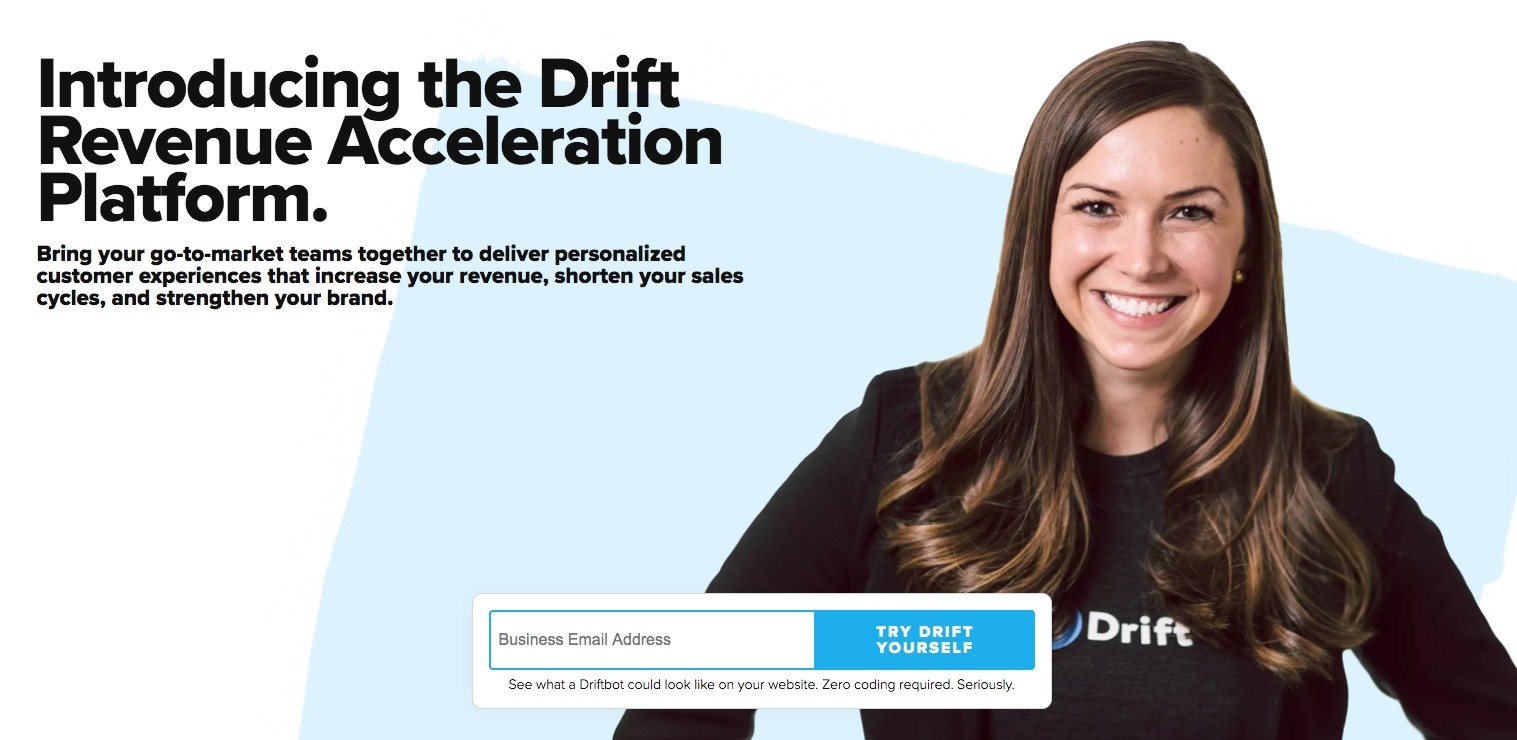 With Drift you will be able to connect with your potential clients by knowing them and having great conversations. In simple words, it gives you a great opportunity to convince visitors to buy.
Features include live chat, sales videos, and emails with some automation tools.
The company offers a free version but you will need a paid plan to get all the features. It starts at $400 per month.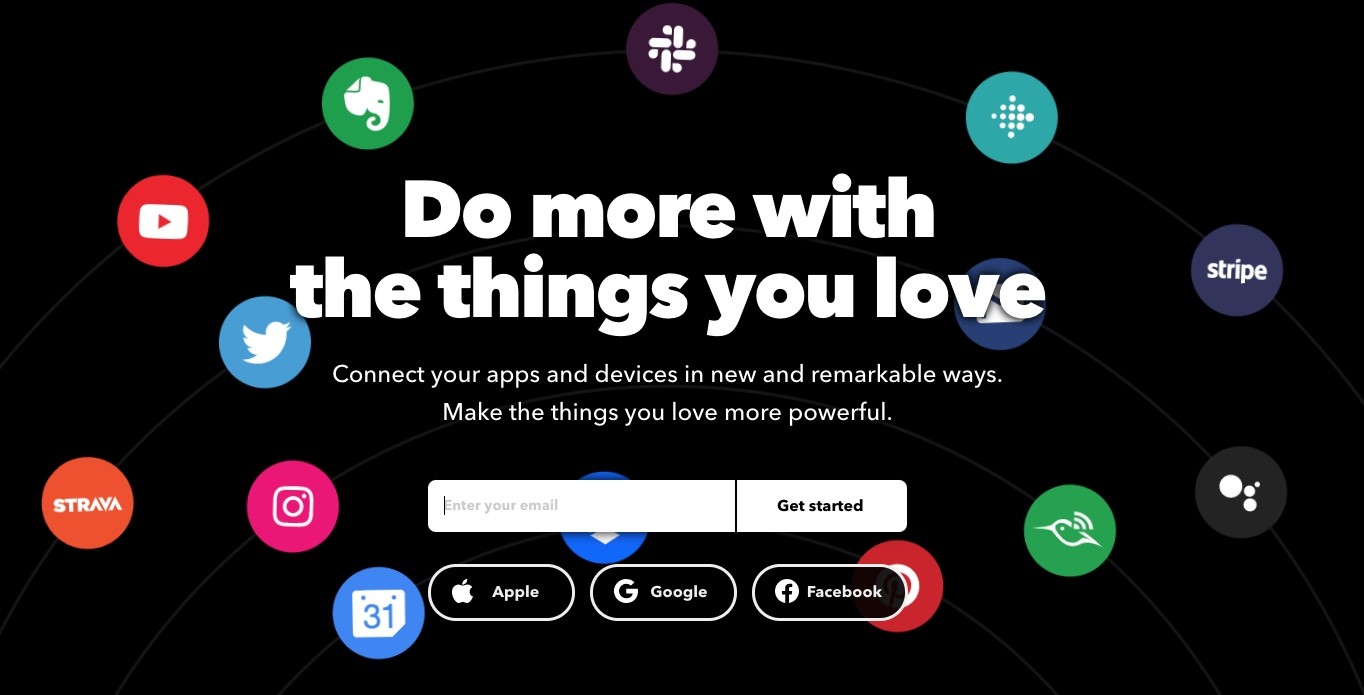 This free tool is made to simplify processes. You can set it to move to one action from another based on different triggers, i.e. to receive an email when someone posts a comment on a specific page.
With this tool you will be able to strike when the iron is hot.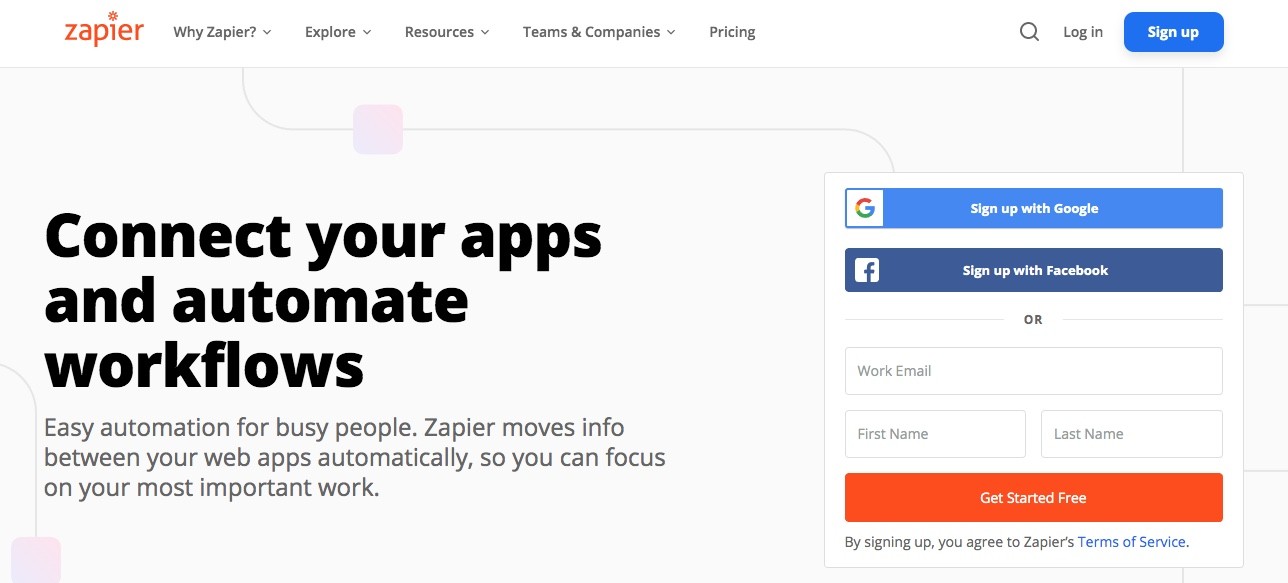 Zapier works quite like ITTT. However, it covers more actions and can be used to follow a higher variety of pages and posts. 
The company offers a free version, which is pretty good, but if you want more, then consider opting for a paid plan starting as low as $20 per month.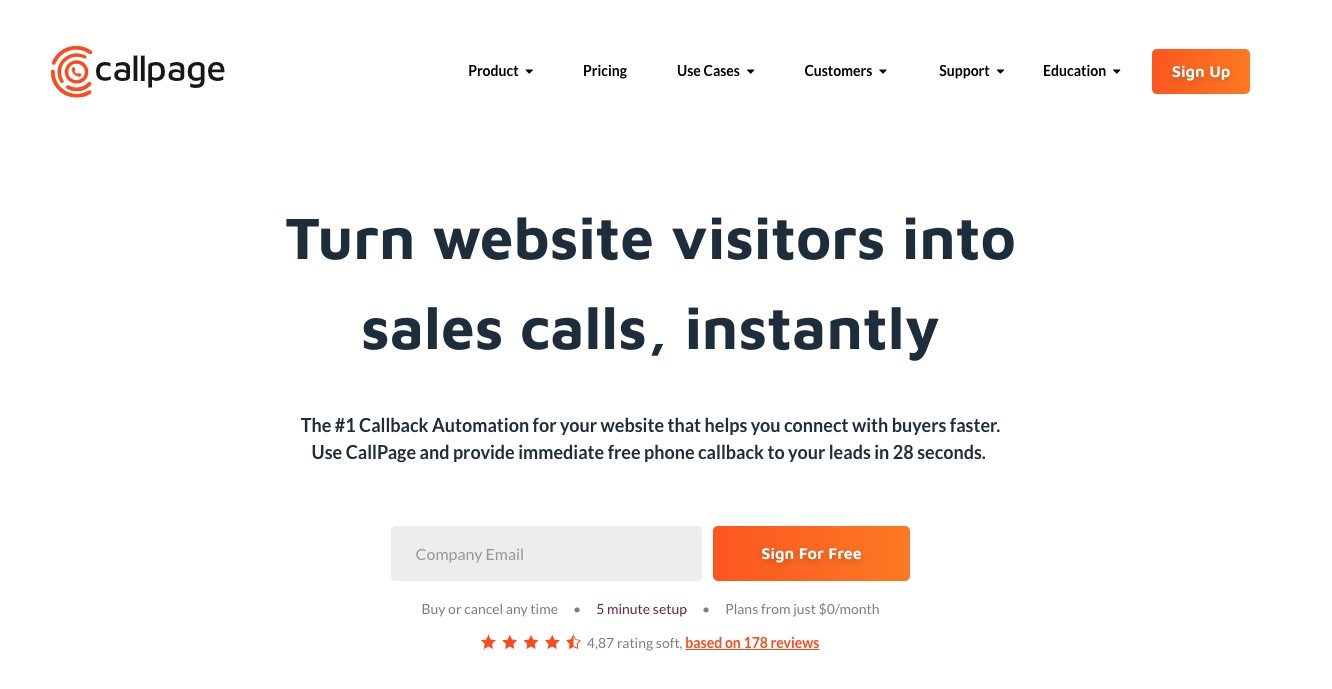 CallPage is quick to set up and easy to use. The tool is designed to make things faster. With this one, you'll be able to connect with your visitors right after they provide their contact details. 
The company offers a free plan. However, consider going for a paid plan if you want all the features. They start at $159 per month.
TeleCRM stands out as an exceptional lead-generation tool that enhances telecalling and customer support while expertly managing leads across various industries. Its comprehensive features, including autodialer, personalized messaging templates, and seamless integrations with platforms like websites, Facebook, and WhatsApp, make TeleCRM an indispensable asset for businesses seeking to improve their lead generation strategies. 
The software's automation capabilities allow teams to focus on high-value tasks, while its analytics and customization options empower businesses to optimize their sales processes and make data-driven decisions. 
Most marketers know about Google Ads. The service can be used to advertise businesses and gather information that can be used to reach potential clients. 
The best thing about this option is that you only pay when users click your ads. However, creating right campaigns can be a bit tricky.  
If you are interested in more free tools for lead generation then consider using Quora.
It's a platform where people ask questions, often looking for suggestions and reviews. Your sales team can respond to them and try to win 'em over. These questions often get read by thousands of people and can help increase your reach. However, be careful as Quora does not entertain promotional messages. 
So, Which Lead Generation Automation Tools Should We Choose?
We have covered some of the best B2C and B2B lead generation tools. While they're all great, if we had to pick one, we'll choose Adoric as it's a complete marketing tool.