High page view numbers are a smokescreen for success, often hiding more important metrics such as conversions. Thus, it's a bad idea to exclusively focus on the monthly page views you receive.
Watching bounce rates climb as your conversion rates plummet is adding insult to injury.
If you've got the low-conversion problem, it's time you did something about it.
We've compiled 7 proactive inbound marketing tactics along with the tools you need to help decrease your bounce rate and improve your conversion rate.
Marketing Tip #1: Get Analytical
Getting people to your site isn't the end goal, but it's an invaluable resource that'll help convert leads down the line.
By analyzing visitor behavior, you will discover common patterns, and then address the issues, distractions, and pain points that your visitors are experiencing.
React to these behavior patterns with simple, targeted actions such as a specific ad, coupon, or suggestion that is personalized to each stage of the customer's journey.
Cool tools: Google Analytics, Kissmetrics, and Mixpanel are all effective tools for analyzing your data and implementing concrete actions.
Key takeaway: Using analytics tools, get up close and personal with your site visitors. Analyze their behavior, and plan appropriate responses for each pattern.
Marketing Tip #2: Understand Who Your Visitors Are & What They Want
Once you've picked up on behavior patterns and responded to them with the right message, it's time to go further.
Visitor behavior can lend you an inside view of what needs tweaking within your UX design. Record and watch users' sessions to identify flaws in your interface and bugs in your site.
Nobody likes glitches, sluggish pages, or inaccurate redirects, so clean up your act by walking a mile in another man's shoes.
Cool tools: Clicktale and Crazy Egg are some top-notch apps that really lend this kind of useful insight.
Key takeaway: Take note of issues users are experiencing, and fix them.
Marketing Tip #3: Get Better Traffic
Traffic is more about quality than quantity. You're wasting your time and money sending college kids to your senior's dating site.
Don't just acquire a random chunk of visitors because untargeted visitors will only help to increase your bounce rate.
To really grow conversion, you'll need the right traffic made up of your target audience. These are people who are interested in your product. They have the potential to become customers by the end of their journey.
Cool tools: Some well-known networks like Taboola, Outbrain, and Revcontent are famous for delivering the right traffic based on your pre-defined criteria.
Key takeaway: Not all leads are created equal. Purchase traffic that is going to convert by being more selective about which leads you to buy.
Marketing Tip #4: Catch Them on the Way Out
We've all done it: grabbed a candy bar at the supermarket checkout line. Then stayed another 15 minutes at a party when refreshments arrived or been reeled back into a discussion or meeting by some tantalizing detail.
Website visitors behave the same way – give people a reason to stick around as they exit, and you'll enjoy a dramatic increase in conversions.
In fact, sites that utilize exit intent strategies see a 3-25% increase in conversion.
Exit overlays come in the form of highly targeted, suggestive ads based on a visitor's behavior on the site.
The visitors are leaving, so you'd better speak their language, and fast. A discount, coupon, or VIP pass are good suggestions for exit overlays.
Targeted promotional items create a sense of urgency before the customer leaves.
Sales, limited time offers, or this season's hottest items make visitors think twice about leaving. Don't forget abandoned cart reminders.
Cool tool: Adoric offers user-friendly software tools that make creating, implementing, and measuring content a breeze.
From smart slides to convenient pop-up displays, you can customize your templates and messages to catch those customers that are slipping through your fingers.
With successful tools like these, you'll have no trouble fine-tuning your exit-intent strategies.
Key takeaway: Reel in visitors who have one foot out the door by suggesting relevant items, useful and interesting content, and attractive deals or discounts.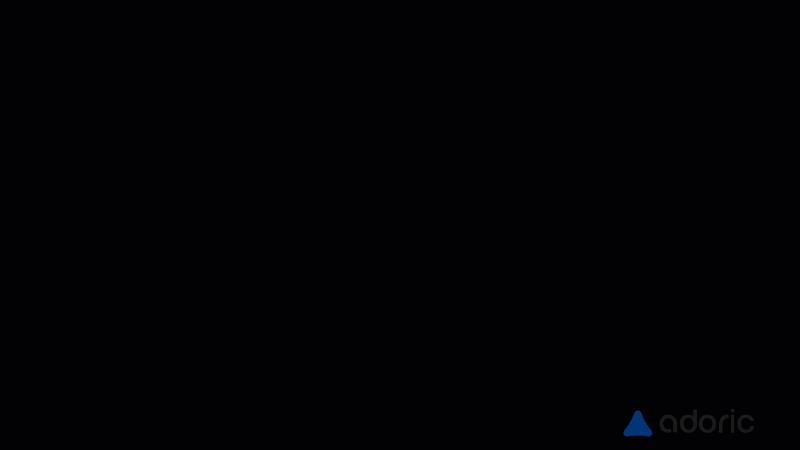 Marketing Tip #5: Boost Mobile Engagement
In marketing, timing is everything, and you need to be even more time-conscious when dealing with mobile users whose attention spans are shortest.
Users are always on their mobile devices, so bombarding them with a bunch of ads will only get consumers to beef up the ad blockers and bounce off your site.
Measure, test, and analyze to find the ideal time and place to display ads to your visitors while they browse through your content and after.
Cool tool: Adoric pinpoints where, when, and how to display ads so they're non-intrusive, targeted, and conversion gold.
Key takeaway: Plan your ad campaign to display relevant ads on the right forums to create the kind of ads that convert 60% more than traditional ads.
Marketing Tip #6: Test, Test, & Test Again
The changes you implement are only as good as the results they yield.
Measure those results by testing constantly.
Create multivariate tests to analyze content, overlays, and other site elements, weighing which results are bringing you towards higher conversion.
Cool tools: Adoric and VWO are extremely powerful tools that will help you create, measure, and analyze the results of these all-important A/B tests.
With clear options and testing tools, the whole experience – from research through execution – becomes more productive and manageable.
Key takeaway: Create relevant A/B tests, and then assess the results of these split tests using tailor-made tools to see which variations are most converting.
Marketing Tip #7: Take a Step Back to Propel Business Forward
Running a business is complex, so it's easy to forget that you need to learn to crawl before you're off and running!
Healthy businesses take a step back to learn how to use reports and understand what they measure, how they work, and what they mean.
Armed with this knowledge, you can craft targeted actions to every issue that arises and every weak point in your sales funnel, constantly optimizing your website for optimal conversion.
Key takeaway: Learn the analysis tools and reports you are using to maximize their efficacy.
Your move, get busy!
Armed with the tips we've shared, you've got everything you need to turn random leads into real customers.
Juice up your conversion potential with these powerful tools, and watch your numbers skyrocket!
You start using Adoric for free right now.