Have you been trying to find the right Optinmonster alternative that's pocket-friendly and at the same time powerful? Or, perhaps, you are looking for a free Optinmonster alternative that works remarkably well? You just found one – Adoric!
While both software are great for lead generation, conversion optimization and growing your mailing list, they differ in certain ways.
In this comparison guide, we will be putting these two apps head-to-head to see which is a better fit for you.
We will be closely examining the core features each of them has to offer, and which has something better.
In the end, it will be entirely up to you to decide which is best for your business – Adoric or Optinmonster.
To make it easy for you to follow along, here are features of both apps we will be comparing.
Visual Drag and Drop Design Editor
Design is an important element you must consider seriously when looking to set up a successful marketing campaign.
While both Adoric and Optinmonster have lots of pre-designed templates you can choose from, you will want to edit and tweak those templates using a design editor.
Thankfully, both have design editors that allow you to design as you please. Nevertheless, they aren't exactly the same.
Let's now match up these editors, starting with Adoric.
Adoric: Design Editor
Adoric features a drag-and-drop design editor, which comes with a ton of design elements.
Text, button, illustrations, countdown timer, close button, and even custom-made Coronavirus icons are a few of the design elements you can pick from.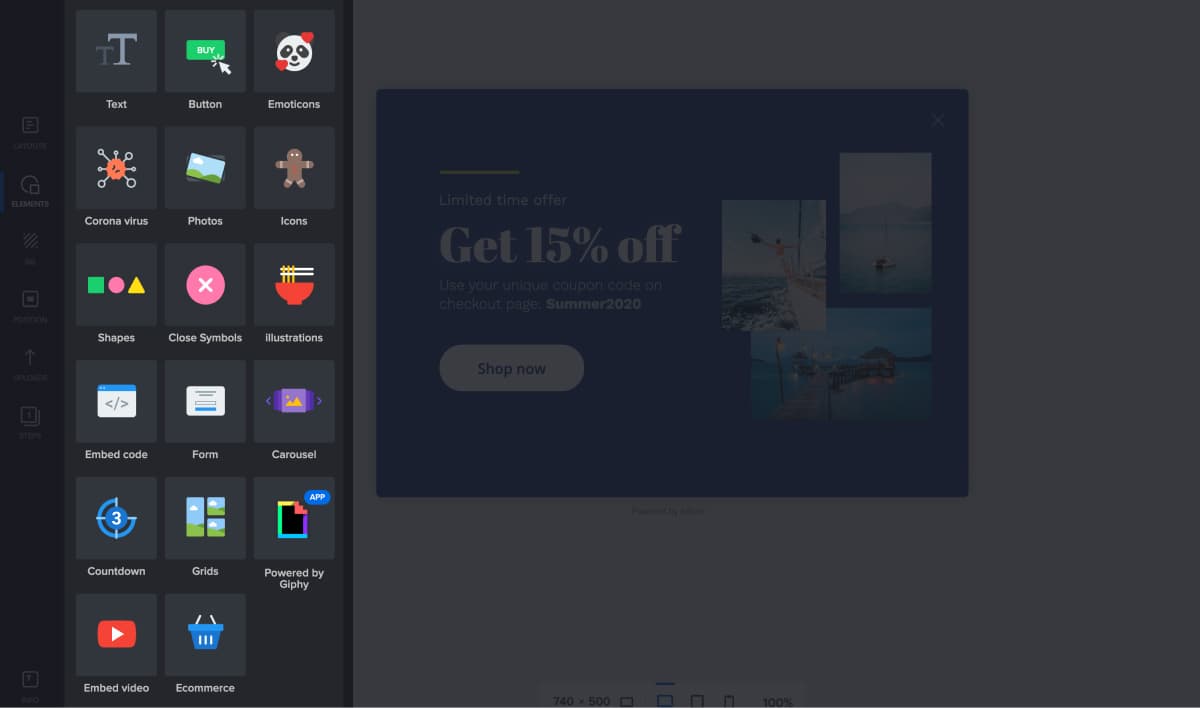 On top of that, you can add Gifs to your designs – if you so wish.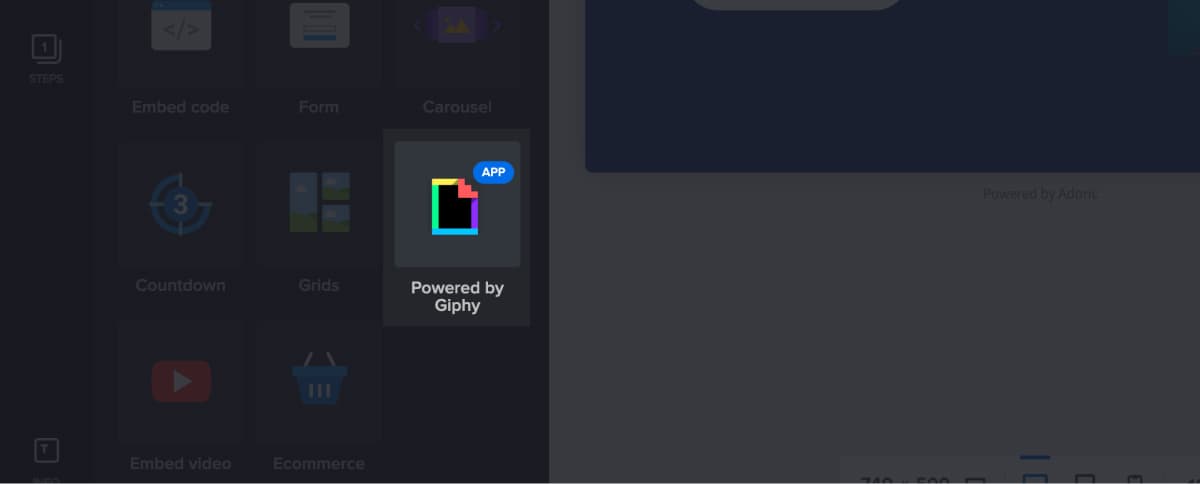 Furthermore, adding design elements to your canvas is pretty straightforward – just click, and then drag around until you find where you wish to place it.
The good thing is, Adoric has a grid alignment system which makes it easy for you to position elements right where you want them.
What if you wanted to change the background color of your popup box? No worries, Adoric has an intuitive solution for that.
From the design editor, click the BG icon on the left pane. Upon click, a dialog box will pop open.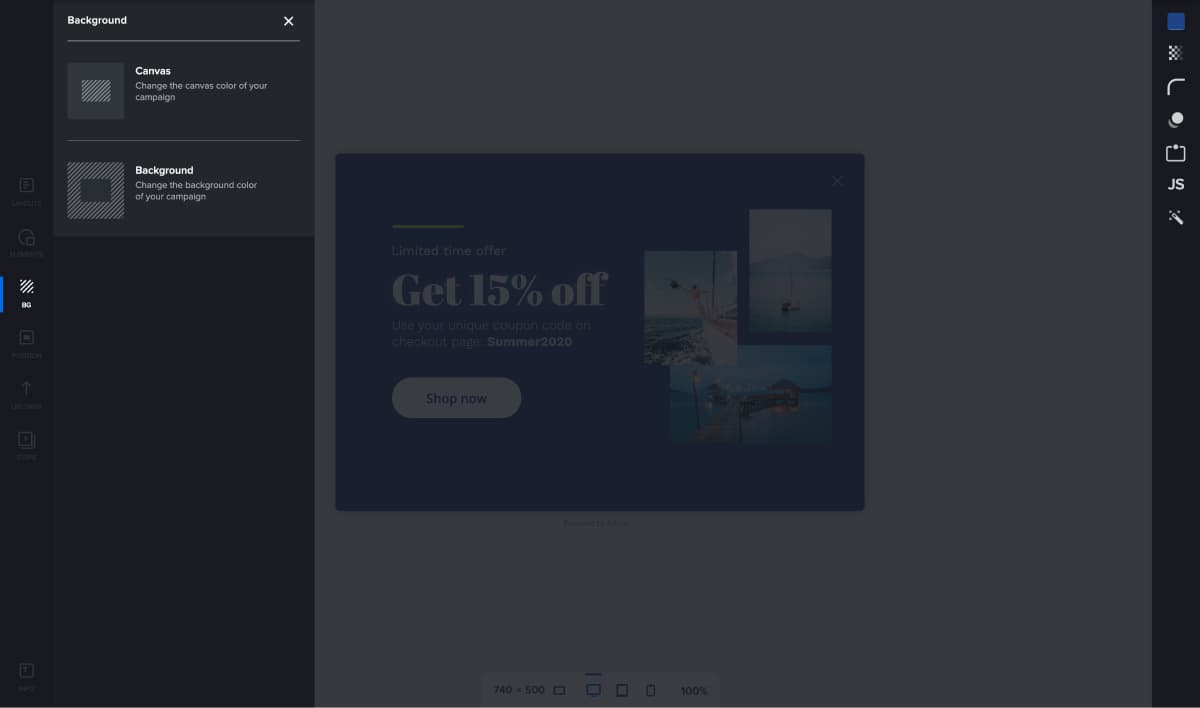 Here, you can set the background color for your Canvas or your campaign. Also, from the right panel, you set the background opacity, border radius, shadow, and onclick event for your campaign.
What's more, you can always change the size of your design canvas to the dimensions you want.
Did we forget to mention that you can test out your designs on mobile, tab, and desktop screens even while designing? Sure you can!
Optinmonster: Design Editor
Optinmonster does have a design editor, but it's quite different from Adoric's. First, you won't find as many design elements as you would in Adoric. Hence, your design options are pretty much limited.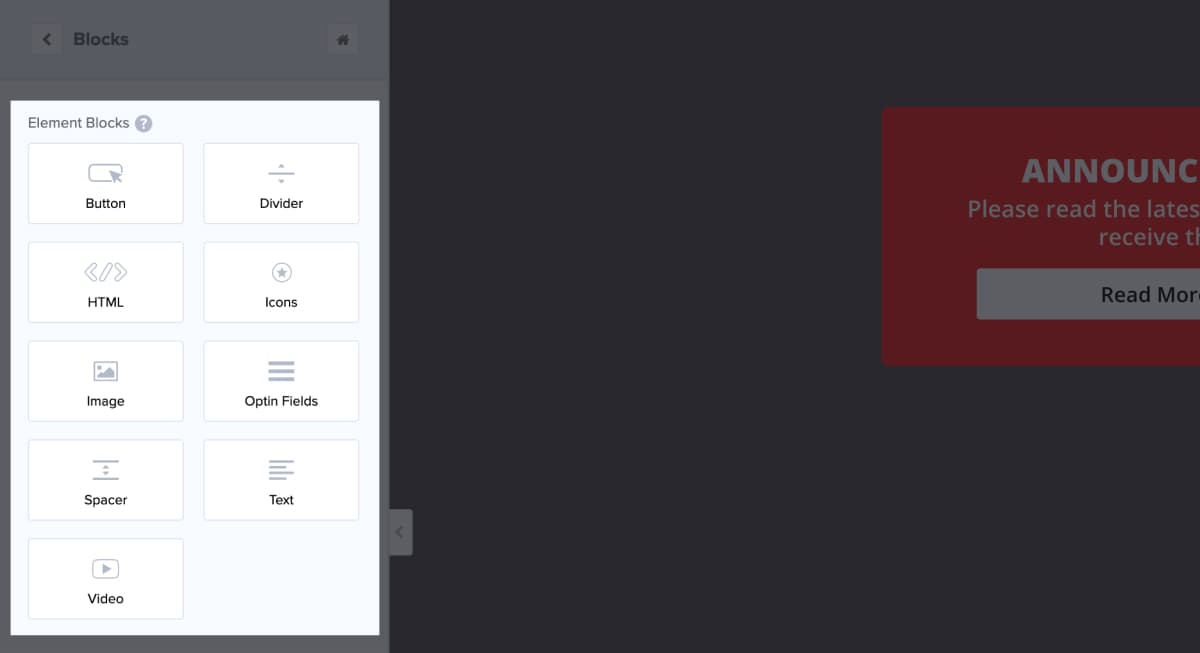 Secondly, Optinmonster's design editor doesn't offer you the kind of freedom Adoric does. Though you can drag and drop elements around, you can't place them anywhere you want.
Also, you don't get to customize your campaign background the way you want it on Optinmonster.
This makes Adoric a perfect Optinmonster alternative.
But if design and creative freedom aren't much of an issue to you, Optinmonster might be it.
Carousels
Did you know that carousels can lower your cost per conversion by as much as 30 to 50%? Thus, utilizing them maximally can greatly increase your chances of marketing success.
Another interesting fact about carousels is that they have better visual appeal, hence more effective for improving user engagement. So, if you really want visitors to engage with your brand, use carousels to hook them.
Adoric: Carousel
Carousel design element is one of the unique features of Adoric. It's easy to use and highly customizable.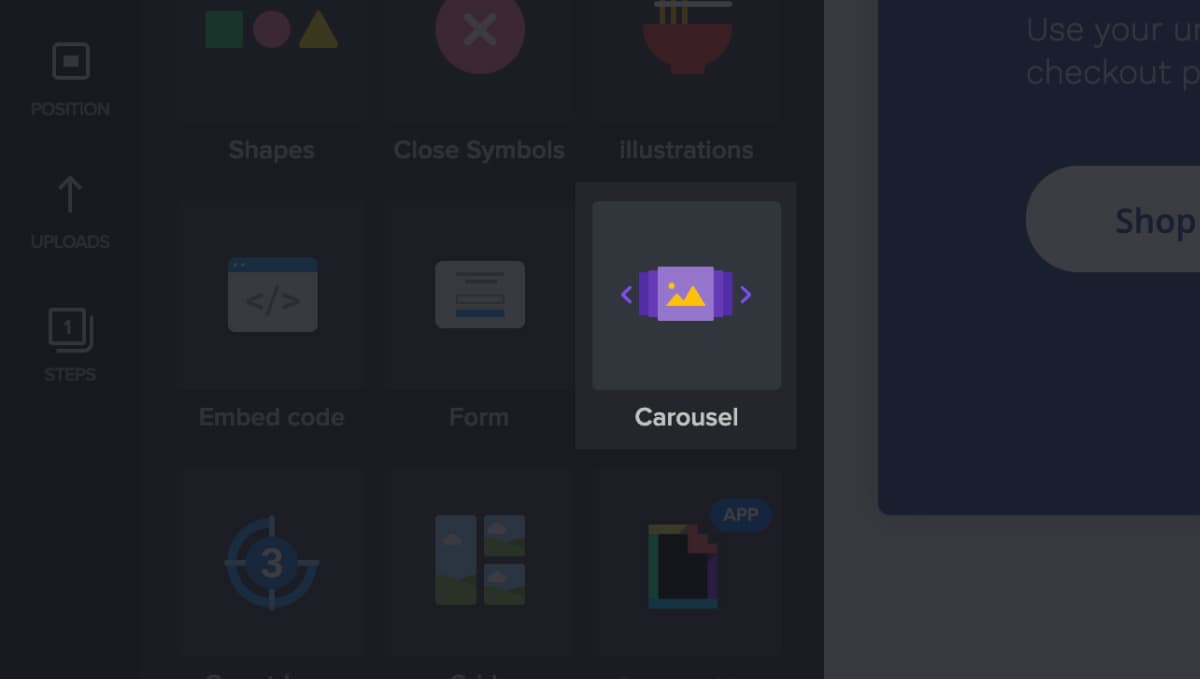 You can add images, text, and buttons to your carousels. In addition to that, you can set autoplay to the carousels you create in Adoric.
Here is an example of a carousel generated on Adoric's editor.

Optinmonster: Carousel
Optinmonster doesn't have a carousel feature. So, if you are looking to implement carousel designs into your campaign, you just have to settle for Adoric.
In-page Campaign Positioning
What if you wanted to insert pop-ups in your webpages natively, in such a way it naturally blends with the page?
Adoric, on the one hand, has a feature that lets you do this – In-page position. Optinmonster, on the other hand, is yet to come up with a solution for this.
Adoric: In-page Positioning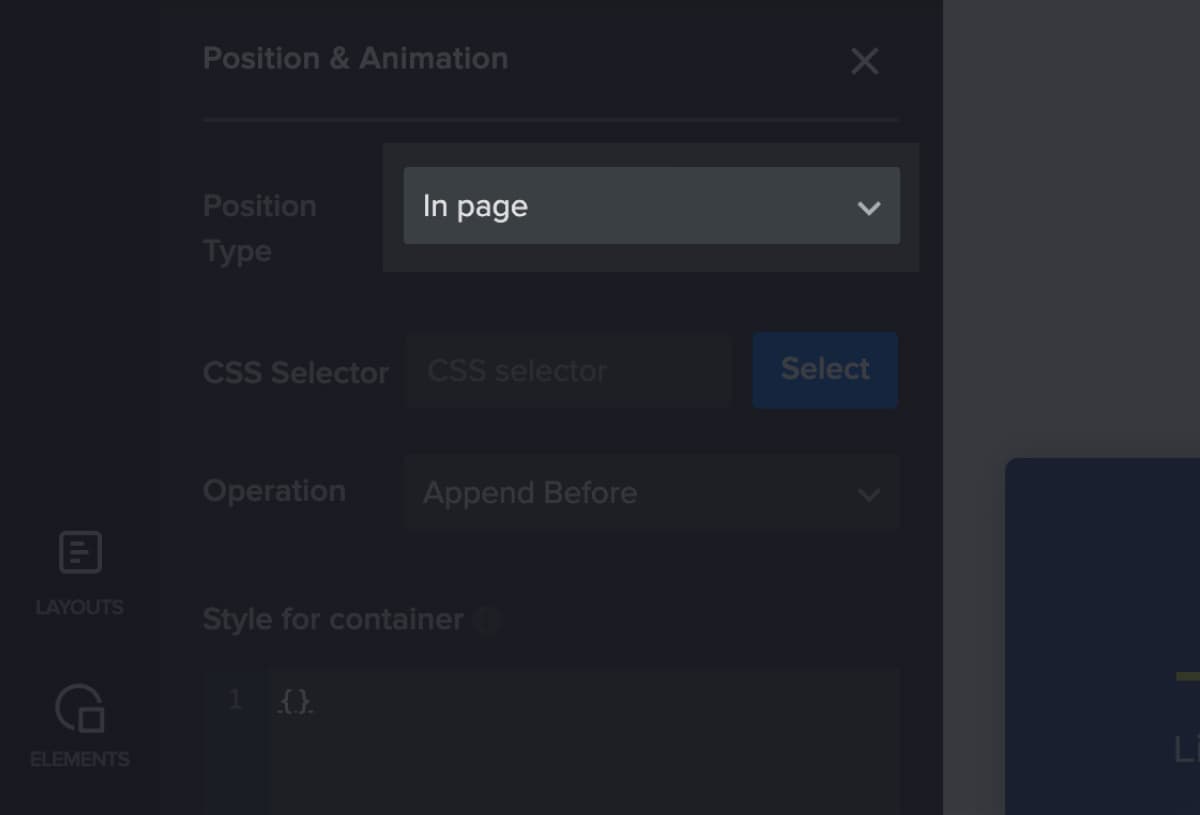 The In-page feature lets you add a popup box, slider or bar natively to your pages without having to hire a developer or alter your website's code.
To use this tool, all you need to do is to select where you want your campaign to be placed on your webpage. And you do so by simply clicking the Select button.
Once you've made a selection, Adoric will place the campaign right there for you. No additional coding required!
Optinmonster: In-page positioning
Optinmonster is yet to integrate the In-page position feature, as at the time of this writing. The only substitute for In-page positioning you will find is background positioning.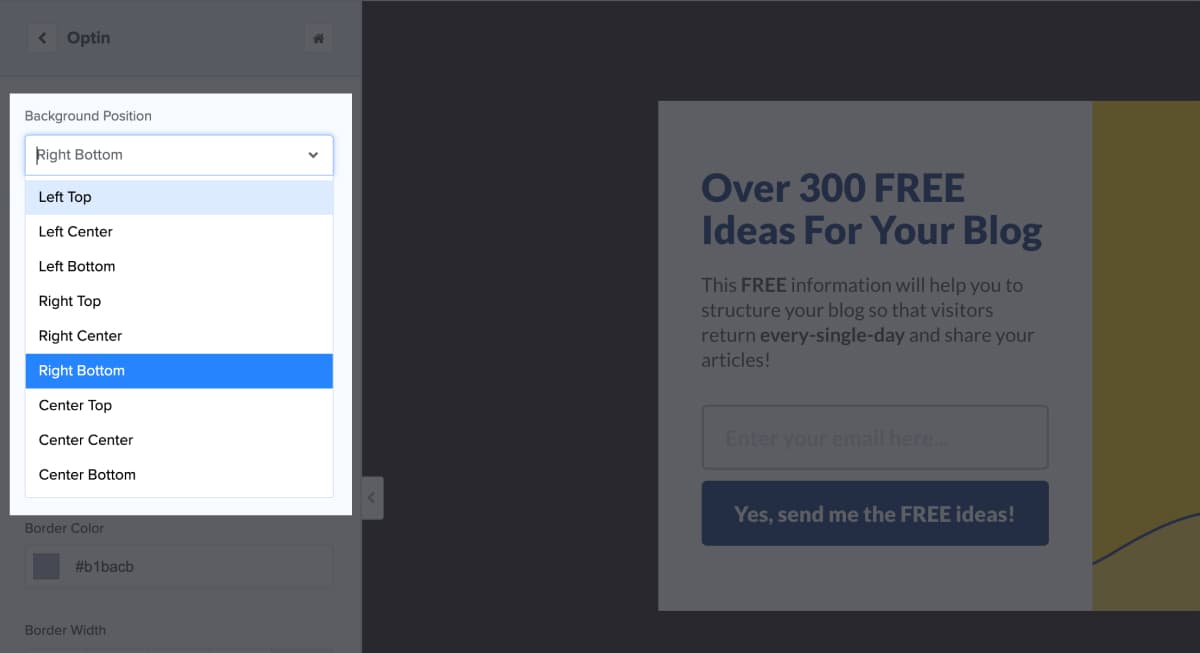 Number of Available Templates
Wouldn't it be nice if you have the option of selecting from several pre-designed templates when looking to set up a campaign?
Fortunately, Adoric has a huge collection of quality templates, crafted by seasoned designers. Optinmonster also has quite a number of templates, but it's entirely up to you to decide how good enough they are.
Adoric: Available Templates
Simplicity and quality are the two important properties you must keep an eye out for when looking to pick a template. You know why? The simpler your design, the better your chances of converting users that interact with it.
This is why all Adoric's templates are kept simple, yet elegant, and of a high quality.
These templates aren't a set of cookie-cutter, run-off-the-mill designs produced in large numbers by a design software. They were created by Adoric's team of designers, based on the feedback received from real-life clients.
Plus, they are filterable. And there are 8 different filters you can select from, thus making Adoric an unmatched Optinmonster alternative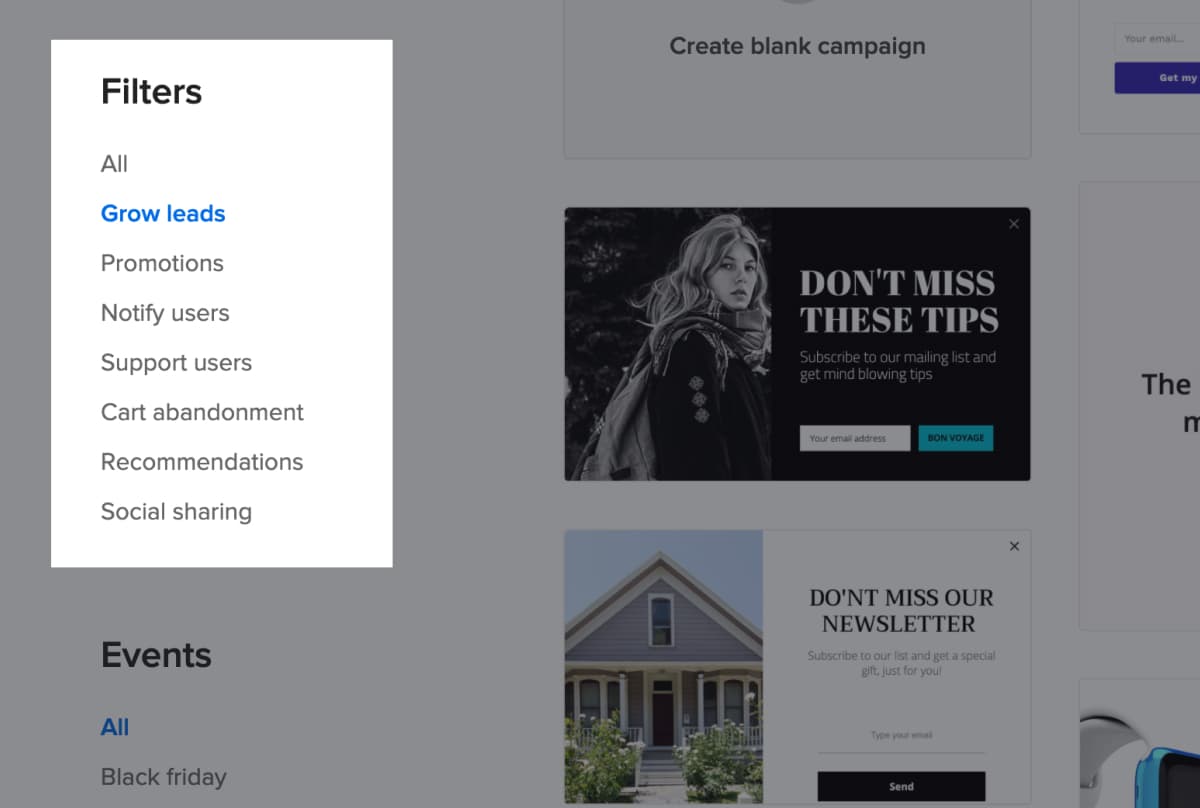 Additionally, if you would like to filter out the designs based on events like Black Friday and Christmas, Adoric has that option, too.
Optinmonster: Available Templates
Optinmonster, too, has quite a number of templates. The issue, though, is some templates are not available on some plans. That means, depending on your plan, you might not be able to access all available templates.
This is in sharp contrast to Adoric where you have access to all templates, regardless of your plan.
Product Recommendations
Personalized product recommendation makes it possible to increase your sales by upselling and cross-selling your customers.
That said, if making more sales means anything to you, it's important to go for a marketing tool with a product recommendation feature.
Adoric: Product Recommendation
Adoric's product recommendation is an advanced tool for personalized website engagements. It combines data from your Google analytics and uploaded catalog to tell what product your customers will likely buy.
With this data, it recommends products to your customers based on any of the criteria below
Most viewed
Best sellers
Complementary products
Random products
First product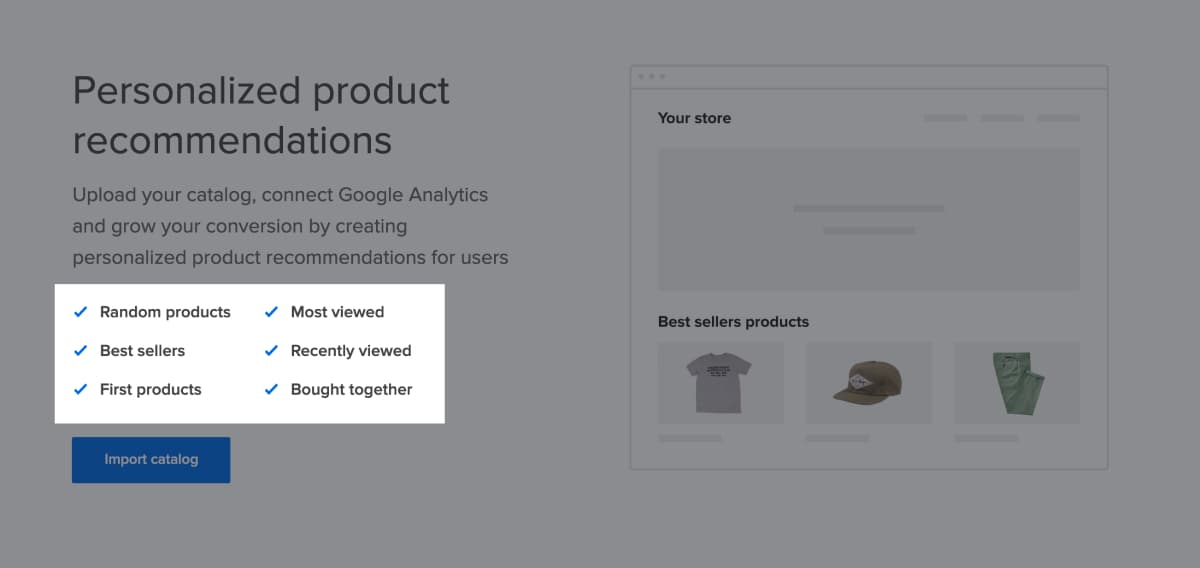 If you so wish, you can connect Adoric to your Google Analytics so as to enable it to pull in your customer's data. With this data, Adoric's engine will be able to refine the recommendation it makes to your customers.
Adoric product recommendation is easy and fast to set up.
Optinmonster: Product Recommendation
As at the time of this writing, Optinmonster hasn't implemented a product recommendation feature yet. The only available workaround is personalizing the campaigns your visitors see.
For example, you can set your pop-ups to show to visitors who haven't converted or viewed any of your campaign yet.
A/B Testing
No matter how well researched and designed your campaign may be, it might still fail. You know, right? To better improve your chances at marketing success, you have to keep testing and tweaking until you find your sweet spot.
For this reason, the importance of split testing – or in simpler terms, A/B testing – can't be overemphasized.
How well do Adoric and Optinmonster handle A/B testing? Let's dig in and find out.
Adoric: A/B Testing
A/B testing is one of the prime features of Adoric – it's easy to implement, and there are no limits to the number of campaign variations you can create.
The sweetest part? You don't have to leave your design editor to split test your campaign.
Adoric's A/B testing feature works via a three-step process:
Select the campaign you wish to split test
Duplicate the original design
Tweak the duplicate, and when you are done publish.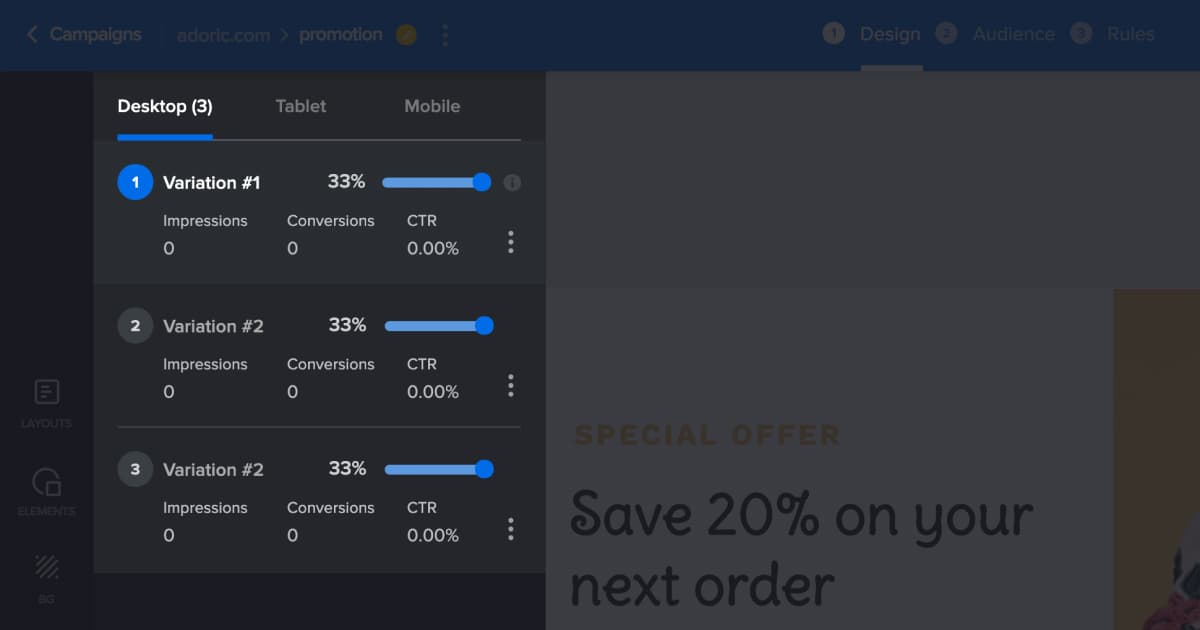 While split testing your campaign, you are at liberty to test it out on mobile devices. In fact, Adoric allows you to create variations of your design on mobile devices just as you would on the desktop.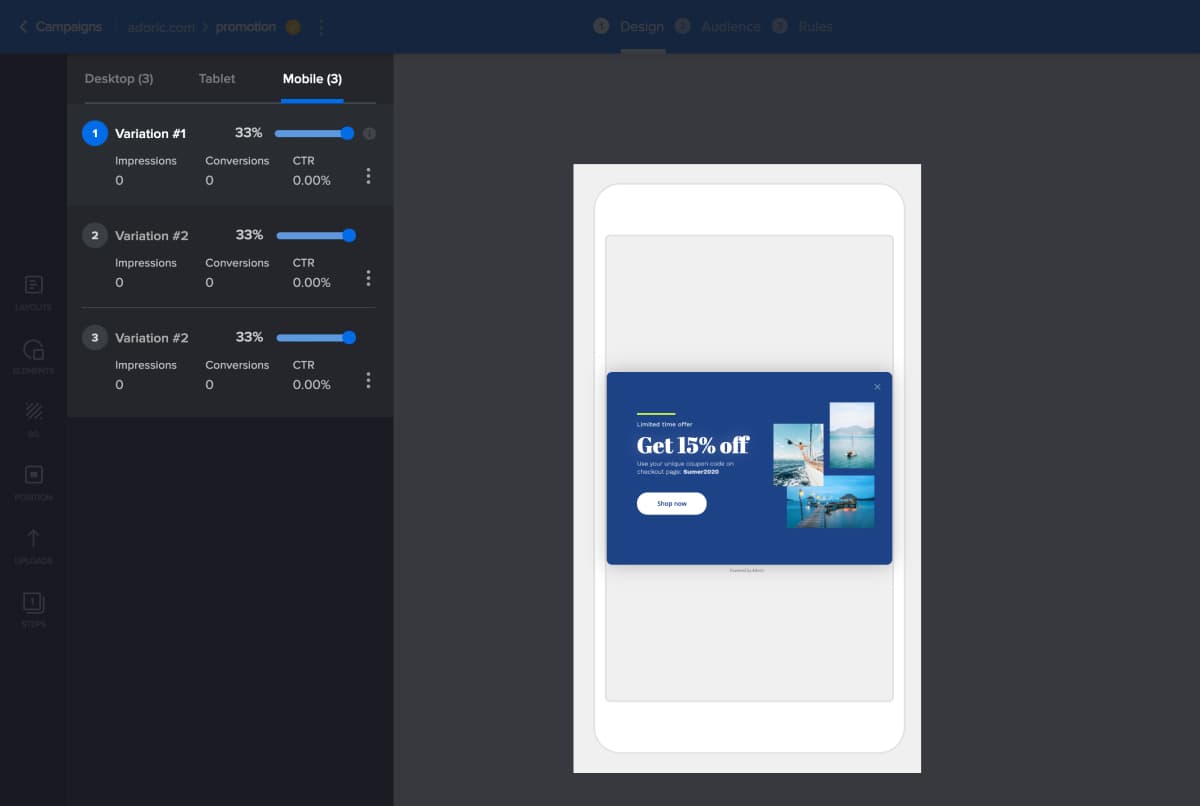 Optinmonster: A/B Testing
Optinmonster does have a split-testing (the same as A/B testing) feature. But, unlike Adoric, this feature is only available in higher subscription plans.
And even when you've upgraded to a higher plan, you will not be able to access the A/B testing tool directly from the design editor. This kind of ruins user-experience.
Branding
Wouldn't it be nice if your pop-ups had the same color, font, and feel as your website? This will not only help maintain brand consistency, it will give your website a professional look.
And the more professional your website looks, the better your chances of converting visitors.
So, can Adoric and Optinmonster allow you to copy brand styling from your website right into your campaign designs? Let's find out
Adoric: Branding
Adoric allows you to scan your website – or any other website you may have added to your account – for brand colors, buttons, and font, at the click of the button.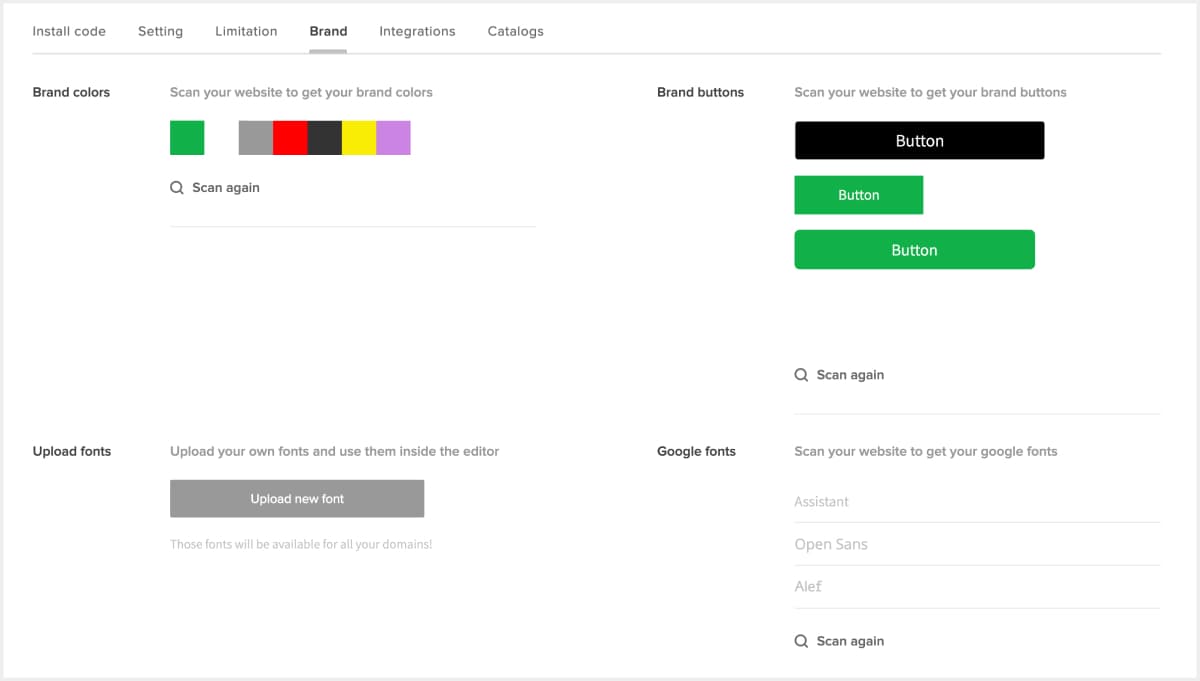 After the scan, Adoric will create a set of brand kits that you can use in your design. And there are two ways you could use them: as design elements or via the Magic tool.
Not sure what we are talking about? Let's explain
Let's say you scanned your website for brand buttons. After the scan, Adoric will create buttons with the same color, shape, and font as the buttons on your website.
To access these design assets, just head over to your dashboard, open Elements and click Buttons.
There, you will find the buttons Adoric created based on the scan you did.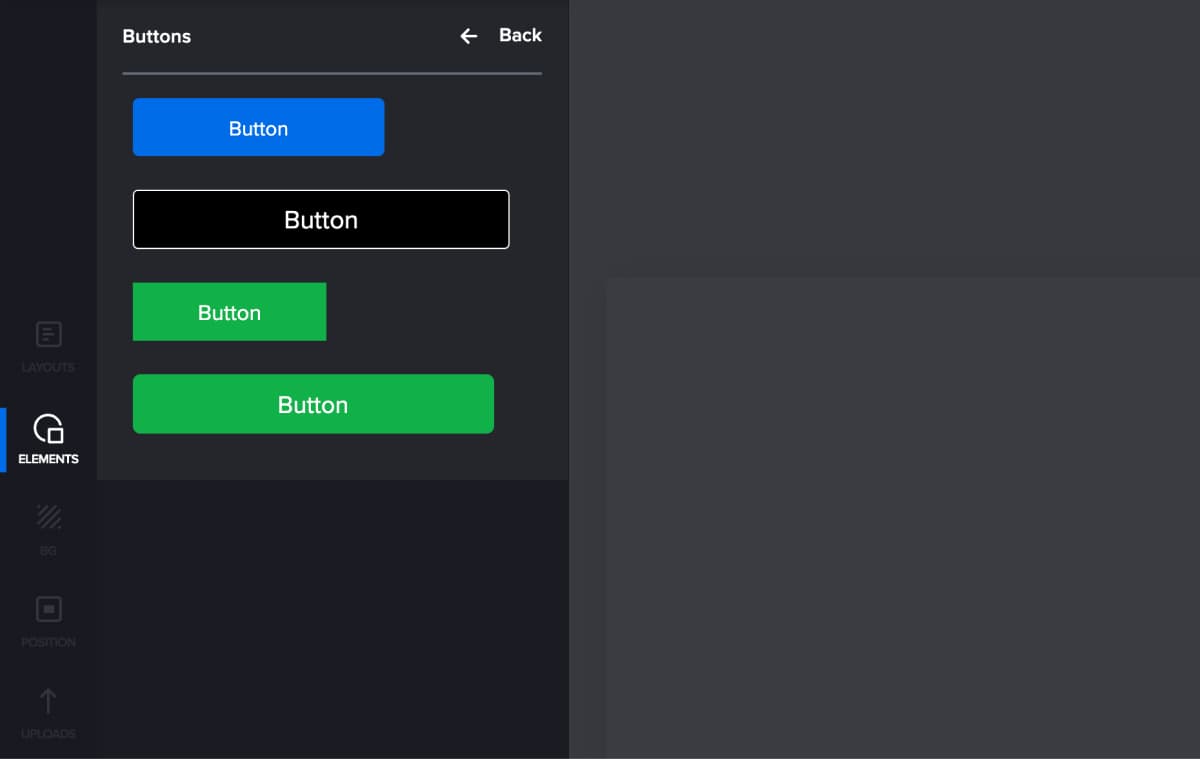 To use the button in your design, just click on it and it will automatically drop in your design editor.
And for the Magic tool, to use it, just highlight your entire canvas, click on the magic button. Upon click, the branding styles copied from your website will be applied instantly.
As an illustration, see the two images below. The one on the left is the original image of a pop-up.
After highlighting and using the magic tool on it, the button, font, and canvas color changed. The font style changed as well.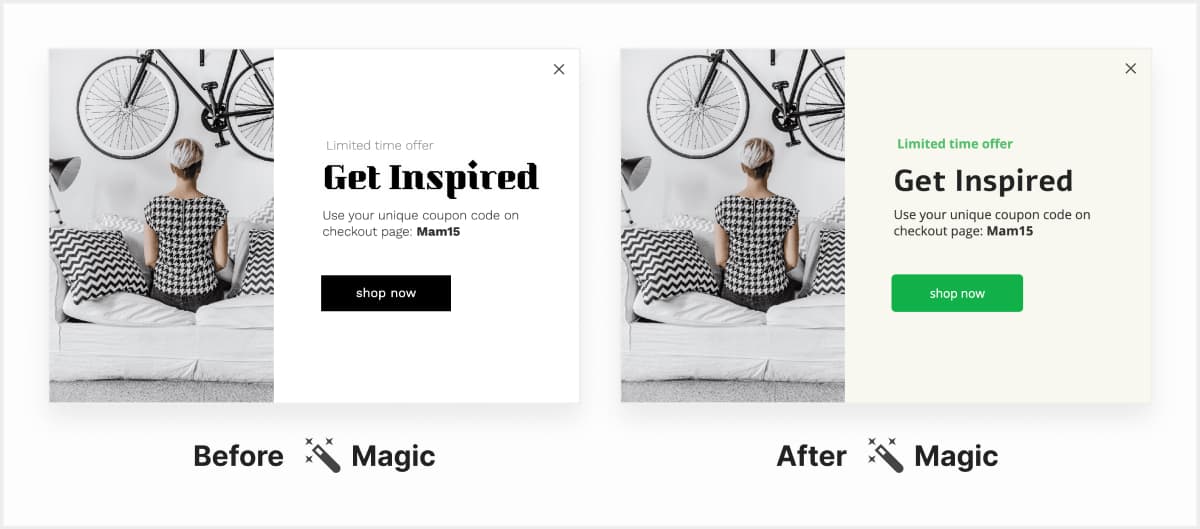 Adoric just simply applied branding styles copied from a website to the pop-up.
Optinmonster: Branding
Optinmonster doesn't give you any opportunity to import branding styles from your website into your campaigns. Only Adoric does.
Targeting and Triggers
You sure want the right campaign to be shown to the right set of people, and at the right time, don't you? Accurate targeting and timing is one of the secrets of conversion rate optimization.
But for this to happen, you need a solution that allows you to precisely target a select audience. Also, such solution should be capable of triggering off your campaigns at the right time.
Adoric and Optinmonster both have targeting and trigger features, but they function differently.
Adoric: Targeting and Trigger
For better user experience, the targeting and trigger features have been separated on Adoric. And you can access them right from your design editor.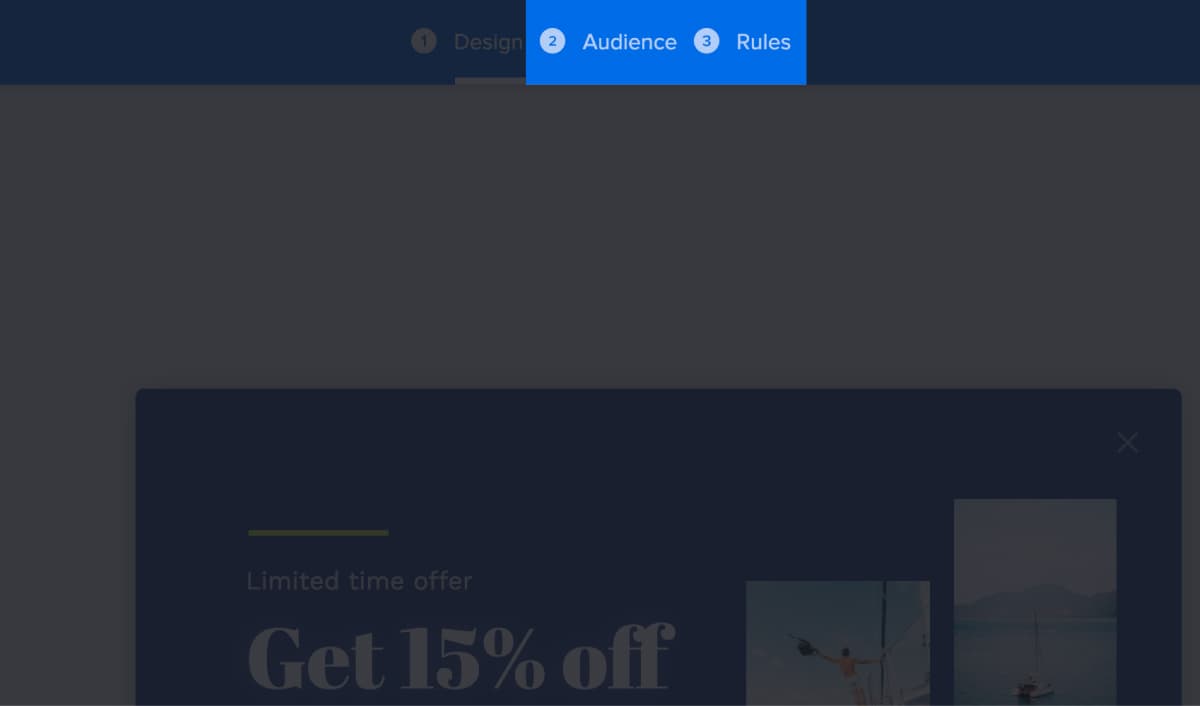 Audience, intuitively, is where you define the audience you are looking to target. And Rules is where you set up triggers for your campaign.
Adoric lets you define your audience based on criteria such as:
Language
Visitor type
Traffic source
Event condition
Operating system
Geo location
Browsers
JS conditions
User behavior
HTML condition
URL condition
This means precise audience targeting for your campaigns.
As for triggers, Adoric has 5 of them, namely:
Time frame – your campaign appears on your users' screen after a certain time delay.
Page scroll – make your campaigns fire up when a users scrolls up/down on their browser
Exit intent – your popup appears when a visitor attempts to leave your website
Mouse – Adoric fires up your campaign when a user mouses over a certain element on your webpage
Event – define a custom event that will trigger your campaign.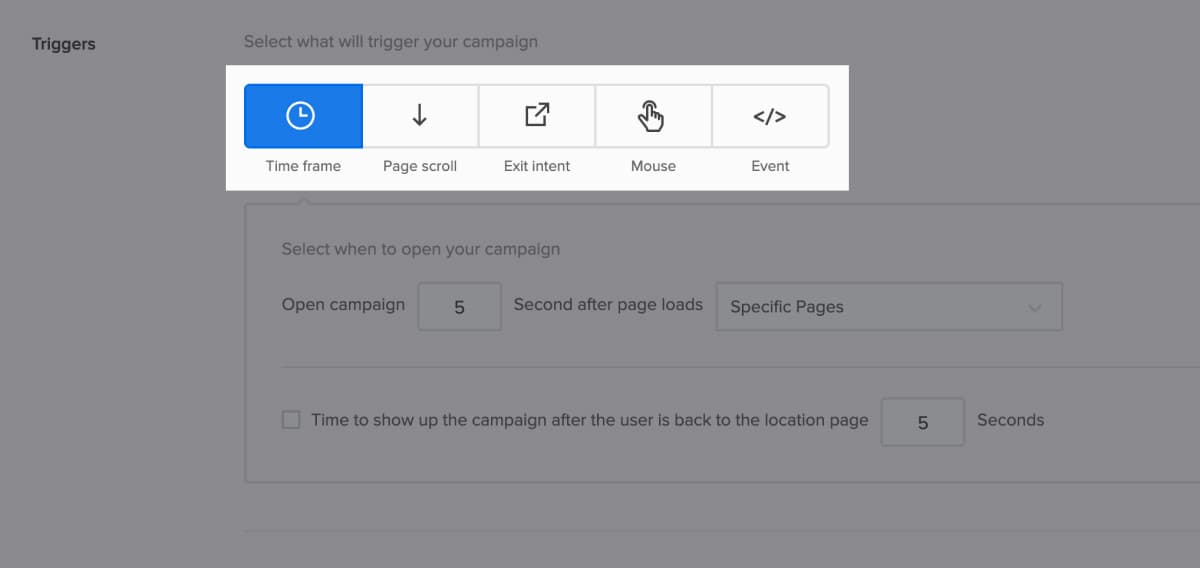 Optinmonster: Targeting and Triggers
Optinmonster allows you to target a specific audience and set triggers on your campaign. One problem you will likely run into when looking to use the targeting and trigger tool is finding where to click.
It took about 15 minutes for us to figure out where to click to find this tool while test-running the software. In fact, we only found it after doing several Google searches.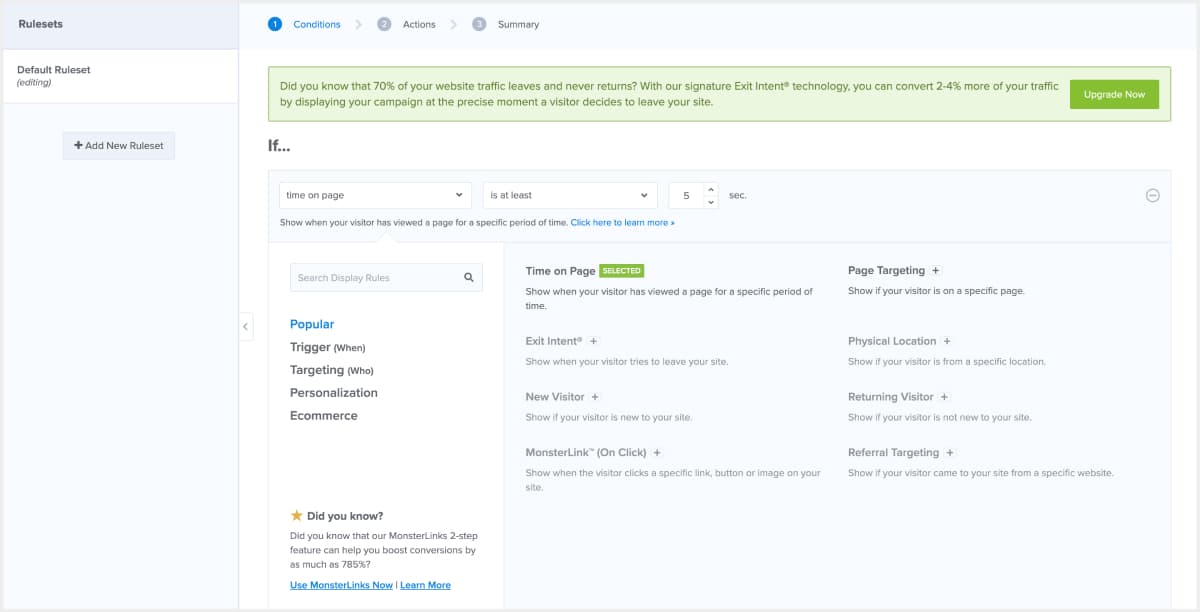 This is unlike Adoric where you have the "Audience" and "Rules" buttons right on top of your design editor.
Mobile Lead Generation
If you wanted to create a marketing campaign that specifically targets mobile users, how exactly would you go about it?
With Adoric, you can do so in a breeze. You can as well with Optinmonster, but there are a lot of twists to it.
Adoric: Mobile Lead Generation
Designing mobile-specific campaigns couldn't be any easier on Adoric. All you have to do is – while still on the design editor – click the tab or mobile button.
This will bring up the mobile workspace where you tinker around with the design elements.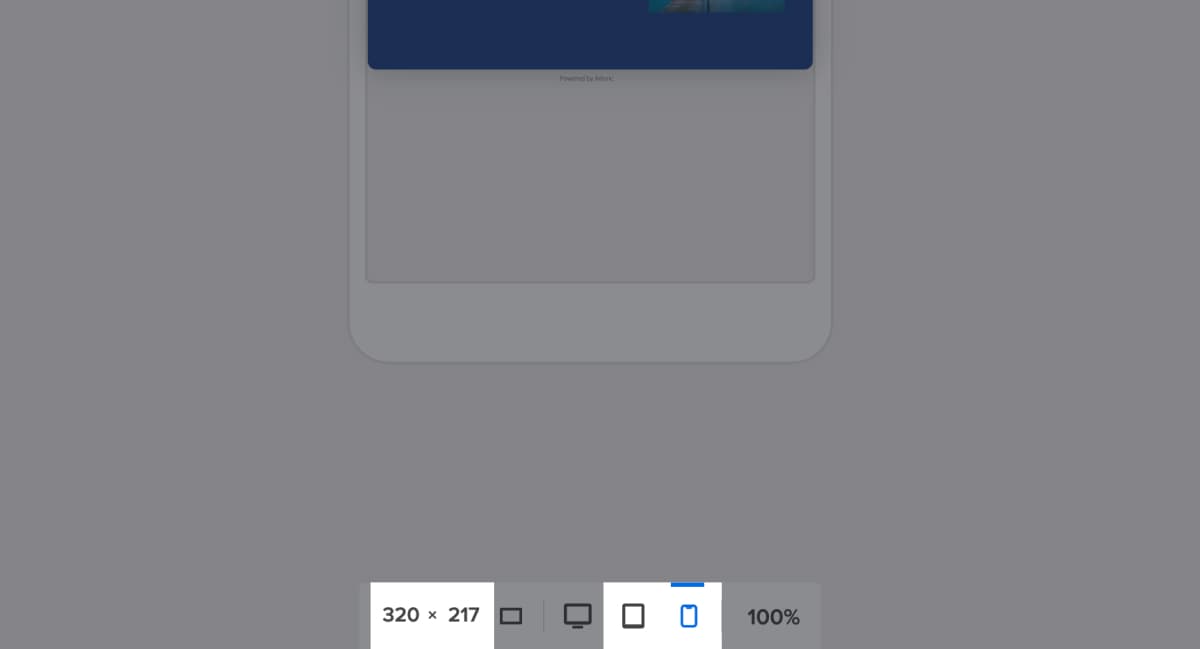 But if the default mobile screen sizes don't fit your requirements, you can always set custom screen sizes, as shown in the screenshot above.
Optinmonster: Mobile Lead Generation
Optinmonster also allows you to create mobile based campaigns. However, the only way to go about this is adjusting the width of the campaign container to fit the size of the mobile screen you are looking to target.
Like previous times, finding where to adjust the campaign container will take you a while to figure out. Chances are you will have to search Google to find answers.
This is unlike Adoric where you only have to click the mobile icon at the bottom of your design editor.
Multi-step Campaign
Ever heard of multi-step pop-ups before? There's a good chance you've interacted with one without knowing it.
Here's a multi-step pop-up in action.
In the pop-up above, you are asked to select a sport you have an interest in. If you clicked basketball, for example, another pop-up would appear, as shown below.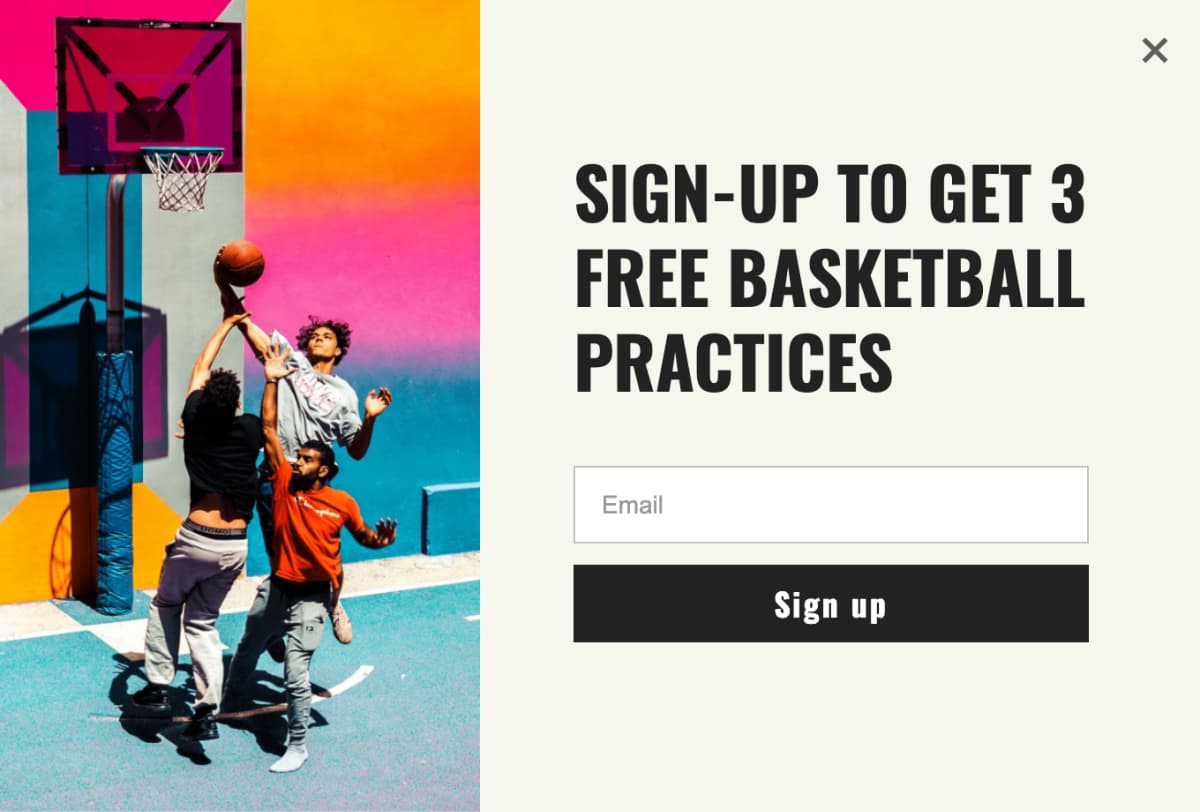 We bet you've interacted with these kinds of pop-ups several times.
Did you know studies have shown that multi-step pop-ups can help increase your conversion rate?
Let's now see how Adoric and Optinmonster handle multi-step pop-ups.
Adoric: Multi-step Campaign
Adoric's multi-step feature is easy to implement.
All you have to do is to create two Steps (or more if you wish), and then interlink them.
It's that simple!
We've created a detailed tutorial for creating and implementing multi-step campaigns.
And the best part, this feature is available in all templates and plans – including the free plan.
Optinmonster: Multi-step Campaign
Optinmonster has a feature similar to Adoric's multi-step opt-in: Yes/No. However, this Yes/No feature, expectedly, limits you to just two steps. As such, you can't create opt-in campaigns with several steps, just as you would in Adoric.
As if that weren't enough, the Yes/No feature is only available in higher plans. This is unlike Adoric which has this on all its plans.
Pricing
The truth is, no matter how incredible and powerful Adoric and Optinmonster may be, pricing will always be a major deal breaker.
Naturally, you would like to get the best value without having to spend so much – or even spend at all.
So, what's the pricing of both software like?
Adoric: Pricing
Guess what? Adoric is free – and it's going to remain so forever. That means no credit card details will be required of you, and there are no lock-ins.
The best part, on our free plan, you have access to most of the tools you need to achieve marketing success. But if the free plan doesn't fit your needs, you can upgrade to any of our paid plans.
Expectedly, we offer a money-back guarantee. This means you can cancel your payments 14 days after your first upgrading – no questions asked!
You can learn more on our pricing page.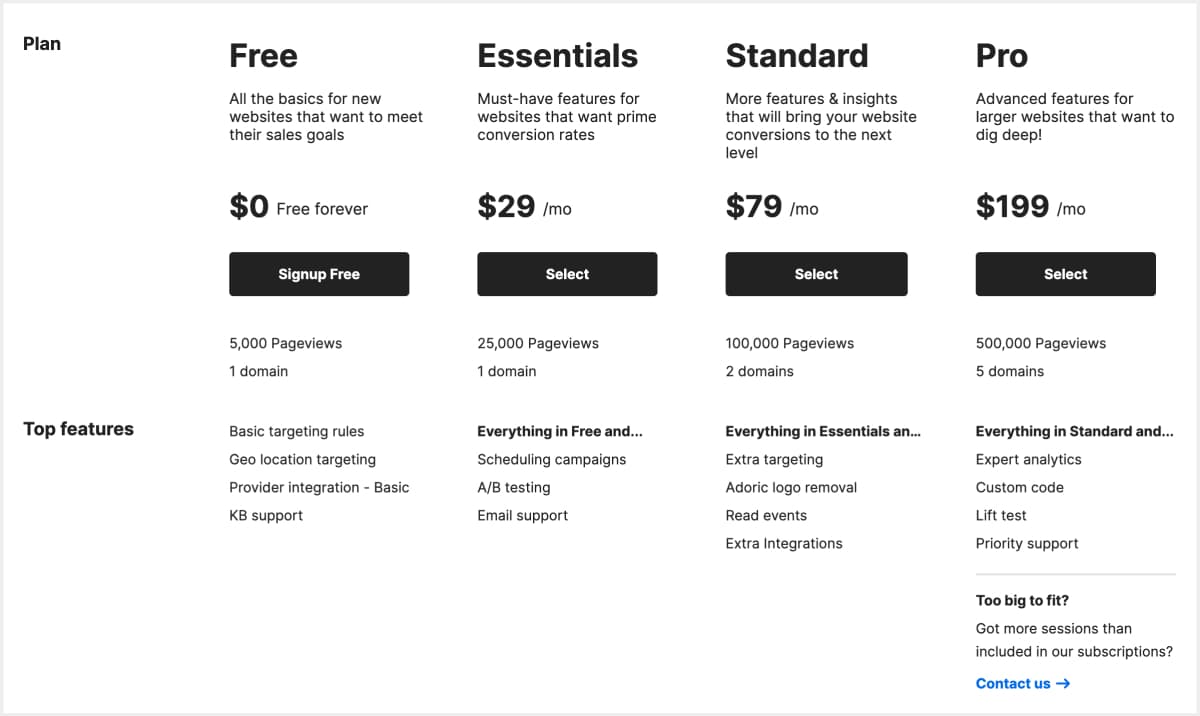 Optinmonster: Pricing
Unfortunately, Optinmonster has no free plan. This means you don't have the luxury of test-running the software before deciding if you will make a purchase.
The best you can do is to go for their Basic plan, which starts at $9/month, billed annually.
Adoric: a Powerful Optinmonster Alternative
It was a long post, wasn't it?
As a quick refresher, go for Adoric when:
You want to test for free first, before making any financial commitment
Looking for unlimited design options
You want to create mobile-centric campaigns
Looking to precisely target your select audience, without having to go through harrowing trial and error.
Best of all, we offer excellent customer support for all our plans.
Wrapping it Up

So there you have it: a detailed comparison between Adoric and Optinmonster. It was exhaustive, wasn't it?
At this point, with what we've shared in this post, knowing which software that will best suit your needs shouldn't be difficult.
Excited already? Why don't you sign up for a free account with us right away.