Looking for the best currency switcher app for your Shopify store? Search no more because you will find them in the post. 
As an eCommerce store owner, one of your business goals is to sell worldwide and not just within your location. Thus, you can't expect to sell globally while staying local. Hence, this is why you need an auto currency switcher.
In this article, you'll understand the importance of a Shopify multi-currency app. You'll also be able to choose from our list of best Shopify currency conversion apps.
4 Reasons Why You Need an Auto Currency Switcher
As a Shopify store owner, having an automatic currency switcher is critical if you want to attract international customers. Here are four specific reasons why your Shopify store needs an automatic currency switcher app:
Reduces Carts Abandonment
Having a Shopify multi-currency app helps to reduce cart abandonment. Besides high shipping costs, international customers may abandon carts because the prices are not in their local currency.
They are usually dissatisfied because they cannot purchase with their local currencies and are forced to leave your store. So, if you want to reduce the number of buyers abandoning their carts drastically, consider installing an auto currency converter app.
Increases Conversion Rates
Conversion rates are calculated by dividing the number of conversions by the total number of visitors to your website. For example, if your store receives 100 visitors per day and 50 converts, your conversion rate is 50%. An automatic currency switcher boosts your store's conversion rates. Similarly, it allows you to sell globally via your Shopify store without restrictions.
Currency Conversion
Converting between currencies can be tasking. Imagine converting over 50 local currencies manually; that's some mental work! Besides, you're likely to make lots of errors at it. A Shopify multi-currency app relieves the stress of doing arithmetic and allows you to focus on boosting sales.
Trusted Exchange Rates
You can't possibly keep up with fluctuating exchange rates. Shopify currency switcher apps help you with this by updating exchange rates automatically.
Even if your Shopify store is attractive and well laid out, if you don't provide an excellent customer experience, you may find it hard to convert your web visitors to paying customers. So, get an automatic currency converter app to ensure a smooth buying experience on your Shopify store.
11 Best Shopify Currency Switcher Apps
We know that you want the best Shopify currency switcher app there is. So, we've carefully selected the 11 best Shopify currency converter apps for your store. We chose these apps based on their reviews, ratings, and features: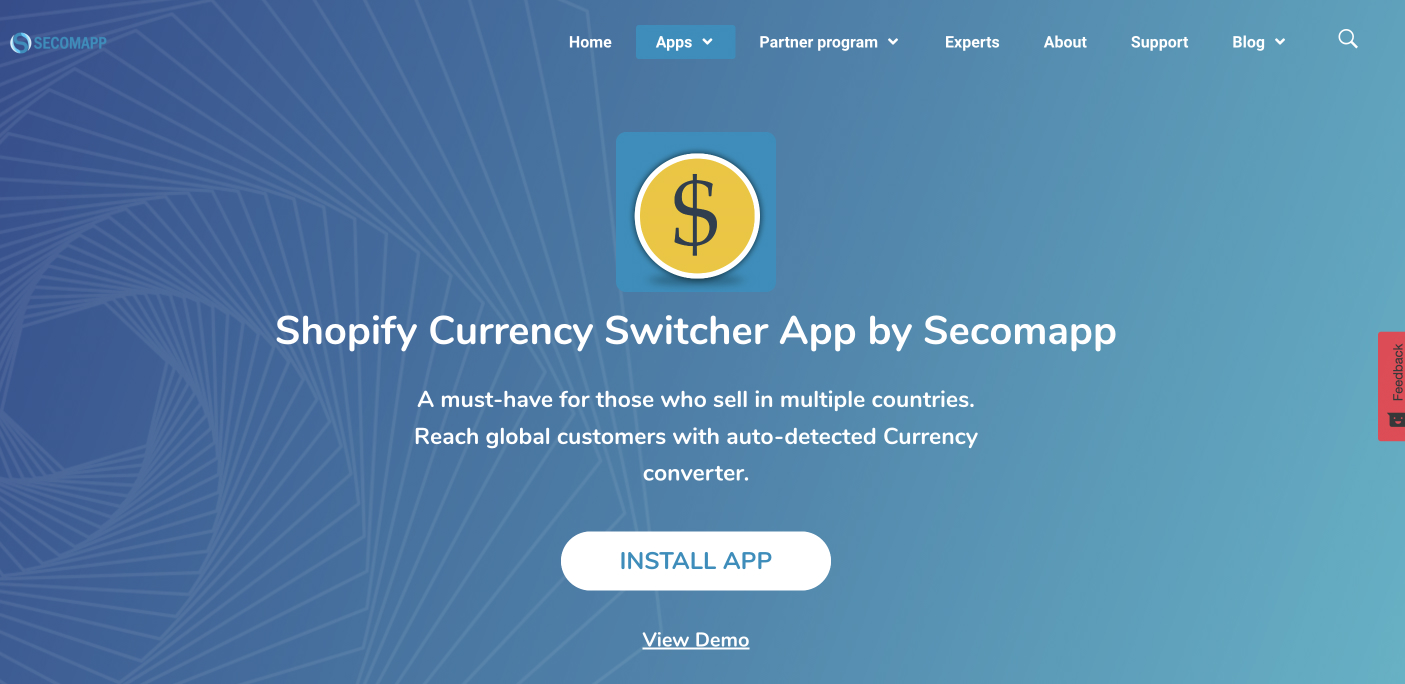 Currency Switcher is an e-commerce application built by Secomapp and has over a thousand reviews and about 500 users.
Features
Auto position currency switcher: Secomapp Currency Switcher provides a unique purchasing experience for your customers by automatically switching your prices to their native currencies. This fantastic feature allows customers to shop regardless of their current exchange rate. This way, American shoppers can shop in dollars, and Indians can shop in rupees.
Price rounding: Price rounding makes it easier to convert. Imagine converting to $85.2456 when you could round it up to $85.25!
Templates for currency selector: Currency Switcher by Secomapp has 9 templates you can choose from. So, it allows you to pick the most suitable one for your Shopify store.
Integration with other apps: This is another fantastic feature of this app. It easily integrates with other apps and with Shopify's newest features!
Mobile Support: Currency Switcher by Secomapp is responsive across devices, including PCs, mobile phones, and tablets. So if you've been wondering if this app is supported on Android devices, you have your answer.
Quick Response: Delayed responses are a big turn-off for your customers. No one likes spending too much time making a purchase. Thus, as an online store owner, you need an app that responds quickly. 
Currency Switcher by Secomapp is also free! So you don't have to break the bank to get this app.

Alpha Currency Converter certainly makes this list. It is one of the best Shopify currency converters there is. Let's have a look at its features.
Features
Friendly support: This software provides exceptional customer service. It sends you polite reminders and keeps you informed about any updates. Alpha Currency converter offers a specialized team of professionals on hand to answer any questions you might have.
App integration: Alpha Currency converter also integrates with your apps. So you can integrate this software with multiple eCommerce apps.
Exchange rate padding: With this app, you can set up exchange rate padding. Likewise, you can round off and offer a higher exchange than real-time rates. 
Multi-currency support: It supports over 190 different local currencies. This way, your customers can shop with their currencies and enjoy a seamless checkout.
Automatic geographic linking: Alphacurrency converter automatically updates your customers' converting currency based on their current location. This makes it possible for your shoppers to buy goods wherever they are.
Database Updates: This is one of the fantastic features Alpha Currency Converter offers. It provides regular exchange rate updates with the currency data. This currency data is usually delivered by Fixer and sourced from worldwide financial banks. These frequent updates ensure sync with the current exchange rates.

This is yet another Shopify currency switcher app that makes our top 11 list. It has a very high star rating of 4.9 with over 400 reviews. Dynamic Currency Converter has both free and paid plans. Of course, there are certain restrictions a free plan would have. However, this app offers a premium plan ($7.99/m), Elite plan ($14.99/m), and Nuke plan($19.99/m).
Features
Dynamic Currency Converter has many helpful features, so let's dig in.
Price rounding: This is one of the currency conversion features that allows you to round numbers. It rounds off prices to the nearest fives (5), tens (10), hundreds (100), and even thousands (1000). That's not all. Dynamic Currency Converter gives you three options to choose from. These are "Maximum", "Minimum", and "Automatic". With these, you can decide how you want your prices rounded off.
Multiple currencies: Dynamic Currency Converter gives your customers over 150 currencies to switch to. Amazingly, it also allows you to perform transactions in Bitcoin! So this ensures that your customers can shop with cryptocurrency.
Currency selector templates:  This currency switcher app offers 6 templates for currency selectors. These currency selector templates could be in the form of flags, symbols, or names. As a result, you are given six different formats in which your customers can choose their currencies. These currency selector templates could take the form of flags, symbols, or names.

Currency Converter Plus was developed by Code Black Belt. This app is the only app that gives exchange rates using paid providers. It has a 4.9 rating and over 700 reviews.
Features
Multiple currencies: Currency Converter Plus supports 222 different local currencies, which is a large number. It supports more currencies than any other app. Bitcoin and other cryptocurrencies are also included.
Updated exchange rates: Currency Converter Plus regularly updates its exchange rates. So, your store's database gets updated as frequently as the exchange rate changes.
Automatic price conversion: This feature automatically converts the prices of your goods. It changes the price currency to suit your customers depending on their location.
One of the features this app doesn't have is price rounding. As for cost, its paid plans start at $9.99 per month.

Coin Currency Converter has over 900 reviews and a 4.9-star rating. Here's a list of its exciting features:
Features
Native checkouts: With Coin Currency Converter, your customers can carry out transactions using their native currencies. 
Automatic Currency Converter: Like many other Shopify currency switchers, the Coin Currency Converter converts your store's currency automatically. It matches your shopper's IP address to your store in no time.
Multi-currency support: The Coin Currency Converter has 193 different currencies and includes major currencies such as dollars ($), Pounds (£), and Euros (€). 
Premium exchange rates: As a Shopify store owner, this app allows you to enjoy selling at a premium and updated exchange rates. Also, Coin Currency Converter updates its database using the current financial reports.  
Price rounding: With this app, prices are rounded up automatically to the nearest fives, tens, and hundreds. This price rounding feature gives you and your customer the perfect pricing and ensures you don't experience any losses.
Store compatibility: Your Shopify store is pretty compatible with this app, which means it works perfectly without affecting your page-loading speed.
Integrates with Stufio: Stufio is an accounting software application that provides invoicing and accounting for your Shopify store. Coin Currency Converter integrates with Stufio seamlessly to help your business run smoother and give your customers a good shopping experience.
Coin Currency Converter offers paid plans that start at $8.99 per month.

Currency Converter Box has good ratings for its super cool features. In addition, this app has over 500 reviews. So, let's see what features this Shopify currency switcher app has.
Features
Here are some features of the Currency Converter Box that you'll find pretty helpful:
Automatic translation: This is a helpful feature that no other app has. Currency Converter Box not only converts your prices but translates your language as well. Hence, with this feature, a non-English-speaking customer can comfortably shop in your store! This amazing feature is one of the reasons why this app is highly rated.
Multiple currency conversions: The Currency Converter Box isn't limited to just a few currencies. It offers over 164 currencies based on your customer's location.
Desktop and mobile support: This is another good thing about Converter Box. It has adequate responsiveness regardless of the device. Therefore, it can function on both PCs and mobile gadgets.
Currency selector: It has 5 beautiful, eye-catching currency selector themes. These themes have been pre-designed for your Shopify store. So, you can easily choose any that suits your store's theme.
Currency Converter Box has a free plan and a premium plan. Although its free plan comes with limited features, you'll have access to technical support and at least 5 currencies. The premium plan starts at $9.99 per month after a 14-day free trial, and you can cancel your subscription anytime.

This Shopify currency switcher app has a unique feature that distinguishes it from others. So let's find out what the special features of this app are.
Features
Multiple currencies: Multi-Country offers several currency conversions and gives global-standard pricing. This feature saves you from the difficulty of creating several stores for different countries.
Shipping inclusive pricing: Multiple-Country provides free shipment of goods to customers. It uses an IP address to find out the geographical location. This is beneficial to your e-commerce business because it attracts more international customers.
Although it has a free trial, it only lasts for 15 days, after which you can subscribe starting at $29/month. Note that you can cancel your subscription at any time.

With over 8000 reviews and a 4.9-star rating, Best Currency Converter helps your Shopify store in numerous ways. Below are some of its features:
Features
Price conversion: Best Currency Converter takes care of the tedious task of translating prices from one country to another. This function is activated automatically. The prices of your products can be easily adjusted to correspond to your clients' existing payment methods. This feature helps you reduce cart abandonment, resulting in an increase in sales for you!
Multiple currencies: Imagine having your product prices displayed in 160+ currencies at the touch of a button. Amazing, isn't it? What's more, you'll be able to transact with consumers from over 160 countries!
Price configuration: The price configuration feature allows you to round off the costs of your products. It removes the decimals, making the conversion less stressful to interpret.
As for cost, Multi-Country offers one of the most affordable plans alongside a free one. With its free plan, you only get 5 currencies and 3 beautiful themes. However, with the Elite plan, you get 160+ currencies, currency notifications, and many more. The Elite subscription plan costs $9.95/month.

The Multi-Currency Converter comes with many beneficial features for your Shopify store.
Features
Automatic currency conversion: If it doesn't have this core feature, it's not a Shopify switcher app. Multi-Currency Converter has this critical feature and automatically changes your store's currency to sync with your customers' location.
Advanced rounding: With this app, you don't have to worry about rounding up or rounding down your prices. Multi-Currency Converter automatically rounds off your prices into whole numbers, completely removing any decimal points.
This app costs $9.99/ month after a 7-day free trial.

Geolizr is an app you'll find helpful if you have multiple online stores. It has many features that support various stores and is relatively easy to set up without coding skills.
Features
Geo-specific targeting: Geolizr enables you to sell to customers based on location. It also redirects your customers to any of your stores in their current location (if you own multiple stores). With this app, you can offer your buyers special services such as free delivery based on location.
Pop-up widgets: Geolizr displays pop-up widgets containing specific pieces of information on your store. These pop-ups are usually shown at the top of your landing page. With this widget, you can display any country-specific information.
Auto currency converter: Geolizr automatically converts your store's currency based on your customer's location. It converts your prices to their local currency, allowing them to make purchases easily.
Geolizr runs on a paid plan which starts at $10/month. However, it offers a 7-day free trial for you to test-run the app.

MLV Auto Currency Switcher has many benefits and features you'll need for your Shopify store. It has a 4.8 rating with over 5000 reviews. 
Features
Readable price figures: MLV Auto Currency Switcher provides price rounding and makes it easier for your customers to read. So instead of having a price of €17.8895, this feature rounds it up to €17.89 or €17.9.
Manual currency switching: This feature gives your customers some level of flexibility. It allows them manually switch to the currencies of their choice. It uses a currency converter dropdown to draw their attention to this feature.
Fast performance: You won't face the headache of delayed responses with this app. Auto Currency Switcher has stellar performance and responds quickly. This gives your customers a smooth shopping experience on your Shopify store.
Theme customization: This app offers three layouts and themes for you to choose from. These are the currency with flag, country code, or country code and flag. It allows you to customize your theme the way you want it. It also provides currency drop downs which are pretty customizable. You can choose where you want the drop-down to appear on your store's page.
Location detection: This app instantly detects your customers' location and automatically switches your currency accordingly. For instance, if your Japanese customers are currently in the USA, your store's currency will change to US dollars.
Shopify multi-currency compatibility:  MLV Auto Currency Switcher is compatible with Shopify's checkout feature used for payments on Shopify.
Excellent support: This app comes with excellent customer support, enhancing the user experience. You'll have access to a great team of experts ever-ready to provide 24/7 support.
This app has a free plan as well as a paid plan starting at $9.95 per month.
Conclusion
There you have it – the 12 best Shopify currency switcher apps. You can download and install any of these currency apps and enjoy smooth multinational transactions on your Shopify store.
Looking for a way to increase conversions on your Shopify store? Adoric's Shopify app is just what you need. It works by displaying attractive campaigns to your store visitors as they browse through your products or just when they are about to leave your store. These campaigns are designed to spur them to make a purchase. So, get the Adoric Shopify app to convert your store visitors into paying customers.