If you wanted to find, say, a hairdresser within your locality, you would go to Google and type in "hairdresser near me", right?
In the same vein, potential customers looking for your plumbing, baking, legal, etc., services will do the same.
For this reason, making your business visible on Google Local Search will help to bring you more leads and sales.
But how exactly? Simple. Through Local Search Engine Optimization. Or Google Maps SEO, as some people prefer to call it.
Google Maps SEO involves making your business visible on Google Maps for certain keywords.
For example, if you search for "Law firm spring valley NY" on Google, you would see this:

You can see a list of law firms together with the office locations on the map. This would work for any other local keyword (e.g. landline phone service in New Jersey).
In this post, you will learn how to rank your business on the local search engine via Google Maps SEO.
Why Stress About Google Map SEO?
Like every other marketing endeavour, Google Map SEO demands time and can be stressful to set up successfully. So, why bother?
Well, here are some interesting statistics that might pique your interest:
80% of local searches on mobile convert
86% of customers use Google local search to find businesses
46% of all Google searches are location-based
All those, we believe, are enough to make you view Google Map SEO from a positive perspective.
Before Getting Started with Local Search Engine Ranking
The first step to getting started with Google Map SEO is creating a Google My Business Page Profile.
Not to worry, creating one is pretty simple and easy. Plus, we've created a detailed guide you can follow to set yours up fast.
Additionally, keep in mind that Google uses three main signals for determining local engine ranking:
Distance: The closer your business location is to the city center you are looking the rank for, the better your chances of showing at the top spot
Relevance: Google tries to match users' searches with results that best fit their queries. This is why it is important to be descriptive as possible about your business
Prominence: Businesses that have longer operational history and higher reputation take top spots on Google Local Searches
Before taking any action, it's important to understand your current position in SERPS.
10 Tips to Rank High on Local Engine Search with Google Maps SEO
Hopefully, you have your Google My Business Profile up and running by now, because you will need it for Google Map SEO. Here are ten tips to make it more visible on Google.
Tip 1: Ensure Your Business Details are complete and up-to-date
While setting up a GMB profile, ensure that the information you put in about your business is accurate and up-to-date.
Using inaccurate or outdated information can hamper your visibility online.
Also, ensure that there is information consistency across your online profiles.
For example, the contact phone number, email, and address on your website and social media handles should match your GMB profile.
Tip 2: Verify Your Business Physical Location
You can set up your GMB profile without verifying your location. Google allows you to skip that part during the initial setup process.
However, you will still need to verify your business location to appear on Google Maps. Often, Google does this by sending a postcard containing your verification code to your physical address.
Depending on the nature of your business, Google can allow you to verify your business using other options like a phone call, video call, or email.
Tip 3: Create a Detailed Business Description Mixed With Your Target Keywords
As earlier highlighted, relevance is one of the ranking factors Google uses to determine the local content to show to searchers.
As such, adding a detailed description that captures your target keywords will go a long way in boosting your visibility on local searches.
To add a description to your profile, log into your GMB account and click the Add description link like so:

You can even take things a little further by adding your business opening and closing hours. Why is this important?
Before showing results to searchers, Google will first check to see if you are open or closed for business at the time of the search. If you are open, your chances of ranking high will increase considerably.
Tip 4: Add Photos
Did you know that one of the ways searchers can find your business is via images?
Statistically speaking, a third of all the searches performed on Google are done for images.
If you aren't adding images to your GMB profile, you are sure leaving a lot of money on the table.
Thankfully, you can easily add images to your GMB profile with a few clicks of the button.
You could even add a video if you want.
Only ensure that the photos and videos you add best describe your business and are relatable. The more pictures you add, the better your chances of ranking high.
Tip 5: Post Regularly
Posting regularly on your Google Business Profile has several benefits. Firstly, it lets Google know that your business is active, which means better visibility on local search.
Also, publishing posts filled with your target keywords can help to improve your local SEO services ranking.
On top of that, posting to your business profile can help strengthen engagement with your customers and, hence, boost your brand awareness. You get to tell your customers about product launches, new sales offers, upcoming events, and updates you know they will find useful.
Google allows you to embed photos into your post without having to sweat about it.
Best of all, you can add a CTA button to your post to drive traffic and conversion. And you can do so easily.

Tip 6: Build Credibility With Reviews
Trust is the fabric that holds every relationship together – business relationships included. And what other way to build credibility and trust for your business than through reviews?
A survey by Brightlocal showed that in 2020, 87% of online searchers read local business reviews before making any buying decision.
So, if you are to see any meaningful ranking on Google Map, you have to take review building seriously.
And the best way to get those reviews flowing in is by asking for them – politely. Even Google recommends reminding your customers to leave a review so long as you don't offer them any form of incentive for doing so.
Keep in mind, though, that more is not necessarily better. You have 100 reviews on your profile doesn't mean you will outrank your competitors. Quality of content and star ratings are some of the metrics Google checks before deciding how to rank your profile.
Tip 7: Run Ads Occasionally
This post is supposed to be about growing your business organically via SEO. So, what is the deal with running ads?
Now here's the thing. Running paid ads on Google Maps will help to boost your business' visibility. And the more visibility it gets, the more interactions it will get from customers, which means more reviews.
When your ad eventually stops, those reviews won't go away. And, like earlier mentioned, reviews are an important ranking metric Google takes seriously.
In the end, you still win.
Tip 8: Add Links to Your Website
Searchers who find your business on Google Maps will likely want to know more by visiting your website.
By doing so, you will drive more traffic to your website and generate more leads for your business.
What if you don't have a website?
Not a problem!
Google has an out-of-the-box web creation solution that is beginner-friendly and easy to use. It comes with lots of themes you can use to bootstrap your web designing process.
To access it, click the Website link from your GMB account.

Tip 9: Get Active on Social Media
Social signals are one of the ranking factors Google uses to determine how to place websites on search result pages.
Your website will give off a strong signal if it is getting lots of likes, shares, and engagement on social media sites like Facebook, Twitter, etc.
The stronger your pages' signals, the more visible your listing on Google Maps would be.
So, if you haven't already, start promoting your business on social media.
Tip 10: Build Local Backlinks to Boost Your Ranking
Local search marketing is never really complete without local backlink building.
To put it simply, backlinks are links pointing to your website from another site. When you have a link from a trusted website pointing to yours, it tells Google that your website can be trusted, and so can be ranked high.
Building backlinks to your Business profile can help boost your ranking.
There are a couple of ways you can go about that. One is reaching out to local business directories that align with your industry and asking them to cite your Business Name, Address, and Phone number.
Another method is doing the same with local news publishing outlets.
FAQs?
What is the Google Map 3-pack?
When you do a local intent search using terms like "near me" or "in [my city]", you will see 3 top listings on the search result page.
For example, if you search for "coffee shop Springfield", you will see this: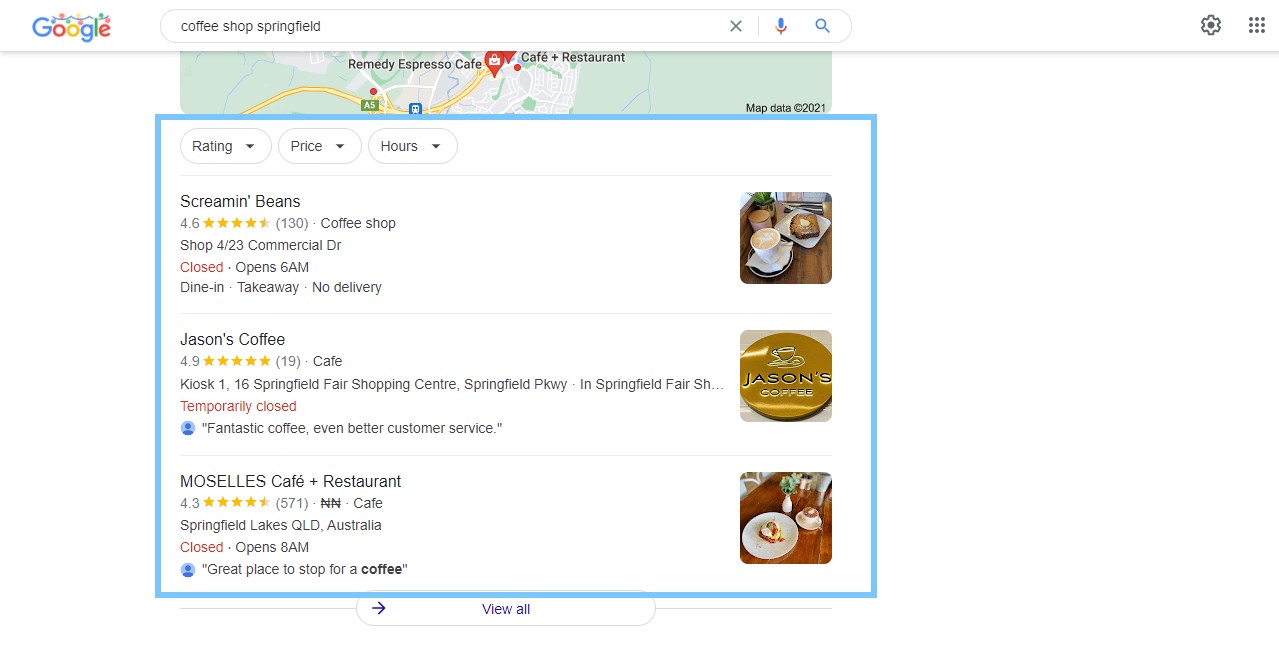 The 3 top listings you see here are known as 3-pack.
How do I get found on Google Maps?
The first step to getting found on Google Maps is by creating a Google my business profile and optimizing it for local ranking.
Conclusion
Boosting your business's visibility on Google Maps will go a long way to drum up more leads and sales for your business.
By following the 10 tips shared here, you can increase your business ranking on local search.
Need help optimizing your website for conversion?
Sign up for a free Adoric account right away.