Automating order fulfillments creates significant differences for e-commerce owners.
Why? Manual processing of orders can be time-consuming, error-prone, and can hinder growth potential.
As e-commerce progresses, efficiency and customer satisfaction remain cornerstones of success. With growing market demands, business owners must figure out how to streamline their processes to meet these expectations and stay competitive.
Automated fulfillments on Shopify is a great way to boost efficiency and customer satisfaction.
From reducing errors to accelerating order fulfillment, automation holds the key to enhancing customer experiences and unlocking new possibilities for growth.
In this guide, we will explore the benefits, strategies, and tools for automating order fulfillments on Shopify.
Benefits of Automating Order Fulfillments on Shopify
Automating orders on Shopify can provide several benefits that help streamline your operations:
Boost Efficiency and Save Time
Manual processing is arduous. You have to sequentially sort out each order, check for availability of requested product, match product to order, and track delivery. Automation eliminates this windy process. This allows you or your team to focus on more strategic and customer-focused activities, saving time and increasing efficiency.
Reduced Errors
Manual data entry is prone to errors. There is a high chance of making shipping mistakes, recording incorrect inventory levels, and losing track of an order before it is delivered. Automating orders reduces the risk of human errors, ensuring accurate order processing and fulfillment. This boosts customer satisfaction.
Quick Order Fulfillment
Automated order processing triggers immediate fulfillment actions, such as packaging and shipping. This leads to faster order turnaround times, improving customer satisfaction and potentially increasing repeat business.
Consistent Customer Experience
Automation ensures that every customer receives consistent and standardized order confirmation, shipping notifications, and tracking updates. This consistent communication enhances the customer experience and builds trust.
Inventory Management
Automated order processing can sync directly with your inventory management system. This helps prevent overselling, enables real-time stock updates, and triggers reorder notifications when inventory levels are low.
How to Automate Order Fulfillments on Shopify
Automating orders on Shopify can streamline your e-commerce business processes and save you time. You can use various tools and techniques to achieve this automation. Here's the common approach how to automate orders on Shopify:
Use Shopify's Built-in Features
Shopify provides several built-in features to help you automate your order processes. These include:
Automatic Fulfillment: Set up automated order fulfillment by connecting your Shopify store to dropshipping suppliers or third-party fulfillment services. When an order is placed, it can automatically trigger the fulfillment process.

Order Notifications: Configure automated order confirmation and shipping notifications to inform customers about their orders.
Use Third-Party Apps
Shopify's App Store offers a wide range of third-party apps that can help you automate various aspects of your business, including order fulfillment. Look for apps that provide features such as:
Order Automation: These apps can help automate tasks like order processing, fulfillment, and tracking updates.

Inventory Management: Automate inventory updates and restocking notifications to prevent overselling.

Workflow Automation: Create custom automation workflows that trigger actions based on specific events or conditions.
Shopify Scripts
If you have coding skills, you can use Shopify Scripts to create custom automation for your store. Scripts allow you to add custom logic to your store's checkout, cart, and product pages. This can be useful for implementing discounts, free shipping offers, and other customizations based on order details.
4 best apps for automating order fulfillments on Shopify
Automating order fulfillment on Shopify helps improve your business efficiency. Here are some apps to consider when looking to automate orders on Shopify. 
Order Automator is an app built specifically for Shopify users. The app allows you to create rules that guide the order fulfillment process; each rule triggers in response to specific actions. Also, you can process old orders in bulk using the app. 
Key Features
Auto tag orders and customers details

Auto fulfill line items

Provides Amazon FDA integration to sync inventory and order fulfillment

Auto cancellation of fraudulent orders

Automatically notifies users of order conditions via emails
Pricing 
Order Automator has a free plan and offers a 7-day free trial for the paid plans. 
Unlimited plan: costs $10 per month

Unlimited + Amazon: costs $20 per month

Using Auto Fulfill helps you save up to 90% of the resource you would spend manually fulfilling orders.
The app is perfect for automating order fulfillment processes which include sending new order details to your suppliers, generating packing slips, bulking fulfilling orders, and more. 
Key Features
Generate packing slips containing order and product details

Track financial activities 

Bulk fulfill orders

Location-based fulfillment

Auto-send new order details to suppliers
Pricing 
Enjoy a 7-day free trial.
Small: costs $20 per month

Medium: costs $30 per month

Large: costs $40 per month

Custom: costs $50 per month.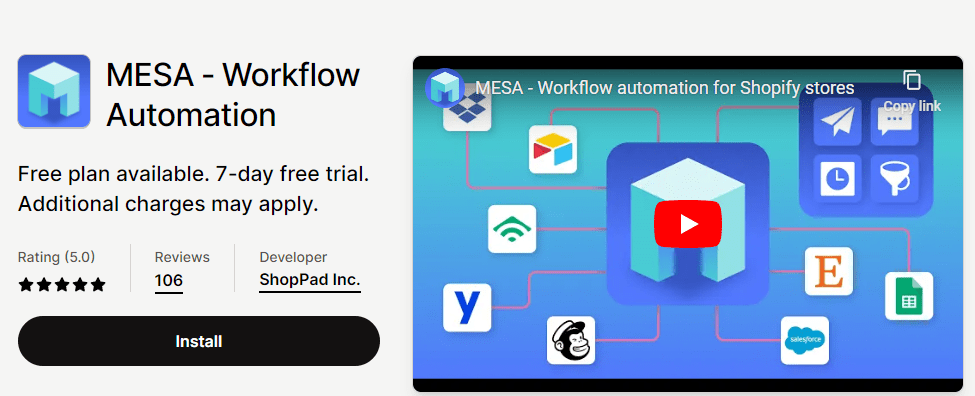 With MESA, you can easily automate orders and workflow on Shopify using ready-made templates. 
MESA is suitable for automating SMS/email notifications, auto-tagging orders, customers, fraudulent activities, and more. 
Key Features
Comes with 17 built-in apps for automating your workflow from start to finish

Set up your automation at no extra cost

Send product options to Google Sheets, Airtables, and more.

Auto-tag orders and customers for faster order fulfillment
Pricing 
A free plan is available. MESA offers a 7-day free trial for the paid plans.
Hobby: costs $20 per month

Professional: costs $75 per month

Business: costs $300 per month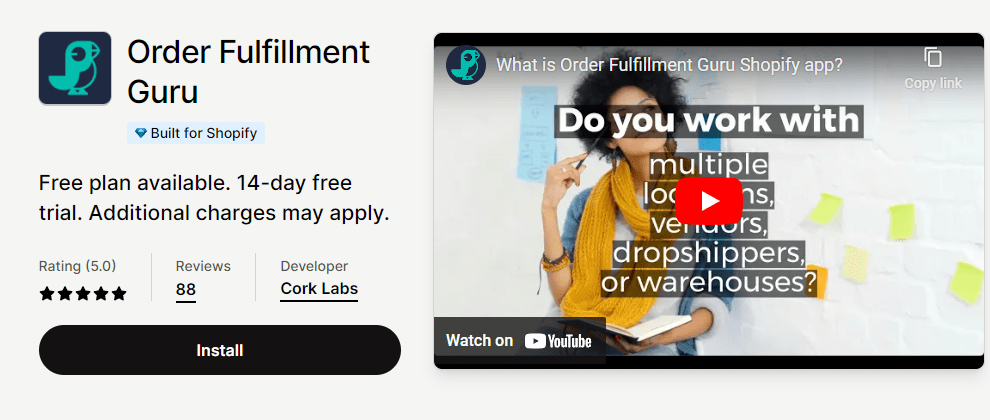 If you run a large store that involves dealing with multiple vendors, suppliers, and warehouses, you need an app that makes it easy to split and fulfill orders via different channels. This is where Order Fulfillment Guru comes in. 
The app was designed exclusively for Shopify owners. And it is a great option for large businesses. 
Key Features
Automatically assign orders to multiple channels for fulfillment.

Sync orders, products, and inventory in real-time

Automated order shipment and tracking
Pricing 
14-day free trial

Free plan

Starter plan: costs $9 per month

Essential plan: costs $19.95 per month

Professional plan: costs $29.95 per month
Wrapping Up
Before implementing any order automation strategy, assess your business needs, available resources, and the capabilities of the tools you plan to use. You want to keep up with the latest developments and solutions in the e-commerce automation space. 
You can also take it a step further by automating your marketing process on Shopify. If this sounds like something you would like to do, here is a marketing automation guide to help you get started on Shopify.