Are you looking to add reviews on your Shopify store but don't really know how to go about it? Or are you searching for the best product review app for Shopify? Either way, this post is for you.
One of the greatest fears online shoppers face right now is the fear of being scammed. Another is the fear of buying a product that doesn't match the standards or specifications advertised by a store.
Because of this, the average customer considers foolproof ways to choose stores they buy from. One of the most effective ways to assure them of your Shopify's store credibility is with customer reviews. People trust what other people say about your business more than any promises you make.
In this article, we will look into customer reviews thoroughly, especially as a Shopify store owner. We'll discuss why they are important, how to get customers to leave reviews, and the best apps you can use to get them from your customers.
Let's get started!
What are Shopify Product Reviews?
Simply put, Shopify product reviews are customers' feedback and opinions about a particular product on a Shopify store. By checking the ratings and reviews on a product, the potential customer can possibly clear some unanswered questions that they may have before deciding whether the product is worth buying or not.
Hence, product reviews are one of the most genuine ways to encourage potential customers to purchase your products. Allbirds, an eCommerce brand, knows this and requests customer reviews. The reviews by other customers on their website, as shown below, are enough to assure a new buyer of their products' quality.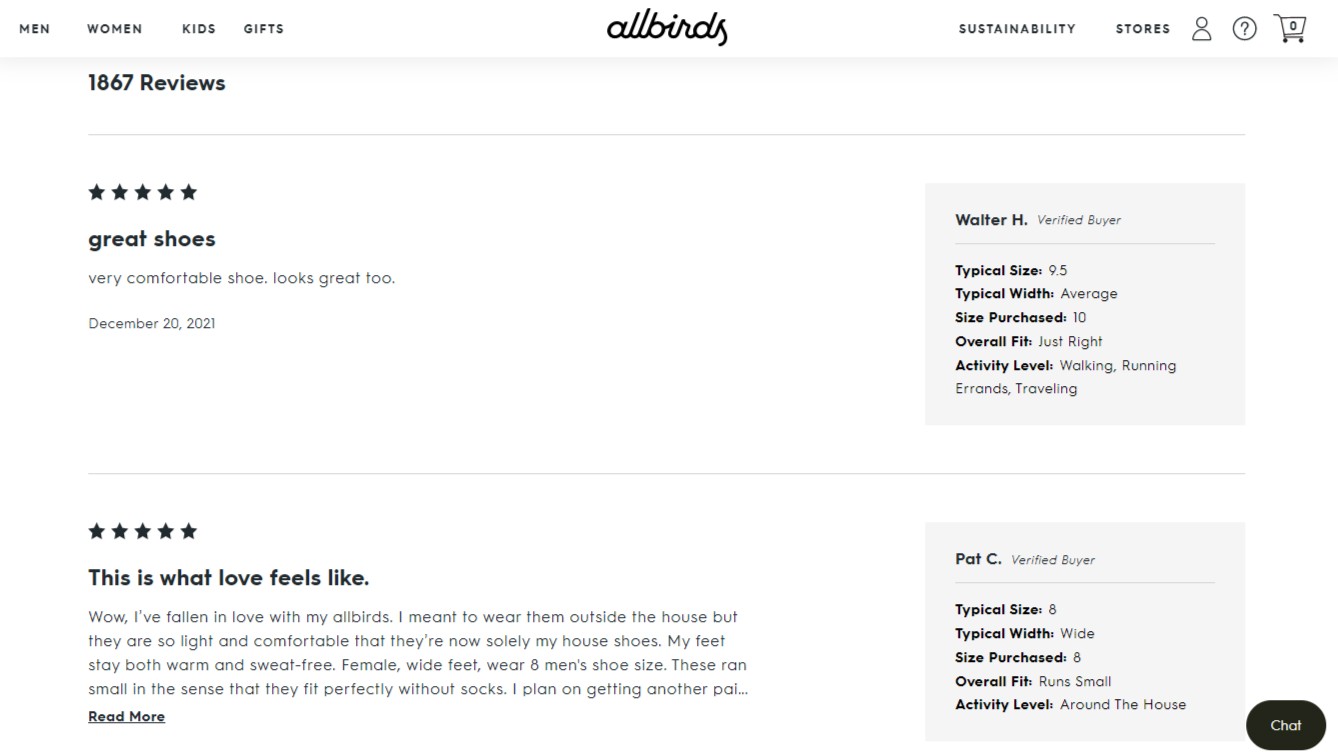 Why Customer Reviews are Important
Customer reviews from real customers can have a persuasive effect on new store visitors who may be having some difficulties making up their minds on a purchase.
Here are 3 main reasons to take them seriously:
1. Fosters Trust
As humans, we generally trust things easier and faster when they are recommended by other people who can vouch for the quality of those things. The same applies to your customers.
They tend to trust the reviews and recommendations of other customers like themselves in making informed decisions.
Within the first few minutes of landing on your Shopify store, most first-time visitors want to ensure that your store is trustworthy. To do this, they'll first search for reviews for whichever product they are considering purchasing.
Having customer reviews on your Shopify store helps you build a level of trust with potential customers. It shows them that you keep to the quality you promise in your product descriptions. This increases their chances of purchasing that product, becoming return customers, and even giving you product reviews.
2. Improves Search Engine Optimization
User-generated content, such as customer reviews, can help your store rank high on Google.
Consequently, having a lot of customer reviews on your Shopify website can boost your SEO.
3. Source of Customer Insights
Good customer reviews are important; negative reviews are also equally important, especially if handled properly.
Customer reviews are a form of feedback. So, if you are getting poor feedback, it means there is something you are not doing right or, at least, something you can do better. Bad reviews are inevitable; it is how you handle them that matters.
Bad customer reviews present a rare opportunity of knowing what your customers want you to improve on. Responding to this feedback can make your products better for your other customers. Did you know that 70% of people are more likely to buy from your Shopify store if you respond to negative reviews?
While bad customer reviews can indicate something you should work on, they can also be a somewhat necessary evil.
The reason is that if you have several reviews and they are all good, some customers may perceive them as ingenuine and spammy. Having a few bad customer reviews can help show your credibility.
How to Get More Product Reviews
Now that we have considered how important it is to have product reviews on your Shopify store, you are probably eager to collect product reviews from your customers.
How do you collect them?
There is essentially one proven strategy you can apply to get more product reviews from your customers, and it is by asking them.
Pretty simple, right? Well, yes and no. All you have to do is ask, but how you ask is equally important. So, the next question is, how do you ask your customers for product reviews?
Many store owners assume that their customers will immediately give them reviews after purchasing a product. Unfortunately, they don't always do.
It doesn't mean they are not loyal or satisfied with your products. Sometimes, they just forget to write you a product review or choose not to for reasons best known to them.
However, it has been shown that over 70% of your customers will leave you a product review if you just ask them. Let your customers know you want them to leave you a product review, and you see how gladly they will.
One way to do this is by sending them an automated SMS text sometime after their purchase asking them to provide a review for the product they got. You can do this via email.
You can also ask for reviews on delivering a product by including a note that reminds them to leave a product review for you on your website.
When you have a handful of reviews, you can share them on social media. This will help trigger a bandwagon effect that will lead to more customers leaving reviews on your Shopify store after buying a product.
That said, here are the 5 best review apps for Shopify that are worth trying, together with their pros and cons.
6 Best Review Apps for Shopify
1. LAI Product Reviews Ali Review
LAI Product Reviews is among the most popular Shopify apps in the customer reviews category. This powerful app helps merchants increase their prestige and boost conversions by displaying authentic social proof as text/photo/video reviews. LAI is easy-to-use, professional and very affordable for a majority of Shopify merchants.
Highlighted features:
LAI review widget is automatically added to your store after installation.

Advanced display settings allow you to customize every element of the reviews widget: sort photo/video reviews first, pin the total reviews on top, edit the date & country's flag, and change the widget's width without coding.

Build trust with authentic customer proof. After orders are fulfilled, review request emails are automatically sent.

Drive traffic from social channels & Google with social sharing & Google rich snippets features.

Upsell with coupon emails & reviews pop-ups (Encourage customers to write reviews about their purchased products by rewarding discounts, then stimulate them to re-purchase).
Pricing plans: LAI pricing plans are designed to match businesses of all sizes. It has 4 pricing plans which are as follows –
Free

Essential – $4.95/month

Growth – $14.95/month

Expert – $24.95/month
2. Loox Product Reviews
Loox Product Reviews is one of the best review apps available to you as a Shopify store owner. It has received a lot of positive comments from its users. It is the perfect choice of a product review app, especially if you're a minimalist.
With Loox, you get more than just product reviews. You also get a photo gallery feature to collect the photos of satisfied customers. It's an excellent option for businesses of all sizes looking to use a simple and effective product review app.
Loox does not have a free plan. However, they offer a 14-day free trial, with the paid plans starting at $9.99 per month.
Pros
Loox allows you to customize your reviews however you want.
It features many aesthetic features like widgets that you can use in displaying product reviews on several pages.
With Loox, you can set up a rewards and referral program for your customers.
It allows you to automatically collect reviews from your customers through email, SMS, Aliexport, or Facebook Messenger.
On the premium plan, you can collect an unlimited number of reviews
It can be integrated with Google Analytics to help you glean better insights into your marketing performance.
You can also choose which reviews appear on your website and which does not
It lets you display your product reviews on Google Shopping
Cons
It offers only a basic reward program. To get the referral program, you have to get on the most expensive pricing plan. It only allows you to access the loyalty program upon integration with another app and is only available on higher pricing plans.
It doesn't have a solid analytics tool
You can only get video reviews on higher pricing plans
3. Ali Reviews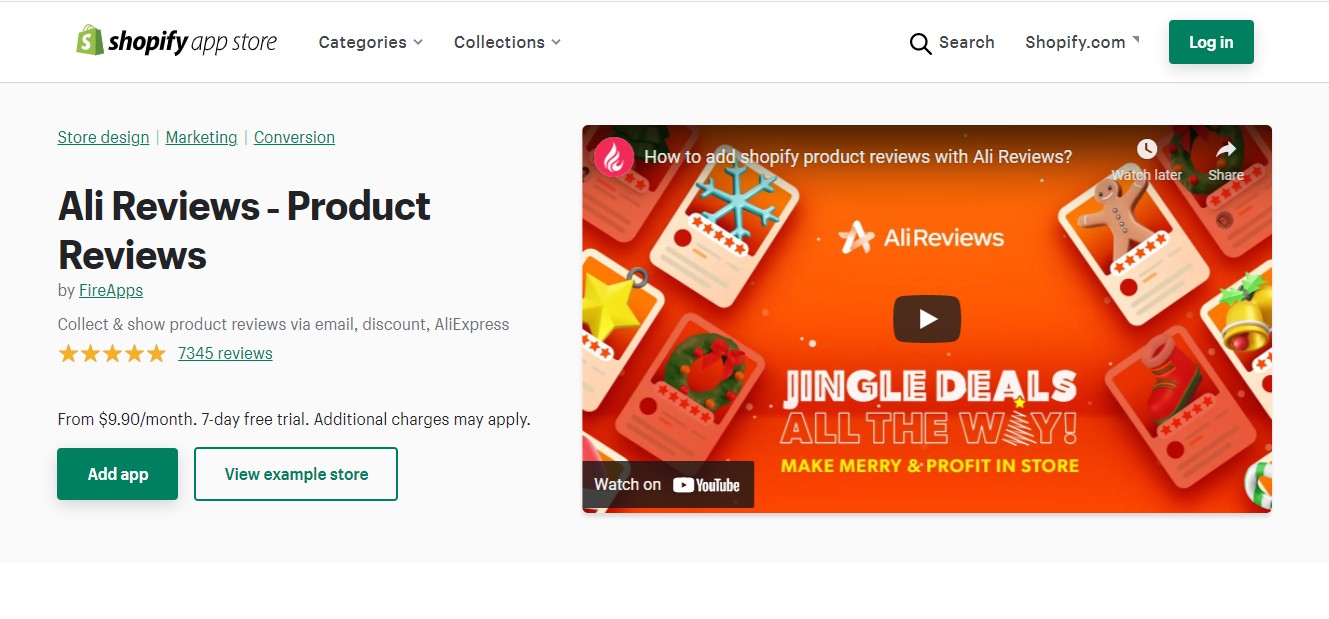 Ali Reviews is another Shopify review app that is easy to use. It packs a lot of powerful features that let Shopify store owners build a reputation for their brand by boosting the visibility of their product reviews. This in turn increases conversion.
Ali Reviews lets you show your product reviews on any of the pages on your website. It has several other features that are easy to use and 4 different pricing plans to meet the varying needs of Shopify store owners.
When it comes to pricing, Ali Reviews offers a 7-day free trial, after which you have to get a paid plan to continue using it. The paid versions start as $9.90 per month
Pros
It can set up customizable and automated review requests via SMS and email
Allows you to display reviews on the homepage, cart, or any other page using various widget styles that boost the visibility of product reviews
You can set it to reward customers with discounts for carrying out activities like photo reviews, repeat purchases, and increased retention
It can schedule email review reminders for customers
Can personalize reviews based on the information of each customer and their behavior on your website
The interface is highly customizable
Allows you to transfer reviews from other Shopify review apps easily
It is mobile-friendly and can be integrated into any of the Shopify store themes easily
With Ali Reviews, you can easily display your product reviews and ratings on Google Shopping ads
Cons
To get advanced features, you have to get the more expensive plans
Ali Reviews doesn't support video reviews
It does not allow reviews to be shared on social media pages. At least not yet.
4. Stamped.io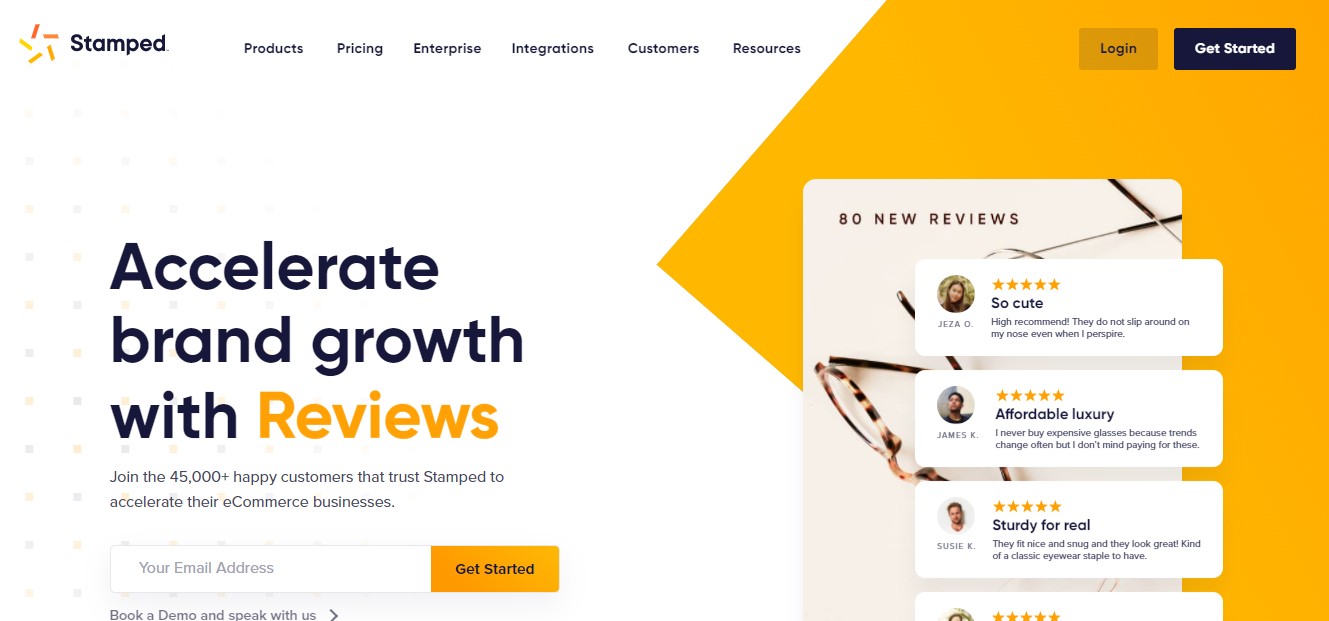 Stamped.io is unarguably one of the most sought-after review apps.
It is another excellent choice for collecting product reviews and building social proof for your business. It is used and trusted by some of the fastest-growing brands.
As for pricing, Stamped.io offers a free plan and 3 other paid plans starting at $23 per month for the basic plan.
Pros
It can collect product reviews from several sources, including SMS, email, Aliexport, and Facebook Messenger.
It has over 10 different widgets that you can set up to display product reviews on the most important pages of your website.
Stamped.io has a feature that lets you moderate customer reviews by preventing the use of certain sensitive words.
It allows your product reviews to appear on Google Shopping.
Stamped.io can be easily integrated with many other apps
You can measure the satisfaction rate of your customers using the NPS (net promoter score) feature
Allows you to set up a Q&A on the product display page
It offers excellent customer support, even on the free plan
Stamped.io has a Shoppable Gallery feature that can generate user-generated content from your Instagram account
Cons
You can only collect a limited number of reviews regardless of the plan you are on
The free and basic plans lack a lot of essential features – the free plan lacks the photo review feature while the basic plan allows integration only with Stamped apps
It separates the reward and loyalty program, meaning to access them, you have to purchase full suit apps
You can only get the Shoppable Gallery feature in the Professional plan
5. Fera.ai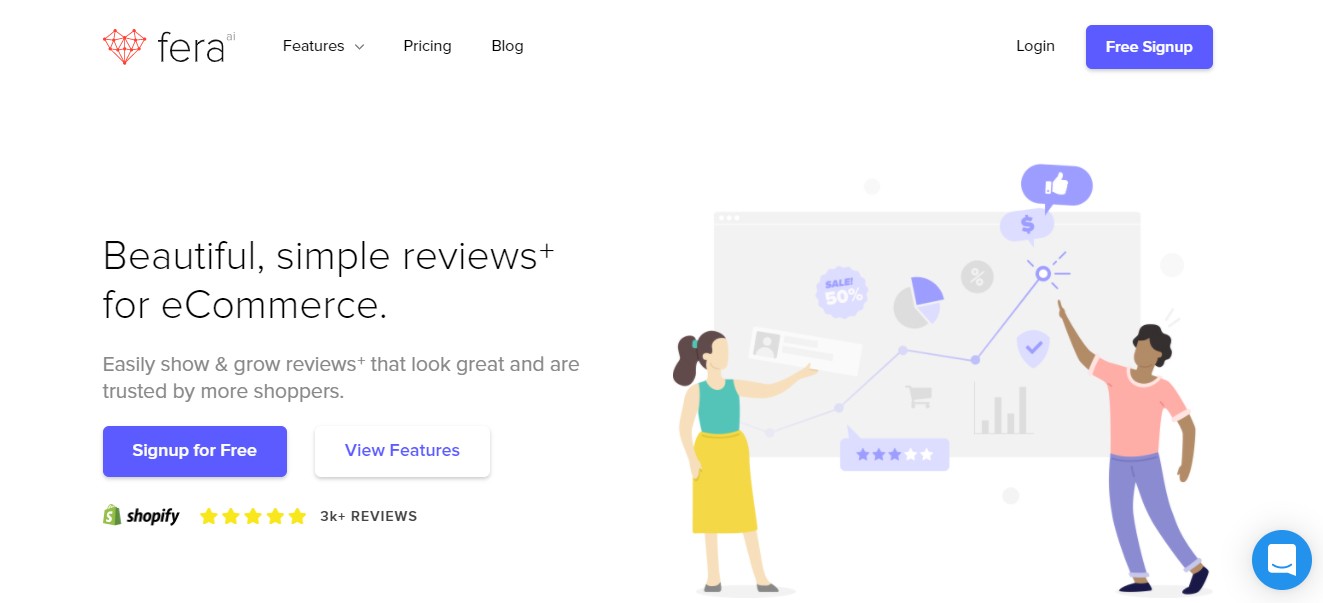 Fera.ai Product Review App is one of the best product review apps available to Shopify store owners. It is quite popular because of its simple yet distinct features.
With Fera.ai, you can collect product reviews via different means, and it also allows you to set up incentives for your customers. While Fera.ai does not offer a lot of integrations or features, its simple approach is its selling point.
As regards pricing, Fera.ai offers a free version and other paid plans. It provides a 14-day free trial on its paid plans starting at $9 per month.
Pros
You get an unlimited number of reviews even on the free plan
The free and the startup plans are fantastic and offer Shopify store owners value for their money
It allows you to collect regular reviews and even photo and video reviews automatically
It provides a reward program for customers
You get to choose which reviews show on your website
It also offers multiple widgets allowing you to display reviews anywhere on your website
You can earn a Shopper's verified badge. This badge proves to customers that your reviews are genuine
It provides 3 different reward options you can use in incentivizing your customers.
You can get superb live customer support even on the startup plan.
Cons
It lacks a lot of great features that are common to most competing Shopify product review apps.
On cheaper pricing plans, the number of automated review requests you can send is limited. This means you will have to import reviews, or request them manually.
6. Judge.me Shopify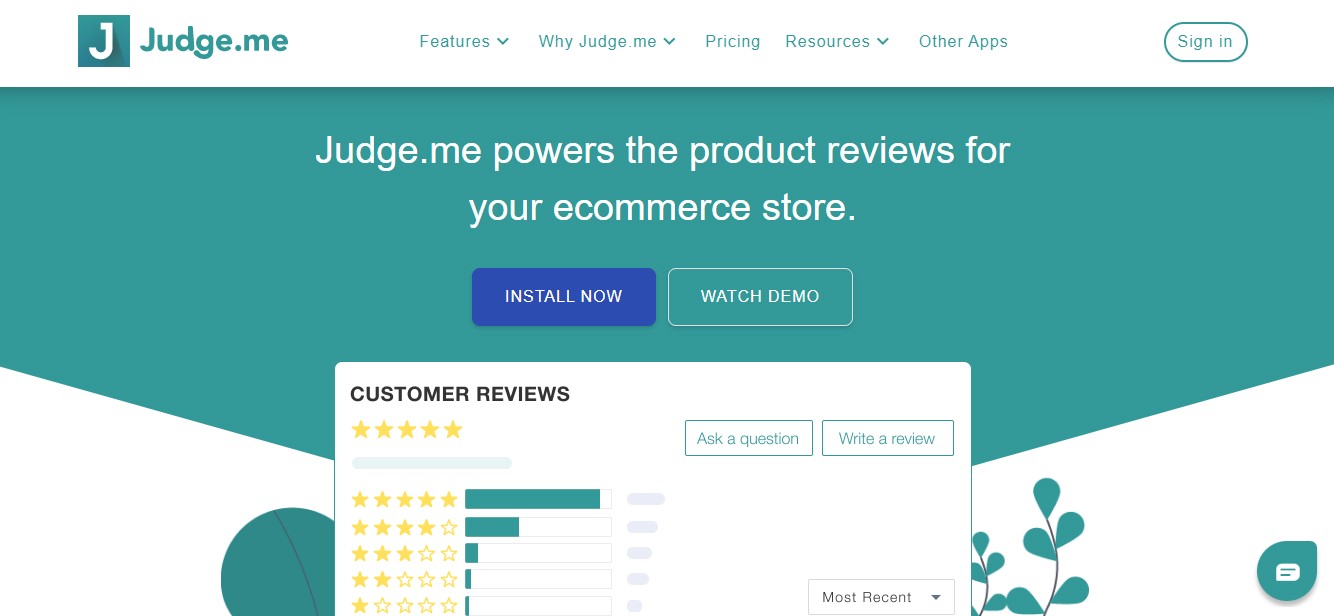 The Judge.me Shopify app is an excellent option for an affordable Shopify review app. This review app is the cheapest option on this list, yet it is packed with essential features on both the free and paid versions. Some of these features include Google speed test consultation and review request scheduling.
When it comes to pricing, Judge.me offers a free forever plan packed with several awesome features and a paid plan that is fixed at just $15 per month. The value you get on the free and paid plans makes this app quite appealing.
Pros
With Judge.me, you get an unlimited number of reviews
It offers the best free plan with excellent features like video reviews
It supports integration with a lot of apps and platforms
You can set up Q&As for your customers
It supports 34 languages
You get to enjoy 24/7 customer support both on the free and paid plans
It allows you to display your customer reviews on Google Shopping.
There are also features for full customization like CSS customization.
It comes with a pretty decent analytics tool.
You can choose which reviews you want to display on your website.
It has 6 different review medals you can use to showcase your reviews' quality.
Cons
Judge.me offers a limited reward program supporting just coupon codes. You'll have to integrate it with another app to access advanced features.
FAQ
Is The Loox Photo Reviews App Worth It?
Yes, it is. With this app, you enable your customers to add photos and videos to the reviews they leave on your website.
Is YotPo Reviews Shopify Also a Good App?
Yes, the YotPo Reviews Shopify app is also a good app. As proof, the app has garnered over 5,000 reviews on the Shopify app store.
Final Thoughts
Use the strategies and review apps we have discussed in this article to ensure you keep your customers satisfied and happy.
However, keep in mind that you cannot satisfy every customer. You should focus on the majority because if the majority is saying the same thing, then it is probably true.
Are you having a hard time converting visitors to your website into customers? Adoric's Shopify app can help.
Sign up for an account today to start using Adoric.