Do you want to make it easy for your customers to checkout on your Shopify website after making a purchase? Would you like to make it possible for them to check out right from your product page, without navigating to a dedicated checkout page?
An add-to-cart app is all you need. These apps were created to improve the user experience and make checkout, faster, easier and simpler.
With these apps, you can create sticky, mobile-responsive add-to-cart buttons anywhere on your page or website.
In this post, we will review the best add-to-cart apps for Shopify. But first, why do you need a Shopify add-to-cart app?
Why You Need a Shopify Add-to-Cart App
Creating an optimized Shopify add-to-cart button or a sticky add-to-cart popup can be tricky. You might have to write complex lines of code to do so.
But using a Shopify add-to-cart app can make your life and work very easy.
11 Best Shopify Add-to-Cart Apps
1. Wiser

Wiser is a Shopify app that enables you to display personalized product recommendations across your website – be it on the home page, product pages, cart page, or even on popups. The app comes with multiple widgets that let you display recommendations that help upsell and cross-sell products, including frequently bought together, related/ similar products, top-selling products, trending/ hot-selling products, recently viewed products, new arrivals, featured products, and more.
The app dynamically learns from the visitor's on-site behaviour to display the right recommendations at all times, leading to reduced bounce rates and an increase in on-site conversion rates. It also comes with an in-app dashboard to monitor the performance of widgets and an A/B testing tool to experiment with conversion strategies.
2. Buy Me – Sticky Buy Button

Buy Me – Sticky Buy Button is a user-friendly add-to-cart app that helps improve user experience.
This app is designed to match your chosen theme and can be customised to your taste. One advantage is that it is not hidden, Buy Me – Sticky Buy Button is displayed on all product pages. Unlike the original Shopify add-to-cart button that disappears when a customers scroll past it, this app stays visible at any point on the page.
Also, shopping is easier with this app as customers can buy directly from your product page. And if there is a need for a customer to check out from the product page, it instantly takes the user to check out when the button is clicked.
This process helps to reduce the number of abandoned carts, improve user experience and increase sales.
What's more, the Buy Me Widget allow customers to share products they want to purchase with their friends, colleagues and family through a  social media product shareable link.
On top of that, this app makes creating mobile-friendly sticky add-to-cart buttons easy.
Pricing: Free Plan, Small($2.95/month), Medium($4.95/month), Large($6.95/month)
3. Sticky Add to Cart Button Pro by Giraffly

Sticky Add to Cart Button Pro by Giraffly is one app that can help improve your checkout flow and boost your conversion rate. This app enables your customers to add products directly to their cart from the page, which makes buying process smooth.
The cool part this app offers lots of control and flexibility. You can toggle the app to appear on certain pages and stay hidden on others and you can show where you want it to appear on the page. If you want it to appear at the top, middle and bottom of the page, it is your choice to make.
In addition, products are displayed in a cart drawing which makes it easier for your customers to check out.
You don't like the default button design? No worries! There are many interesting animations to choose from so as to keep your customers entertained.
It is very interactive as it sends confirmation notes when your customers add products to their carts. Or when the product goes out of stock.
Lastly, it is compatible with various currency conversion apps.
Pricing: Free plan, medium($4.99/month), large($7.99/month).
4. Sticky Add to Cart Booster Pro by Codeinero

Sticky Add to Cart booster pro boast of many features that improve customer experience and increases conversion.  When installed, a floating bar which contains a buy button would appear on your pages and will stay visible as your visitors scroll through your pages.
This makes it easy for your customers to add products to their carts instantly.
In addition, a buy button is added to every product listing to make it easier for customers to buy products directly on your homepage, collection page or any page where a product is listed.
Also, there is an interactive cart drawer that improves user experience and helps reduce cart abandonment.
You can integrate your Add to Cart button with Facebook, Pinterest and Google analytic tags.
As for pricing, this app doesn't have a free plan but offers a 14-day trial period.
Pricing: Basic ($8.99/Month), Shopify ($14.99/Month), Advanced ($14.99/Month), Shopify Plus ($39.99/Month).
5. Globo Sticky Add to Cart

Globo is a free Sticky add-to-cart app. This app comes with many features designed to help improve your checkout flow and boost conversions.
These features are customizable and can be designed to provide the performance you need. In addition, it makes it easy to create add-to-cart popups
Secondly, Globo allows you to add an add-to-cart button at the top or bottom of your page, or any other place where they will enjoy maximum visibility.
The app has an option for customers to choose product variants from the sticky bar. There are also templates to choose from when you feel overwhelmed creating your own unique Add to Cart.
It is mobile-friendly and responsive across all devices, easy to set up and requires no technical knowledge to create. It is compatible with the themes and can be translated into other languages.
Pricing: Free
6. Ultimate Sticky Add-to-Cart

Ultimate Sticky Add to Cart allows you to display an add-to-cart button on every product page. Also, it allows users to select product variants instantly without having to scroll up to the original Add to Cart. Moreso, it simplifies the checkout process as it is responsive across all devices and screen sizes.
This app comes with a count-down timer feature that allows you to get customers to act quickly, helping boost your sales.
With Ultimate Sticky Add to Cart, no data is lost as it integrates Facebook pixel, Google Analytics, and Instagram pixel to recover abandoned carts and improve work towards retargeting.
What's more, this app is compatible with Shopify currency converter apps.
Unfortunately, there is no free plan but has a 7-day free trial to get familiar with the features.
Pricing: Unlimited Plan($9.99/month)
7. Fast Checkout Sales Bundle

Fast checkout sales bundle offer various features that increase conversion, reduce cart abandonment and minimizes bounce rate. These features include a sticky Bar, sticky buttons, quick buy, mini cart with pop up etc.
The Add to Cart bar allows customers to add products instantly to their cart and an add-to-cart button that takes the customer to the checkout page once the button is clicked.
What if a customer wants to skip adding products to the cart? The skip to checkout enables the customer to jump straight to checkout without having to add to the cart, this ensures your customers enjoy a more seamless shopping experience.
The sticky button shows the number of products that have been added to the cart.
Interestingly, there is a mini cart that notifies customers of the product that are already in their cart when they navigate through pages, enhancing the user experience.
Do you feel that the cart buttons are dull and boring? You can add customizable animations to the buttons.
Pricing: Free
8. Sticky Add to Cart + Buy Now

Sticky Add to Cart + Buy Now creates a faster checkout experience for customers to enhance conversion. It creates a "Buy Now" button that directs instantly to the checkout page on all product pages, easy to customize and is visible on all pages. This help cut down the rate of cart abandoned cart and increase sales.
The features allow for multiple users with unlimited checkouts and interactions. Sticky add-to-cart is customizable and the mini cart widget can be customized however you want it.
This app translates into more than 20 languages and supports Facebook and Google pixel tracking.
Furthermore, do you have stories relating to a product, it allows you can create stories to display upsell offers in the cart to entice buyers and boost order value.
App support Add to Cart to the homepage to improve the experience.
Pricing: Free, Pro ($5/Month), One-time offer ( $24.99)
9. Add to Cart Button – Nice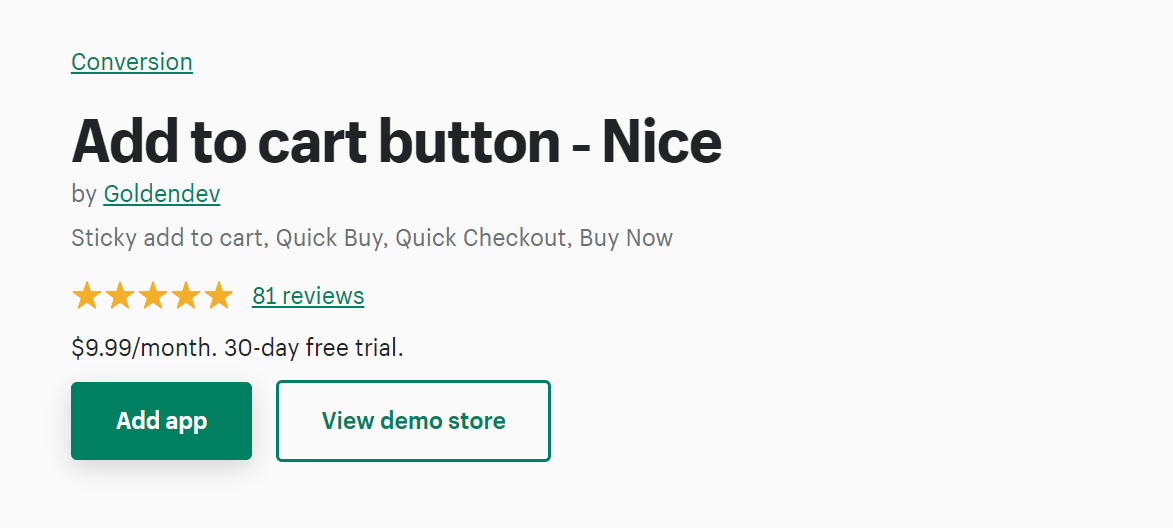 Do you want to boost your sales exceptionally, then you need this app in your Shopify Store. Install this application and add the "Add to Cart" button to all products in your store and watch sales skyrocket. This makes the product be added to the cart faster. With this app, your customers will have a great experience on the page as it is easy to do things and processes are simpler. Want to add items to the bar? The sticky bar feature is there to help you. Need help navigating to checkout? "Skip to checkout" directs users to the checkout page instantly.
Additionally, App is very easy to install, and customizable to match theme designs. There are options to hide certain features when products are out of stock or on specific pages.
The best is that it is mobile-friendly and works on all devices.
Shopify merchants who used this app have a lot to say about this app and report conversion increments after installation.
Pricing: Best Value ($9.99/Month) with a 30-day free trial.
10. Sticky Add to Cart by Uplinkly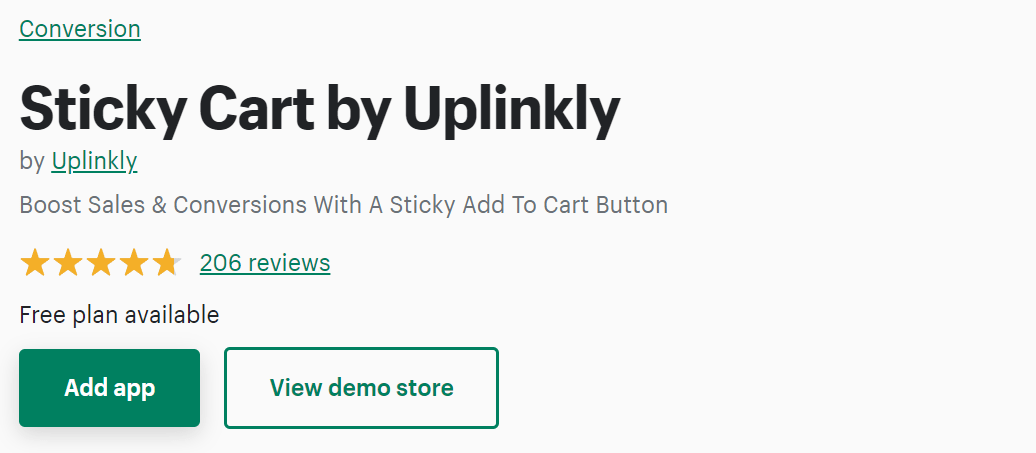 Do you want unlimited clicks and impressions on your ads? Do you want to keep users engaged while shopping on your website? This Sticky Add to Cart by Uplinkly does the trick for you. It has a sticky button that stays on your page as the user scrolls down your page.
Although buttons are displayed on the page, it doesn't really convert because of how boring and dull they look, but with this app, you have multiple beautiful animated buttons to choose from that match the store theme and also grab the attention of customers.
It is effective to use with its single switch direct to checkout mode. More so, you can integrate with Facebook pixels, and Google Analytics and also reports are easy to read.
In addition, there are full dashboard device sources, that display product photos and show price anchor comparisons. There is more to do with this sticky Add to cart Button.
Pricing: Free plan, Pro Edition($9/month)
11. Sticky Add to Cart by GAF

Sticky Add to Cart by Gaf will help you increase your revenue and keep customers in your store with its features. The app monitors the customers and shows customers what they want to see at a particular point of sales, for instance when a customer sees a product and wants to add it to the cart, a "sticky add to cart" appears immediately so the customer can add to cart directly
What else? It is 100%v responsive on mobile, tabs and laptops. Easily turn off the cart where you don't want it to appear. Easy to install and set up, no code required.
You have the option of adding a sticky add-to-cart bar to your home page. There are button animations that allow you to choose where you want the bar to be placed, at the top or bottom of the page.
Integrated with Google Analytics and priority email support.
Pricing: Free plan, Basic($3/Month), Plus($5/Month), Pro($10/Month)
Conclusion
So there you have it; 10 best Shopify add-to-cart apps.
These apps make it easy for your customers to complete their checkout from anywhere on your website or web page. Best of all, they are easy to use.
Are you still struggling to make sales for your Shopify business? Adoric can help.
Adoric comes packed with lots of tools and features designed to help you convert your visitors into subscribers and customers.
Sign up for an account right away to try out Adoric and see how it can help grow your business.