Affiliate marketing is one of the many marketing strategies business owners employ to upsell their products or services. This strategy has worked for many years because people tend to believe reviews that come directly from existing customers or people they know. 
Affiliate marketing is a marketing strategy that involves getting others to promote and sell your products. In return, you pay them commissions for sales they generate for you. 
A study has shown that 80% of consumers buy products due to influencer recommendations. That goes to show how effective affiliate marketing can be. 
However, running an affiliate marketing campaign is not easy, hence why you need affiliate marketing solutions to make your life easy. 
To this end, we have taken out time to find the best Shopify affiliate marketing app for you. If you are new to affiliate marketing, you can learn how to set up an affiliate program for Shopify. 
Below are the best Shopify affiliate marketing apps for you. 
10 Best Affiliate Marketing Apps for Shopify
1. LeadDyno Affiliate Marketing

LeadDyno is a Shopify affiliate marketing app that can help you boost your business revenue. It provides everything you and your affiliates need to succeed. Getting started is easy on LeadDyno. 
You can brand your affiliate portal, create a working commission plan, set up your business plan, and pick multiple payment options. 
With LeadDyno, your affiliates can directly access their dashboard on your portal. And they can share your business link with ease. By doing so, you will notice a dramatic boost in your conversion rate. 
LeadDyno has been in business since 2013 and has processed millions of affiliate sales. In 2021, LeadDyno processed about 234M affiliate sales and had recently processed more sales. 
You can achieve so much with this app. LeadDyno helps you automate your affiliate marketing process to make the most of it. Automated marketing lessens your workload and shortens the time spent. 
Track your campaign progress, orders, referral links, customers, social media performance, and more from your dashboard. LeadDyno integrates with Hubspot, ZohoCRM, Mailchimp, Klaviyo, Aweber, Paypal, Slack, and more. 
Pricing 
LeadDyno offers a 30-day free trial for the paid plans. It has four paid plans. 
The Starter plan costs $49 per month for 3,000 unique visitors. 
The Plus plan costs $129 per month for 15,000 unique visitors.
The PRO plan costs $349 per month for 100,000 unique visitors. 
The Premium plan costs $749 per month for 500,000 unique visitors. 
2. UpPromote: Affiliate Marketing

UpPromote is an all-in-one affiliate marketing app by Secomapp. You can increase your sales by offering your existing customers commissions to promote your business. Not just your customers, influencers, and brand ambassadors are not left out. 
When you signup on UpPromote, you can create registration forms to bring your affiliates on board. In addition, this app can generate affiliate links or coupon codes for your affiliates. The links or codes would serve as a channel to invite new customers to your business website. 
Affiliates receive their commissions when a visitor purchases through their links or code. You can track your affiliates' links to know their overall performance.
UpPromote allows you to create a variety of affiliate schemes and commissions. It also provides tools and resources for a hassle-free affiliate marketing program. 
What's more, it makes automating your affiliate marketing activities a breeze. It helps to prevent affiliates from referring themselves. And it makes the payment process easy. The app integrates with Mailchimp, Paypal, Oberlo, Recharge, and more. 
Pricing 
UpPromote has a free plan that allows you to approve or deny 200 referral orders per month. You can enjoy a 14-day free trial on the paid plans. 
The Grow affiliate plan costs $21.99 per month for 300 referral orders. 
The Professional plan costs $69.99 per month for 600 referral orders. 
The Enterprise plan costs $139.99 per month for an unlimited referral order. 
3. Referral & Affiliate Marketing 

Referral and affiliate marketing app is a product of Automizely and AfterShip. If you want to scale your business through affiliate marketing, this app can help you achieve your goal. 
You can create a referral program on this platform. Using referral links is one way to boost your sales. Your customers and brand ambassadors can market your products to the people around them and on their social media platforms with the link. 
An impressive commission rate will encourage them to put in more effort. Also, giving incentives to referred customers can convince them faster than words. In the end, everyone gets what they want. 
Automizely is here to help you create a reasonable reward plan and to sync it with your Shopify store. This process is fast and easy. So your affiliates can see what they stand to gain when they visit your Shopify store.  
Managing your influencer list is another feat you can achieve using Automizely. Add your influencers and keep track of their progress from a central point which is your dashboard. 
Chat with customer care at any time of the day if you encounter any challenge. This app integrates with Automizely. 
Pricing 
Using this app comes at no cost. 
4. GoAffpro – Affiliate Marketing 

GoAffpro is another effective Shopify affiliate marketing app with a 4.9 rating and 1553 reviews on Shopify. 
With this app, you can turn your customers into partners to boost your sales. You can create a customized affiliate portal, invite your customers and influencers to join your affiliate team, and add them to your Shopify account. 
Once your customers or paid influencers signup for your affiliate program, they become your business partners. And work begins. GoAffpro allows you to offer commission based on sales. You can exclude products with low profit from the commission list. 
This app runs on desktop, iOS, and Android. It supports multiple languages for easy business transactions. And it is easy to set up.
GoAffpro keeps you updated on your affiliate progress status. You receive a notification after a customer completes an order through an affiliate link. You can also monitor your order through a coupon code.
Pricing 
GoAffpro has a free plan and one paid plan. 
The premium plan costs $24 per month. It offers more advanced features than the free plan. 
5. Ambassador Affiliate Marketing 

Fifth on our list of best Shopify affiliate marketing apps is the Ambassador Affiliate Marketing app by Refersion. 
What we really like about this app is how easy it makes recruiting affiliates for your business. Anyone capable of pulling the crowd to your business can join your team: customers, bloggers, influencers, etc.
In addition, this app can also help you find capable hands to recruit as affiliates. You don't need any special skills to get things done. 
The app generates coupon codes automatically, thanks to the automation feature. Each affiliate will choose a coupon code when they register. They can share these codes on any platform to invite people to your business. 
This app integrates with Shopify Plus, Paypal, Klaviyo, Yotpo, and more. 
Pricing
Refersion is free to install. However, additional charges apply. 
6. Referral Candy

If you own a Shopify or Shopify Plus store and wish to grow your business, ReferralCandy can help you attract new customers.
Thousands of Shopify merchants have testified to how efficient ReferralCandy is. The app is rated 4.9 on Shopify and has more than 1,600 positive reviews. 
Setting up a referral program on this app is easy. It takes 30 minutes to complete the process. Once you launch your program, you and your customers can get to work. You can only reward your affiliates with cash or store discount. 
ReferralCandy can help you automate your referral scheme. Generate promotional emails to inform your customers of your referral program, And rewards your affiliates automatically when they make a sale.
ReferralCandy notifies you of any fraudulent or suspicious activity on your referral program. So you can identify the defaulter and disqualify them. 
Analyze your referral traffic, retarget existing customers or possible leads, and link your email marketing apps with ReferralCandy. The app integrates with Mailchimp, Klaviyo, Paywhirl, Recharge, and more. 
Pricing
ReferralCandy has a premium plan that sells for $49 per month. It offers a 30-day free trial with no commitment. 
7. Affiliate Marketing & Referral 

Created and maintained by Staqlab, the Affiliate Marketing & Referral app is one of the most important apps you need to have in your marketing arsenals.
When you add this app to your Shopify store, it will automatically generate an affiliate link unique to your store.  Your customers will use the link to join your referral program and become an affiliate. Each affiliate has a separate dashboard. 
To use this app, you have to fill out all the necessary information while setting up your affiliate program. Specify the commission rate, terms and conditions of payment, payment methods, and others. It only takes one click to launch your affiliate marketing scheme. 
Staqlab has a responsive support team available to help you through any challenge. It integrates with Paypal and Appstle Subscriptions. 
Pricing 
A free is available with limited features. 
Affiliate Marketing & Referral has three paid plans:
The Starter plan costs $5 per month. 
The PRO plan costs $9 per month. 
The Premium plan costs $15 per month. 
8. Affiliatly Affiliate Marketing

Affiliatly is an all-in-one Affiliate marketing app by Overcode. It provides all the tools you need to scale your business. And at an affordable rate. Integration Affiliatly with Shopify is a quick automated process. 
The unique selling point of this app is that it enables you to customize your affiliate marketing campaigns however you want. Plus, it makes automating your affiliate campaigns easy.
What part of your campaign can you automate? Email marketing, referral link and coupon code generation, registration forms, and many more.
Moreover, it allows you to track and analyze the performance of your affiliates from your dashboard to prevent fraud. Also, monitor affiliate orders until the invited customers complete their orders. 
You don't have to worry about the payment method because Affiliatly allows you to use different payment methods. Also, you can pay your affiliates in bulk. It integrates with Paypal, Zapier, Recharge, Mailchimp, and Klaviyo. 
Pricing 
Affiliatly offers the longest free trial time. You can enjoy a 90-day trial for free.
The Starter plan costs $16 per month for 50 active affiliates. 
The Advanced plan costs $24 per month for 200 active affiliates.
The PRO plan costs $59 per month for 1,000 active affiliates. 
The PRO Unlimted plan costs $129 per month for unlimited active affiliates. 
9. GrowthHero Affiliate Marketing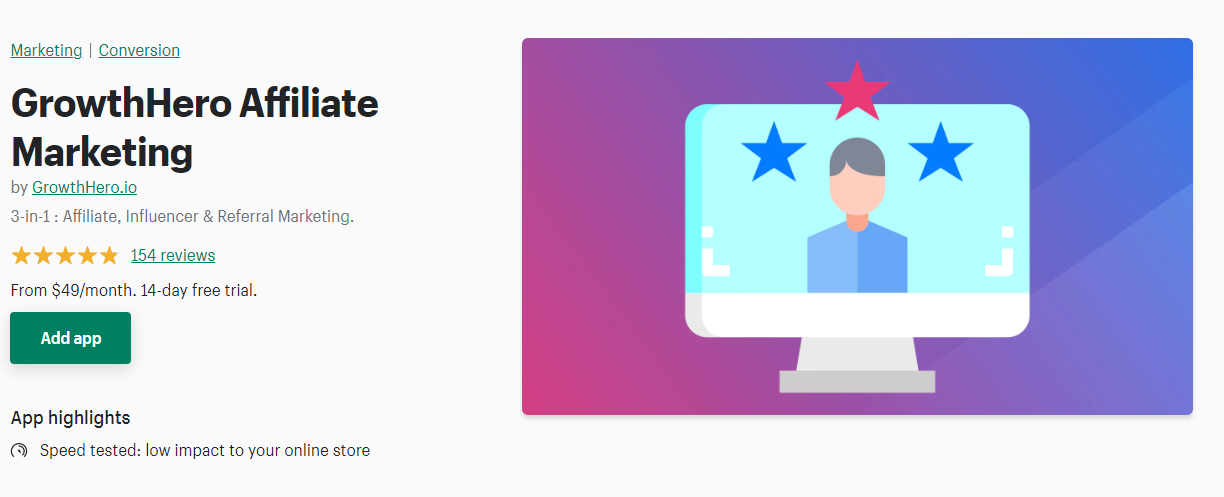 GrowthHero is an affiliate marketing app for Shopify merchants. It is loaded with many features that make it easy to run your affiliate marketing campaign easily and seamlessly.  
Interestingly, it allows you to get your affiliate campaign up and running in less than five minutes after adding it to your Shopify store. In addition, you can use this app to find capable affiliates effortlessly. 
This app provides all the resources you need to create effective marketing materials for your affiliates. It gives you the insight to deal with your partners to get the best result. You can also set up a Multi-level marketing strategy to boost your lead conversion rate. 
GrowthHero integrates with Omnisend, Klaviyo, Mailchimp, Zapier, Paypal, SendGridMandrill, and more. 
Pricing 
Enjoy a 14-day free trial. 
The Starter plan costs $49 per month. 
The PRO plan costs $99 per month. 
The Premium plan costs $199 per month. 
10. Snowball: Affiliate Marketing

Automate your affiliate marketing program with Snowball. Snowball is a product of Social Snowball. It is rated 4.9 on Shopify with 111 reviews and offers a 14-day free trial. 
All your customers can be your affiliate. Snowball creates a referral link for you then you can send the link to your customers to join your referral program. So when a new customer purchases your product, they receive an affiliate link automatically. 
If your affiliate marketing program runs on Snowball, paying your affiliates is a simple task. You are only two clicks away from completing the payment process. Your affiliates will receive their rewards directly into their accounts or dashboards. 
Switch seamlessly from one affiliate marketing app to Snowball. This platform integrates with Klaviyo, PageFly, Zapier, Tremendous, and Postscript. 
Pricing 
The dusting plan costs $19 per month. 
The Snow Day plan costs $59 per month. 
The Blizzard plan costs $499 per month. 
Conclusion 
We know how important using the right affiliate marketing app for your business is. But, finding one can be overwhelming, so we've compiled this list of best affiliate marketing apps for Shopify. 
We choose them based on features, reviews, cost, and more. 
Are you still struggling to make sales for your business? Adoric can help!
Adoric has many features designed to help you convert your visitors into subscribers and customers. Sign up for an account to see Adoric live in action.