SMS marketing is a powerful way to boost your business performance. If you understand how SMS marketing works, you are one step ahead.
Statistic has shown that most SMS messages have a faster-open rate than emails. About 90% of SMS messages are opened in the first 3 minutes.
Why is SMS marketing Better
1. Fast delivery
SMS messages have a fast delivery rate, so your messages get to the receiver when you click the send button. More often than not, people respond to text messages almost immediately.
2. Higher Open Rate
As we established earlier, text messages have a faster open rate than emails. Why is it so? Opening an SMS message is as easy as one click, unlike emails that will require several clicks before you can read the content. This explains why about 35 percent of emails are left unread.
3. Higher Response Rate
This benefit is a no-brainer. Since SMS messages have a higher open rate, they will naturally have a higher response rate as well. According to research, SMS marketing has an average response rate of 45 percent.
SMS messages are more friendly with a less formal tone. People will always respond faster to a less formal piece of writing.
SMS marketing can do a lot for your business when you apply it correctly.
That being said, here are the 10 best Shopify SMS marketing apps.
1. Firepush

Firepush is an all-in-one marketing app. It focuses on Web Push, Email, and SMS marketing. Firepush helps you to create and send automated messages via these methods. Firepush sends text messages through a cellular network. It integrates with Privy, GemPages, Loox- Photo Reviews, SMS, and more.
Using the pro plan gives you credit to send unlimited SMS to your customers monthly.  As you consistently communicate with your customers via text, your business has the chance to scale higher.
Cart abandonment is a common challenge with e-commerce businesses. A study has shown that the average rate of abandoned carts is as high as 69.57 percent. However, SMS marketing is one way to tackle it. Firepush sends SMS reminders to shoppers who abandoned their carts while urging them to complete their shopping.
There are different types of SMS messages you can send using Firepush.
Welcome SMS
New product SMS
Order confirmation SMS
Restock SMS
Delivery update SMS
Abandoned cart SMS, and more
Pricing
Firepush is free to install and send up to 60 SMS with a $1 credit. External charges may apply.
2. SMSBump

SMSBump is one of the most widely used SMS marketing tools. It is rated 4.8 on Shopify with 2308 reviews, and more than 90,000 businesses trust this app. This app allows you to syncy with your Shopify store and Point of Sales (POS). It only requires a few minutes to set up and it is ready.
The app provides the necessary tools to grow your SMS list. SMS messages are automated and crafted to yield visible results. You can recover abandoned carts, make more sales, and retain existing customers with the right message.
SMSBump integrates with Yotpo, ReConvert Klaviyo, Recart, Privy, and more.
Effective communication is the key to creating a bond between you and your customers. With the SMSBump app you can;
Use SMS template to create compelling messages.
Set automated messages to trigger at the right time
Have a smooth conversation with your customers
Find out with automated text works better.
Pricing
SMSBump is free to install. But the paid plan starts from $19 per month to as high as $199 per month.
3. SMS, Whatsapp Marketing: TCW

SMS, Whatsapp Marketing: TCW, a product of Shipway, is an SMS and Whatsapp marketing tool used directly on a Shopify website. It integrates with Klaviyo, Whatsapp Chat, Aftership, ReConvert, SMS Notification, and Judge.me.
Follow up on your customers to complete their orders through text messages and Whatsapp chat. The follow-up messages are automated and sent at least three times.
ConvertWay allows you to reach clients across the globe. It is available in 220 countries around the world. You can have one-on-one conversations with your audience via Whatsapp. Direct conversation is a powerful way to build rapport with your customers and upscale your business.
Pricing
ConvertWay is free to install. It offers a premium plan that costs $49 per month. However, the cost of SMS and Whatsapp chat depends on the country.
4.  Postscript SMS Marketing

Do you want to boost your Shopify sales with SMS? Postscript is the you should use.
Postscript offers some features that are lacking in other SMS marketing apps. Thousands of businesses across the globe trust this app to help scale their business.
Postscript syncs smoothly with Shopify and Shopify plus stores. It is compatible with your most other Shopify marketing apps.
Features
Customer Segmentation
Postscript helps you to identify and segment your customers based on their preferences. Sending personalized messages to your customers or store visitors can boost your sales.
Analytics
How do you measure the effectiveness of your SMS campaign if there is no record? Postscript makes it easy to track your revenue by recording and analyzing your business data.
Easy Opt-out
At some point, your customer may want to opt-out of the SMS subscription. Postscript makes this process fast. It is as simple as texting "STOP" to the designated number.
Pricing
Postscript is free to install, but the paid plans are free for 30 days. Choose between paying $100 or $500 per month for the growth or professional plans respectively.
5. Automizely SMS Marketing

Automizely is an SMS marketing app that you can use for free – with no hidden charges. It adheres to the TCPA and GDPR. It can help you recover abandoned carts, convert website visitors, and promote your business better.
Recovering an abandoned cart is no easy feat to achieve. When customers decide to dump their order at the checkout stage, it will take some convincing to get them to change their minds.
Automizely can help you create compelling text messages to nudge your customers to complete their checkout. But it takes more than just the right message. Reaching out to your customers at the right time and in the right way is equally vital.
You can set the app to notify you when a customer abandons their cart. Then send them a text to find out why. But, you need to confirm the receiver's name and contact are accurate before you send the message.
Customer Support
Automizely has a support team available 24/7 to attend to your needs.
6. Cartloop SMS Marketing

Cartloop is one of the best SMS marketing apps for Shopify. It allows you to chat directly with your customers to build a strong relationship. Cartloop works well with Shopify, Shopify Plus, and other CRM apps such as Zendesk, Klaviyo, Gorgias, Carthook, and more.
The app helps you create an effective SMS marketing campaign, recover abandoned carts, discover why your customers are bailing, grow your email list, connect with your customers, send promotional messages, and more.
As a business owner, the goal is to minimize costs and maximize profit. With Cartloop, you don't have to spend a fortune on marketing that yields little or no results. The platform only charges you when it produces results.
Cartloop is TCPA and GDPR compliant. Opting out takes less than 5 minutes and is processed immediately. The support team is available 24/7 to attend to your needs.
Pricing
Cartloop offers two paid plans.
The growth plan costs $99 per month
The Pro plan costs $299 per month.
7. Omnisend

Omnisend is an all-in-one e-commerce marketing app. It covers SMS marketing, email marketing, pop-ups, and newsletter. It is rated 4.6 on Shopify and over 70,000 clients trust Omnisend to scale their business.
Omnisend integrates seamlessly with Shopify stores and is very easy to use. You can create SMS marketing campaigns with ease. Omnisend has an SMS automation feature and a load of SMS templates you can use to get your SMS marketing campaign off the ground.
It also has spin wheels, pop-ups, sign-up options, and landing pages. Chat live with your customers via the in-built chatting platform.
Onmisend helps you promote your business, understand your customers, make more sales, and recover abandoned carts. This app is TCPA compliant. It attends to the unsubscribe request with immediate effect.
Pricing
Omnisend begins with a free plan that lets you send up to 60 international SMS per month.
The standard plan costs $16 per month.
The PRO plan costs $59 per month.
8. Octane AI: Quiz Growth Tools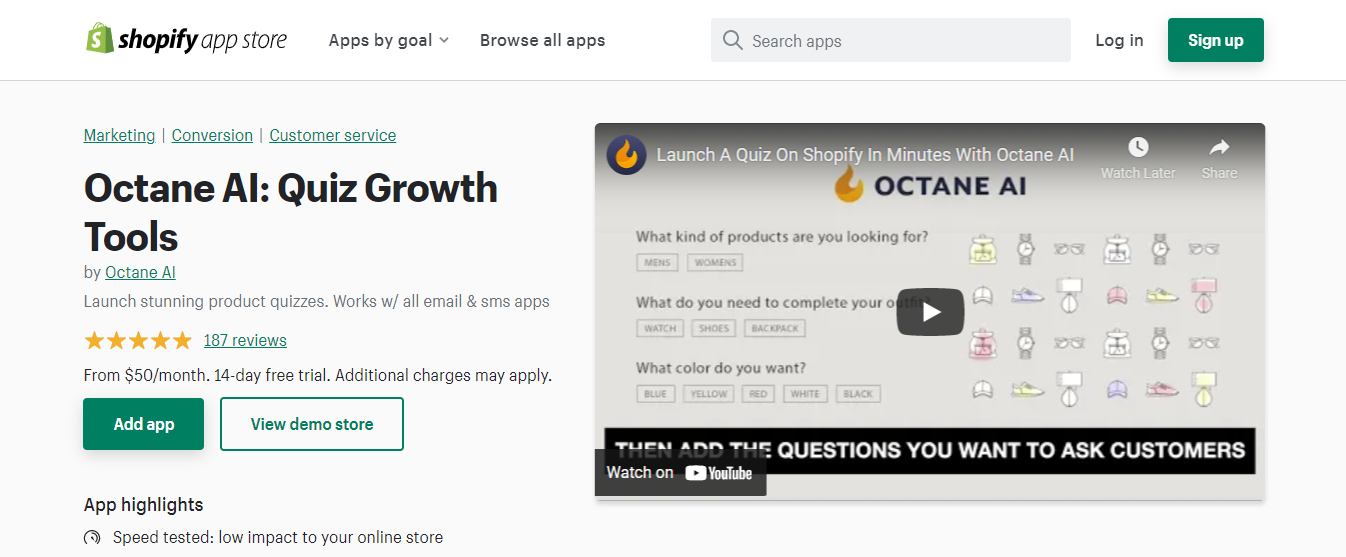 Would you want to gather your customers' information using a quiz? Octane AI is all you need.
Octane focuses on getting the data from customers by asking them directly. This method is known as zero-party data collection. Implementing the data into your business affairs can uplift your conversion rate.
On top of that, Octane is packed with many features to help you increase your leads and sales.
More than 2,000 Shopify business owners trust this app because of its direct data collection scheme. It integrates with Yotpo, Klaviyo, Justuno, and more.
Pricing
Enjoy a 14-day free trial. Octane offers two paid plans.
The Octane plan costs $50 per month.
The Octane Plus plan costs $200 per month.
9. Messent SMS Marketing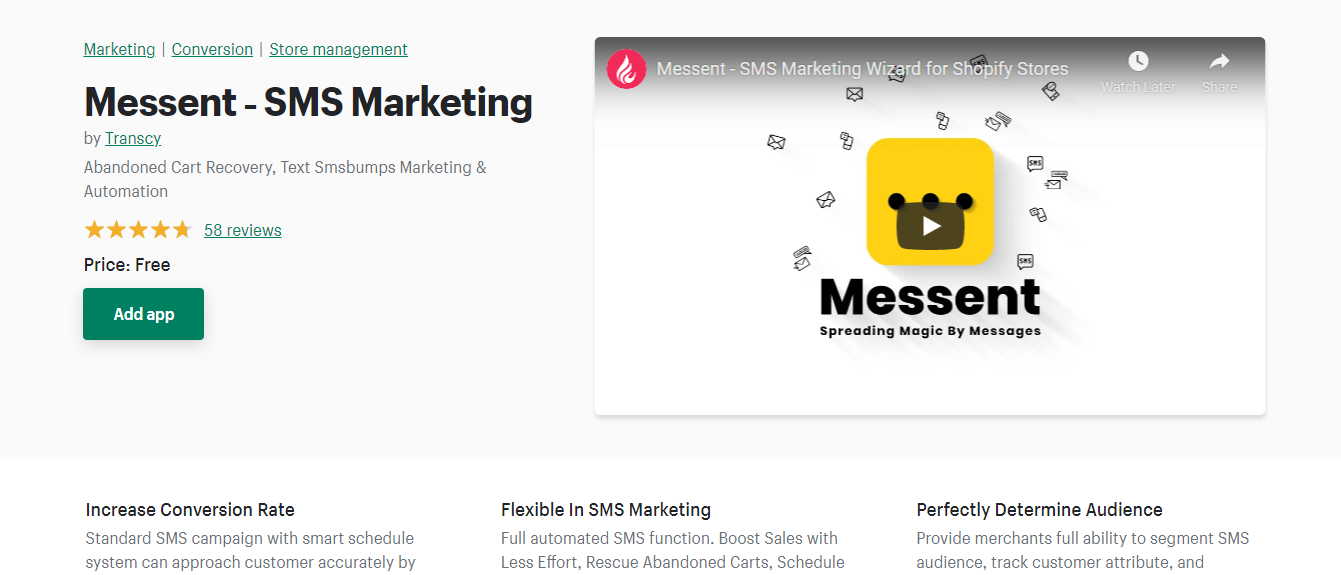 Messent is a free SMS marketing tool used by small e-commerce businesses. Make more sales, grow your marketing list, and improve your business performance using Messent. This tool uses scheduled and automated campaigns as its modus operandi.
Messent helps users create automated messages for different purposes. You can create a message to promote your business, welcome new visitors, create awareness for a new product, or discount, notify customers of their pending cart, and more.
On the other hand, a scheduled campaign can achieve the following.
Show preview of the message
Shorten links in the messages
Send targeted messages to customers based on their location and preferences.
Consider time zone when sending a text.
Improve your productivity by arranging your contacts in an orderly format using Messent.
10. Recart: SMS & Messenger

Recart is an SMS and FB messenger marketing tool trusted by over 13,000 Shopify merchants. This app is easy to use and syncs well with Shopify. It works in compliance with TCPA regulations.
Recart has a long list of templates to help you create automated messages. Recover abandoned carts, welcome new visitors, request feedback, upsell your business, send promotional messages, and more via SMS or FB messenger.
Create personalized messages that appeal to your audience by using data collected by Recart. You can also track your campaign progress to determine how profitable it is.
Recart integrates with Optimonk, Privy, Facebook Messenger, Justuno, and others.
Pricing
Recart is free to install and offers a 14-day free trial.
The Pro plan costs $29 per month.
The Scale plan costs $499 per month.
Conclusion
SMS marketing is a powerful campaign strategy yet grossly underrated. Using the right app is one way to up your SMS marketing game.
In this article, we have shared the best Shopify SMS marketing apps on the market. We hope you found them useful.
Are you still struggling to make sales for your business? Adoric can help.
Adoric comes with a load of tools and features designed to help you convert your visitors into subscribers and paying customers. Sign up for an account to see Adoric in action.