Is Selling Wholesale on Shopify Worth It?
Do you want to drive your sales up without doing too much? You probably want to channel your efforts into more productive things like product innovation, improving your packaging and brand image, or even optimizing your website for online visibility.
Sounds nice, right? What if there was a way for you to focus on these tasks without having to worry about marketing and sourcing new customers? One of the best ways to do this is through Shopify Wholesale.
So, if you run a large Shopify store with a lot of stock and are looking to avoid further investments in marketing, then Shopify Wholesale is for you. In this guide, we will discuss the benefits of selling wholesale on Shopify, and how you can set up your wholesale channel. We will also briefly review the 15 best Shopify wholesale apps.
Benefits of Selling Wholesale on Shopify
Wholesaling on Shopify allows you to sell your products to retail merchants in bulk.
If you have opted for this, you don't have to worry about any security issues because wholesale storefronts are password-protected. As a Shopify merchant, you also have the option to list wholesale-only products in your store. Shopify allows you to set the minimum and maximum quantities of each product that your customer can order.
There are many advantages you can enjoy by using Shopify for wholesaling. Below are a few notable ones:
1. Increased Market Reach and Increased Sales
If your primary focus is selling to consumers, you'll have to spend a significant part of your budget on marketing to achieve growth. By selling your products wholesale on Shopify, you can significantly boost your brand's online visibility, which means you can reach more potential customers.
A wider market reach means more conversions and sales. The interesting part is that you can enjoy this without spending so much on marketing. By selling wholesale on Shopify, you can let other businesses handle the marketing of your products and bear the expenses that come with it.
2. Leverage Other Brands' Audiences
Customer acquisition can be one of the most expensive and challenging aspects of marketing. Building customer loyalty is not any easier, and this is why you should take advantage of any opportunity to leverage the already existing audience of another brand.
By selling wholesale to an established brand on Shopify, you can take advantage of that brand's audience of loyal customers.
3. Expand Your Business with Reduced Risks
Virtually every business aims to grow revenue and realize more profits. One of the ways to expand your business is to enter new markets. While the idea of entering new markets can be promising, it can be risky.
For example, you have to factor in logistics costs like setting up a  warehouse, marketing to an entirely different customer demographic, setting up your supply chain, and several other things you have to put in place. However, selling wholesale on Shopify to a retailer who has built a presence and a functional supply chain in this new market can be very beneficial.
By leveraging their existing presence and supply chain in the new market, you can significantly minimize the risks your business has to bear by expanding into a new market.
4. Secure and Reliable
Shopify is one of the most secure and reliable platforms for selling wholesale. With Shopify, all your wholesale storefronts are password-protected. This is in addition to the fact that all Shopify websites have an SSL certification. Shopify wholesale channels are also L1 PCI compliant, which guarantees the maximum security and safety of customers' data like phone numbers, payment details, shipping, and billing addresses.
5. Better Management
Selling wholesale on Shopify allows you to manage your stores and business seamlessly and effectively. Shopify Wholesale gives merchants access to the customer order page, making order tracking a lot simpler.
You can view the necessary orders and transaction information on the customer order page since they are all displayed. This makes it easier to make quick management decisions and handle your business smoothly.
As a Shopify wholesale merchant, you don't have to worry about sales taxes as this responsibility shifts to your wholesale customers. Selling wholesale on Shopify also provides a more stable means to generate revenue. This is because wholesale customers typically tend to repeat their orders over an extended period than direct consumers.
6. Better Profit Margin
Selling in wholesale on Shopify puts you in a position to make higher profits. Shopify Wholesale offers certain features such as flexible pricing for products and variants, minimum and maximum order quantity, and volume-based pricing.
These features allow you to strategize pricing policies in a manner that will enable you to increase your profit margins. As your business grows, the volume of orders you get from wholesale customers will gradually increase over time. At some point, you'd be able to increase your sales volume and make more profits.
How to Set Up Wholesale Channel
There are certain steps you need to take to sell in Wholesale on Shopify. Let's have a look at some of them.
1. Protect your Wholesale Store with a Password
First things first: you have to set a password on your store. Do this to enable your retailers to place wholesale orders at discounted prices.
You can easily protect your Shopify store by using the password protection feature. To password-protect your Shopify store, go to the Shopify admin page, click on the Online Store tab and click on Preferences. Then enter your password.
Once your Shopify store is password-protected, you can go ahead with setting up all your products at discounted prices for your wholesale customers.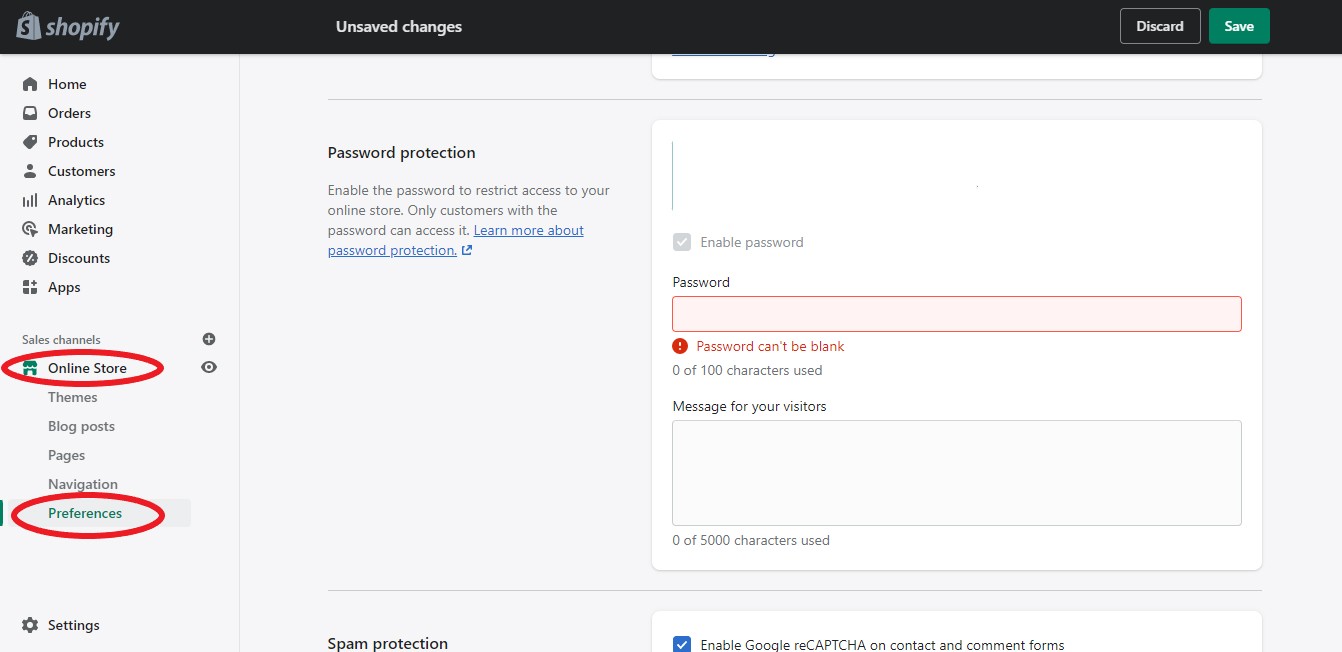 You can use security solutions like Locksmith for better protection. These apps have customizable features that give you better control over the people who can view your Shopify store and purchase products.
2. Open a Separate Wholesale Storefront on Shopify
If you run a Shopify store that sells directly to customers, but are considering creating a wholesale channel to sell to retail store owners, you have several options available to you. The easiest of these options would be to set up another Shopify store using a different URL. You can then protect the new Shopify store with a password either through Shopify or by using a password protection app.
If you handle large sales volume, you should consider upgrading your Shopify plan to Shopify Plus. Shopify Plus has a wholesale channel feature that you can take advantage of. On Shopify Plus, you can create a wholesale channel within your existing store that is password protected.
With a wholesale channel, you can create a wholesale storefront to sell your existing products. This means that you have to do very little extra work to set up your channel. Shopify wholesale channels allow you to customize your product pricing. through customer groups, using volume-based discounts or percentages.
3. Use a Wholesale App
Another way you can set up your Shopify wholesale channel is to use one of the several available Shopify Wholesale Apps. With these apps, you can offer discounts to your wholesale customers without creating a new store, which directly improves your average order value.
They are also quick to install and provide a dedicated space for your wholesale customers to view your wholesale products. Your consumers will not have access to this because of the different pricing options. More importantly, you can also offer custom pricing and automated discounts with these apps.
15 Best Shopify Wholesale Apps
It is crystal clear that selling wholesale can be a lot more profitable than selling retail directly to consumers.
The good news is that you can easily set up a wholesale sales channel. There are lots of dedicated wholesale apps on the Shopify app market designed for that. Let's have a look at the best 15 of them.

The Adoric Shopify app comes with tons of solutions to help you make your Shopify wholesale business a success. It allows you to create marketing campaigns that are bound to get your customers' attention as soon as they land on your website. You don't need graphic design or coding skills to deploy these campaigns to your website.
By installing this app on your Shopify store, you can reduce cart abandonment by up to 12%, increase your sales and leads. Adoric offers you a free plan and paid plans starting from $29 a month.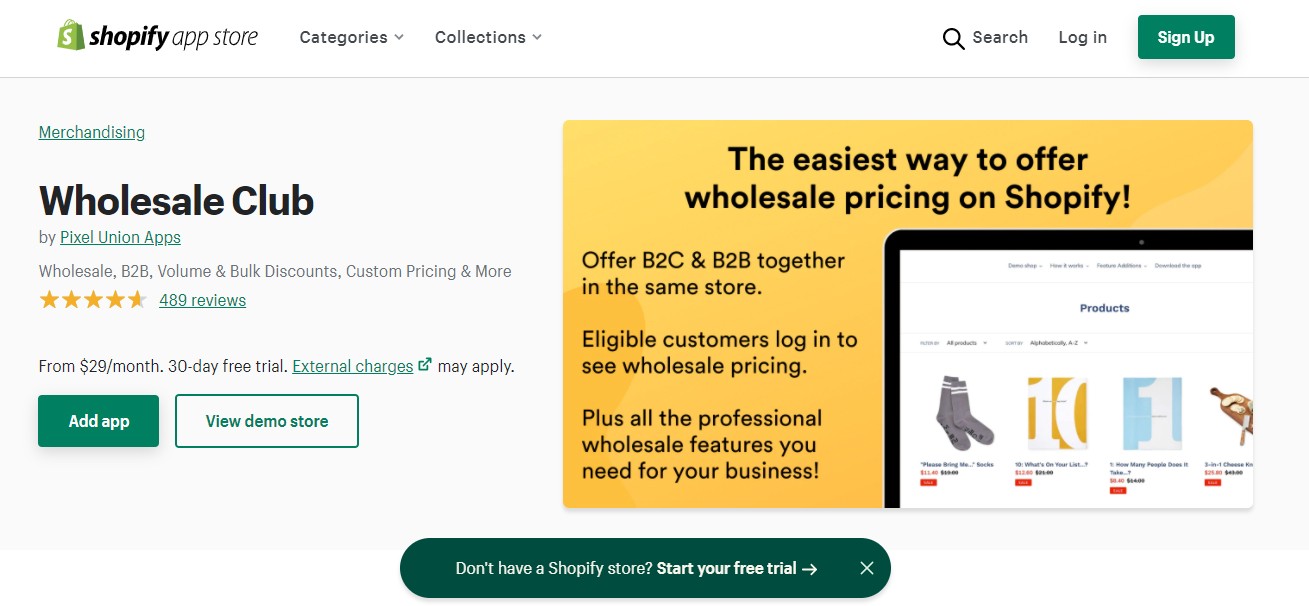 Wholesale Club by Pixel Union is one of the best Shopify wholesale apps available to Shopify merchants. It encourages wholesale customers to buy in bulk to qualify for certain discounts. This, in turn, improves your Shopify store's average order value. You can also use Wholesale Club to offer discounts on selected products to selected customers.
It also allows you to offer multiple pricing levels, set minimum order quantities and create a tiered pricing system for your customers. The Wholesale Club app offers excellent customer support and a 14-day free trial period, with its pricing starting at $24 per month for up to 300 orders per month and $49 per month for unlimited orders.

Wholesale Gorilla was developed and designed by a team that was once wholesale merchants. They understand the challenges wholesale merchants face, and so attempted to solve them with the Wholesale Gorilla app.
For example, it helps you with inventory, ordering, and fulfillment. It allows you to set wholesale prices for specific products, collections, or even your entire store. You can create prices as a percentage of the initial value or new fixed prices. Wholesale Gorilla offers a 30-day trial period and starts at $29.95 per month.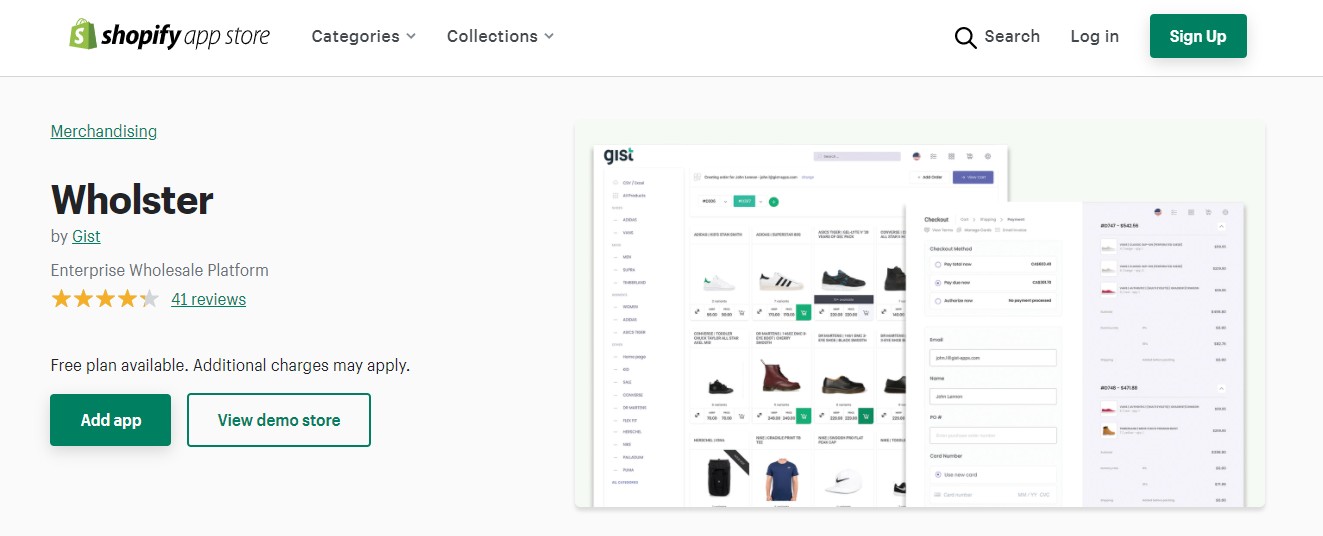 Wholester is a Shopify wholesale app that helps you save time managing your Shopify store. With Wholester, you can easily manage orders from your wholesale customers using its efficient wholesale toolkit feature.
You can also provide your customers with the tools they need to quickly complete their bulk orders and even ship to different locations in a single checkout. Wholester is entirely free to use.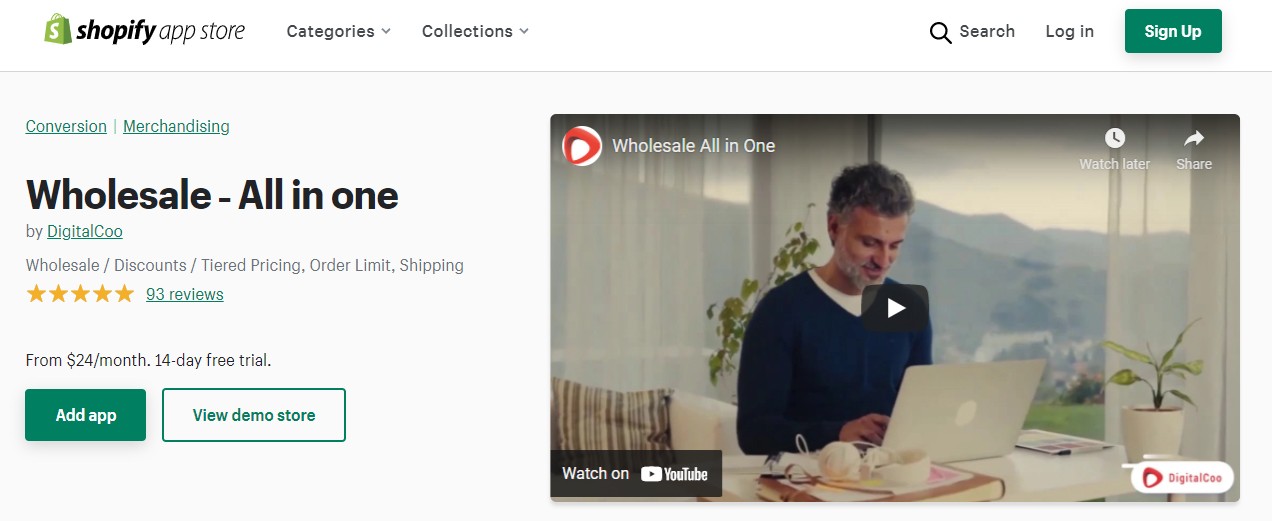 Wholesale All in One is another Shopify wholesale app that allows you to create tiered discounts for your products and customers in your Shopify store. It offers comprehensive features and provides additional ones such as countdown timers.
With Wholesale All in One, you can give your wholesale customers the option of checking out with or without coupon codes. It also allows your customers to checkout with different currencies. Pricing starts at $14.99 per month after a 14-day trial period.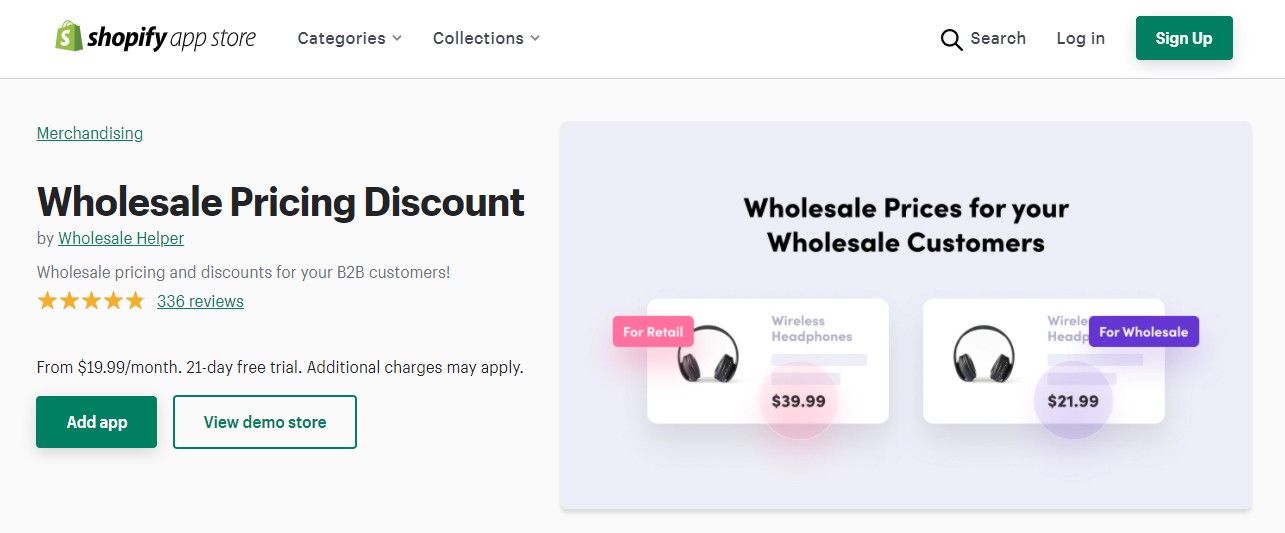 Wholesale Pricing Discounts can save you a lot of trouble providing a tiered pricing system for your customers. With Wholesale Pricing Discount, you can offer discounted pricing options to different customer groups. You can also offer discounts on selected product categories or even your whole store.
There is no limit to the number of discounts you can offer with the Wholesale Pricing Discount app. It gives you the option of creating minimum order quantities, setting up advanced shipping rates, and it allows customers to order in volumes. It offers a 14-day free trial with pricing starting at $19.99 per month.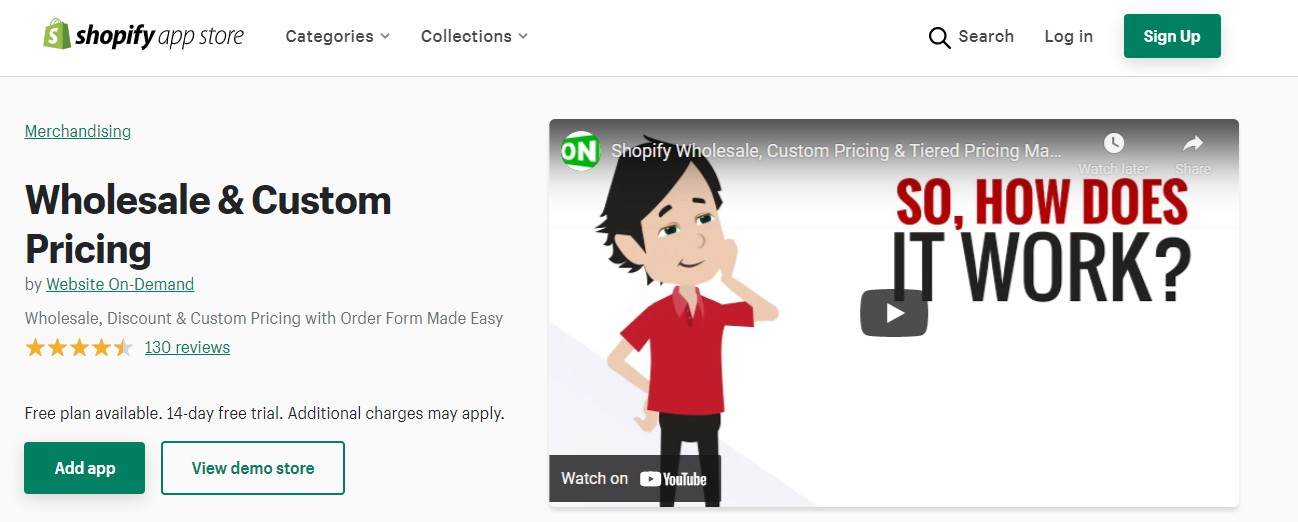 This app allows you to offer wholesale and custom prices without having a separate store for wholesale. It provides a wide range of features, with new features added all the time.
It is easy to set up and use.
Wholesale and Custom Pricing offers advanced features like individual product pricing and AJAX carts compatibility. It offers free and paid plans with premium email support starting at $9.95 per month after the 7-day trial period.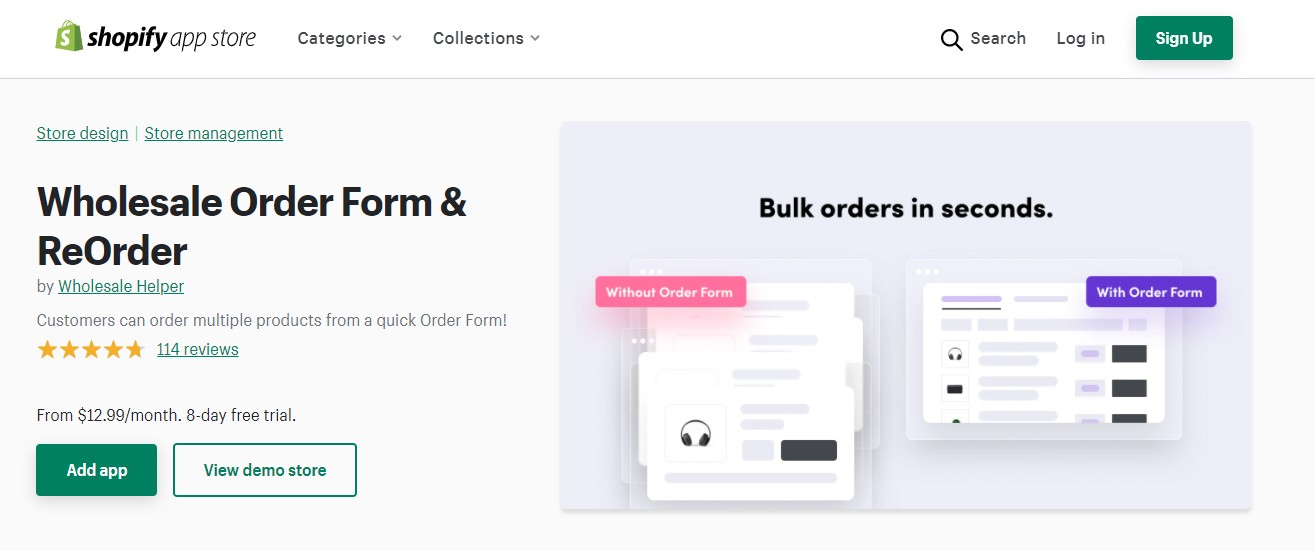 Wholesale Order Form & Reorder is also designed by Wholesale Helper, the developers of Wholesale Pricing Discount.
This app provides a simple way for you to offer your wholesale customers the ability to order or reorder from your Shopify store.
You can list your products on a single-page order form for your wholesale customers and have them reorder in just two clicks. You can easily customize this app's interface.
This app offers an 8-day free trial with pricing starting at $12.99 per month.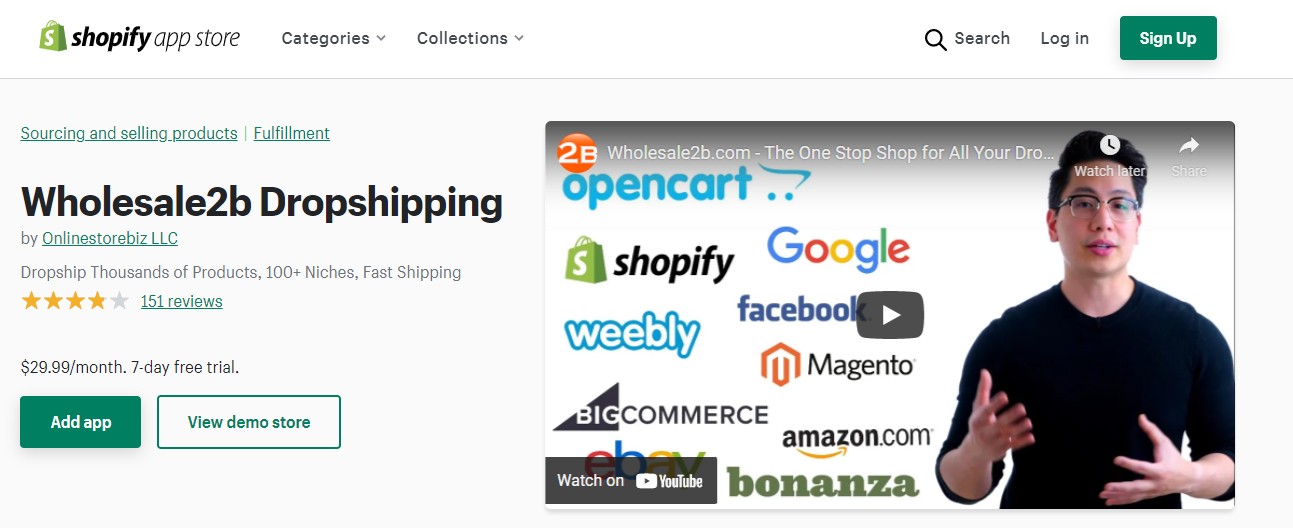 Wholesale2b Dropshipping by Onlinestorebiz LLC is a Shopify wholesale app that allows you to import your inventory and sell it on a wholesale basis. It provides you with inventory updates in real-time and tracking functionality. This app is used by a lot of Shopify dropshipping suppliers.
Wholesale2b Dropshipping offers a 7-day free trial period with its paid version starting at $29.99 per month.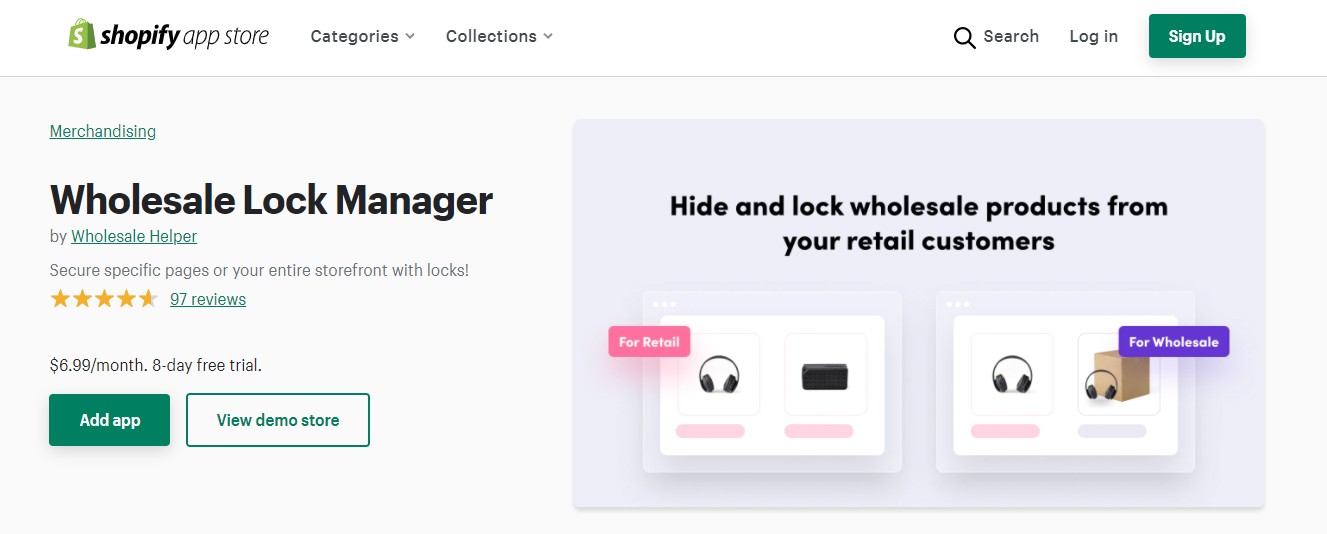 Wholesale Lock Manager takes a somewhat different approach to wholesale pricing compared to the other apps on this list. This app offers customizable access that lets you secure certain pages of your Shopify store or the entire storefront using locks.
You can choose who to give access to your secure pages. It also separates your wholesale customers from your retail customers in your Shopify store. This makes it easy for you to run your wholesale and retail business from the same spot.
Pricing starts at $6.99 per month with an 8-day free trial.

MagicPass Wholesale by Impress is a Shopify wholesale app that allows you to secure your Shopify store with a lock or password. This wholesale app will enable you to secure individual products, collections, and pages, and you can then grant access by issuing secret keys or client tags.
MagicPass Wholesale allows you to offer your wholesale customers discounts and value breaks effectively. You can also provide bulk or percentage discounts. Pricing for this app starts at $5 per month.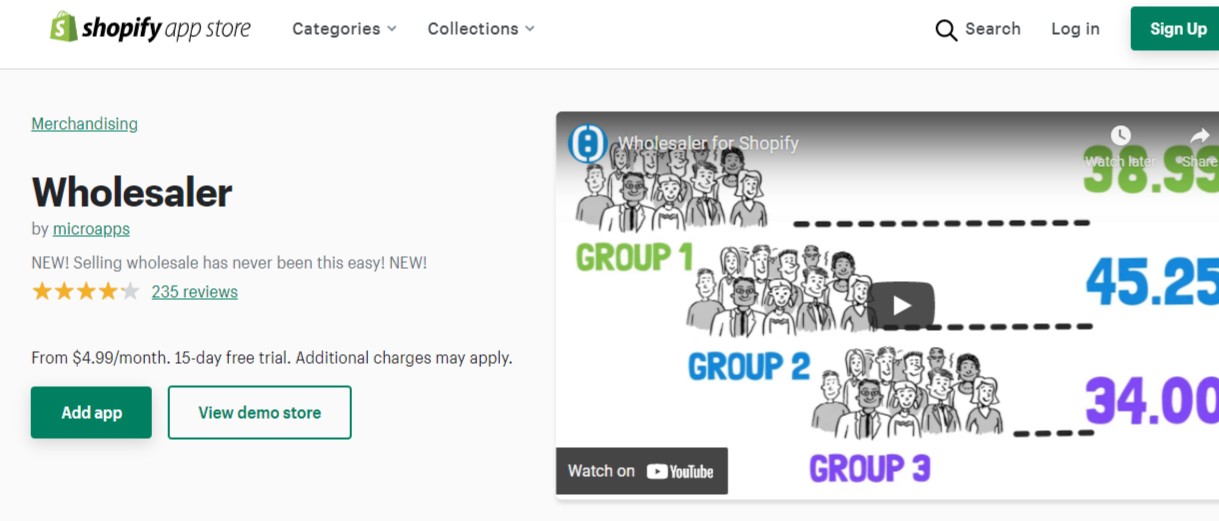 This wholesale app makes it easy to set up wholesale pricing systems for your wholesale customers. Using this app, you can easily create a discount group, configure your prices as you want, and add your wholesale customers to the group. It also offers amazing features like an option for your wholesale customers to override tax and shipping calculations.
You also get to enjoy excellent support for managing your inventory and other customization options. This app is free to install and use.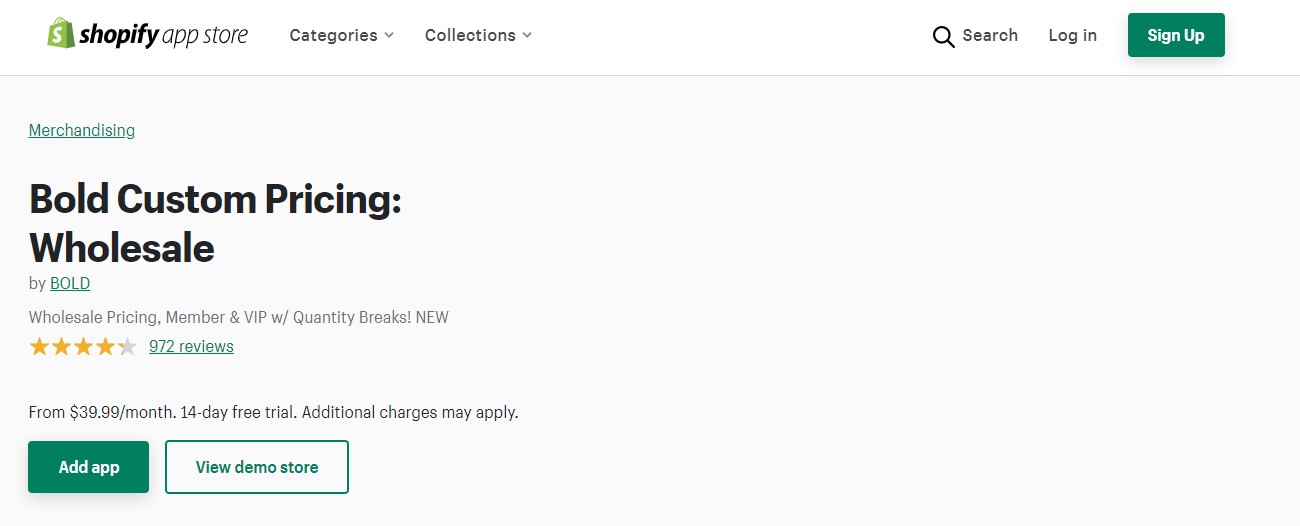 Bold Custom Pricing: Wholesale is an app that makes it easy to create a tiered pricing structure for your customers. You can apply your tiered pricing structure to your wholesale customers just by tagging them. It offers an auto-tagging feature that makes it easy to change the customer's membership level as their purchase value increases.
With this app, you do not have to create several coupon codes to set up discounts for your customers. The pricing for this app starts at $29.99 per month after a 14-day trial period.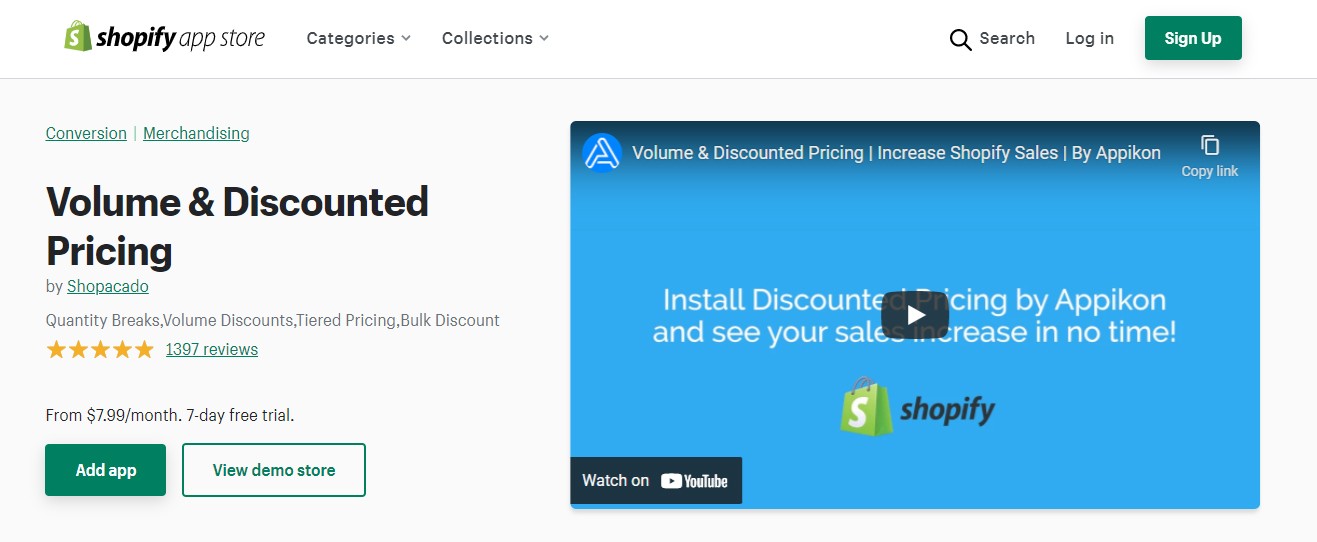 The Volume & Tiered Discounts app allows you to offer discounts to your wholesale customers in several ways. You can choose to set up percentage discounts, flat-rate discounts, or discounted rates for selected products. This app makes it easier to encourage your wholesale customers to make more purchases and increase their average order value.
You can also set up a tiered pricing system for your wholesale customers. This app is free to install and use.

Wholesale Pricing Manager by SpurIT promises fast results and increased revenue. This wholesale app is easy to install and use and offers several features that make this promise very possible. These features include auto-tagging, unlimited wholesale statuses, and email marketing.
With this app, you can offer your wholesale customers price adjustments based on their purchase frequency, purchase quantity, spending value, and location. Pricing starts at $19.95 per month with a 14-day money-back guarantee if the app does not meet your expectations.
Conclusion
There you have it; 15 best Shopify wholesale apps! Keep in mind that there is no harm in trying more than one of these apps to determine which of them works best for your Shopify store.
If you're struggling to convert your store visitors to paying customers, you need the Adoric Shopify app. What are you waiting for?