If you run an appointment booking business on WordPress, you will need some plugin solutions to make your work easy.
In this post, we will be reviewing 16 of the best WordPress appointment booking plugins.
These plugins are smart and simple. They are user-friendly, and you don't need any coding skills to use them. Plus, they improve your visitors' experience.
Let's get started!
What to Look For in a WordPress Appointment Booking Plugin
There are certain features to look out for when picking an appointment booking plugin.
For example, if you run a massage parlor, you may employ some massage therapists. You will need to list the schedules of each of your therapists on your website. But if you run a dental clinic, you may need to indicate specific times you are available and the various services you offer on your website.
This makes it important to thoroughly check the features of each WordPress appointment booking plugin. By doing this, you can choose a plugin that has the features your business needs to achieve growth.
A good appointment booking plugin should have:
A customizable calendar
Mobile-friendly user interface
Payment options for appointments
Supports features for businesses where multiple persons require individual schedules. An example is a dental clinic with dentists on different schedules.
Should allow customers to view and edit their appointment bookings
Search and filter features
Easy to customize. For example, it should let you exclude holidays from your booking
Can send reminder emails to your users
16 Best WordPress Appointment Booking Plugins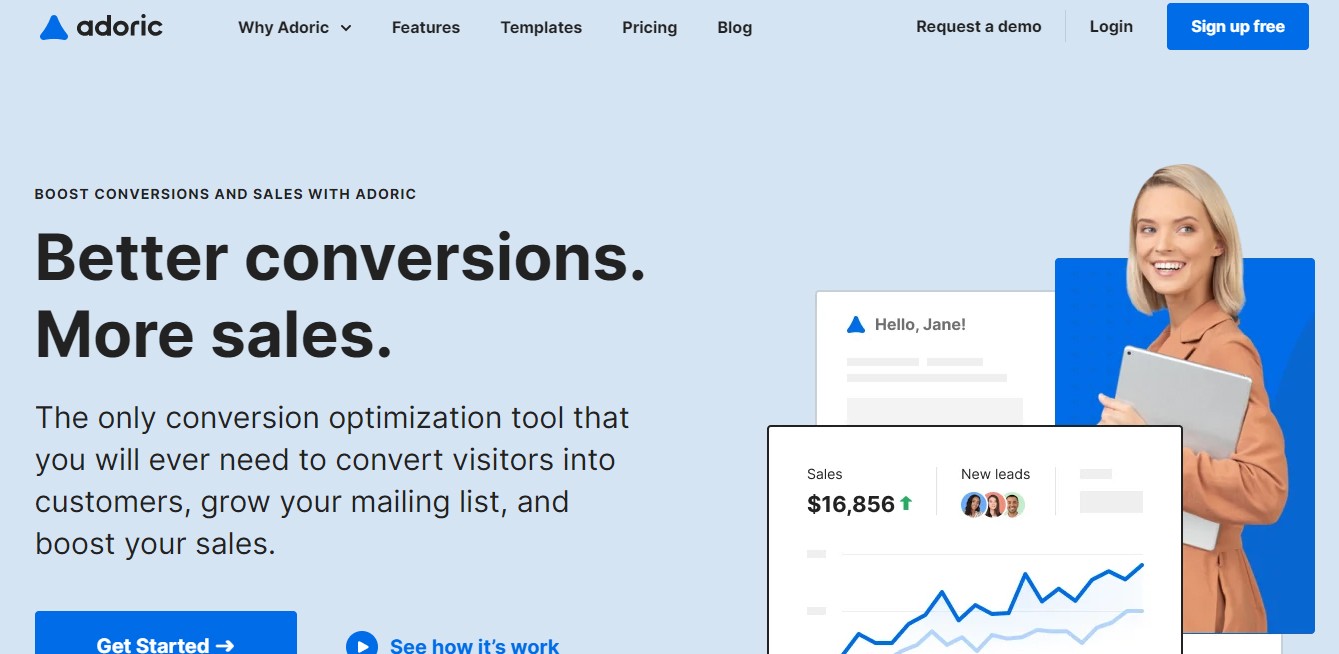 You need forms to collect reservations, appointments, or bookings, don't you? Adoric has just what you need. It comes with a collection of solutions to help you optimize your website to increase your conversion rate.
With Adoric, you can deploy appointment booking forms in the form of popups, floating bars, or sliders  to your website, and with great ease.
You simply need to choose from the tons of form templates we've provided and edit them using our intuitive drag-and-drop editor, and you're good to start taking bookings.
Ready to try it out? Sign up for free today.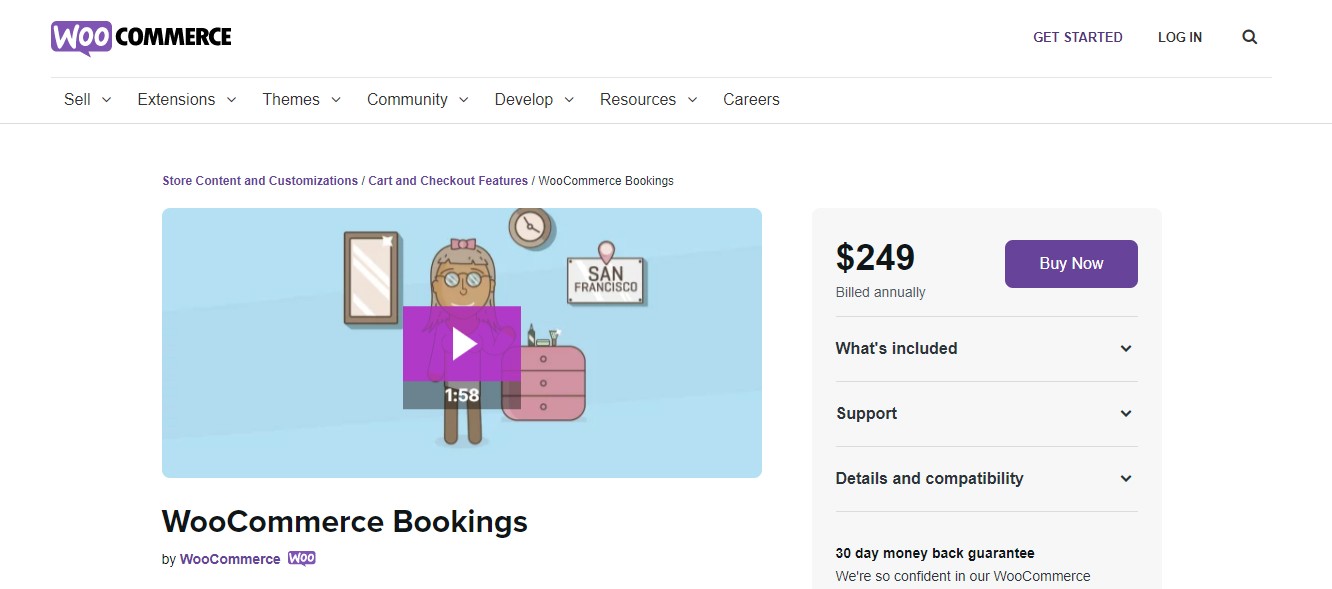 WooCommerce Bookings is one of the best appointment booking WordPress plugins available. You can get the basic version for free but there's more! You also get access to several payment options.
For example, with the WooCommerce Bookings plugin, you can sell appointment bookings to your customers easily.
This is because the WooCommerce Bookings plugin gives you several options to receive payments from your customers.
Keep in mind that to use this plugin, you first need to install WooCommerce to your website.
You can set it up easily using the provided layouts or customize it with some coding. Once you activate the plugin, you'll see the fields for a description, title, pricing, a calendar, and even reviews to build your credibility.
The basic version of the WooCommerce Bookings plugin is free while the premium version is priced at $249 for 1 site and increases to $449 for as many as 25 sites. At this price, it's one of the most expensive plugins out there, however, it offers users a money-back guarantee for 30 days and one year of customer support.

The Bookly plugin has a sleek interface. This plugin allows you to customize several sections of the appointment booking form without any need to code, making it suitable for non-developers.
It allows you to create highly responsive booking forms and you can completely customize them too. It provides the admin and other users with multiple views.
Bookly also has a feature that allows an unlimited number of workers to create their unique schedules and pricing systems.
In general, it provides a majority of the tools you need to run an appointment booking system.
Bookly has both free and paid versions. It costs a one-time charge of $89 to get the premium version.
The free version has all the basic features but does not include the unlimited staff user feature and online payment options.

BirchPress Scheduler is another great booking and appointment plugin for WordPress. It allows you to create and embed your scheduling calendar almost anywhere on your website. It is particularly designed for small businesses and this makes it a prime choice for businesses like salons, studios, spas, etc.
This plugin is not free. However, if you consider the features it offers like the online payment options, its tool that helps with staff assignments, and its easy-to-use interface, it can be a worthwhile investment.
This plugin allows you to schedule bookings at specific times of the day. It also allows you to assign pricing information and offers different pricing tiers for you to choose from.
BirchPress Scheduler pricing starts at $99.
Booking Calendar is one of the oldest and most popular WordPress appointment booking plugins. It allows you to customize your calendars and display the booking availability of your services. Booking Calendar is easy to use and has a user-friendly admin panel.
Your customers can choose specific time slots and days from the schedule on your calendar. Both of you will then get notified about the booking via email. You can choose to either approve or deny the booking.
Booking Calendar has a free version and a premium version that starts at $47.40.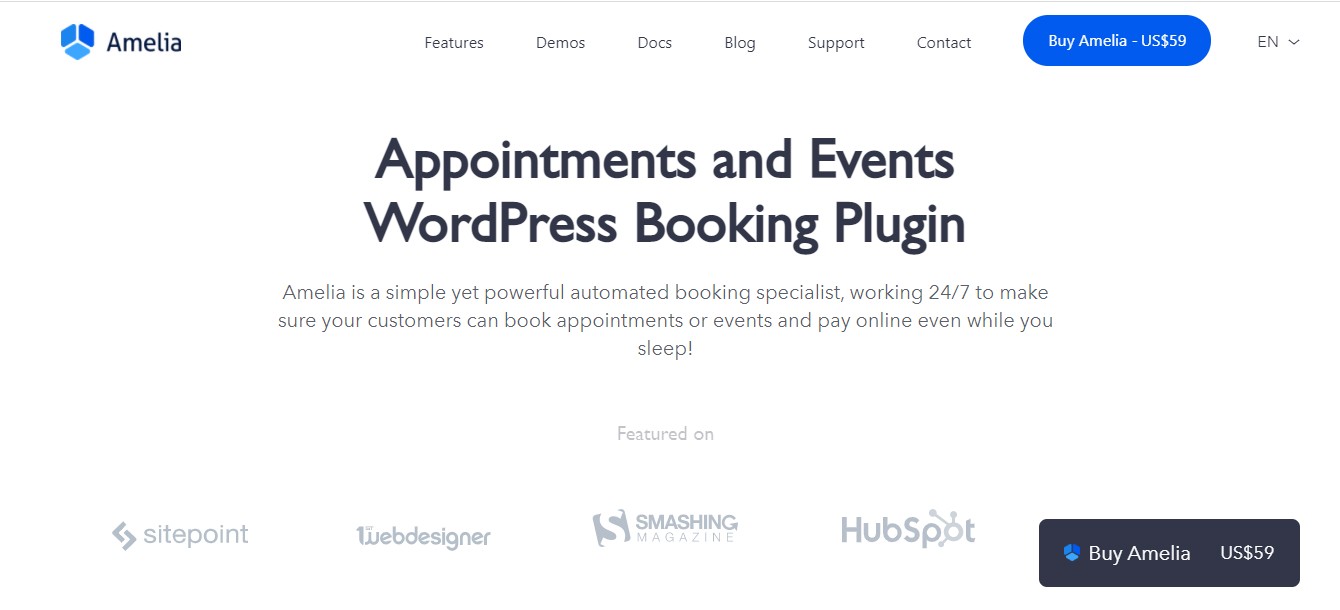 Sixth on our list of WordPress booking plugins is Amelia. It is powerful and easy to use. Amelia makes it easy for your customers to book both online and offline.
You can get this plugin for free, hence making it suitable for small businesses. However, if you run a larger business, Amelia Pro is your best bet. It lets you create an expansive booking system, and can accommodate as many users as you want to add.
The Pro version comes with several unique built-in features. One of these features includes SMS notifications that let you send out texts to your users.
Another feature is the Google Calendar Synchronization feature that allows your employees to keep track of their individual appointments in their personal Google calendars.
As mentioned earlier, Amelia has a free version and a paid pro version that starts at $59 per year.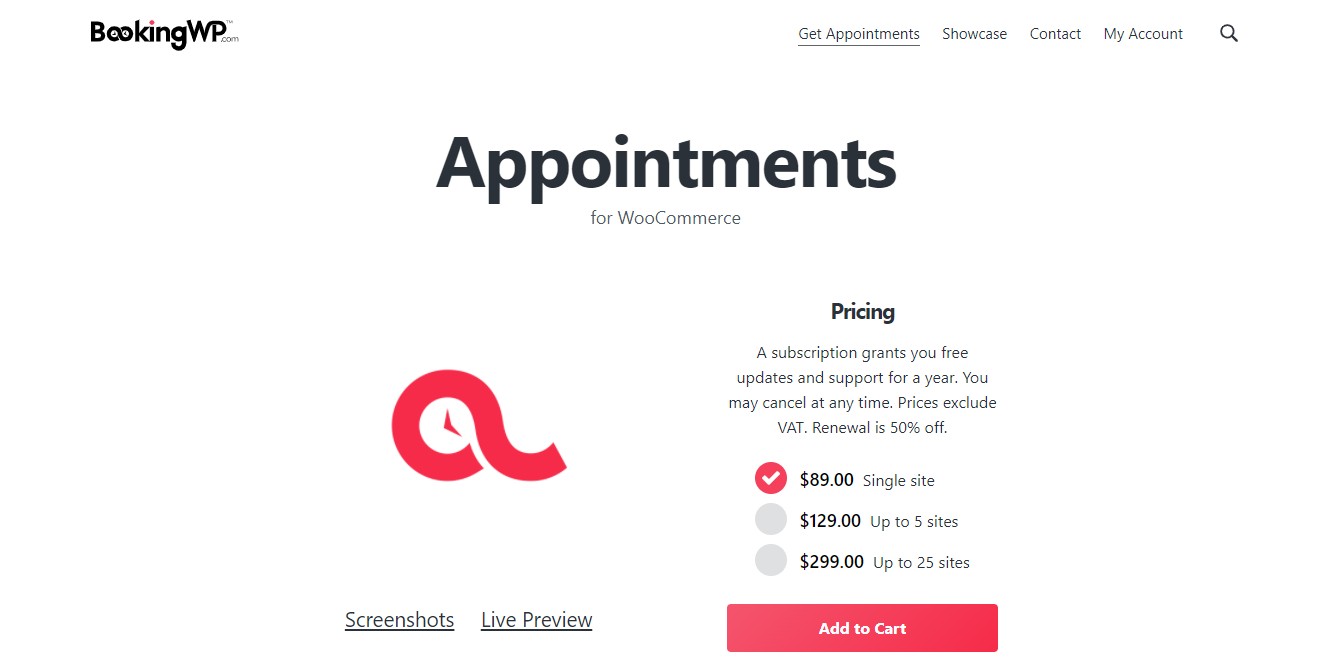 This plugin has some pretty nice features such as integrations with Google Calendar. It allows you to sync with your personal Google Calendar.
Additionally, it also offers integrations with WooCommerce, hence allowing you to receive payments from your customers.
The Appointments plugin is easy to use, and you can set it up in a matter of minutes. The plugin's interface is beginner-friendly.
It supports integration for extensions like Gravity Forms, Extra Product Options, and WooCommerce Print Invoices.
This plugin costs between $89 per site and $200 for as many as 25 websites.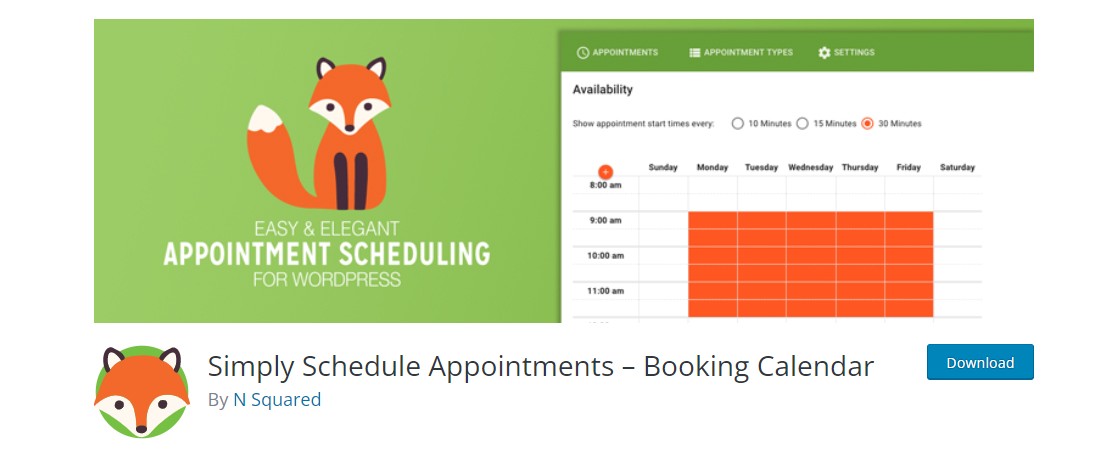 Simply Schedule Appointments is also one of the most popular WordPress appointment booking plugins because of its elegant and easy-to-use interface. It is the perfect solution for business owners looking to schedule appointments with their clients and customers.
So if you are a personal trainer, lawyer, yoga instructor, entrepreneur, consultant, or any professional, this is one of the best plugins you can use to take bookings and appointments. It allows you to accept payments on your website.
This plugin makes it easy for you to embed an appointment booking form into your website. On top of that, you can set it up in less than 5 minutes.
As for pricing, Simply Schedule Appointments is free, with premium plans starting at $99.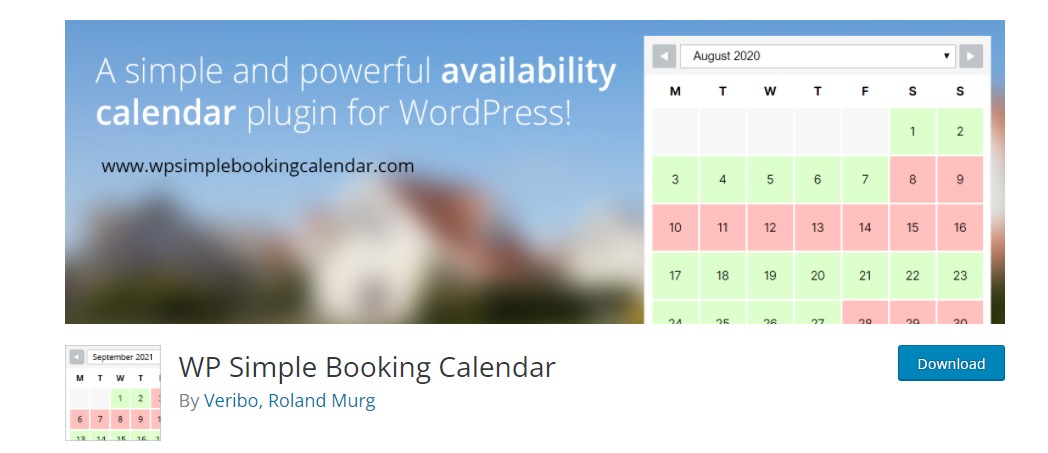 The WP Simple Booking Calendar plugin is an excellent solution for homeowners who want to put up their homes for rent. It allows prospective renters to set up an appointment with you and without hassles.
WP Simple Booking Calendar has both free and paid versions. The free version includes basic features that allow you to create booking calendars, display your home's availability, and save customers' booking details, to mention a few.
The premium version, on the other hand, offers various superb features. These include features that allow you to create unlimited booking calendars and sync these calendars with Booking.com, Google Calendar, HomeAway, Airbnb, and other websites that support iCal.
This plugin will cost you $39.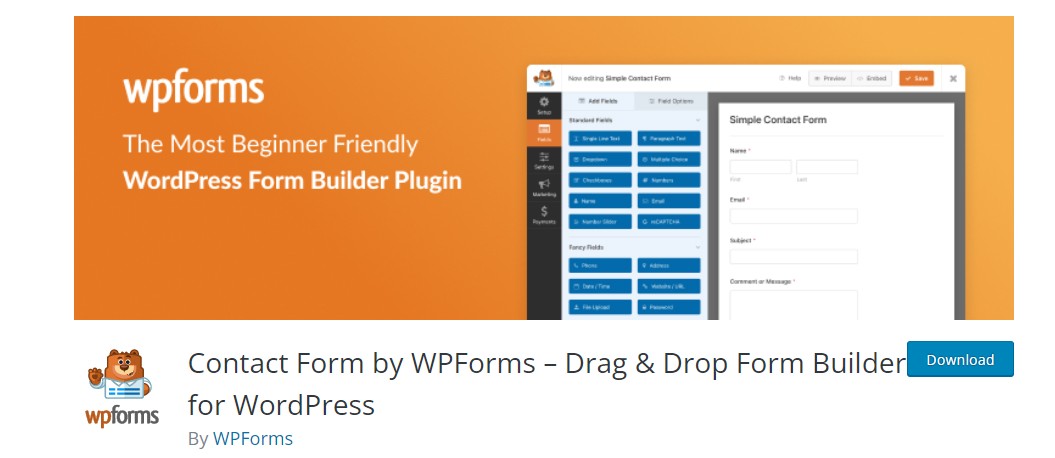 WP Forms has been around for many years now. It makes setting up an appointment booking system a breeze.
It comes with a drag-and-drop feature that allows you to create booking forms in a matter of minutes. You can set some fields like date and time to be "required" so that your customers have to fill them.
The plugin also allows you to add completed forms wherever you want on your website, including pages, sidebars, widget areas, and posts.
It has both free and premium versions. The free version is enough to get you going. But to get the most of it, you will need to get the premium version.
WPForms Pro pricing starts at $31.60 per year.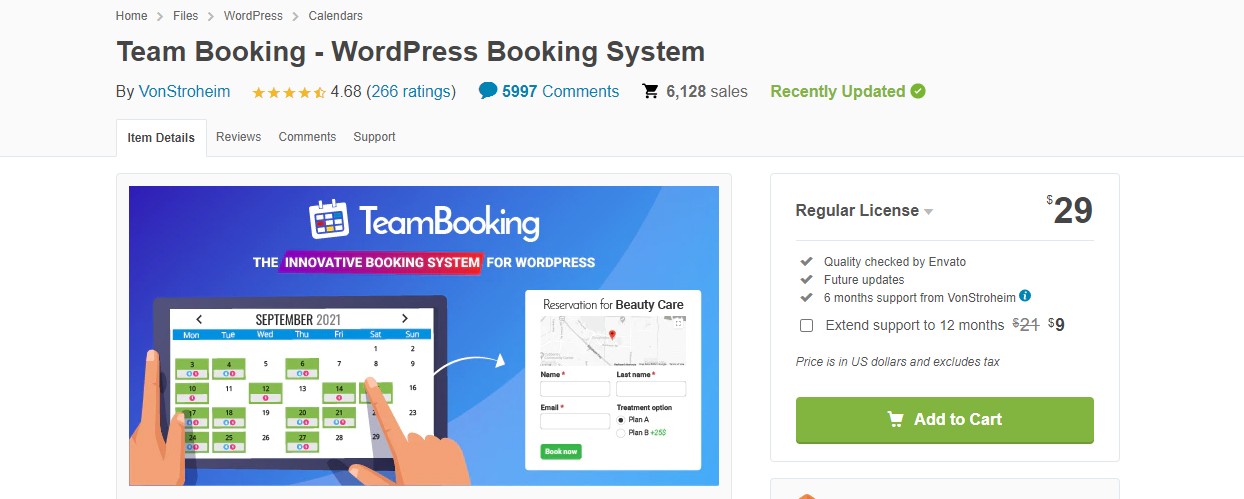 Team Booking is another booking and appointment plugin for WordPress. It is simple, innovative, and powerful at the same time. Compared with some other expensive alternatives, it has equally nice features.
It allows your customers to book events, services, rooms, appointments, and so on.
If you would like to manage your availability via Google Calendar, Team Booking is for you. What's more, it allows you to accept payments via Stripe and PayPal.
You can create different products and services that your business provides using Team Booking.  With this plugin, employees or team members can have their availability schedule on the same site.
You can use customized emails to confirm appointments with your customers. Also, Team Booking features a custom API for easy integration.
Pricing for this plugin starts at $24.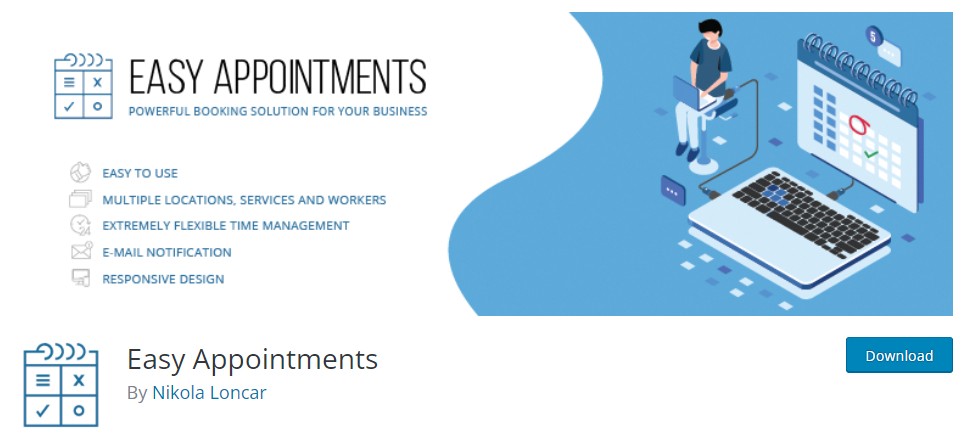 Next on our list of best WordPress appointment and booking plugins is Easy Appointments. It makes it easy to schedule and manage multiple appointments for several services and locations through your website. You may find the interface slightly overwhelming, but with a little practice, you'll get a hang of it.
The clean interface of this tool makes it easy to use. This makes it relatively easy to find whatever you're looking for.
The free version is sufficient for basic booking forms and calendars. However, there is a paid version if you want access to features such as online payment gateway integrations.
Its paid version starts at $29.

With over 13,000 users, the Booked plugin is undoubtedly one of the most popular booking solutions for WordPress. It has a smart design that integrates with eCommerce stores easily and provides different options you can use in setting up your online business.
Additionally, you can choose to customize the way your calendar looks and feels and even provide custom fields to help you gather relevant information from your customers.
The Booked plugin is available starting at $49.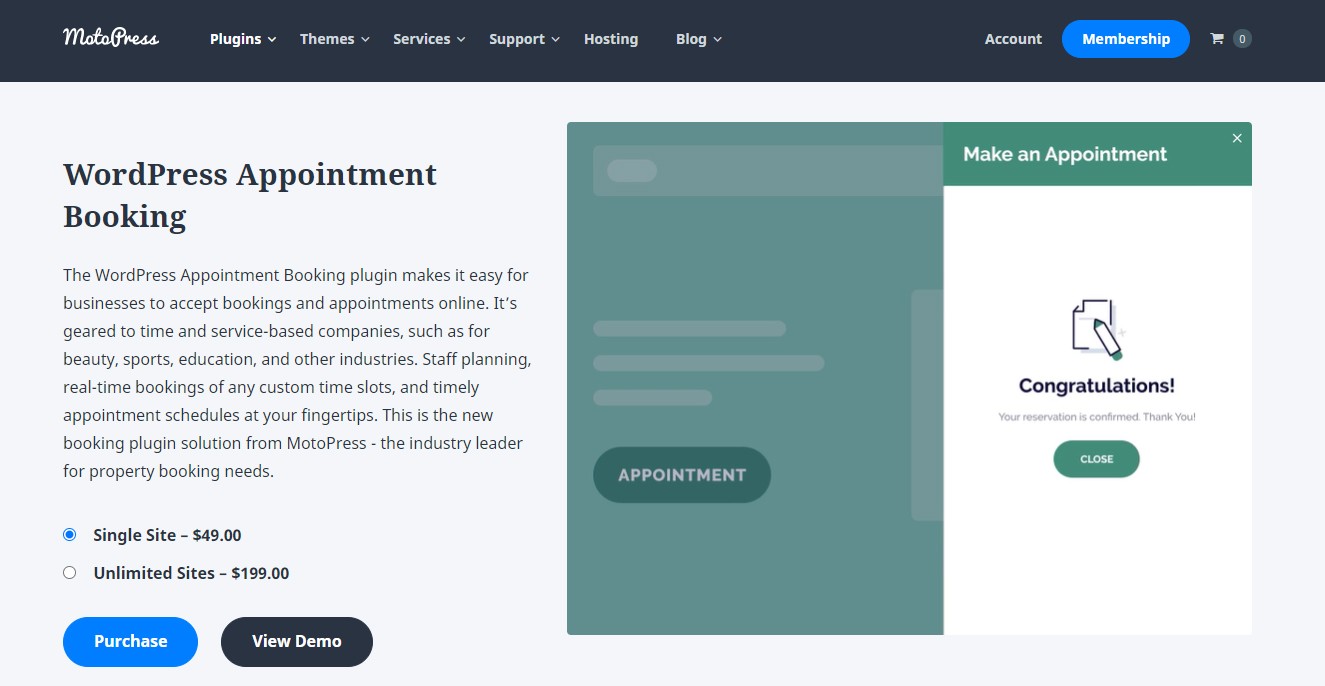 The MotoPress WordPress Appointment Booking is one powerful and effective booking plugin that you can use especially if you have a service-based business like a property rental or a hotel.
This plugin allows you to accept online reservations, handle payments online, create calendars that show real-time for each room or accommodation. It also lets you automatically synchronize booking calendars with many widely-known online travel agencies.
You can make a list of your rooms or accommodations with brief descriptions. You can also include optional facilities or extra service packages that can be reserved.
Additionally, MotoPress allows you to set flexible price rates. This could be in the form of weekly or monthly rates, seasonal prices, refundable or non-refundable rates, and so on.
MotoPress Hotel Booking also lets the admin manage incoming reservations from customers at the backend and set a preferred confirmation mode for them.
If you would like to allow your customers to make payments on arrival, the MotoPress plugin has functions for that. But if you prefer to accept payments online via PayPal, Stripe, 2Checkout, Beanstream, Braintree, and Beanstream, MotoPress also allows for that.
As for pricing, MotoPress WordPress Appointment Booking costs $49 for one website and $199 for an unlimited number of websites.

The Advanced Booking Calendar is another fantastic booking and appointment plugin for WordPress designed for hoteliers and rental property owners. If you own a small hotel or rental property and you would love to manage all your bookings through your WordPress site, then this plugin is for you.
When you confirm or reject a guest's reservations, they will receive email notifications indicating their reservation status. This plugin provides payment options like Stripe and PayPal.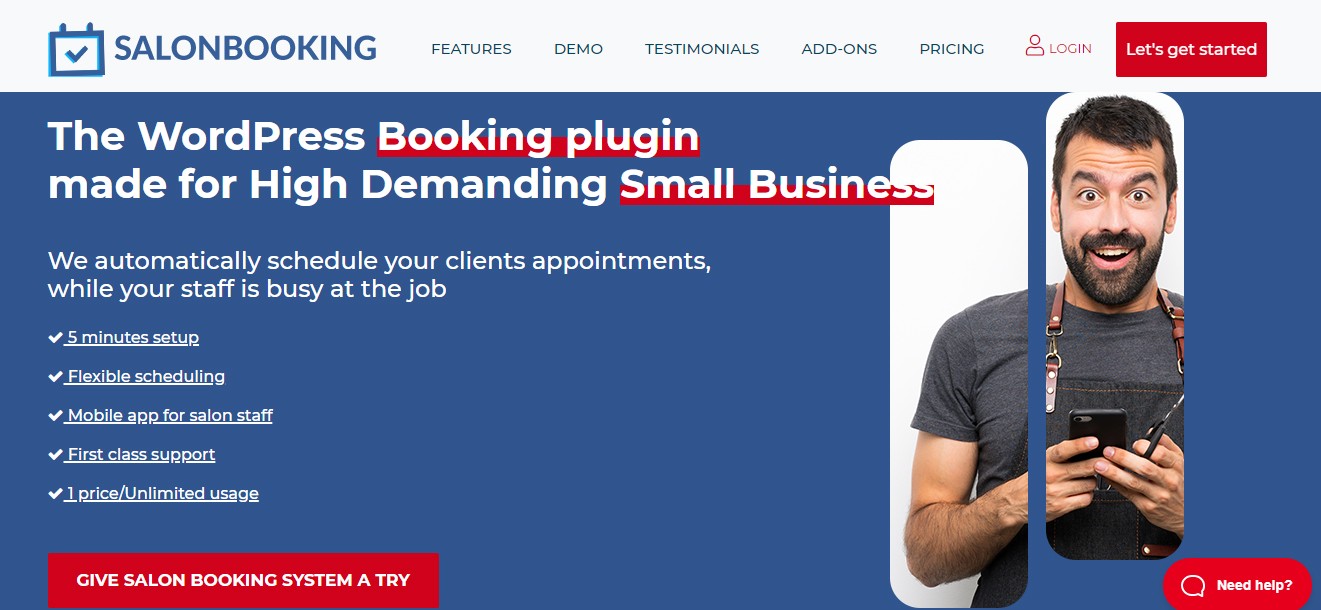 The Salon Booking System is a plugin specifically designed for barbershops, salon owners, hairdressers, nail styling parlors, beauty centers, and other similar businesses.
It comes booking reminder system that sends automated messages via SMS, email, or WhatsApp.
This plugin is totally integrated with Google Calendar in such a manner that the reservations made by customers on the website are automatically published on your Google Calendar.
Even your assistants or workers can get notifications about upcoming reservations through various means like SMS, email, or on their personal Google Calendar. The plugin also allows you to add reservations using the calendar on the backend interface or through your Google Calendar.
The Salon Booking System plugin has several other exciting features. As a means of rewarding your customers, it lets you create coupon codes or discounts. These discounts or coupon codes are applied automatically when a customer meets certain conditions while making a reservation.
This plugin is equipped with a set of shortcodes that will save you a lot of time as they will pull up all the information you need about salon services, assistants, and your reservation calendar.
Conclusion
There, you have it – the best appointment booking WordPress plugins available on the market! The 16 WordPress appointment booking plugins on this list are highly effective and efficient, yet easy to use. However, the appointment booking WordPress plugin you choose should depend mainly on your budget and the needs of your business.
We really hope you found this article helpful in choosing the best plugin for your website. If you're ready to explore Adoric, sign up for a free account.