How to Successfully Sell Clothes On Shopify
Selling clothes on Shopify can be a highly profitable venture. For an industry worth over a trillion dollars, the sky is big enough for everyone looking to get into the clothing business.
And clothes will always be in demand, so several opportunities are available if you're interested in selling clothes on Shopify. However, getting started can be pretty tricky, stressful, and time-consuming.
You have to consider several factors like the niche you should choose, your business model, how to source your products, and even how to handle the logistics involved. And that's not all.
The market is saturated, and there is very fierce competition. There are countless clothing companies, both big and small, and you need to stand out from the crowd.
So, how do you get started? We have compiled a systematic approach to successfully selling clothes online on Shopify in this guide. We will also take a look at some top Shopify clothing store examples.
Without further ado, let's jump right in!
Steps to Setting up Your Shopify Clothing Business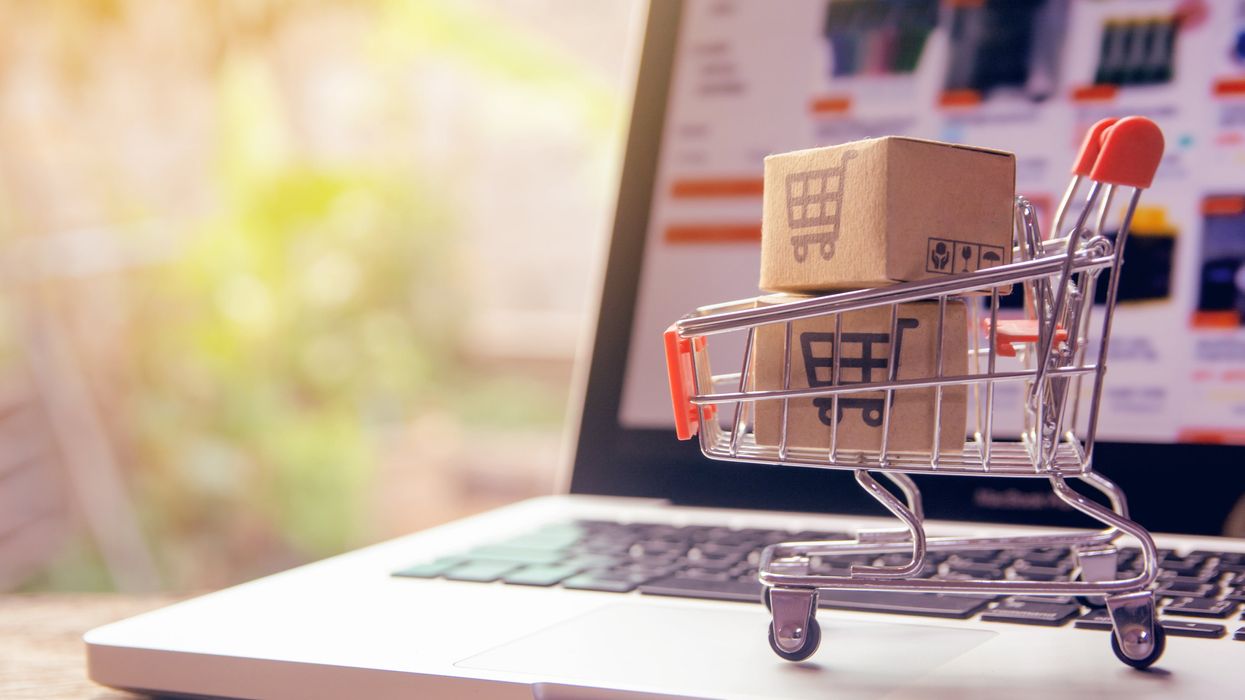 Here are the steps to setting up your Shopify clothing business:
1. Identify a Need in the Market
You probably have some ideas about what you want to sell, which is great. However, pause for a bit.
It would be sad to realize that your business is unsuccessful because you are selling products no one wants despite following every other step in this guide.
So, market research is a critical step, and you need to properly understand the industry and its current state.
Proper market research will help you discover an actual need, a target audience, and how to provide a product that addresses the need of your target audience. It will also help you assess the industry and the competition.
2. Your Target Audience
Identifying a market need and your target audience go together, and this is because only a group of people will need your products.
The people that need your product are your target audience. You'll have to spend your time and resources engaging and connecting with them. You increase your chances of success if you can effectively understand your target audience.
To understand your target audience, you have to pay attention to their demographics and psychographics.
Demographics simply refers to age, income, gender, geographic location, marital status, etc. In contrast, psychographics includes their hobbies, likes, dislikes, lifestyle traits, interests, buying behaviors and patterns, the problems they are facing, and how your product can help solve those problems.
3. Write Your Business Plan
Your business plan acts as a roadmap for your business, providing directions and instructions when necessary. It helps you easily identify your business goals, challenges, the potential solutions to those challenges, and the resources you need to achieve your goals.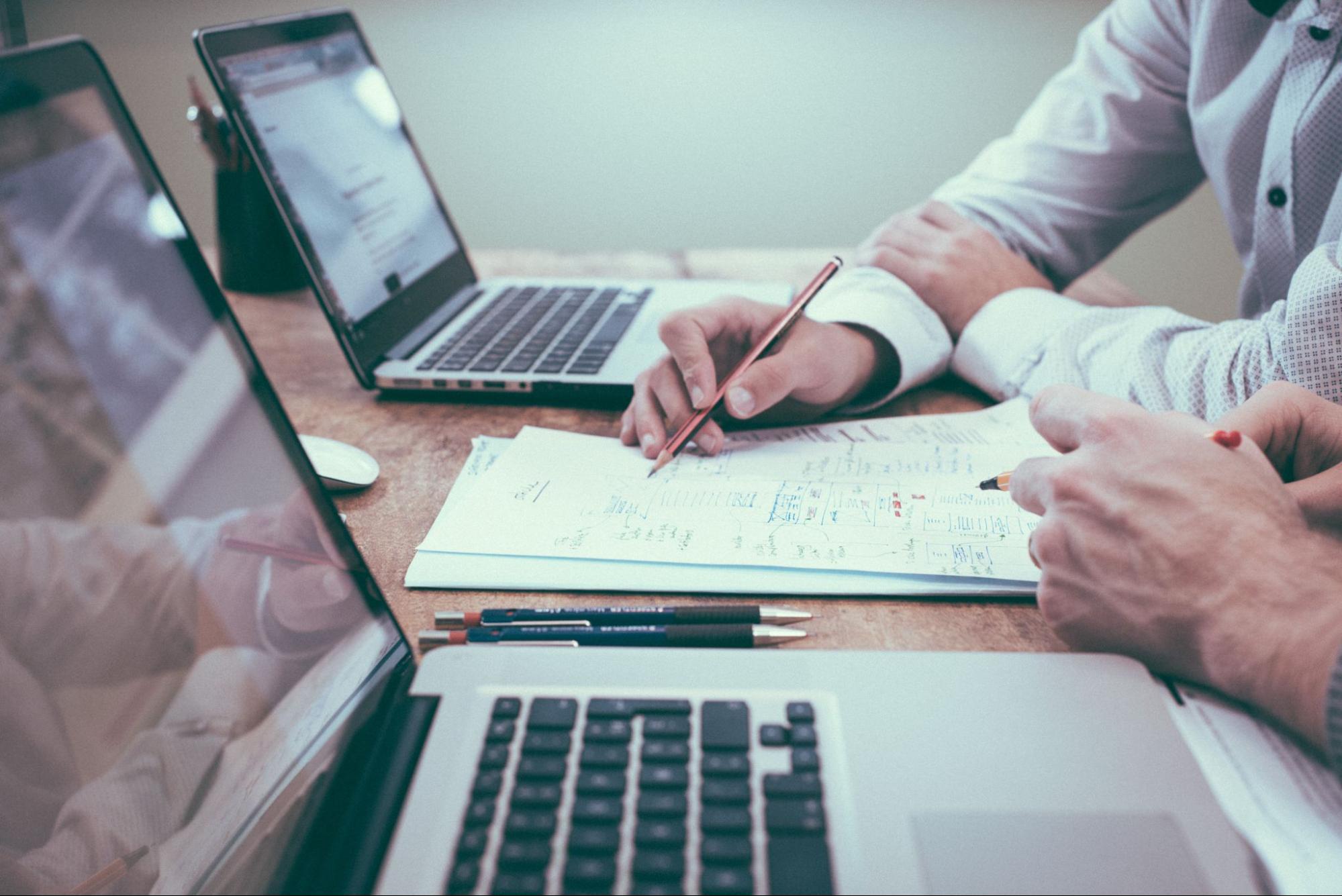 A good business plan for a Shopify clothing business should include the following:
Your identity as a company or business. This should include your team's roles and company mission statement.
The product(s) you plan to sell.
Your business goals. These goals should be specific, actionable, measurable, relevant, and time-bound.
Research-based reasons why you think your business will be a success. This is where all of your market research comes in.
Specific steps and strategies on how to achieve your business goals.
Ideally, your business plan should cater to the first three to five years of your business. This is not to say that everything will go as planned, but you will have a framework to work with.
A business plan also helps you track and compare your progress with your goals or identify when you need to change the original plan and how much change you need.
You will also need a business plan if you plan on getting funding from investors and partners. So, it has to be specific, strategic, thoughtful, and promising to increase your chances of getting people on board to support you and help your business to grow.
4. Determine Your Business Model
The next thing to do when starting your online clothing business is to determine what your business model is. Understanding your business model will dictate how you source your products.
There are five main business models you can choose from for your clothing business. Each of these online clothing business models has its pros and cons. Let's consider each of them more closely to help you choose the best model for your business.
Dropshipping
Dropshipping is your best route if you are on a shoestring budget. It is easy to start and you don't need to keep any inventory.
You only need to partner with clothing suppliers. Then, you can list their products on your Shopify store. Whenever you make a sale, your supplier gets the amount agreed on by both of you while you take the difference. Your supplier is then notified of the order.
Some of the significant advantages of dropshipping include its simplicity, cost-effectiveness, and minimal risk. You can also offer various products from several different suppliers simultaneously.
On the downside hand, you won't be able to brand the clothes you sell, which can make it difficult for your products to stand out from the competition.
Some suppliers you can dropship from include:
Print-on-Demand
The print-on-demand business model is similar to the dropshipping business model. There is just one significant difference – you can add custom designs to clothing items.
Like with dropshipping, you have to partner with a supplier – not just any supplier, though. It has to be a print-on-demand supplier. You can go on to upload your designs and clothing items to your Shopify store. Once a customer places an order and your supplier receives it, they will print the custom design on the product and ship it to your customer.
Again, like with dropshipping, you don't have to buy or store the products. You also don't have to deal with packaging and shipping.
As for its downside, most merchants often realize relatively low-profit margins on print-on-demand products. Usually, you are also limited to generic clothing items such as hoodies, t-shirts, and hats.
Boutique
Do you have an eye for fashion? You could use this business model for your Shopify clothing store. The boutique business model requires a high skill level in carefully curating select fashion products made by other brands.
To start, you can source single fashion products from sites like eBay, Amazon, and other fashion stores and sell them on your Shopify store at a markup. Making a significant profit can be somewhat tricky when sourcing your products like this.
A smarter way to start your Shopify boutique is to purchase these fashion products wholesale. This way, you can buy them at a lower cost per unit and sell them in units to make a profit. There are several wholesale websites you can check out online to get a reliable supplier.
Private Labeling
If you want a Shopify clothing business that gives you more control, consider private labelling.
Private labelling involves working hand-in-hand with a manufacturer to customize existing products to meet your specifications. For example, you could see a fashion product, say a jacket, that you like but want some adjustments. You could contact the manufacturer about the jacket and request that they attach a hood, change the color, and include your branding on the product.
This business model gives you more control, and you do not have to handle the designing and manufacturing from scratch.
It is important to note that you need to have an inventory upfront. You also need to decide whether you will be handling the storage and shipping of the products yourself or have it handled by a service such as the Shopify Fulfillment Network.
There are several marketplaces where you can source private-label fashion products like IndiaMart and AliBaba.
Cut-and-Sew
This business model is for you if you are interested in starting a Shopify clothing business from scratch. The cut-and-sew business model gives you absolute control over your fashion products – you'll be in charge of the colors, materials, and even the designs.
However, it is the most challenging of all the Shopify clothing store business models on this list.
To successfully use this model, you need to have the resources and skills required to design clothes or at least the ability to hire good fashion designers. You will also have to handle pattern-makers, sourcing fabric, and manufacturing.
You can choose to outsource the manufacturing, especially when you start getting a large volume of orders. Finding the right manufacturer for your business is very important, which is why you have to weigh as many options as you can before making a decision.
You should consider whether you will be using a domestic manufacturer or an overseas manufacturer. While you may save some money using an overseas manufacturer, it is usually not worth the potential drawbacks that can significantly affect your business, like lower product quality or longer delivery times.
All of this requires a lot of upfront capital investment. The processes involved in production can also make it quite time-consuming.
Like private labeling, you will also handle logistics and order fulfillment. Although, you can also choose to use a service like Shopify's Fulfillment Network to simplify this process.
You can check out the links below to get started with your research on pattern-makers, B2B marketplaces, and manufacturing services:
5. Set Up Your Business
You still have a few things to put in place before your business is officially set to go.
Choose Your Business Name
One of the first things that most people will identify your Shopify clothing business or your brand with is your business name. So, you need to make your business name unique.
Your business name doesn't have to be complex. You may want to go with something simple, or fun and creative. There are no hard and fast rules; you can explore many creative ways in choosing a name for your clothing business
Create a Logo
Another element of your brand identity is your logo. It is simply a symbol or emblem that visually represents your business. You can choose to hire a designer to help with a professional logo. This will be more convenient if your budget is large enough to cover it.
If not, you could save yourself some cost by designing one yourself. Several clothing companies have launched using logos they created themselves.
6. Build Your Store
Now that we have sorted out the clothes and the brand, let us discuss the platform you will sell on – your Shopify store.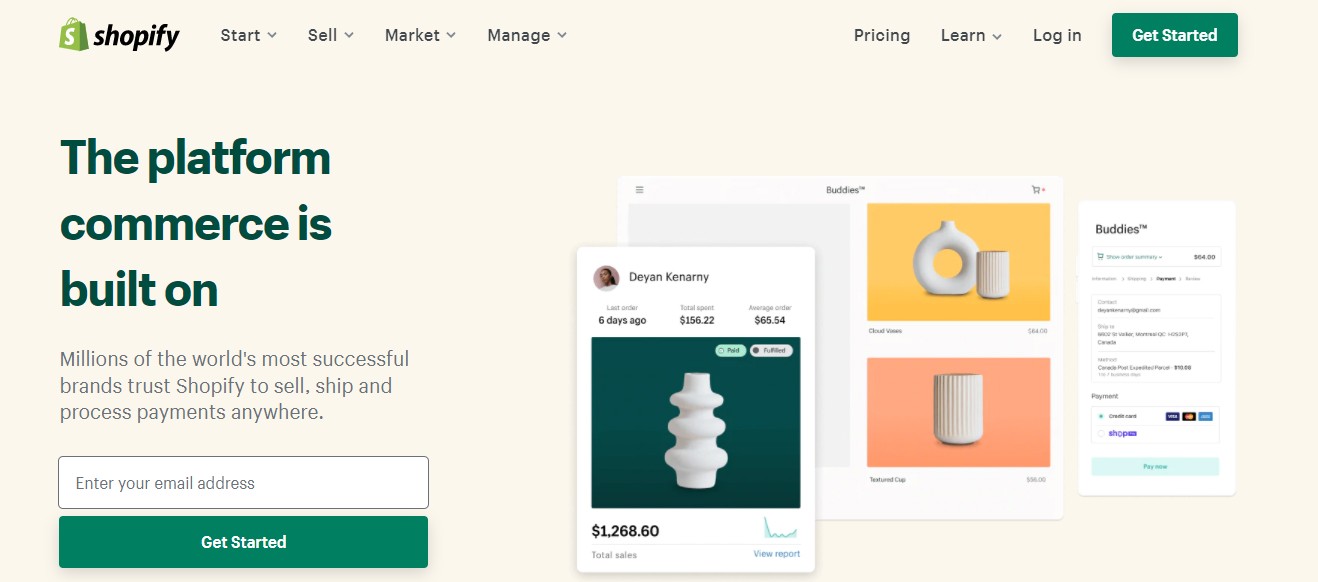 Building your Shopify store may sound intimidating, but it is doable. You can take advantage of Shopify themes and templates to set up your store. With Shopify, this process is straightforward, especially with its website builder that requires no coding knowledge.
7. Setting Price
You must learn how to set the appropriate price for your products, especially since you are in the business to make a profit.
To determine the right price for a product, you need a proper understanding of the cost of manufacturing the products. This cost typically includes factors like the cost of materials, cost of labor, and cost of production.
You also need to factor in the overhead costs for running your clothing lines, such as renting your warehouse, the costs of shipping, and what you pay your employees.
After determining how much it costs you to run your business, you can proceed to set a price that covers all the necessary costs and bills and still leaves room for a profit.
If you plan on selling wholesale, too, you may need to set a different price for your wholesale customers.
Whichever way you decide to set your price, ensure that you factor in how much your target audience is willing to pay. You may need to do a bit of experimentation to determine the perfect price.
8. Choose Your Sales Channels
You have a Shopify store where you can sell directly from. However, you can choose to add some other sales channels if you want. This allows you to reach more shoppers available on those platforms.
Other sales channels you may use include online marketplaces like Etsy and Amazon, retail stores, wholesale platforms, and even social media. It all depends on finding the channels your target audience uses.
9. Set Up Your Logistics
Two of the most important and least exciting aspects of running an online store are shipping and order fulfillment. These two aspects form what is referred to as logistics.
You need a solid logistics solution in place so as to ensure your customers get their orders without hassles. When it comes to order fulfillment, you have much more to handle than just shipping, and it involves picking, sorting, packaging, and shipping.
In all these, you want to ensure that your brand maintains a consistent and positive customer experience.
10. Market Your Clothing Business
No one will purchase your products if they have no idea that those products or even your store exists. That said, the marketing process is an integral part of running a Shopify clothing business.
Ideally, you should start marketing your store even before you launch your clothing business.  This way, you can hit the ground running.
There are many ways to achieve this. Here are three tried and trusted marketing strategies you can start with:
Paid Advertising
The first of these strategies is to set up paid ads. There are several available paid advertising platforms, such as Facebook, Instagram, and Google.
You can start by setting up Facebook and Instagram ads. Both channels are very popular advertising networks that you can leverage to build your customer base.
You can also use any of these platforms to drive up your sales. As a Shopify clothing business, though, it is advisable to focus your efforts more on Instagram when you are just starting.
Social Media Marketing
If your budget is tight and cannot afford paid ads, you can resort to organic social media marketing strategies. Social media marketing focuses on creating eye-catching and engaging content that attracts people to come shop from you.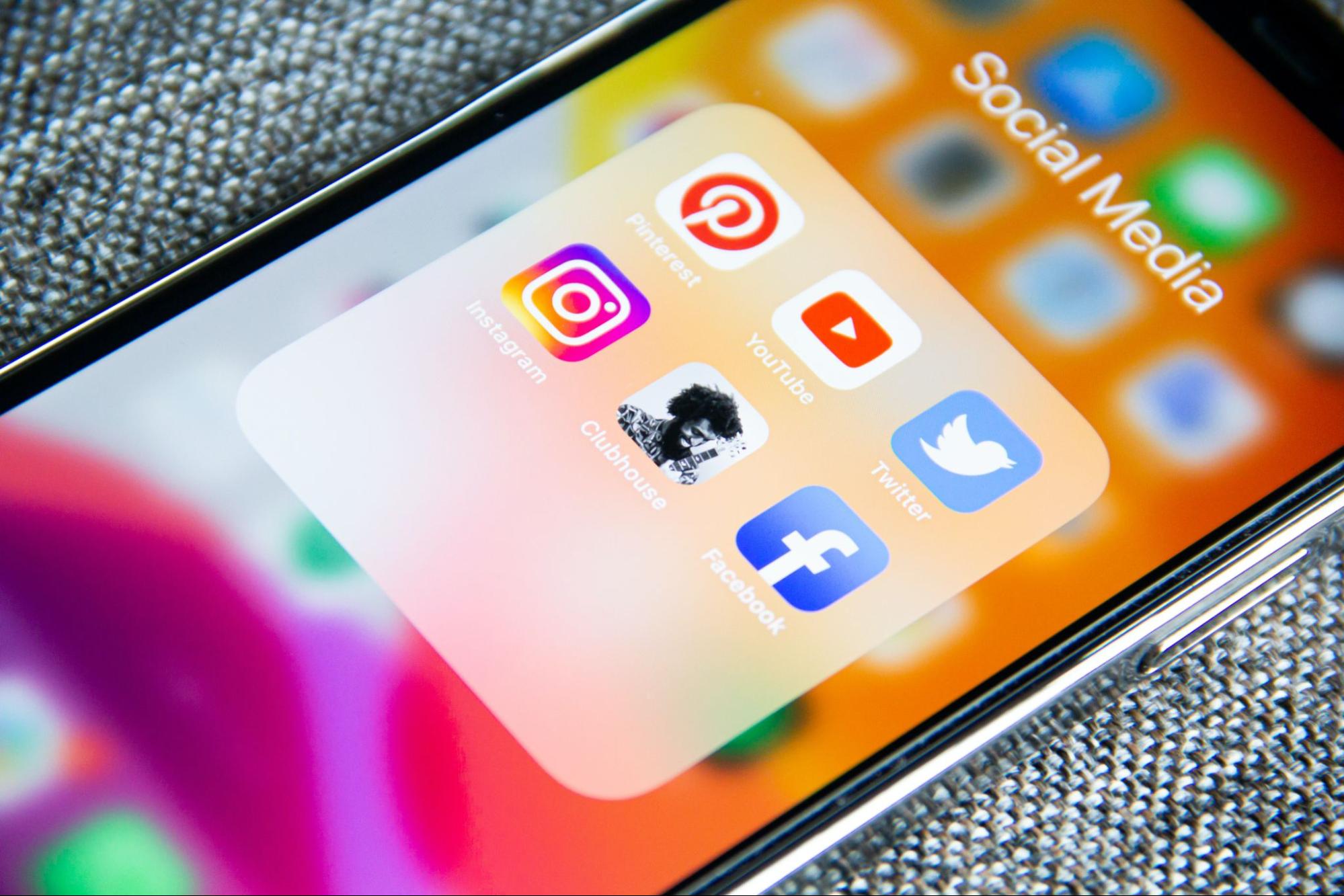 Because of its highly visual nature, Instagram is highly profitable for clothing brands, and you can experience the highest level of engagement. So, focus your time and resources here.
You can also use Shopify apps to make your Instagram feed shoppable.
Influencer Marketing
Influencer marketing is an excellent option if you are working with a low budget. You can offer free fashion products to social media influencers in exchange for shoutouts.
These social media influencers should be social media users with a robust online presence and can reach and engage your target audience. This is a brilliant way to land more sales.
You can also partner with these influencers to host giveaways or build your email list. Do this before launching your store, so you can leverage email marketing to engage your customers. This helps you build relationships with your customers from the get-go.
Shopify Clothing Store Examples
Need some inspiration? Here are some great Shopify clothing stores you can check out:
Fashion Nova
Fashion Nova was founded in 2006 and has grown to become one of the most visited Shopify stores globally.
Taylor Stitch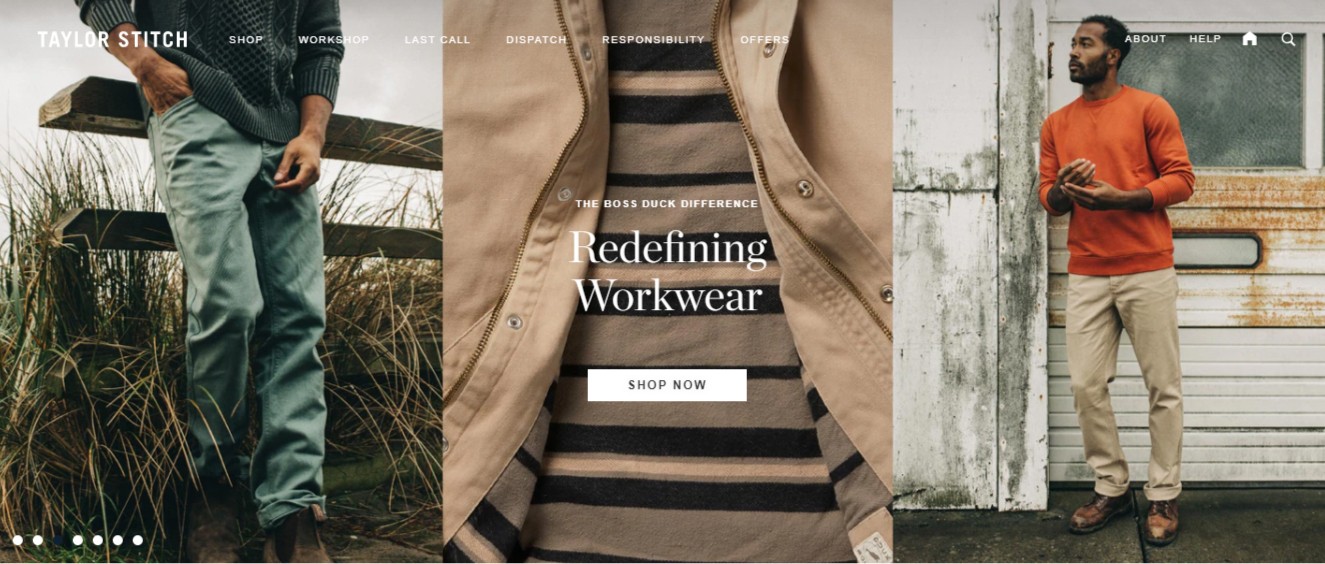 Taylor Stitch is a clothing company that deals in menswear. They boast of manufacturing products that can withstand any condition.
They also pride themselves in their refusal to use chemicals and pesticides that are harmful to the environment and the health of their workers and use purely natural products instead.
3sixteen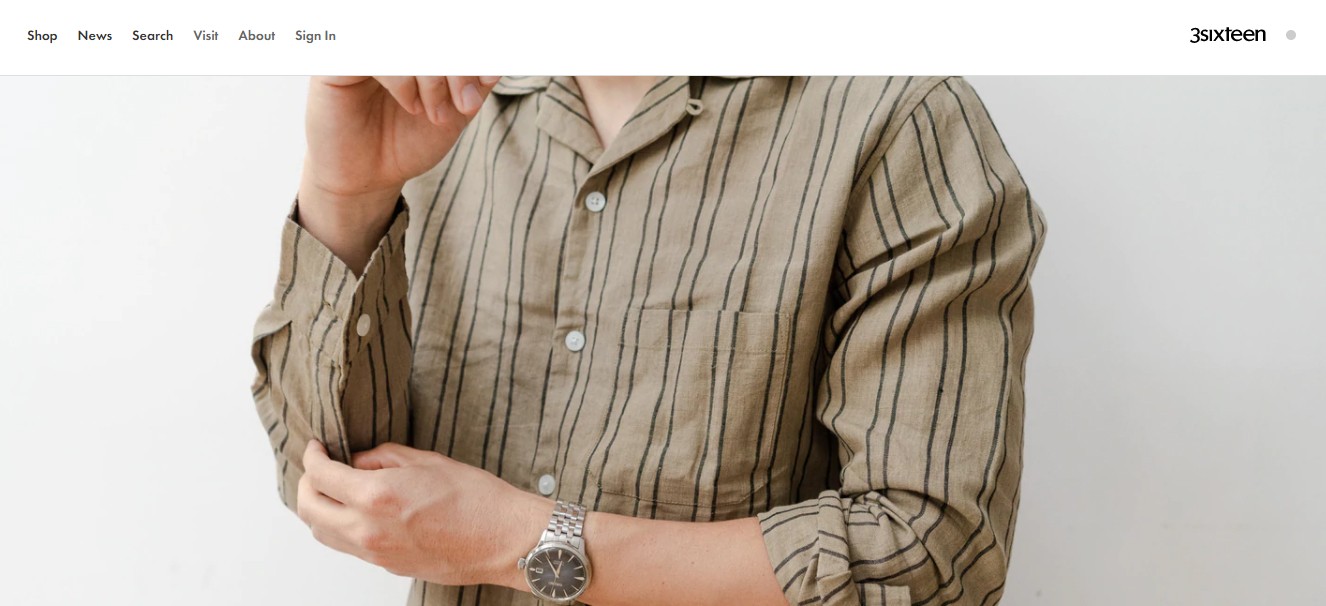 This brand is committed to designing clothes, and it reflects in every aspect of its business and even its artist collaboration project.
Conclusion
Starting and running your own Shopify clothing business is exciting and gives you room to learn what works and what doesn't. In the end, you keep evolving as an entrepreneur.
Keep in mind that you may not achieve success right off the bat. You will constantly have to try new things and work on what is not working.
Keep track of your progress, and you will be surprised at your growth in a few years. Just be passionate and dedicated.
Give your Shopify clothing business a better chance at success by installing Adoric's Shopify app. It's easy to use and helps you turn your store visitors into paying customers. Get Adoric's Shopify app and be on your way to making your clothing business a huge success!