"I don't want free shipping," says no customer ever. This is why offering free shipping is an effective way to increase conversions and achieve more sales. Free shipping is also a great way to attract customers and retain them.
But how do you do this?
Knowing how to do free shipping on Shopify is one important skill you must master. However, using it as a strategy to improve your business is a different ball game entirely. You want to ensure that you're making money even while offering free shipping.
In this article, we will discuss free shipping, why you should offer it, and how to use it as an effective strategy to increase your conversions and get more sales.
Let's get started!
Why Free Shipping?
Shipping may not be the first thing that comes to your mind as a Shopify merchant. But for customers, it is one of the biggest factors they consider when buying anything online. In fact, high shipping fees are one of the major reasons many customers abandon their carts.
By offering your customers free shipping, you create a win-win scenario for both you and them. They get comfortable purchasing your products without worrying about the cost of shipping, and you get more sales. Plus, you get a chance to increase the average order value of your store.
Merely thinking about it, you may be tempted to assume that you'll lose a lot of money if you offer free shipping. But this is not entirely true. Think of it as baiting a hook to catch fish. The bait is usually worth it, isn't it? So also, offering free shipping is generally worth it, especially when done right.
Don't take our word for it. Here are a few stats to show why you should take advantage of free shipping as a marketing strategy: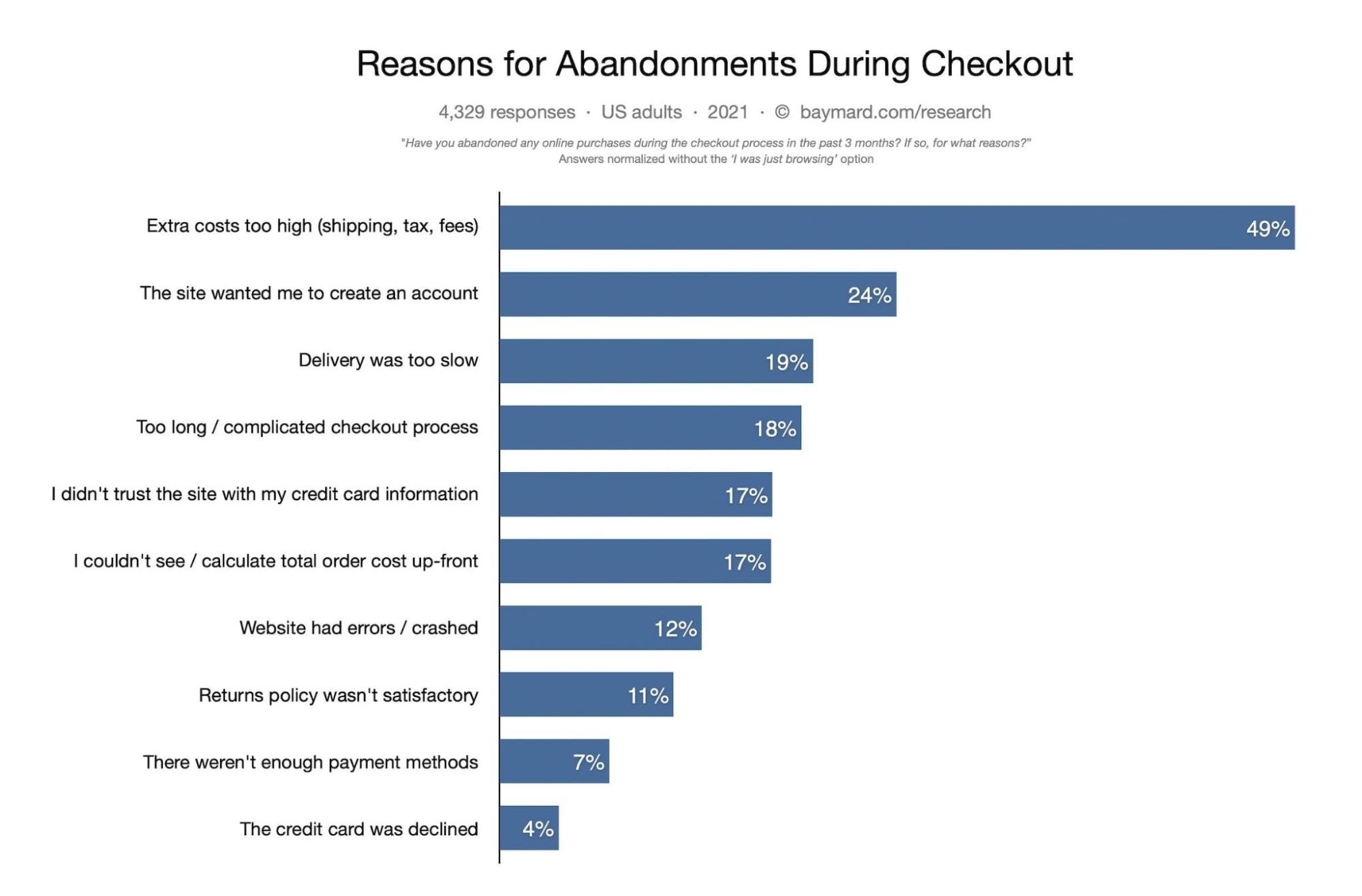 A report by Deloitte showed that about 20% of online shoppers admitted that the free shipping offered by some stores contributed to their loyalty to those stores.
Another report by Annex Cloud shows that as much as 61% of shoppers are likely to abandon their carts if they discover extra costs like shipping fees.
A LinkedIn article shows that about 50% of online shoppers in North America are likely to abandon their carts if they encounter some shipping costs.
These stats point to one thing: the importance of free shipping to customers. So, free shipping is an excellent way to entice shoppers into purchasing your products.
If you choose not to offer free shipping, many shoppers are willing to keep searching elsewhere till they find a store that sells the product they want at free shipping costs.
Factors to Consider Before Offering Free Shipping
Even after taking a look at the advantages that free shipping has to offer, you are probably still considering whether to provide free shipping or not. This is a valid consideration.
Before deciding to offer free shipping, you want to consider a number of factors. They are as follows:
Is the free shipping offer worth the hassle?
To answer this, you must determine whether your conversion rate and other vital metrics are improving or not when you try out free shipping.
How much are carriers charging for the shipments?
You have to also consider how much you pay carriers to ship your products to customers. This cost doesn't go away just because you're offering free shipping.
What transaction fees do you pay?
You also have to factor in any other fees you pay on your transactions. These may include things like duty fees and credit card fees.
How much profit are you willing to lose?
If you choose to offer free shipping, you will have to bear the cost of shipping the products. This will likely affect your profit margin, and it's important to give this some thought before diving in.
If you do your research well enough and answer these questions correctly, you should be able to decide how best to implement free shipping as an effective marketing strategy in your Shopify store.
How To Do Free Shipping on Shopify
By offering your customers free shipping on their purchases, you have shifted the cost of shipping from them. But someone else has to pay, and that will be you. So how do you pay for free shipping and still make profits?
1. Factor the Cost of Shipping into Your Other Expenses
Since you are taking on your customer's shipping costs, you must consider it an expense to your business. You have to factor it into all your calculations, and it should reflect in your financial books.
You do not want to realize you are running at a loss because you failed to factor in the shipping cost from the start. So from the moment you take stock, make sure you include shipping costs.
2. Market Your Free Shipping Offer
Everyone likes the sound of freebies, especially if it is free shipping. However, it is not enough that you're offering it. Make sure to highlight it on your Shopify website. You can display it on the main pages they visit and your product pages.
By marketing your free shipping offer, your store visitors will be aware of the opportunity and make use of it. This will increase your sales – which is how you get your money back. See how Walmart markets their free delivery offer on their webpage? Their shoppers can see it right away.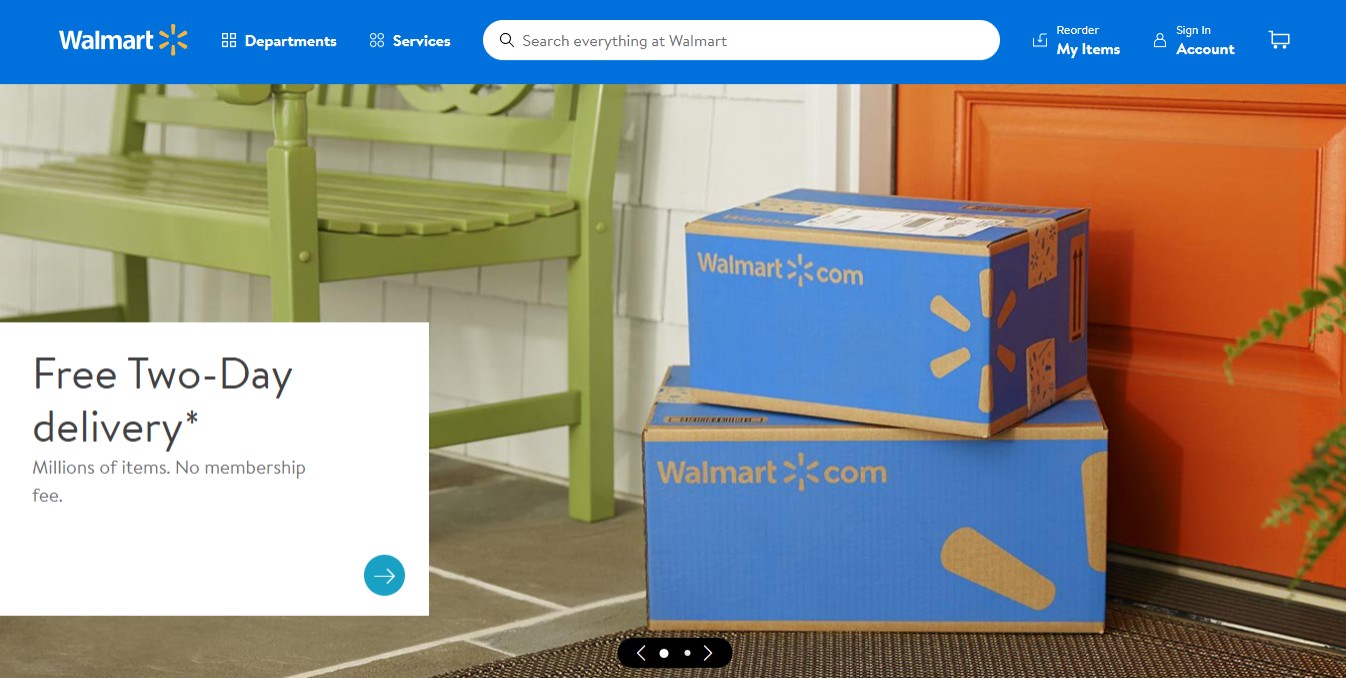 3. Focus on Cross-Sells and Up-Sells
Cross-selling is when you persuade your customers to buy extra products that complement their original purchase.
Up-selling, on the other hand, is when you suggest a more expensive product to your customer. An example of up-selling is suggesting a more expensive model of a phone a customer just purchased. The picture below shows you a typical cross-selling example.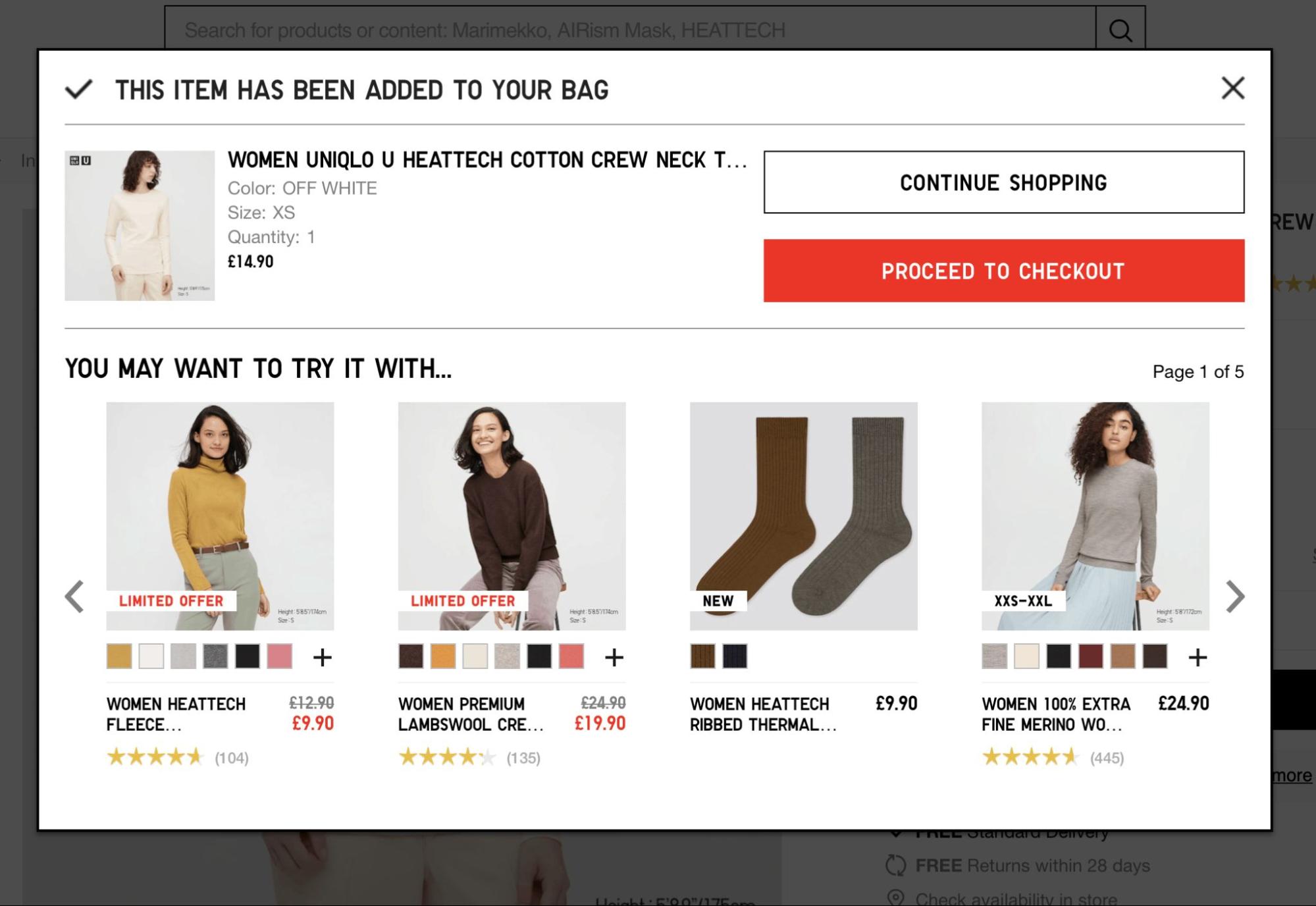 By offering free shipping as an incentive when shoppers buy additional products through cross-selling or up-selling, you can easily convince them to buy more from you. This increases your average order value and makes shipping less expensive for you. By doing this, you enjoy a better profit margin on your products.
Offering free shipping on cross-sells will increase your customers' loyalty. They might even become your brand ambassador.
When Should You Offer Free Shipping
Large companies can afford to run free shipping throughout the year and reap the rewards in the long run. But this is something most small businesses cannot afford to do. So, what is the way around this?
If you're a small business owner, you can always schedule specific times of the year to offer free shipping. How often you choose to do this depends solely on your profit margin and how you can work around shipping costs.
After answering the questions we considered earlier and analyzing your shipping and transaction costs, you can choose to offer free shipping to your customers on a conditional or promotional basis.
Here are a few structures you can implement to help you offer free shipping to your customers:
A. Conditional Basis
1. Minimum Order Value
You can choose to set a minimum order value for your customers before they can qualify for free shipping. This will act as a threshold that allows you to retain some profit while offering free shipping.
Many shoppers will happily put more items into their shopping carts just to qualify for free shipping.
2. Select Products
There are times when you have a surplus of certain products in stock, and you need to reduce them. In times like this, you can choose to offer free shipping on those particular products or a combination of products to quickly sell them off and reduce your inventory.
To make this strategy more effective, only offer free shipping when customers buy a certain quantity of the stock you are looking to sell-off.
B. Promotional Basis
1. Promotion Codes
You can also offer new customers or recent email sign-ups one-time promotion codes that qualify them for free shipping. This will also endear them to your brand from the get-go.
2. Peak Sale Periods
Most businesses tend to make more sales during specific peak sale periods like Black Friday, Mother's Day, and Christmas Day. These periods are prime money-making seasons.
Instead of offering your customers discounts or promotions, you can provide free shipping as a means of incentivizing your customers to buy some more from your store.
How to Offer Free Shipping on Shopify
As a Shopify merchant, you can choose what type of shipping rates you want for your products. You also have the freedom to select the criteria under which shoppers are eligible for free shipping. Generally, your shipping rates will typically fall into one of these categories:
Flat, calculated, or free shipping rates.
1. Flat Shipping Rates
If you choose to offer flat shipping rates for your products, the checkout process for your customers becomes more streamlined.
You can set different flat shipping rates for different regions. For instance, you can set the shipping rate for deliveries to Canada, the US, Europe, and any other part of the world.
2. Calculated Shipping Rates
As a Shopify merchant, you can integrate third-party shipping calculators into your Shopify store. This means that as your customers' checkout after making a purchase, their shipping rates are automatically calculated by the third-party shipping service. This ensures that your customers are charged just the right amount for shipping.
3. Free Shipping Rates
With Shopify, you can choose to add free shipping rates to your store on a conditional basis. The conditions could be related to geographical locations, specific products, weights, orders, and customer categories.
Here is a step-by-step explanation of how to set up free shipping on Shopify:
Log into your Shopify admin dashboard
Go to Settings, then Shipping and Delivery
On the shipping profile that you want to change, select Manage rates
You can then click Add rate, where you want to add a free shipping rate
Set the Price field to 0
Click Done, then Save

If you want to include special conditions that customers have to meet before enjoying free shipping, do so right after step 5.
If you want to set:
a minimum order value, click Add conditions then Based on order price, then set a minimum price
a minimum weight, click Add conditions then Based on weight, you can then select a minimum weight
free shipping for select products, you have to tweak the weight-based or price-based conditions. Click Add conditions, select either the weight-based or price-based condition, depending on what you want, then enter the minimum and maximum value for the chosen condition

Now you've learned how to set up free shipping on Shopify, let's now show you tips to optimize your free shipping offer.
Tips to Offer Free Shipping for Your Small Business
Here are some tips that may come in handy if you decide to offer free shipping on Shopify:
1. Use Adoric's Free Shipping Bar for Shopify
It's not enough to offer your customers free shipping; you must go all out to ensure they know about your offer. And what better way to do this than using Adoric's free shipping bar Shopify feature?
Adoric's Shopify free shipping bar is a feature that allows you to display free shipping information on your website via a sticky bar.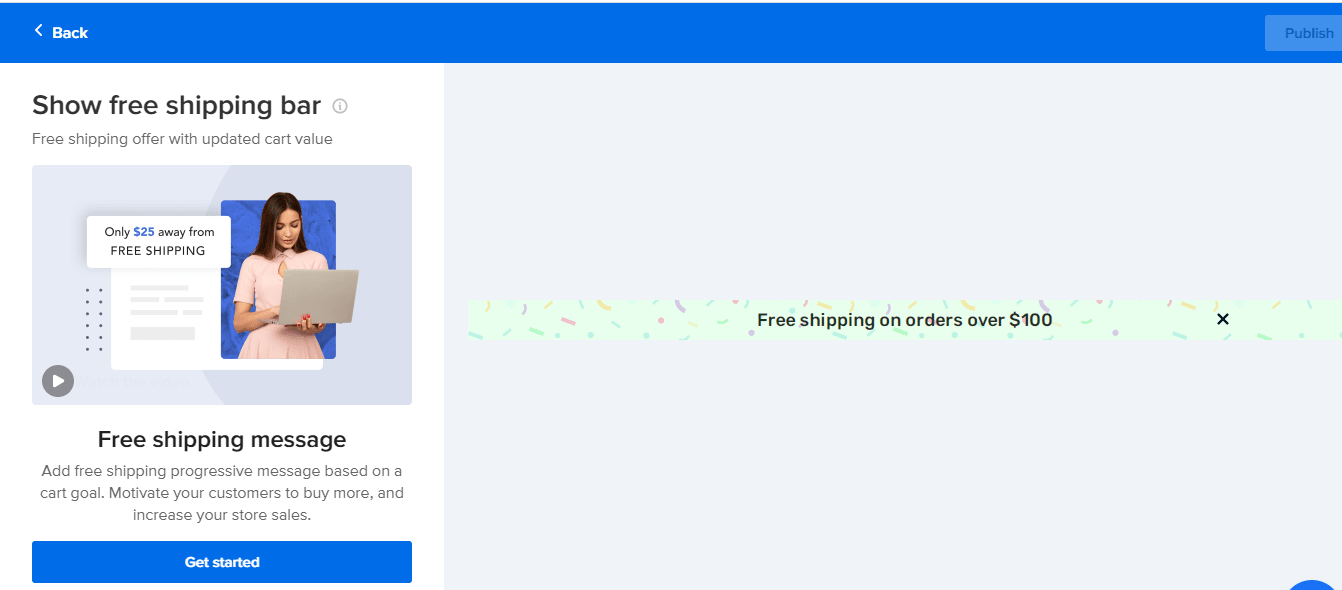 How does it work?
First, you have to create a free shipping offer in Shopify via your admin dashboard. After that, the next thing you will want to do is to create a sticky/floating bar campaign to display the free shipping information on your Shopify website. It's that simple.
To use, simply log in to your Adoric dashboard and select the "Show free shipping bar" option.

Ready to try out Adoric's free shipping bar Shopify app? Sign up for an account right away.
2. Limit Shopify Free Shipping Zones
It's a good thing to want all your customers to enjoy free delivery on their orders. But this may not be realistic. So, instead of scrapping the free shipping offer altogether, you can simply limit it to customers in specific countries or regions. This is a great way to avoid biting more than you can chew, especially if you have international customers.
Limiting your free shipping offer may also mean setting up different shipping conditions for different countries. You can also set different shipping rates for the different regions in a country.
One reason you may want to do this is that people's buying habits vary from location to location. So, a free shipping offer might give a higher ROI in some regions than others. Also, some places are so remote that it may not be cost-effective to offer free shipping to customers in those locations.
Additionally, international shipments take longer, cost more, and may involve a more complex process. So you can choose to set certain limitations on your free shipping offer based on this.
3. Enable Free Shipping for Certain Products and Order Value
As we discussed earlier, you can choose to set requirements that customers have to meet to qualify for free shipping.
You may also need to understand that free shipping cannot apply to every kind of product. For example, if you sell digital products in your Shopify store, there are no realistic shipping costs that can apply.
In addition, if you sell electronic devices or large pieces of home furniture, there may be several rules you have to meet. You may even have to pay extra fees and need special delivery services to ship the products.
It is advisable to avoid offering totally free shipping for products like these. But if you must, you can choose to give your customers a discount on their shipping cost. You could even promise to increase the discount if they come again to purchase from your store.
4. Offer Options of Free Shipping and Express Shipping
If you offer free shipping, there is almost no need for your delivery to be super fast. If your customers are interested in getting their products faster, you can offer them the option of express shipping.
Consider offering your customers at least these two shipping options to choose from. One option can be free but take more time (free shipping), while the other can cost some money but will be fast (express shipping).
By doing this, you give your customers the power to choose which matters more to them, fast shipping or low costs. This also shows the generosity and thoughtfulness of your brand.
5. Offer Holiday and Event-Based Promotions
As we discussed earlier, holidays and events like Valentine's, Christmas, Thanksgiving, Father's Day, Mother's Day, or even your store's anniversary are excellent times to add free shipping on Shopify.
So, by all means, take advantage of these periods to boost your sales with free shipping.
6. Shopify Free Shipping with Membership
You can choose to make free shipping an exclusive perk for only customers who are a part of your Shopify store's membership plans. By combining free shipping and a membership plan, you can increase your sales and realize better revenue. It can also encourage your customers to opt into membership, which boosts customer loyalty.
You can make up for the shipping cost with the membership fees, and your customers get to enjoy certain exclusive perks and privileges. If you maintain this structure well, you may have your customers even renew their memberships subsequently.
Conclusion
With the increased popularity of online shopping in recent times, it's also becoming more challenging to stand out from the competition. This is why free shipping is a brilliant way to encourage your customers to keep buying from your Shopify store. It also allows you to build a strong relationship with them.
This article has walked you through free shipping as a marketing strategy and how to implement it for your Shopify store. Hopefully, you'll act on it right away.
If you're looking for more ways to increase your conversion rates (and you should), Adoric can help you achieve that. Simply install the Adoric Shopify App to start maximizing your Shopify website traffic today!