One of the biggest challenges of running a store online is getting and keeping users' attention. Studies have shown that the average attention span of web users is about 8s. 
This means you have about 8 seconds to convince prospective customers on your website to buy from you. 
Is that even possible? Well, it is, and this is where the falling gift game comes into play. 
The Falling Gift game is an innovative gamification tool we designed here at Adoric to help online entrepreneurs like you boost user engagement and increase your revenue.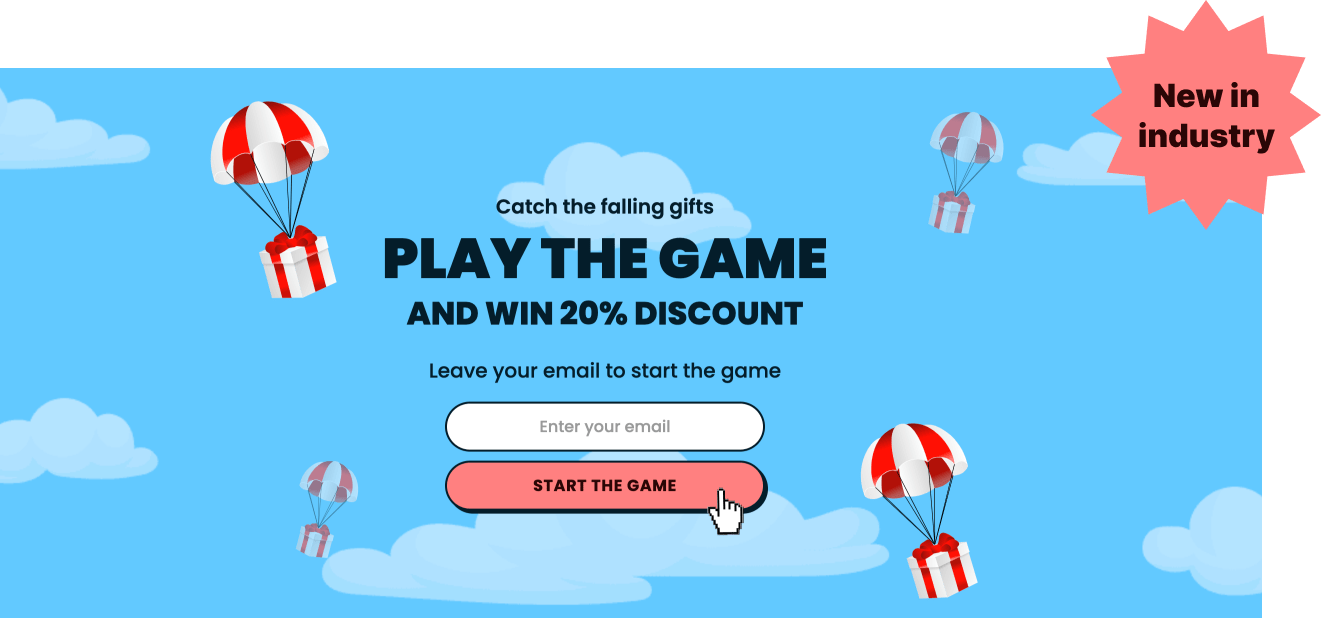 Plus, this novel tool can boost your conversion rate in ways beyond your imagination. 
How do we know this?
We've implemented the falling gift game on one of some clients' websites, and the result was outstanding. Shortly after deploying the game, we noticed their conversion rate jumped by 30%. Isn't that incredible?
What is The Falling Gift Game, and How Does It Work?
The falling gift game, simply, is a gamified popup that gives your visitors the chance to win coupons and discounts by playing an interactive game. 
How does the game work?
First, when they land on your website, the falling gift popup will appear on their screen. On the popup, they will see gift boxes tied to a balloon falling. 
They will be asked to input their emails before the game starts. 
To win a gift, they must randomly click on any box. If the box contains a gift – which is usually a coupon – they will see a congratulatory message with the coupon they won sent to their inbox. 
One thing you will really like about our falling gift game is that it offers unlimited customization. 
For example, you can set the minimum number of attempts(chances) users need to make to win a gift.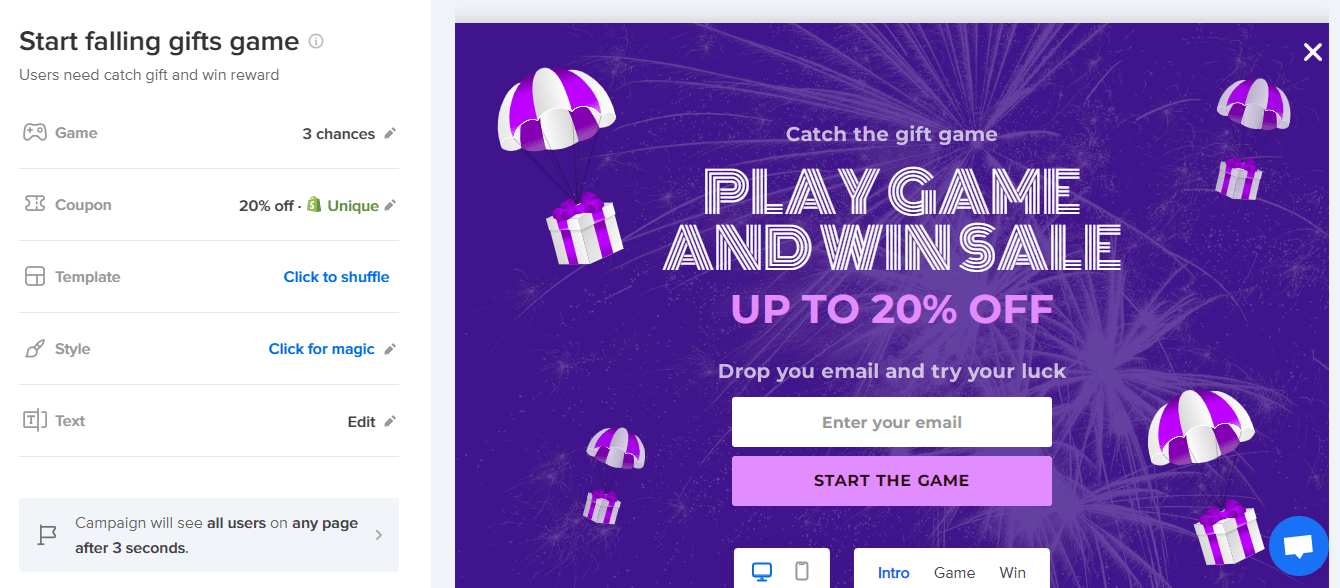 Also, you can customize the message users see when they lose or win. On top of that, our falling game comes with several templates you can use on the fly, like the ones below. 

Why Should You Use The Falling Gift Game?
The falling gift game is best used when you are looking to increase user engagement and retention. And you know, high engagement means more sales and increased average order value. 
On top of that, the falling gift game can help improve your bottom line incredibly. When used correctly, it can: 
Boost the time visitors spend on your website by

30%

Increase email subscription by

130%

Uplift your sales by

20%
In addition, the falling gift game is your best bet if you want to run the following types of campaigns:
Holiday and Special Event Promotions

Black Friday, Cyber Monday, Christmas, etc., are around the corner. These are periods when sales peak, and you need to plan well ahead to make the most of them. 
As such, the falling gift game shouldn't be missing from your marketing arsenal as you gear up for the holiday promotional sales. 
When used correctly, the falling gift game can help drive huge sales for your this holiday. Not just for Black Friday and Christmas, but also Valentine's day, Father's/Mother's day, etc. It's also ideal for milestone celebrations like getting the first 1,000 customers, 10 years business anniversary, etc. 
Seasonal Sales Promotions

Got some seasonal sales offers you want to promote? There is no better promotional tool to use than the falling gift game. 
This gamified popup can handle whatever you throw at it: Autumn, Spring, Summer, and even Winter sales promotion. 
Falling Gift Game vs Traditional Popups
Traditional popups like spin-to-win are great for promotional campaigns. If nothing else, these popups are great for boosting user engagement and improving sales. 
However, from our observation, the falling gift popup is much more effective at driving conversion and sales. 
Case in point: we installed the spin-to-win popup and the falling gift pop up on one of our client's websites. While the spin-to-win popup drove up conversion by 18%, the falling gift game increased conversion by a whopping 30%.
So you are better off sticking with the falling gift popup if you want to boost conversion. 
Conclusion 
Are you tired of losing potential customers on your website? It's about time you did something about it. 
And the best thing you can do is to leverage our innovative falling gift game popup to win your visitors' attention and convert them into paying customers. 
Sign up for an account with Adoric to put the falling gift game popup to action.