Are you looking to make your opt-in popup forms fun and interesting to fill out for your visitors? Spin-to-win coupon wheel popups are where to look to.
Never heard of spin-to-win coupon wheels before? You probably have, but possibly by another name: discount wheel, wheel of fortune, lucky wheel, etc.
Usually, it looks something like this: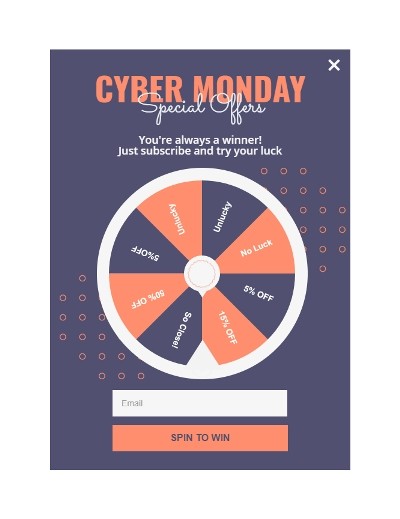 What is a Spin-to-win Coupon Wheel Popup?
This is a type of popup that makes it possible for your visitors to win coupons simply by playing the game of lucky wheels.
Basically, it works like so: a user spins the wheel in the hope of winning a coupon. The wheel then spins and falls on a random coupon value, say 5% off.
Or, sometimes, it falls on nothing – that is the user is unlucky.
To redeem the coupon, all the user needs to do is submit his/her email address. After redemption, they are ready to shop on your website with the coupon they won.
Sounds like fun, doesn't it? It sure does!
Why You Should Be Using Gamified Popups
So, does gamification offer any tangible benefit? Or, in another sense, will adding a lucky coupon wheel help you drive more sales and increase your revenue?
It certainly will.
Firstly, gamification can increase customer engagement by as much as 40%, as Deloitte – one of the leading auditing firms in the world – found out.
What's more, making your opt-in forms fun and challenging to fill out can increase your conversion rate by 7 folds.
Do you still need some more convincing reasons to implement gaming in your marketing?
Here are a few you will find interesting, and they are culled from this report from Finance Online:
Hewlett Packard was able to increase its sales by 54% simply by adding gamification to their customer's experience.
Domino pizza saw its sales rise by 30% when they created a gaming app for their customers.
Ford used gamification to increase its customers' engagement on social media by 600%
It might also interest you to know that discount wheel popups can help minimize cart abandonment problems on your e-Commerce website if you are experiencing such.
And that's not even all. By rewarding your customers with coupons when they play a game on your website, you are building brand loyalty with them. This will in turn convert them to repeat buyers. And your business needs such kind customers to thrive.
Are you sold already? Ready to power up your marketing with spin to win a coupon game?
All you need is Adoric!
Adoric Makes It Easy to Create Spin to Win Coupon Pop-ups
So far, we've only talked about what a spin to win coupon wheel is, and why you should use it.
But how exactly do you go about creating one? Wouldn't it require you to write lengthy, complex lines of code?
Thankfully, you don't need to know a lick about coding to create one with Adoric.
How to Create a Coupon Wheel Popup with Adoric
Creating a coupon wheel popup with Adoric has never been so easy.
You basically have two options:
Use any of our ready-made coupon wheel templates
Create one from scratch using our design editor
Ready-made Coupon Wheel Templates
To save you the stress of creating a discount wheel popup from scratch, we've packed in our library loads of ready-to-use templates.
No matter what your campaign goal is, you will find a matching template.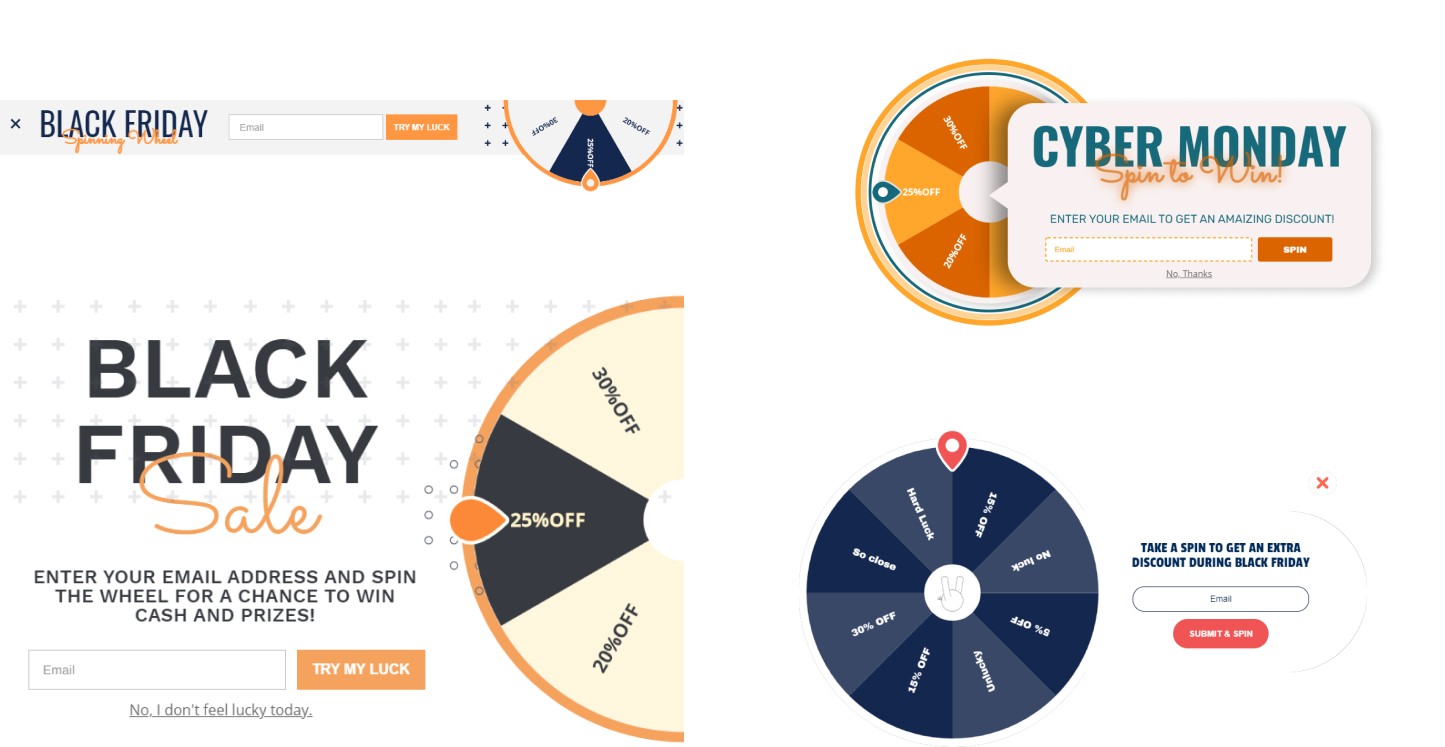 They are elegant, aren't they?
As you might have noticed, our spin to win templates not only come in the form of popups but also floating bars and slide-ins.
Your job now is to select one that fits you best, and then edit it to your heart's content with our drag and drop editor.
That, too, doesn't require you to know any coding.
Just pick the part of a template you wish to edit, and tweak accordingly like so:

Create Spin to Win Popup Using Our Design Editor
If templates aren't your thing and prefer to design stuff up from scratch, our design editor has got you covered.
To create a design from scratch using our design editor, you only need to go through 3 steps:
Step 1: Create a New Campaign
To do this, you will first need to sign up for an account.
Next, pick any of our templates if you want to fast track the campaign creation process. Alternatively, you can start out with a blank template, and then build on it.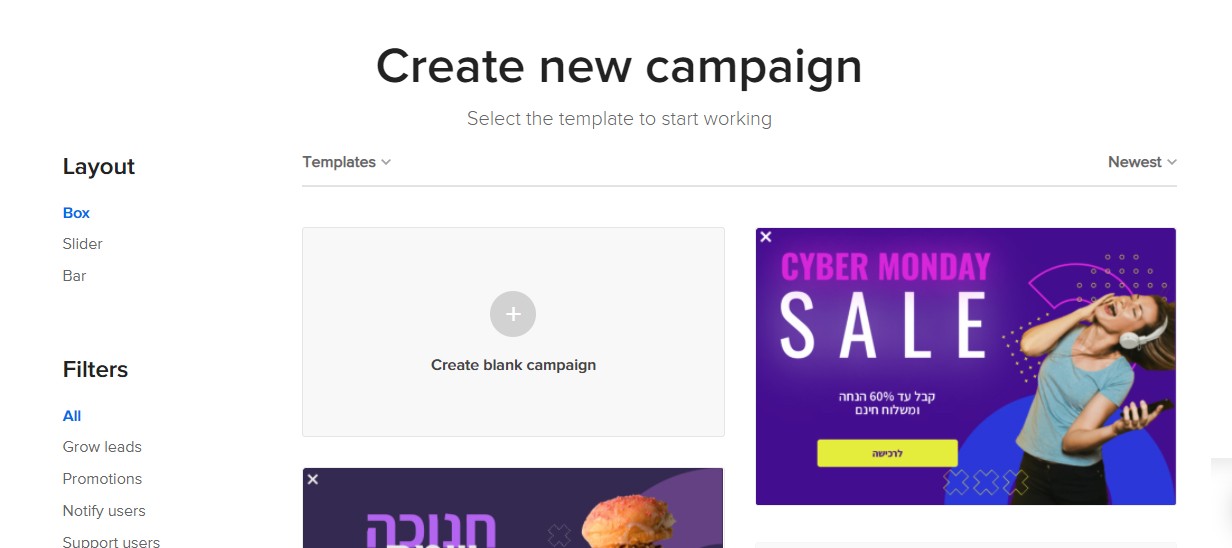 Step 2: Add Spinning Wheel to Your Campaign
With your new campaign all set up, next is to drop a spinning wheel on it. This is the simplest of the three steps.
Just click the spinning icon in the design editor, and automatically it will drop on your design canvas. Then resize or move around as you deem fit.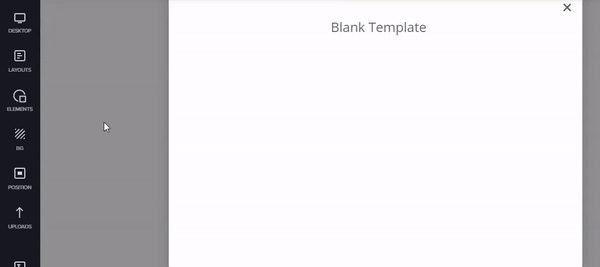 Step 3: Tweak the Spinning Wheel
With the spinning wheel added to your campaign, next is to tweak and make it work as you so desire.
We've created a tutorial that explains how to go about this.
Create Urgency With a Countdown Timer
The goal of using a spin to win wheel popup is to get more sales, and not to necessarily give away coupons, right?
If your customers end up not using the coupons they win to shop on your website, the purpose of the popup is as good as defeated.
This is where a countdown timer comes into play.
Use it to let your customers know that their coupon will expire after a certain time if they don't use it.
By so doing, you will increase your coupon usage rate and hence drive more sales.
Adoric makes it so easy to add a countdown timer to your campaign. Just click, drop, and tweak.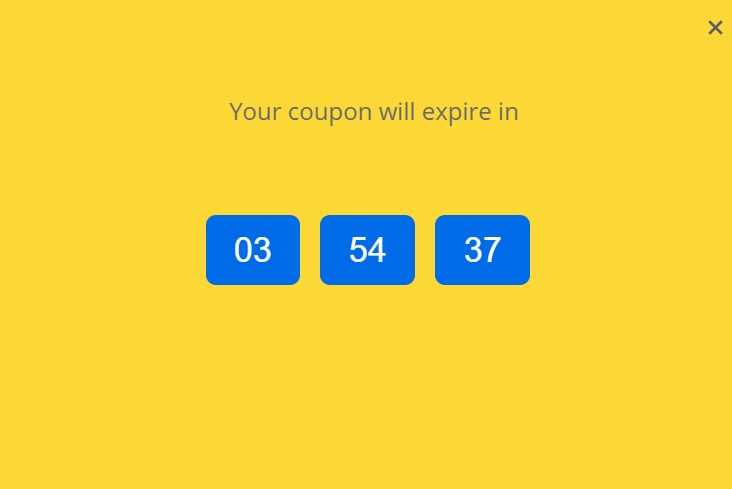 Popup Placement and Targeting
What's the point of using a spin to win popup if your visitors won't see it at the right time? Or they see it but it is irrelevant to what they are looking for?
Thankfully, with Adoric's Trigger and Audience Targeting, you can make your spin to win popup display just when the time is right – and to the right people.
You can make it show:
Some seconds after a visitor lands on your page
When a user scrolls a certain distance down your page
The instant a visitor motions to leave your website (exit-intent)
Across all your website pages, or on a specific page.
Additionally, you can make it show to visitors based on their:
Geographic location
Language
Type of device
Browser type
Connect to Your Preferred Email Service Provider
By default, the leads you collect via the spin to win popup form will be stored in our database, and you can access them from your account.
But what if you wanted to use, say, MailChimp to manage your leads? No worries!
Adoric allows you to seamlessly integrate any ESP or CRM of your choice: Salesforce, HubSpot, Aweber, and a host of others.
What Next?
Sign up for a free account to experience the full power of spin to win popups, and watch how it will help boost your sales tremendously.