A lot goes into running an e-commerce business. Setting up a website, stocking, promotion, inventory, sales, shipping, and managing your inventory. These things need to be done right for your business to scale.
Inventory is one of the most important parts of every business. You need an accurate record of what is going in and out of your business to determine your progress.
Although Shopify has an inventory management tool, there is only so much it can do. This is why you need an inventory management app.
What Is A Shopify Inventory Management App? 
An inventory management app is a digital tool that helps you manage your business inventory. As a small-scale business owner, the built-in Shopify version might be all you need. But as your business grows, you will need a more robust solution.
Shopify inventory apps automate the inventory process for you. The app helps you to track and fulfill your order with minimal effort.
Why You Need A Shopify Inventory Management App
As we established earlier, inventory management apps automate the processes of managing your inventory. In addition, Shopify inventory apps help prevent overstocking, manage cash flow, avoid overselling, and predict demands.
Also, they can help make your work error-proof.
Here are some reasons why you need a Shopify inventory management app:
Easily track and update stock levels in your store
Reduce time spent on managing inventory
Have an error-free record
Improve productivity
To know the right time to restock and the quantity
What To Look For In A Shopify Inventory Management App 
There are many inventory management apps on the Shopify app market, each with different pros, and cons.
Before you choose an inventory app, look out for the following:
Integration with existing apps: if you already use other apps on Shopify, your inventory management app needs to integrate seamlessly with them.
Streamline and automate processes: manual inventory process is often tedious and time-consuming. What makes a good inventory management app is the automated process. Recording inventory automatically is less prone to error and will improve overall productivity. Choose apps that can track and update your order level within a few minutes.
POS integration: if you own a physical store, then POS integration is necessary. You need an app that can integrate your offline activities with your stock level online. And with ease. iPad POS system might be the perfect fit for you – check out wisesmall business's list

for the best options available.
Provide accurate analysis: you need an app that analyzes your inventory correctly. There is a handful of such apps available. Select the one that fits your management method.
Sales prediction: having an idea of what the market trend is will help you decide what to stock up on. Choose an app with this capability so that you don't lose opportunities.
Since you now understand what inventory management apps are, let's look at the best management apps.
10 Best Shopify Inventory Management Apps
Below is our best picks of inventory management Shopify apps.
1. Inventory Planner

Easy to use and saves you a lot of time. Inventory Planner updates your inventory history once you sign up for Inventory Planner. The app also supports multiple sales channels such as Linnworks, DEAR Inventory, Amazon, Xero, QuickBooks, and ShipBob.
Below are the main features of Inventory Planner;
Customized forecasting. This feature gives you an idea of what you need to order based on market trends.
Save time creating Purchase Order. An inventory forecast eliminates the time you spent deciding what to buy. You can also contact vendors directly from the Inventory planner.
Low stock daily notification. Going out of stock when your customers need you is not good for business. With daily low stock notification, the challenge is settled.
Access to useful information for better decision-making. With Inventory Planner, you can compare brands, product lines, and prices before placing an order. It also helps you not over-stock.
Plan price. 14-day free trial and a paid plan at 119.99 per month.
2. Stock Sync

Stock Sync is another top-ranking app we can vouch for. It makes updating inventory a seamless process. This app is common among Shopify store owners. If not the most popular. It not only works for stores with ready products but empty stores as well.
You can do many things with this app, including handling several suppliers, determining product prices, stocking up an empty store, and more.
Stock Sync offers multiple synchronization methods such as TXT, XSXL, CSV, EDI, and JSON. Thus, retailers that own physical stores can update their data online with any convenient method. The best part is that you can schedule a date for an automatic update. It is an excellent choice for small and large businesses alike.
Plan price: Stock Sync offers a 14-day free trial and several other paid plans, a basic plan at $5/month, a pro plan at $10/month, and an enterprise plan at $49/month.
3. Back In Stock + Restock Alerts

Restock Rocket notifies your customers when goods are back in stock. With Restock Rocket, your customers are up-to-date with your stock level. It helps you sell off your products faster once they arrive.
There is so much you can do with Restock;
Notify customers through your restocks account when you restock products.
Templates are available to customize your "notify me" button.
Get insightful reports on products that are in high demand
Customer's details are automatically added to your Shopify email list when they signup
Grow your email list
Use any theme of your choice with ease and no coding.
Plan price. A 14-day free trial. The standard plan for $10 per month, and the pro plan for $20 per month.
4. Realtime Stock Sync & Bundling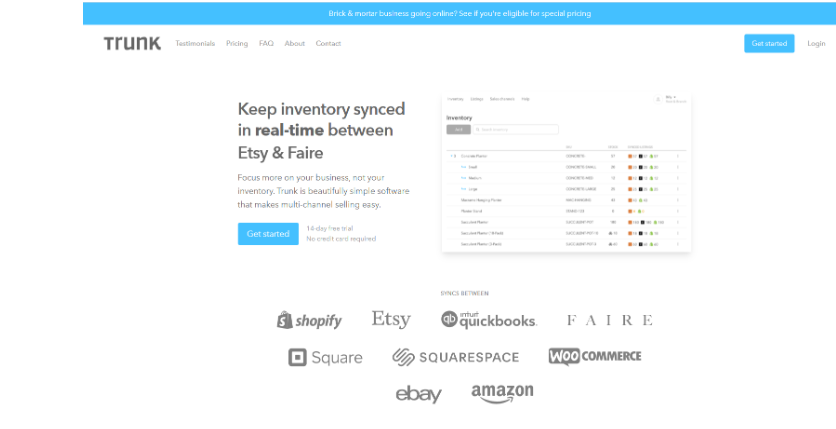 RealTime Stock is another powerful inventory management app acquired by Trunk. It syncs with multiple channels such as Faire, Amazon, QuickBooks, Square, and more.
Stock levels integrate in real-time across all channels. Trunk is majorly an inventory software. However, it also works with bundling.
Prominent features; 
Sync instantly. Every order placement is updated across other platforms from a central point.
Powerful inventory management. Track your inventory activities in real-time.
Unlimited sales channels. It integrates multiple channels with ease.
Plan price. Trunk offers a 14-day trial and two paid plans. The lowest plan is $35 per month and a pro plan for $39 per month. The best is, Trunk gives you access to all regular features during the free trial. Also, you don't need to worry about automatic charges. Charges only go through when you confirm it.
5. Skubana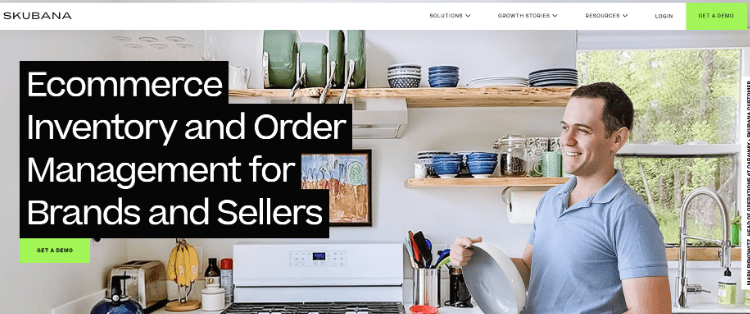 Skubana is another effective inventory management app. It was launched in 2015 to help traders sell their products on various online marketplaces. Such as Amazon, Zapier, Shipbob, Walmart, and more. The app integrates your products into the marketplaces with ease.
Skubana likes to pride itself on the central nervous system of inventory management apps. The order is automated, and it offers market trend predictions. These features can help your business scale better as a Shopify business owner.
Here are some notable features of Skubana;
Import orders from all your sales point
Automatically fulfill your order from a central point
Synchronize your inventory across all platforms
Prevents overselling
Estimate how profitable a product is
Predict market trend
Customize your workflow
Plan price: Skubana offers a single access plan for $1000 per month. There is no free trial plan. However, you can set up a demo account to try out the app.
6. Veeqo Inventory & Shipping

Veeqo takes care of your shipping and inventory needs. It automatically syncs your sell order across all your marketplaces to prevent overselling.
Veeqo supports over 30+ platforms. They are different  categories
Marketplaces. Amazon, Walmart, Esty, Shopify plus, and more.
Shipping agencies USPS, Fed Ex, UPS, DHL, and more.
 Helpdesk software. Xsellco and Gorgias.
 Accounting providers. Quickbooks and Xero
Point of sale system. Shopify POS and Vend.
Veeqo takes care of everything from processing orders to shipping goods to inventory management. The order level is up-to-date in real-time across all platforms. If you encounter any challenges, Veeqo has a standby support team available 24/7 to help you out.
Plan price. A 30-days free trial is available for you. Veeqo offers three paid plans starting from $10 per month, $25 per month, and $45 per month.
7. Katana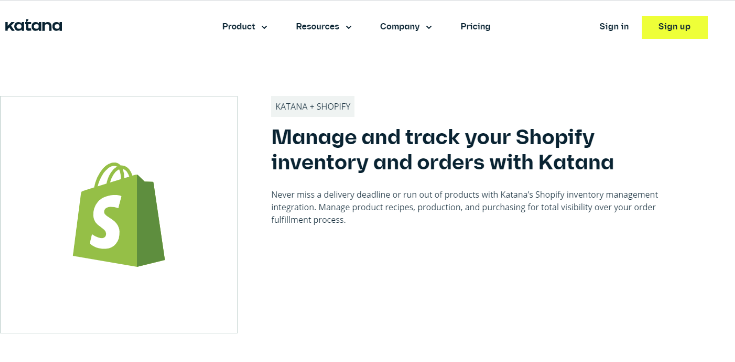 If your business is all about production, then Katana is for you. Katana is a manufacturing ERP inventory app that helps manufacturers manage their online business. Katana record the number of raw materials, cost of the materials, production date, recipes, packaging, barcode scanning, and more.
It integrates well with the following platforms Zapier, API, Xero, Hubspot, Quickbooks, and Salesforce.
Below are some of the prominent features of Katana.
Monitor your shop floor
Stock control and traceability
Visual and intuitive
Real-time master planner. Production is automated to align with demands.
Omnichannel order management
Plan price. Katana offers a 30-days free trial and three paid plans. The lowest plan is $99 per month, the advanced plan is $299 per month, and the professional plan is $799 per month.
8. Sellbrite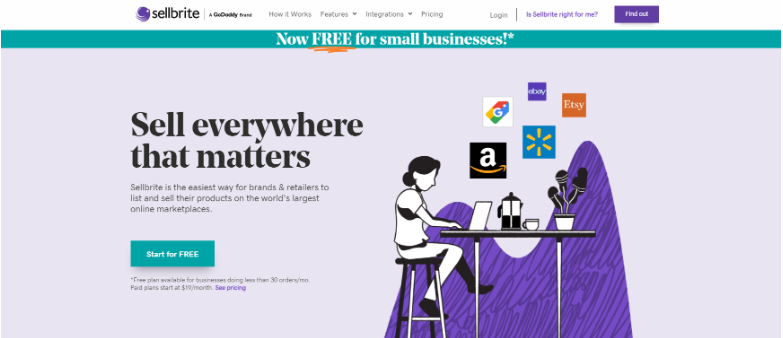 Sellbrite is an inventory management app that helps you sell your products on Walmart, Etsy, eBay, Amazon, and other online marketplaces. It ensures you don't oversell by automatically syncing your inventory record across all platforms. For this reason, your Shopify store is called the "source of truth."
On top of that, Sellbrite is a simple yet automated management app. It comes with several fantastic features.
Such as;
Super fast listing
Automatic importation of products from Shopify
Multi-warehouse support
Fulfillment by Amazon
Centralized fulfillment on Shopify
Automatically marked as shipped
Plan price: Sellbrite offers three payment plans and a 30-day free trial. The lowest price is $19/month or $15.83 per month billed at $190 per year. The next plan is $59 per month or $49.17 per month. The most pricy is $99 per month or $82.50 per year.
9. QuickBooks Online + Commerce

QuickBooks was launched in 2012, and it integrates the following market channels. Amazon, FBA, eBay, QuickBooks Online, and ShipStation. Manage everything about your business with QuickBooks.
Additionally, QuickBooks commerce syncs perfectly with Shopify. Your orders get immediate attention and are updated across your market channels. QuickBooks Commerce gives you an insight into your business performance and the products with higher demands.
Features:
Expand your reach. QuickBooks can help you list your products on platforms with higher traffic.
Automate your accounting. Automatically record and update your expenses.
Stay on top of every order. Manage and update your inventory record from a central point.
Plan price. Commerce add-on plan at $35 per month, and QBO + commerce plan at $70 per month.
10. ShipHero

ShipHero is a warehouse management app that was launched in 2014. The app was designed to help e-commerce business owners manage their warehouse activities. It integrates with UPS, Amazon, eBay, Inventory planner, FedEx, and USPS.
Also, ShipHero owns seven warehouses across North America. The idea behind acquiring these warehouses is to test new app software on a warehouse before making it public. ShipHero has a solid support team available 24/7 to help you out with any challenge.
With ShipHero you can;
Reduce wrong picks drastically
Reduce the cost of loading a full warehouse
Increase satisfaction/retention.
Increase picking efficiency
Plan price. ShipHero has two paid plans which are $1850 per month, and $1995 per month.
Conclusion
Running a large business requires a lot of time and effort. You need all the help you can get to make it easier, hence why we've compiled this extensive list of inventory management Shopify apps.
Are you still struggling to convert your visitors into subscribers and customers? Adoric can help you.
With Adoric, you can create eye-catching popups to capture your visitors' attention and get them to buy from your store or sign up for your newsletter.
Sign up for an Adoric account right away.