Are you looking to grow your Shopify sales with SMS marketing but are yet to figure out how to go about it? This post is for you.
SMS has been around long before the internet. It opened the door to several other means of communication, including social media and email marketing. Unfortunately, many marketers focus their time and effort on these new means of communication, leaving out SMS. 
Yet, research has shown that SMS marketing remains an effective marketing strategy, with text messages having a 98% open rate.
Since SMS marketing strategy is not a common practice, there is still plenty of room for growth. And SMS marketing can have a huge impact on your business if you use it well. 
To help you make the most of it, we've compiled a list of tried-and-true SMS marketing tips you can try to uplift your Shopify store.
This post also addresses what SMS marketing is and its benefits. Plus a great pick of Shopify SMS marketing apps. 
What is SMS Marketing?
In simple terms, SMS marketing involves using short message service (SMS) to engage existing and potential customers. It aims to create awareness about a product or service, generate leads and keep open communication with the target audience. SMS marketing content can take any form such as short text, imagery, or clickable links
Benefits of SMS Marketing
1. Best for Time-Sensitive Communication
People usually tend to open text messages faster than emails. Since SMS has a higher open rate, it is the best way to send messages that need immediate attention. 
2. High Engagement Rates
SMS marketing requires that you get permission from customers. Therefore, your subscriber list will have more people who want to hear from you.
With that, your recipients are more open to receiving text messages and will most likely engage with them. You can expect 60% of recipients to read your messages within 1-5 minutes after receiving them. 
3. It Can Boost the Sales 
Text messages are accepted all over the world. Both older and younger generations still prefer communication via text messages. 58% of customers say they prefer businesses to text them.
Since customers are receptive to SMS marketing, it has the potential to drive more sales. 
According to a survey by Leads360, using texting messages in the selling process can boost sales by 328%. The same study shows that businesses have only scratched the surface of what is obtainable using SMS marketing. 
4. It is Easy to Write
If you've ever written an email copy, you know how much effort goes into crafting the perfect headline that can capture the receiver's attention. Yet, it doesn't end there. The body of the email must be equally outstanding. Otherwise, your receiver will not hesitate to hit the exit button and never return to it. 
On the other hand, text messages do not require so much effort to construct. Just a few words with the appropriate keyword and you are all set. You can throw in an emoji or GIF for more context. 
5. It Can Integrate With Other Channels
You can utilize SMS marketing on Shopify to improve your business performance. SMS can serve as a stand-alone marketing channel. But even better, it can integrate with other channels to yield a better outcome.  
Shopify offers several SMS marketing apps that allow you to efficiently intertwin text messages with other marketing tools. For example, you can send a reminder text message encouraging your audience to interact with the latest email newsletter you just sent out. 
10 Tips for SMS Marketing on Shopify
Want to give texting messaging a try? Here are some SMS marketing examples and strategies to help you get started. 
1. Use SMS Keywords for Opt-ins
What better way to grow your subscriber list than through a simple text? Encourage your audience to join your program or signup for a special offer by texting a keyword to a designated phone line. 
For instance, customers can text "RENEW" to 35541 to auto-renew their membership with your store if you run a store membership program. The opt-in SMS marketing strategy is an excellent way to organize your subscribers into groups based on their preferences.
Using SMS marketing on your Shopify store can impact your sales and improve customer retention. 
2. Send Welcome Messages to Encourage First-Time Purchase 
Sending welcome text messages with mouth-watering offers is an effective strategy to win first-time visitors. For better results, try adding discounts to those messages. Who doesn't like a good deal anyway? 
In many cases, some customers are only waiting for an offer to come by before they click the checkout button. 
You can easily create an effective welcome text with any Shopify SMS marketing app and send it out automatically when someone signs up for your list.  
3. Retarget Inactive Customers with Special offers 
A common challenge for Shopify merchants is getting first-time customers to become repeat buyers. It may not be easy, but it is doable. 
With the help of SMS marketing, you can get those inactive customers to patronize your online business more often. All it takes is sending messages that resonate with them and infusing those messages with power words and irresistible offers.  
Here's an example of what might work: 
Hey Mike, we missed you. 
Grab this 25% discount on all orders when you shop with us this week.  
4. Inform Customers of Your Flash Sales via SMS
Discounts remain the magic ingredient that gets people shopping even when they don't want to. The mention of discounts and flash sales can send many shoppers into a frenzy, with everyone quickly adjusting their budget so they can scoop some items at a steal price.
50% of customers say they would opt into an SMS loyalty program if they were offered a flash deal, coupons, or any sort of discount
Typically, flash sales highlight eye-catchy discounts and limited availability, putting a sense of urgency in the mind of customers. And they are more likely to swing into action not to miss out on that once-in-lifetime offer. 
However, constantly discounting your products without proper planning can hurt your Shopify store. But, if you play your cards right, you will be smiling to the bank by the end of the day. 
Getting a large order volume makes discounts and flash sales a win-win for you and your customers. 
You can notify your audience through your Shopify website, social media, email, and of course, SMS.  
5. Request Customer Reviews via SMS
Want to get more customer reviews for your Shopify business? Ask your customers for it. Reviews are powerful when it comes to getting prospects to give your business a try. 93% of shoppers say online reviews impacted their buying decision. 
But not many customers will voluntarily leave a review if you don't ask. In many cases, unsatisfied customers are more likely to drop feedback about their disappointment than happy customers. 
So, you just have to ask. However, asking shoppers to revisit your Shopify website just to leave a review may be asking for too much. You can make this easy by encouraging them to send in their positive reviews via SMS. 
That way, you don't have to worry about ticking them off with your request, since texting is a daily activity that doesn't require much time and effort. 
6. Send Short and Engaging Messages
Ever wondered why text messages have a higher open rate than emails? The answer is simple. They are brief and easy to read. Unlike those long pesky emails that people never read, text messages are often short and can be read in seconds. 
They are also more interactive because it is a 2-way communication method. So, if you want to engage your customers in any way, consider sending short messages with a  specific call to action. 
Here is an SMS marketing example if you aim to get customers to signup for your newsletter:
"Hey, Anna!
Want to stay up-to-date with the latest happenings in the fashion world? Click the link below."
7. Send Order Update Via SMS 
Many consumers say they prefer to interact with businesses through text messages than emails. Since SMS has a higher open rate, people are more likely to open them within a few minutes.
That makes it an efficient way to keep your customers up-to-date with their order processing state and not worry about them missing out on time-sensitive updates. 
For instance, after a customer buys an item from your Shopify store, they will need more information about their order. Aside from the automated response on your website, take it a step further to keep them updated with the processing stage, delivery date, and more. 
And one way to ensure these updates don't go unseen for days is by sending them via SMS. 
Many buyers appreciate businesses that inform them about their order progress without them stressing to find out. 
8. Recover Abandoned Cart
With cart abandonment at 69.57%, e-commerce businesses lose $18 billion in revenue each year. On the bright side, you can reduce cart abandonment and increase sales on your Shopify store with SMS marketing. 
One easy way to achieve this is by using exit-intent pop-ups, push notifications, and SMS notifications to encourage customers to complete the checkout process. 
Exit-intent pop-ups help to slow shoppers down when they attempt to exit halfway through. Adoric can help you create compelling exit-intent pop-ups. But, if the customer goes ahead to exit, You can follow up with an SMS, reminding them of their incomplete order. 
9. Run a Sweepstakes Contest Via SMS 
You can convert your website website visitors into SMS subscribers when you host SMS-powered sweepstakes. Consider asking customers to signup for your contest by texting a specific word for the chance to win a prize. 
This SMS marketing strategy works all the time because, as humans, we all love free things. And the thought of getting something valuable by completing a simple task is enough reason to do it. 
Here is how to make the best of the sweepstakes strategy:
Let the contest only run for a short while to create a sense of urgency
offer an enticing prize
Make entry easy
Create a buzz around the contest
Sell something
10. Educate Your Audience, Then Sell
Marketing goes beyond constantly trying to get people to buy something from you. Sometimes, you just have to cut down on marketing and be educative. 
Of course, you want what's in their pocket. But if you must get it, you have to be tactical. And what better way to have them hand it over to you with a smile on their faces than by educating them for free?
Share valuable information. Teach your audience something they don't already know or have forgotten. And while at it, you can then throw in your sales pitch.
Using SMS can be a good way to make it happen. 
5 Shopify SMS Marketing Apps
Are you looking for an app to help you implement SMS marketing into your Shopify store? Look no further.
1. Postscript SMS Marketing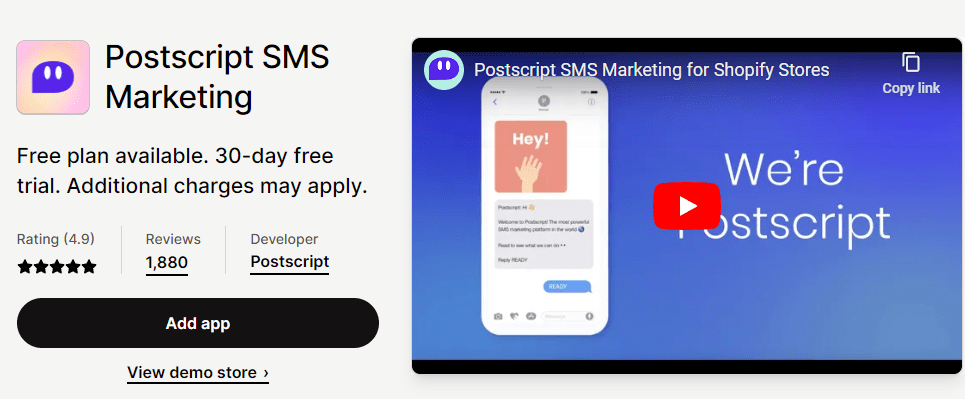 Postscript SMS marketing tool helps you capture customers' phone numbers without any breaking privacy policy. It also lets you generate personalized messages for your targeted audience with a high potential to drive traffic back to your business. 
Furthermore, Postscript enables you to communicate effectively with your subscribers, send messages quickly, and track revenue and conversion rates.  The app stores details about each customer, enabling you to engage them on a personal note. 
Pricing 
Postscript's free version offers you a $1,000 credit for the first 30 days. Additional charges apply after the free trial expires. 
The paid plans include:
Growth plan: $100 per month
Professional Plan: costs $500 per month
2. Cartloop SMS Marketing App for Shopify

If you are looking for an SMS marketing app that will help you build a privacy-compliant store on Shopify, then Cartloop is for you. In addition, using this app can help you build up your subscriber list, leading to more sales. 
Cartloop enables you to achieve the following: 
Send personalized messages to customers 
Recover abandoned carts
Text your customers at the right time
Build a subscriber list with popups, keywords, and QR codes
Connect with customers in real-time 
Pricing
A free plan is available. The paid plans are as follows: 
The SMS Marketing plan costs $100 per month
The SMS Concierge plan costs $500 per month
3. Automizely SMS Marketing

Automizely is a free Shopify SMS marketing app that helps businesses recover abandoned carts via text messages. You can use the app directly from your Shopify dashboard to automate your text message and manage other activities. 
Furthermore, the app helps you stay in compliance with TCPA and GDPR. Plus, you can create automated messages with just a few clicks of a button. It also offers custom SMS templates.
And it provides insight into the delivery rate, which helps you optimize your marketing campaign. 
4. Tobi SMS Markteting Automation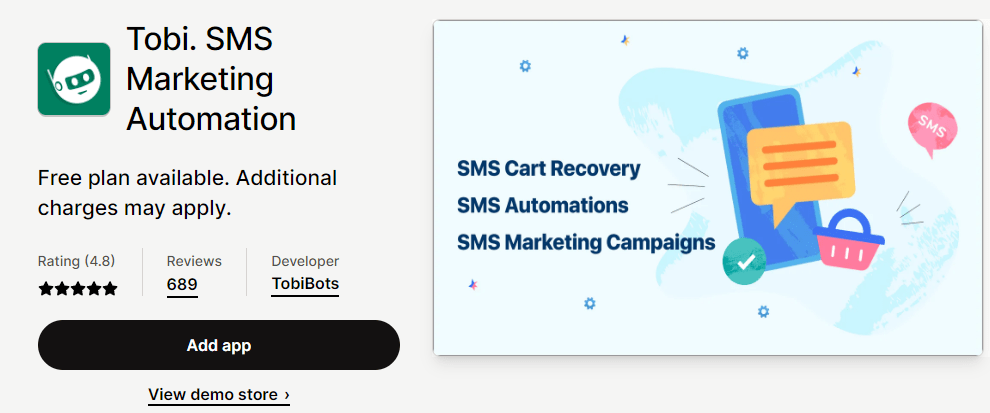 Tobi is an SMS automation app that lets you send automated text messages like welcome text, promotional offers, abandoned cart updates, order updates, new arrivals, and more. 
Sending these messages with this app helps you build a relationship with your customers, increase your retention rate, recover abandoned carts, and drive more sales. 
Pricing 
A free plan: additional charges may apply
The Pro Flex plan: costs $29 per month 
5. Recart: SMS (Mobile) Marketing

With over 5,000 positive reviews and a 4.8 rating on the Shopify app store, Recart is an excellent SMS marketing tool. The app helps increase your revenue and ROI by increasing your subscriber list and creating an effective marketing strategy.
Recart provides a dedicated Customer Success Manager (CSM) that guides you in the right direction. It can also fully manage your SMS marketing strategy without you getting involved.
Not to mention that the automation feature triggers specific messages like welcome text, push notifications, abandoned cart reminders, promo expiry dates, and more. On top of that, the app has multiple text templates and formats. 
Pricing 
Recart offers a 21-day free trial 
The Starter Plan costs $299 per month 
The Pro Plan costs $499 per month
Scale Plan costs $999 per month 
Wrapping Up
SMS marketing is a gold mine in the world of marketing. Used effectively, it can uplift your bottom line way beyond your wildest imagination. 
Are you getting a lot of traffic to your Shopify website but are having a hard time converting that traffic into sales? Adoric might just be the game-changer you need. 
Adoric comes with a load of tools and features designed to help you convert your website visitors into customers and SMS subscribers. Add Adoric to your website right away to see it in action.