Are you looking for the best Shopify alternatives for your store? You're in luck because this post is for you.
Shopify is a popular eCommerce platform that allows you to set up a storefront online without hassles. It is undoubtedly the best eCommerce platform for online stores, operating in over 175 countries and supporting millions of businesses.
The built-in marketing tools allow you to create and execute successful marketing campaigns with a few clicks of the button. In addition, Shopify has an unlimited collection of both free and paid themes you can use to create a stunning website for your online retail business.
Although Shopify is very popular, it has its own limitations and might not have the features and tools you are looking for. For this reason, we will discuss the best Shopify Alternatives for your online business in this post.
Reasons why online Store owners look for Shopify Alternatives
Higher plan price – Shopify plan starts at $29/Month. You might not be able to afford this, especially if you are on a limited budget.
Additional Transaction fee – Shopify charges an additional 2% fee for every transaction when you use a third-party payment gateway, such as Stripe.
Limited SEO – Shopify performs quite well when it comes to SEO. However, its SEO features are limited compared to other eCommerce platforms like WooCommerce.
There are several more reasons why you might want to move away from Shopify; they could even be personal reasons. It could be that you had a bad customer experience or are just tired of using Shopify.
Whatever the reasons may be, here are some of the best Shopify alternatives you can count on.
Best Alternatives for Shopify eCommerce Platform
1. BigCommerce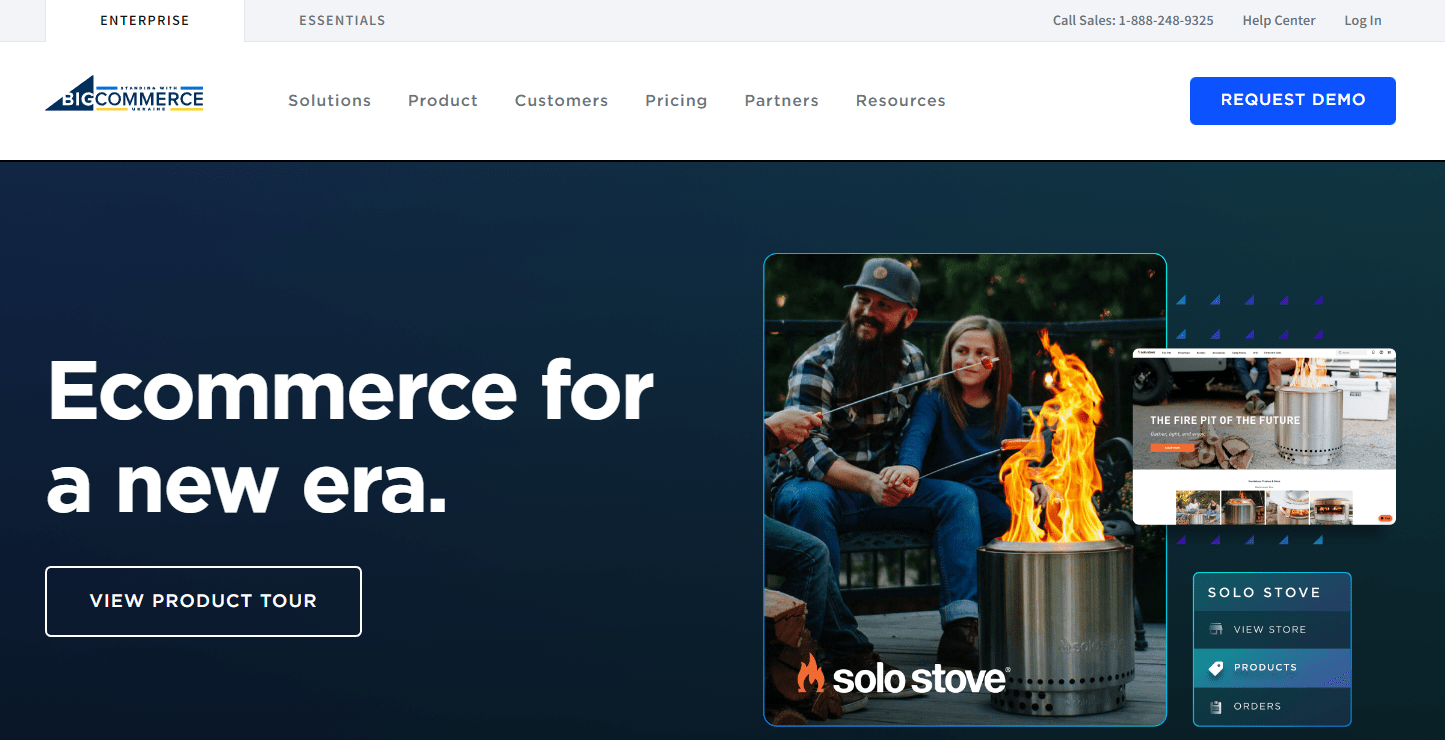 BigCommerce is an open Saas eCommerce platform that can hold a candle to Shopify. This eCommerce solution is divided into two main categories, and they are as follows:
BigCommerce Essential – This package is ideal if you have a small online business you wish to grow. The features of this app will help you set up your store instantly and provide the right tools to grow your business. One drawback with the BigCommerce Essential plan is that it costs almost the same as Shopify.
BigCommerce Enterprise – As the name suggests, BigCommerce Enterprise was designed for large enterprise brands.
It has many powerful features to provide the necessary things you need to grow your business. They include headless commerce integration, frictionless checkout options and insights for data-driven decisions.
BigCommerce Essential Pricing: Standard Plan($29.95/Month), Plus Plan($79.95/Month), Pro Plan($299.95/Month) with a 15-day trial period.
BigCommerce Enterprise Pricing: Custom pricing negotiable with the sales representatives
Pros
No Transaction Fee
A large ecosystem of Partners and Technology providers
Have the best Omnichannel solutions for Marketplace
Powerful in-app checkout for Instagram
Extensive SEO strategy with access to robot.txt files and customizable URL
POS and other channels integration.
An easy-to-use page builder that enables you to set up elegant web pages without prior coding experience.
Cons
Fewer free themes when compared to Shopify
Does not support Multilingual Stores
Sometimes loads slowly on mobile
A slight learning curve when compared to Shopify because of its advanced and numerous features.
2. WooCommerce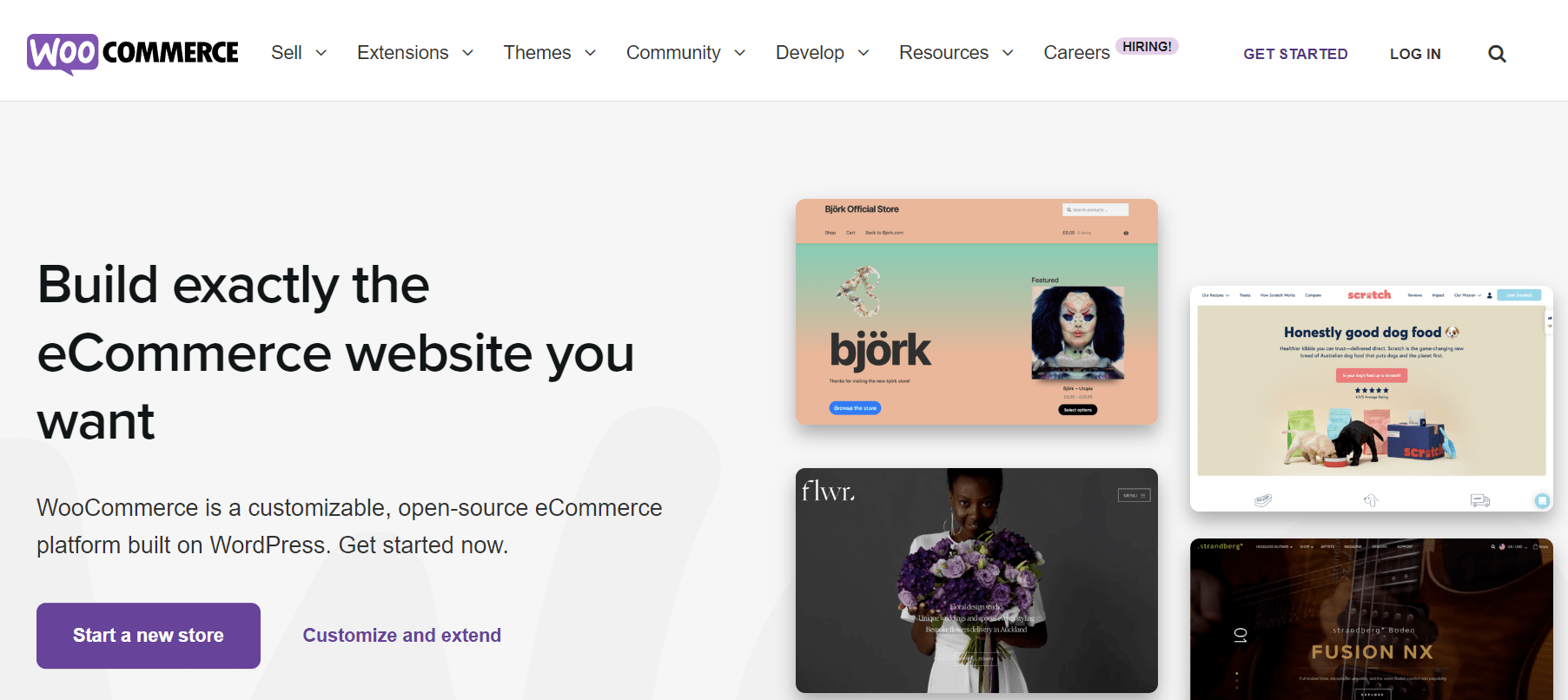 WordPress is a self-hosted website builder that you can use to design and build a blog or website without prior coding knowledge. To create a functional eCommerce website on WordPress, you need a WooCommerce.
WooCommerce is an open-source eCommerce plugin that comes with unlimited customization. This is a better Shopify alternative for someone familiar with WordPress.
WooCommerce has many free features that are accessible to you when you install it on your site. Besides, you can access more features and extend the store's functionality by getting an extension from the WooCommerce Marketplace.
Pros
WooCommerce plugin is free to use and easy to integrate into any existing WordPress website.
There is a WooCommerce extension for everything you want to accomplish. Whether you want to set up your payment gateway or configure the shipping process, there are many extensions on WooCommerce marketing places you can choose from.
It is easy to customize and integrates with other service providers.
 Cons
Unlike Shopify, which handles domain and site hosting, in WooCommerce, you are in charge of your site hosting, SSL certificates and email service providers. e.t.c
WooCommerce has a steeper learning curve than Shopify
3. Shift4shop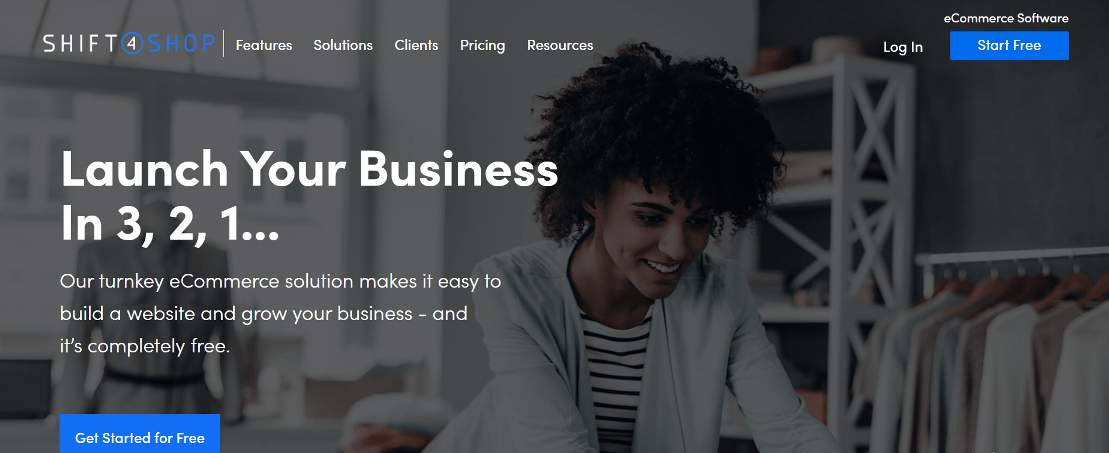 Shift4shop is a Saas eCommerce platform that is packed with amazing features that help you to build your website and start selling online. They include robust features like SEO tools, products and order management e.t.c.
In addition, Shift4shop has over 100 free themes that are highly customizable. Also, it is secured by an AI- fraud protection, making it one of the most secured eCommerce solutions.
Pros
Free to use
No Transaction fee
Wide varieties of SEO and email marketing tools.
Cons
The free end-to-end eCommerce plan is available only to US merchants.
Very similar and outdated theme designs
Shopify have a better user interface UI/UX than Shift4shop
4. Zyro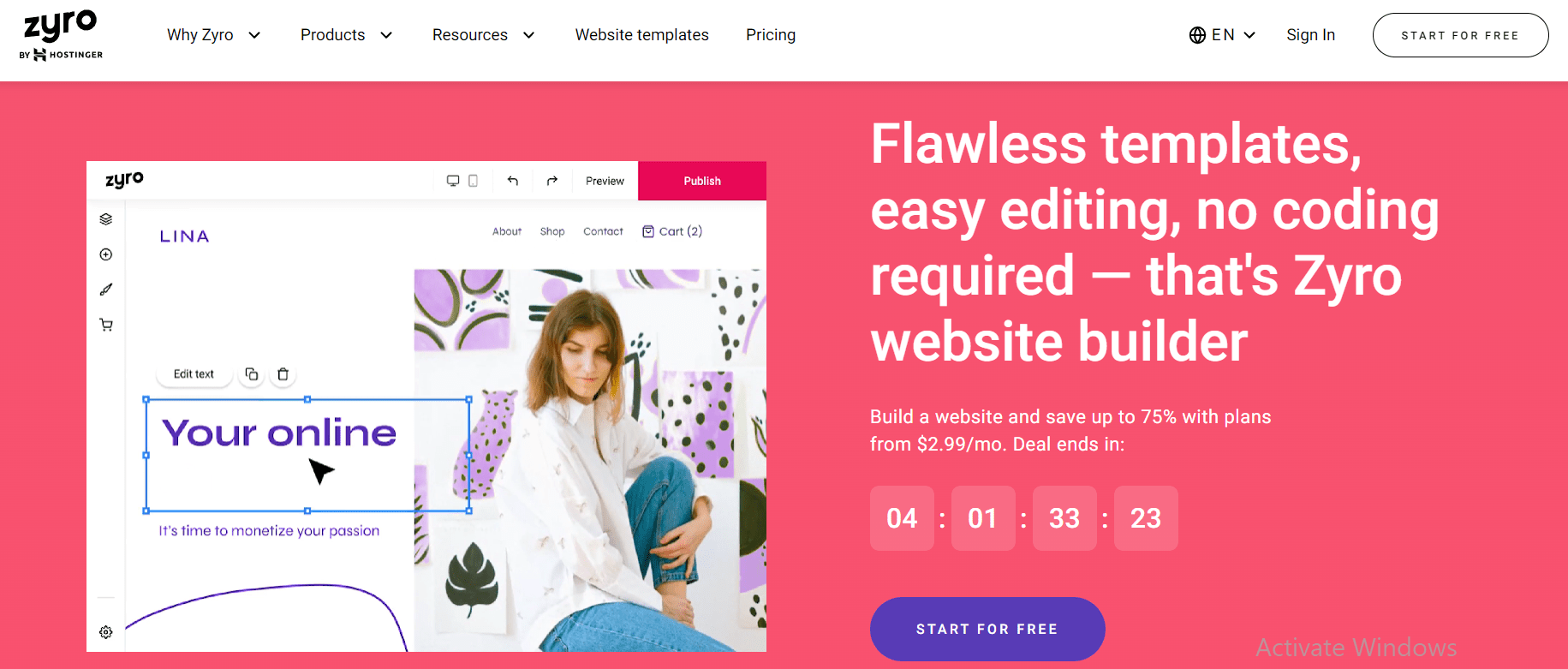 Zyro is another awesome Shopify alternative we recommend. Basically a website builder developed by Hostinger, Zyro allows you to build all manner of websites, including eCommerce sites.
As for pricing, Zyro plan starts at $2.99/Month for blog and portfolio websites, with a free domain for 1 year and free email for 3 months.
The business plan starts at $3.99/Month and can allow up to 100 product listings on the website, a 1-year free domain and 24/7 customer support.
The advanced store plan starts at $15.99/Month, and it's packed with powerful marketing tools. For instance, you can list up to 2,500 products on your website on this plan. Safe to say it is comparable to the Shopify store.
Pros
Easy-to-use
30-day money-back guarantee
Fully customizable website templates
Optimized for search
Cons
Payment gateways are limited to Stripe and PayPal.
Very few apps to integrate
Abandoned cart recovery and sales in multiple languages are available only in the advanced store plan.
5. Wix

Wix, founded in 2006 by Israeli developers, is another great Shopify alternative. It is a website builder that allows you to create and design your store however you want.
With over 500 customizable templates and powerful SEO tools, it is safe to say that Wix is not just a web builder but a full eCommerce solution.
Wix tools and features support multichannel sales and online payment.
Wix pricing varies from $4 for the most basics to $24.50 for VIPs with storage up to 35GB.
Pros
Video tutorials available
No transaction fee
Free website templates
Wix is user-friendly
Cons
Limited eCommerce apps
The real-time shipping option is available only to US merchants
6. Adobe Commerce (Magento)

Adobe Commerce, formerly known as Magento, is a single flexible and scalable eCommerce platform that lets you build and manage an online store without coding, thanks to its intuitive drag-and-drop builder.
Unlike most of the Shopify alternatives we have discussed so far, Adobe Commerce doesn't have fixed pricing; you'd have to contact the sales team to request pricing. Due to the high flexibility, when you have any problem with your website, experts are ready to help you with Magento development services.
 Pros
Highly scalable
Ideal for a B2B and B2C multi-channel businesses
Large collection of add-ons and third-party apps
Cons
No self-hosting services. You need the services of a third-party hosting provider for your business.
Installations and upgrades are manual as Adobe Commerce does not provide automatic upgrades and installation.
It can be slow at times
7. Squarespace

Squarespace makes eCommerce easy.  The powerful eCommerce features of this app allow you to create, market and grow your online business. They include an easy-to-use drag-and-drop website builder and hundreds of website templates that make building a site faster.
Squarespace comes with an in-built feature known as the unfold app. This app allows you to create stunning and professional-looking pages and content with hundreds of templates, stickers and flyers.
For $23/month, you can access most of Squarespace's features, including a free domain, SSL certificate and unlimited bandwidth.
The basic commerce plan sells for $27/Month and gives you access to powerful merchandising and eCommerce analytic tools.
Better still, you can go for the advanced commerce plan that includes abandoned cart recovery, advanced discounts and shipping, and many more.
Pros
No additional transaction fee
Easy-to-use builder
Compelling template designs
Cons
Lesser number of adds-on than Shopify
Limited support services
8. Sellfy

Sellfy is an eCommerce platform that focuses on digital products. It provides a means for artists to create a store around their products. It is best for sales of Print-on-demand and all types of digital products and for subscriptions.
Other features include built-in marketing tools, reliable payment gateways, advanced security tools, etc.
Sellfy pricing is modest with a free plan which features up to 10 print-on-demand and physical products. The starter plan sells for $22/month. The Business plan will cost you $59/month and the Premium $119/month.
Pros
Allows you to sell both physical and digital products
Easy-to-use website builder
Automated payments and world-class security
Allows unlimited app integrations
Cons
Pricing is expensive when compared with other Shopify alternatives
Limited design option
App branding stays on your site until you subscribe to the premium plan
9. Weebly

Weebly is another bankable Shopify alternative for setting up a store online. Just like the previous apps, Weebly has a free website builder that makes it easy to create stunning eCommerce sites without coding.
Pricing is in two categories. For websites only and for online stores.
You can start for free if you want to set up a regular website using Weebly. But for an online store, the least is $12/month.
Pros
Good pricing strategy for different types of website
Good for small online businesses
Seamless payment processing
Cons
Limited features unless on a higher plan
Custom domain is available for the only users in the paid plan
Shipping rates are not adjustable
10. Volusion

Last on our list of best Shopify alternatives is Volusion. As you would expect, this app comes with lots of features and tools designed to help you set up a successful online store. This includes many free and paid themes that are easy to customize.
Besides, you can always get help from the in-house marketing and SEO experts to guide you and help you grow your business.
Volusion pricing plans are as follows:
Personal plan: $35/Month
Professional plan: $79/Month
Business plan: $229/Month
Pros
Quality themes
Unlimited product options
Cons
Additional transaction fees
Limited app integrations
Conclusion
Each of these 10 best Shopify alternatives has their advantage and disadvantages. No one is superior to another. To choose the best for your business, you have to consider the size of your business and the features you will need. Pricing should not be the only factor in choosing an eCommerce platform.
Do you want to boost your Shopify sales and win more customers? Adoric can help. Sign up for an account to see how Adoric can help you achieve your marketing goals.