If you are looking to increase engagement on your Shopify website, spin-to-win coupons/wheel of fortune apps are where you should look.
With these apps, you can create spin-the-wheel discount popups that give your visitors a chance to win coupons and discounts by spinning a wheel of fortune. Who doesn't like a good discount?
Lucky for you, creating these popups isn't hard; you just need the right app for it.
In this post, we will be reviewing the best 15 spin to win apps for Shopify. We will be checking their strengths, weaknesses, and pricing to make it easy for you to make a well-informed decision.
But before that, we will discuss the many reasons you need a wheel of fortune pop ups for your Shopify store.
Let's get into it!
Reasons Why You Need Spin to Win Wheel Popups
Spin to win popups are a form of gamified marketing campaign designed to help you boost user engagement.
The idea behind these popups is to make your marketing campaigns interesting and fun to engage with by using gaming mechanics.
Case in point: visitors can ignore a popup that promises to reward them with a 20% discount. However, engagement will shoot up if you repackage the same popup by adding a wheel of luck that allows the same set of visitors to play to win a discount.
The reason is that we value things we work for more than stuff given to us on a platter of gold. As such, your visitors will be more inclined to play to win coupons for themselves rather than getting them without doing anything.
Other benefits of using spin to win pop ups include:
Increased conversion rate: spin wheel popups naturally convert more than regular pop ups. This is because they enjoy better engagement.
Increased brand loyalty: gamifying your visitors' browsing experience will make them remember your brand long after they are gone, and will likely make them want to come back to buy more products from your store.
10 Best Spin-to-win Shopify Apps
Hopefully, you have seen reasons to use spin to win popups on your Shopify website. Let's now show you the best apps to create these pop ups.
Adoric makes creating engaging and converting spin-the-wheel popups very easy. In fact, all you have to do is pick a popup template from our library of templates and edit however you please. Adoric comes with hundreds of editable spin to win templates.
Adoric's spin the wheel feature offers a lot of options. For example, it allows you to determine the number of slices your wheel of fortune will have. It can be 4, 6, or 12.
The cool part is that Adoric allows you to name each slice whatever you want.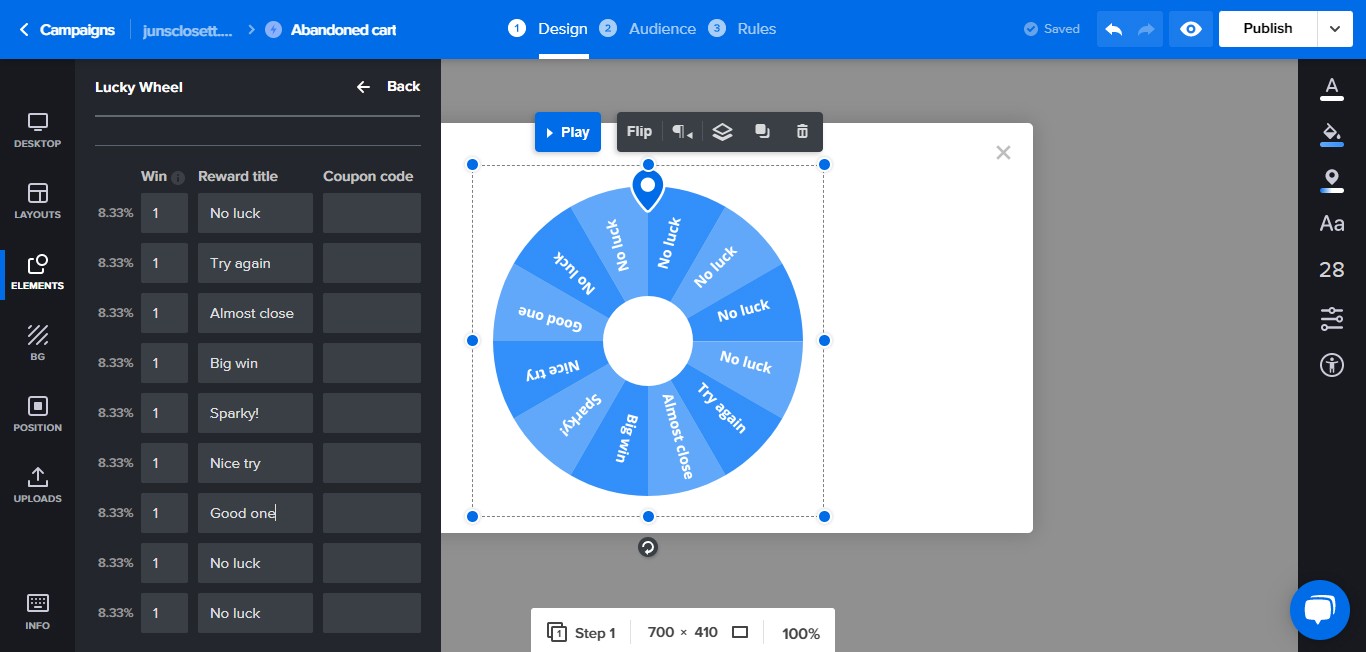 Additionally, you can assign a coupon value to every slice. Plus, you can style the fortune wheel to your taste without writing any code.
As for pricing, you can start with Adoric for free and scale up to our paid plans as your business grows. Our paid pricing plans are as follows:
Essentials: $29/month
Standard: $79/month
Pro: $199/month
2. Privy

Privy is one of the best Shopify apps that allow merchants to create spin to win popups without having to worry about the technical side of things.
With Privy, you can create exit intent and cart abandonment spin to win popups to get back visitors attempting to exit your website. This will go a long way to boost your store's average order value (AOV).
Other interesting features Privy comes with include A/B testing, campaign targeting, seamless integration with Klaviyo and Mailchimp, etc.
You can use Privy for free. However, you are limited to only 100 email contacts on the free plan. For this reason, you have to upgrade to Privy's paid plans to get the most out of it.
They are Starter, Growth, and Conversion Only plans, and they cost $15, $45, and $70 respectively.
3. Spin Wheel Popup + Email Pop ups

You can already tell what this app does from the name: help you create Spin Wheel and email popups.
One of the unique features of this app is that it lets you create unique coupons shoppers can only use once on your Shopify website.
It also has an A/B testing feature that allows you to create different variations of wheels of fortune popups to see which converts the best.
This app's other features include Smart triggers, custom images, a countdown timer, downloadable reports, and lots more.
Spin Wheel Popup has both free and paid plans, and it costs $7.99/month.
4. Bulk Discount Spin Wheel Popup

Want to generate discounts in bulk and make it fun for your visitors to get? The Bulk Discount Spin Wheel Popup app is all you need.
It comes with a discount generator that is easy to use, a spin a sale exit intent feature, an analytics dashboard to track your campaign's performance, several pre-built campaign templates, a page scroll trigger feature, and lots more.
Bulk discount spin wheel popup app also supports integration with Mailchimp, Klaviyo, Omnisend, and other notable email marketing apps.
5. CrazyRocket Spin Wheel Pop ups

The CrazyRocket spin wheel popup app gives you the chance to grow your sales by delighting your customers with spin wheel popups.
In addition to Spin to win popups, you can also use this popup to create a slot machine, scratch card, and exit-intent popup without writing any code.
What's more, you can add a countdown timer to your popup, customize it however you please, A/B test your campaigns on the fly, and lots more.
Did we forget to mention that the CrazyRocket Spin Wheel app has an analytics dashboard?
As for pricing, you can use this app for free. But you won't get much out of the free plan, hence why we recommend upgrading to any of the paid plans.
There are three premium plans you can choose from: Grow($9/month), Premium($24/month), and Enterprise($49/month).
6. Buzzsubs: Spin Wheel Popup

Buzzsub is one app you can bank on if you want to create interactive popups to advertise your sales offers, collect emails, and distribute coupon codes.
The cool part is that Buzzsubs allows you to customize your spin to win popups to your heart's content. For example, it allows you to change the spin to win popup colors, add text to the wheel, choose a preferred language, and more.
Buzzsubs costs only $9.99/month.
7. Spin-a-Sale
From the name you can tell what this app does: help you create spin-a-sale popups. This app is ideal for Shopify merchants looking to collect emails, boost conversion rates, and improve visitors' engagement.
Spin-a-sale pop ups are responsive on mobile, tablet, and desktop screens. On top of that, it allows you to create unique coupon codes that can only be used once in your store.
Spin-a-sale supports integration with Mailchimp, Klaviyo, and Aweber.
What does it cost to use this app? $9.99/month if you go for the PRO plan. Better yet, you can go for the Premium plan; it costs $24.99/month.
8. Email Popup Spin Wheel Popups by Tada

If you are struggling with cart abandonment problems on your website and wish to do something about it, this popup app is for you.
With the Tada popup app, you can create a high-converting spin the wheel discount and exit-intent popups to get more subscribers, drive more sales, and generate more revenue.
Another interesting feature of this app is that it lets you add urgency to your popups by adding a countdown timer to them.
Tada popup has 4 pricing plans: Free, Starter ($9.99/month), Premium($19.99/month), and Business ($29.99/month).
9. Wheelio Spin Pop-ups

Wheelio is a spin popup app that makes it possible to use gamification to build engagement and convert your visitors into buyers.
You can create a wheel of fortune, scratch card, and slot machine popup with this app.
It lets you place your popups wherever you want on your website, customize your popup campaign to your heart's content, and track your campaign's performance via the Analytic dashboard.
The Wheelio app has four pricing plans, and they are as follows:
Basic: $14.92/month
Level 2: $29.92/month
Level 3: $54.92/month
The last Level 4: $109.92/month
10. Poptin Popups

We wrap things up with the Poptin popup.
With this app, you can create spin the wheel and exit intent popups to double your conversion rate, get more leads, recover abandoned carts and drive more sales.
It comes with a trigger feature that allows you to show your popup campaign just when the time is right.
Poptin has four pricing plans. They are:
Free
Basic plan ($25/month)
Pro plan ($59/month)
Agency ($119/month)
Bonus Popup: Falling Game Popup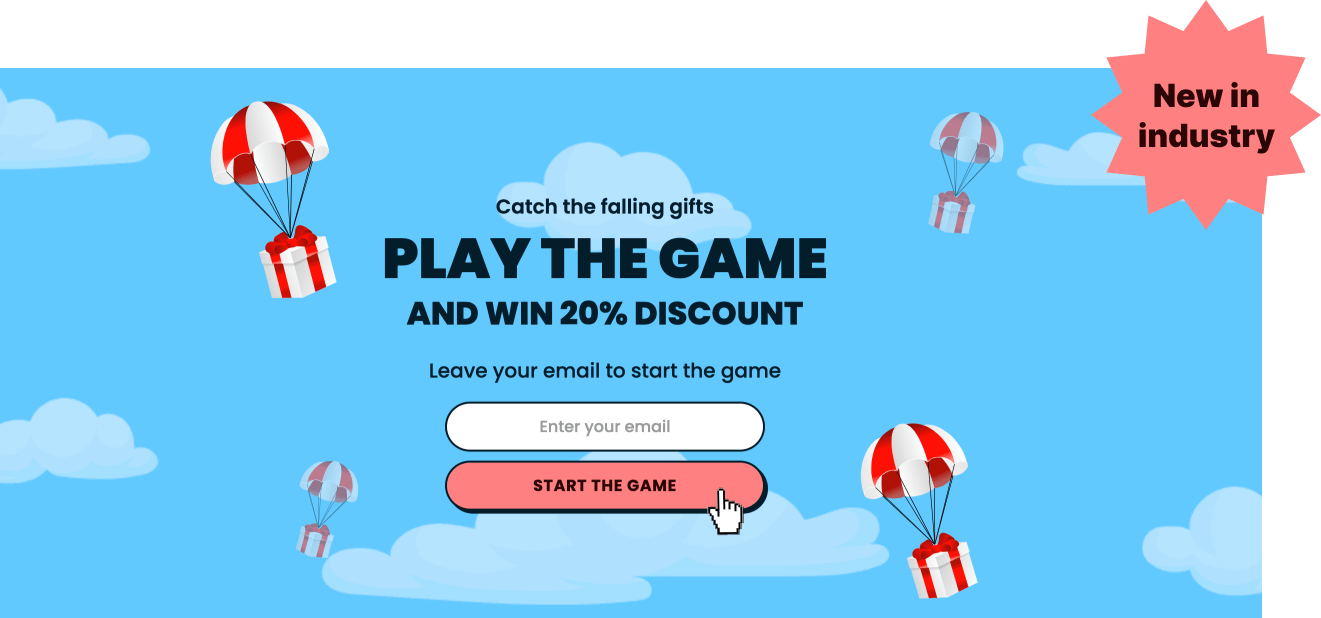 Falling Gift popup is a gamified popup we designed here at Adoric that allows you to spice up your visitors' browsing experience and convert them into customers. How does it work?
Well, it's pretty simple. First, a popup appears moments – typically less than 30 seconds, depending on your settings -after a visitor arrives on your website. It could be a full or half-display popup. On the popup, the user will see balloons falling through and then be asked to input his/her email address (this is where the coupon code will be sent after making a win).
All the user needs to do is click on the falling balloons to reveal the gifts embedded in the balloons. Depending on how you set the system, they might have to attempt several times to win a gift, which is usually a coupon. For now, you can only allow them to try 1 to 6 times.
Setting up the falling gift game is very simple, thanks to our intuitive, drag-and-drop editor.
Conclusion
There you have it; 10 Shopify apps that allow you to create spin to win popups without hassles.
Why not start today with Adoric? It is easy to use and you can start for free.
Ready to give Adoric a try?