Reasons Why You Need the Right Shopify Payment Solution
When you run a brick-and-mortar store, it's easy to charge your customers after each purchase they make. It is an entirely different process when you run an online store, particularly a Shopify store.
Your customers need a way to make payments for their purchases. On your own end, you need a way to receive those payments.
There are several payment methods available to you as a Shopify store owner. And it's crucial that you use a Shopify payment method that provides the best experience for you and your customers.
This article will discuss what Shopify payment methods are, the factors to consider when choosing one. Also, we will be reviewing 10 of the best payment solution for Shopify.
Let's get started!
What are Shopify Payment Methods?
Shopify payment methods refer to payment solutions that allow your customers to pay for the products they purchase from your Shopify store. These payment methods allow you to receive payments in a convenient and secure way from your customers.
This means that the payment provider starts processing the transaction when your customers initiate payment for products they purchase from your Shopify store. Through an integrated payment gateway, It sends the confidential details of the paying customer to the bank issuer for the card used for the transaction. At this point, a response is sent to the payment provider to let them know if the transaction went through or if it has failed.
If you have to handle large transactions, the Shopify payment provider employs more stringent measures to verify the customer's account before processing the transaction. The payment provider performs other security procedures like Address Verification System (AVS) checks and velocity pattern analysis. Some Shopify payment methods can calculate the payable tax on transactions you have received.
Features To Look out for When Choosing a Shopify Payment Method
No Shopify payment method is a one-size-fits-all solution. Each payment option has its pros and cons that make them suit certain sizes or types of business better.
However, you will want to put the following factors into consideration when choosing a Shopify payment solution.
1. Customer Shopping Experience
Whatever payment solution you go for should make life easy for your customers, and make their shopping experience a memorable one.
2. Geographical Location of Target Market
Certain Shopify payment solutions only work in certain geographic locations. A good example is PayPal.
This means that in choosing a Shopify payment method for your store, you should consider the geographical location of your target market.
3. Transaction Fees
The transaction fees charged by Shopify payment providers are an important factor to consider. This is because it directly affects your profit margins and the pricing of your products. You want to consider the rate per transaction and the monthly payment that some Shopify payment providers charge.
Checking for the transaction fees helps you determine if you're getting the best value for money from the payment provider. Some Shopify payment options have high transaction fees and no monthly charges, while some others have lower transaction fees with monthly charges.
You should also check for other fees like annual fees, settlement fees, chargeback fees, statement fees, anticipation fees, and cancellation fees. You have to consider all of these to know the actual cost of the payment option you choose.
4. Accepted Payment Cards
Select a Shopify payment option that is compatible with most of the available credit and debit card providers. Standard cards to look out for include the MasterCard, VISA, and American Express.
5. Worldwide Availability
One advantage you stand to enjoy from using Shopify is access to a global audience regardless of your location. So in choosing a Shopify payment provider, you want to ensure that you consider the potential growth of your business and the location of your prospective target audience when your business expands.
This way, you get to choose a payment method that readily serves your present audience and is acceptable in all the countries you plan on expanding to.
6. Availability of Fraud Detection Features
With fraud schemes on the increase, you want to choose a Shopify payment method that is secure and risk-free. The payment method you choose should enhance the quality of your customers' transactions and prevent payment fraud with its fraud detection features. Check out this post to learn more about fraud prevention.
10 Best Shopify Payment Methods
Now that you know what to consider before choosing a Shopify payment provider for your business, here are 10 of the best Shopify payment methods:
1. Shopify Payments

There is no better way to start this list than with Shopify Payments, a payment solution owned by Shopify.
Shopify Payments comes with every feature and solution you will need to efficiently manage and process payments on your website without involving any third-party solution.
This payment method provides store owners with a free card reader for physical payments. Payments made by customers typically take up to 3 business days before reflecting in your bank account.
With Shopify Payments, you are not charged the regular transaction fee of 2.2% that Shopify charges with other third-party payment methods. This consequently reduces your running costs. It also offers lower credit card transaction fees when you choose to upgrade your Shopify subscription plan.
Shopify Payments is built to make it easy to use for both store owners and customers. The interface is simple and straightforward.
As for pricing, Shopify does not require you to make any additional payments to set up Shopify Payments. Shopify will only charge you your regular store subscription fee, card managing fees, and other related fees.
Pros
Shopify Payments does not require any additional transaction fees
It allows for real-time monitoring
The interface can be set up and integrated seamlessly
It has features that ensure high-security
Its checkout process is quick
When compared to other Shopify payment methods, it has lower processing fees.
Cons
It is available in a restricted number of countries
Shopify may withhold your money temporarily
2. PayPal

PayPal is one of the most well-known Shopify payment providers in the world. It is trusted by over 220 million customers. It is user-friendly and typically takes less than a day to set up an account.
Paypal offers both paid and free plans for Shopify store owners. With any of these plans, you can access Paypal's support team. It also provides support for setting up subscriptions and recurring payments. PayPal charges a fee for every payment transaction. you can calculate the charges using a PayPal fee calculator.
Paypal offers a wide range of pricing plans. The basic plan starts at 2.9% + $0.30.
And then there is the Pro plan which goes for $30/month. This plan is suitable for large-scale businesses.
Pros
It uses a predictable flat-rate pricing structure
PayPal supports a wide range of currencies
Offers an intuitive mobile interface
Cons
Customer service is inconsistent
PayPal could wake up one day and close your account.
3. Stripe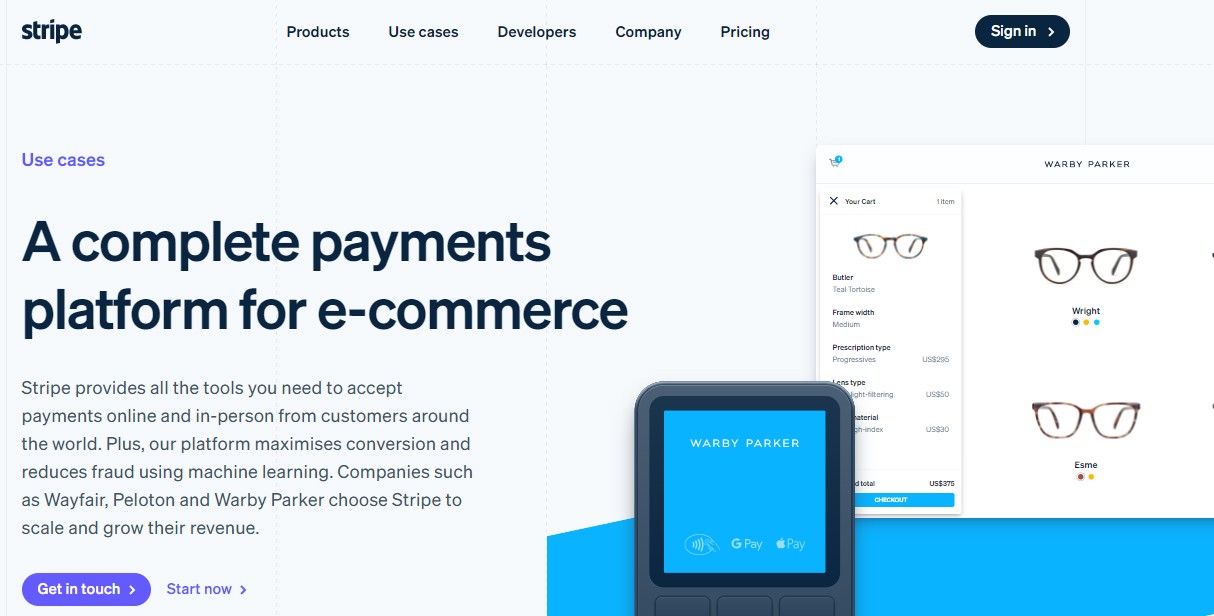 Stripe is another popular payment solution that allows you to receive money from your local and international customers. It comes with lots of features that support large-scale growth. This makes it ideal for big eCommerce enterprises.
Stripe has features that allow you to send invoices to customers and set up recurring subscriptions. With Stripe, you can easily track your sales while keeping your operational costs at a minimum. You can even use the Stripe mobile application for all of these.
Stripe charges a flat rate of 2.9% + $0.30 per transaction. Large-scale e-commerce businesses can request a customized quote.
If you want instant payouts to your bank account, Stripe will charge 1% for that. If the payment is coming from overseas, you will be charged an extra 1%.
Pros
It is easy to set up.
Stripe uses a flat-rate pricing system that is transparent and easy to understand
You are not required to pay any setup or cancellation fees
Support for a wide range of payment options
It supports a broad range of currencies and payment methods
Its checkout flow is highly customizable
Excellent customer service
Cons
Has a little bit of a steep learning curve
It is only available to Shopify store owners in about 39 countries
4. Authorize.net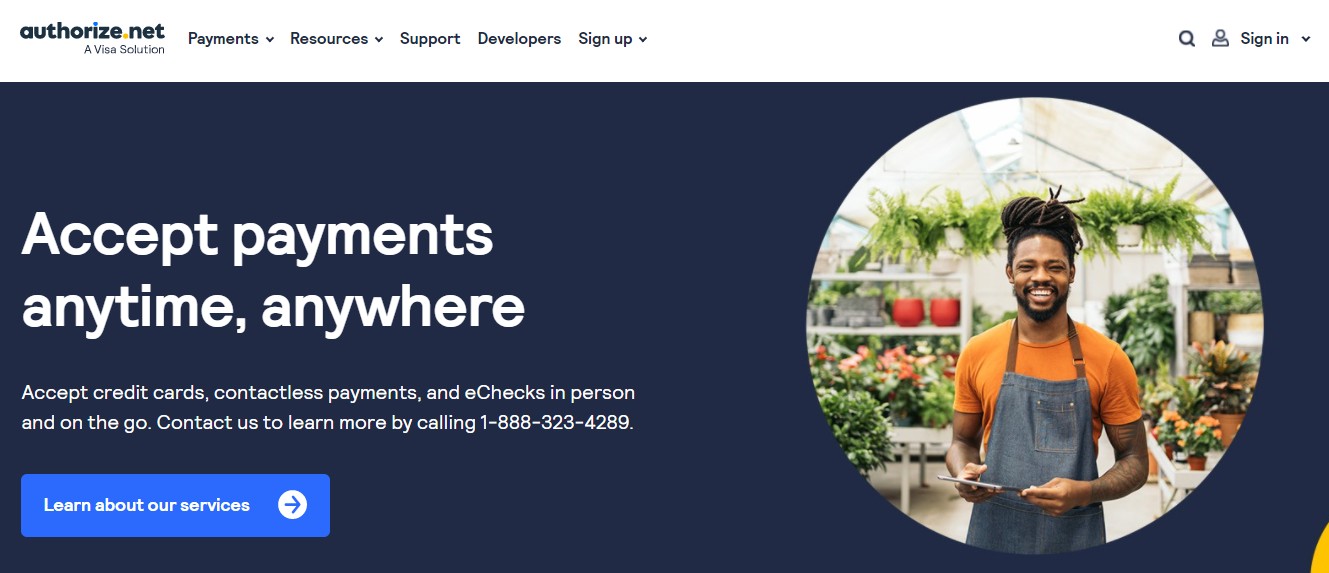 Authorize.net is a trustworthy Shopify payment processing gateway. The platform is easy to use and packs a lot of features that will interest you.
Authorize.net supports online payment processing, e-check processing, and mobile payment processing. It also supports different payment options like Visa, JCB, Discover, MasterCard, Diner's Club, and American Express.
This Shopify payment method is very secure with features like automated fraud detection, card tokenization, and a secure customer management system.
It is an ideal option for Shopify store owners, and it supports other digital payment options like Apple Pay.
Regarding pricing, Authorize.net has a setup fee of $49 and a 2.9% + $0.30 fee per transaction.
Pros
It supports a broad range of currencies and payment options
Has robust fraud prevention and security features
Excellent customer service
Cons
It may be somewhat expensive for some store owners
Shopify store owners may find its all-in-one option confusing
5. Opayo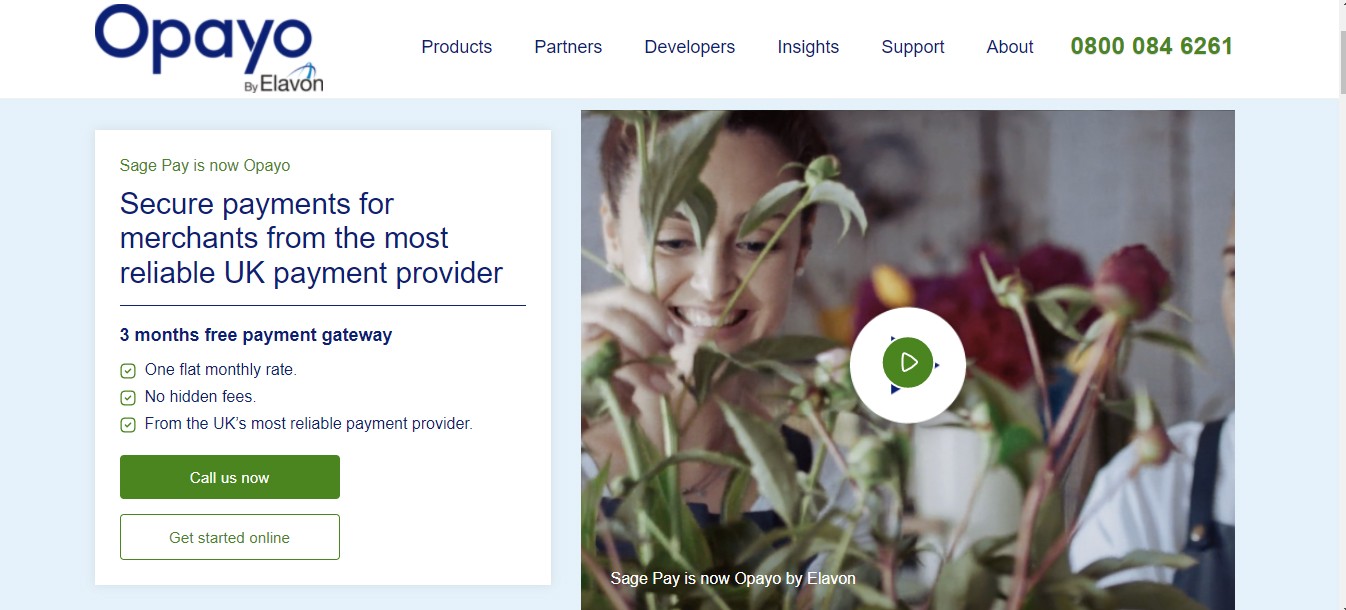 Opayo, formally known as SagePay, is one of the popular Shopify payment solutions available to merchants in the United States and the United Kingdom. It has a unique pricing structure that is way different from other high-risk payment solutions.
What's more, you can use Opayo's payment software both online and offline. Its reliable system also provides access to different card terminals, online payments, phone orders, and more. It prioritizes secure transactions, and that is why it has a feature that allows customers to pay using PayPal should they choose to.
A payment option like Opayo is reliable and secure when handling customer transactions. However, the level of security in its customer authentication process can be somewhat problematic.
One major problem with Opayo is its cumbersome account verification process; it takes about 5 weeks. During this time, you won't be allowed to manage any transactions.
Unlike most of the other Shopify payment options on this list, Opayo is a little different when it comes to pricing. You will have to pay monthly fees instead of transaction fees, starting at 19 GBP for 350 transactions, or less, a month.
Pros
Excellent customer support
It is easy to use
Easy integration into Shopify
Cheap pricing structure
Cons
Hectic and long account verification and authentication process
6. Verifone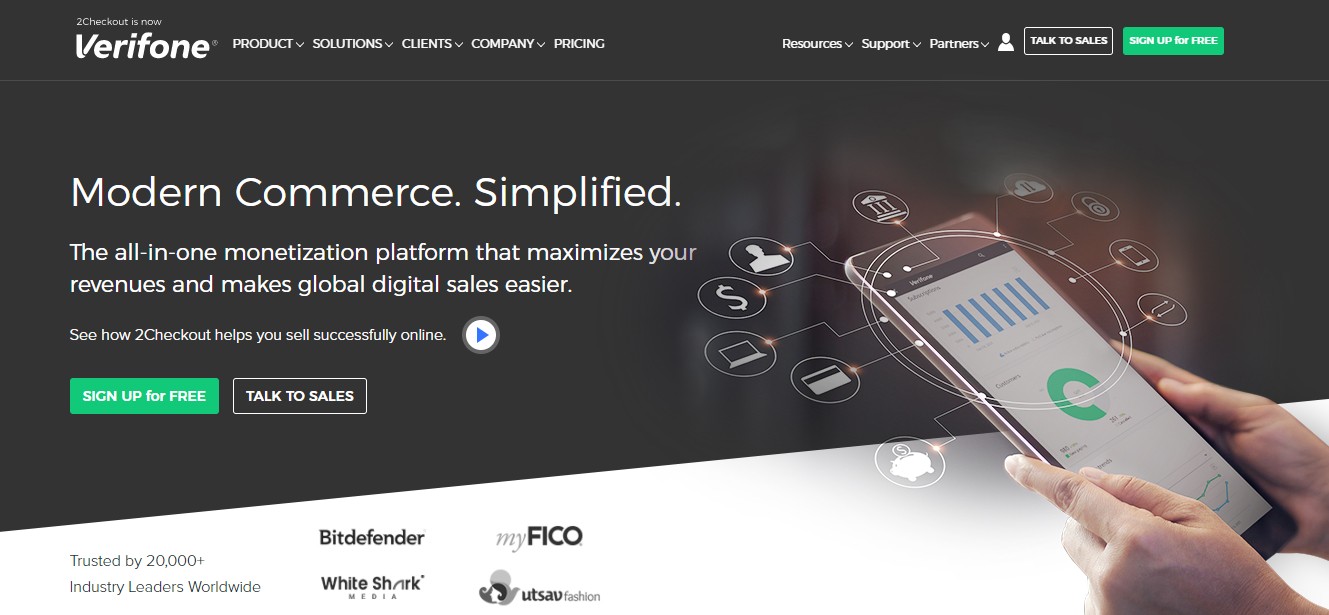 Verifone, formerly known as "2CheckOut", is a Shopify payment method that is not as popular as most of the payment methods on this list.
Unlike most other payment methods, this Shopify payment option allows you to choose and pay for only the features your business needs.
Verifone has a risk management and compliance section that helps you track potential fraud and privacy issues. It also has a tax calculation feature that makes it easy for you to manage taxes.
As for pricing, Verifone is free. However, you will be charged a fee for each transaction you process.
Here's a screenshot of Verifone's pricing plans.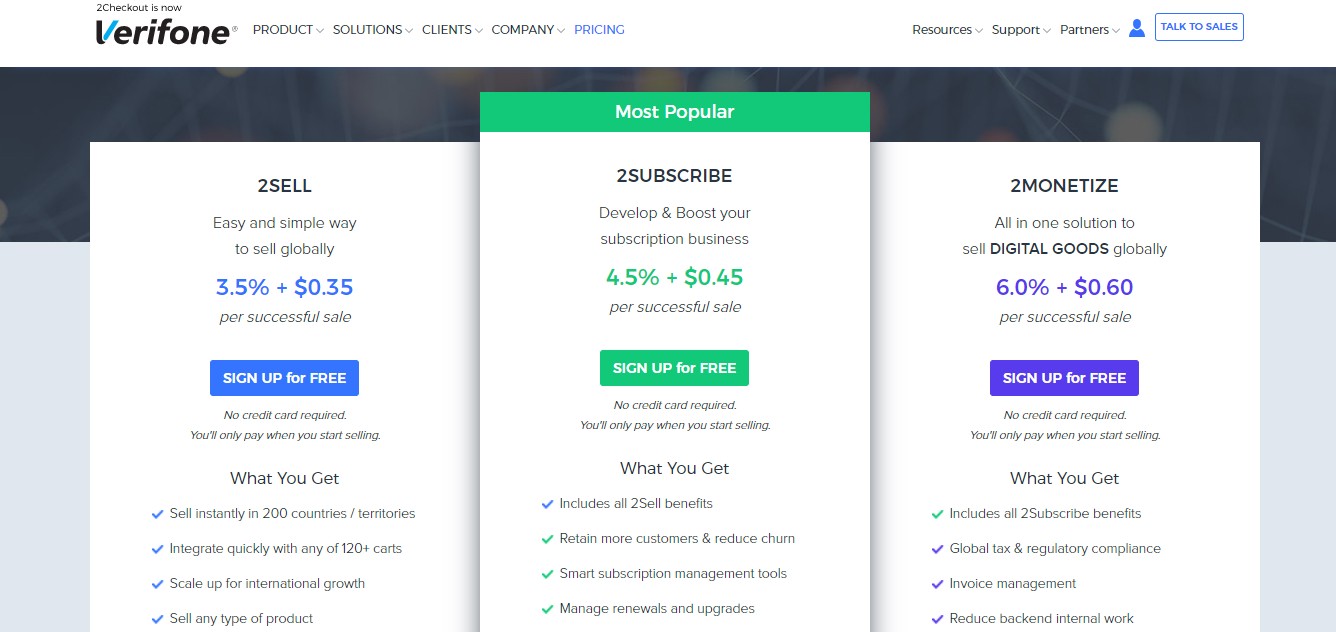 Pros
It uses a flat-rate pricing structure
Global reach
Support for a wide range of payments
Cons
It is not available to Shopify store owners who sell products considered to be high risk
7. WorldPay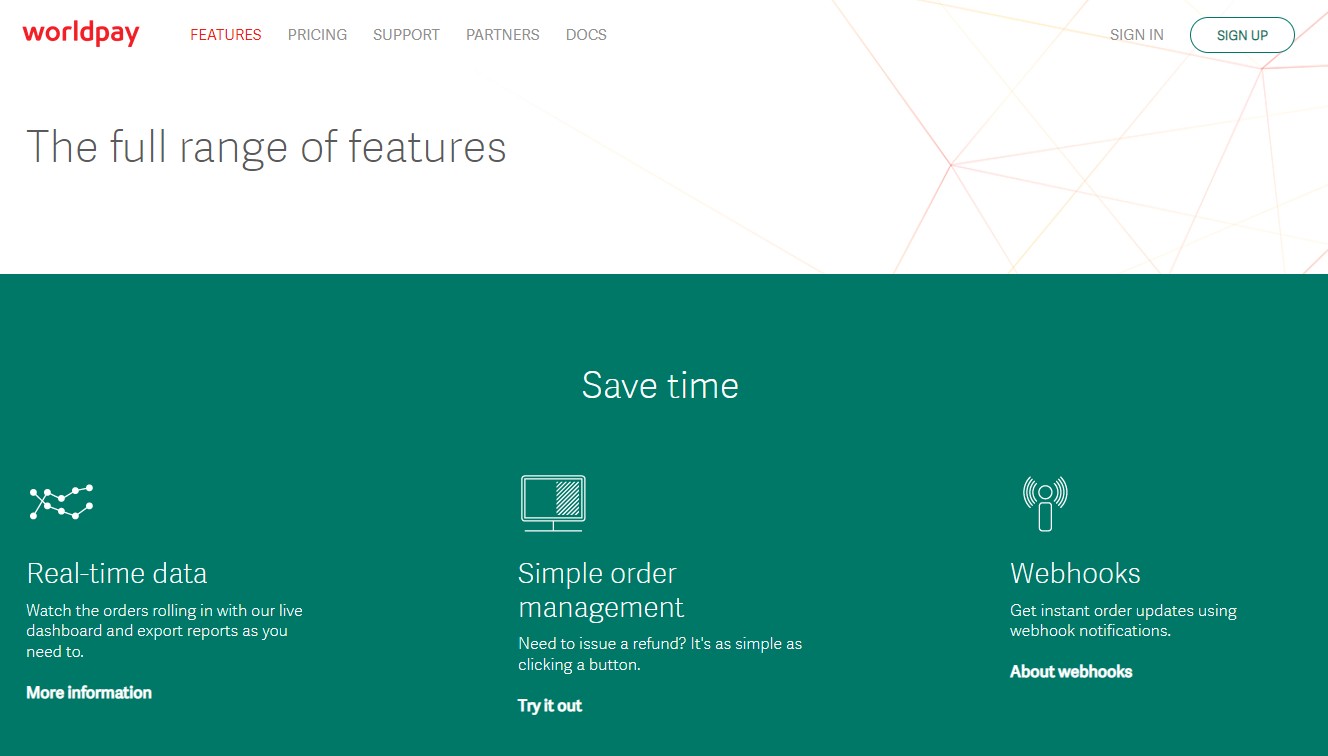 WorldPay is a Shopify payment provider that has built a reputation for providing a wide range of secure transaction channels for small and large Shopify stores. This payment method allows you to sell your products online, accept payments online, over the phone, and via credit/debit cards.
As for pricing, WorldPay has two plans: Standard and Advanced Gateways. They cost 19 GBP and 45 GBP per month, respectively.
The best part is that WorldPay supports over 120 different currencies. Plus, it doesn't charge you for refunds.
Pros
Reliable customer service
Charges you based on the number of sales you process
Top-notch fraud protection features
It is available in over 100 countries
Cons
Has an ambiguous pricing structure
The information on its website is not transparent enough
8. Klarna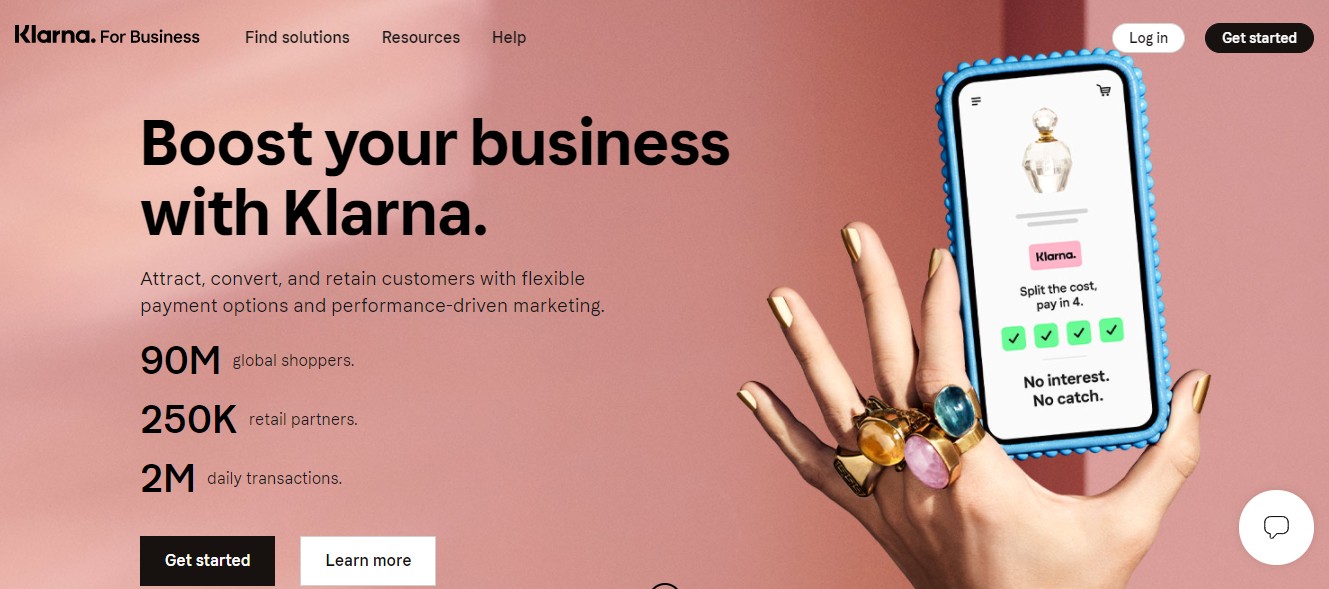 Klarna is an excellent Shopify payment solution that is simple to use.
It offers a buy now, pay later structure. This structure allows you to offer your customers an instalment payment option, especially if you sell pricey items.
With regards to pricing, Klarna's pricing plans are pretty simple. When receiving payments from the United Kingdom or Ireland, you pay 2.49% + 0.20 GBP per transaction. The pricing may be different when receiving payments from anywhere else around the world.
Pros
Offers a seamless checkout experience
Easy integration with Shopify
There's an option of instalment payments
Low transaction fees
Shopify store owners receive complete payment at checkout
Cons
Sluggish customer support
9. Square

Ninth on our list of reliable Shopify payment solutions is Square. It helps you process both online and offline payments. So whether you run an online store or a physical store, Square is a reliable payment method to use.
What's more, Square has a number of helpful extensions that can be integrated into your Shopify store. It also has a dashboard that lets you monitor your transactions, cash flow, and even inventory.
This payment option provides Shopify store owners with different payment structures. They include donations, membership fees, appointment scheduling fees, and standard transactions.
Transactions made using this payment method are completely secured as Squarely is PCI compliant and uses end-to-end encryption. You can also receive payment to your bank account within one to two days.
As for pricing, Square charges a standard transaction fee of 2.9% + $0.30 per transaction. If you want to get more out of Square, we recommend going for the premium plan that starts at $12/month.
Pros
Flat-rate pricing system
Impressive customer support
Cons
It is not suitable for large business
Accounts may experience stability issues
10. Amazon Pay

Amazon Pay is another brilliant Shopify payment processing gateway for Shopify store owners. It is easy to set up and allows customers to checkout using their Amazon accounts.
This payment method is available worldwide and transactions made by your customers using this payment method are swift and reliable.
Amazon's pay customer support service is top-notch.
Transaction fees start 2.9% + $0.30 per transaction.
Pros
It is very easy to use
Store owners have access to Amazon's fraud protection system
It is easy to set up and integrate into Shopify
It saves customers the stress and time that comes with inputting card details
Cons
It requires an Amazon account for payment
Paypal payments are not supported
High risk of your account being shut down on suspicion of flouting Amazon's rules
Bonus Method: Crypto Payment
Did you know that you can accept payment on your Shopify website via Crypto? Yes, you can, and it's not even a new feature. Just that you probably never knew about it.
You can read more about accepting crypto payments on Shopify here.
Conclusion
We hope this list gives you a good range of Shopify payment options to choose from. The best payment method for your Shopify store will be dependent on a lot of factors including your type of business. So, don't forget to weigh the cost against the features you stand to enjoy.
On a final note, if you are looking to increase your Shopify store sales and generate more revenue, Adoric can help.
Sign up for an account today to start converting more visitors to your website into customers.