Are you getting overwhelmed with the market competition and are desperate to find a way to get ahead in a saturated market? It's about time you tried offering your customers irresistible discounts.
Discount marketing can help boost customer loyalty and, in turn, increase your sales.
But to get it right, you need the right marketing tools in your arsenal. And one of such tools is a discount app.
We have researched and listed our 16 Best Shopify discount Apps to help store owners boost sales and increase average order value and conversion.
1. Growave

Growave has a Loyalty and Rewards (Discounts, Points) feature. Loyalty & Rewards: strengthen the customer-brand relationships, increase repeat purchases, boost engagement, and use convertible loyalty points, gifts & VIP-tier membership on your site. Use a loyalty program offline with Shopify POS. Reward points for sharing your store and following social media pages.
Increase engagement with nudges and points expiration reminders. Grow sales with Gift Cards.
2. Volume and Discounted Pricing

Volume and Discounted pricing is an app developed by Shopacado that offers member-only pricing. For example, you can use it to set up special discount customers that have signed up to your mailing list.
This strategy can help boost your customers' engagement and loyalty.  Also, it offers volume-based discounts to encourage customers to add more products to carts, and uplift your Average Order Value. For instance, you can offer your customers a 20% discount when they buy 5 products from your store.
In addition, it allows you to set up dynamic pricing for different customers and wholesalers. Plus, it allows you to add unlimited discount levels to your pricing strategy.
Another best thing about this app is that it allows you to sell more by allowing you to upsell your customers using enticing discounts.
3. VolumeBoost – Volume Discount
Customers shop with stores that offer interesting discounts and are more likely to become loyal to that store.
You need to work with the best Shopify discount apps to achieve this as a store owner. Therefore, we recommend using VolumeBoost – Volume discount by HulkApps.com for all your quantity-based discounts and discounted pricing.
New to wholesale? You can use this app to create volume and tiered pricing programs that keep your customers loyal. From bulk pricing and product bundles to upsells & cross-sell product discounts, this app is packed with powerful features that let you create engaging discounts.
Furthermore, this app allows you to create discounts for specific products or product groups. Also, this app enables you to set up holiday discounts, including Black Friday, Cyber Monday, Christmas, etc.
4. All in One Automatic Discount

All-in-One Automatic Discount lets you do more with discounts. You can create Automatic Discounts & Upsells like bundles, BOGO & Stackable codes.
One App for All Discount Features. Create  Bundle, Volume, Quantity, and BOGO Offers.
The automatic discount Shopify app also allows you to create stack codes and combine multiple discount codes for single or multiple products.
For e.g., You may provide free delivery, free gifts, and a 5% discount to customers who have products worth more than $X in their cart.
Features:
Bundle, Volume, Quantity, BOGO – Boost Shopify AOV & Revenue 

Stack & Combine Discount Codes

Discounted Pricing & Offers

Automatic Coupon Codes Shopify

Do more with Discounts Shopify

Easy Tiered Discounts Setup

Create Buy x Get Y Offer
30 Days Free trial – Priority Support – No extra OR hidden charges.
5. Bundle Products|Upsell

Bundle Product is designed to help store owners create product bundles based on variations or quantity to sell to customers. These bundles can be grouped by brands, related products, etc. This helps customers pick a pre-built product bundle with ease, organize page layout and reduce customer search time on the page.
With this app, customers can create bundle boxes from a pre-designed mix and match products from your store or buy related products together (for instance, a t-shirt and a face cap) and get discounts based on their bundle selections. Included also is a powerful feature for quantity-based discounts.
What we really like about this app is that it allows you to display multiple bundles wherever you want on your website: cart, home, or product pages. Plus, it allows your customers to apply bundle discounts in 2 ways. First, through the draft order in which discounts are added to the checkout page. The second is through the discount code bundle, which tracks orders from Facebook pixel and Google Analytics.
6. Unlimited Bundles and Discounts

Fourth on our list of best Shopify Discount Apps is the Unlimited Bundles & Discounts app by Revv. This app is suitable for every store size and is very simple to install and use.
With this app, you can increase revenue and sales by using multiple product bundles. These different bundles are created, each with a specific discount that is automatically added once a bundle is added to the cart.  In addition, you can create quantity bundle tiered pricing e.g (Buy 4 get 20% discount off ) to encourage customers to buy in bulks. Also, these bundles can be placed anywhere on the page.
Alternatively, you can create a page to list all your custom bundles; this makes it easier for customers to make choices based on the list. How about your peak seasons? The app allows you to schedule bundles ahead for peak seasons such as Black Friday and Cyber Monday.
Lastly, it is mobile-friendly with an advanced metrics dashboard to control workflows and is also compatible with currency converters and inventory apps.
7. Bold Discount – The Sale App

Bold Discount App is a discount app that allows online store owners to run dynamic sales campaigns. Interestingly, this app can schedule sales and product discounts if you plan storewide sales. It automatically adjusts prices during the promo so that customers who visit your site can see the sales price without entering a code. So easy and stress-free!
Also, with Bold Discount, you can create flash sales, including storewide sales, sales on a collection, sales on a specific brand, etc. On top of that, it enables you to add special sales and holiday deals to your website menu.
In addition, it comes with a live countdown timer to create a sense of urgency with your customers, making them act hastily. The best part is that the number of offers is unlimited and can run simultaneously.
8. Sales and Discount Managers

This app is every eCommerce Manager's best tool for creating effective sales campaigns and promotions using percentage discounts, price slashes and discount sales. The good thing is that you can use it while still keeping your branding intact. It processes really fast and can reduce the prices of 100+ products per minute.
Another thing; you get to choose your own discount type, which can either be in percentage(%) or fixed discount.
When you install this app, you'd be given the option of starting sales immediately or scheduling it for a later date.
In addition, this app comes with an advanced filter that enables you to find specific products to apply a discount to.
9. Wholesale Pricing Discount

This wholesale Pricing Discount app is one of the best Shopify discount apps that helps you engage your wholesale customers with mouth-watering bulk discounts.
For maximum conversion, you can create multiple groups of products or collections with a specific discount price. Also, the app features allow you to easily handpick your bulk discount type and apply discounts based on quantity breaks. For example, customers can get a 25% discount when they purchase 100 units of your product.
With the manual order feature, you can select orders for your customers based on their previous shopping experience and apply the wholesale discount; it is easier for them to return to your page since shopping stress has been drastically reduced.
Wholesale Pricing Discount offers round-the-clock customer support.
10. Bulk Discount Code Generator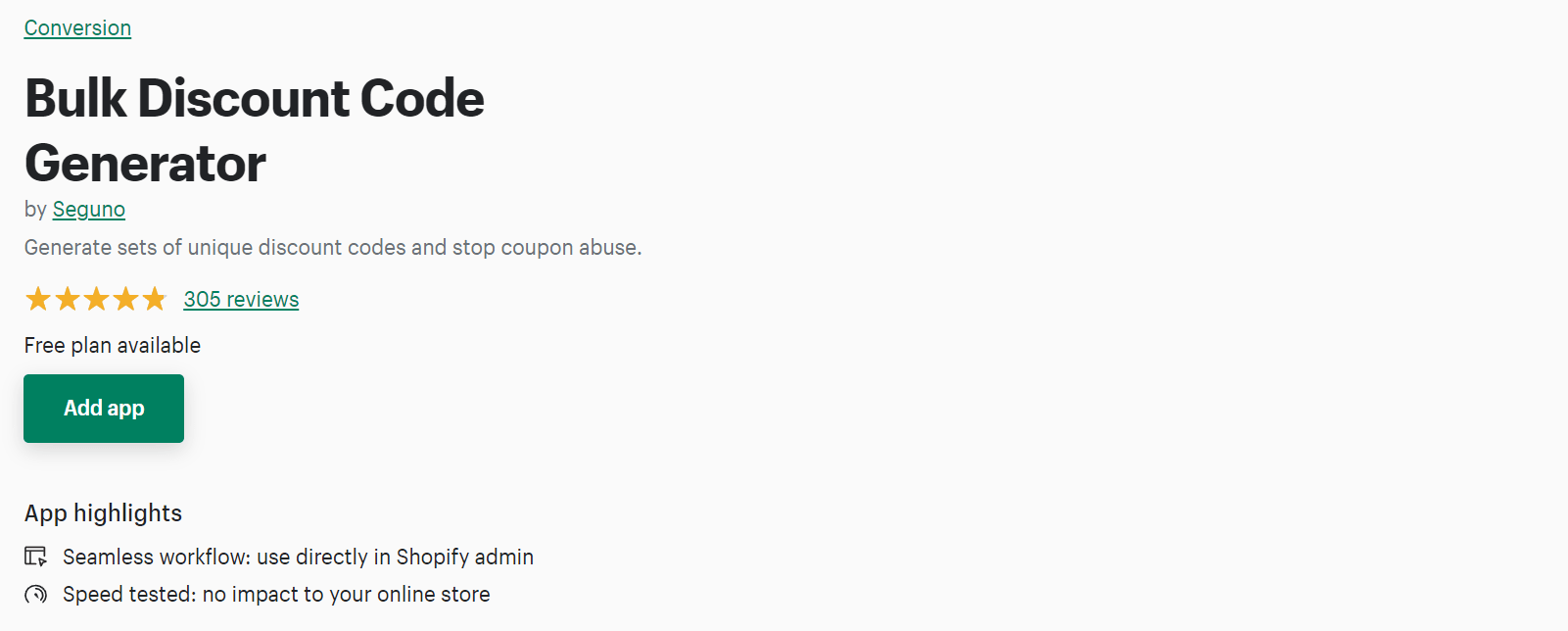 Creating unique codes for your discount sales or promo in Shopify just got easier, thanks to the Bulk Discount Code Generator app. With this app, you can create unique discount codes customers can use once or multiple times.
If you don't want to create codes from scratch, this app allows you to import large amounts of code into your Shopify discount to hasten the workflow. In the same way, you can export codes directly from the app with ease.
Another thing you will also like about this app is that you can always get support from the support team whenever you encounter difficulties.
11. Bulk Discount Now

Potential customers on your website will most likely buy when they know they will get a discount. And there is no better app to use to create and promote discounts on your site than Bulk Discounts Now.
You can also use this app to create discounts on bulk orders, thus motivating customers to buy in large quantities from your store.
Furthermore, this app is compatible with  Shopify's native currency converter, popup carts and Ajax Cart. The most interesting part is that you need no coding experience to use the app. It is easy to use and offers unlimited flexibility.
12. Quantity Breaks and Discounts

Quantity Breaks and Discounts is tenth on our list of best Shopify discount apps. This app has innovative features designed to help improve your sales and win you more customers.  With a few clicks, you can set up the tiered discounts depending on your choice of promotion.
The other powerful features this app comes with include a 1-click upsell that automatically adds a certain number of products to your shoppers' cart if they are eligible for a tiered discount. Secondly, it disallows an additional discount code on an already discounted product which mitigates the chances of discount abuse.
Also, it allows you to use tags to select products that are eligible for tiered discounts. This is good for managing discounted products.
13. GET SALE Bulk Discounts Manager

This app saves you the time and energy of manually changing product prices during peak sales periods. All you have to do is install the app and set a start and end date for product prices to change.
Keep in mind, though, that once sales have ended, the app will instantly return products to their original price.
What's more,  apply discounts to hundreds of products easily, and set discounts based on percentage or a fixed amount. Also, the app lets you apply discounts to a specific product, collections or product variants and all products in your store. Offer unlimited discounts with ease with the GET SALE Bulk Discount App.
14. Discounted Upsell and Cross-sell

Use upsell and cross-sell to entice customers into buying more to increase your average order value. With this app, you can create an aesthetical looking upsell bar that pops up when shoppers click on the add-to-cart button.
For more conversion, add a percentage or fixed amount discount to your upsell products, and make sure that your upsell is designed to convert and match the brand's theme.
Using this app allows you to motivate your customers to see reasons to buy your products. In addition, if a product that triggered an offer is removed from the cart, this app automatically removes the discounted upsell product from the cart to prevent users from abusing upsell discounts.
15. Booster: Discounted Upsells

Although one of the oldest tactics for improving conversion, many merchants are yet to take advantage of upselling.
As the name suggests, the Booster Discount Upsells app allows you to use every upsell and cross-sell technique to get customers to buy more.
Set up is easy, and you can use different upsell discounts to attract more sales; there is no limitation to what you can do.
The best part is that you can customize the app however you want it. Confused about what upsell is perfect for our store? The app AI bot can plan a perfect upsell based on your customers' order history.
16. Stackable Discounts

Developed by Optizio, Stackable is one app you can trust to help you handle multiple discounts at a time.
It combines different discount strategies, including manual codes and automatic discounts.
It also helps your customers save money while shopping in your store. Since savings are automatic, customers get notified instantly every time an opportunity to save money comes up.
App customization is easy, and stackable teams are willing to help you set up discounts to match the theme. Also, you can choose how you want your discount to appear on the page; as a floating button with a popup panel or top bar.
The app is compatible with Shopify POS.
17. Discount Ninjas

Discount Ninjas is one of our recommended discount apps for Shopify. Get customers excited with a free gift in their cart based on their cart content or value. This will increase their chances of buying more.
The features of this app encompass all the aspects of product discounts, from automatic discounts that pop up when a visitor lands on your page or share links that send customers to your product page when the discount is applied. Also, the cart promotion code allows customers to redeem a promotion code on the cart where they will see the final price in the cart.
Discount Ninja comes with a dashboard from which you can track the performance of your campaigns.
Conclusion
There are over 100 discount Apps for Shopify, but we have narrowed it to the best 16 you can add to your store.
These discount apps were selected based on their features, ratings and user reviews.
Are you still struggling to generate sales for your Shopify store? Adoric can help.
Adoric has many features designed to help you convert your visitors into subscribers and paying customers. Sign up for an account to take Adoric for a spin.