Are you looking for the best dropshipping suppliers for your Shopify store?
Whether you are new to dropshipping or trying to expand your Shopify store through dropshipping, choosing the right dropshipping supplier is one of the tedious tasks you have to do. And one you can't afford to miss.
This is because the wrong supplier can mar your business and ruin your reputation. 
Before picking a supplier, you have to do some vetting and some authenticity checks. You also need to check the quality of their products, shipping times, and cost.
To make your work easier, we've reviewed some of the best suppliers and platforms you can try. These suppliers may have different pricing and locations, but they are all worth the effort.
With that said, let's get right into it.
15 Best Dropshipping Suppliers for Shopify
1. Alibaba

Alibaba is one of the largest marketplaces for online stores where you can buy in wholesale quantities. Finding and sourcing products from Alibaba is very easy and seamless. 
This marketplace has millions of products from over 45+ product categories including machinery and consumer electronics. And there are over 2 million suppliers on the platform waiting to take your orders. 
On top of that, Alibaba is currently active in over 190+ countries. So there is a very good chance that it is present in yours. One reason sourcing products from Alibaba makes sense is that you get to enjoy speedier shipping. You also get to enjoy quality shipping that doesn't leave holes in your pockets. 
2. AliExpress
AliExpress is a very popular platform that connects buyers and sellers. It makes it easy to find the right supplier to source products from. 
Although it is Asian-based with most of their merchant from China, you can use the platform regardless of your country of location. 
There are about 13 major categories that cover over 50 million products with an emphasis on trending products and items on sale.
AliExpress is straightforward and simple to use. This means you won't have any problem getting a hang of it. 
3. AppScenic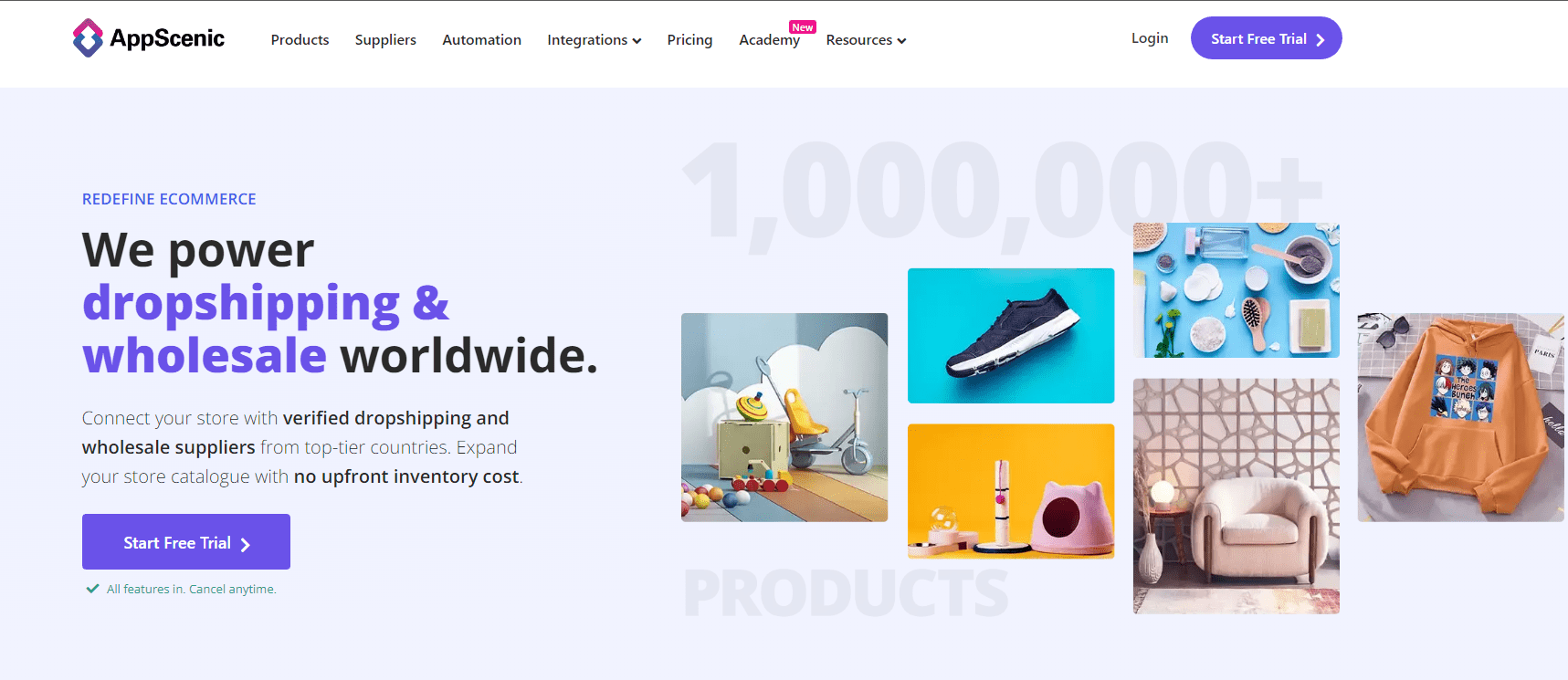 AppScenic works with verified suppliers across the UK, US, Europe, Canada and Australia to give you seamless dropshipping solutions. 
It is a platform for you to connect with suppliers from top-tier countries to sell their products in your store while they fulfil orders and product shipments.
Moreover, no minimum order quantity or storage fee is required as suppliers ship directly to the end customers. Plus, you don't have to worry about updating product prices – AppScenic does that for you automatically. 
Furthermore, AppScenic features over 1 million dropshipping products and over 100 product categories to choose from. Additionally, suppliers on AppScenic ship products in 2 to 5 days to the UK, US, and Europe. 
Unfortunately, AppScenic does not support custom branding and suppliers ship white labels to protect your brand.
4. Syncee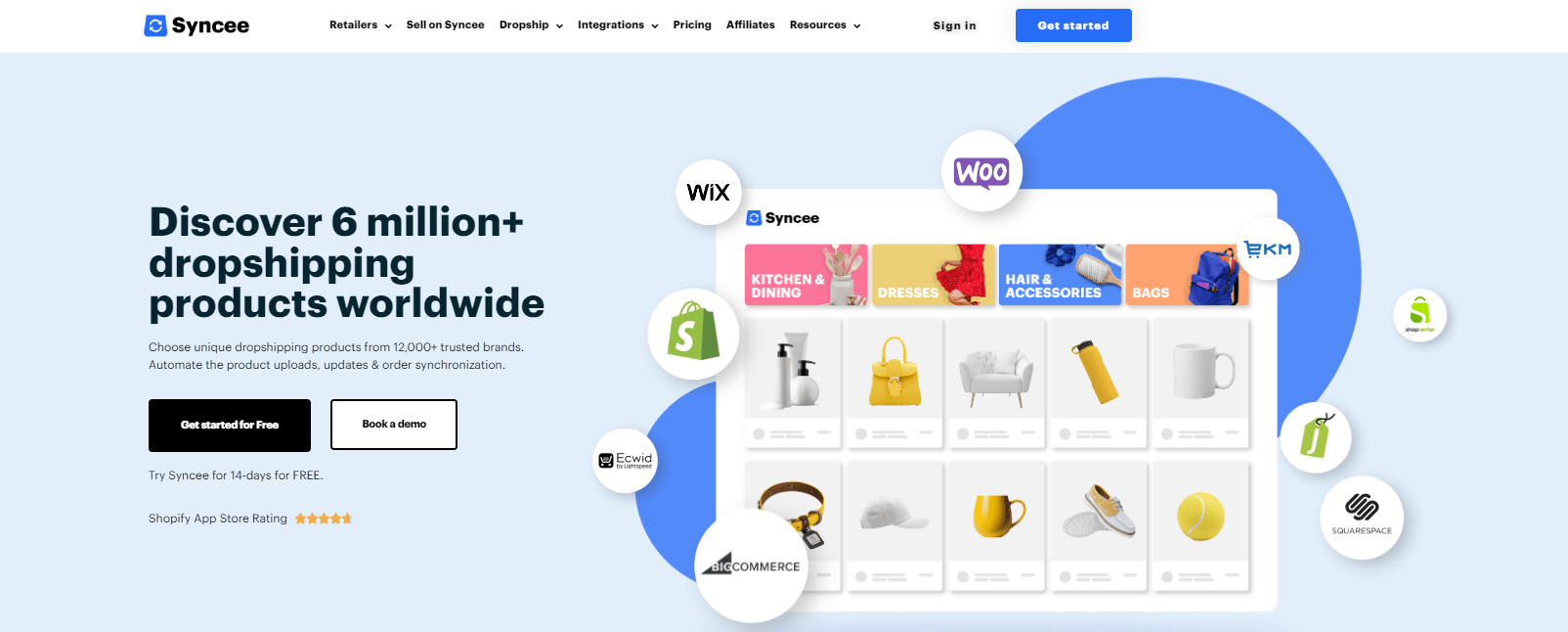 Syncee is another interesting marketplace you can leverage to find the right supplier for your store. 
No upfront cost and no risk involved. Syncee is a perfect choice regardless if you are just getting into dropshipping or are a veteran. 
On Syncee, you will find over 12000 trusted brands selling over 6 million products. Plus, there are over 400 product categories on the platform. 
Sourcing products from Syncee allows you to ship products fast to customers in the UK, US, EU, CA and Australia.
With Syncee, businesses can upload their own specific suppliers through the DataFeed Manager where you can use a CSV, XML, JSON or TXT file to upload and update bulk dropshipping products.
Syncee integrates with major eCommerce platforms like Shopify, WooCommerce, Wix, BigCommerce etc. 
Pricing
Syncee has different price plans for every business size that are within the popular marketplace's standard price.
Starter plan – Absolutely free to start with some limitations to the use of certain features.
Basic Plan – $29/month – A 14-day trial, 25 products to store, dynamic price setting, 5 catalogues to create, bulk product management etc.
Pro Plan – $49/month – The most popular pricing plan and consists of a 14-day trial, 250 products to store, dynamic price setting, 20 catalogues to create, bulk product management and premium VIP products etc.
Business Plan – $99/month – up to 1000 products, 50 catalogues to create including all pro plan features.
5. SaleHoo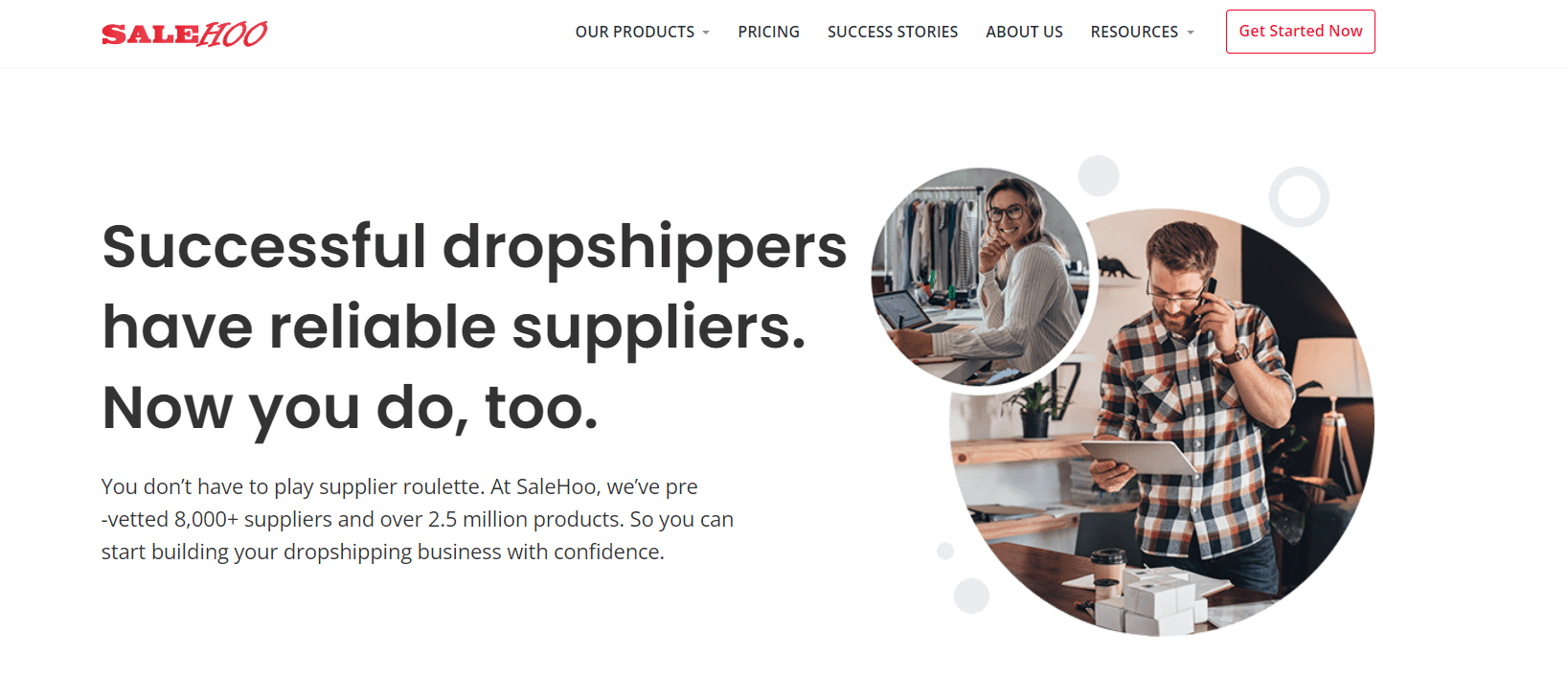 The SaleHoo directory gives access to a global network of reliable suppliers you can source products. It boasts over 8000 vetted suppliers and over 2.5 million products.
Furthermore, SaleHoo integrates with Shopify, making it easy to import products into your store with a few clicks of the button.
SaleHoos works with over 137,000 online business owners who have good reviews about them.
And considered risk-free as it offers a 60-day money-back guarantee for failed transactions.
SaleHoo serves the UK, US and AU markets and ships nationwide.
Pricing
For SaleHoo Directory
Annual access of $67 billed annually, you are entitled to have access to the SaleHoo directory, market research lab, advanced search filter, personal email support and 60-day money-back guarantee.
For saleHoo Dropshipping
Basic Plan – $27/month – Import up to 500 products, filtered fast shipping and high product profit margins, allow 1 sub-user account.
Premium Plan – $97/month – allows 3 stores, 3 sub-user accounts, unlimited AliExpress product imports and a dedicated account manager.
6. Spocket

Spocket is a dropshipping platform that connects Shopify store owners to top dropshipping suppliers around the world.
Interestingly, Spocket allows to you order samples of your potential products for testing purposes. This ensures you ship quality products to customers. 
In addition, Spocket has several product categories. Furthermore, it integrates seamlessly with Shopify, WooCommerce and BigCommerce. Plus, it allows you to automatically fulfill orders when they come through.
Also, it allows you to ship products swiftly to US, UK and Europe, as 80% of suppliers on the platform are located in those regions. Additionally, it allows you to show your brand identity through product invoices.
Pricing
There are prices option for monthly or yearly billings. Yearly plans include:
Pro Plan – $24/month billed $288 annually – For 250 unique and 25 premium products
Empire Plan – $57/month billed annually at $684 – For 10000 unique and premium products respectively.
Unicorn Plan – $79/month billed annually at $948.
7. Worldwide Brands

Worldwide Brand is another great dropshipping supplier worth trying. The company has been in business for over 20 years and has millions of products in its directory.
One of the major benefits of using Worldwide Brand is that it makes it easy for you to find authentic suppliers. In addition, they take pride in ensuring you get the best dropshipping services as a member and will connect you only to the best wholesaler at the top of the supply chain.
Shipping cost on Worldwide Brand is largely dependent on the supplier you are dealing with and the country you want to ship to.
Pricing
Lifetime Access of $197 USD. No monthly or annual fee is required.
8. CJ Dropshipping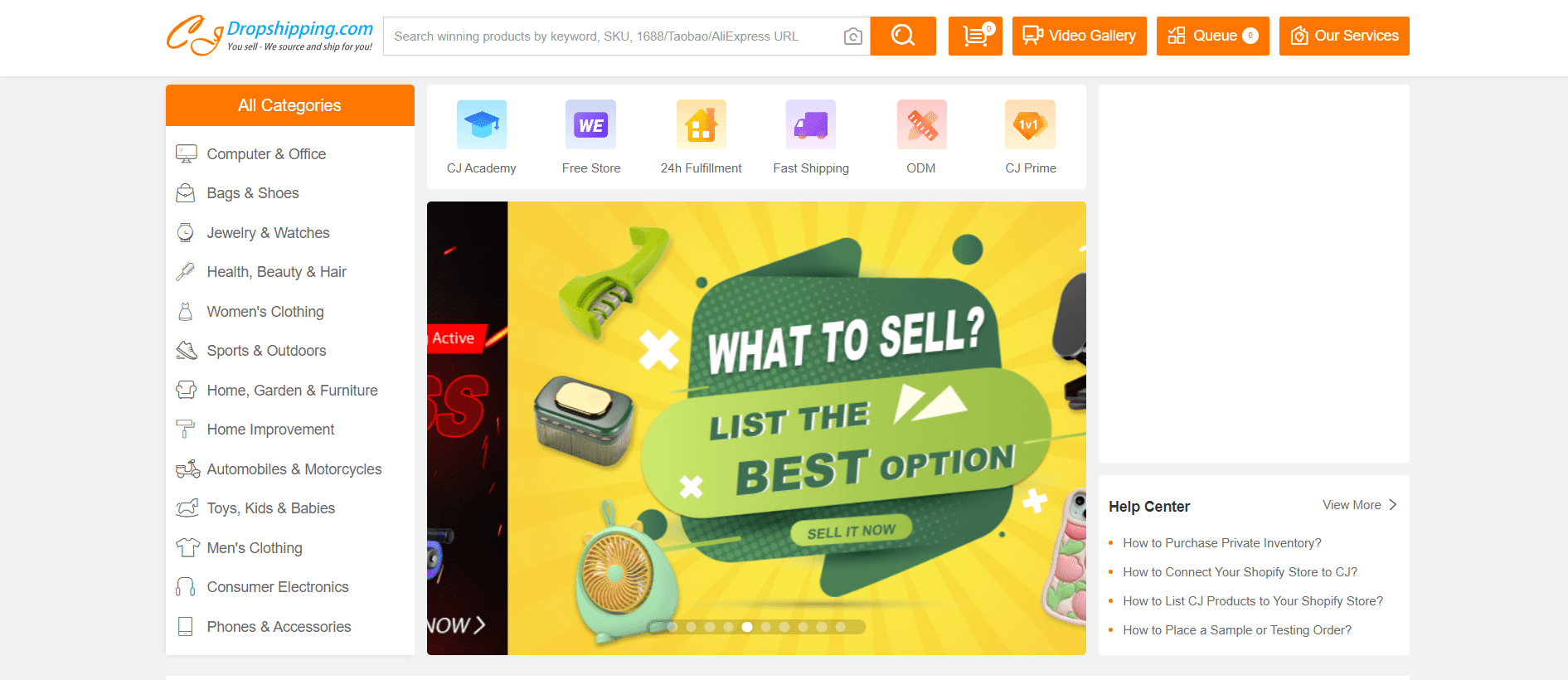 CJ Dropshipping is a China-based dropshipping platform created in 2014 by Andy Chou. It also happens to be one of the best dropshipping platforms China has to offer. 
They provide dropshipping services and solutions to Shopify and other online store owners. And as of today have rendered services to over 1 million sellers nationwide.
CJ offer product supplies, order fulfilment, wholesale, preorder inventory, shipping services etc.
Also, you can source products for your Shopify store on CJ dropshipping and focus on marketing them while they take care of every other thing. However, they render warehousing services where you can store your products.
Pricing
CJ dropshipping prices depend on what dropshipping services you need. 
9. Doba

Ninth on our list of best platforms to find dropshipping suppliers is Doba. On Doba, you will find millions of products spread across hundreds of categories, sold by thousands of suppliers. Also, is that Doba has an intuitive, easy-to-navigate interface.
In addition, Doba allows you to send shipment notifications to your customers in real time.
It ships anywhere in the world. However, the rates depend on your set price and individual supplier. You and the customers are notified of the status of the order.
Pricing
Their prices are flexible for all business sizes
Start-ups – $24.99/month – For 60 inventory lists, 30 storefront products listing count and 30 monthly product export count.
Business – $49.99/month – For 5000 inventory lists, 2000 storefront products listing count and 2000 monthly product export count.
Enterprise – $299.99/month – For 15000 inventory lists, unlimited storefront products listing count and unlimited monthly product export count.
10. Modalyst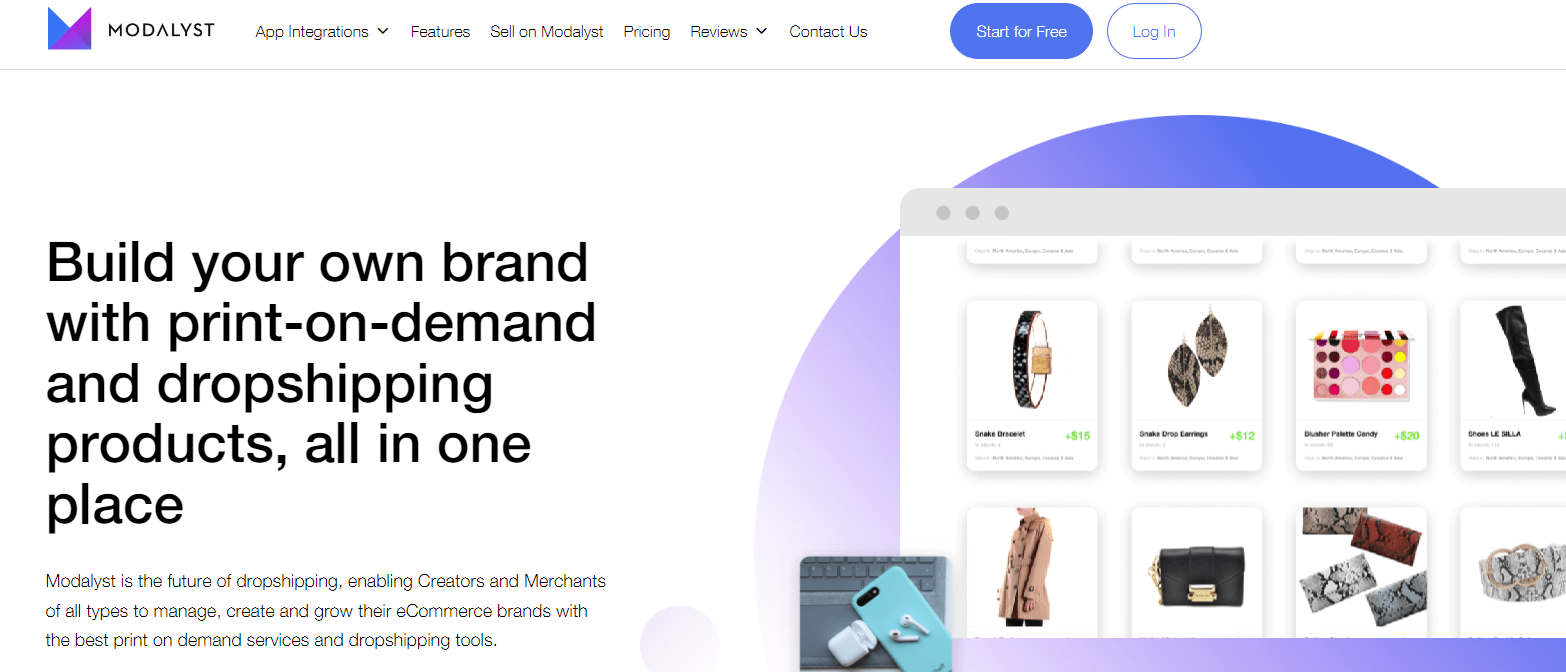 Modalyst encourages Shopify merchants and other retailers to grow their stores through product dropshipping. One good reason to use Modalyst is that it offers one of the best print-on-demand services. This means finding print-on-demand companies wouldn't be much of a problem on Modalyst. 
Moreover, it is simple to use and integrates easily with Shopify, Wix, and Dropcommerce. Also, it connects you with suppliers from the US and many other countries.  Additionally, Modalyst comes with a Chrome extension that lets you import products into your store with a few clicks of a button. 
Because of its unique services, Modalyst is rated the top dropshipping and print-on-demand software by Forbes, Elle, Bloomberg Businessweek etc.
Pricing
Hobby Plan
$0
25 product limit
Non-premium suppliers only
Startup Plan
$35
250 product limit
Non-premium suppliers only
Pro Plan
11. Sellvia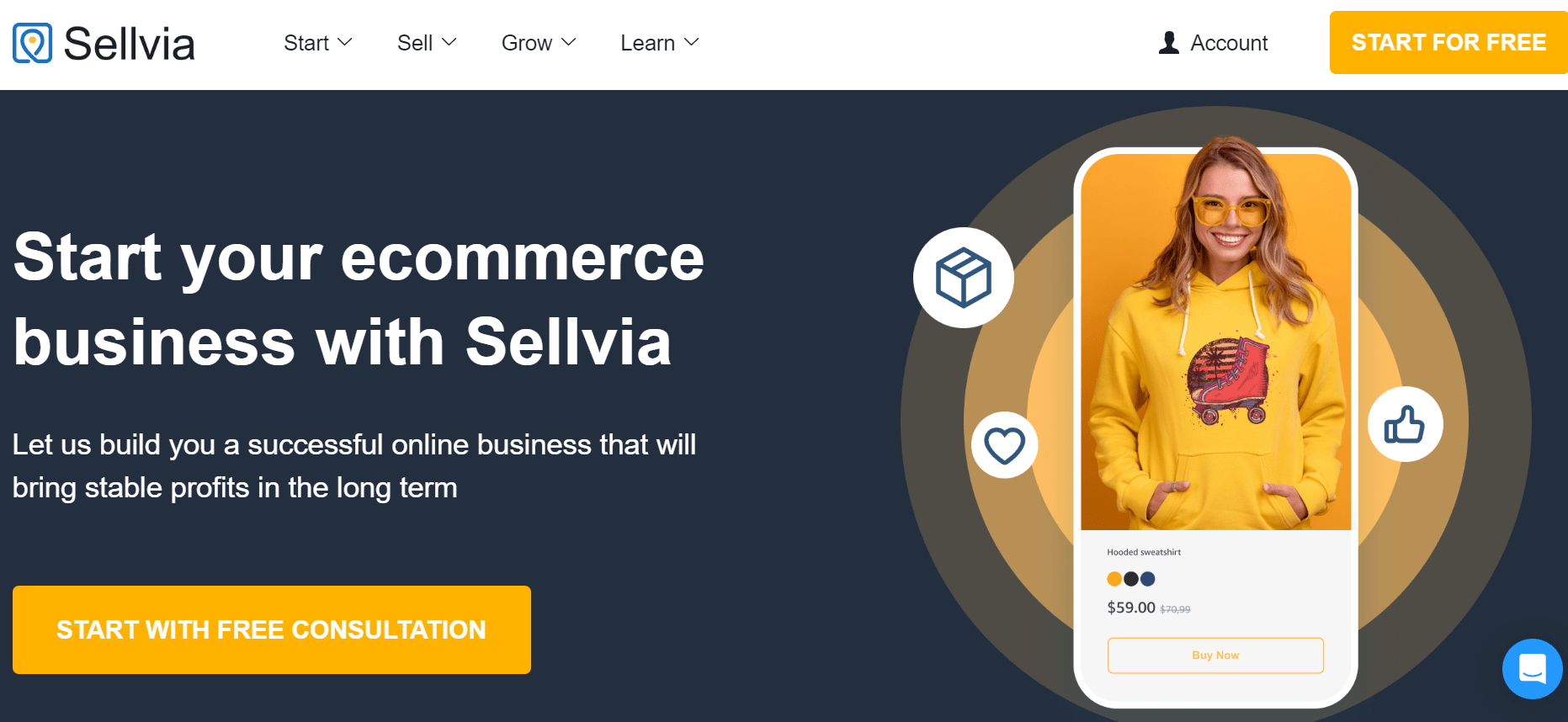 Next on our list of dropshipping suppliers is Sellvia. Sellvia is a dropshipping platform that helps you to connect with the best supplier for your business. 
It has successfully helped over 200,000 individuals start their dropshipping businesses. This is the reason why Inc. Magazine has ranked it as one of the fastest-growing companies in the US.
Furthermore, Sellvia advises you on the best-selling niche and provides products to you that you can sell. Plus, it offers speedy shipping to anywhere in the world.
In addition, you get your personal manager that will guide you through all the processes and steps of finding products. 
Pricing
Sellvia
This is the best price option for online businesses that are already selling 
$39/month
Unlimited product imports and orders from Sellvia
Free 14-day trial and technical support
Sellvia Pro
Best for new business owners with zero experience.
$399/month
All features of the Sellvia plan
Free turnkey eCommerce store
Free website setup including domain and hosting
Personal Manager
Mailing service integration etc.
12. Avasam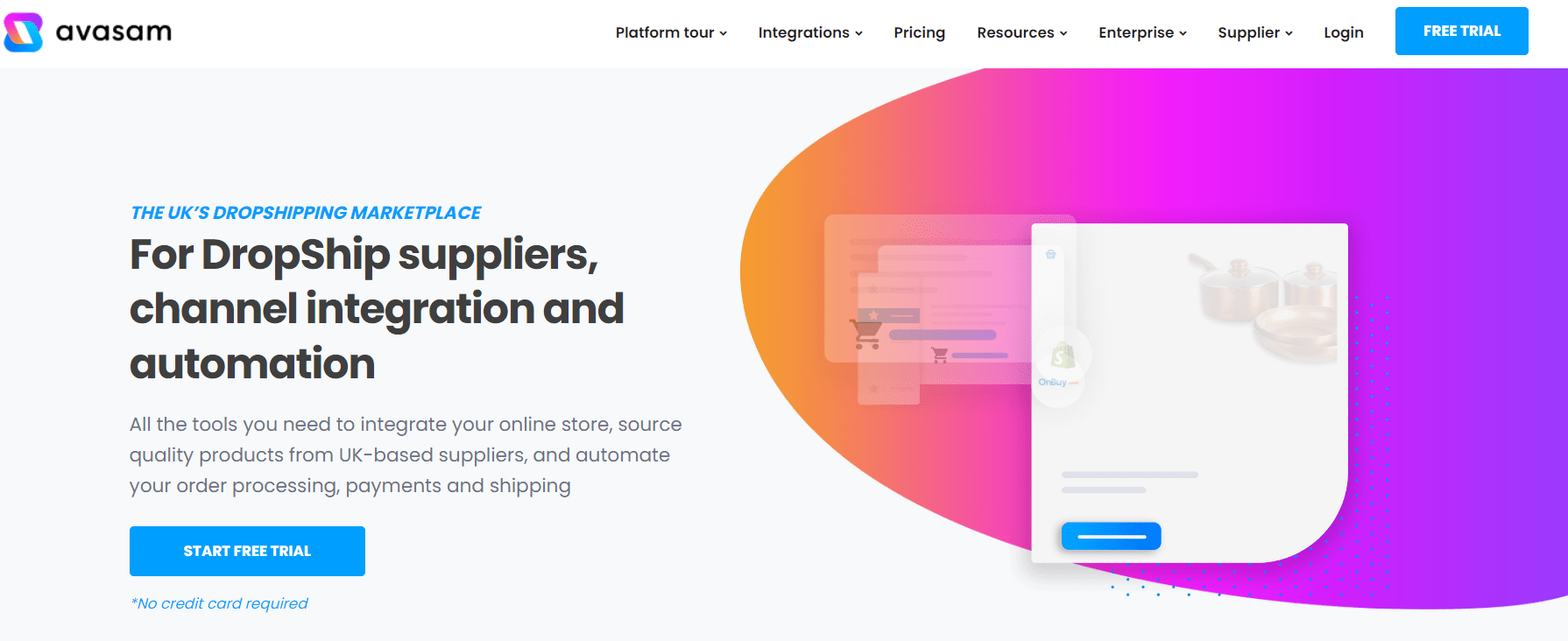 Are you looking to source products from UK-based dropshipping suppliers? Avasam is your best bet. Avasam comes with several built-in tools and features to help you scale your dropshipping business, including round-the-clock support. All products on the platform are checked for quality. 
The most interesting part is that only vetted and verified UK-based suppliers are allowed on the platform.  Also, it allows you to integrate your eCommerce store within minutes and enjoy all of its automation processes. 
Pricing
Avasam has 4 paid plans; the starter, advanced, business and Guru plans which range from $15 – $75 with a free trial period.
Starter, Advanced and Business Plan
$15 – $60/month
Limited Product Sourcing
Limited Order per month
Limited Channel Integrations
Guru Plan
$74.99/month
Unlimited Product Sourcing
Unlimited Order per month
Unlimited Channel Integrations
13. DropCommerce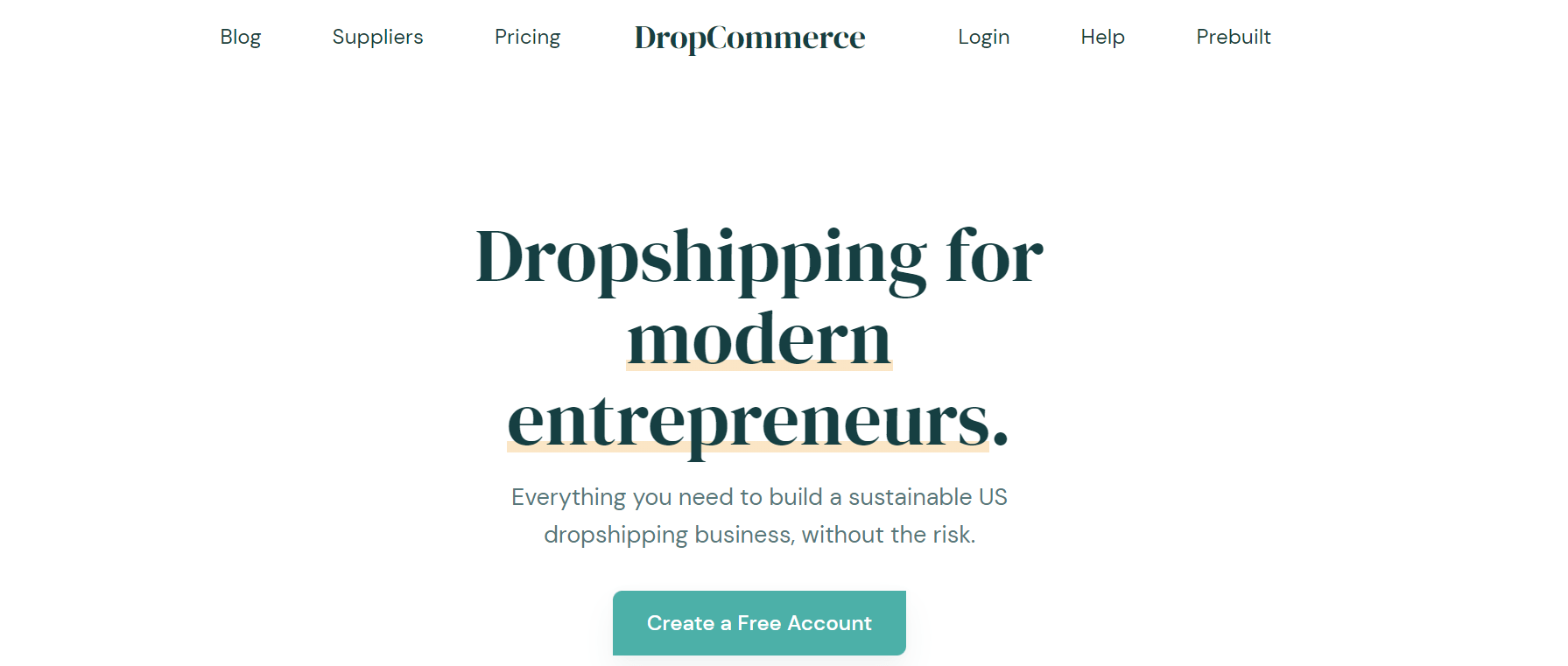 DropCommerce is a platform of choice if you want to connect with US-based suppliers that are reliable and transparent. Also, suppliers on Dropcommerce offer a full refund policy.
Do you want to use branded invoices and shipping labels for your orders? That's not a problem with Dropcommerce.
Sourcing products from Dropcommerce guarantees you enjoy at least 30% profit on each sale. Interestingly, Dropcommerce offers a 14-day free trial. Also, you get to enjoy support at no extra cost. 
Pricing
Prices below $50 per month give you limited products, no auto-fulfilment and non- assigned account manager.
Prices between $499 – $999 per month give you unlimited access to products, branded invoicing and auto-fulfilment.
14. Crov

Crov is a great platform to find suppliers for your dropshipping business. However, most suppliers on Crov are based in the US – and their warehouses are based there, too. Plus, these are vetted suppliers with over 36,000 quality products. This makes Crov one of the most trusted platforms to find products. 
Moreover, Crov has a product request feature that lets you find suppliers faster and easier. Furthermore, Crov ships to over 42 countries and shipping prices depend on the product supplier and their shipping method. 
15. iDropship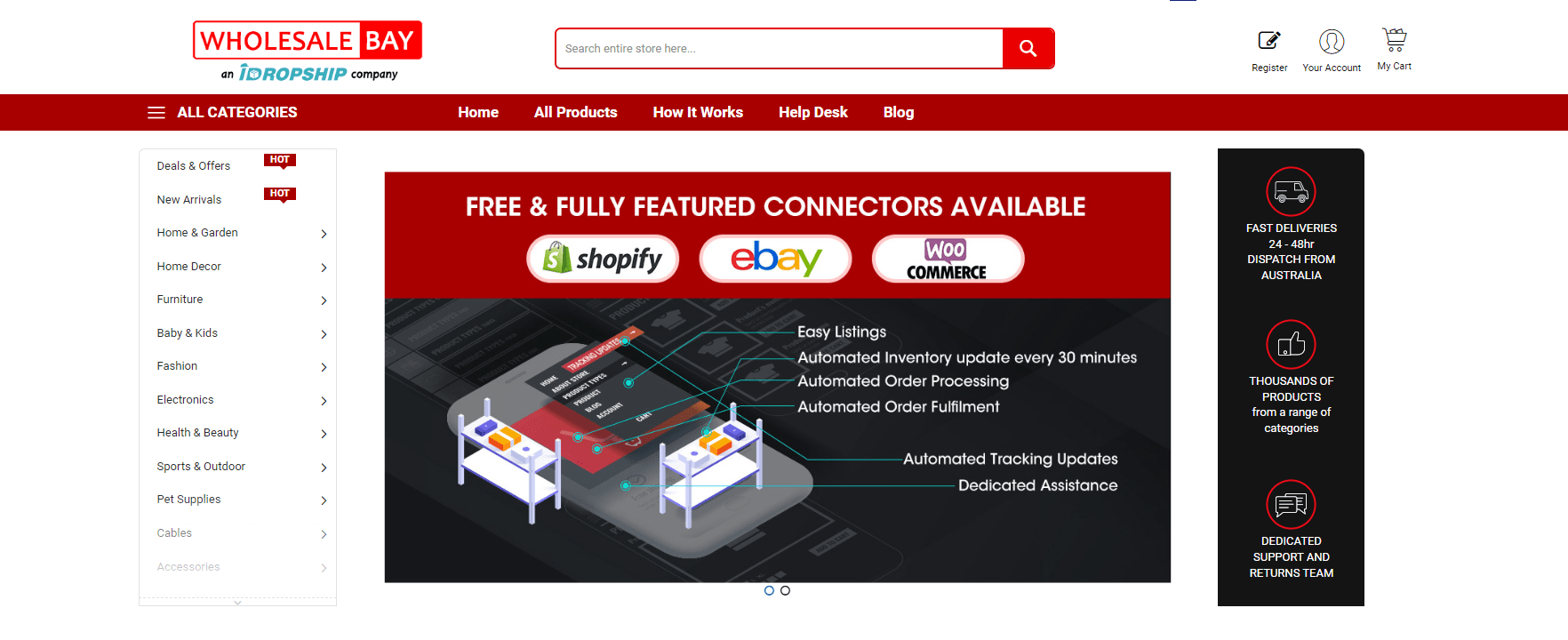 iDropship is an Australian-based wholesale bay that mostly offers high-ticket products.
Also, they help you find cheap and trending products that you can add to your Shopify store at unbeatable lowest prices.
Automated product stock and price updates to keep your store afloat and in sync with your suppliers.
No monthly storage fee is charged so you can focus on your business.
For faster shipping, products available in the warehouse are processed and shipped on the same day order is made.
Conclusion
So there you have it; 15 awesome platforms to find dropshipping suppliers. These platforms are easy to use and offer great support. We hope you will find them useful. 
Are you getting traffic to your Shopify website but are having a hard time converting that traffic into sales? Adoric can help.
Adoric comes with several tools and features designed to help you convert your website visitors into customers. Why not add the Adoric Shopify app to your website right away to see it in action?