Looking for the best lucky wheel coupon plugin for your WordPress or Shopify website? Look no further.
We have created an exhaustive list of plugins and apps for your website – complete with their unique features and pricing plans for you to choose from.
In case you're about to ask why you need one of these for your store, I'll oblige you. Have you ever wondered why people put their money in lotteries even when winning isn't guaranteed?
It's because they believe that if they just staked $5, they could win a million dollars. And so they go back again and again, hoping for that one win.
That said, humans naturally like to take a chance at winning. Precisely put, we like to win – so much that we would give away valuables like money or gold to have a shot at winning.
As a smart marketer, you can apply this principle to internet marketing and eCommerce. How? Through spin-to-win coupon lucky wheel pop-ups. 
So, what's the deal with this kind of popup?
Spin-to-win coupon pop-ups are gamified pop-ups that let your visitors play the lucky wheel game with the hope of winning free coupons they can use to shop in your store afterward. 
They help to improve user engagement and, hence, boost conversion. 
To create one for your website, you need the right plugin – or app, as in the case of Shopify.
Reasons to Use Lucky Wheel Coupon Popups
There are multiple advantages to using lucky wheel spin-to-win popups. 
1. Increased Conversion Rate
Do you know you can increase your conversion rates by using spin-to-win lucky wheels?
So, lucky wheel spin and win should not just be nice-to-haves on your website but should be an essential part of your marketing arsenal.
2. Cart Abandonment Reduction
Another advantage of using spin-to-win popups is that they help reduce cart abandonment, ultimately increasing your sales.
Visitors tend to leave web stores without making a purchase – especially when something else gets their attention.
However, with the catchy designs of spin-to-win campaigns, you can keep them glued to your website. Plus, people always love to buy when there is a coupon or freebie available.
3. Build Trust and Boost Engagement
When people win coupons and get quality products from your website, you build trust with them. With time, they'll come to absolutely trust your brand and engage with your website for more extended periods.
Now that you know why you should use lucky wheel coupon popups, let's get started with the tools you'll need to create yours.
Eight Lucky Wheel Coupon Plugins For WordPress
1. Adoric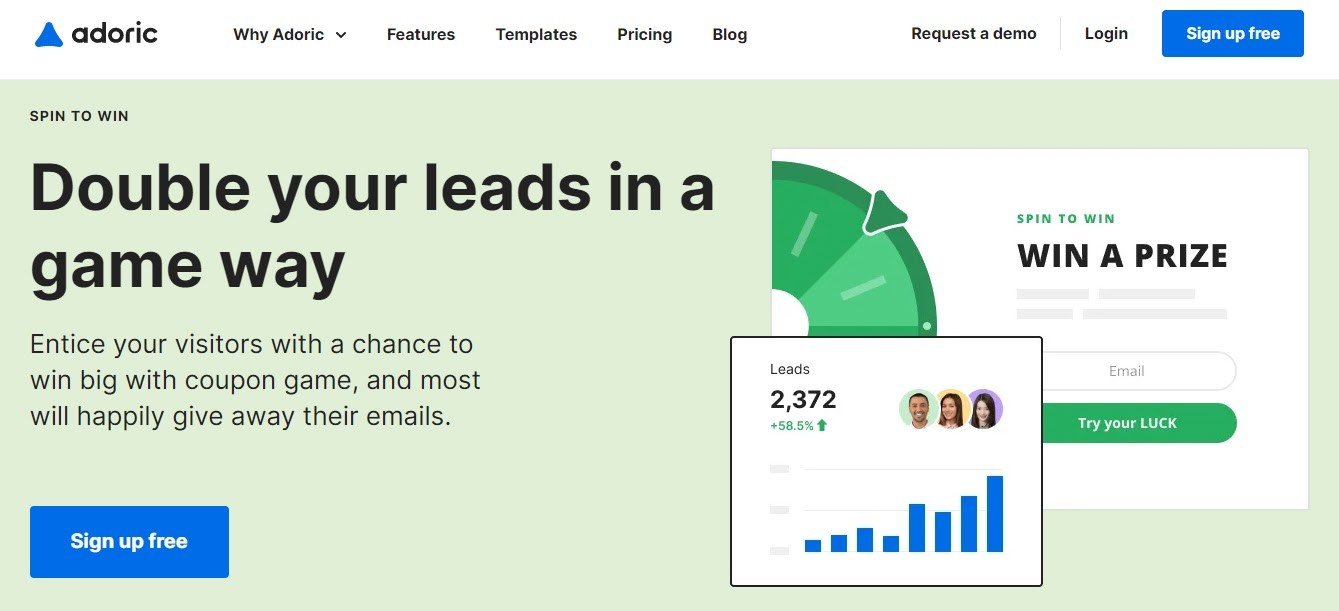 Adoric is one spin-to-win coupon plugin for WordPress that you can trust. This plugin helps you build your email list, increase engagement, and drive conversions and sales.
What's more, Adoric comes with features that allow you to create the right spin-to-win campaign and display it to the right visitors just when the time is right.
Another interesting thing about Adoric is that it allows you to customize your spin-to-win popups just the way you like. You can either create from scratch or use any of the ready-to-use templates and edit to your heart's content. 
Care to see some more features Adoric offers?
An exit-intent pop-up technology that shows your spin-to-win campaign to visitors attempting to exit your website. This alone converts an additional 4% of your visitors into buyers or email subscribers.
Its sophisticated targeting and behavior-based personalization features allow you to display your spin-to-win campaigns to the right audience at the right time. This increases your chances of converting your visitors.
Seamless integration with email marketing services and CRMs like MailChimp, HubSpot, Aweber, and Constant Contact.
For pricing, Adoric has a forever free plan. But to get the most of it, you will need to upgrade to any of our paid plans which start at $29/month. They come with an unconditional 14-day money-back guarantee.
2. WP Optin Wheel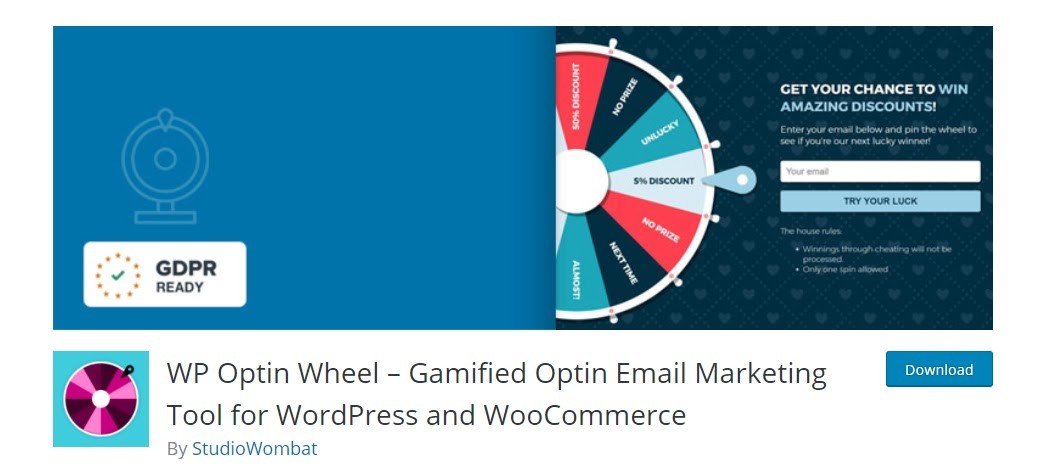 WP Optin Wheel is a plugin designed for easy integration with WordPress.
This plugin is user-friendly and allows you full control over the customization of your wheel popups. With the WP Optin Wheel plugin, you can create different wheels for multiple campaigns you want to run on your website. You also get to customize each of the 12 slices on the wheel to your specifications.
Also, WP Optin can be translated into any language of your choice. Plus, it supports easy integration with MailChimp, thus allowing you to capture your visitors' email addresses without any hassles. 
The premium version, however, comes with all the above features and more. They include:
Useful analytics that informs you of who viewed and who opted in to play. 
Extended compatibility with other email service providers such as ConvertKit, Campaign Monitor, Klaviyo, Active Campaign, etc. 
Ability to check plays for fraud. 
Ability to customize coupons.
A fully optimized form builder. 
3. Spin Wheel for Woocommerce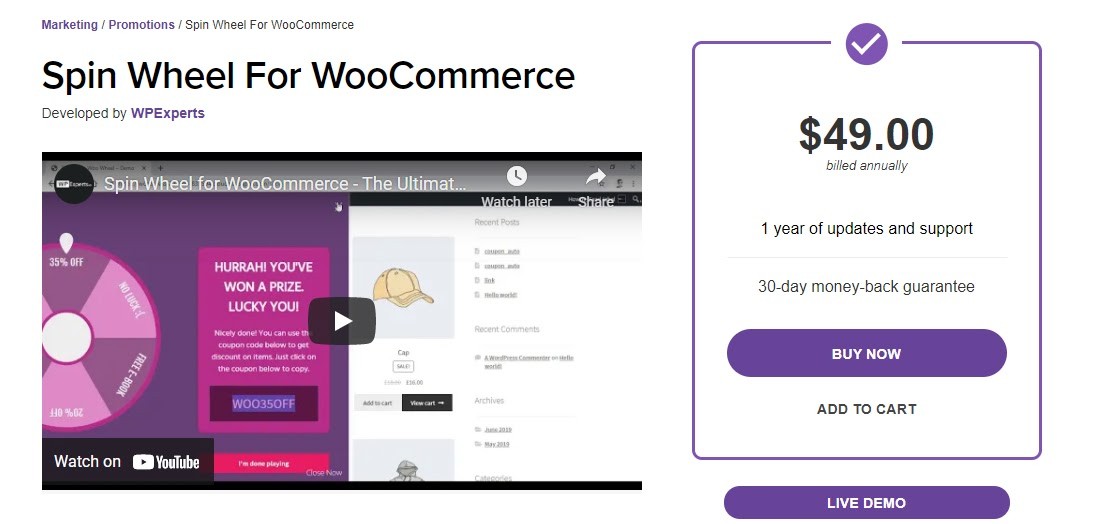 The Spin Wheel for WooCommerce, as the name suggests, is a plugin for creating spin-to-win popups in WooCommerce. Like most plugins, you can edit the content of the wheel and change each slice as you see fit.
This plugin comes with an added perk: you get to add unlimited wheel slices to your lucky wheel, each with a different prize. In addition to this, the Spin Wheel for WooCommerce plugin comes with:
Sound. This means users can hear the wheel as it spins, thus allowing them to enjoy the pleasurable sound of the spinning wheel.
Explainer texts to give an introduction to the game as the wheel opens.
Automatically generated coupons.
100% fully responsive across all types of devices and screen sizes.
Analytic features to give you important data on your visitors' engagement with your lucky wheel.
4. Lucky Wheel For Woocommerce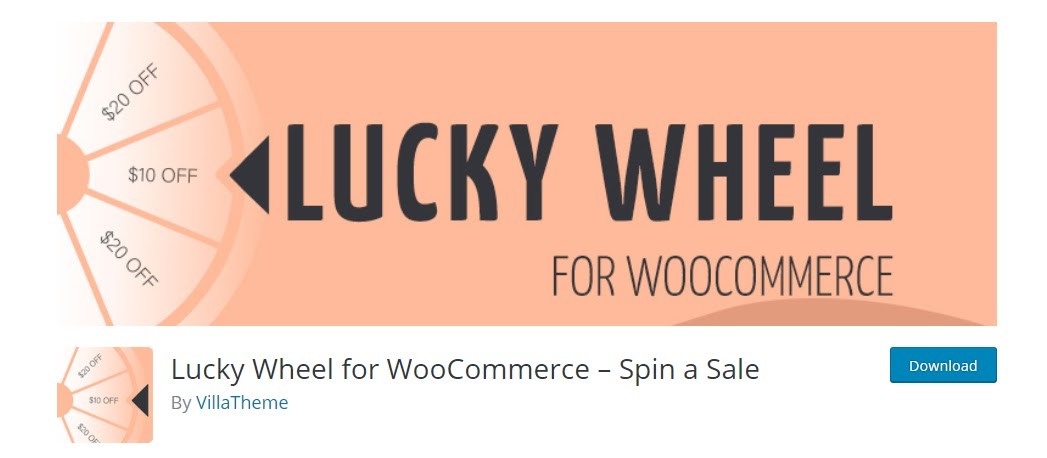 Another easy-to-use lucky wheel plugin is the Lucky Wheel for WooCommerce. This plugin will prompt your visitors to enter their email addresses before getting a chance to spin the wheel and win prizes.
The prize to be won with this lucky wheel plugin is a discount coupon which is automatically sent to the winner's email. 
You also get to customize the 6 wheel slices that the free version offers. But with the pro version, you can add up to 20 wheel slices.
Also, this plugin allows you to decide when you want the popup to appear, which web page you want it to appear, the exact position of the wheel popup, and the number of permissible spins.
5. Discount Win Wheel for Woocommerce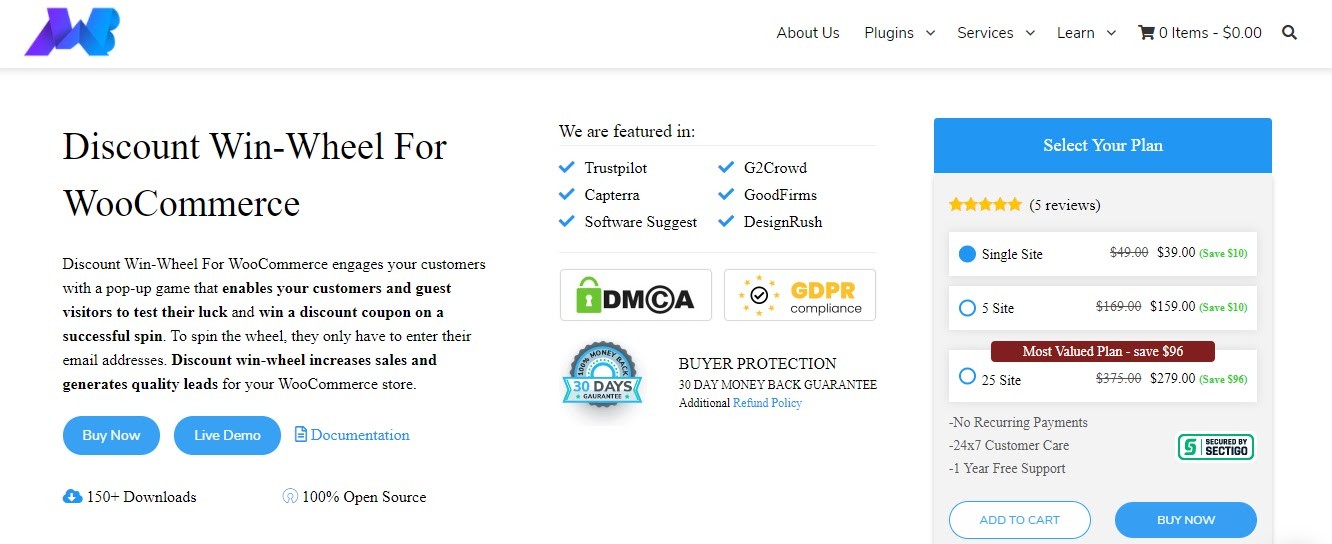 Another great plugin you can use to gamify your opt-in forms is the Discount Win-Wheel for WooCommerce. This plugin makes it possible for you to design and create attractive, responsive pop-ups.  
So, your visitors can engage seamlessly with your website, and you can drive your sales up faster.
With this plugin, you can choose one or more segments where you want the wheel to stop when your visitors spin it. In addition to these features, the plugin also allows you to customize your wheel's content.
With the ability to integrate with Mautic (a marketing automation software) and set a limit to how many times a visitor can spin the wheel, it is easy to see how this plugin is one of the best.
6. Wheel Of Popups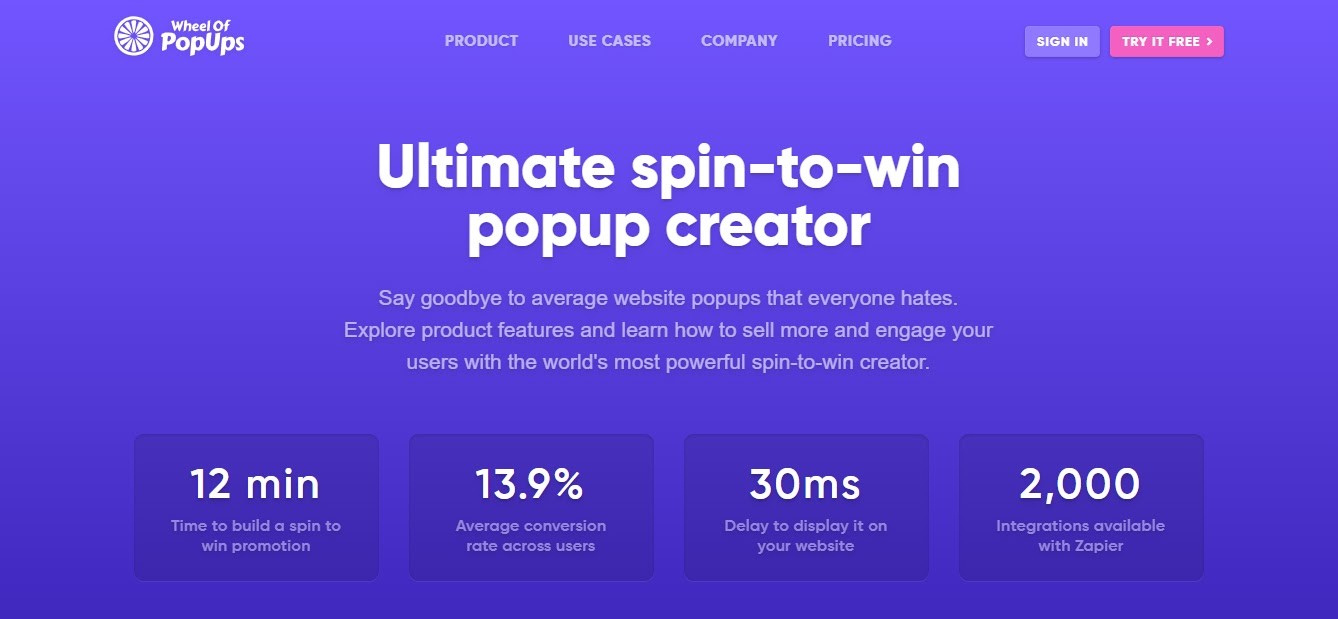 Say goodbye to your average website popups with this plugin. The Wheel of Popups plugin allows you to explore features that help you sell more and engage your visitors better.
Setting up a spin-to-win campaign with this plugin is super easy – it takes less than 12 minutes. 
Its intuitive builder allows you to customize your spin-the-wheel pop-ups according to your brand colors, after which you can preview it both on mobile and desktop screens.
You also get to collect contact details seamlessly and build your email list in record time. With its 100% editable feature, you can edit all displayed text to suit your brand tone and voice.
The Wheel of Popups plugin also gives you real-time analytics, thus allowing you to accurately track your campaign's progress over time. This way, you can be on top of your game every time.
After a 10-day free trial, it costs between $19 to $249 to use this plugin, depending on the plan you subscribe to.
7. Optin Spin

If you want a plugin that allows you some flexibility, Optin Spin is the perfect option for you. You get to customize your lucky wheel to match your brand without sacrificing the functions you need. Some other features that make OptinSpin one of the best are:
Ability to fix the odds for each section and the winning-losing ratio.
Ease of generation of coupons to offer winners.
A countdown timer that creates a sense of urgency.
Customization of visuals and sounds of your spin-to-win popup
Option of email template customization. (You can customize separate emails for visitors who win and those who aren't lucky enough).
8. Wheel By CrazyRocket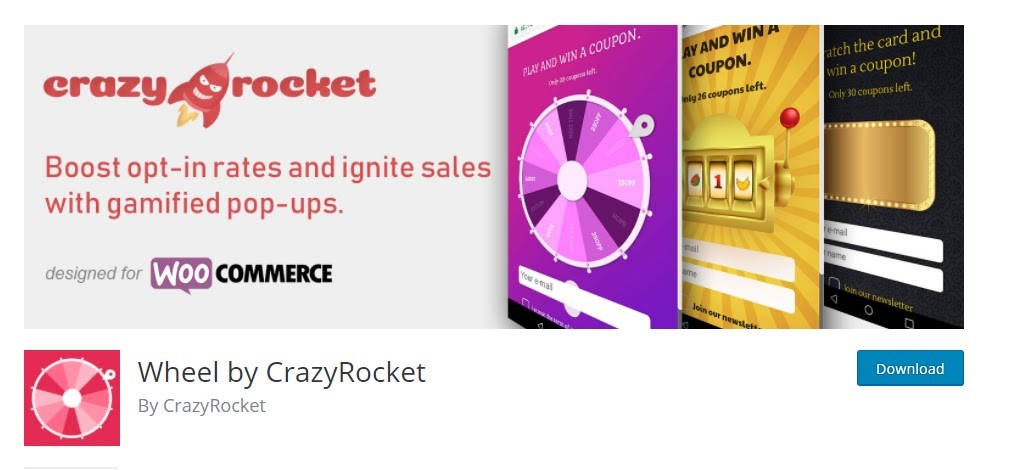 This plugin comes with amazing features that can incredibly improve your eCommerce store's conversion rate.
Wheel by CrazyRocket comes with pre-designed templates that you can customize to your taste.
You can try out the advanced features that come with this plugin for free for seven days, after which you have to pay between $9 and $49 monthly. These features include:
Easy-to-comprehend analytics.
Klaviyo and MailChimp integration.
Automatic generation of coupons.
Countdown timers you can easily integrate into your popups.
Apart from the spin and win wheel, Wheel by CrazyRocket equally offers two other exciting popup game features: 
A slot machine similar to a casino's.
A scratch and win card feature that allows your visitors to scratch a card to win a coupon.
The plugin's pricing is flexible. Three plans are available for you to choose from. They include the grow plan ($9 monthly), the premium plan ($24 monthly), and the enterprise plan ($49 monthly).
Seven Lucky Wheel Coupon Apps For Shopify 
1. Spin To Win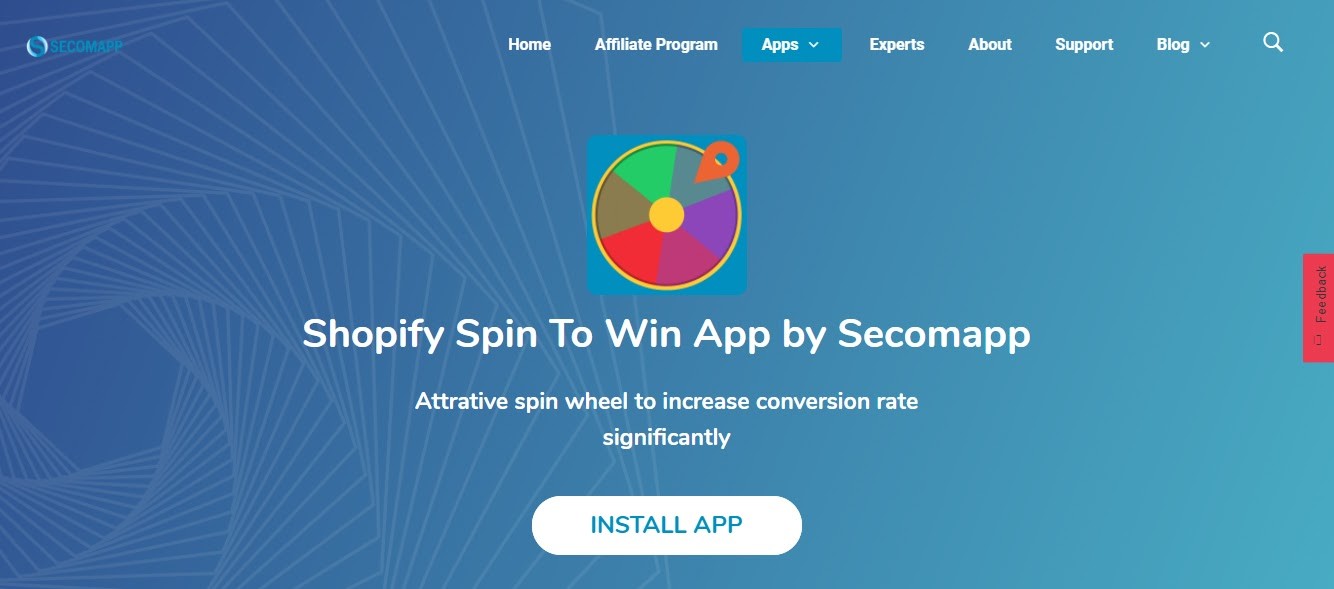 At the top of this list of spin-to-win apps that you can integrate into your website is the Spin To Win App by Secomapp.
This Shopify app offers a free plan from the start. If you would like to upgrade to its paid plans, the pricing starts at a reasonable rate of $9.99 monthly.
Also, the app boasts of some advanced features like targeting and personalization based on your visitors' behaviors. This means that this plugin can show the lucky wheel popup to your visitors based on their previous activities on your website.
Other key features of the app are:   
Rewarding visitors with coupons
Setting up precise percentages for winning discounts
Customization of discount wheel popup.
Lastly, this app has got excellent reviews that make it stand out from other Shopify apps like it. It was also featured as a trending app on Shopify's front page.
2. Wheelio Spin PopUps App

If you want to go extra with your spin-to-win wheel popups, you can do just that with this fun app.
The Wheelio Spin Popups app also allows you to collect the email addresses of your visitors before they can play the lucky spin wheel game.
With this information, you'll find it easy to send them updates about your product discounts and future sales.
Additionally, this plugin allows you to connect with your visitors via Facebook Messenger.
Wheelio also allows you to integrate with other email services like MailChimp. It offers a basic plan that costs $14.92 a month and a pro plan of $54.92 per month.
3. Crazy Rocket

Considering that people like discounts and coupons, the CrazyRocket popup wheel was developed to help you give your visitors coupons in a fun way. 
These coupons encourage them to purchase products from your store over and again.
Apart from the lucky spin and win wheel feature, it also supports Slot Machine and Scratch Cards which are other forms of gamification you can use to engage your visitors.
CrazyRocket allows you to customize colors and fonts on your spin-to-win campaigns to boost your sales. Its dynamic triggers make it effortless to show your popups to visitors just when the time is right.
With its accurate data analysis, you can understand your potential customers and satisfy them better.
Want to know how much this Shopify app costs? It costs from $9 to $49 after a 7-day free trial.
4. Lucky Spin Wheel

The Lucky Spin Wheel app works to improve your sales by providing your visitors with an interactive and exciting email opt-in popup.
The app is compatible with every device- whether it's a mobile phone, tablet, laptop, or desktop device. This makes it relatively seamless for you to create spin-to-win popups. You can also use exit-intent triggers to deploy your lucky wheel spin and win to reduce cart abandonment.
For $3.99 per month, you can add this app to your arsenal of Shopify apps.
5. Spin-A-Sale

The Spin-A-Sale discount wheel plugin takes conventional popups and modifies them into an interactive activity appealing to your visitors. It also allows you to significantly grow your email list, increase sales and spike up your conversion rates.
It allows you to display the prize wheel- which you can fully configure- to your visitors. They can only participate after inputting their email addresses. Then, the wheel spins, and they win a random discount.
You can tailor the exact discounts you want to give your customers and how often you should give each discount.
This app starts at $9.99 after you've exhausted your 7-day free trial.
6. Discount Spin Wheel Exit Popup

The Discount Spin Wheel Exit Popup Shopify app helps you increase engagement with your visitors. It does this by letting you embed a lucky spin the wheel game on your store's homepage. After spinning the wheel, your visitor may win a discount code for further shopping on your website.
With its ability to help you collect the email addresses of your visitors for future marketing, it is easy to see why this app is an excellent option for your Shopify store.
Other significant benefits this spin wheel popup app brings to your store are as follows:
Exit-intent technology that helps reduce cart abandonment.
It provides an anti-cheat shield to prevent your visitors from spinning multiple times.
Also, it gives you the option of customizing your spin-to-win popups with festival themes, e.g., Christmas, Black Friday, New Year, etc.
It provides detailed analytics of your campaign on a dashboard.
The Discount Spin Wheel Exit Popup also has reasonable pricing ranging from a Free plan to a Lite plan ($7 per month), Plus plan ($14 per month), and a Premium plan ($28 per month).
7. Privy – Exit Pop Ups & Email Marketing

Privy Shopify app allows you to capture details of your online visitors and convert cold leads into subscribers and customers using super engaging spin-to-win wheels.
The app is pretty easy to set up. So, you can get your campaign underway immediately.
Privy equips you with a complete set of effective conversion tools that do not require prior knowledge of coding to handle. These tools will assist you in building your email list right from your Shopify store. Other essential features that Privy possesses are:
Automated emails to entice your old customers back to your store. 
Integration with MailChimp and Klaviyo to allow contact syncing.
Eye-catching pop-ups to entice your visitors to subscribe to your mailing list.
Pop-ups with exit-intent technology
Creation and distribution of coupons to your visitors.
Final Thoughts
Lead generation doesn't have to be a boring, dreary process. With lucky wheel spin and win plugins and apps, you can convert your visitors to customers, stay ahead of the competition. 
What's more, it lets you foster a connection that leads to a stronger brand relationship.
With Adoric, it takes only a few steps to set up a spin-to-win campaign on your website- whether on WooCommerce or Shopify. So, sign up for free to skyrocket your website's conversions today.