We've reviewed the best Shopify popup apps you can use to create exit popups to win back visitors attempting to leave your website. But first, let's see what exit popups are and why you need one for your Shopify store.
What Is A Shopify Exit Popup?
A Shopify exit popup, also called an exit intent popup Shopify, is a technology that you can use to keep visitors from exiting your Shopify store. It is triggered when visitors motion to leave your website.
This motioning can take the form of moving their mouse to the browser's address bar or scrolling up quickly on their mobile device. The exit-intent popup technology simply tracks the mouse movement.
Usually, you can customize the message, graphics, and overall element of your exit popups as you wish. An exit popup usually has a Call-to-Action with an attached incentive which could be a discount or a special offer, with the intent of convincing a visitor not to leave a website.
You can also target a specific audience demographic with different popups, depending on what message you want to pass across to them.
Why Do You Need Shopify Exit Popup Apps?
Implementing exit popups on your Shopify store is one marketing strategy that you will never regret. It may not look like it, especially if you think popups are annoying. But they have the potential to increase your conversion rates by up to 267%.
Conversion Science also confirms this: 10 to 15% of abandoning visitors can be won back by using exit-intent popups.
Here are more reasons why you need exit popup apps for your Shopify store:
1. Allows You Win Back Visitors
Exit intent popup Shopify gives you a chance to re-engage visitors who are already on their way out of your website
This equally improves your chances of increasing your conversion rates.
Your second chance offer could be in the form of an opt-in form, a sales offer, or any other Call-to-Action. Think about this as a chance to reinforce your initial message and put out a newer, clearer, and more appealing message to your visitors.
2. Grow Your Email List
With exit-intent popups, you can grow your email list quite remarkably. Why?
Exit-intent popups make it easier to retain new visitors. To do this, you can display an opt-in form popup as soon as a visitor is about to exit your Shopify store. This way, you'll be able to reach out to your visitors even after they've left your website.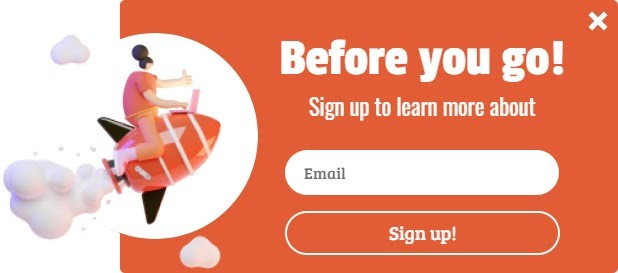 This exit-intent popup template by Adoric is a great way to get your visitors' contact information just before they leave your website.
3. Recover Abandoned Shopping Carts
Sometimes, a potential customer might abandon their cart, forgetting items they kept there while looking around your store. Exit popups help you remind your visitors while on their way out to complete their purchase.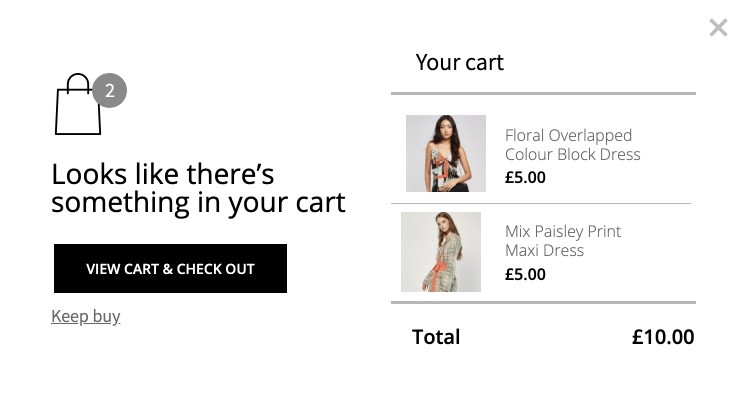 This kind of Shopify exit popup could carry a discount offer on the products in your visitor's cart or free shipping. Chances are, if you offer your visitors a chance to save some money, they will complete their purchase. You can also recommend similar products to the ones they have added to their cart.
4. It Is Subtle
Exit popups are subtle in nature. They engage your audience without them realizing it.
Exit popups, when done right do not interrupt your visitors' browsing experience. They are the perfect choice when you are looking to convince your visitors to carry out a particular action before they leave and forget all about your web store.
Interested in learning more? We have a whole article dedicated to it.
15 Best Apps For Creating Shopify Exit Popups
Here are 15 Shopify applications that can help you create your popups:
1. Adoric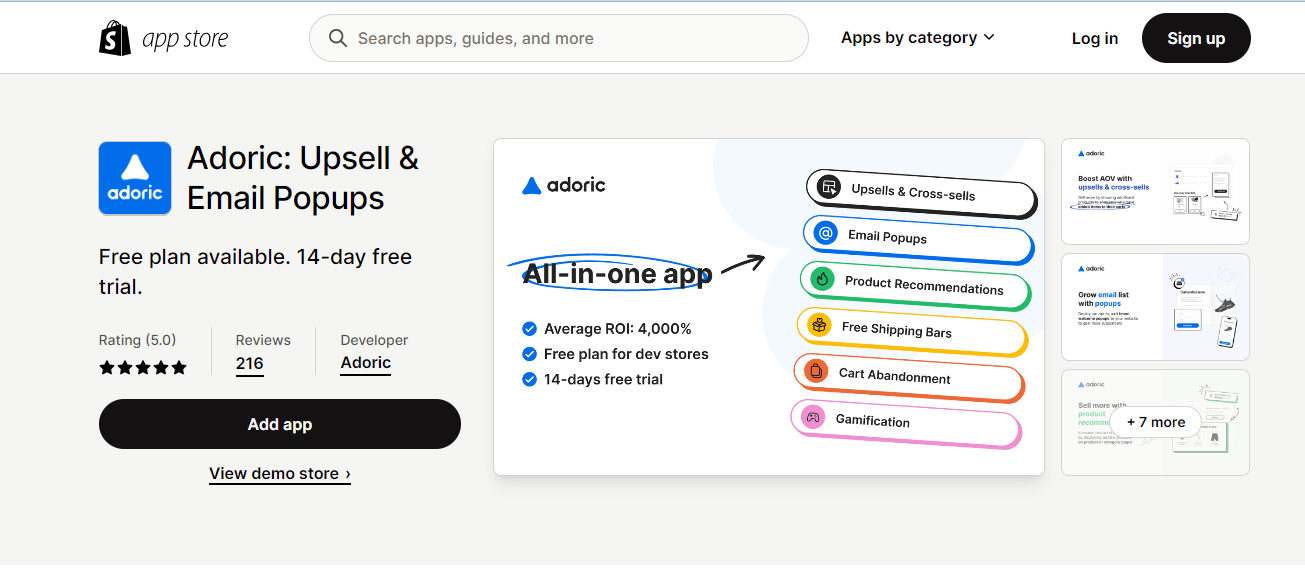 Adoric helps you create high-converting Shopify exit-intent popups. This intuitive popup maker for Shopify comes with a wide array of templates, thus saving you the stress of building an exit popup from scratch.
These templates include opt-in forms to grow your email list, gamified popups to engage your audience in a fun way, and many other popups that are created for you to increase sales. It also provides a built-in editor with which you can edit templates to align more with your brand message.
Adoric provides you with excellent targeting features that ensure that your Shopify exit popups are triggered at the right time and displayed to the right audience.
All these come with the support of a team who is always available to support you if you run into any hitches. Adoric offers free and paid plans that start at $29 a month, with a 14-day free trial.
2.  Privy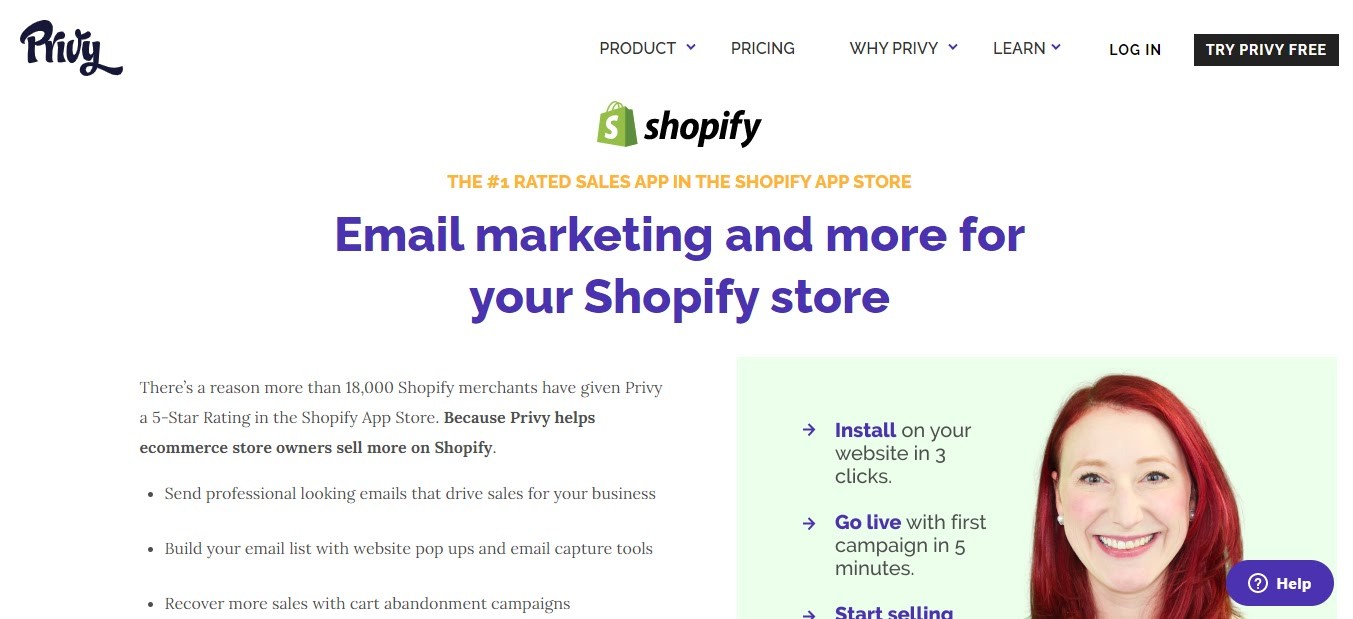 Privy is a Shopify exit-intent app that enables you to communicate professionally with your visitors to drive sales, win repeated purchases, and uplift your conversion rate.
It helps its users to grow their email lists by using popups, flyouts, etc. It provides a platform for small businesses to grow sales and increase their conversion rate using emails and other tools.
Privy provides you with popup templates that you can customize and edit. With timing options that allow you to set up triggers, your popups are more likely to convert your visitors.
It is a user-friendly app and does not require you to have any coding knowledge.
What's more, it's free to use and easy to set up. However, if you want access to advanced features like A/B tests, you'll have to opt for a paid plan starting from $24.
3.  Justuno Popups & Conversion

Justuno is another app for making high-converting exit popups for Shopify. With this tool, you can increase your sales and grow your mailing list with popups, forms, and push notifications.
With these features, you can lower your bounce rate, cart abandonment, and increase your average order value with product recommendations.
Its pricing plans range from $19 to $99.
4.  Popup Upsell

Popup Upsell is another Shopify exit-intent popup app that can reduce your cart abandonment rate with effective popups that are displayed when your visitor is just about to leave your store.
With this app, you can display popups with special offers to people visiting your store for the first time. This way, you just might get them to make a purchase and visit your store again.
Popup Upsell also helps you to grow your email list with popups that prompt your visitors to sign up for your newsletters or other updates.
Popup Upsell provides pre-made templates and customizable design elements like fonts and colors for your popups.
It also offers an analytic feature that allows you to track your campaign's performance, efficiently.
On top of that, this app makes it possible to create mobile-friendly exit popups.
5.  Abandonment Protector
Abandonment Protector comes with several professional templates that you can work with to create popups to win back visitors attempting to exit your website.
With this app, you can create popups targeted at abandoning visitors to re-engage them. This means lower cart abandonment for your store.
It is easy to use, provides all necessary features to improve your conversion rates, and gives your marketing strategy the boost it needs. You can also translate your popup language from English to French or Spanish.
Abandonment Protector was designed to make using exit-intent popups and email marketing automation a lot easier. This Shopify exit popup app charges as low as $8 per month and offers a 30-day free trial for new users.
6.  Easy Exit Popup

Easy Exit Popup by ThinkConvert is another amazing and affordable Shopify exit-intent popup application.
It provides customizable popup designs with background colors. Using background colors will enable your popups to stand out on your Shopify page so that they can't be missed by your visitors.
This app is intuitive, easy to install and configure, and works effectively to reduce cart abandonment.
It does not require any kind of coding knowledge and can also track visitors' behavior on your website. It costs $4.49 per month and offers a 3-day free trial.
7. Exit-Intent Popup by OptiMonk

Exit Intent Popup by OptiMonk promises to help you to avoid losing customers. With its high converting popups, you can grow your email or SMS list.
If you are experiencing cart abandonment issues on your Shopify site, this app can help to mitigate it. Additionally, it also makes it possible to personalize your visitors' experience. You can do this by recommending the products that they are likely to buy in your exit popups.
Optimonk provides 6 types of popup messages, different triggering and targeting options, feedback elements, and other features specifically for Shopify. It integrates perfectly well with Mailchimp, Klaviyo, Active Campaign, Infusionsoft, Aweber, and Recart.
It offers a free version, but its paid plans start from $29.
8.  Poptin

Poptin is a Shopify exit-intent popup and opt-in form creation app. The perfect fit for marketers, bloggers, and e-commerce website owners, Poptin helps to engage your visitors and increase your conversion rate.
With its popups, you can increase your newsletter or email subscriptions and generate leads by offering your visitors relevant offers.
Poptin makes it possible to create smart and well-timed popups, embed forms easily, and create coupons.
With Poptin, you can also use autoresponders to send emails to new subscribers. These emails could contain welcome messages, complimentary coupon codes, etc.
Poptin's features are specially designed to give your Shopify store a professional touch. Plus, they are really easy to use.
This Shopify app comes with a free version and a paid version that costs between $19 and $99.
9. Popupsmart

Popupsmart: you don't need to know a thing about coding to use this app. Plus, it lets you build your email list and increase sales for your Shopify store.
It provides accurate user targeting and lead generation popups that don't disturb or annoy your visitors. With this app, you can create mobile-friendly popups. Furthermore, it integrates flawlessly with Google Analytics, MailChimp, WordPress, Shopify, Wix, Opencart, and so on.
Another feature you might find interesting about Popupsmart is that it lets you infuse urgency to your exit popups. This, in turn, will help to boost your store's sales. Isn't that what you've always wanted?
Its plan starts at $29 per month but you can opt for their free trial plan if you would like to test the waters first.
10. Pixelpop Popup and Banners

Another good application to build engagement on your Shopify store using exit-intent popups is Pixelpop Popups and Banners. It also helps you collect your visitors' email addresses and sync them directly with your preferred and chosen mailing service like Mailchimp, Klaviyo, Constant Contact, or Conversion.
More importantly, you can create popups to promote special offers like featured products, discounts, coupons, gift guides, among others.
By using Pixelpop, you get to time your popups appropriately. You are also able to target your visitors based on the type of device they use, country of location, etc. Pixelpop provides 7 types of popups, 4 popup shapes, and other amazing features.
11.Knowband Exit Popup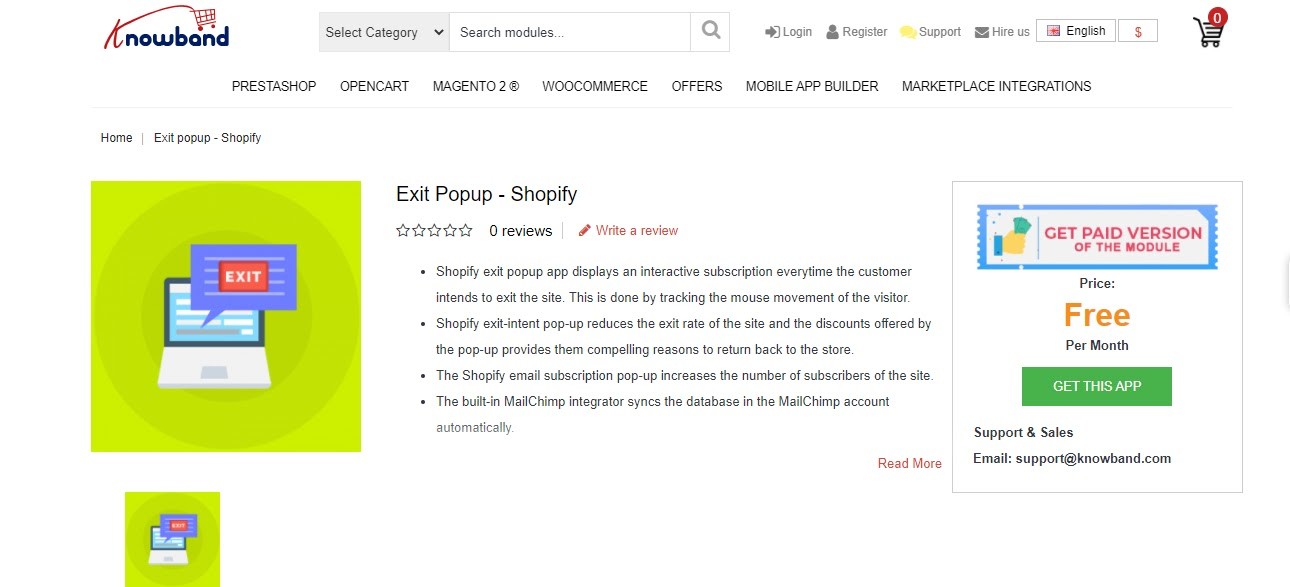 The Knowband Exit Pop app is another Shopify exit popup application that is a good way to prevent cart abandonment and poor engagement on your Shopify store.
Knowband popups help marketers and online shop owners notify users of important updates, and also serves as an excellent tool for promoting offers and incentives. It also helps you to encourage potential customers to take specific actions geared towards improving conversion rates on your Shopify store.
Additionally, it allows you to synchronize your list with mailing platforms like Mailchimp, Constant Contact, etc. By using Knowband for your Shopify store, you can completely customize or create popups from scratch. You can also configure site cookies, and get a complete graphical view of your website's analytics.
12. StoreYa's Exit Pop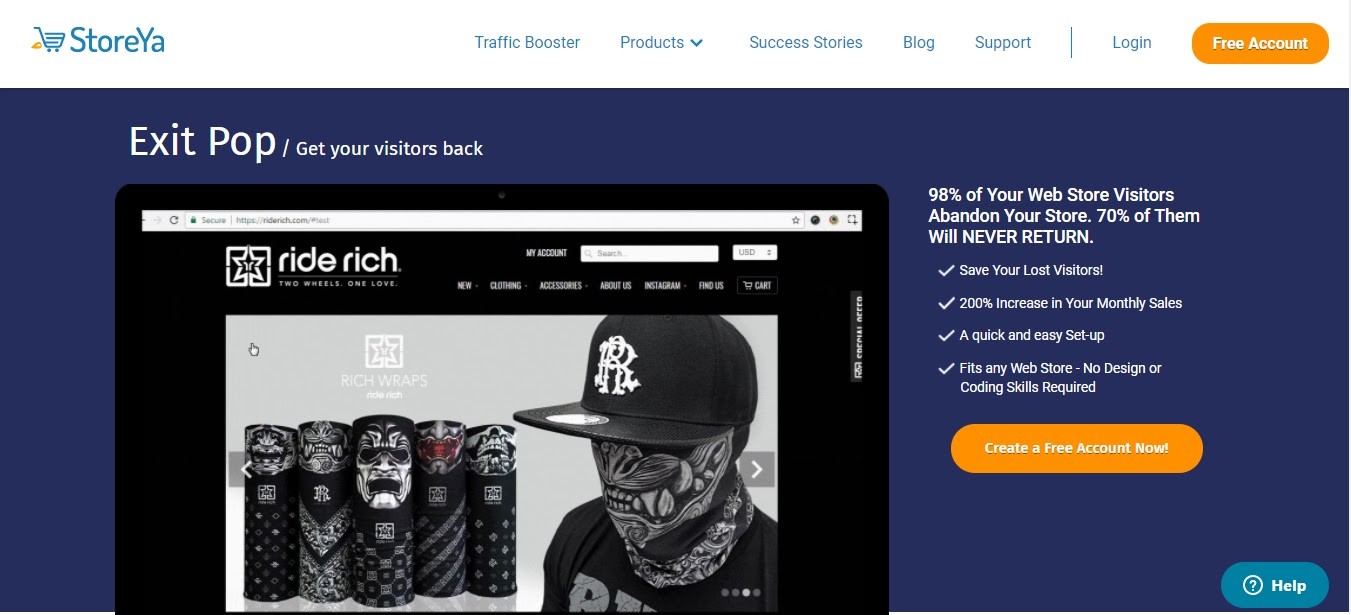 StoreYa's Exit Pop provides an exit-intent technology that tracks the cursor movement on your visitors' device to know when they are attempting to leave your website. Once this happens, a popup will automatically display on your visitors' screen.
StoreYa's Exit Pop is a good choice if you're looking for a Shopify exit popup app that will help increase conversion and sales, customize your popups, and track your visitors' engagement.
Being able to use this app without knowing how to code is the icing on the cake, really.
StoreYa charges between $9 to $69 depending on the plan you choose. It also offers a complimentary 14-day free trial.
13. Exit Popup – Exit Intent

Exit Popup – Exit Intent is an easy-to-use Shopify exit popup app. It allows you to show your visitors a discount on specific products or collect their email addresses when they attempt to leave your web store.
It is effective for reducing cart abandonment. Plus, it works on both desktop and mobile devices. So, you can be sure your visitors will see your popup regardless of their device type.
With this Shopify exit popup app, there's no limit to the number of popups you can create. It also comes with popup templates you can use right out of the box or customize as you want.
It is free to install but charges a recurring fee of $5.99 for additional features after a 2-day free trial.
14. Sales Exit-Intent Popup

Sales Exit-Intent Popup allows you to create exit popups for your Shopify store without any coding knowledge. With this app, you can curb cart abandonment and build up your mailing list.
Although this app hides the "close" box, this may encourage your visitors to interact with your popup. You can also set triggers for your popups so they don't appear at the wrong time. It allows you to add elements like countdown timers to add some urgency to your message.
With Sales Exit-Intent Popup, you can target visitors from any location and create your popups in any language you need.
It's free to use but has a paid plan that starts at $4.95 a month for more robust features.
15.Personizely

Personizely is a well-rated Shopify app that helps you collect email addresses from new visitors to build your email list.
With this Shopify app, you can give product recommendations via popups. This will help to make your visitors less likely to abandon their carts.
The Personizely app has other features that work primarily to increase your store's conversion rate. It offers a 14-day free trial after which you pay between $29 to $206 depending on the plan you choose.
16. Picreel

Picreel is a popular Shopify exit popup tool that is known for its comprehensive popup-builder and easy to use interface. With over 100 built-in templates paired with the drag-and-drop editor, marketers can create and deploy exit popups on their websites within minutes.
Picreel offers real-time cursor tracking along with custom popup triggers to help reduce bounce rates and increase sales by converting potential browsers into customers with the help of highly targeted offers. The tool also offers precise targeting modes to help you always display popups to the right users.
The tool also features built-in A/B testing that can help you test your popup campaigns before their full-scale deployment.
In addition, you even get built-in analytics and reporting capabilities to help you track the performance of your exit popups and campaigns as a whole.
Conclusion
There you have it: 15 of the best apps for creating Shopify exit popups. We hope this list makes it easy for you to choose the app that best suits your business needs.
Adoric can help you create attractive popups for your Shopify store to get you the best conversion rates. Sign up for free to explore the array of tools we've created just to help you get your desired results from your Shopify store.