Discover how VetDepot increased their sales by 18%
Are you having a hard time increasing sales on your website? If you are, well you are like many other businesses.
VetDepot – a veterinary store based in the US – had this problem as well. They approached us and asked if we could use our technology to improve their sales. We excitedly took on the challenge.
In undertaking this task, we used a couple of strategies that we will talk about shortly. In the end, VetDepot saw an 18% increase in sales. As if that wasn't enough, their website's bounce rate also reduced drastically, and user experience improved.
About VetDepot
VetDepot is one of America's leading, online pet supplies sellers. They sell medication, food, and care products for pets.
The company makes it easy for pet owners around the world to purchase quality supplies for their dogs, cats, horses, etc. at cheap prices.
Plus, the quality of their product is so good that you couldn't tell the difference between them and those from your local pet store.
How Adoric Helped VetDepot Achieve Their Goals
We drafted three marketing campaigns, each with a unique goal. All were geared at helping VetDepot boost their sales. They are as follows:
Campaign 1: Improve user engagement
To improve sales, we figured out that the very first thing we needed to do is to improve user engagement. We went about this by creating a popup that appears whenever a first-time visitor came to the site.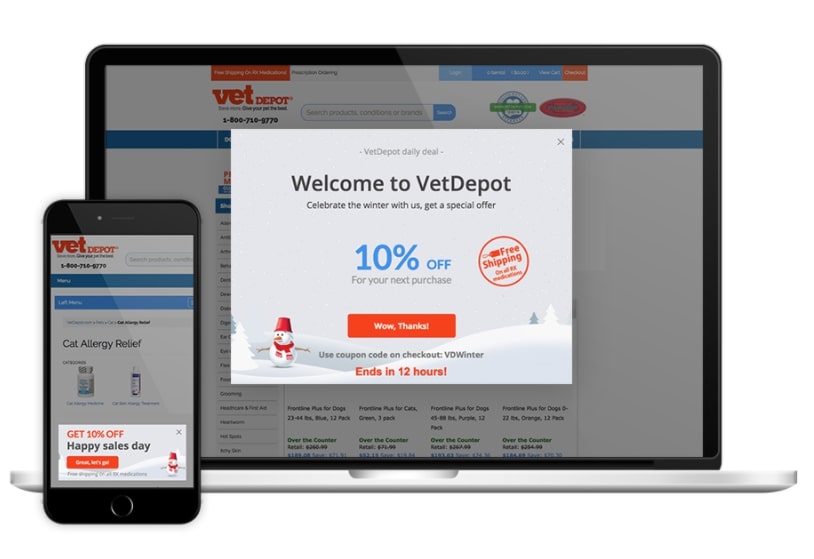 We did A/B testing by trying out 4 different sets of popups before settling for the one you can see above.
The target audience were men and women aged between 40 and 65. We chose this audience demographics because they constitute VetDepot's major customer base.
Campaign 2: Drive sales by offering visitors coupons
Coupon marketing, though old, is still effective to this day. To improve sales, we offered returning visitors irresistible coupons, using a dynamic popup.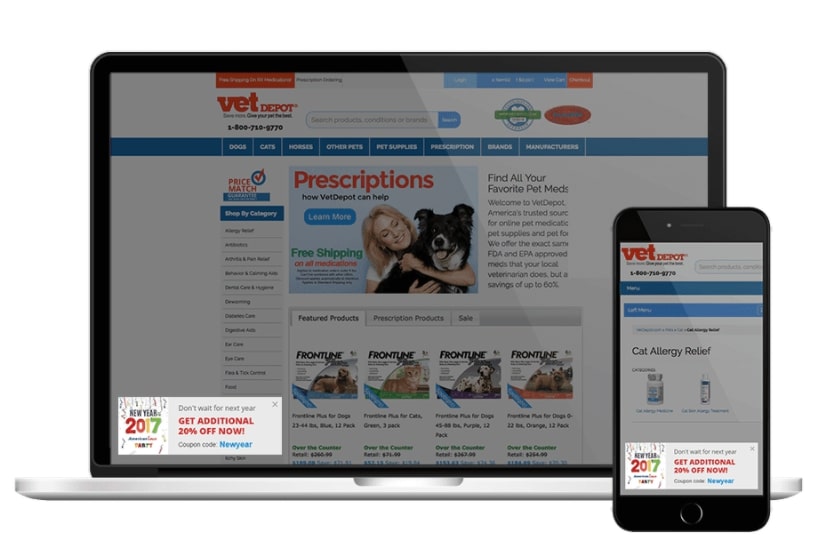 The results were amazing!
Campaign 3: Reduce cart abandonment
Cart abandonment is a nightmare many businesses struggle with. This happens when a user, upon reaching the checkout page of a website, exits abruptly.
To help VetDepot solve this problem, we rolled out our Exit-intent technology on their website. It works like so: when an engaged user attempts to leave a website without making a purchase – or in some instances subscribing to a newsletter – a popup message would appear.
In VetDepot's case, we enticed users that motioned to leave the website with a discount.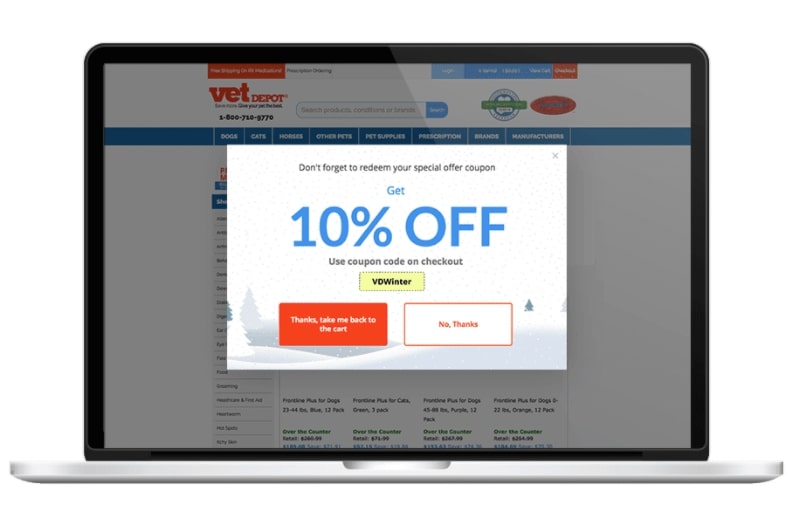 In doing so, a good number of such users returned to continue shopping, until they made a purchase.
Results
After three months of testing and tweaking, VetDepot saw its sales increase by 18%. Also, bounce rate dropped by 24%.