Best Shopify Apps for Marketing, SEO, and Customer
Are you drowning in the sea of Shopify apps and wondering which ones to choose? We've gathered 25 of them to help you get more customers and quickly too.
Shopify has an app store that offers Shopify-owned apps and other third-party apps to help solve any problem your store may have. This gives you a lot of flexibility as you can build your store to meet the specific needs of your customers using any of the several available Shopify apps.
This brings about one of the questions most Shopify merchants have: "Which Shopify apps should I get?"
We have put together this list to answer this question. In this guide, you will find the must-have Shopify apps you need to get more customers fast, especially if you are a new Shopify merchant. Even experienced merchants can pick up one or two that will be helpful for just about any type of business.
Let's get started!
Best Shopify Apps to Increase Customer Engagement
Here are some of the best apps to help you increase your store's level of customer engagement:

The Adoric Shopify app gives you an easy way to get customers to your store with attractive and engaging popup campaigns. With its easy-to-use popup builder, you can create these campaigns without any coding or design knowledge and show them to your Shopify store visitors at the right time through effective targeting and trigger technology.
Apart from getting new customers for your Shopify store, our Shopify app also helps you recover abandoned carts, especially when you deploy popups with our exit-intent technology.
It also lets you create sliders and floating bars if you prefer less intrusive campaigns. You can also track your campaign performance using an intuitive dashboard and make it better if you need to.
Ready to take it for a spin? The Adoric Shopify app offers a free plan, while paid plans start at $29 per month.
2. PushOwl Web Notification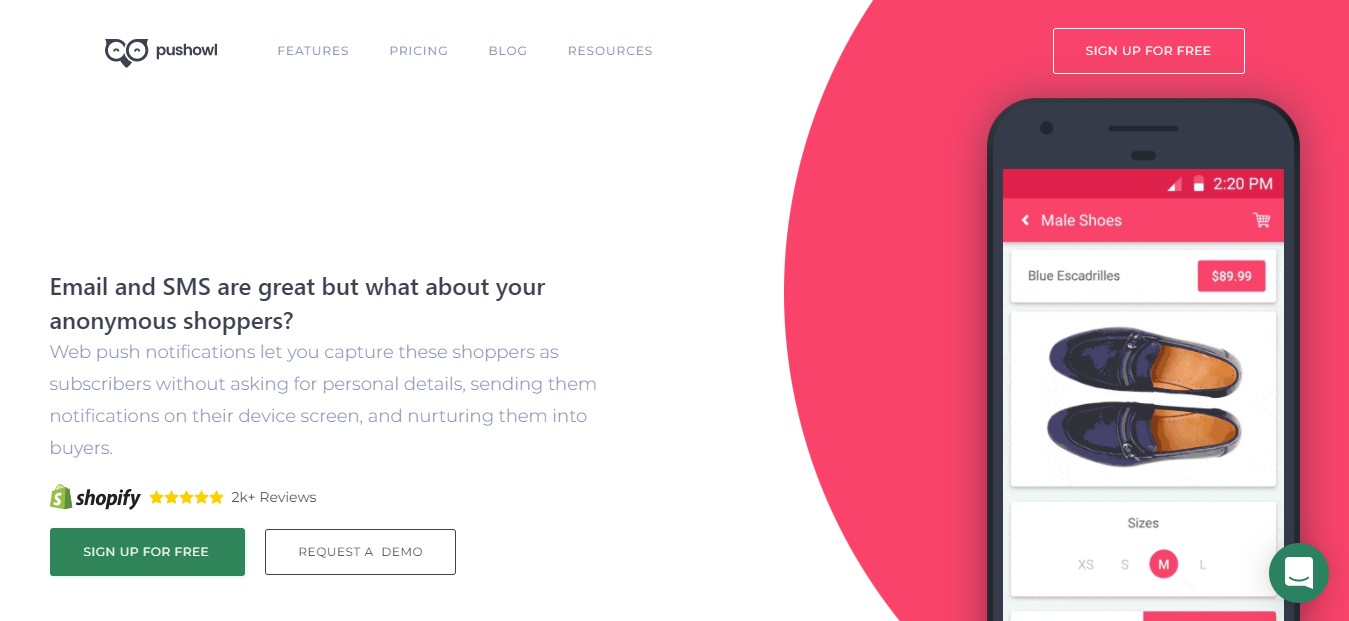 Most people don't make a purchase the first time they land on your Shopify store. They are more likely to make a purchase on subsequent visits. With PushOwl, you can remind them to come back to your store through web push notifications like flash-sales updates and back-in-stock news. This way, you can also recover abandoned carts.
This app offers advanced features like segmentation, smart delivery, and automation, making it easier to build highly converted web-push campaigns.
PushOwl integrates with several other top-rated Shopify apps, allowing you to increase sales drastically without any troubles.
The app offers a pretty attractive free plan that features an unlimited subscription, basic automation, and reports. There is room to upgrade to the paid business plan for just $19 per month.
3. CrazyRocket Spin Wheel Popup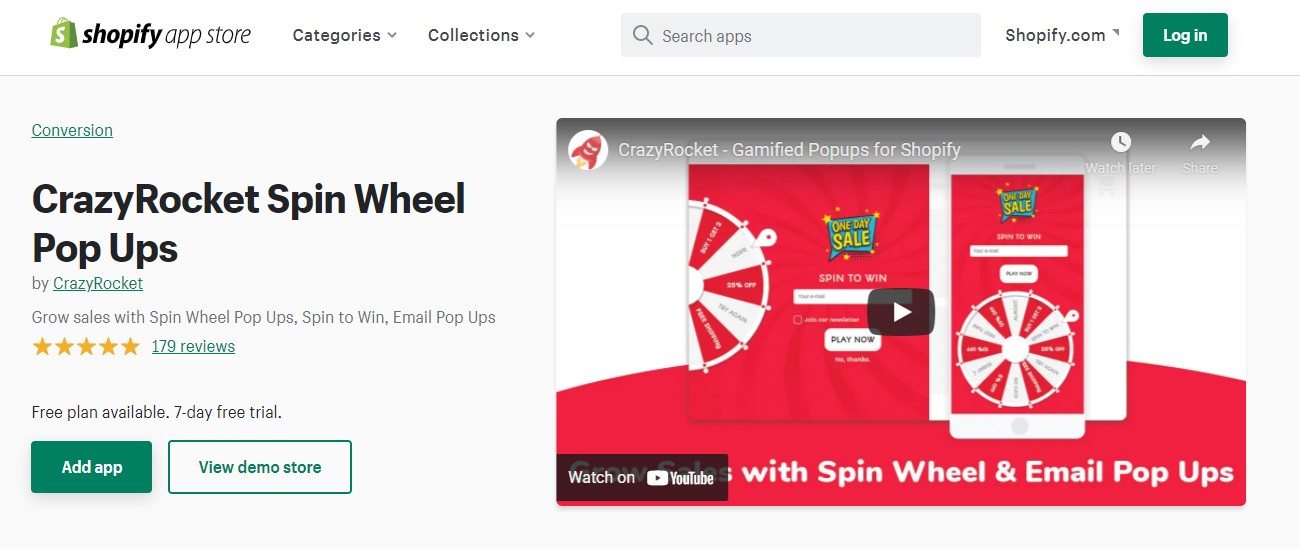 The CrazyRocket Spin Wheel is a brilliant app for increasing customer engagement. It allows customers to play games to win coupons and discounts for just their email addresses. You can choose from a wide range of available games, and you can customize the games to suit your brand and store's mood.
This app also encourages visitors to return with an exit-intent popup that appears when they try to leave your site. The app also features a clock timer that constantly reminds your customers of discount validity dates. The time pressure creates FOMO and helps them to make quicker purchase decisions.
The CrazyRocket Spin Wheel offers four pricing plans, a free plan, and three paid plans starting at $9 per month.
4. Recart FB Messenger Marketing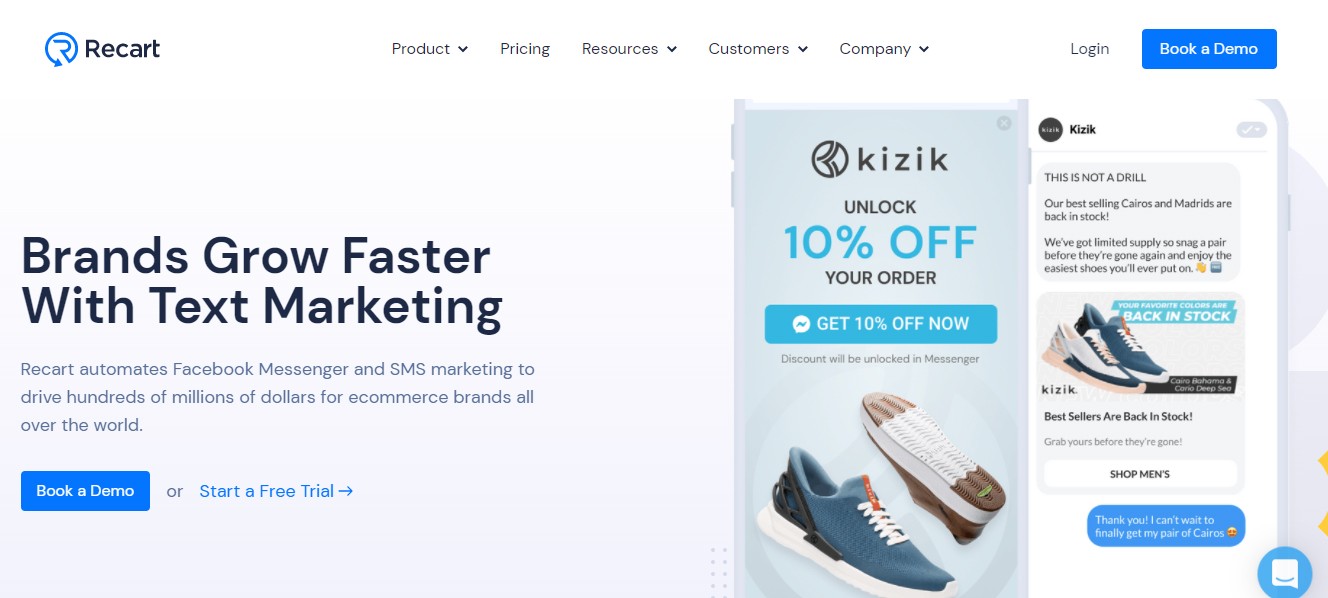 There is every chance that most of your promotional emails will be lost among several other mails and may never get read. This is why Recart FB Messenger Marketing leverages messenger push notifications as a more effective strategy.
Using this app, you can send welcome notes, shipping info, discounts, VIP messages, review requests, personal discounts, and more, with even photos or GIFs to make the content.
This app also offers other features that simplify marketing, like automatic notes, ready-made chat flow, drag & drop UI, and A/B-testing.
Recart FB Messenger Marketing offers several pricing plans to suit the unique needs of various businesses, starting at $29 per month with all features and unlimited subscribers.
Best Shopify Apps to Drive Conversions
Here are some of the best Shopify apps to drive conversions:
5. Free Shipping Bar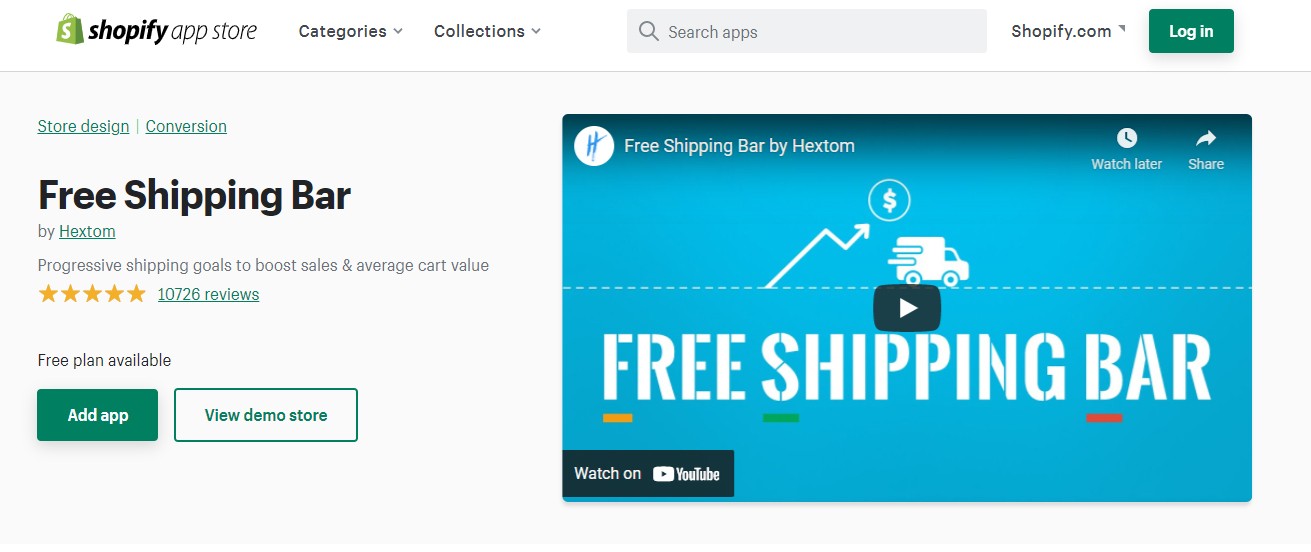 The Free Shipping Bar helps to drive conversions by offering customers who have reached a specific cart value free shipping discounts. Customers can see a progression bar that shows their progress as their shop.
You can choose to customize your strategy in a way that optimizes your revenue. This app lets you select different shipping options for different periods, devices, pages, and countries.
It also allows you to change its appearance to suit your brand's tone and mood or specific holiday season themes.
When it comes to pricing, you can get a free plan that offers just basic features. The paid premium plans start at $9.99 per month.
6. Ultimate Sales Boost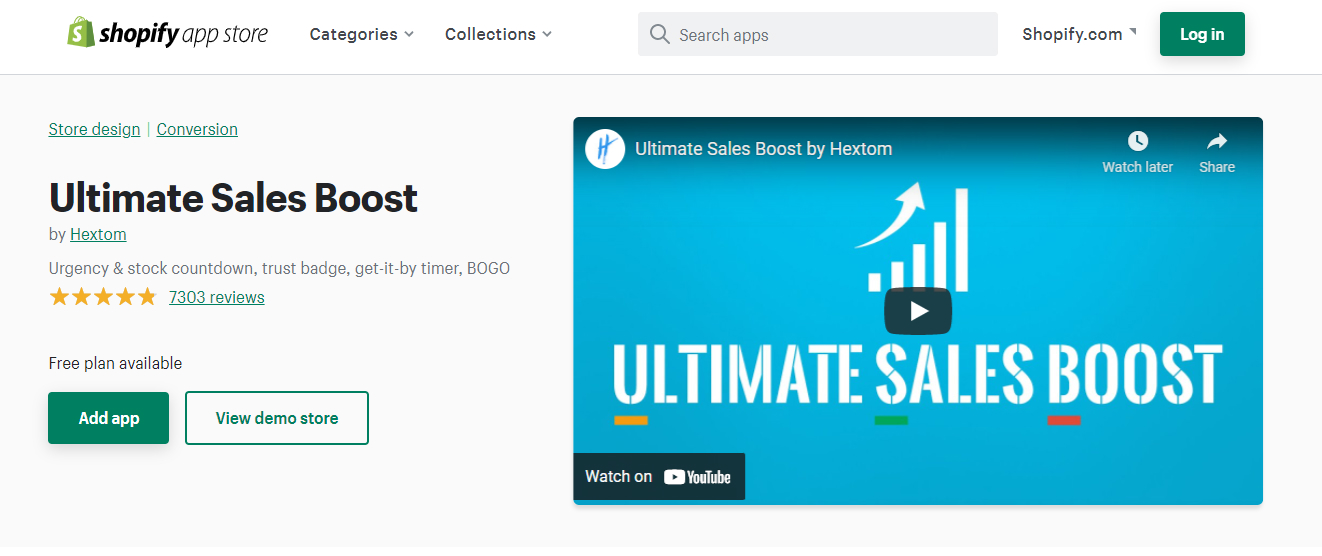 Like the Free Shipping Bar app, the Ultimate Sales Boost app leverages the element of urgency to increase conversion. The app offers features like countdown timers, low stock warnings, and sales sticker image labels that prompt customers to complete their purchases.
You can choose to add this app to product pages, collections, and even your store's homepage to boost conversion across the whole checkout process.
This app offers valuable features like buy-one-get-one checkout, a payment gateway icon on the product page, geo-location targeting, trust badge, and free shipping message on the product page.
When it comes to pricing, it offers a free plan that has just the basic features. You can choose to go for any paid plans starting at $9.99 per month.
7. Buy Me – Buy Button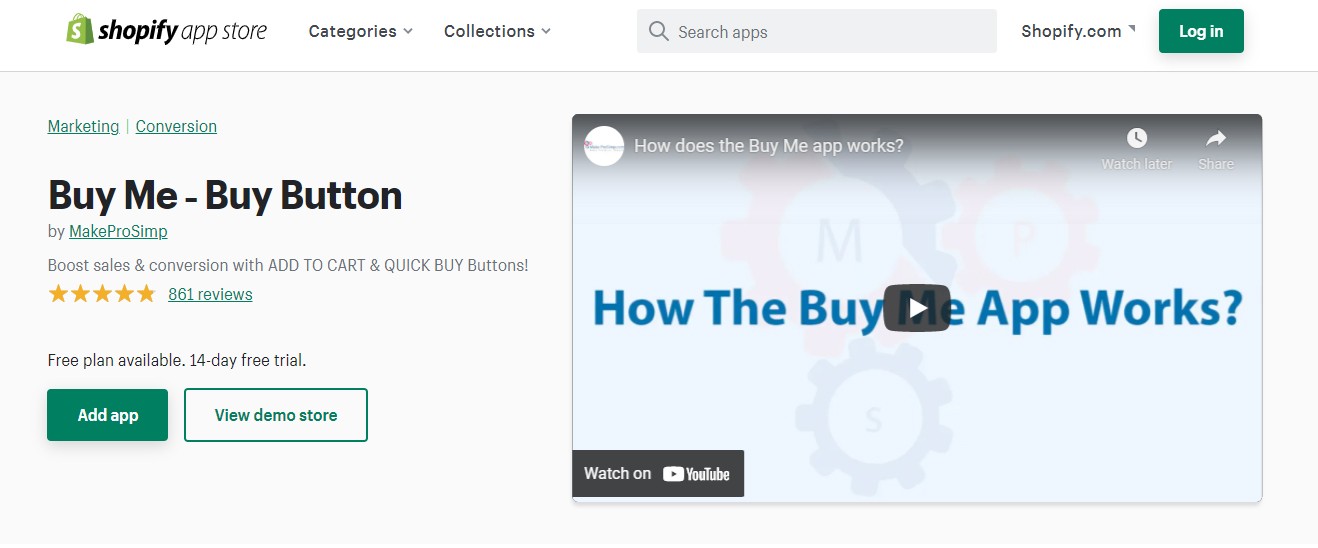 Just as the name suggests, this app allows you to embed Buy buttons on any preferred location on your site to ease the checkout process. You can also set up the Quick Buy On Product Listing feature, which reduces hesitation from your customers and increases your conversion rate.
This app shows customers all the items they have added in cart preview, making it easier to remember what they have picked and checkout faster.
Other features that this app offers that can help you increase sales include its product shareable links for social media, the Remember My Cart feature, and some analytic tools.
With regards to pricing, this app has a free plan, and it also offers paid plans starting at $6.95 per month for advanced features.
Best Shopify Apps for Email Marketing
Here are some of the best Shopify apps for email marketing:
8. SendinBlue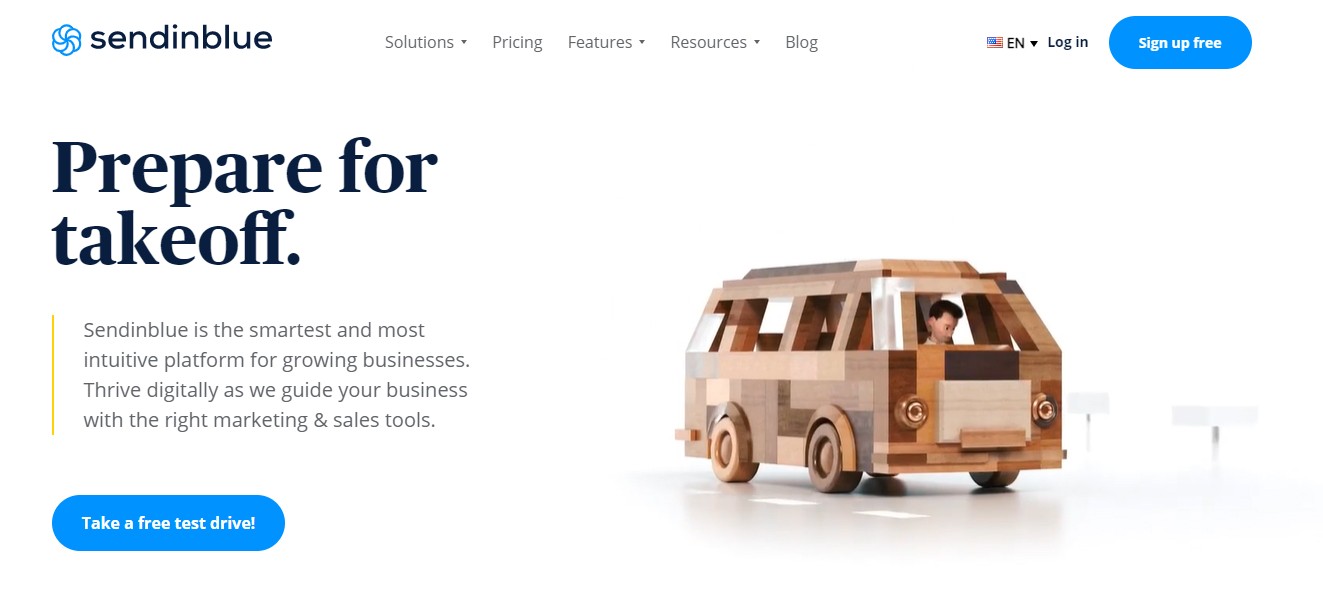 Sendinblue is an SMS and email app for businesses that allows you to run targeted marketing campaigns when you sync it with your Shopify store.
With Sendinblue, you can organize your list based on your customers' purchase history using the audience segmentation feature. You can also use Sendinblue to create subscription forms that will help you grow your contact list.
Its key features include automation rules that allow you to send emails based on different triggers and a drag-and-drop builder that makes it easier to design engaging emails. It also allows you to send SMS notifications to your customers about events like placed orders and delivery.
Sendinblue offers a limited free plan, but its logo will appear on your emails. You can avoid this by subscribing to any paid plans starting at $25 per month.
9. Shopify Email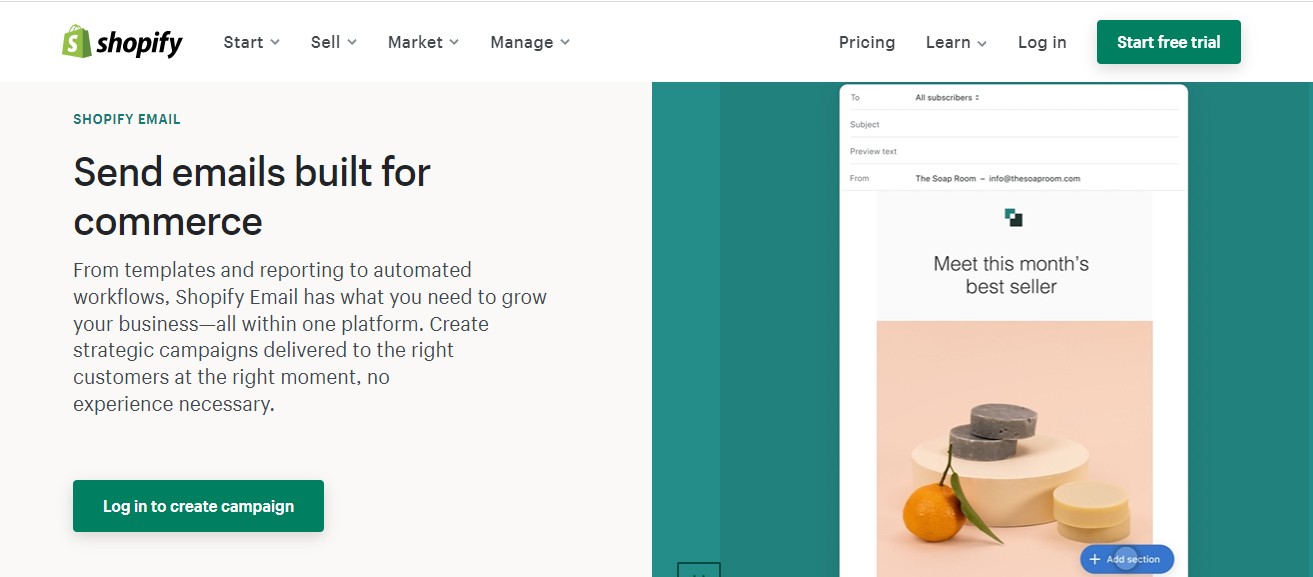 Another great app to get if you are interested in promoting your business with email marketing is Shopify Email. You can easily use Shopify Email to build your email list and manage your campaigns.
Shopify Email allows you to send branded emails to your subscribers with just a few clicks on your Shopify admin dashboard. The app features several templates and lets you include your logo, necessary product images, and product descriptions directly from your store. It also lets you customize the buttons and text in just a few minutes.
You can easily import your contact lists into Shopify, create your campaign, and send out your emails. Shopify Email allows you to also track the results of your campaign using metrics like opens, clicks, purchases, and add to carts. These metrics can help you optimize your customer acquisition and retention campaigns.
With Shopify Email, you get to send 2,500 emails monthly for free, after which you have to pay $1 for every 1,000 emails you send after that.
Best Shopify Apps to Build Customers' Trust and Loyalty
Here are some of the best Shopify apps that can help your customers develop trust in and loyalty to your brand:
10. Gameball: Loyalty & Rewards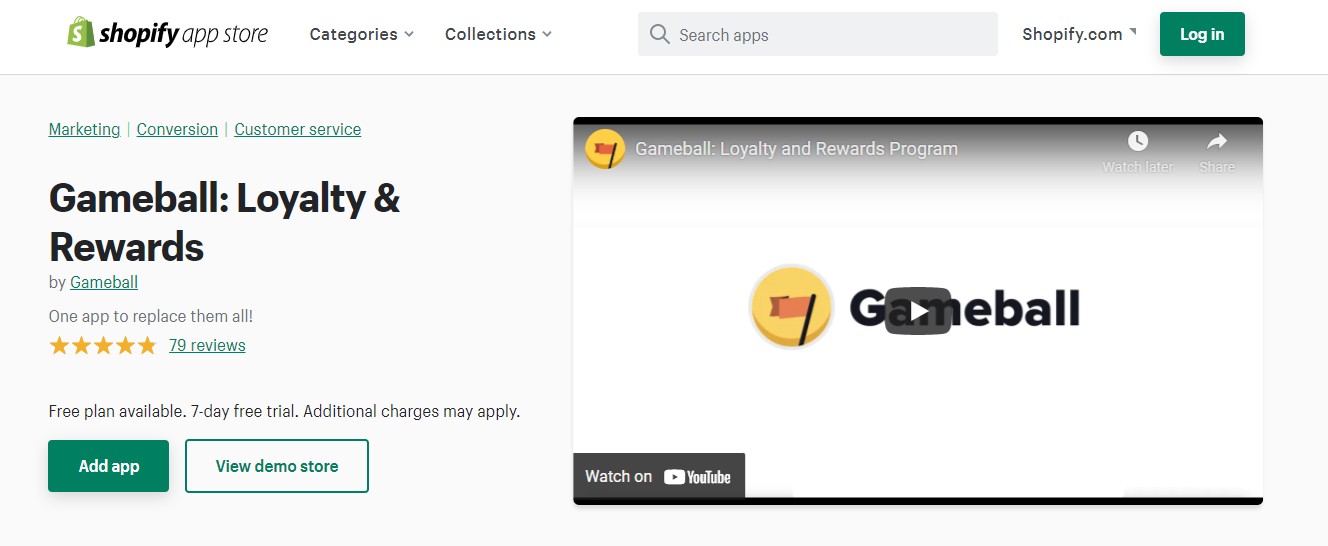 Gameball offers several game-like features that draw in customers. With this app, your customers can earn rewards by completing buying challenges and referring friends. The app has a sleek interface that makes it attractive.
With Gameball, you can create cashback programs, set up storewide challenges and user-centered missions, provide signup rewards and reward badges, offer custom discounts, and send out mobile and web push notifications. You can also create two-way referral programs that allow you to reward the referrals and their friends.
Shopify merchants can install Gameball for free. However, it offers higher plans with increased and advanced features starting at $29 per month.
11. Loyalty, Rewards, and Referrals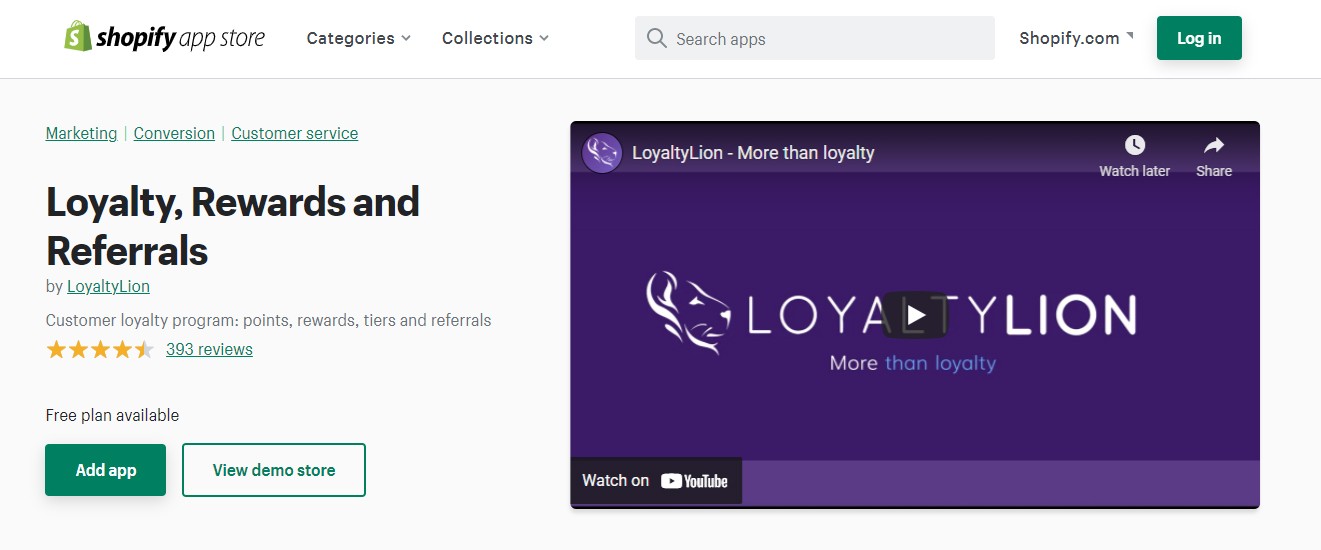 With the Loyalty Rewards and Referrals app, you can access common loyalty app features. Some of these include the ability for you to reward customers with points for site visits, sign-ups, purchases, reviews, referrals, and the ability for customers to redeem points to earn vouchers, discounts, free products, free shipping, and custom rewards.
However, the most exciting features of this app are its powerful analytic tool and its seamless integration with Shopify.
It offers a pretty attractive free plan with room for 800 monthly orders, an unlimited number of members, and other basic features. You can choose to add more advanced features, but that comes with a price starting at $5 per month. Over time, you can subscribe to a higher plan starting at $159 per month.
12. Referral Candy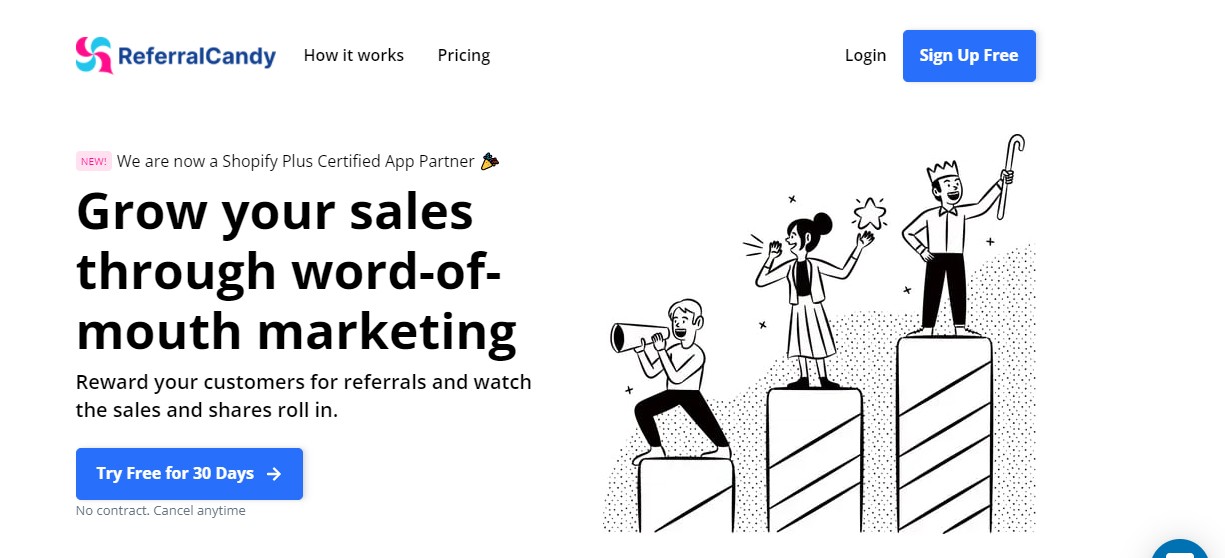 Referral candy allows Shopify merchants to set up a straightforward referral program. You can allocate rewards to customers and their referred friends, ranging from percentage discounts to money discounts, cash, or even custom gifts.
It has an automatic fraud protection feature, seamless integration with Shopify, and a functional tracking dashboard that allows you to manage the app and make informed decisions.
Referral Candy offers two pricing plans starting at $49 per month and $3999 per month.
Best Shopify Apps to Upsell & Cross-Sell
Here are some of the best Shopify apps to upsell and cross-sell your products to customers:
13. ReConvert Upsell and Cross-Sell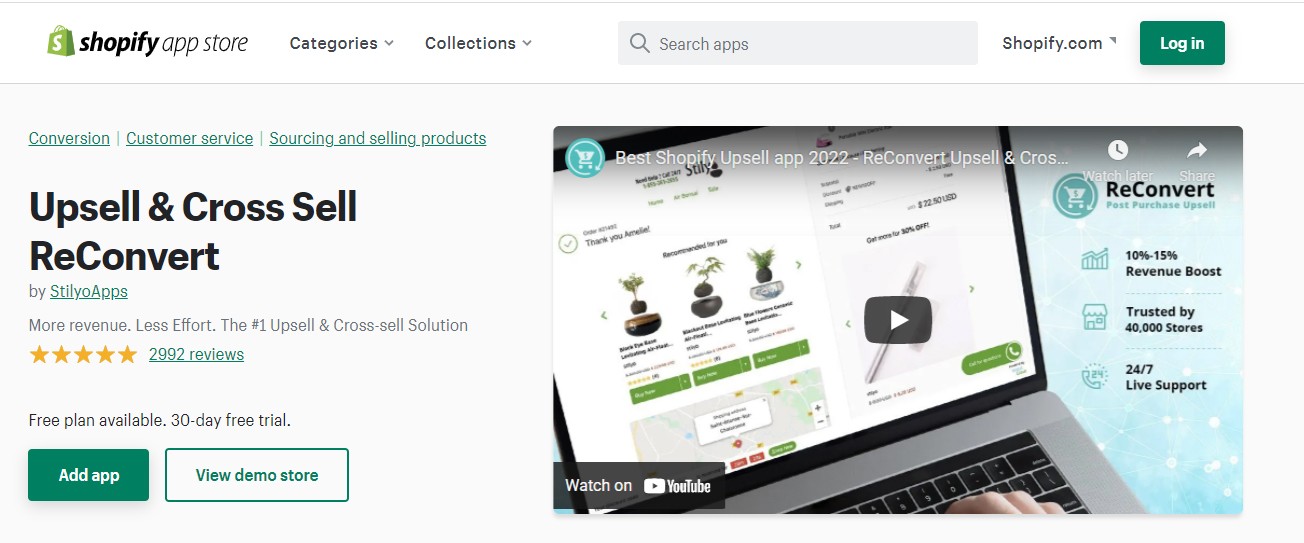 This app leverages the tendency of customers to buy more after completing a purchase. It uses widgets to suggest purchase recommendations to allow for upselling and cross-selling.
You can set up widgets for product recommendations upsell & cross-sell, discount popups, reorder buttons, post-purchase surveys, one-click purchase upsell, and reviews, among others.
You can also personalize its thank-you page experience for different customers based on the specific products they ordered, the collection, their language, currency, or even product types.
This app also offers full analytics that allows you to track essential metrics. It also lets you choose from the available templates, customize them, or design yours from scratch.
ReConvert Upsell and Cross-Sell offers both free and paid plans, with the paid plan starting at $7.99 per month.
14. Unlimited Bundle & Discount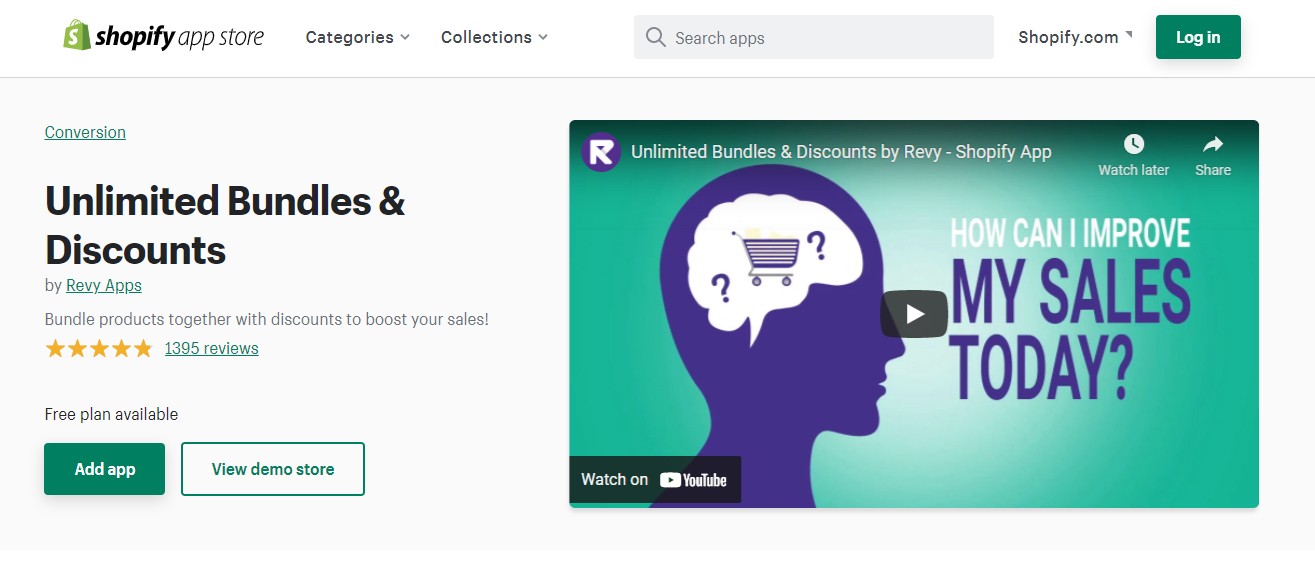 With the Unlimited Bundle & Discount Shopify app, you can easily upsell your products by setting up product bundles. It is effortless to customize and does not require any prior coding knowledge.
With this app, you can easily encourage your customers to buy more products in exchange for rewards like discounts or a free product.
You can also use the app to schedule large event-based discounts like Black Friday or Cyber Monday. This app features a lock button that prevents customers from ordering when the locked products are not in stock. This app integrates well with most inventory apps and currency converters.
The pricing for this app starts at $13.99 per month.
15. Recom.ai – Upsell & Cross-sell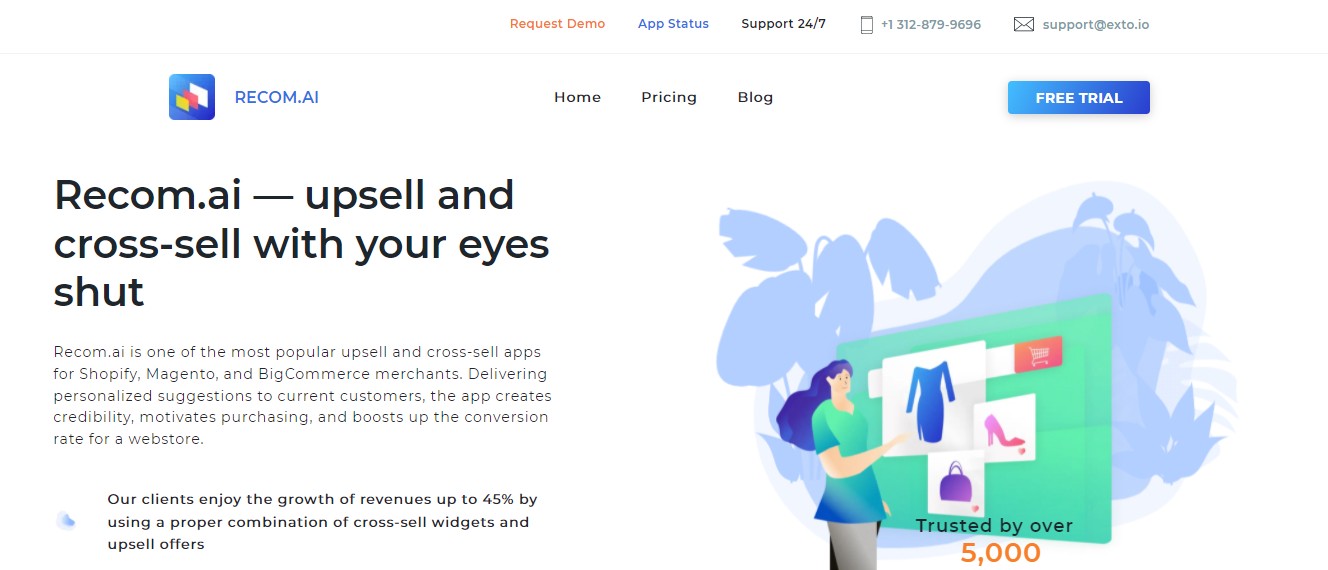 Recom.ai uses its robust AI system to upsell and cross-sell smartly and efficiently. One of its most unique features is the Scout feature which allows customers to like or dislike a product. The machine app then automatically displays products that are similar to their favorite products.
Recom.ai has flexible rules for the common upsell functions, allowing you to set upsell conditions based on price, color, type, weight, etc.
This app offers several upselling widgets and display formats to choose from. It also gives you the freedom to upsell on any of your store's pages.
The app will cost you $19 + 2.9% of sales the app generates per month. This cost is capped at $519, and it offers no bigger plans.
Best Shopify Apps for Multi-Channel Marketing
Here are some of the best Shopify apps you can use for multi-channel marketing:
16. Feed for Google Shopping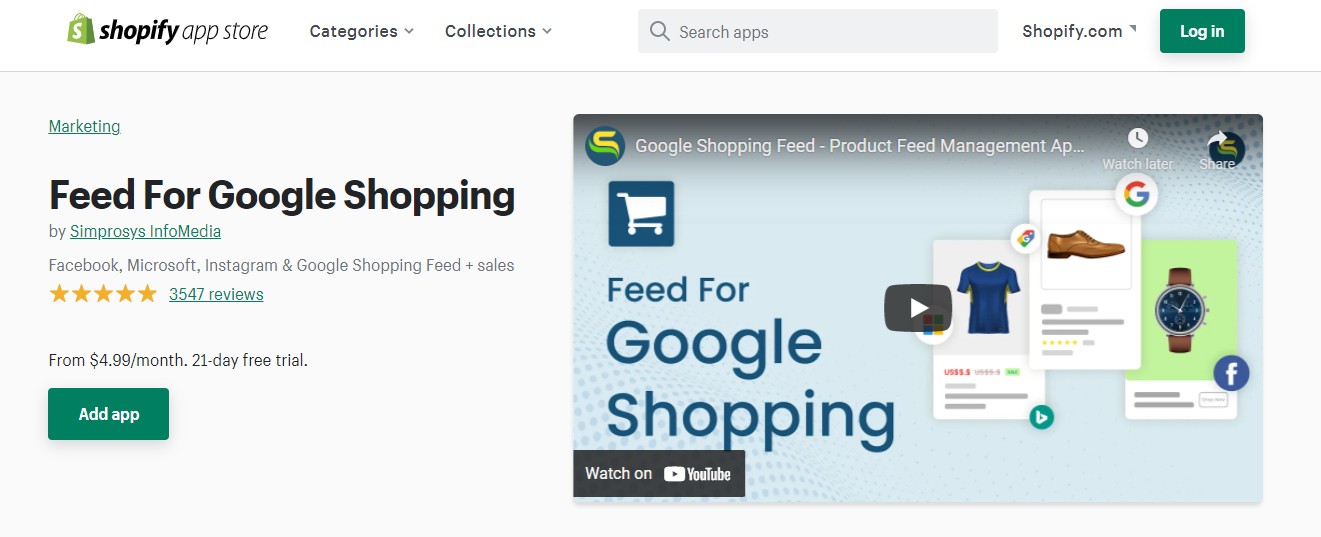 Feed for Google Shopping allows you to display all the variants of a product in the product feed, and this helps to improve your click-through rate and conversion. The app also lets you display promotional banners for specific products or all your products on your Google feed.
It makes it easy to update your products quickly as it takes less than 30 mins to update all necessary product information. You also enjoy a robust interface and several filters you can use in editing.
This app offers four pricing plans starting at $4.99 per month.
17. Facebook Channel
Facebook Channel makes it to our list of the best Shopify apps to help you increase sales because of social media's role in getting more customers. With the Facebook Channel Shopify app, you can leverage your Facebook presence to drive sales in just a few clicks.
Facebook Channel allows you to sync your Shopify store directly with your Facebook catalog. It is customizable, and you can advertise your products using free and paid ads.
You can install Facebook Channel for free. However, you will be billed for any paid ad campaign you run.
18. Instafeed
The Instafeed app is an easy way to generate fresh content on your store using your content from Instagram. With Instafeed, you can customize how your content appears, allowing it to blend in with your store's design.
This app is lightweight and completely responsive as it supports image and video content and automatic Instagram feed updates. It also integrates seamlessly with IGTV.
Instafeed has a free version and offers two paid versions starting at $4.99 per month.
Best Shopify Apps to Advertise Effectively
Here are some of the best Shopify apps you can use to advertise your products effectively:
19. Clever – Google Ads & Shopping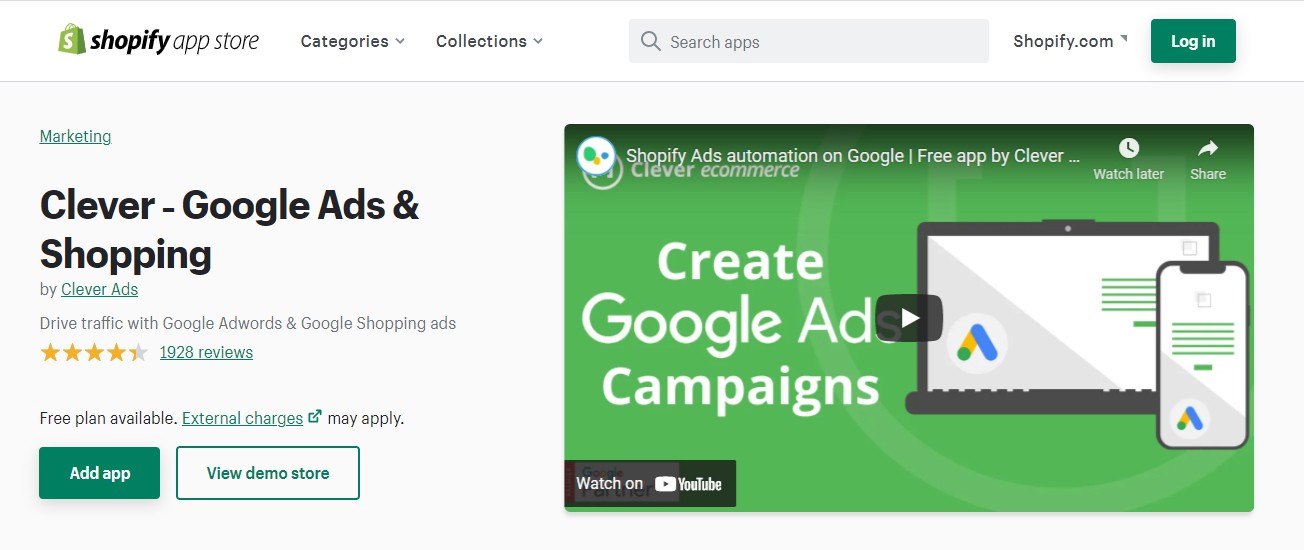 The full-scale features packed into Clever will save you precious time when creating and managing Google Ads.
Clever helps place your ads on websites, Gmail accounts, and, more importantly, Google search results. It makes it easier to research keywords and conduct efficient remarketing campaigns. With Clever, you can optimize your Google Shopping Feed and create smart shopping campaigns.
You can get access to features like keyword generation, search, Google Ads pixel, retargeting, and display campaigns on the free plan. The option to optimize your Google Shopping conversion and access dedicated support is only available on the paid plans, which start at $29 per month.
20. Trackify x Facebook Pixel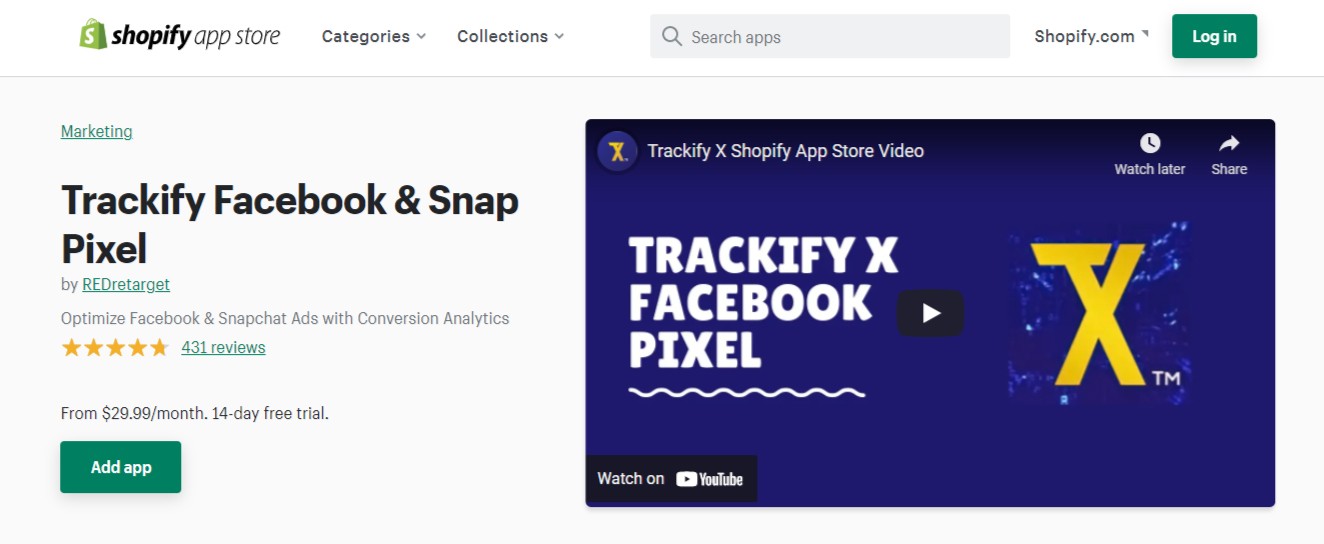 This app allows you to track any custom metric and events like view category, view cart, and new leads because of its integration with Facebook pixel. With Trackify, you can easily create precise lookalike audiences using time, niche, data, date, and product collection as a basis.
This app offers four pricing plans starting at $29.99 per month.
Best Shopify Apps for SEO
Here are some of the best Shopify apps you can use to optimize your store for search engines like google:
21. Smart SEO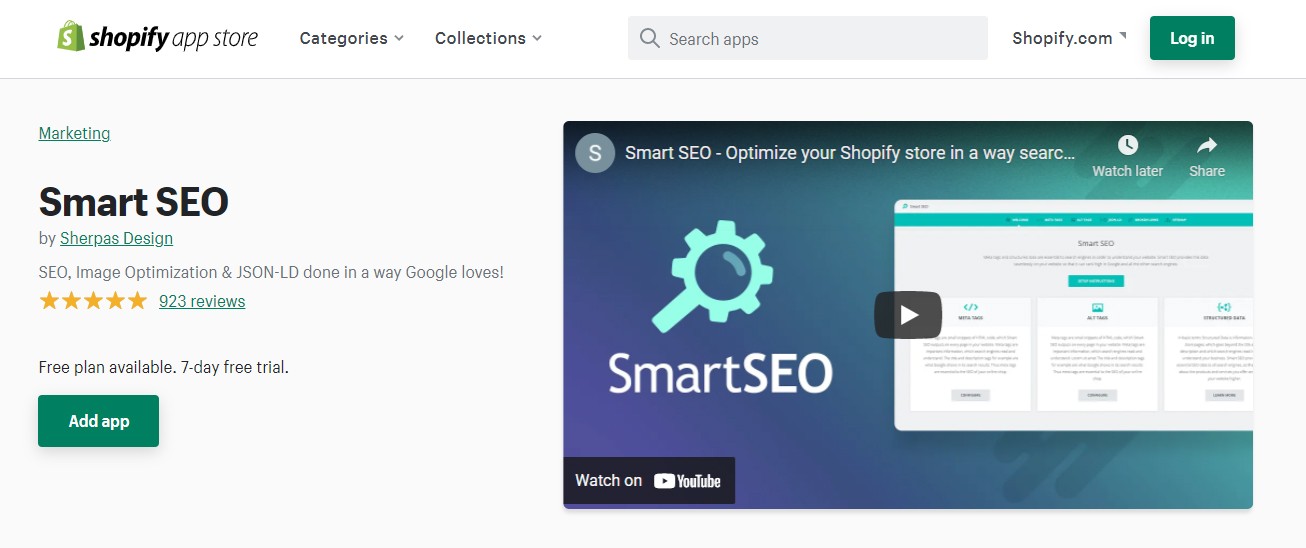 Smart SEO helps you to easily automate the optimization of your store and increase traffic for your store.
This free app can automatically generate meta tags and alt tags. You can also use it to fix broken links and manage your store's sitemap. Once you choose a template for your optimization, Smart SEO takes over the rest of the process, including providing Google with structured data that will help boost your ranking on search engines.
22. SEO Manager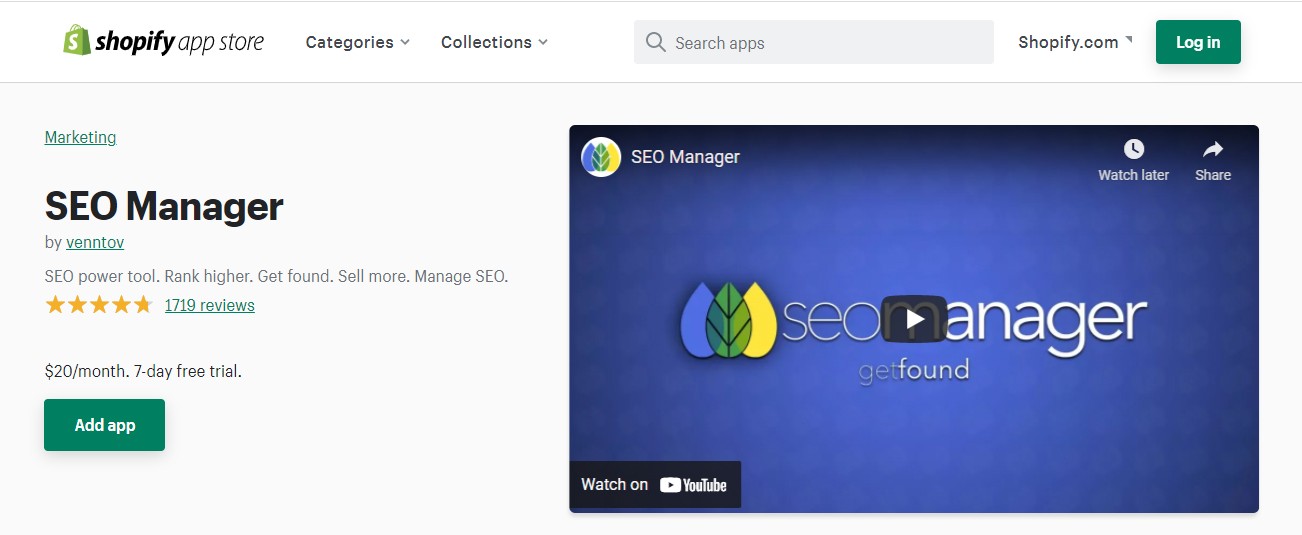 SEO manager is packed with over 20 features specifically designed to make the optimization process of your store way easier.
The features of SEO Manager can help you handle Google speed integration, sitemap management, keyword suggestions, structured data creation, Google mobile-friendly test, among other SEO practices.
After a 7-day trial period, SEO manager's paid plan starts at $20 per month.
23. Avada SEO: Image Optimizer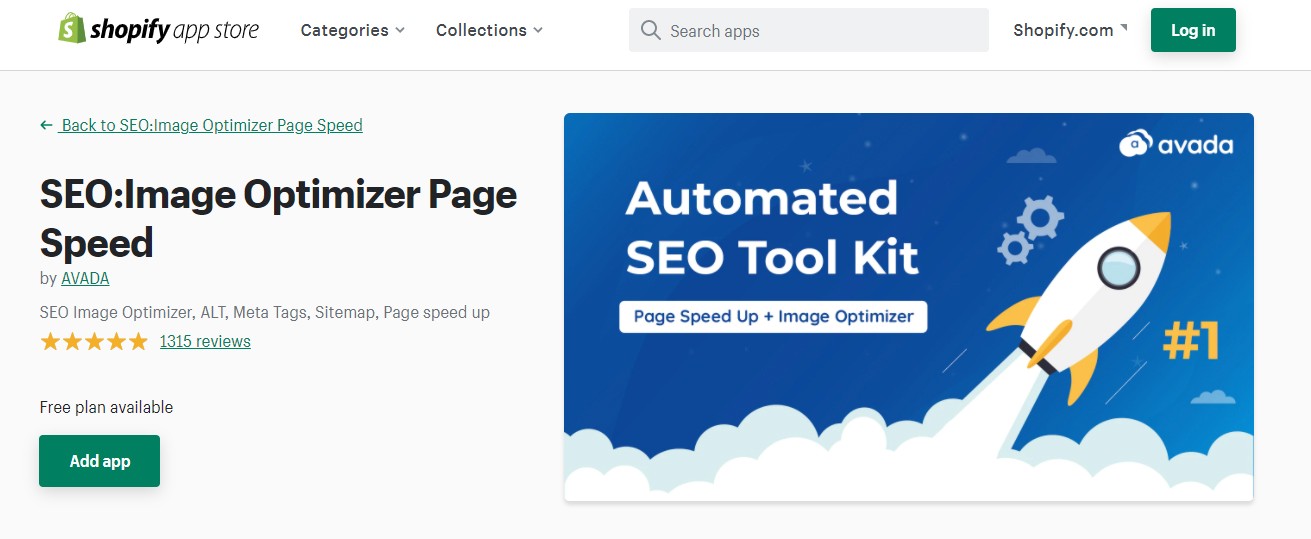 Uploading photos manually can be challenging for most Shopify stores, and this is why an image optimizer like Avada is important. Avada makes images more SEO-friendly by compressing them and optimizing alt tags.
With Avada, you can automatically set rules to create meta descriptions, saving you lots of time. It has other features that can help develop structured data and HTML sitemaps and allow 404 redirects.
Avada offers a free and paid plan, with the paid plan starting at $29 per month.
24. Yotpo
Yoast promises to drive up your sales through the social proof it provides with product reviews.
This app allows you to request customer reviews quickly and showcase them using widgets on your store pages.
Yoast also lets you engage your customers by commenting on their reviews, and if a customer gives a negative review, Yoast flags it so that you can handle it immediately.
You can use Yoast for free for up to 50 monthly orders. As those numbers increase, you will have to pay to use Yoast starting at $15 per month.
Best Shopify Apps for Customer Service
Here are some of the best Shopify apps you can use to handle your store's customer service:
25. Facebook Live Chat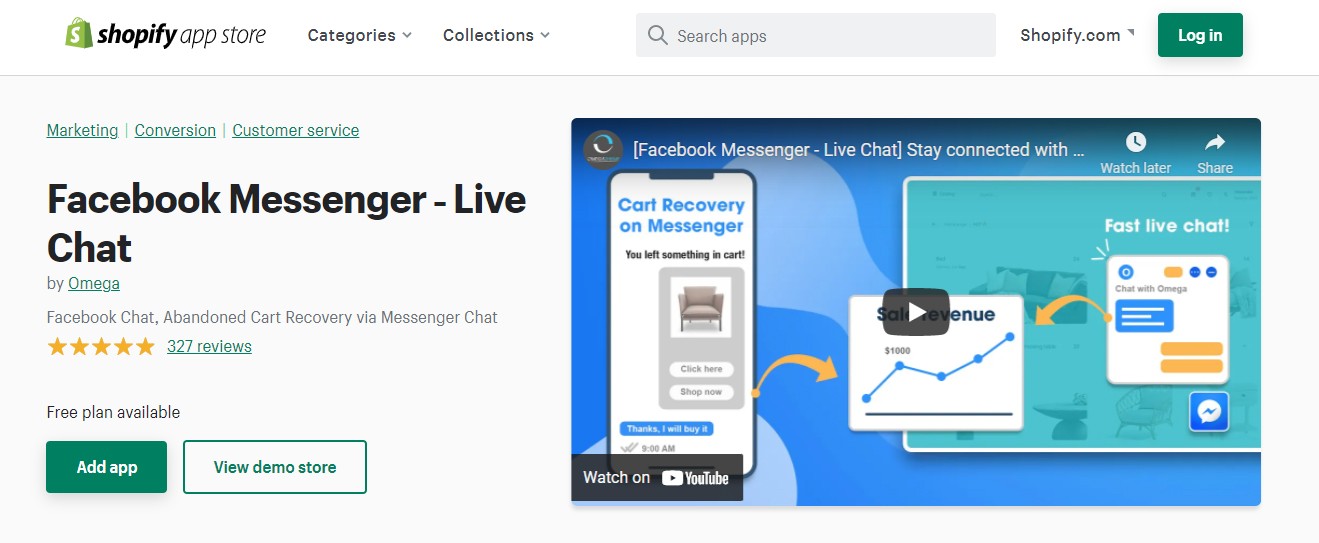 With over 2 billion users, Facebook has become one of the best social media platforms to connect with your customers. Facebook Live Chat has become a vital tool for customer service and customer feedback.
This app allows you to provide support to your customers through Facebook Messenger. The app has a responsive and easy-to-use design that integrates well with other social media sites.
The pricing plan for this app starts at $9.09 per month for 5,000 website visits.
Conclusion
As a Shopify merchant, your main aim is to sell more of your products so that you can realize more revenue and ultimately more profits. The easiest way to do that is to get more customers to buy from your store.
That said, the Shopify apps above can help you increase sales and realize more profit. Depending on which ones you already have, one or more of these apps can improve your bottom line significantly.
Want to know the best way to stop struggling to get customers for your store? Install the Adoric Shopify app on your Shopify store to increase your conversion rates today.