In the bustling world of e-commerce, standing out is essential. This is where Shopify gamification comes into play. The good news is that you don't need any special skills to achieve this. There are a ton of Shopify gamification apps designed to enable you to gamify your store with ease.
From spin-to-win wheels that reward visitors with gift prizes for increased brand loyalty, these gamification apps revolutionize how you connect and interact with customers.
In this guide, we handpick the best Shopify gamification apps, each offering unique features to captivate, convert, and retain your audience.
But before we get into it, let's find out some of the benefits of gamification on Shopify. 
Why Should You Integrate Gamification for Shopify?
Integrating gamification into your Shopify store contributes to improving customer engagement, conversions, and brand loyalty. Here are some reasons:
Brand Interaction
Gamification creates opportunities for customers to interact with your brand in meaningful ways beyond just shopping. This engagement can strengthen brand affinity and create emotional connections.
Boosted Customer Engagement
Gamification introduces interactive and entertaining elements to your store, capturing visitors' attention and encouraging them to explore your products and offerings. Engaged customers are more likely to stay on your site longer, which increases the chances of them making a purchase.
Increased Conversion Rates
Gamification techniques like spin-to-win wheels, quizzes, and challenges can incentivize visitors to take desired actions. These include signing up for newsletters, sharing on social media, or making purchases. This can significantly boost your conversion rates and revenue.
Enhanced User Experience
Gamification adds an extra layer of excitement to the shopping process. It transforms routine store activities into a fun and memorable experience, making customers more likely to return to your store in the future.
Improve Marketing Campaign
Many gamification apps collect emails and data about customer preferences and behaviors. This can help you grow your email list and create personalized recommendations, marketing campaigns, and product offerings that appeal to your customers. 
Standout from Competitors
Integrating gamification into your store can set your Shopify store apart from competitors. Offering unique and enjoyable experiences is a go-to way to create a distinctive brand image that customers remember.
Reduced Cart Abandonment
Gamification techniques like exit-intent pop-ups with special offers or discounts can help reduce cart abandonment by giving customers a reason to complete their purchases.
Best Shopify Gamification Apps
Don't know what app to use for your Shopify gamification? Here is a list of our handpicked Shopify Gamification apps.  
1. Falling Gift Game by Adoric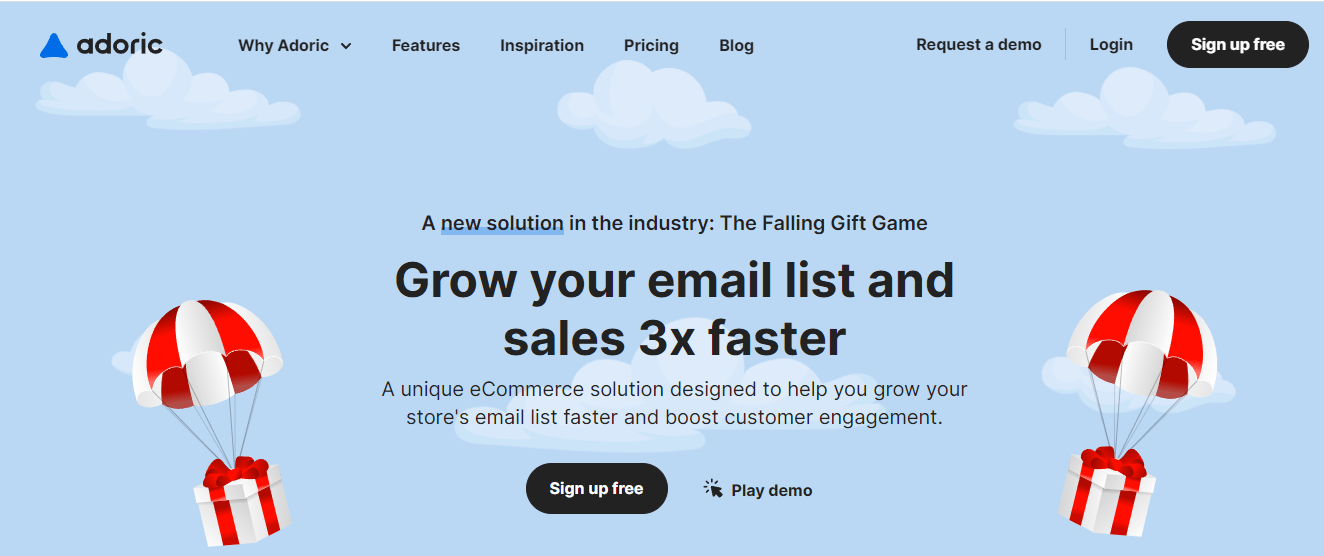 We start this list with the Falling Gift Game by Adoric. This gamification app entices customers by dropping gifts from an air balloon while they click on them as fast as possible to win prizes. 
The falling Gift game by Adoric provides a range of template designs relevant for different occasions such as seasonal sales, store birthday sales, holiday sales, and more. 
Incorporating this gamification app into your Shopify store can raise your conversion rate by up to 30%. The steps involved are easy to follow. All you need to do is;
Choose a template

Create a coupon

Publish the popup
Adoric also offers other features, including exit-intent popups, spin-to-win popups, and a free shipping bar.
Click here to sign up for free to get started with Adoric's Falling Gift game. 
2. Spin-a-Sale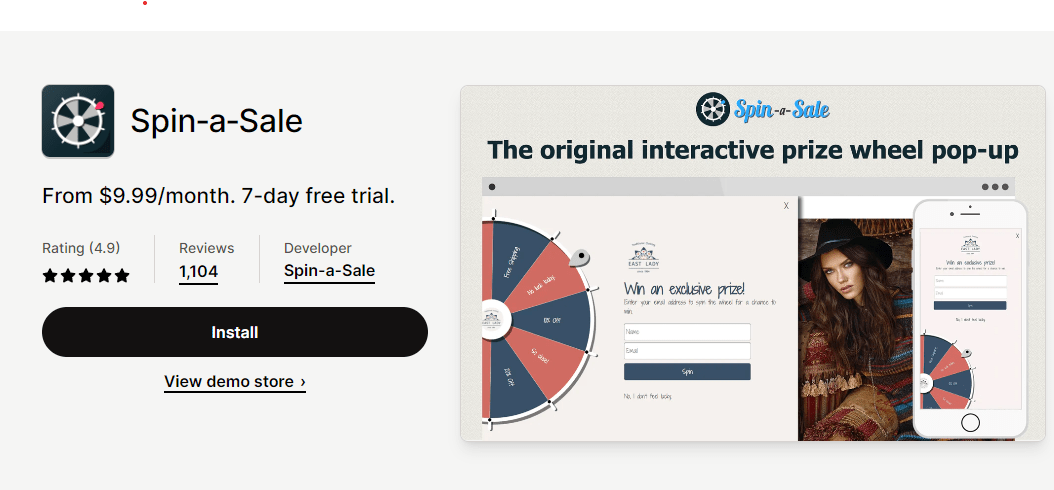 Our next pick is the Spin-a-Sale app. It has 1104 reviews and a 4.9-star rating on the Shopify app store. As the name implies, the app focuses on creating spin games capable of boosting sales. 
Integrating this app into your Shopify store can transform your store's outlook and impression on customers. 
It fosters more interaction leading to an increase in website traffic, store engagement, email list, and most importantly, conversion and sales. 
Pricing 
Spin-a-Sale offers a 7-day free trial period
Pro: costs $9.99 per month

Premium: costs $24.99 per month
3. Wheelify: Discount Spin Wheel

Wheelify is another impressive Shopify gamification app. With 888 reviews and a 4.9-star rating, it has a proven track record of delivering what it promises. Wheelify is an app that enables you to create a spin-to-win game on your Shopify store. 
When users click on it, they stand the chance to win prizes like discount codes, coupons, and many more.
Keep in mind that lucky winners can only claim their prizes when they input their email addresses. This is an excellent way to grow your email list for marketing purposes, boost website interaction, and increase conversion. 
Wheelify allows you to create multiple variations of the spin-to-win game depending on your business needs. 
Pricing 
Wheelify offers a 30-day free trial period 
Forever–free version

Lite: costs $6.99 per month

Plus: costs $13.99 per month

Premium: costs $27.99 per month
4. WooHoo – Spin The Wheel Popup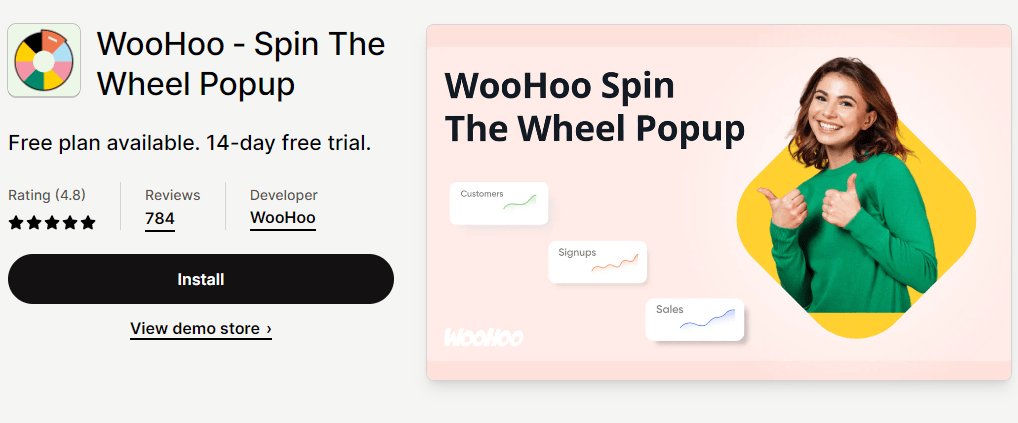 WooHoo is another Shopify gamification app that lets you transform your store from plain and simple to enticing and engaging.
You can customize the game appearance to align with your brand look, creatively appealing to prospects. It's why 784 users give it an average 4.8-star rating on the Shopify app store. 
WooHoo saves you the time and resources it would take to either learn to write codes or hire an expert. The app enables you to easily gamify your Shopify store with the click of a few buttons. 
You can create multiple ads in minutes and offer different prizes on each slice of the wheel, with some of the slices left without a prize. That way, shoppers will have to engage longer to stand a chance to win a prize. This is a good way to boost engagement and sales. 
Pricing 
WooHoo offers a 14-day free trial period. 
A free version

X-Small: costs $7.99 per month

Small: costs $14.99 per month

Medium: cost $29.99 per month
5. BuzzSubs: Spin Wheel Popup

BuzzSubs is easily one of the best gamification apps for Shopify. You can create and customize a spin wheel popup to match your brand, change the language, and automate the popup to trigger at a specific time.
Integrating BuzzSubs into your Shopify store gives you an edge over your competitors. It is the perfect tool for growing your email/subscriber list and boosting sales. It integrates seamlessly with Shopify email, Omnisend, Mailchimp, etc. 
BuzzSubs allows you to offer time-sensitive prizes, leading to the fear of missing out (FOMO). A study has shown that 60% of millennials make purchases due to FOMO. 
Pricing 
BuzzSub offers a 7-day free trial period and a monthly charge of $9.99 per month. Or you can pay a one-time fee of $149 and have lifetime access. 
6. Original Wheelio Spin Pop-ups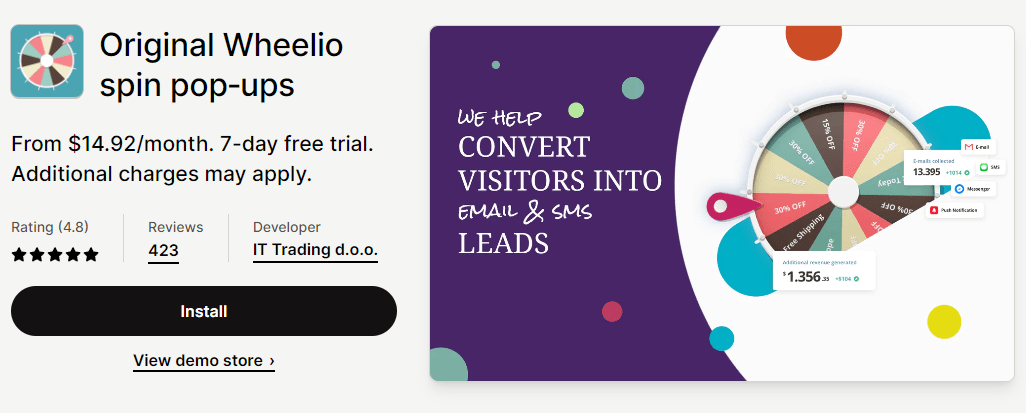 What better way to boost your email and SMS lead generation than through the use of Wheelio? It is rated 4.8 on the Shopify app store. With Wheelio, you can make your Shopify store entertaining by gamifying your website. 
The app allows you to create multiple gamification popups and customize them however you want. Plus, you can create different types of games, including spin-to-win, slot machines, scratch cards, and more. 
Wheelio requires no special skill to set up, while providing the complexity needed to spice up your store activities. Once you install and get the app running on your store, you can collect lead contact details and categorize them according to their interest.
This will help you create targeted ads that resonate with your audience, leading to an increase in sales. 
Pricing 
Wheelio provides multiple payment plans and a 7-day free trial
Basic Plan: costs $14.92 per month 

Level 2: costs $29.92 per month

Level 3: costs $54.92 per month

Level 4: costs $109.92 per month
7. ClawCrane: Game and Email Popup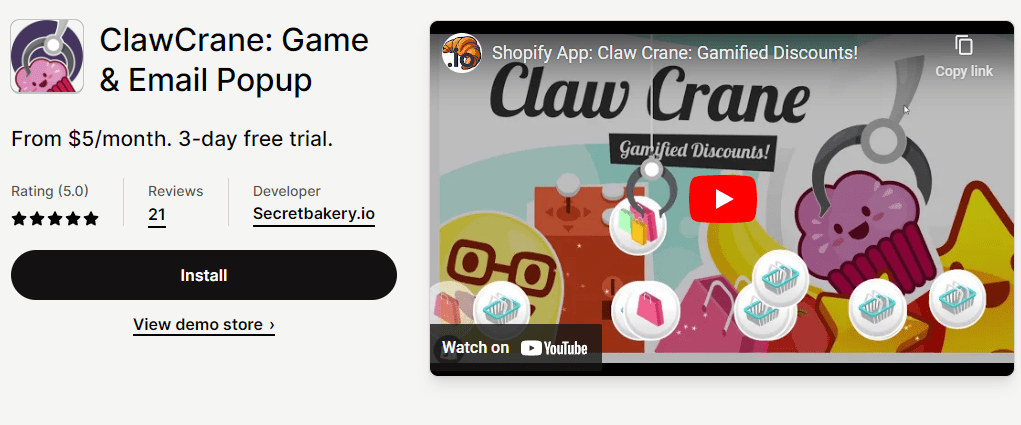 ClawCrane diverges from the traditional spin-to-win games, letting customers determine prizes to be won.
Although the game is new in the market with only 21 reviews, the 5-star rating and positive reviews are proof that it can just be what your business needs to stand out and generate more sales. 
The game works by letting customers try to win prizes using the gamified claw Crane. If they win a prize, they can only redeem it through email. After a failed attempt, customers can have another go at it after some time.
Pricing 
Basic Shopify: costs $5 per month

Advanced Shopify: costs $9 per month

Shopify Plus: costs $29 per month
And a 3-day free trial. 
Conclusion 
Incorporating gamification into your Shopify store doesn't need to be a complex task. Start with small, engaging elements and observe how they impact user behavior. As you fine-tune your approach, you'll likely witness the positive effects on customer engagement, conversions, and overall business growth.
Want to give gamification a shot? Add some fun to your store with the Falling Gift Game. It's the simplest game in the market.