Are you looking for the best Shopify alternatives for setting up your dropshipping store? Read on!
Dropshipping is a fiercely competitive industry. As proof, only about 10% to 20% of dropshipping businesses succeed. So the odds are not stacked in your favor. 
To succeed in dropshipping, you need to pick the right eCommrce platform. 
Shopify may be one of the leading e-commerce platforms, but it is not always the best option for some businesses. It has drawbacks that can discourage you from giving it a try. But if you would rather dropship with Shopify, here are a few tips and strategies for success. 
Why Use Shopify Alternatives for Dropshipping? 
Hosting and managing your store on Shopify can cost you an arm and a leg due to all the extra charges. After paying a monthly fee ranging from $29-$149, you will also be charged 2% for every transaction you make using a third-party payment method. 
Additionally, many advanced features cost a lot to access. So if you want to scale your business, be ready to part with a large chunk of your money. 
Though Shopify is customizable, the Liquid programming language supporting its themes is difficult to understand. It makes editing or customization difficult for newbies. 
Another problem with Shopify is that it is limited in terms of SEO. Its SEO tools are limited and don't allow easy integration with other SEO marketing platforms. 
Thankfully, there are other e-commerce platforms capable of replacing Shopify. In this article, we have listed 10 of them and what makes them better than Shopify. 
1. BigCommerce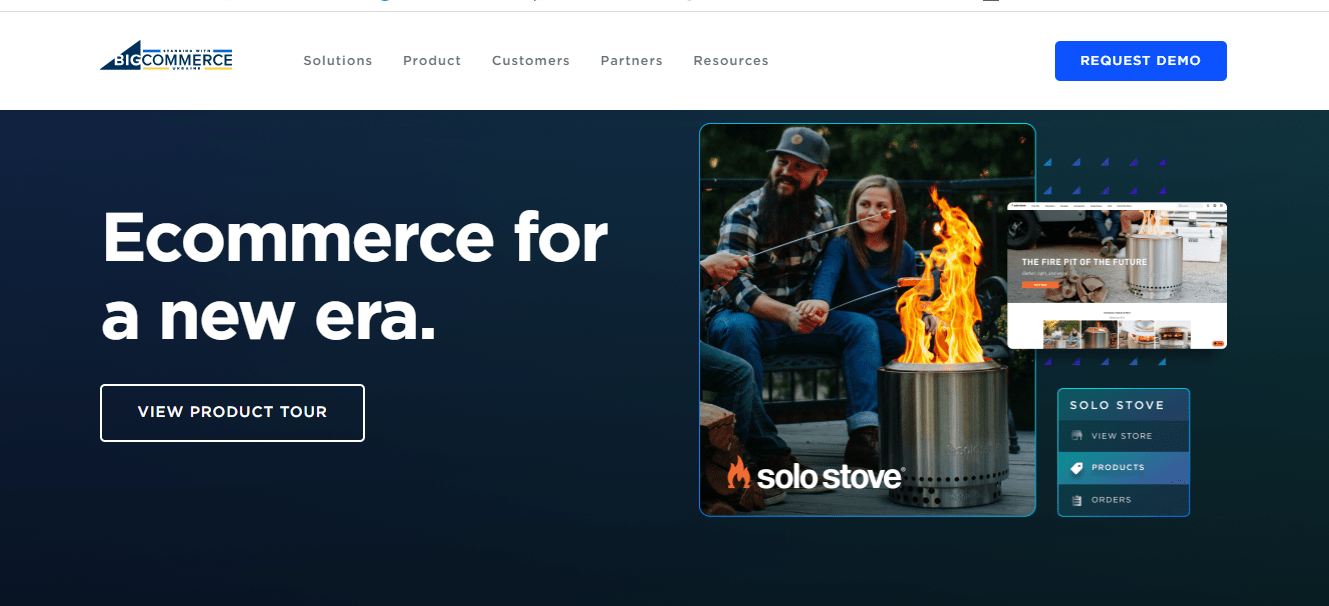 BigCommcerce is one of the popular eCommerce platforms that can hold a candle to Shopify. It has incredible set of themes that make your dropshipping store stand out.
Launching an online dropshipping store on BigCommerce is such a hassle-free experience. With its drag-and-drop editor, you can quickly get your dropshipping store running in no time. 
You can also promote your store with ease and at a lower cost. BigCommerce has tons of built-in features, including an advanced marketing feature. Using built-in features helps to reduce the cost of managing an online dropshipping store. 
BigCommerce allows you to dropship with multiple channels such as eBay, Amazon, Aliexpress, and more. At the same time, you can link your social media shops and manage them from your BigCommerce dashboard. 
This platform is not only limited to dropshipping as it supports other business models. It is also great for SEO.
Pricing
BigCommerce offers a 15-day free trial with no commitment. The cost of access varies depending on your business type and the number of sales. 
2. Wix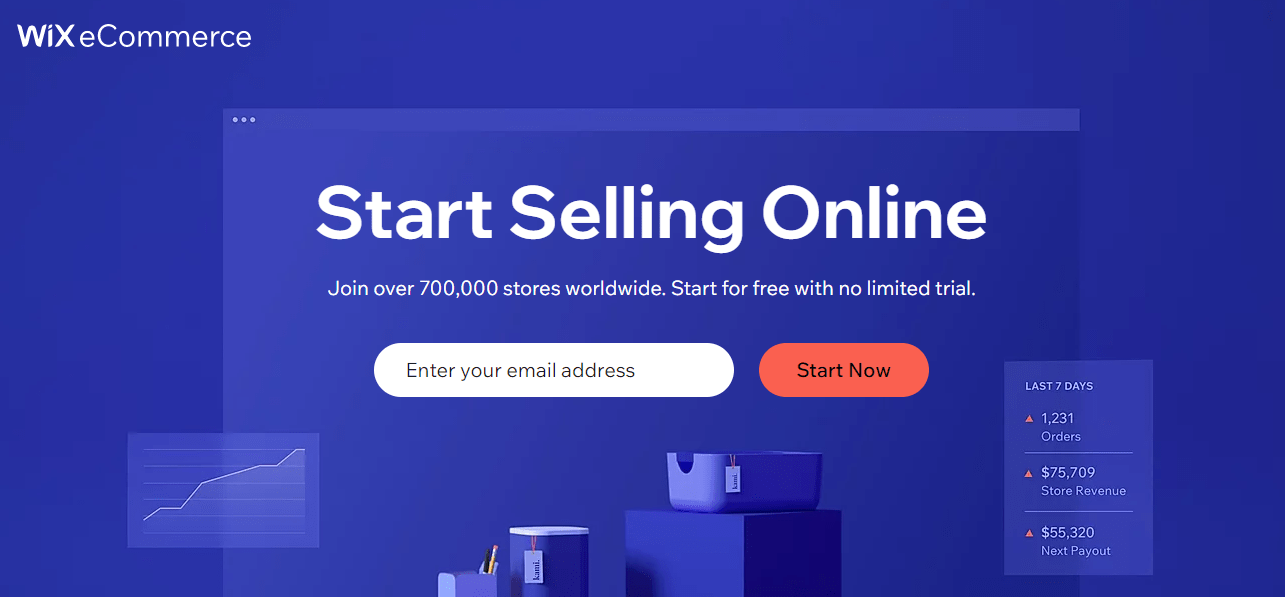 Wix is another great dropshipping platform you should try. It has maby themes, apps, plugins, built-in payment gateways, live chat, coupons, etc. 
You can also integrate light boxes and HTML codes without spending a fortune. 
As a first-time user, you don't have to worry about setting up your website. After filling out a questionnaire to state your preferences, the automated assistant features (ADI) will help you set up your website.  
However, if you wish to customize your website by yourself, Wix gives you total control over your site customization. You can freely edit your dropshipping store website using the drag-and-drop editor. 
Pricing 
Wix is relatively cheaper than Shopify. It offers a 14-day free trial. The paid pricing plans are as follows:
The basic plan begins at $17 per month. You get 20 GB of storage space and 5 hours of video. 
The unlimited plan starts at $25 per month. You get 35 GB of storage space and 10 hours of video.
The VIP plan starts at $35 per month. You get 50 GB storage space and unlimited video hours. 
3. WooCommerce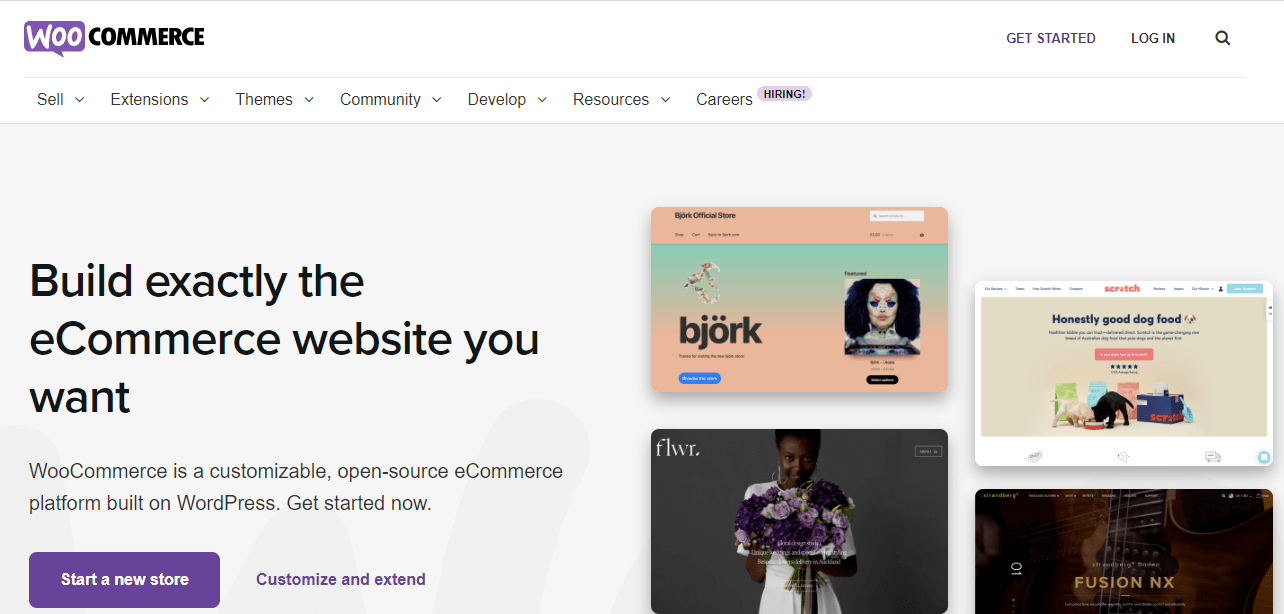 WooCommerce is the perfect alternative to Shopify if you already use WordPress. It is an open-source e-commerce platform that helps you spend less while setting up your dropshipping store. 
WooCommerce is easy to use. It allows you to build a user-friendly website for your dropshipping business or any other business. A little editing here and there, and your store is ready for sales. 
Although WooCommerce is an open-source platform, using advanced features and third-party plugins comes at a cost. Still, it remains much cheaper than Shopify. 
Like Shopify, WooCommerce has a large collection of add-ons and plugins. 
Pricing 
WooCommerce does not require a monthly subscription, only a yearly subscription or a one-off payment for advanced features. 
4. Zyro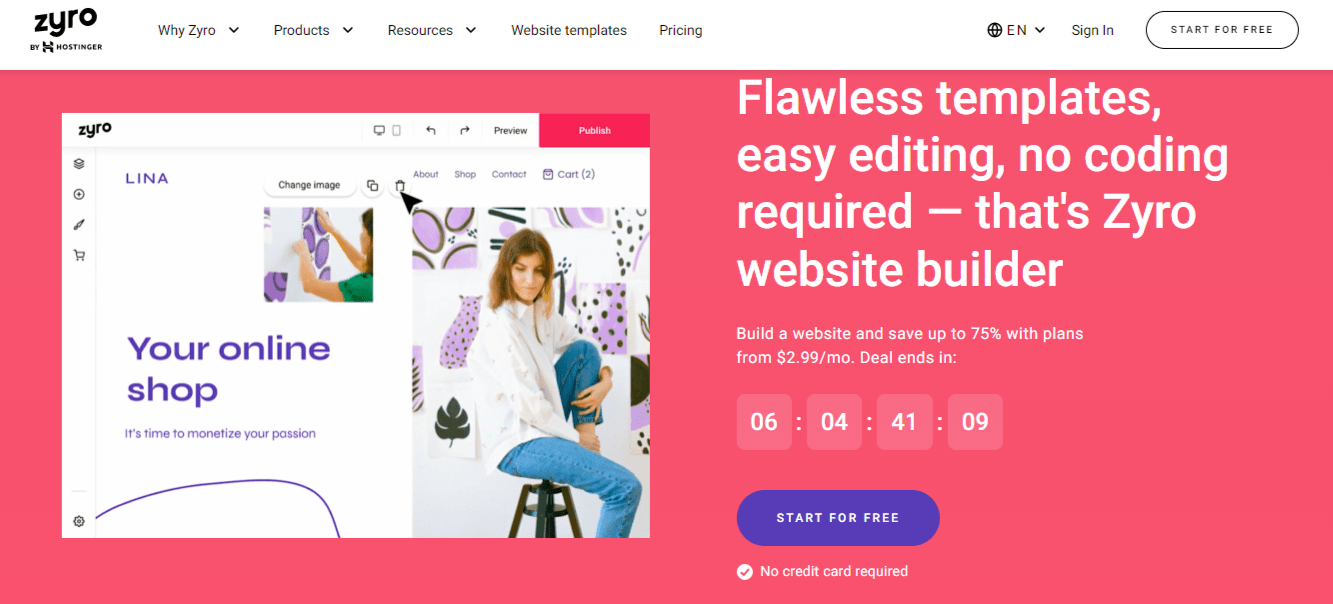 Are you looking to set up a small-scale dropshipping business and scale higher? Zyro is the best option for you. It has loads of themes to help you build a website that your customers will love. 
The drag-and-drop feature helps you cut through the hassle of customizing your website. Zyro supports several categories of businesses. And it provides you with adequate marketing features. 
It has a blogging feature that enables you to build search traffic to your website. Zyro also allows you to sell your products across the globe, depending on your business model. It supports multiple international languages. 
Pricing
Zyro offers similar features as Shopify for less. It has multiple payment options with a 30-day refund policy. Zyro has three paid plans starting from $11.99 and currently offers a 75% discount on each paid plan. They are as follows:
The Website plan starts at $11.99, while the discount price is $2.99 per month. 
The Business plan starts at $14.99, while the discount price is $3.99 per month. 
The Advanced Store starts at $39.99, while the discount price is $15.99 per month. 
5. Squarespace 
You don't need to be tech-savvy to set up your dropshipping store on Squarespace. Square space is perfect for small-scale business owners with minimal tech skills.
Squarespace allows you to import your existing domain into the platform. It helps you effectively manage all your business from a central point. Add a link to your bio so your customers can know who you are. 
The platform provides you with everything you need to begin your business journey, themes, templates, and whatnot. A little editing here and there, and you have yourself an impressive website outlook.
Since Squarespace focuses on simple businesses, it has limited payment options. Squarespace supports only Stripe and PayPal. You can market your store using Amazon affiliate tracking, advanced SEO tools, MailChimp, share buttons, and Google Adwords. 
Pricing 
Squarespace is cheaper than Shopify and some other e-commerce platforms. It offers four paid plans:
The Personal plan costs $12 per month for an annual subscription or $16 every month. 
The Business plan costs $18 per month for an annual subscription or $26 monthly. 
The Basic Commerce plan costs $26 per month if paid yearly or $30 monthly. 
The Advanced Commerce plan costs $40 per month for a yearly subscription or $46 per month. 
6. Magento (Adobe Commerce)

Magento, now known as Adobe Commerce, is a great e-commerce platform for dropshipping. It can help you grow your dropshipping business beyond your expectations. It is easy to customize with many beneficial features.
Magento is an open-source platform for building e-commerce websites. It provides built-in themes, templates, plugins, and everything you need to set up your dropshipping store. Customizing your website may require some skills but nothing out of the ordinary. So you can learn to tweak the feature in no time. 
The platform has two options; the open source or Adobe commerce. The Magento open source is free to install. But you will have to pay for hosting, extensions, domain, and other necessary charges. 
Adobe Commerce, on the other hand, is the premium version of the Open Source. It is a complete package of premium tools and features. Accessing this option starts at $22,000 per year. 
7. PrestaShop 

Prestashop is an open-source e-commerce platform for dropshippers and entrepreneurs at large. It is almost completely free except for the cost of web hosting and buying a domain. Prestashop is in a partnership with TMD, WebHostingHub, 1&1, Microsoft Azure, and other hosting service providers. 
Since PrestaShop is an open-source platform, some of its features are limited in functionalities. The platform has limited themes and templates. However, you can install themes from a third party. As for modules, your website will perform better with premium modules. 
The platform also allows you to sell internationally and add hundreds of products to your dropshipping store. It supports up to 25 international languages, multiple payment options at no extra cost, and can help you recover abandoned carts. 
8. Shift4shop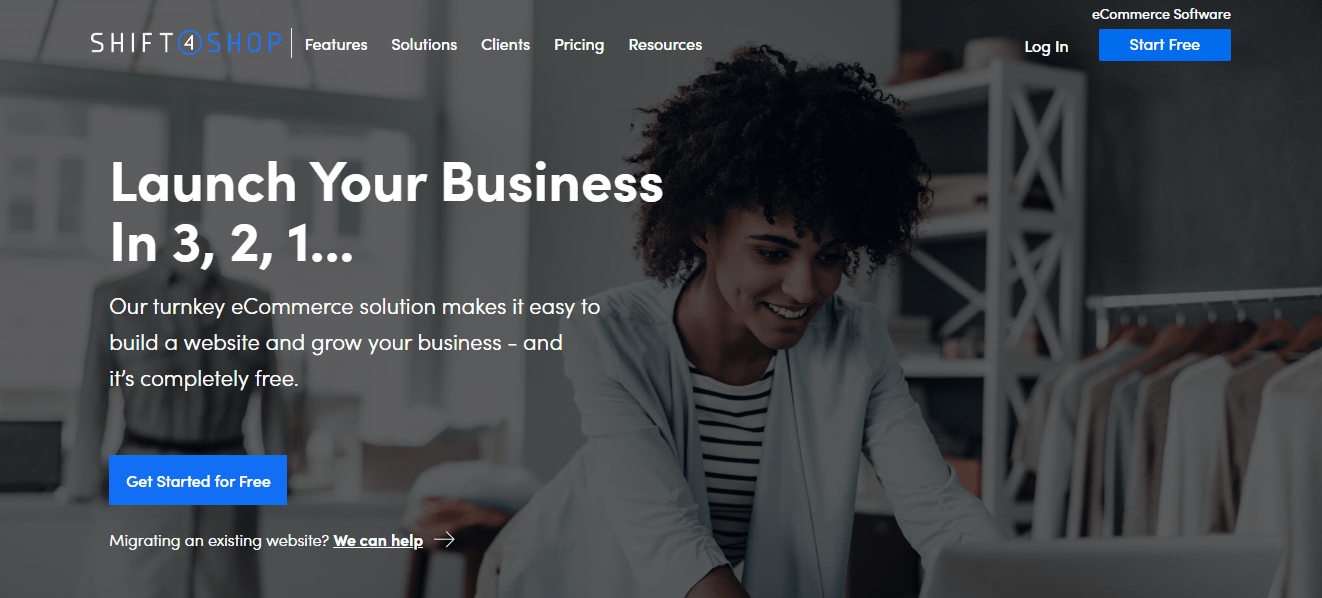 Shift4shop is a SaaS e-commerce platform previously called 3dcart. It is the perfect dropshipping platform for entrepreneurs with little or no coding skills. It can help you build and customize your storefront from start to finish with minimal effort. 
Shift4shop is committed to giving you and your customers a splendid experience. You can navigate through the platform with ease. Fortunately, it also has CRM feature, so you don't have to depend on a third party. 
All the features, tools, and services you need to run a successful dropshipping business are available on this platform. They include a marketplace where you can connect with dropshipping vendors and suppliers that sell quality products, integration with several marketplaces, automated email marketing, and more. 
Interestingly, as a newbie, Shift4shop offers a free dropshipping course you can leverage as a newbie dropshipper to get your business going.  
Pricing 
The platform offers three paid plans:
The Basic store plan costs $29 per month. 
The Plus store plan costs $79 per month. 
The Pro store plan costs $229 per month. 
9. Printful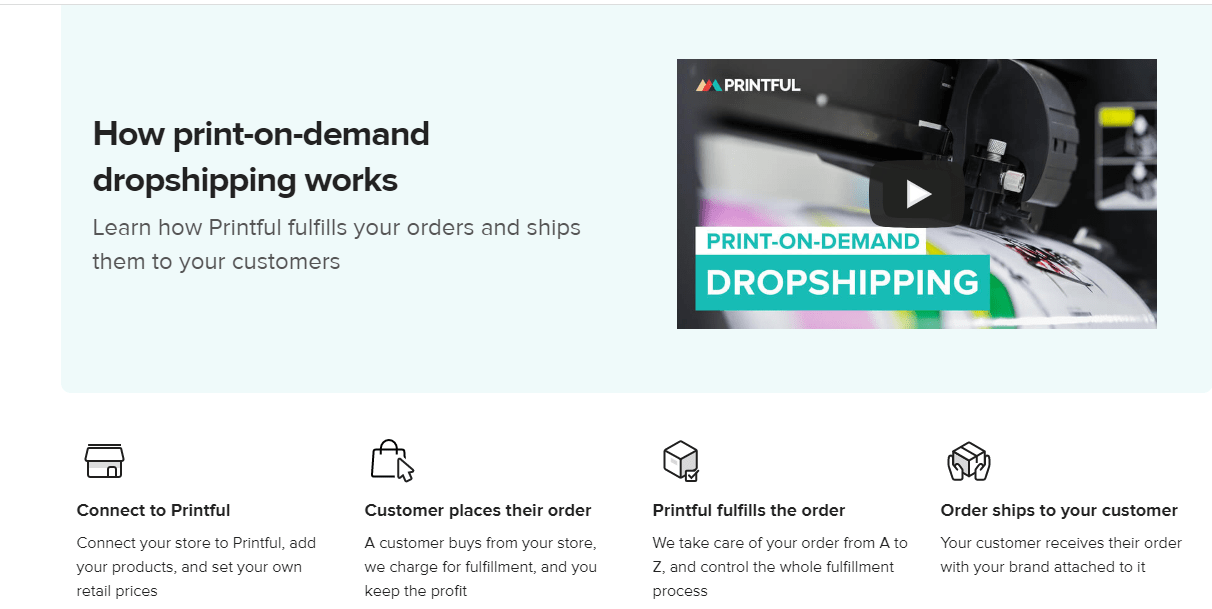 Printful is a print-on-demand dropshipping platform. This means you can sell customized products to your customers depending on their preferences.  Printful integrates with other e-commerce platforms such as Amazon, Etsy, WooCommerce, Gumroad, Wix, Squarespace, Inktale, and more. 
Printful is quite flexible and offers plenty of options and features to choose from. All you have to do is sign up on the website and pick the category of items you intend to sell. You can also create and add your designs. So when a customer chooses a design, your vendor will print and fulfil the order. 
Signing up on Printful is free with no hidden charges. You only get to pay for products at their stipulated price before adding your markup. 
10. Spocket

Last on our list of best Shopify dropshipping platform is Spocket. 
Do you wish to connect with suppliers based in the US or EU? Spocket is the best e-commerce platform for the job. 
Spocket offers you quality products and shipping rates at a lower cost with no delay in delivery. This way, you and your customers are satisfied. Spocket has an unlimited supply of products. Thus, you can dropship as many items as you desire. 
Pricing 
Spocket offers a 14-day free trial for all paid plans and a free plan that allows you to check out the platform to have an idea of the services they provide. 
The Starter plan costs $24.99 per month. 
The Pro plan costs $49.99 per month. 
The Empire plan costs $99.99 per month. 
Conclusion
There are several Shopify alternatives for dropshipping that you can try, and we've shared the best 10 of them in this post. 
Are you still struggling to make sales for your dropshipping store? Adoric can help. 
Adoric has many tools and features that enable you to convert your visitors into subscribers and customers. The best part is that you can start for free. Sign up for an account to take Adoric for a spin.