Are you looking to launch an affiliate marketing program on WordPress but unsure of which plugin to use? Or, perhaps, you are an affiliate marketer, but you are having a tough time finding the best WordPress plugins for your business?
This post is for you.
Affiliate marketing, when done right, can fetch you a lot of income. However, you need the right set of tools – or in this case plugins – to make that happen.
Without any ado, here are 17 plugins that you will need to achieve massive success with Affiliate marketing.
1. Adoric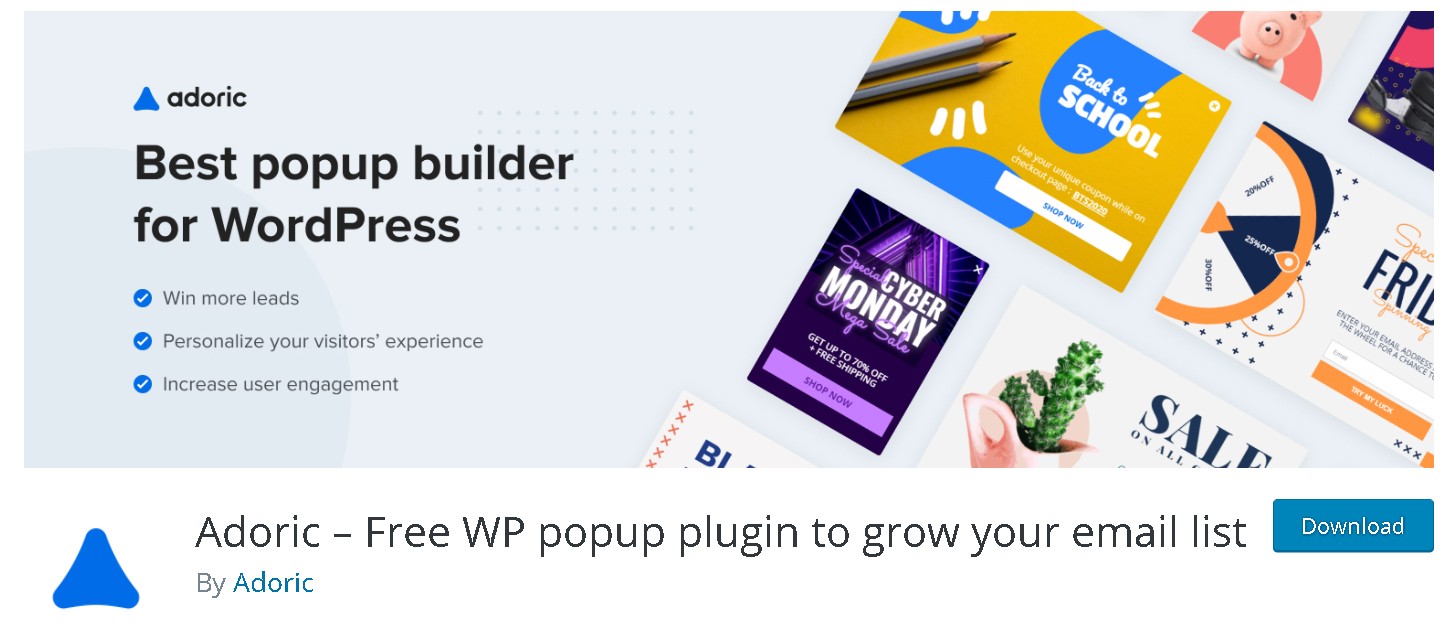 And so we kick things off with Adoric.
Adoric comes with tools and features specially designed for Affiliate marketers.
They include customizable popup boxes, sliders, and floating bar campaign templates. With them, you can grow your subscriber base, and hence, your sales.
What's more, Adoric's trigger and targeting features allow you to show your campaigns to the right audience and at the right time.
Ready to start using Adoric to increase your affiliate revenue? Sign up for a free account right away.
2. MonsterInsights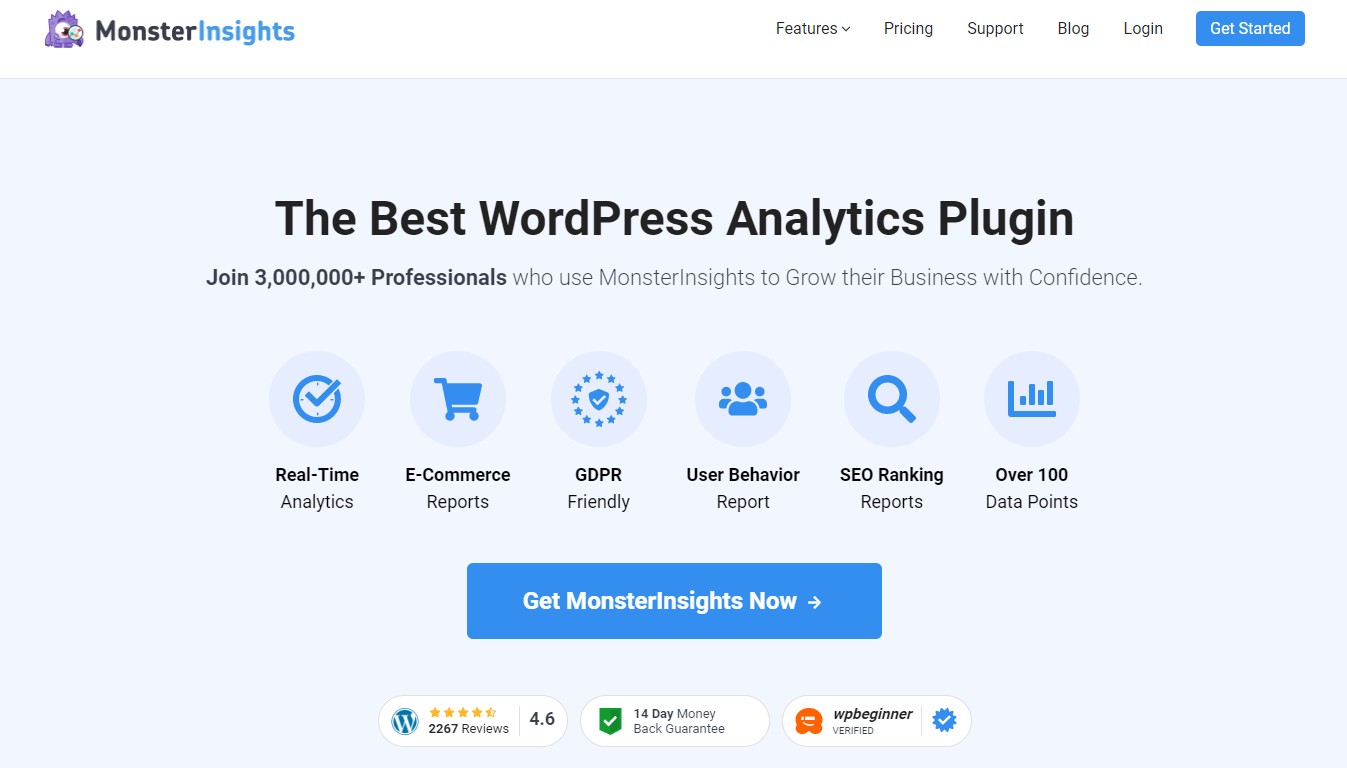 To run an affiliate program successfully, you'll need Google Analytics to track your traffic, conversions, and clicks.
For this reason, you need Monster Insights.
It is compatible with other WordPress plugins you might want to use and does not require you to have any previous training in Google Analytics.
It comes with an intuitive dashboard that allows you to know which of your website pages are getting the most traffic. With this data, you can easily know where to concentrate your efforts.
Best of all, Monster Insight offers top-notch customer support.
Pricing for MonsterInsights starts at $99.50 per year, with its highest plan at $399.5 per year.
3. YITH WooCommerce Affiliates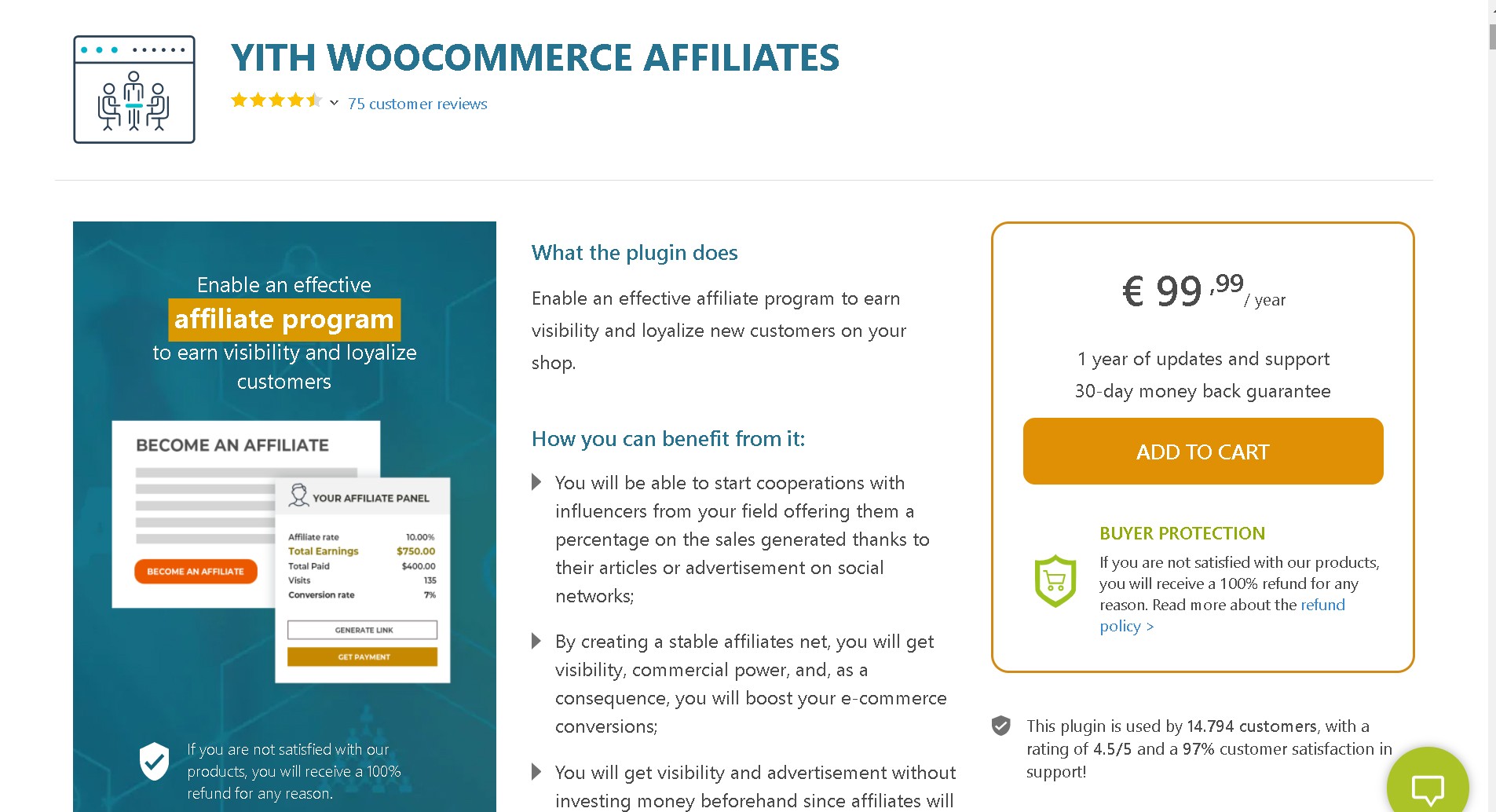 YITH WooCommerce Affiliates is one plugin that shouldn't be missing in your marketing arsenal. It can incredibly make your life as a business owner easy.
Yith gives you even more control over your sales by letting you set up different commission rates for different products or users. It also comes with a dashboard for every affiliate to see their commissions and performance in real-time.
This plugin saves you the time you would have otherwise spent manually calculating commissions.
As mentioned earlier, the YITH WooCommerce Affiliates has a free version, and also a premium version that starts at $99.99 a year.
4. Thirsty Affiliates Link Manager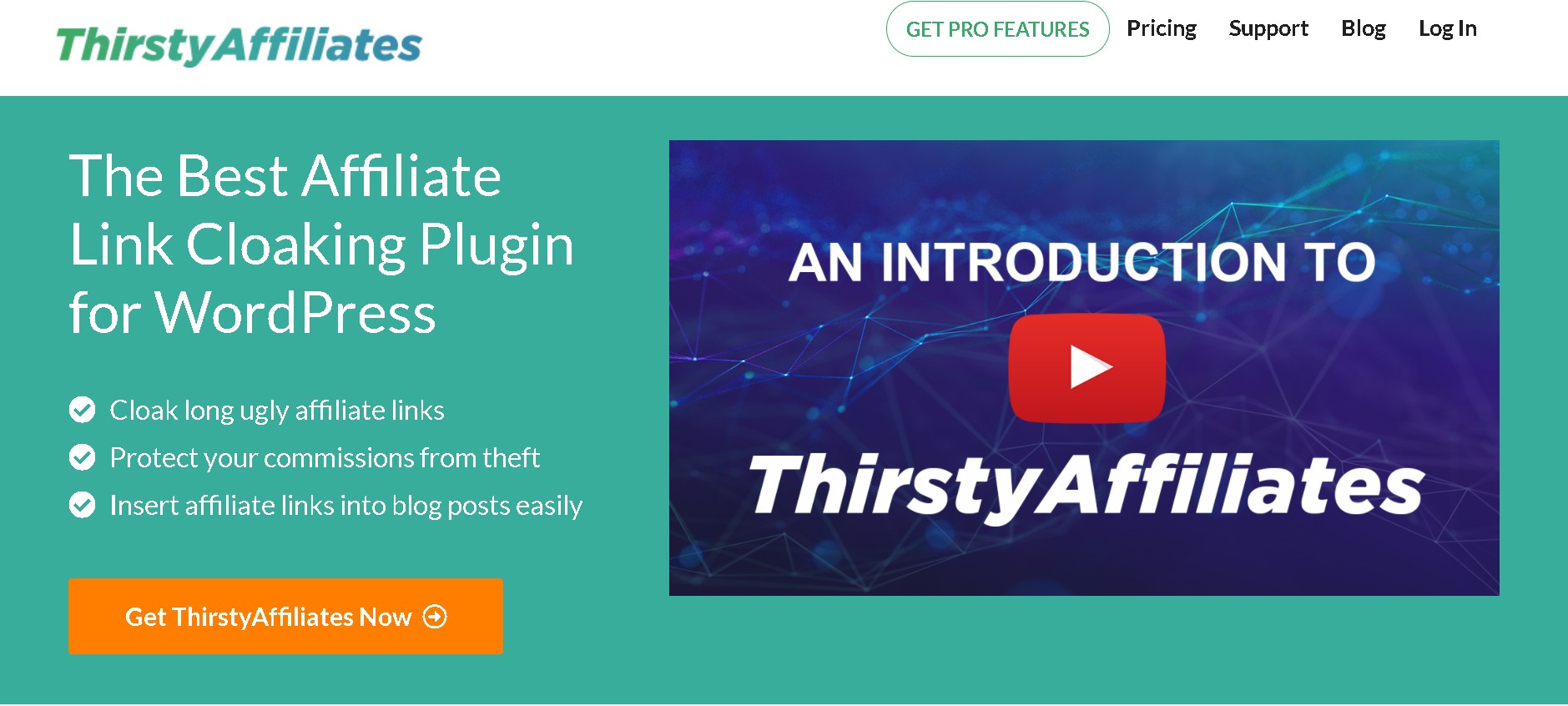 Long, clunky links aren't attractive. This is where the Thirsty Affiliates Link Manager comes in.
It has link cloaking features that make long affiliate URLs look more visually appealing.
It does this by letting you shorten your affiliate links. By doing this, you would be increasing your clickthrough rates and your commissions as a result.
With this plugin, you can organize your affiliate links by putting them into categories. This is especially useful if you have affiliate links for different products. It also lets you see how your affiliate campaigns are performing.
As for pricing, this plugin starts at $49 a year.
5. Amazon Auto Links

Amazon Auto Links works great for Amazon affiliate links. So, if you have products listed on Amazon, you can easily generate and put your product affiliate link on your WordPress site using this plugin. This plugin works by tagging links with your Amazon Associates ID.
It has link cloaking features to make your links more visually appealing to visitors when they visit your WordPress website. It also prevents your links from being blocked by ad blockers.
With this plugin, you can easily find products on Amazon, get and paste their links to your WordPress website. It does this in real-time.
6. Refer a Friend For WooCommerce

A referral system is an integral part of every affiliate program. For it to work, it must be easy to understand and effective at the same time.
Hence, the Refer A Friend for WooCommerce plugin; it helps you build a simple but powerful referral system.
It allows you to reward your friends with coupons when they refer sales to you.
They can then use the coupons to shop on your website.
With the free version of the Refer A Friend for WooCommerce plugin, you can customize your coupons as follows by setting a specific value, defining the coupon type and assigning a minimum order quantity to each coupon.
The premium version allows more customization functions like setting a coupon as product specific, assigning an expiry date to it, and allowing affiliates to transfer their coupons to someone else.
This plugin costs between $47 for one website and $199 for an unlimited number of websites.
7. Pretty Links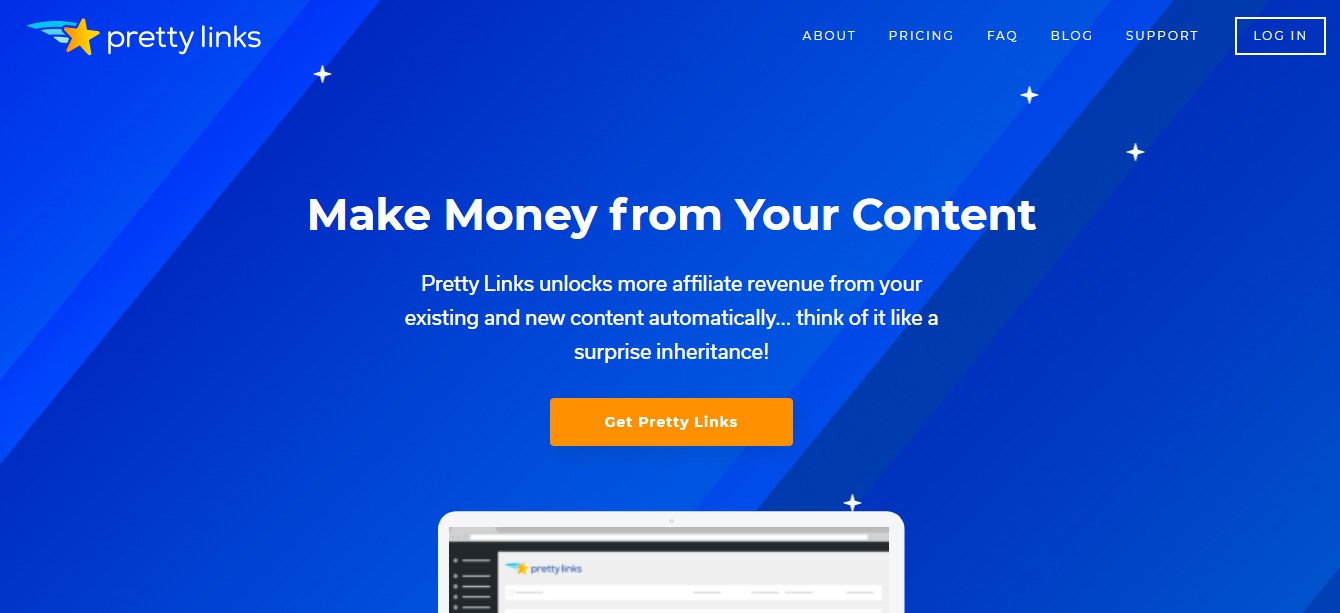 The Pretty Links plugin is an affiliate link management tool that lets you manage links from different sites from one spot. It has a user-friendly interface which makes it suitable for beginners.
With this plugin, customizing your links to make them more presentable is a breeze. It enables you to do this using its link cloaking, QR code generation, or branded link creation features.
Manually placing links all over your website can be tedious. Thankfully, the Pretty Links plugin comes with features that automatically add your links to your WordPress pages intelligently.
It also comes with an analytic feature that lets you track your links and how they are performing.
Pretty Links is free, but you can upgrade to the pro version, starting at $49 per year.
8. Affiliates Manager

The Affiliates Manager plugin makes it easy to drive traffic to your store to increase your sales. It does this by letting you recruit affiliates and manage them seamlessly. You can even use a recruitment CRM software to recruit and manage your affiliate recruiting pipeline.
It also lets you track referrals from your affiliates and pay them the correct commission. With this plugin, you can choose to either pay your affiliates a flat rate per sale or a percentage for every sale you get through them.
The Affiliates Manager plugin allows you to add unlimited links or ads to a website. Plus, you can easily deactivate them whenever you want to.
With its real-time reporting feature, you can easily see your affiliates' performance at a glance as soon as a purchase or other activity is completed.
What's more, this plugin is free.
9. ReferralCandy for WooCommerce

If you own an eCommerce store and want to increase customer loyalty by rewarding them with incentives through referrals, ReferralCandy for WooCommerce will help you do just that.
This plugin works by generating referral links with which your customers can refer their friends. When their friends buy from you, they get a reward, and you get new customers.
This plugin is easy to set up and doesn't need any coding knowledge. It also has a tracking feature that monitors affiliates' activities and displays it on a dashboard for easy data reporting. You also get the option to either reward your affiliates with discounts or cash commissions.
ReferralCandy is compatible with other WordPress plugins and allows you to add an unlimited number of affiliates to your program.
This plugin is free. However, to get the most out of it, you will need to get the premium version; it sells for $49 a year.
10. WordPress Affiliate Plugin by Slice WP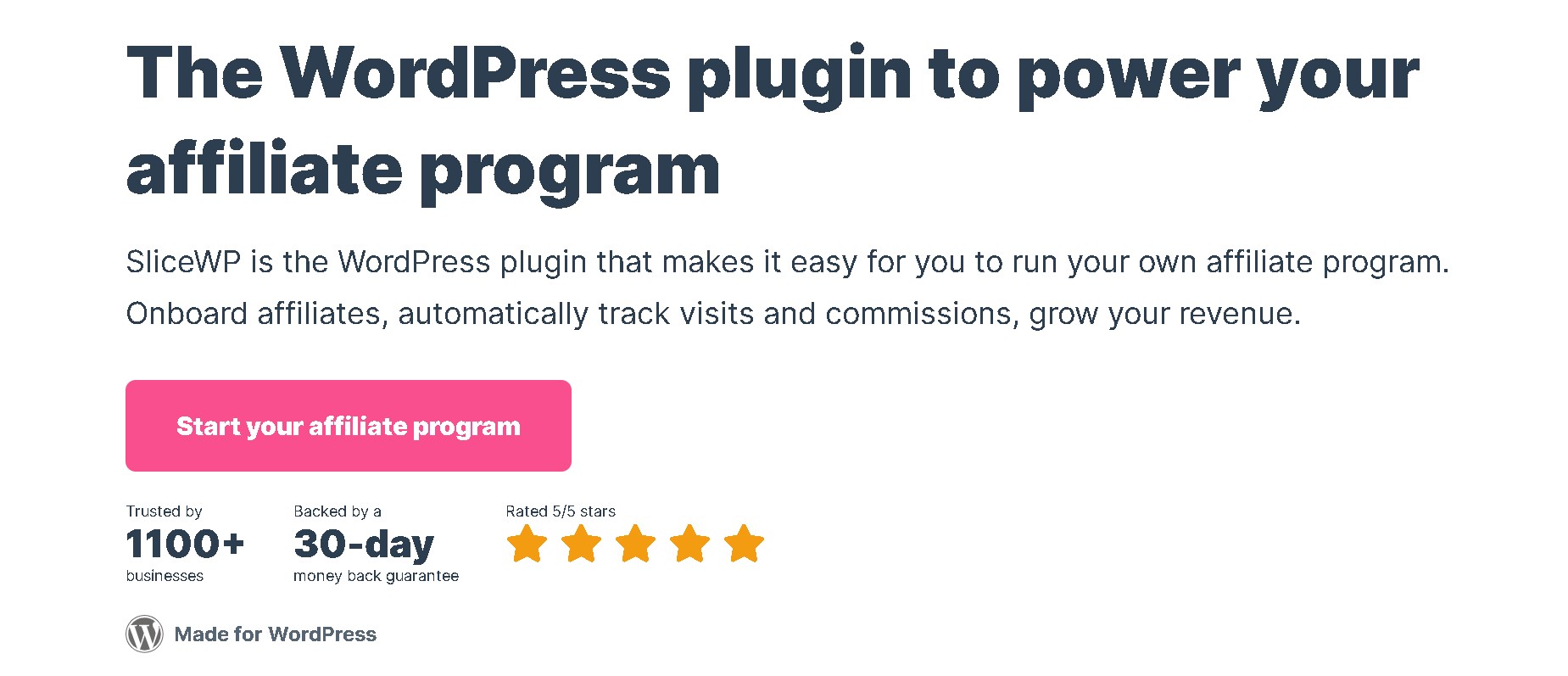 WordPress Affiliate Plugin by Slice WP is another plugin for effectively managing an affiliate program on WordPress.
It comes with a dedicated Affiliates Area where affiliates can log in to see their unique link, account details, number of referrals, and earnings.
Additionally, there's a dashboard from where you can monitor and moderate registrations by affiliate marketers. As if that were not enough, you can also view your affiliate performance report from there.
You can also choose between percentage-based or fixed commission rates.
Unlike some affiliates' plugins, you won't have to pay extra commissions for using this plugin.
The pricing for WordPress Affiliate Plugin by Slice WP starts at $99 per year with a 30-day money-back guarantee.
11. Post Affiliate Pro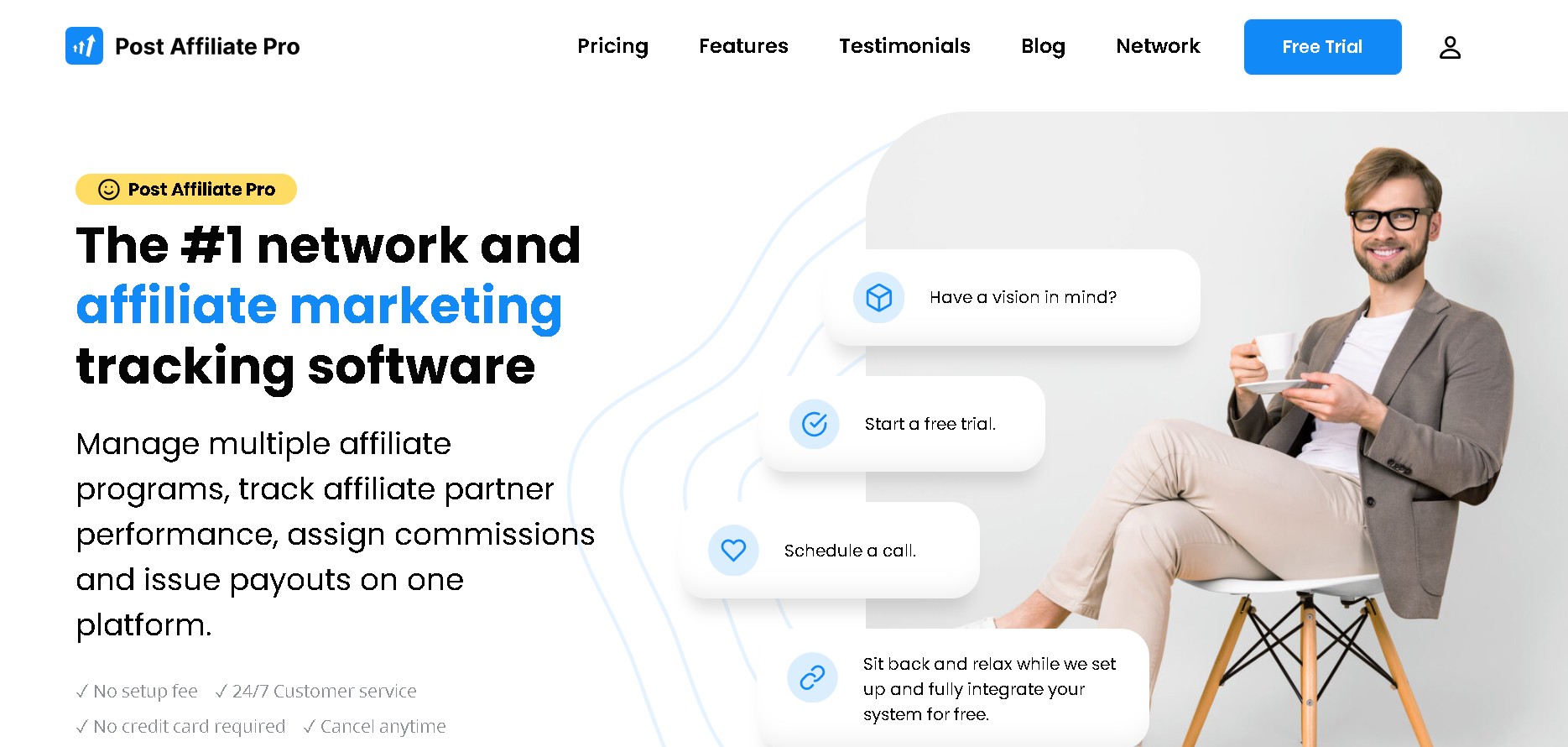 Post Affiliate Pro is an excellent choice if you're looking for a plugin with advanced features. You will find it particularly useful if you manage a large number of affiliates.
With its intuitive dashboard, you can get progress reports on your affiliates in real-time.
This plugin comes with a currency converter that automatically converts and displays commissions in the local currency of your affiliates. It also gives you more options for customizing your commissions than most other plugins.
With this plugin, you can also create ad campaigns that are exclusive to specific affiliates. It comes with an analytic tool that affiliates can use to track their activities.
This plugin has a support team to help you out if you have any challenges as you use the tool.
You can use this plugin for free for 14 days, after which you'll have to pay between $97 and $477 every year, depending on the plan you opt for.
12. Affiliate WP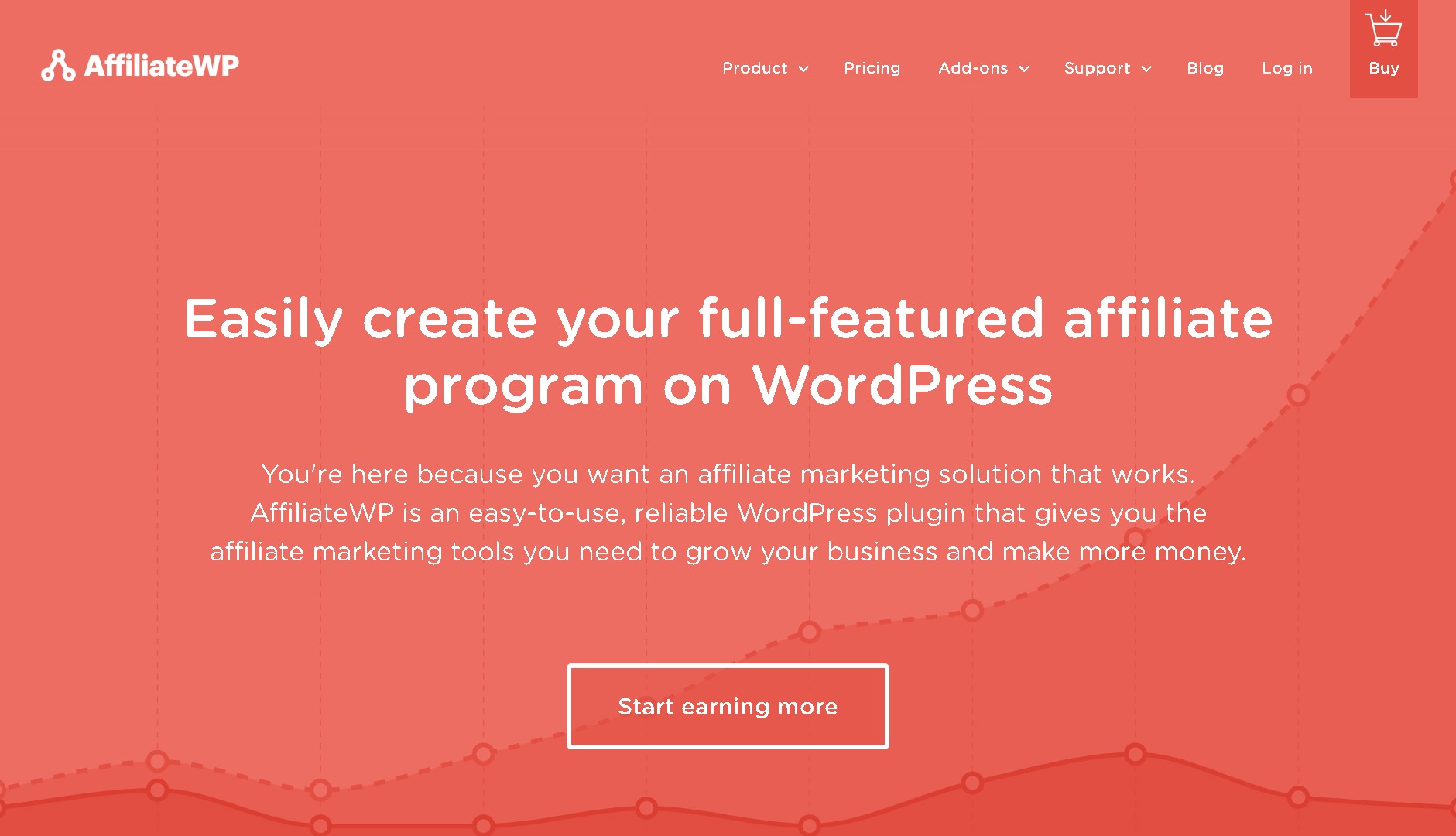 Affiliates Wp is an affiliate management plugin that provides you with advanced tracking features and integrates seamlessly with WordPress. It also offers many add-ons you can use to extend its functionalities.
Upon approving an affiliate's registration, it automatically generates a unique link with which they can refer people to your website. Speaking of affiliate registrations, you'll get the option to choose whether to approve requests manually or automatically.
With its powerful tracking and reporting tool, you can track referral visits, earnings, and affiliate registrations in real-time and see them on an intuitive dashboard. Your affiliates also get an "Affiliates Area" that shows them their performance in real-time.
It also has an integrated payout service so that you can initiate payment of commissions with a few clicks and directly to your affiliates' bank accounts.
You can choose from three premium plans starting at $149 per year to get started with this plugin. Although, you'll get a 30-day free trial before you decide to make any financial commitment.
13. Affiliate Booster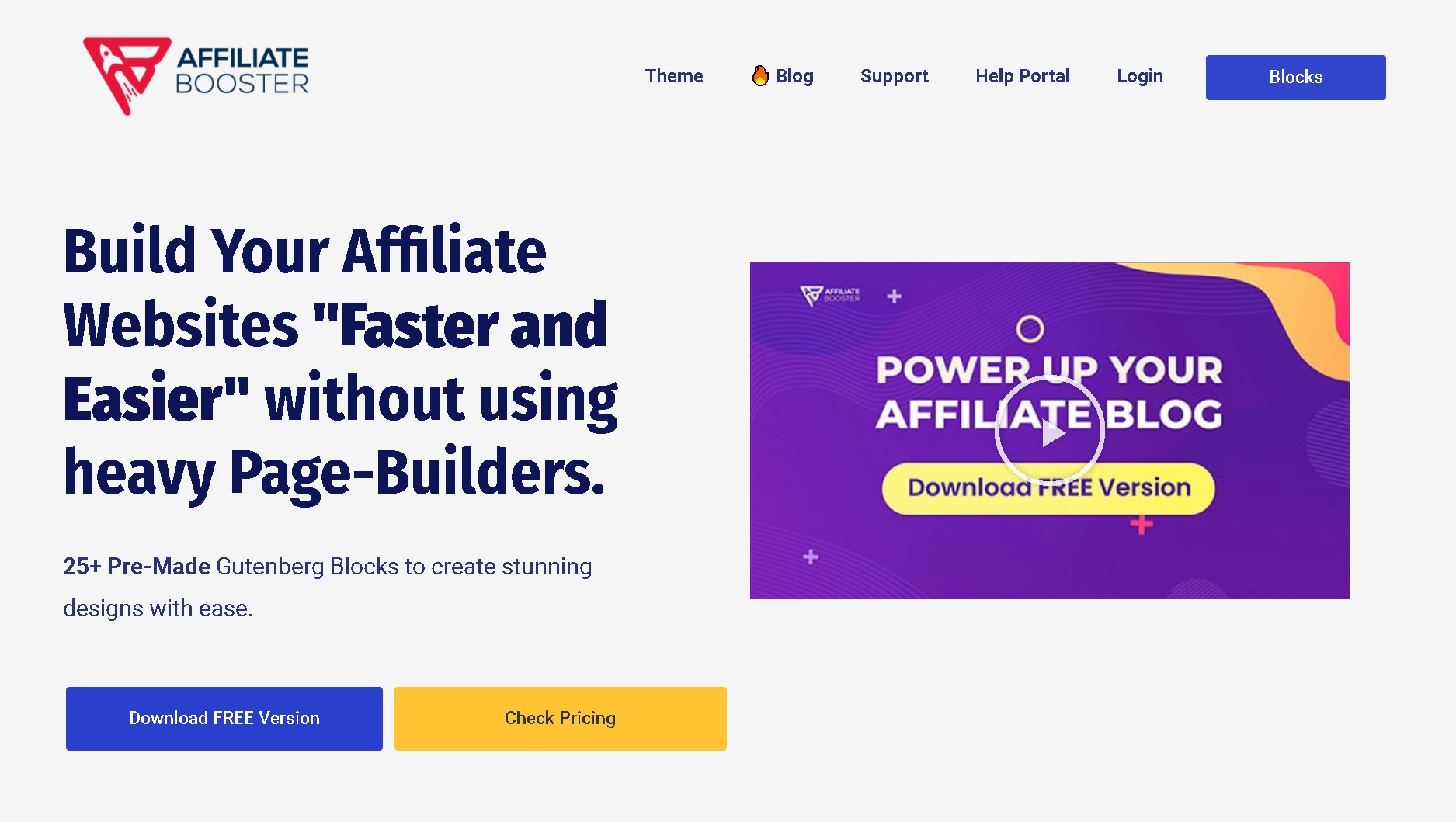 The Affiliate Booster plugin is built for affiliates who want to take their business to the next level. Its primary feature is the drag-and-drop Gutenberg blocks it provides. Gutenberg blocks save you the cost of using a third-party page builder.
Also, they are super mobile-responsive.
These blocks are highly responsive and will improve your user experience significantly. You can also customize them as you wish. What's more, you don't need to hire a developer or know a line of code in setting up this plugin.
This plugin has a free version but has paid plans that start at $39 a year.
14. Affiliates by Itthinx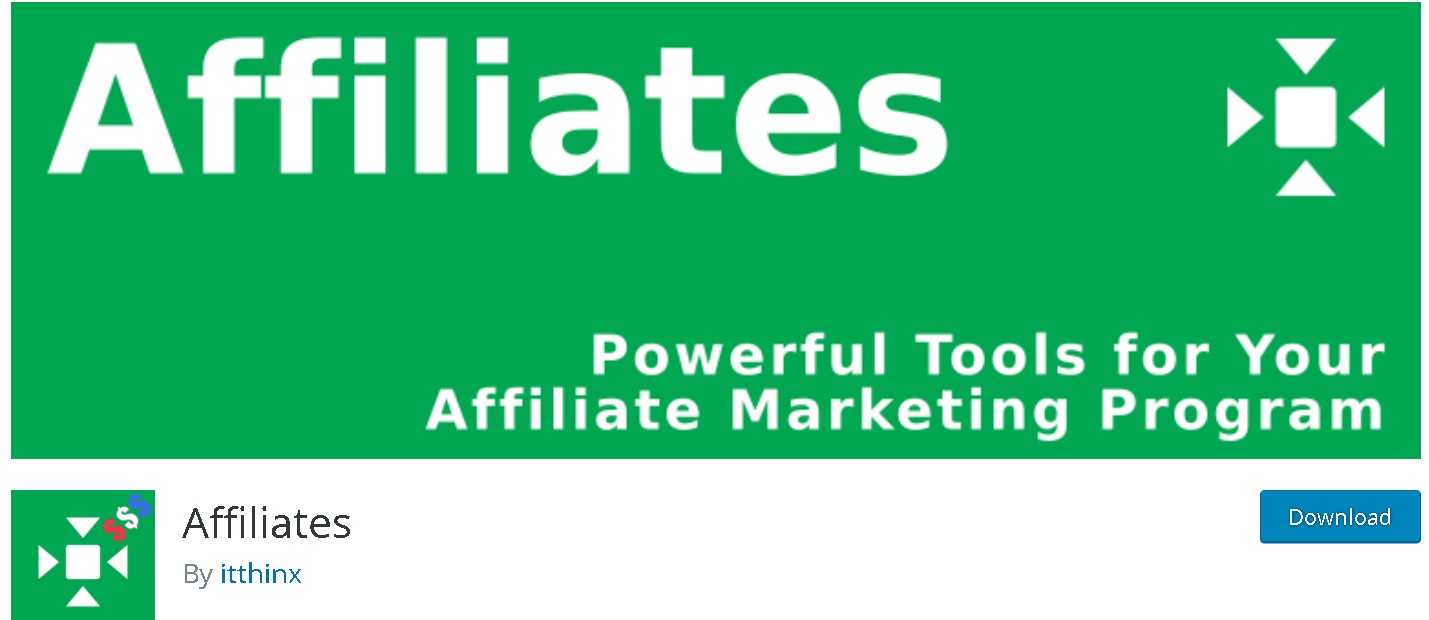 The Affiliates by Itthinx plugin comes with growth-oriented features to help your affiliates reach your target customers. With this tool, affiliates can share links to any product or page on your website to increase your traffic.
It offers an automated registration approval of affiliates who meet your requirements. With its data reporting feature and dashboard, you can monitor your affiliates in real-time. The dashboard comes in different templates so you can decide how you want it to look.
You don't need to write a single line of code to get this plugin up and running. However, the plugin allows you to update its features by modifying its code yourself or getting a developer to do so for you.
The Affiliates by Itthinx plugin has both free and premium versions. The premium version starts at $49 per year for a single website.
15. Affiliate Coupons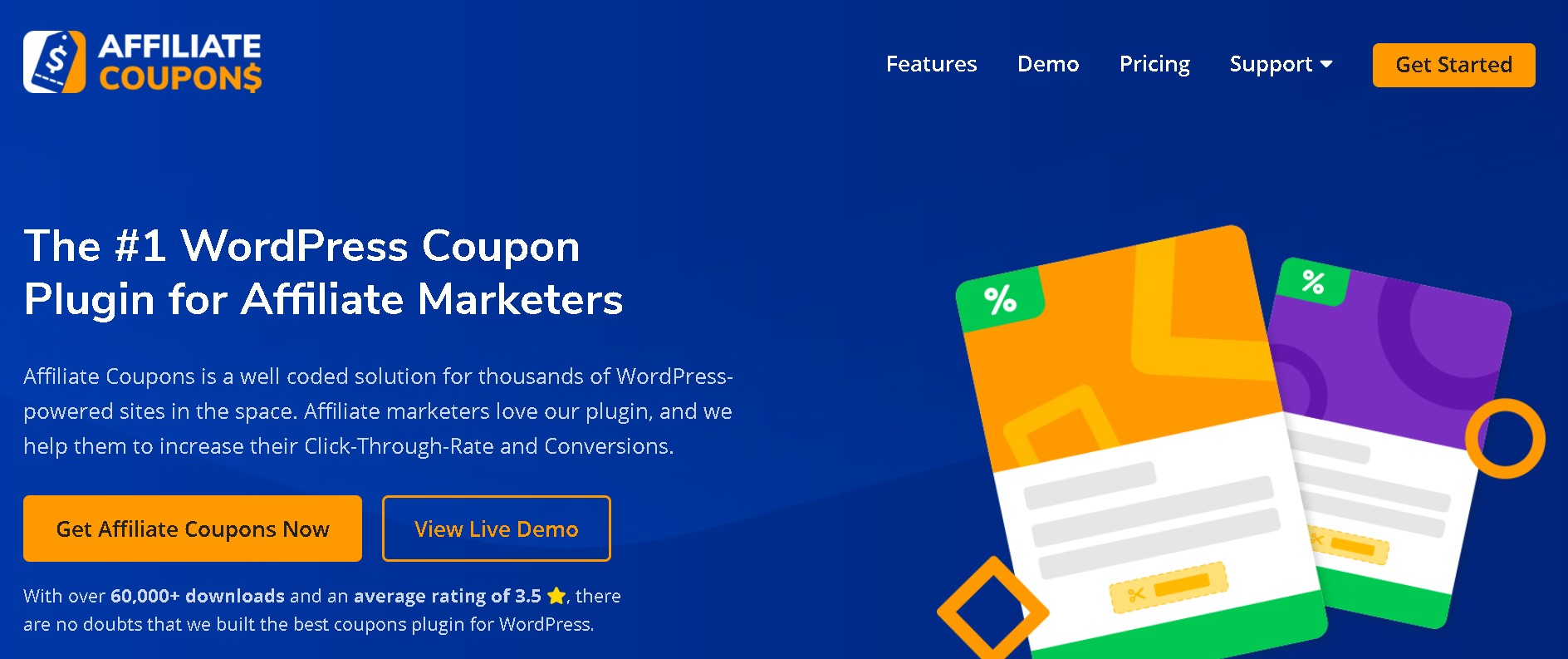 The Affiliate Coupons plugin can help you create attractive coupons, which in turn will help you boost click-through and conversion rates.
These coupons are mobile-friendly and responsive.
It comes with coupon templates you can use to reward your affiliates. What's more, they are compatible with any WordPress theme. The plugin also provides a dashboard that allows you to manage multiple vendors and create tons of coupons.
As for support, be assured you will get lots of it when you use this plugin.
Pricing starts at $29 yearly with a 30-day money-back guarantee.
16. Auto Affiliate Links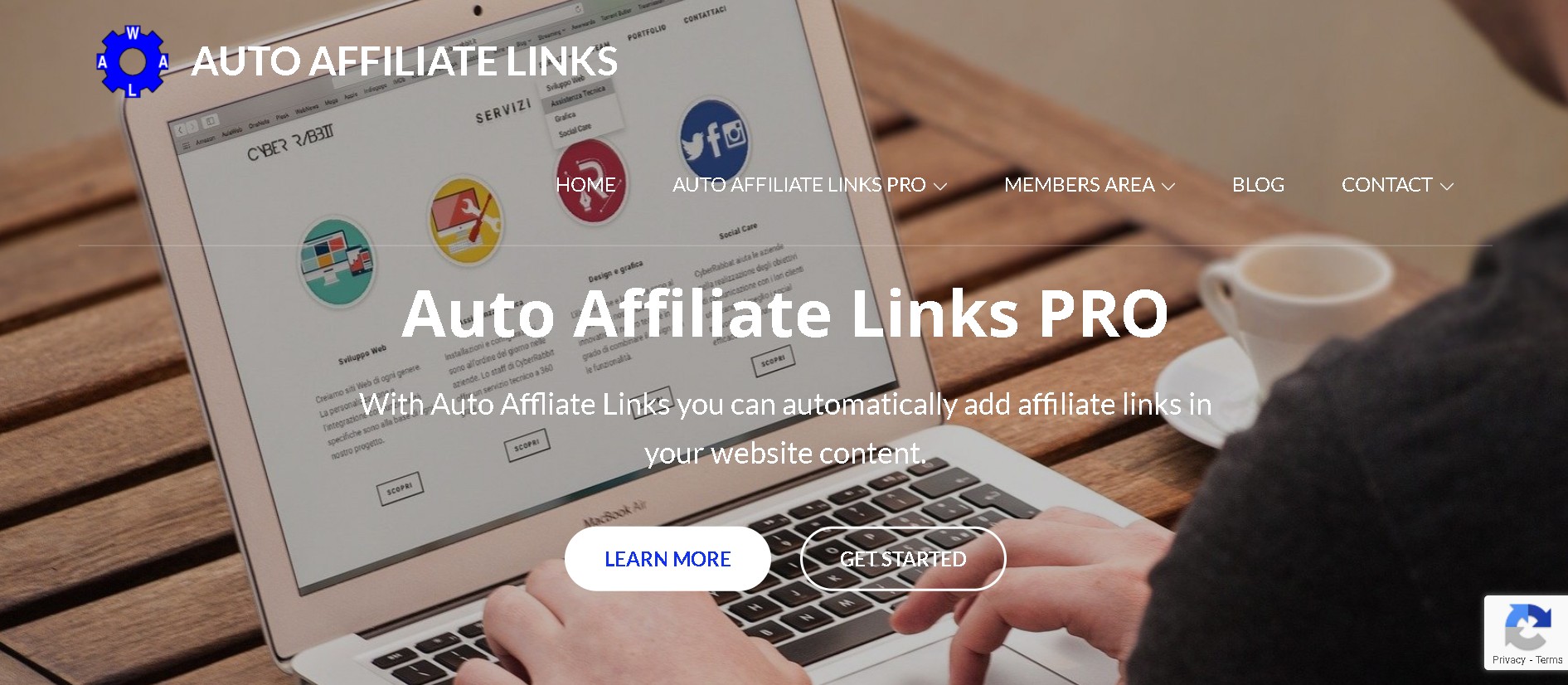 With Auto Affiliate Links, you can add affiliate links automatically to your WordPress pages from sites like Amazon, Clickbank, eBay, Walmart, etc. You'll see which links were generated and where they were added.
This plugin has powerful data reporting features that track affiliates' activities, such as how many clicks a link gets.
It also comes with a dedicated support team to handle any compatibility issues. They'll even consider doing a custom modification on the plugin if you want.
17. Ultimate Affiliate Pro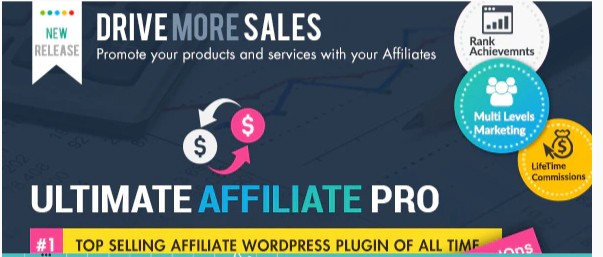 The Ultimate Affiliate Pro plugin allows you to reward your affiliates according to ranks. This means that you can assign different commission rates to different affiliate ranks. So when an affiliate gets promoted to the next level, their commission rate increases.
With this functionality, you can build a multi-level marketing system in your business and increase your sales as your affiliates bring in new leads.
There's no cap on the number of affiliates you can recruit with this plugin, and you can decide to pay them a fixed commission or at a percentage rate.
With its intuitive dashboard and easy-to-use interface, you can monitor your affiliates' performances, and they can monitor their referrals and earnings too.
Want to get this plugin for your WordPress website? Its pricing starts at $69 yearly.
Conclusion
There you have it – the best WordPress plugins for affiliate marketing. Whether you're an affiliate marketer or run an affiliate program on WordPress, there's a plugin for you on this list. We hope this list makes it easier to choose one.
To build a lasting relationship with your referred visitors, sign up on Adoric today to grow your business.