Loyal customers are the lifeblood of any sustainable business. Why? It costs less to engage existing customers than to acquire new ones. More precisely, it costs 5-25 times more to get new customers than to keep old ones.
However, building loyalty with your customers isn't an easy feat in a competitive business space.
There are different ways to build loyalty with your customers. Some of them include improving customer experience, sharing positive customer reviews, or delivering added value like free installation offered by many ISPs like Charter Cable, for instance.
One of the most effective methods is to boost engagement with customer loyalty programs. That's what we'll be discussing in this post.
So, here's a sneak-peek into what I will be sharing with you in this post:
What Are Customer Loyalty Programs All About?
A customer loyalty program is a structured customer retention strategy that seeks to reward customers.
It aims to encourage your customers to keep buying from your brand rather than your competition. Also, it helps to build trust between your brand and your customers.
Loyalty programs aren't new. According to a report by Accenture, more than 90% of companies run one or more these programs at any given time.
But, are loyalty programs really effective? Or just plain popular?
The truth is that they are effective!
Want proof?
The idea behind loyalty programs is, the more your customer buys from you, the more rewards they'll get. It encourages continuous engagement with your brand, increasing conversions.
Typically, customers join loyalty programs by submitting their personal details and contact information to the brand. They may then be assigned a unique code or membership ID with which they can claim their rewards.
Loyalty programs do not just reward customers; they also provide you with a ton of consumer insights and data.
What Benefits Do Customer Loyalty Programs Offer?
With the business space getting more competitive, offering your products and services at lesser prices isn't enough anymore.
A customer loyalty program can help you get ahead of the competition.
That said, customer loyalty programs give your business a boost in the following ways:
Customer loyalty programs help you develop strong relationships with your customers. And the stronger that relationship is, the better your conversion rate would be.
Customer loyalty programs give you insights into customers' behavior.
With the insights you generate from a customer loyalty program, you can improve customer satisfaction.
It encourages your existing customers to recommend your brand to their social circle.
It yields increased sales for your business.
It's a great way to show your customers gratitude for their past engagement with your brand.
Tips for Setting up a Customer Loyalty Program
To make a customer loyalty program work for you, it's important that you are strategic about it. Else, you might end up giving away good stuff in the name of rewarding your customers and get a big box of nothing back.
Here are some tips that will really help:
1. Promote Your Customer Loyalty Program
If your customers don't know about your loyalty program, it might as well not exist. So, it won't hurt to invest some resources in promoting your loyalty program so that your customers are aware of it..
Your website is a great place to start your promotions. How to go about this? Use Adoric.
Adoric has tons of powerful and exciting features that let you promote your marketing campaigns on your website seamlessly, without affecting your user experience.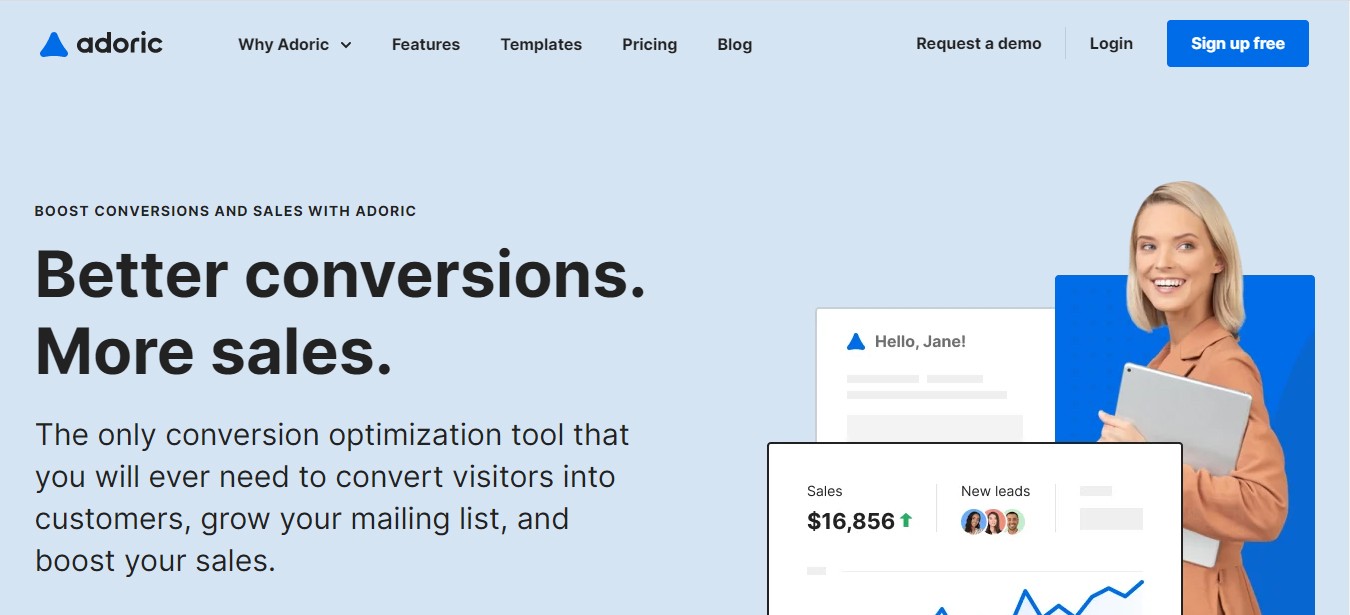 Adoric comes with over 1600 attractive campaign templates. They include popup boxes, floating bars, or sidebars, and you can use any one of them to promote your loyalty program on your website.
It also has a drag-and-drop editor you can use to customize whatever template you choose, just the way you want. Alternatively, you can use it to build your campaign from scratch without using a template.
Simply drag design elements like icons, images, etc., from your computer and drop them into the canvas area illustrated below. You won't need to write a single line of code to do any of this.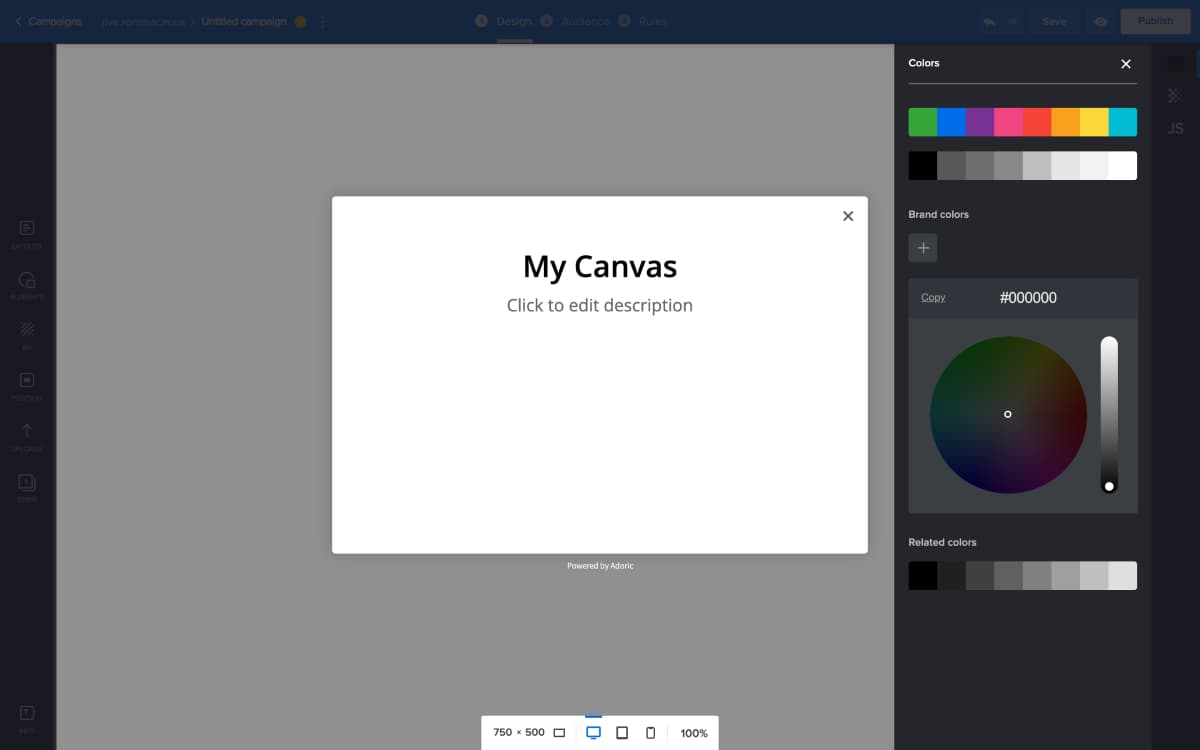 With more people using their mobile devices to browse the internet, you'll have to ensure your campaign is responsive on a mobile device. Thankfully, our drag-and-drop editor makes it easy for you to create mobile-responsive marketing campaigns.
A loyalty program can also be an opportunity to generate new leads, even if that isn't your main goal. When these first-time visitors land on your website, you'll need to add them to your contact list so that you can get in touch with them afterward. Adoric can also help you with this.
Want to start exploring Adoric? Sign up for free.
2. Determine Your Business Goals
The first thing to do when setting up a customer loyalty program is to do your due diligence by conducting some research and analyzing important aspects of your business. This will help you to choose a loyalty program that aligns with your business objectives.
Analyze the size and type of your business, your business objectives, and your budget. This will help you decide what kind of loyalty program is feasible for your brand.
Go a step further by building a customer journey map. This will help you to understand your customers.
After all, your loyalty program can only be successful if it appeals to your customers.
If you've been collecting data about your customers, dig into your archives and look out for trends in customer behavior and expectations. Also, study the current market trends.
If you haven't been collecting customer data, you can set up a survey on your website using tools like Survey Monkey, Zoho, Survey Gizmo, etc. You can also conduct a poll on social media to get your required information.
3. Use a Creative Name for Your Customer Loyalty Program
Don't just call it "Loyalty Program". Get creative. Give your loyalty program a name that will trigger curiosity and excitement from your customers. It should also be distinct from other loyalty programs they may already be part of.
Choose a name that your customers will connect well with.
Think of a name that resonates with your brand, industry, or customers. The best way to do this is to adopt a name that portrays brand values that your customers share.
4. Make It Easy for Your Customers to Participate
As a rule-of-thumb, make it easy for your customers to participate in your loyalty program. Also make it easy for them to redeem their rewards.
This doesn't just stop at the sign-up stage. Your rules should be easy to understand. Your customers should also find it easy to track and redeem rewards to avoid losing interest in your loyalty program.
5. Make Your Rewards Customer-centric
Setting up a loyalty program isn't enough. It must appeal to your customers. One way to do this is to consider your customers' preferences when deciding on the rewards to give out.
Analyze your customers' unique needs and buying behaviors and use this information as a guide to making this decision.
This is the best way to motivate your customers to participate in your loyalty program.
If you think your customers might undervalue your products if you give them discounts, consider offering a non-monetary reward instead.
In summary, customer-centric rewards differentiate you from other loyalty programs out there and help you generate lasting brand loyalty from your customers.
6. Set Goals and Track Them
Just like every other marketing endeavor, don't launch a loyalty program without first setting goals.
Setting goals will help you know which rewards are working and which ones are not. It also allows you to track the general performance of your loyalty program. Plus, it helps you to clearly know if it is impacting your bottom line positively.
Don't stop at setting goals; put measures in place to track them. You can use CRM software to do this.
Important metrics to look out for are your customer retention rates, conversion rate, churn rate, and net promoter score (the degree to which people are likely to recommend your brand to their peers).
7 Inspiring Customer Loyalty Programs You Can Copy
There are different types of loyalty programs.
Some reward customers for referring other buyers. Others reward them just for making a purchase.
And in some cases, both efforts are rewarded. You should choose which one(s) work best for your business and run with it.
Need some inspiration? Here are some examples worth copying:
1. Domino's Pizza (Points-Based Loyalty Program)
Domino's loyalty program is a typical example of a points-based loyalty program. This is the most popular type of customer loyalty program that exists.
It's tagged "Piece of the Pie Rewards". This name sure makes an impression, doesn't it?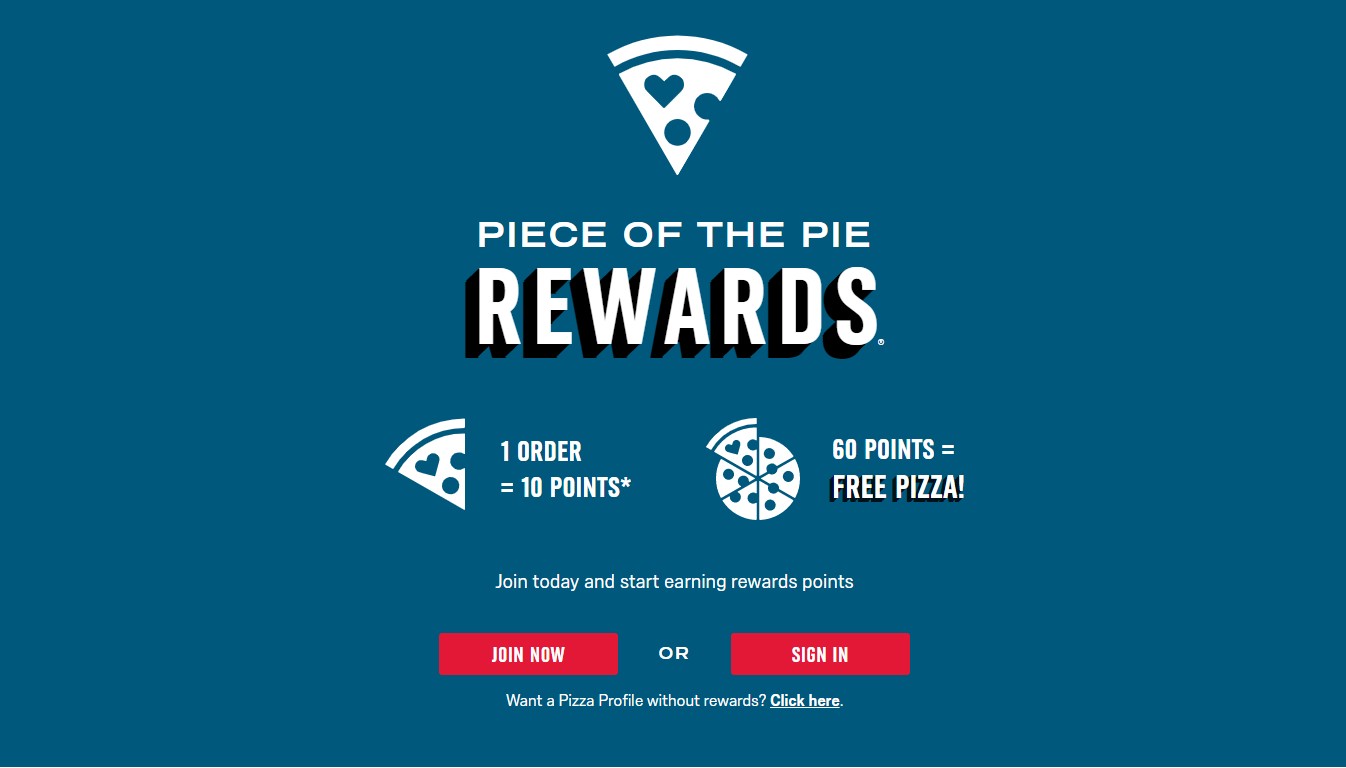 The Domino's loyalty program involves rewarding customers with 10 points for every order they make either on phone, with its app, or in person.
Customers who sign up for its loyalty program also enjoy additional perks like special promotions and offers.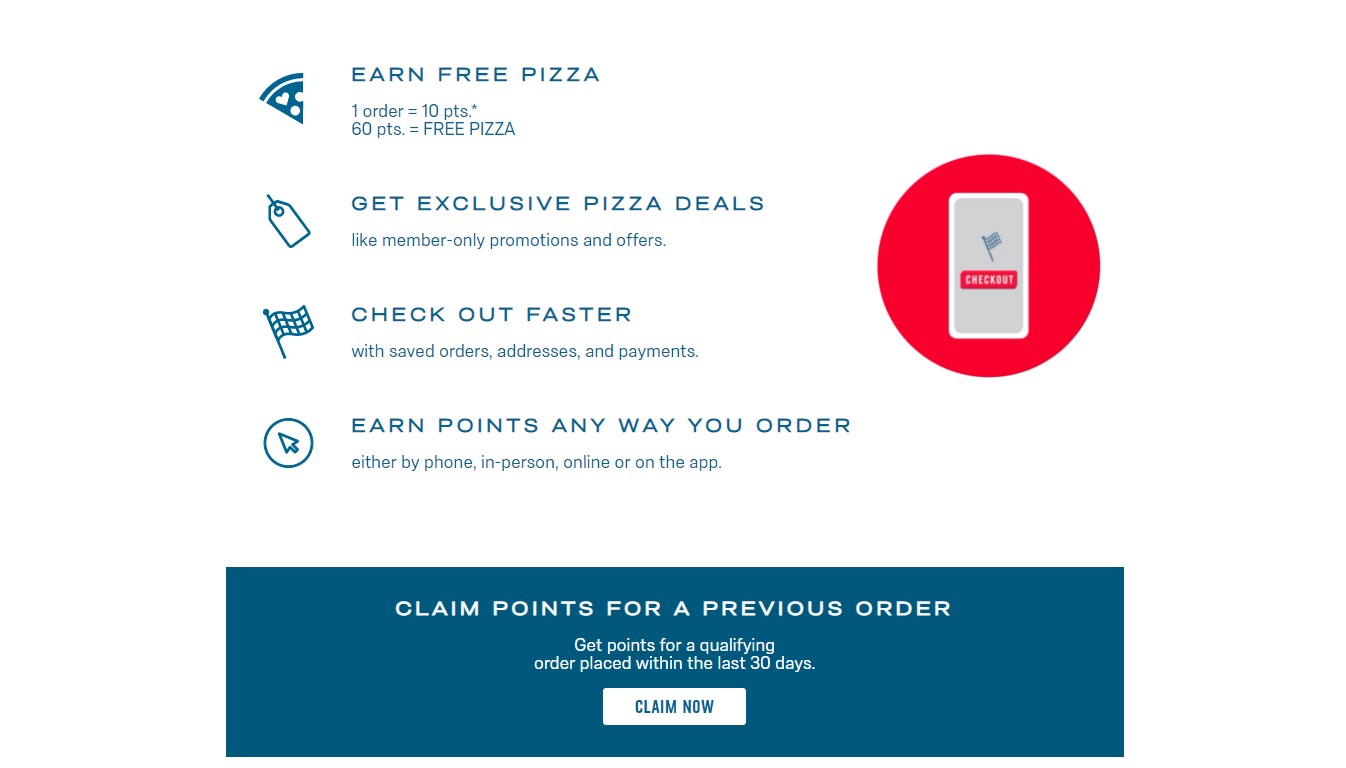 2. Fruce (Points-Based Loyalty Program)
Fruce is a small beverage business based in Singapore. As a relatively new brand, they wanted to establish customer loyalty. They did this by setting up a loyalty program that allows a customer to earn one stamp for every drink they buy. With twenty stamps, they can redeem a free cup of drink.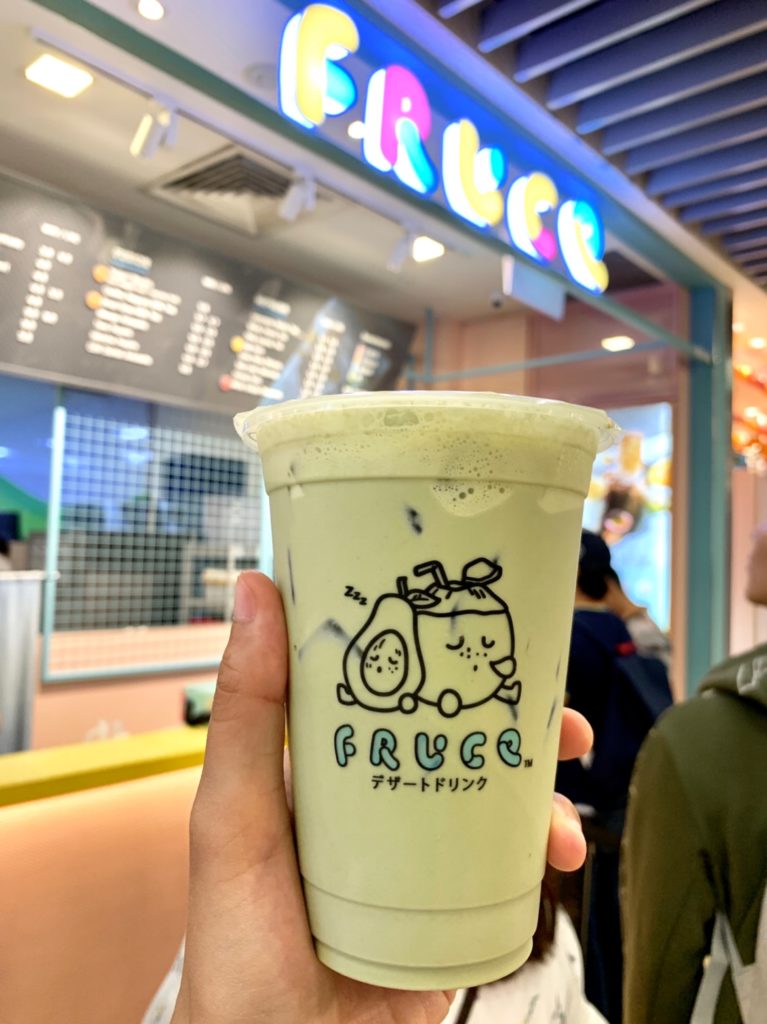 According to CandyBar, 70% of Fruce's customers are loyal customers with 2 or more visits. 1 in 2 customers has made 4 or more visits.
If you were looking for a small business loyalty program example, there – you have it!
3. Barnes & Noble (Paid Membership-Based Loyalty Program)
Barnes & Noble runs a paid membership-based loyalty program where loyal customers are rewarded with exclusive benefits.

Paid loyalty programs require customers to pay a fixed amount of money once or periodically to be part of a membership club.
But how did Barnes and Nobles convince customers to join their club?
They simply ensured that the benefits outweigh the cost of the subscription of just $25.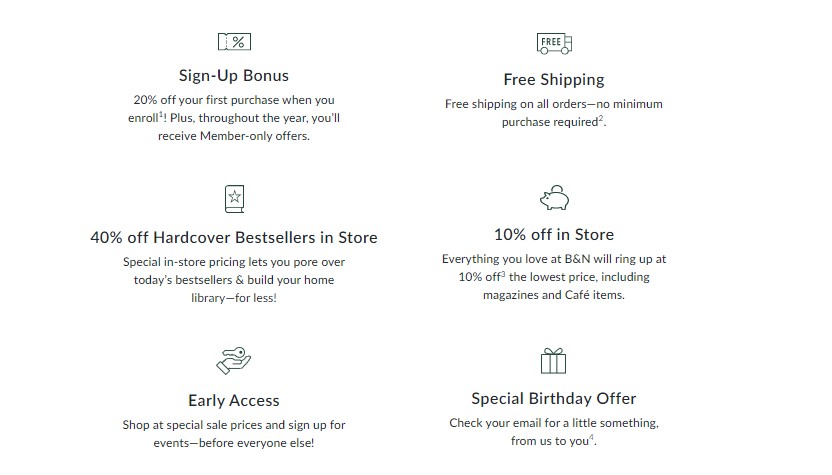 For a book-lover, the benefits definitely outweigh the membership cost.
To get the best results from paid programs, target existing customers who are already familiar with the value your brand offers. New customers may not readily pay for a loyalty program unless they are sure of the benefits they'll get from it.
4. Sephora (Tiered Loyalty Program)
Sephora's Beauty Insider program is one of the most successful loyalty programs that exist. You can tell from its membership strength of over 25 million loyal customers. What's more, its loyalty program plowed in about 80% of its sales in 2018.
It has a three-tiered system of rewards and is also point-based. As customers spend more, they earn points and move up the tiers of the loyalty program. The customers are then eligible for exclusive benefits based on the tier they are at.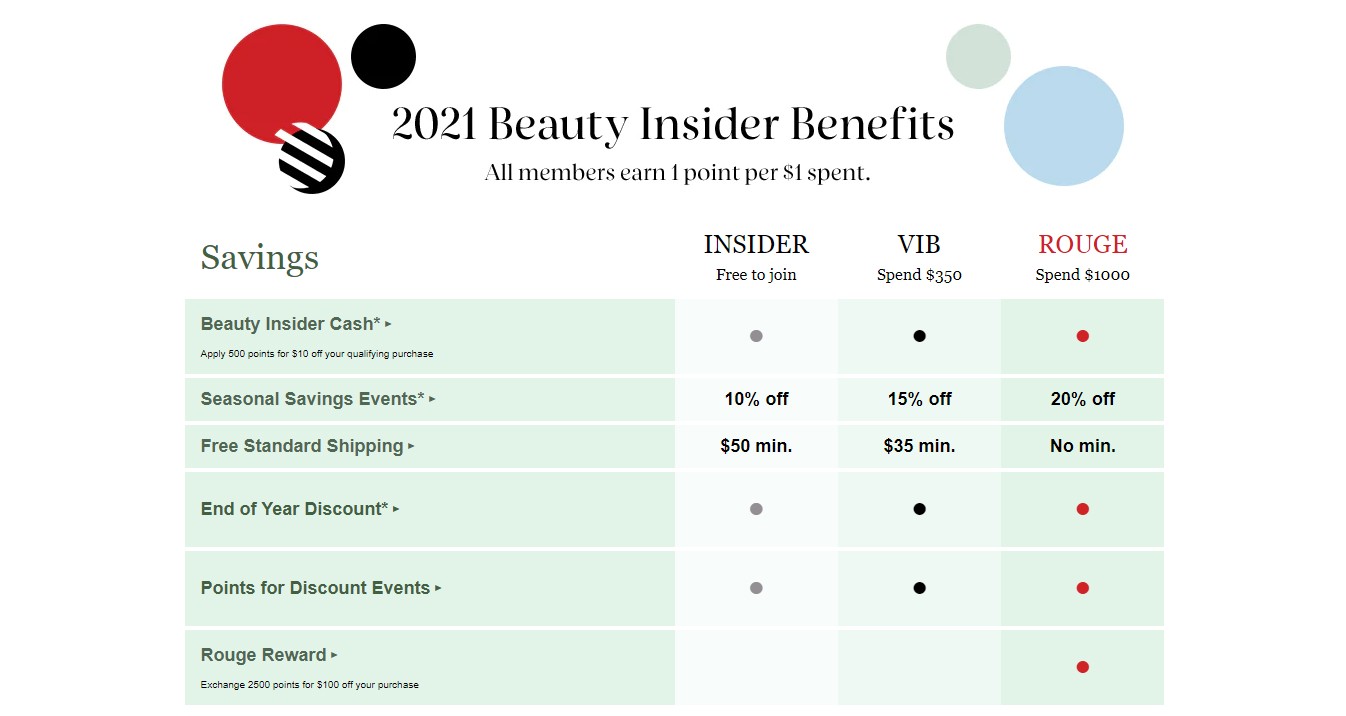 Perhaps the most exciting part of the Sephora loyalty program is that it allows members to choose how to redeem their points. Of course, there are terms and conditions attached to that.
This flexibility makes Sephora's loyalty program customer-centric and can easily boost engagement among its customers.
Sephora also created a community where members of its loyalty program can interact with each other and give feedback to the brand. From this community, they get valuable customer insights useful for future product development and improving customer experience.
5. The Body Shop (Value-Based Loyalty Program)
The Body Shop's loyalty program deviates a little from the norm. It doesn't just give its customers discounts; it also allows them to donate their earnings to charity.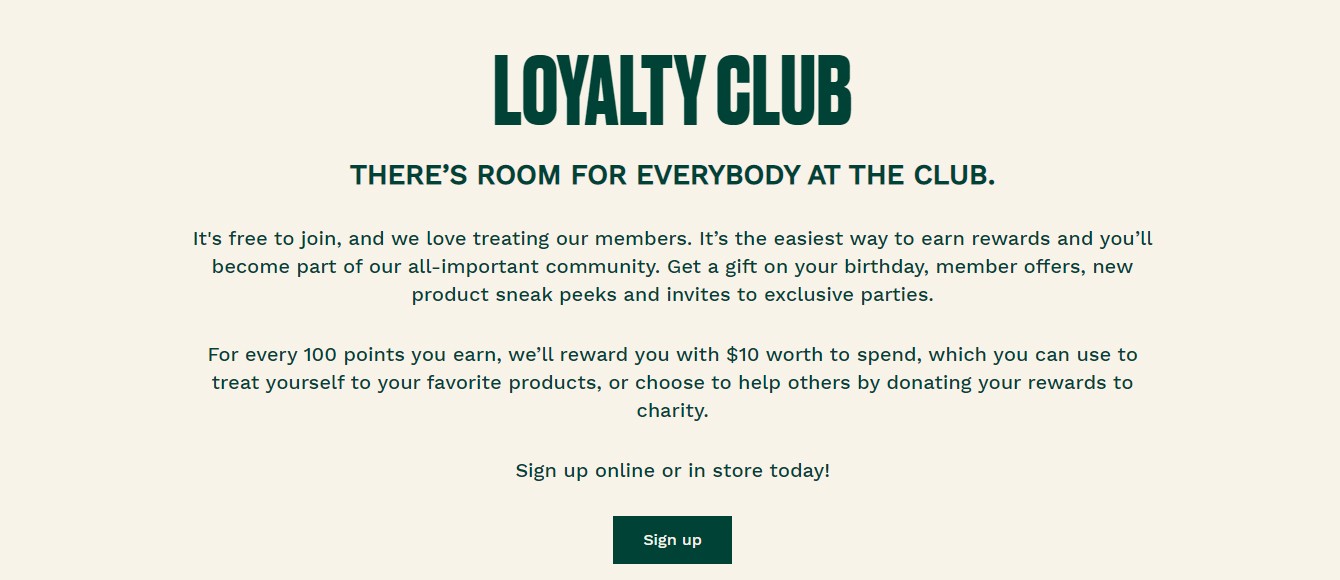 By giving their customers the option to give to charity, they let their customers know that they aren't just about money and making profits.
When your customers see that your brand shares the same values with them, they are more likely to trust you and keep buying from you. Building a loyalty program based on shared values presents an opportunity to develop a deeper relationship with customers.
6. Marvel (Points-Based/ Tier-Based Loyalty Program)
Marvel, the superhero films producers, run a points-based loyalty program that rewards fans for things they already do. Some of these activities include engaging with the brand on social media, reading content on their website, taking surveys, etc.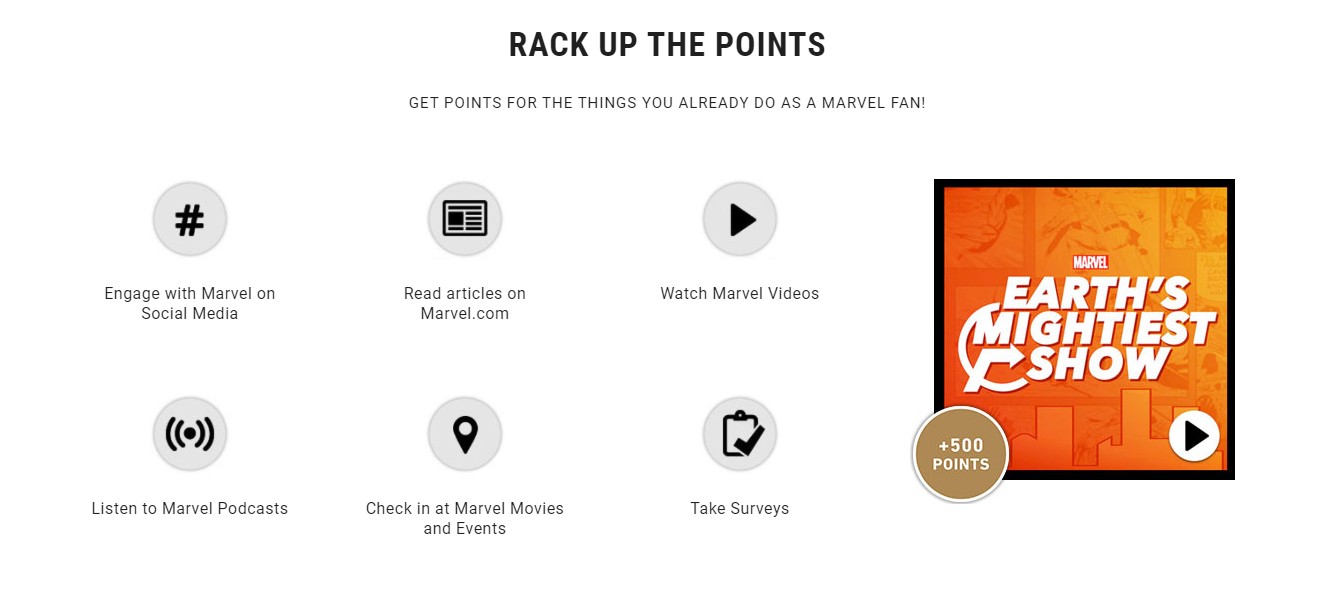 With these points, fans can redeem branded items from Marvel's store. These rewards are perfect for avid Marvel fans and easily fosters loyalty among them.
In addition to rewarding her fans with points, it also runs a tiered system that offers extra exclusive perks like birthday presents, access to special discounts and exclusive content, etc.
Fans attain these tiers as they continue to engage with the brand. This way, Marvel encourages her fans to engage with their brand even more.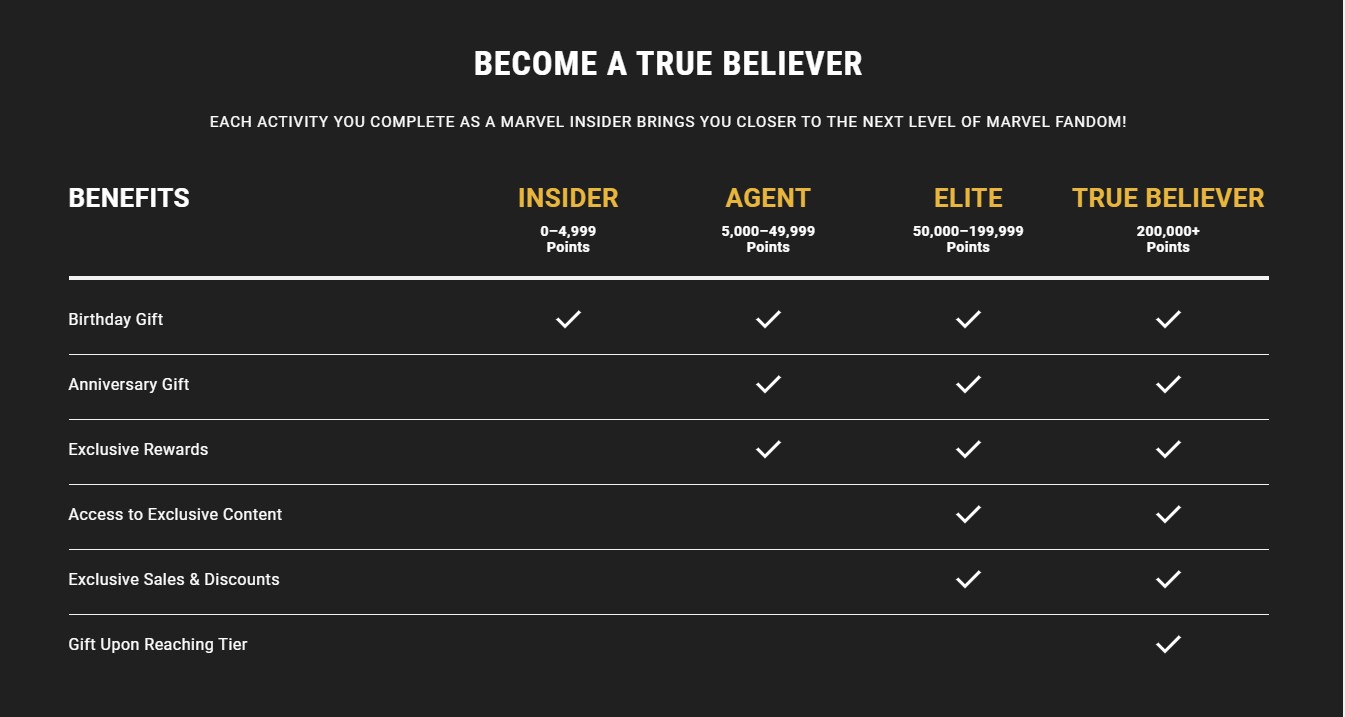 7. Nike (Progress-Based Loyalty Program)
Progress is a positive psychological trigger that can motivate people to take action. Nike leverages this in their loyalty program and builds it around progress in specific activities that appeal to its customers.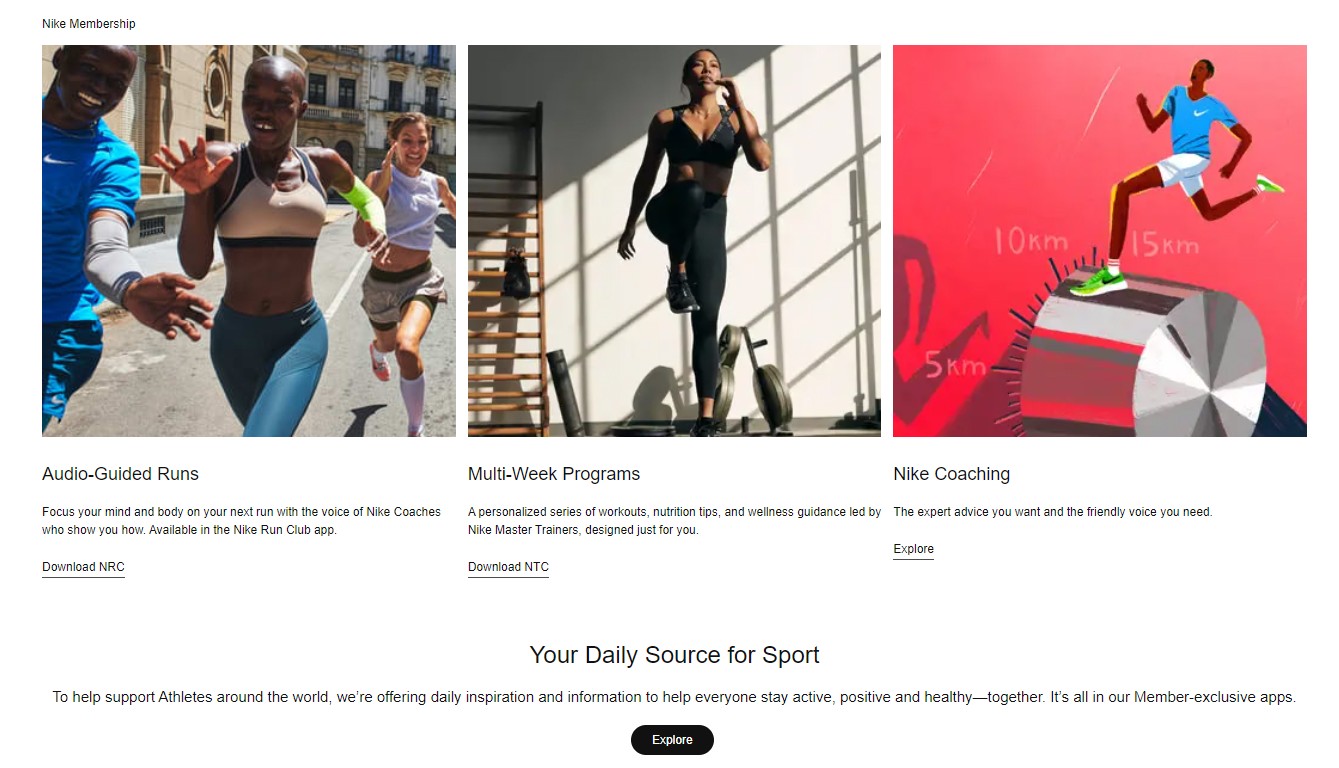 The Nike Run Club and Nike Training Club are different segments of its loyalty program with separate apps that cater to its customers.
The Nike loyalty program rewards customers with badges, free delivery, birthday presents, special promos, exclusive access to new products, etc.
This type of loyalty program allows you to incorporate your brand into your customers' lifestyles. By doing this, you'll develop a strong relationship with your customers.
Conclusion
Customer loyalty programs go a long way in helping you build customer loyalty. Setting one up doesn't have to be complicated.
I believe that with all I have shared with you in this post, setting up a successful Customer Loyalty Program won't be much of an issue for you anymore.
Ready to take Adoric for a spin? Sign up for a free account right away!