If your popups display when they aren't supposed to, they might annoy your visitors.
And a pissed-off visitor might never return to your website ever again. You don't want that to happen, right?
For this reason, it's important you trigger your campaigns at the right time.
Adoric trigger feature makes it possible for you to automatically display your campaigns just when the time is right. This helps to lessen the chances of irritating your visitors, thus ensuring you capture as many leads as possible.
When looking to launch a campaign, there are 5 trigger options you can select from, namely:
Time frame
Page scroll
Exit intent
Mouse
Event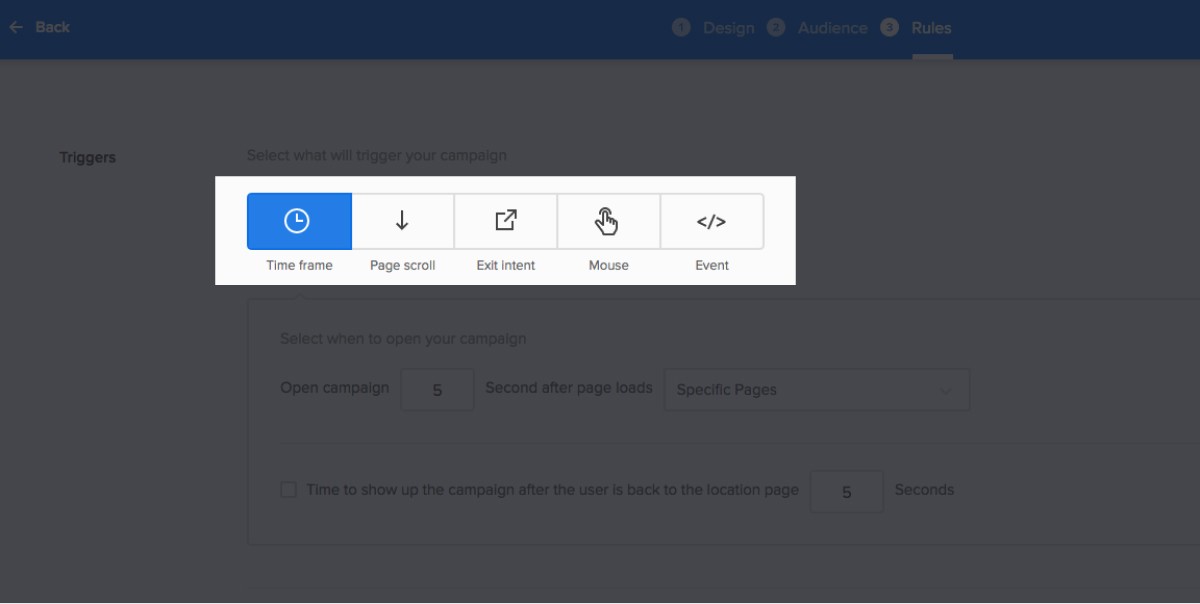 Let's now see how they work, and how each is best used.
Time Frame
Showing your popups to visitors immediately they arrive on your website is a bad idea. If you do so, you may end up annoying and sending them away forever.
In the same vein, showing your popups too late will defeat whatever marketing goal you have in mind. The reason is, your visitors would have moved on when they eventually show.
The key is finding a middle ground – making your popups show neither too early nor too late.
This is where Adoric comes in handy. It allows you to set a specific time delay to your popup.
For example, you can choose to make your popup campaign display 5 seconds after a visitor arrives at your website.
You can use timed popups in quite a number of ways. One, you can use them on your blog as opt-in forms to capture your readers' emails.
Secondly, timed popups are great for promoting your offers and surveys.
Page Scroll
Scrolled-triggered popups are programmed to display when a visitor has scrolled down a certain distance down a web page.
And a user who has scrolled down your page has obviously taken an interest in your website. Hence, he/she will most likely not be irritated when your popup show.
With Adoric, you can make your campaign appear only when a user has scrolled, for example, 300px, or perhaps 50%, down your web page.
The best part is, Adoric allows you to specify the page your popup will be displayed and the frequency at which they will show.
How best are scroll-triggered popups used?
To promote posts related to the one a visitor engaged with. This helps to keep visitors longer on your website, thus increasing your chances of converting them into loyal subscribers.
For displaying your CTAs (Call-to-action). A visitor who has taken the time to scroll down your page is most likely interested in your offering. This makes scroll-triggered pop-ups effective for displaying CTAs.
Exit-intent
Are you tired of losing visitors even before they arrived on your website? Or have you been trying to find a way to capture emails of abandoning visitors?
If so, exit-intent popups can help.
Adoric's exit-intent popups allow you to grab the attention of visitors attempting to leave your website seconds before they are gone forever.
When you've gotten their attention, you can ask for their emails, encourage them to stay a little longer on your site, entice them to complete their shopping cart, etc.
Exit-intent popups are particularly effective against cart abandonment. Thus, if shoppers have been abandoning their carts on your website, Adoric's exit-intent popup can help minimize this problem.
Mouse
Would you like your popups to show only when a visitor clicks or hovers over a particular element in your web page?
If you do, Adoric can help you achieve this.
All you have to do is select the element or section of your website that will serve as a trigger for your popup.
Adoric will then automatically apply trigger rules to the selected element.
Hover-triggered popups are best used for showing additional information about a product, offer, service, etc.
Event
What if you wanted your popups to display based on custom events? Maybe you want to display a "Thank you" popup when users make a purchase.
Or better still, you want your opt-in forms to show when a visitor clicks the download button on your website?
With Adoric, those wouldn't be a problem.
You can add as many custom events as you please, and then use them as triggers for your campaigns.
And if you need more events, Adoric gives you the option to import events from your Google Analytics account.
Placement and Frequency
Adoric allows you to specify the exact page where your campaign will be shown. This can either be your homepage, or a specific web page.
What's more, you can set the frequency at which your campaign will be shown.
Do you want your campaigns to be shown once only when a page has loaded?
Or, perhaps, you want them to be shown every 2 days after a user's first visit?
It's all up to you to decide. Whatever you decide Adoric will implement.
What Next?
Ready to supercharge your marketing and curious to know how Adoric's trigger feature can help? Sign up for a free account right away.
We have lots of pre-designed templates you can start off with. Plus, our design editor is always on standby should you want to customize any of our templates.