Email marketing might not be as popular as it once was but it's still quite effective. And stats have shown that the number of email users will continue to grow in the coming years. 
The number of active email users is expected to hit the 4.3 billion mark by 2023.
Neglecting email marketing is one mistake businesses can't afford to make. After all, it offers an ROI of up to 4,300 percent.
Thanks to different tools and technology, email marketing isn't as tough as it once was. In this article, we'll talk about automation in email marketing.
What is Email Marketing Automation?
Email marketing automation refers to the process of automating email marketing. 
An automated campaign consists of a series of marketing emails that are sent automatically to subscribers based on their actions.
The purpose of email marketing is to create email messages that reach the right people at the right time without you having to work every time.
It allows businesses to target people based on factors such as previous sales, behavior, and preferences.
Email marketing is not like email blasts or broadcasts as they offer the same level of personalization that individual emails do.
There are quite a number of email marketing automation systems available in the market today.
We'll discuss those and highlight the benefits of email marketing.
Why Does Email Automation Matter?
Email automation matters because it offers better results. Here are five reasons why you should consider email marketing automation:
Create Segmented Mailing Lists
Email automation allows businesses to create segmented mailing lists based on CRM data and subscriber activities.
Effective segmentation allows marketers to send out relevant marketing messages to their customers and potential clients. 
Automation lets brands understand what clients are interested in. Segmented campaigns have 14.3 percent higher open rates and 100.9 percent higher CTRs than traditional campaigns.
Improve Your Conversion Rate
Email marketing is very effective because about 60 percent of customers still prefer emails as a method of contact. It can prove to be a great nurturing tool if used right.
Automated emails generate 110 percent higher click rates than broadcast emails. Plus, sending a series of automated emails offers 13 percent more revenue than sending a single email.
Companies can choose a variety of campaigns from special offers to birthday wishes. The latter can boost conversion by up to 60 percent. You can't always have a person sending special birthday wishes to your clients, especially if you have thousands of clients.
You can feed this information into a software that can send your automated email message on the given date.
Improve Engagement
Email automation allows marketers to send out timely, personalized, and appropriate messages to their subscribers. This helps to improve engagement. 
Businesses spend a lot of time and money to improve engagement since engaged customers are more likely to convert. 
On top of that, they are also more loyal and can help bring new buyers to a business.
Automation tools provide marketers with data that can help them identify links or assets within their campaigns that get positive review responses.
Marketers can use this information to create emails that generate curiosity and keep readers engaged by building positive brand impressions, reducing the number of bounces and subscribes.
Increase Efficiency and Revenue
Automation makes the job of sending emails less tiring and more efficient while also improving the bottom line. It allows marketers to automate boring and repetitive tasks, which helps save effort and time. 
Some of the activities they can handle include storing customer data, tracking customers, determining interest level, re-establishing contact, and calculating ROI.
This information helps improve revenue by adding personalization fields to the email such as name, company name, location, etc. 
Customization has been proven to be effective in increasing revenue. It improves open rates by up to 26 percent and can boost loyalty as well as personalized emails lead to 600 percent increase in transaction rate. 
Integrate With the Customer Buying Cycle
Email automation allows marketers to sync business activities with the customer buying cycle. 
With automation, a business can know exactly when to approach a client so that there's a higher chance of conversion. For example, subscription-based companies usually send reminders right before the expiry period to encourage buyers to sign up for another month.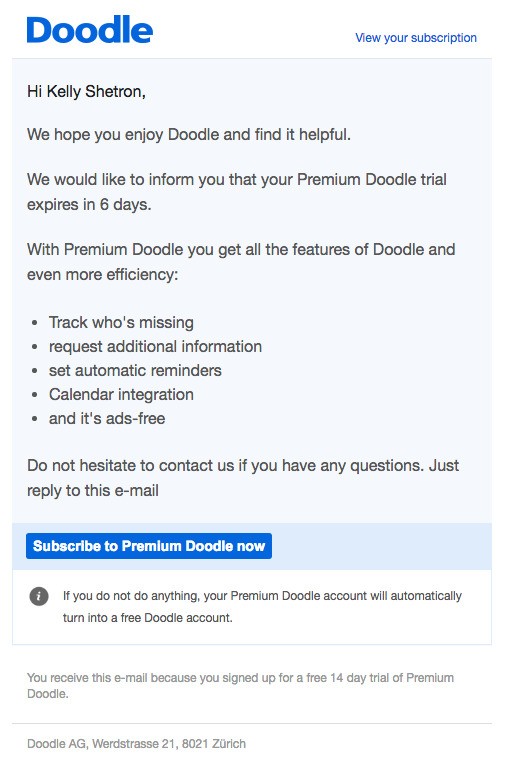 The above example shows Doodle sending reminder emails to clients with great personalization including names and the number of days left. 
How Does Email Marketing Automation Work?
Email marketing automation is all about actions and triggers.
When a particular event takes place, a specific email or a series of emails is sent. 
The series can contain two or several emails based on the number of actions the business intends to automate and how the recipient responds. Drafting a series requires special attention as there has to be a link between each email that is sent to a customer.  Hiring a chatbot agency for your business can help you automate email marketing smoothly.
Marketers have to take care of email workflow automation and ensure that every automated email flows in a neat manner. They can track customers and gain insights that can help them make the right offer at the right time. 
Email automation is perfect for both B2C and B2B companies. They can send feedback emails, welcome emails, and re-engagement emails. 
Here are a few common triggers used by companies to send emails:
A visitor views a specific page such as a review page

A user downloads a file such as a PDF

A user starts to follow your social media profiles

A potential buyer gets in touch with your business through the contact page

A follower shows interest in your product by commenting on your posts
A company typically stops sending emails once they achieve their desired results. Let's say a marketer creates an email series with 10 emails, all designed to convert the buyer. The company may decide to remove the buyer from the email series once the buyer decides to convert, i.e. make a purchase. In some cases, the buyer may decide to take this action after receiving the first email. Once this happens, the company may decide to start a new series of emails for the user.
20 Best Email Automation Tools
Now that you know about email automation, let's have a look at some of the best email automation software out there.

Adoric allows you to grow and manage your mailing list easily.
The tool is designed to convert visitors into buyers and subscribers. Your email marketing efforts will not give much results if nobody reads your emails. 
With this tool, you can create great popup ads that can be placed on your website to capture emails that are automatically added to your emailing list.
You will not have to worry about manually adding emails, which is both time-consuming and risky.
Sign up today for a free account and see what Adoric can do for you.

Generalized email newsletters don't give good results. Tools like Emma can help make your simple newsletters standout. This amazing software works well with Salesforce, OptinMonster, and Shopify and can gather sales and CRM data and personalize your campaigns.
The cheapest package starts at $89 per month. It is slightly more expensive than other similar options out there but is worth the money due to how easy it is to use. With this one, you will not have to worry about how to automate emails. Plus, you can start with a free trial or demo.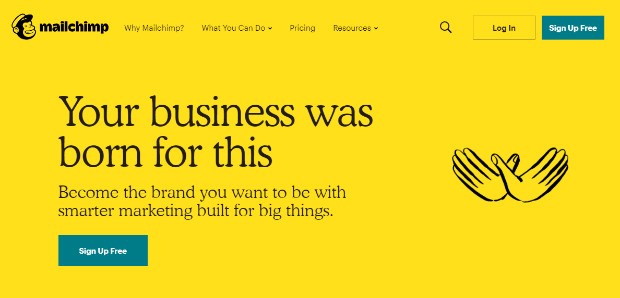 MailChimp needs no introduction, it's one of the most commonly used automation cools. Many call it the best email marketing automation software.
This tool allows marketers to send follow up emails based on user actions like site visits, cart abandonment, etc.
It might take you a little while to get used to this one as it comes with too many features and not all might be suitable for you. It can, however, be perfect for drip emails as it allows businesses to send emails based on what a visitor selected.
MailChimp hits the bull's eye when it comes to integration. It supports almost all major platforms out there. Above all, it is free to use. But you will have to sign up for a paid package to get all the features. The cheapest plan starts as low as 9.99/month.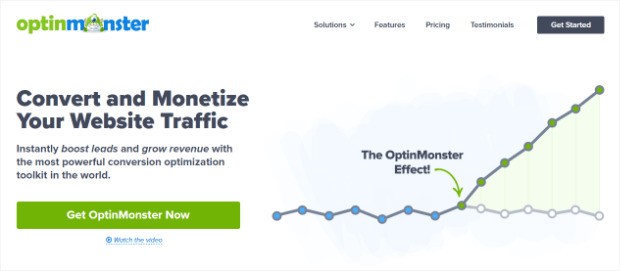 Here's a tool designed to help you attract more subscribers. It offers excellent integration tools and works with almost all major email marketing automation tool.
OptinMonster allows users to build forms for landing pages and websites in just a few minutes. With this tool, you can automate email campaigns and make lead management easy by segmenting customers and leads based on their behavior.
The cheapest plan starts at $9 per month.
Learn the differences between Optinmonster and Adoric here – Adoric vs Optinmonster. If you are still looking for an excellent Email marketing tool to make more leads and subscribers, then you should look at the best Optinmonster Alternatives and get an ideal tool to tweak your Email marketing automation strategies.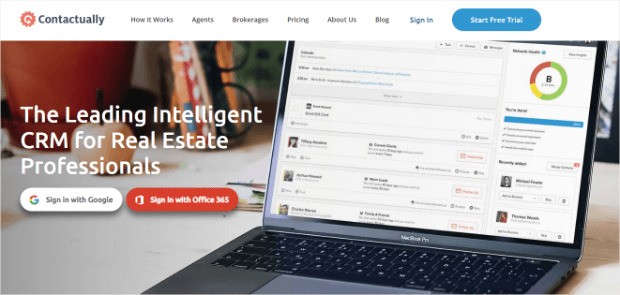 Contractually is a CRM tool that can boost your email marketing efforts. The software focuses on vetting contacts and can gather information from your website, social media handles, and contact forms. 
It's designed for real estate professionals, but can be used by other businesses as well. The software is easy to use and works with several emailing tools.
The cheapest plan starts at $69 per month; you will have to pick the more expensive plan, which starts at $119 per month to enjoy all the features. Start with the free trial to see how it works.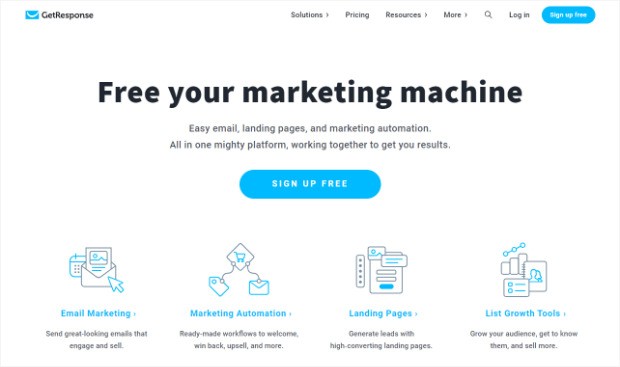 Most businesses and marketers follow a specific schedule when it comes to emails. Businesses like to send special offers around special occasions like Christmas and Thanksgiving.
GetResponse can make this job easier. It works as an autoresponder tool and comes with some impressive templates that can be used to win more buyers. If you're looking for responsive landing pages then give this software a try.
This is one of the easiest calendar management tools out there. It uses drag and drop features, hence expect to waste no time trying to learn to use it. 
GetResponse can be integrated with a variety of automation tools to send targeted and personalized emails. It starts at $12.30 per month 
HubSpot is, unarguably, one of the most popular email automation tools today. It can be used to streamline email marketing services through automated workflows. But, this is not all that HubSpot offers.
This tool allows marketers to create marketing emails to engage with their subscribers. You can quickly reference a user's list membership, contact record, and lifestyle stage to serve relevant content, offers, and subject lines.
HubSpot is used by a bunch of popular names. Additionally, it is quite easy to use. The company offers many free programs but you will have to subscribe to a paid plan to enjoy all the benefits.
You can start with the free plan, sign up for a demo, or get the Professional Plan for $800 per month.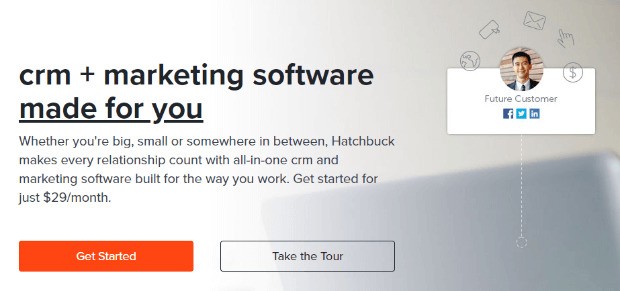 Hatchbuck isn't an automation tool but it can make your marketing campaigns more effective. 
The software does a simple job – assign tags to specific contacts based on their history. 
With this tool, you can easily segment users and choose the right marketing message for them. Gmail and some email marketing tools offer similar services. You will not use this software if you already have an email automation tool that offers tags. 
The cheapest plan starts at $39 per month. Consider signing up for a free demo to understand how it works before you opt for a paid package. 

If you run a mobile app then Intercom can be a great email marketing & automation tool for you.
With this automated email system you can send automated email conversations directly in the mobile app. The software is best used to teach users about your app. 
You can use it to provide assistance to your users and help them understand how your app works. The software is easy to use but it might not be suitable for everyone. 
Consider signing up for a free trial to see how it works. The cheapest plan starts at $39 per month.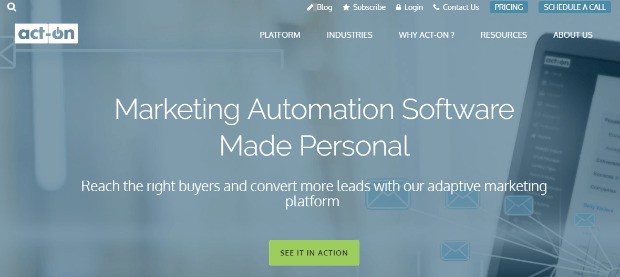 Act-On is for big companies that have a number of outbound, lead nurturing, and inbound programs running simultaneously. 
The program integrates seamlessly with a variety of tools including email marketing software, CRMs, and social media. With this program, you will be able to manage different tools from a single handle.
While Act-On works well, it isn't ideal for all kinds of businesses as it's expensive – starting at $900 per month).
LeadSquared is designed to make it easy to capture and manage leads. It's used by a variety of businesses and can be useful to convert visitors into clients by automating email marketing.
According to the company, LeadSquared is best suited for financial service providers, marketplaces, education, healthcare, real estate, travel, and automotive industries.
The software combines email marketing services with sales activities like making offers. The cheapest plan starts as low as $150 per month; however, automation workflows are included in the more expensive package only that starts at $400 per month.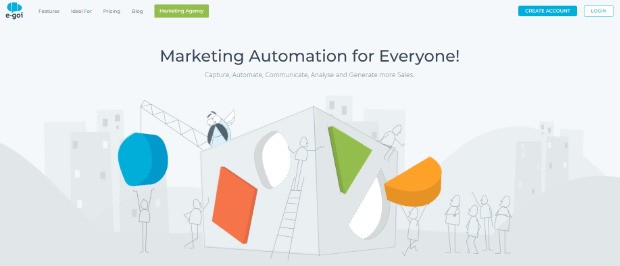 E-goi allows businesses to move beyond emails and get in touch with users via SMS, voice messages, and fax. This can be of great help as your visitors may not always check their emails. 
This software can be great for businesses that need to send urgent messages or messages related to changes in schedules. These include schools, healthcare providers, and religious services providers.
The cheapest plan starts for as low as $22.50 per month. However, you'll have to opt for the Corporate plan if you need to enjoy all the features. Get in touch with the company to get a quote.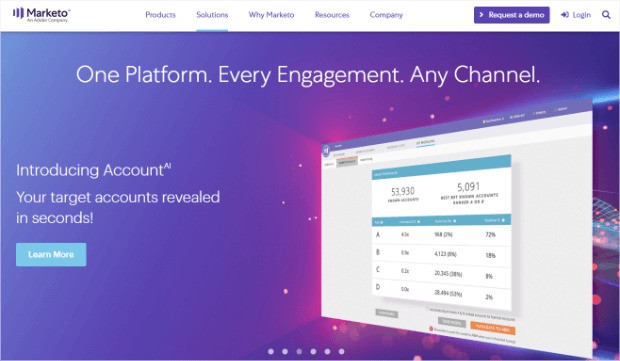 There's a lot to like about Marketo. This automated email marketing tool allows businesses to choose from more than 40 behaviors, which removes much of the "guessing game."
You'll know exactly how to target users. The system can be slightly difficult to use. Fortunately, customer service is great and you will find tutorials on the site.
There are no prices on the official website. Get in touch with the company to get a quote.

Formerly known as CallidusCloud, SAP Sales Cloud is an impressive lead qualifying tool.
It is pretty good at identifying good leads while removing high-risk/low-reward leads. According to the company, the software is perfect for ecommerce sites and can help increase revenue by turning visitors into customers.
Known as one of the best ecommerce email automation tools, it can be a little difficult to use and is best suited for users who understand what email automation is all about.
The company hasn't published prices on the official site, talk to the company to get a quote.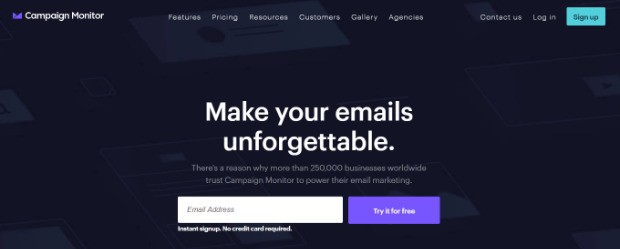 Campaign Monitor features some very cool interactive analytics that can be used to compare two or more email elements.
The company has a special CM Commerce feature for ecommerce users. You can start for as low as $9 per month.
16. GoViral (formerly SmartBribe)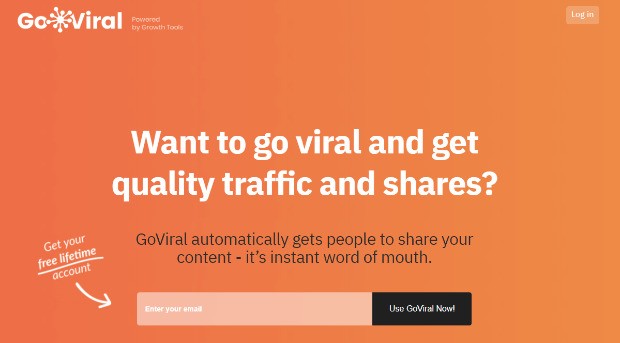 Looking for a free email automation tool? Get your hands on GoViral. 
The software can be great if you wish to try 'word of mouth' marketing. It encourages subscribers to share your opt-in message with their friends. 
You can use the software to customize your thank you page and include a special incentive or offer to push them to share your message via email or social media. Once they do, they'll get access to the free incentive that can be a discount code, an eBook, etc.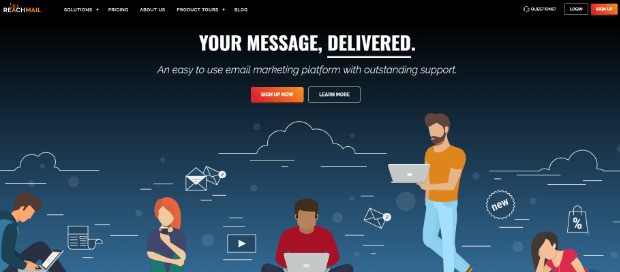 With The Reach Mail, you can compare performance metrics on up to five different email campaigns to find the most impressive one. It's a form of A/B testing and can be used to study subject lines, images, content, etc.
The software is available for free but you will need a paid plan (starts as low as $10 per month) to use all the features.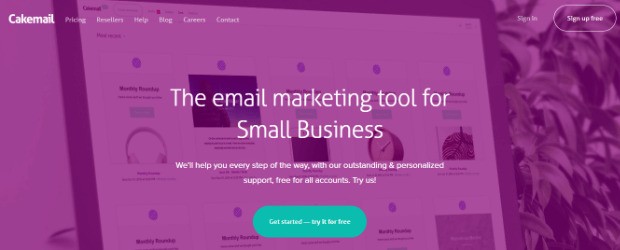 Cake Mail is another A/B testing tool that can be used to improve engagement and open rates. What we liked the most about this tool is its "Spam Assassin" feature that ensures your emails don't go in the spam folder.
Start with a free trial or sign up for a paid package – starting as low as $8 per month.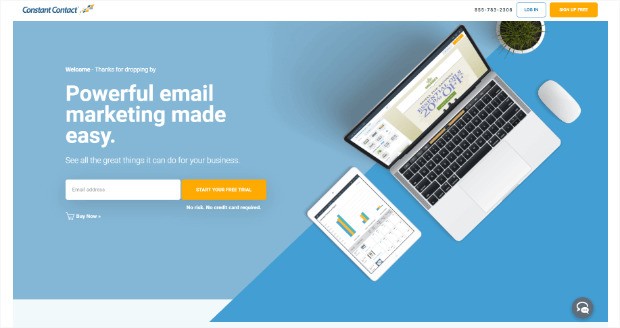 If you are looking for an email marketing tool that is beginner-friendly,  then get your hands on Constant Contact. This easy to use software comes with excellent customer support and online training tools.
It comes with drag and drop features and can be used to segment users and send timed emails. Consider this one if you're looking for an email automation program to manage event invitations, tickets, and registrations.
The software comes with a 1-month free trial, after which you will have to choose a paid plan – starting as low as $20 per month.

ActiveCampaign allows marketers to create impressive drip emails based on subscriber interaction, interests, behavior, location, history, etc.
With this tool, you'll be able to automate the full life cycle of a user or subscriber, thus improving customer experience. We really liked the fact that it comes with a built-in CRM with some useful multi-channel features.
The cheapest plan starts as low as $9 per month. You can, however, start with a free trial.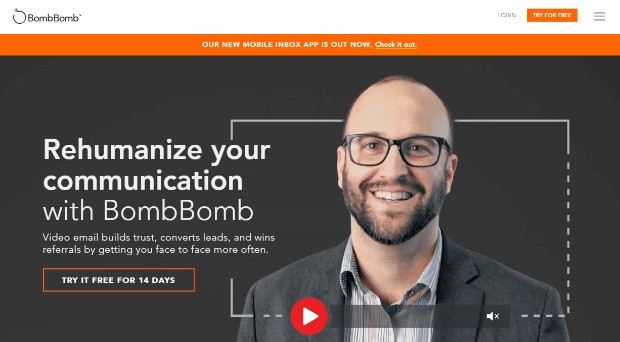 Sick of boring emails? Add videos and make your emails more engaging and impressive with BombBomb, an easy to use platform designed to improve engagement and conversion.
The software is pretty expensive and starts at $468 per year, but it's worth a try.
Email Marketing Automation: Conclusion
Adoric offers a lot of tools that can improve your marketing efforts. It can be used to test campaigns, create popups to improve conversion.
Consider using Adoric and other marketing automation tools to get the most out of your email marketing efforts.