Want to increase brand awareness and drive more customers to your Shopify store? Giveaways can be an effective way to get you closer to your goals. Because it can attract more potential customers to your business, giving you a  reach a broader customer base.
This post provides a step-by-step guide on how to plan and execute the perfect giveaway.
What Is a Giveaway Contest?
A giveaway contest is a type of promotion where customers perform specific tasks for the chance to win a prize. It is an excellent way to drive traffic to your business. And many business owners and digital marketers have adopted it as a marketing strategy.
Why Run a Giveaway Contest on Shopify?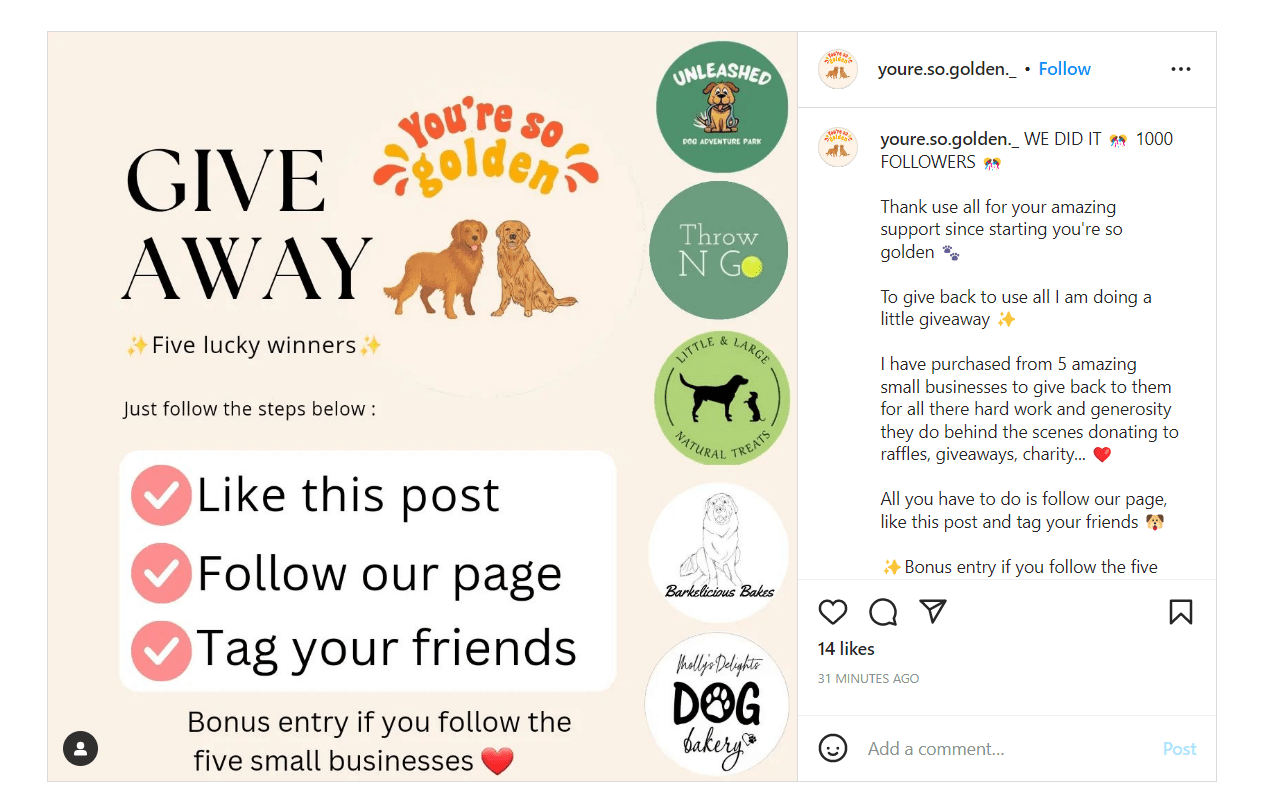 Running giveaway contests helps you drive targeted traffic to your business in a short period. You can use giveaways to meet several business goals, such as brand awareness, boosting engagement and traffic, getting more followers, increasing sales, and more.
How To Do Giveaways To Increase Sales and Brand Awareness
Define your goal
Create a giveaway strategy
Offer an enticing prize
Determine entry requirement
Decide on a giveaway platform
Launch the giveaway
Pick a winner and follow up on the contest
1. Define Your Goal
Before creating a giveaway scheme, you need to define what you aim to achieve. It is pointless to run a contest without a goal. Your giveaway content should align with your business goals and help meet a need.
Many e-commerce brands host giveaways for several reasons, such as:
Boost brand aware
Increase website traffic
Generate more sales
Build an email list
Gather user-generated content
Create buzz around a new product or service
Grow social media account
Increases engagement
Choose a goal that aligns with your business needs at the moment and develop your giveaway strategy to align with it.
2. Create a Giveaway Strategy
Once you've defined your goal, the next step is to create a giveaway strategy. There is no limit to what you can do, only ensure you don't err on the wrong side of Shopify rules.
That said, here are some giveaway ideas to try.
5 Shopify Giveaway Ideas
Product naming giveaway
This involves asking customers to suggest a name for your new product or service before launch. Naming products is a challenge for many brands. Therefore, organizing this type of giveaway contest puts you at ease.
Plus, people love to show off their mental prowess, so you can hone in on this to get the best name for your product. And you could reward the winner with the product or free access to the service.
Free shipping giveaway
Shipping cost is one of the most influential factors that affect sales for e-commerce businesses. About 47% of online shoppers abandon their carts due to the high shipping cost. A 2017 study by Statista shows that 73% of respondents admitted that free shipping influenced their decision.
This shows how essential free shipping is to your Shopify business. Why not spruce things up by organizing a free shipping contest and encouraging your visitors to participate?
Video reviews
Ask your customers to submit short videos about their experience with your product or service. Repost all submitted videos across your social media channels and ask people to vote for their favorite.
You can select the winner randomly or pick the video with the most views and engagement. This type of giveaway is the best way to gather user-generated content and build credibility around your business.
At the end of the giveaway, you can keep using these videos as positive reviews to convince new customers to trust your brand.
Free product giveaway
If you have a new product you wish to promote, hosting a product giveaway can be a good way to put it out there. People love free things and will hardly pass up an offer that offers them something for free.
The strategy is to let customers know they can get your new product for free if they shop from your store. Ensure the product is valuable if you want to get your desired result.
Also, it is best to limit the offer to a short period. Creating a sense of urgency by using a countdown timer will help too.
Free product giveaways on Shopify provide a soft landing for your new products. Since it is free, buyers have nothing to lose if they don't like it.
Also, you can ask for feedback and implement necessary changes before putting a price on it.
Complete a survey giveaway
If you want to see your business through the eyes of your customers, ask them to fill out a survey. Online surveys help you find out what your business lacks and what your customers need.
Consider offering every participant compensation for their effort. The chance to get something in return will have more people participating in your survey.
Keep your survey short and make it easy for people to complete. That way, more people will take the survey, allowing you to collect valuable data that will help improve your business.
3. Offer an Enticing Prize
People love freebies, but getting them to participate in a giveaway contest will require something more enticing. It is unrealistic to offer something your audience doesn't value and expect a high turn-up.
Always ensure that your offer aligns with your giveaway strategy and business goals. Do you want to create a buzz around a new product, get more followers, increase sales, or boost brand awareness? Entice prospective customers with a prize. This will make them do whatever you want.
It could be:
A cash gift
A free product
Gift cards
All expense-paid trip
Free access to your service for a limited  time
Free shipping
High discount
Limited edition of a product
The prize you offer is important as it determines the kind of potential customers you will attract.
Have a look at this Valentine's giveaway idea from Hnadels Green: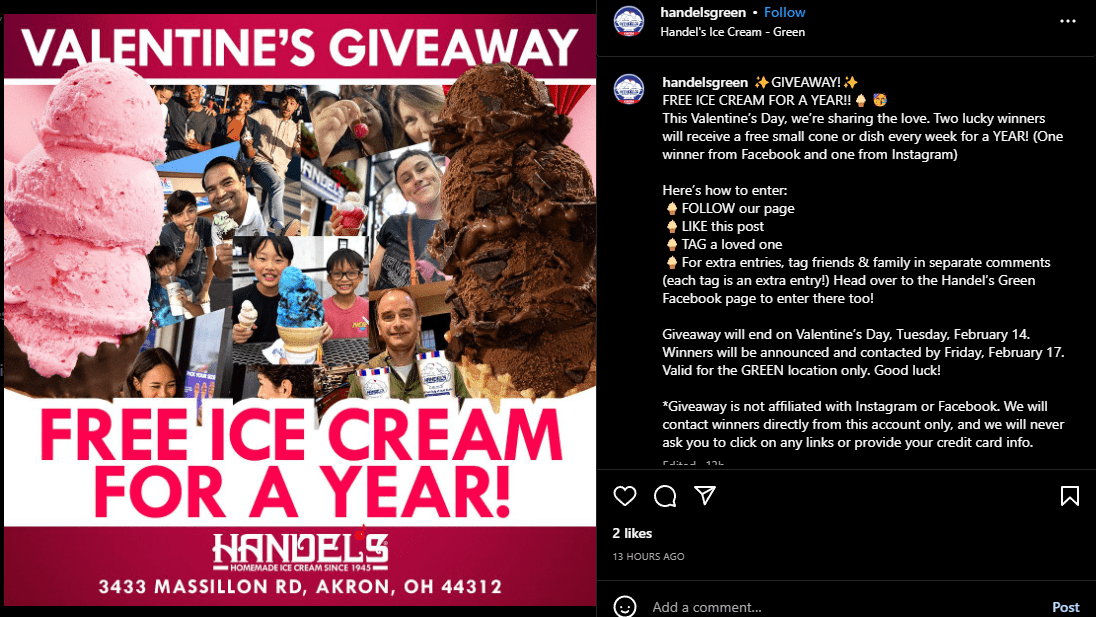 Every ice cream lover will love what Handels Green is offering. A chance to get free ice cream for a year is quite impressive and enticing enough to get the momentum you expect.
4. Determine Entry Requirement
Unless you just want to give back to your customers with no expectations, you need to set the rules of engagement. What do people have to do to qualify for your offer? Deciding on the entry requirement will depend on the type of giveaway you choose and what you aim to achieve.
For example, If you want to build your email list, ask your audience to subscribe to your newsletter or follow your Shopify store to get free coupons. The best part is that you can have more than one requirement. Many e-commerce businesses list 2-5 expectations and candidates who meet all or most of them win.
Here are some ideas of what to expect from your audience.
Follow your brand on social media
Like and share your post
Comment on your post
Give a review about their experience with your product/service
Tags friends and family
Signup to your email list
Pay for a specific product/service to join the entry list
Pick the actions with the potential to yield the best result. If you want more people to participate, then make it enter. And be ready to fulfill your end of the bargain.
Include any restrictions you may have in your caption for clarity. Is your giveaway only available to people in certain regions, gender, or age? State it clearly.
Let's take some cues from Essenza: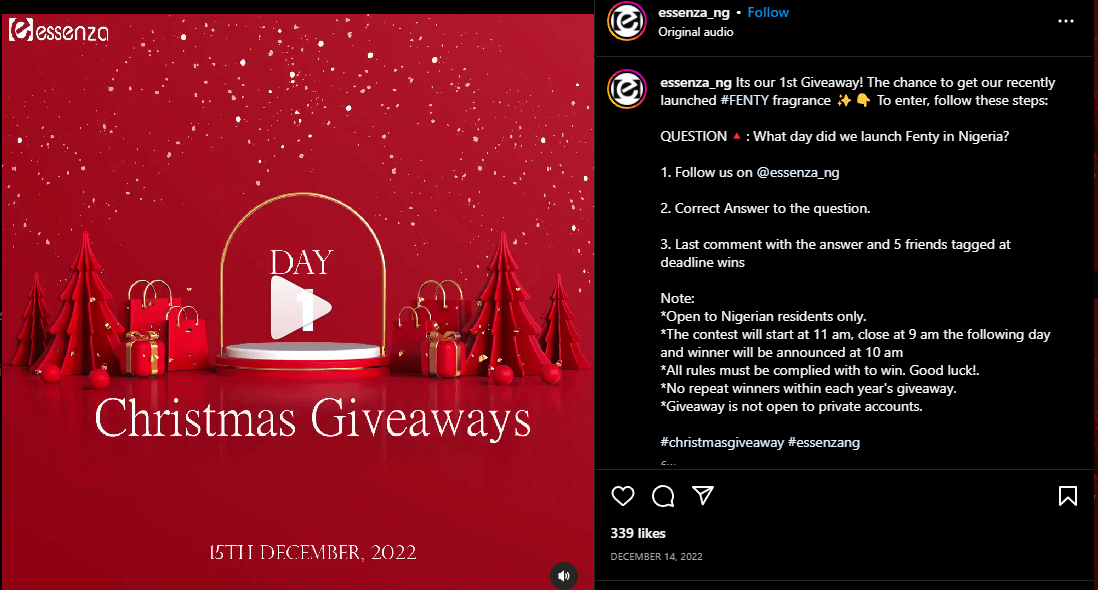 Essenza asks participants to follow, answer a question, and tag five friends to qualify for their Christmas giveaway. And only Nigerian residents can participate.
5. Decide On a Giveaway Platform
Picking a giveaway platform is as important as other steps because it can make or break your goals. Choose the platform that is the most convenient for your giveaway. It could be the one you want to grow or where you have a large audience. There is Facebook, Instagram, Twitter, TikTok, and  LinkedIn.
If you want to increase your followers on Twitter or Instagram, host your giveaway there. To get your product to go viral, Tiktok is your best bet. Evaluate your goals and decide which platform works best for you.
The Shopify app store has several tools for streamlining the giveaway process. They provide templates for managing the processes involved from start to finish, all in one place. And they help you pick a winner at random.
3 Shopify Giveaway Apps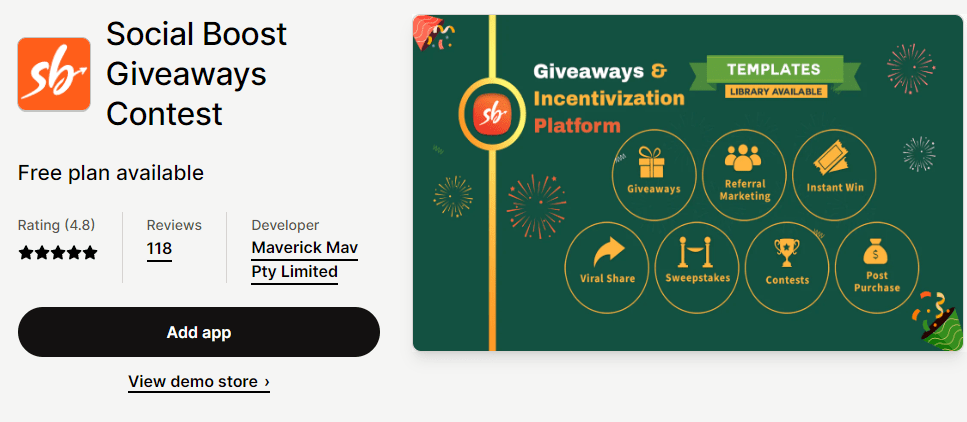 This app enables you to run giveaways for the holiday and festive period. And ask participants to subscribe, follow, take a survey, buy a product, like, and share a post.
Pricing
The app offers a free plan for up to 50 users—and three paid plans, which cost $10, $20, and $29.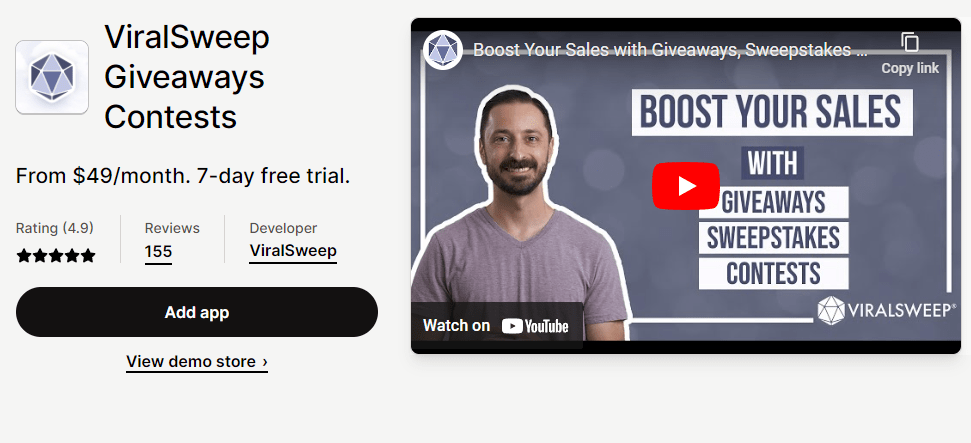 The ViralSweep Giveaways Contests app is an excellent choice for running giveaways. It helps you pick your winner at random from all qualified entries. And you can collect and display user-generated content for voting purposes.
Pricing
ViralSweep has no free plan but provides a 7-day free trial.
The starter plan costs $49 per month
The business plan costs $199 per month
The Premium plan costs $399 per month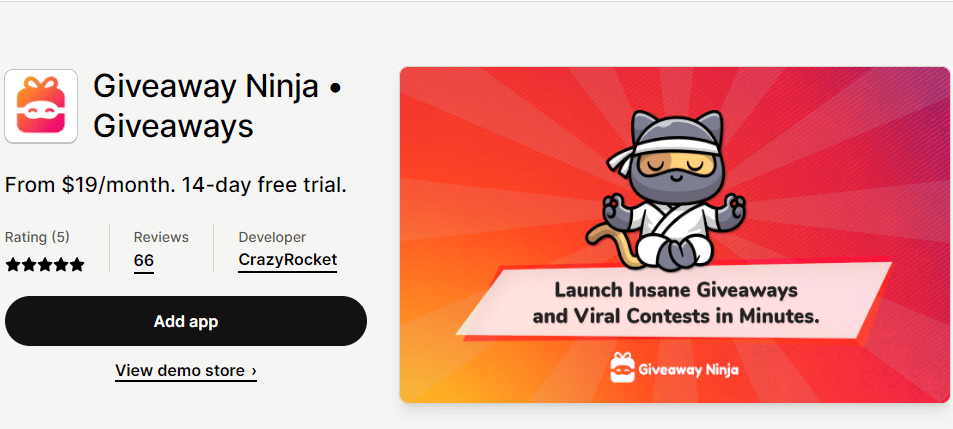 This app makes it easy to set up your giveaway in no time and rewards customers when they like, share, comment, and tag friends on your post. It gives you insight into your giveaway performance and the volume of sales generated.
Pricing 
The Starter costs $19 per month
The Pro costs $29 per month
The Ulitmate package cost #199 per month
6. Launch the Giveaway
Once your giveaway is set, it is time to launch it and see how it performs. But it doesn't have to end at launch. You need to promote it to reach the right audience to increase the number of entries.
There are many ways you can promote your Shopify giveaway. The most popular ways include using social media, sending promotional emails, adding a pop-up on your website, writing a blog, and more. Social media might be a better choice if you want to achieve faster results.
If you want to use social media, select a suitable platform and get to work. Social media allows you to have a good mix of different strategies. Take advantage of the diversity of these platforms to achieve an impressive outcome.
Here are some things you can do on social media to create awareness for your giveaway;
Add relevant hashtags to your post
Partner with influencers and other brands
Encourage followers to like, comment and share your post
Have a look at this giveaway promotion from Luminas Energy.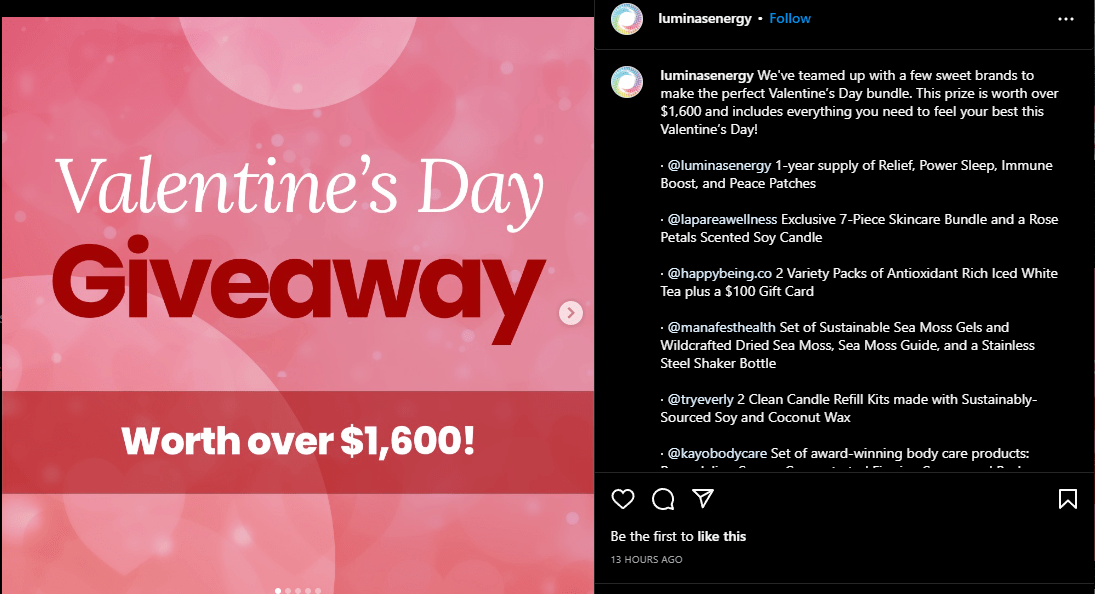 They leveraged influencer partnership to promote their giveaway worth $1600.
7. Pick a Winner and Follow Up on the Giveaway
Once the contest is over, it is time to announce the winner. You can contact the winner privately or tag them to post for the public to see. Some brands prefer the former, but the latter seems to be a better choice.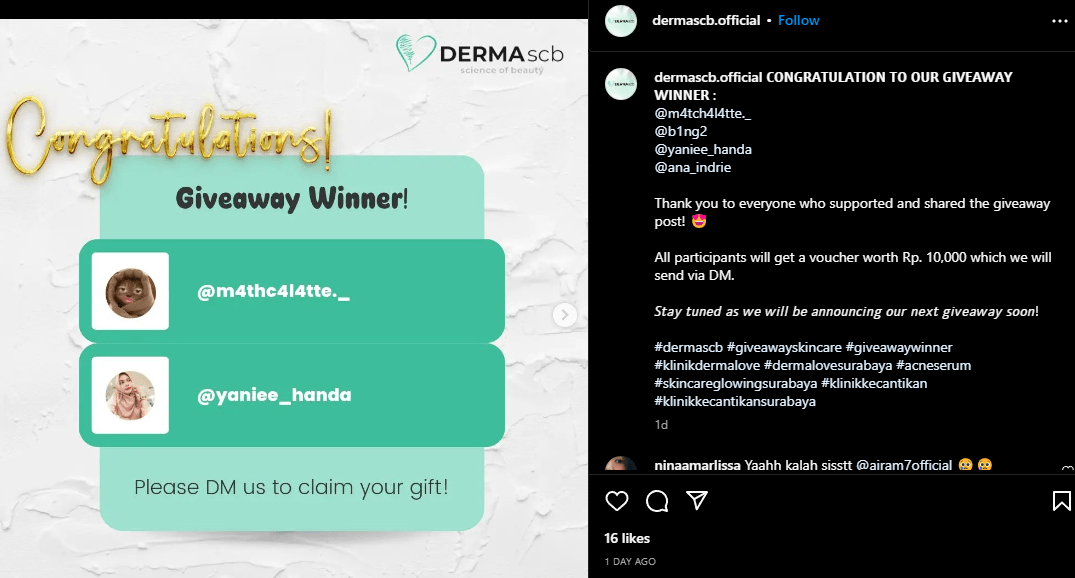 Derma Science of Beauty announced their giveaway winners by tagging all four of them to a public post. Then asked them to send a direct message to claim their gift.
Announcing the giveaway winner in public gives your brand more credibility. That way, everyone will know that the contest was real. Those who didn't win will also know their stance.
Several automated tools can help you pick your winner effortlessly. These tools select a winner from qualified candidates at random. Any of the Shopify giveaway apps mentioned earlier can serve this purpose.
Remember to follow up on the contest by engaging with your audience as they react to the outcome. Reply to their comments, repost feedback, and keep up with the interaction.
Conclusion
Giveaways can serve as a great marketing strategy to give your business the boost it needs. It is one of the several other ways to increase sales on your Shopify store. Now that you know how to run a giveaway contest, create your giveaway content and put it out there.
Are you getting traffic to your website but having a hard time converting that traffic into sales? Adoric can help.
Adoric comes with a suite of tools and features uniquely designed to help you convert your website visitors into customers. Add Adoric to your Shopify website right away to take it for a spin.