Shopify fees and Shopify Pricing Plans
Have you ever asked or researched, "how much does Shopify app cost". If you have, well, this post is for you.
Shopify is undoubtedly one of the most popular eCommerce platforms on the internet. It comes with several features and tools that make it easy for you to quickly launch your online storefront.
This makes Shopify an attractive option for big brands such as Tesla, GymShark, Allbirds, etc.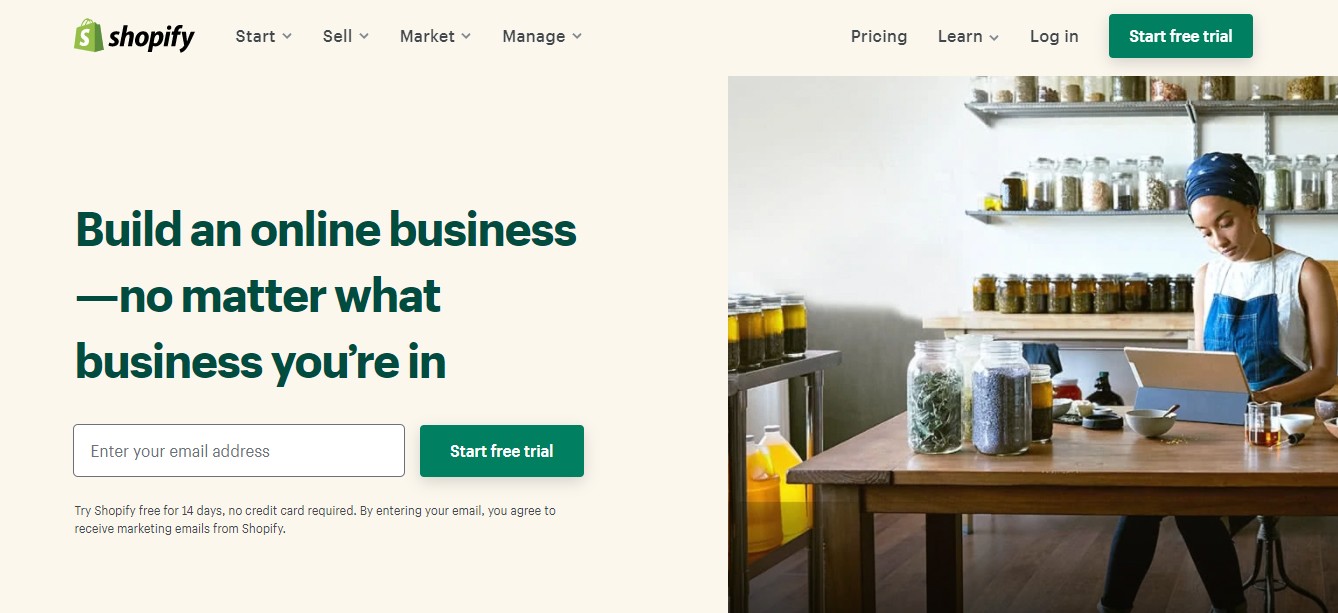 But have you ever wondered how much it costs to launch and run a store on Shopify?
It makes a lot of sense that you want to know all the costs involved in a business you intend to start.
A lot of factors determine the costs of running a Shopify store. These include the initial costs of setting up your store, the Shopify pricing plans you choose to subscribe to, the additional features you desire, amongst others.
In this article, we will look at the Shopify fee structure while discussing the factors that influence the running costs.
Let's get started right away!
Shopify Pricing Plans
Your Shopify development cost is largely dependent on the pricing plan you subscribe to. Shopify has three pricing plans, and they are as follows
Basic Shopify
Shopify
Advanced Shopify
Each plan comes with a different set of features. Unlike Square, Shopify doesn't offer a free pricing tier.
You get to enjoy a 14-day free trial period before you start using any plans.
But how do you determine which plan is ok for your business? Let's look at the available Shopify plans and the features peculiar to each of them.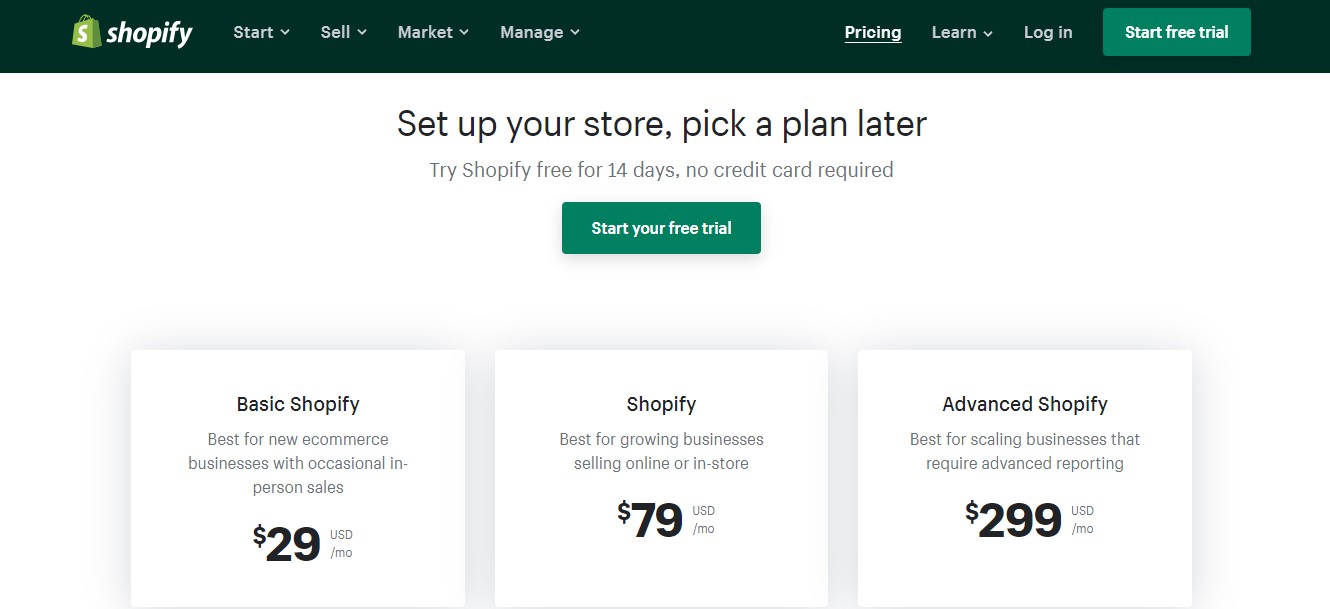 1. Basic Shopify
At $29 per month, Basic Shopify is the cheapest plan available. It comes with lots of features small business owners will find useful.
One of such features is a branded eCommerce website.
It also provides other essential features you need to run an online store for your business. Some of them include:
A customizable online store
2 staff accounts
24/7 customer support
Support for sales channels
Unlimited product listings
On the Shopify Basic plan, you also get features like abandoned cart recovery emails, discount codes, manual order creation, and a free SSL certificate.
On this plan, you can manage your physical stores easily even if they are spread across different locations.
The major drawback with the Basic plan is that you won't have access to the features like performance reports.
However, it allows enough room for growth, making it a perfect tool for new businesses. So if you are starting a new eCommerce business and you are on a shoestring budget, the Basic Shopify plan is perfect for you.
As for transaction fees, Shopify charges a fee of 2.9% + $0.30 per transaction for all online purchases made under this plan. On the other hand, physical purchases attract a 2.7% fee per transaction. If you use any payment gateway other than Shopify Payments, a 2% fee will be charged on every transaction.
2. Shopify
The Shopify plan is the most popular and costs $79 per month. It's a significant bump from the Basic Shopify plan priced at $29, but it comes with almost all the features Shopify offers.
The standard Shopify plan is suitable for businesses with more robust needs.
This plan incorporates all the features of the Basic Shopify Plan plus more.
The number of staff logins is increased to five from the two you get on the Basic Shopify plan. On this plan, you can also assign inventory to five different warehouses or retail stores.
On top of that, you can also track your sales performance and your visitors' buying behavior with ease, hence allowing you to make informed decisions.
Other additional features on this plan include support for payment with gift cards, Shopify POS, and an abandoned cart recovery feature.
The abandoned cart recovery feature is one of the most coveted features that make many Shopify store owners opt for the standard Shopify plan. This is because it effectively increases sales and conversions from customers that you would otherwise have lost forever.
The abandoned cart recovery email feature allows you to follow up on customers that have shown interest in making a purchase by adding products to their cart but failing to complete their checkout.
With this feature, you can prompt them to complete their purchases using automated emails.
This plan requires a fee of 2.5% + $0.30 on every online credit card transaction. There's also a 2% fee payable on all in-person card transactions. If you opt for another payment method apart from Shopify Payment, you'll be charged a fee of 1% of every transaction.
The standard Shopify plan is the perfect solution for growing businesses looking to scale their operations quickly.
Another benefit of the Shopify plan is that its transaction fees are lower than the Basic plan.
3. Advanced Shopify
The Advanced Shopify plan is ideal for enterprise eCommerce businesses with a large inventory. It sells for $299/month.
This plan comes with all the features available on the Basic and Shopify plans. You also get to enjoy minimal transaction fees, incredible shipping features like the third-party calculated rates, and reporting that is even more advanced than what you'll get on lower Shopify plans.
With the third-party calculated shipping rate feature, you can integrate third-party shipping providers. These providers can calculate the cost of shipping for each customer's goods at checkout.
Your customers, in turn, get the opportunity to choose the shipping rates they prefer. They can also take advantage of the best Shopify shipping discounts available.
The more advanced report builder provides you with a bird's-eye view of your business's performance. This feature allows you to adjust your default reports and customize new ones.
One thing that makes Advanced Shopify better than plans is that everything is unlimited, and there are no restrictions on any of the available features. This means you get unlimited storage, unlimited product listings, unlimited room for posting videos and images of your products, etc.
It also comes with abandoned cart recovery emails. Plus, you are at liberty to create as many as 15 staff accounts. You can also assign inventory to as many as 8 different warehouse locations or retail stores.
While this plan may seem pricey, you can easily recoup most of this cost, if not all, as you use the advanced features and enjoy reduced charges.
Transaction fees on this plan are as low as 2.4% + $0.30 for any in-person and debit card transaction. Instead of paying a 1% fee when using third-party payment service providers on lower plans, you only get to pay 0.5%.
This is why Advanced Shopify is the most suitable for large enterprises looking for better order fulfilment and store management.
The Advanced Shopify plan is ideal for businesses that make over $10,000 in revenue per month.
4. Shopify Lite and Shopify Plus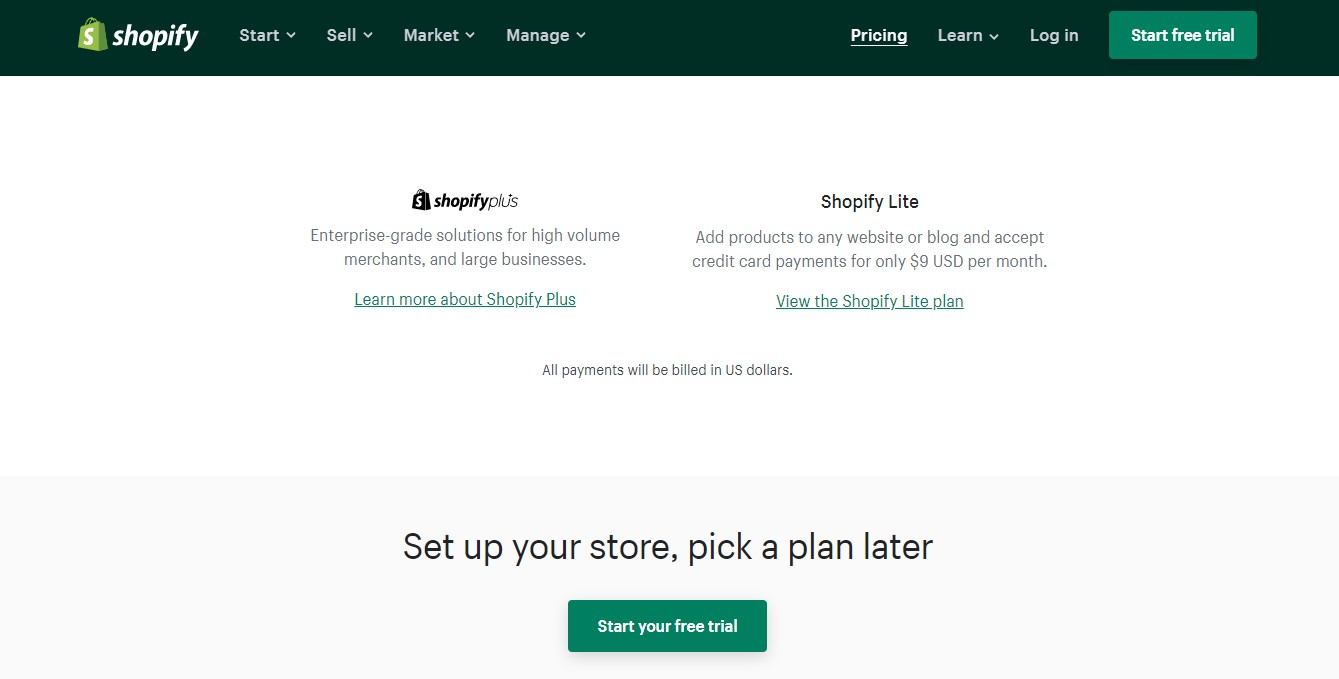 Apart from these three major pricing plans, Shopify offers two other pricing plans that stand out from the rest. These plans are Shopify Lite and Shopify Plus.
Shopify Lite
The Shopify Lite plan costs just $9 per month, making it the cheapest plan Shopify offers. But there is a catch; it does not come with a standalone customizable online store and a shopping cart like you would get with the Basic Shopify, Shopify, and Advanced Shopify plans.
Instead, Shopify Lite provides you with the tools you need to sell your products via an existing website or social media platform. All you need to do is include a "Buy" button on your preferred platform.
It also allows you to sell in-person using Shopify POS Lite. On the Shopify Lite plan, you also gain access to the Shopify Admin feature, which gives you the ability to issue gift cards, view reports, and split bills.
In addition to the $9 monthly cost, you'll be required to pay a per-transaction rate of 2.4% on credit card payments. If you choose to use a third-party payment service provider instead of Shopify Payments, you have to pay a 2% fee on all transactions.
The Shopify Lite plan is ideal for those looking to start their eCommerce careers. Let's now talk about Shopify Plus Pricing.
Shopify Plus
As you might have guessed, the Shopify Plus plan was exclusively designed for large-scale eCommerce enterprises.
It comes with all the features available in the Advanced plan, plus additional features such as automation that saves you a lot of time. There is also advanced security, support for many currencies, third-party software integrations features.
Businesses using Shopify Plus also get enhanced features like personalized support services, a dedicated project manager, launch manager, merchant success manager, and account manager, just to mention a few. The biggest advantage of Shopify Plus has to be the ability to automate almost everything.
On the Shopify Plus plan, you can process 10,000 orders in 1 minute, and manage multiple stores from one spot.
You can customize your shipping process and even the user experience of your store using AI (artificial intelligence) features.
Shopify Plus Pricing isn't fixed; you'd have to contact customer support to get a pricing quote that fits your business. It costs at least $2000 and increases based on your specific needs.
Shopify Pricing: Monthly vs. Annual vs. Biannual Costs
So far, the Shopify rates we've discussed for each plan are based on the assumption that you'll be paying monthly. However, you must know that Shopify offers discounts when you purchase a Shopify annual plan, biannual plan, or three-year plan.
You get a 10% discount on the overall cost of the annual plan, while you get a 25% discount on the biannual plan and 30% on the three-year plan. This is an excellent way to save costs on your subscriptions.
However, if you are new to Shopify and just testing waters, you want to try a monthly version. This is so that you can determine which plan suits your business needs and whether you should upgrade your plan, remain on the same plan or downgrade your plan.
But once you are sure, you can choose to cut costs by purchasing an annual, biannual, or three-year plan depending on what your budget allows and what your business needs.
Additional Shopify Costs
Certain costs are almost constant when getting your Shopify store off the ground. Here are some of them:
1. Website Building Cost
Setting up a Shopify website costs money. You will spend money on branded domain names, themes, and apps.
Domain Name
Shopify does not require store owners to install or host their own domains. It includes domain names as part of all its plans, and store owners can choose from any of the free myshopify.com domains that it offers.
You can also choose to pay for a custom domain. This will cost around $11 per year and can go up to $81 based on the type of domain you choose.
If you already have a registered domain name, you can link that to your Shopify store at no cost.
Themes and Design
Good design matters a lot when it comes to eCommerce.
Thankfully, Shopify offers themes with tools that let you customize your website's colors, style, and layout. You can select from over 100 free themes or about 70 premium themes. The premium themes cost between $150 and $350.
One of the best themes you could consider is Blum by SalesHunterThemes. It offers a distinctive design, focusing on captivating visual elements with bold, impactful text. Blum also delivers strong performance on mobile devices, ensuring lightning-fast page speed and responsiveness. Especially, all pages generated by Blum theme have 8x Google Pagespeed score on mobile. Additionally, it features smooth animations to enhance user engagement, particularly suitable for fashion, accessories, and footwear websites.
Apps
Like almost every software, Shopify cannot always satisfy the needs of every business, and this is where add-ons and integrations come in. Apps allow you to include features usually not offered by Shopify itself.
Lucky for you, Shopify has over 3000 apps that you can use to enhance the functionality of your store. Some cost money, while others are free.
2. Shopify Transaction Fees
Another Shopify cost category that influences your overall running costs is the transaction fees. You incur transaction fees on every transaction made using third-party payment service providers.
However, the percentage of the fee depends on the Shopify plan you subscribe to. You will be charged a 2% fee on all Basic Shopify plan transactions, 1% on the standard Shopify plan, and 0.5% on the Advanced Shopify plan.
If you decide to use Shopify's own payment gateway, Shopify Payments, you can avoid these extra fees.
3. Shopify Credit Card Rates
You also need to factor in credit card rates when considering the cost of running a Shopify store. This is because it directly affects your profit margin.
Shopify charges a fee each time you accept payments via credit cards. This fee is usually higher than other payment methods because of the risks associated with credit card payments.
The credit card rates also depend on the Shopify plan you subscribe to. You will be charged 2.9% + $0.3 and 2.7% for online and offline credit card payments respectively on the Basic Shopify plan; 2.6% + $0.30 and 2.5% for online and offline credit card payments, respectively on the Standard Shopify Plan; and 2.4% + $0.30 and 2.4% for online and offline credit card payments on the Advanced Shopify plan.
4. Shopify POS Payments
Shopify offers two options for in-person payments via Point-of-Sales (POS):
Shopify POS Lite
Shopify POS Pro
You can get the POS Lite on all the Shopify plans. It allows you to manage orders, customer profiles, and products. In-person credit card fees are also charged on transactions made with POS Lite.
You can access Shopify POS Pro on all the available plans for an extra cost of $89 per month and per location. Note that you will still be charged for credit card transactions made.
Shopify's Updated Pricing Plans
Shopify recently made changes to its pricing plans, and we think it's good news for you.
The Basic Plan that initially sold for $29/month is now $24/month.
Shopify Plan has now dropped to $69/month from $79/month
Unfortunately, the advanced plan didn't budge a bit still remaining at $299/month.

Another interesting update Shopify made, which you will really like, is introducing the Starter Plan. On this plan, you can only sell products through social media and messaging apps for as low as $1/month.

Conclusion
Hopefully, by now you've gotten a better idea of how much it actually costs to launch and run a Shopify store.
Do you struggle with store sales in your store? The Adoric Shopify app can help.
Our app comes with lots of tools and features designed to help you convert your visitors into paying customers
They include email opt-in popups, a cart abandonment recovery feature, and lots of promotional campaign templates.
Adoric is easy to use, pocket-friendly and is guaranteed to increase your sales.
Install Adoric on your Shopify store today.