Are you in the market for the best logo makers that are easy to use and inexpensive? Read on!
A logo is an integral part of your brand. It's the first impression your business makes on potential customers.
For example, you can easily identify Coca-Cola, Adidas, Mercedes, etc., by merely looking at their logos.  This goes to show how important a good logo is to any business.
How then do you create a good logo?
Hiring a designer is a good option, but it can be frustrating, especially when your logo ideas are not fully communicated with the designers. Therefore, it's best to design your logo yourself.
Thankfully, there are several tools on the market that make designing a stunning logo a seamless experience. The best part is that you don't need prior design knowledge is required to use these tools. They have a user-friendly interface and are easy to learn.
Interestingly, most of these logo-maker tools are free or may require a small fee to access the premium features.
To make it easy for you to find the right tool that bests suit your business, we have this list of best Shopify Logo design makers to help you create an amazing logo for your brand, social media platforms, and website.
This software can be used by Shopify store owners who are new to design and people who may want to change or customize their logo to suit their taste.
Let's get right into it.
Best Logo Makers for Shopify(Free and Paid Versions)

Canva is a graphic design tool that you can use on both mobile and desktop. It lets you create amazing logos and other graphical designs for your website and social media channels. And you can do so in minutes. It is known for its simplicity and ease of use.
Also, it has a drag-and-drop builder feature that makes it easy for someone who is new to design to use and build a logo within minutes. With that, you don't need a graphic designer or have prior knowledge of designs.
On top of that, it has over 100 pre-designed templates you can choose from if you do not want to design from scratch.
Furthermore, it has both free and paid versions. While the free version is enough to create the basic standard logo, you'll need to be on the premium version to access premium features and tools to create sophisticated designs.
To start using Canva, you'll need to download the app to your mobile phone and enter your company name and type of business to display relevant templates related to your business. You can also do the same using a desktop browser.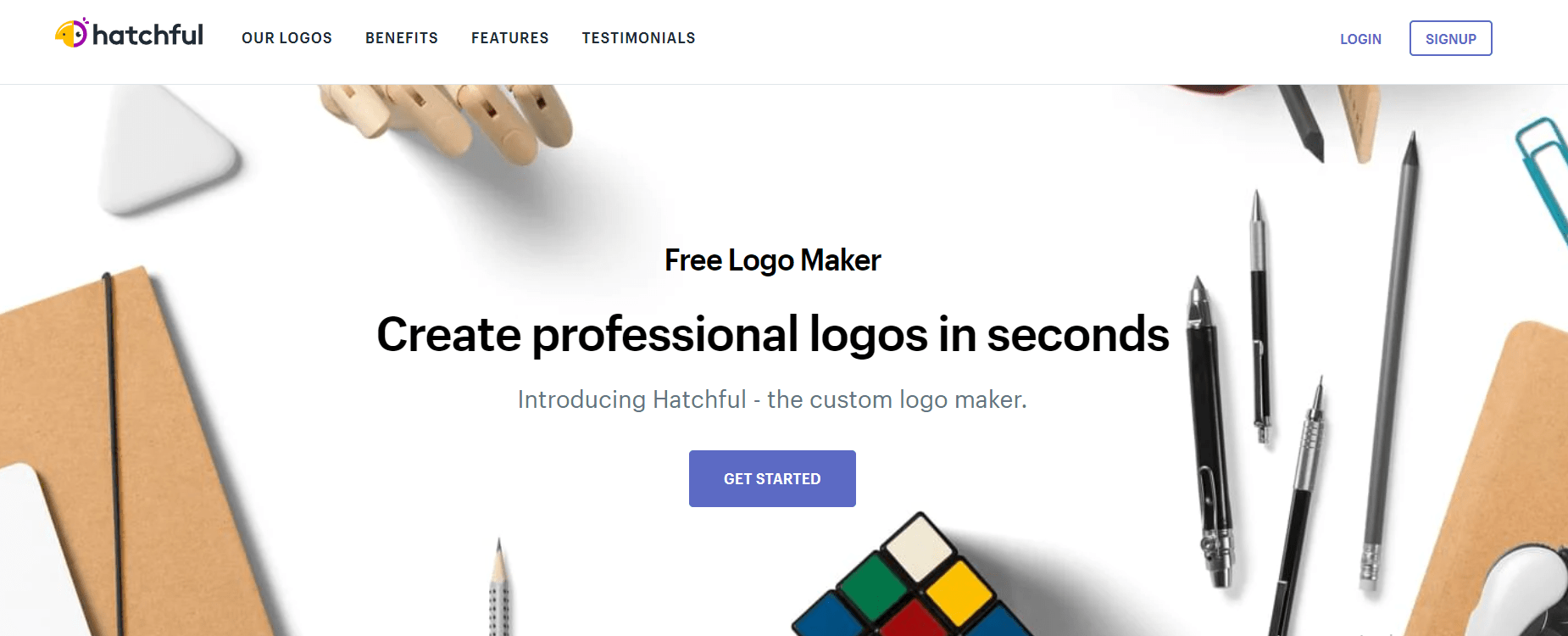 Hatchful is another great solution that makes it very easy to create customized logos without using any design program.
It allows you to create unique logos within seconds while free.
Too busy to create a logo from scratch? No worries! This logo maker has loads of templates that enable you to create designs faster.
Already have a logo you want to redesign? You can upload it to Hatchful and customize it to your taste using custom fonts, colours, and layout.
Its interface is straightforward and easy to use. To start, enter your business and industry type to let Hatchful know about your preference.
One advantage of this app is the high-resolution picture format for your logo, which you can use anywhere without reduced quality.
3. Zyro

Zyro is a logo design tool from Hostinger that allows you to create logo designs in minutes without prior design knowledge. It has loads of templates that let you bootstrap your logo design project and complete it faster.
Give your brand a whole new look with creative logo designs from Zyro. Edit and customize with its features like fonts, colors, and icons to redesign your old logo.
To create a logo, all you have to do is enter your business name, choose an icon that best matches your business, enters a text, and then download it when ready.
It is personally and commercially licensed to you as the owner, and you can download and use it anywhere on the internet to represent your brand.
4. LogoMakr

LogoMakr is one of the best logo design tools for creating nice logo designs.
Its features are there to help you create mind-blowing designs with ease. Also, it allows access to millions to graphics to help you achieve beautiful designs.
In addition, it has beautiful and replaceable templates to create unlimited design possibilities to hasten your design process.
Although it is free, there are some limitations to the free version.
With the free version, you can design and create good logos but can only download the low-resolution image in PNG. Plus, attribution is required.
But with the paid version, you will have full ownership of the image, which comes in high-resolution vector format, and you can use it on your social media channels and website.
Interestingly, LogoMakr has a tutorial on its website where you can learn the basics of using the tool.
5. Adobe Express – Free Logo Maker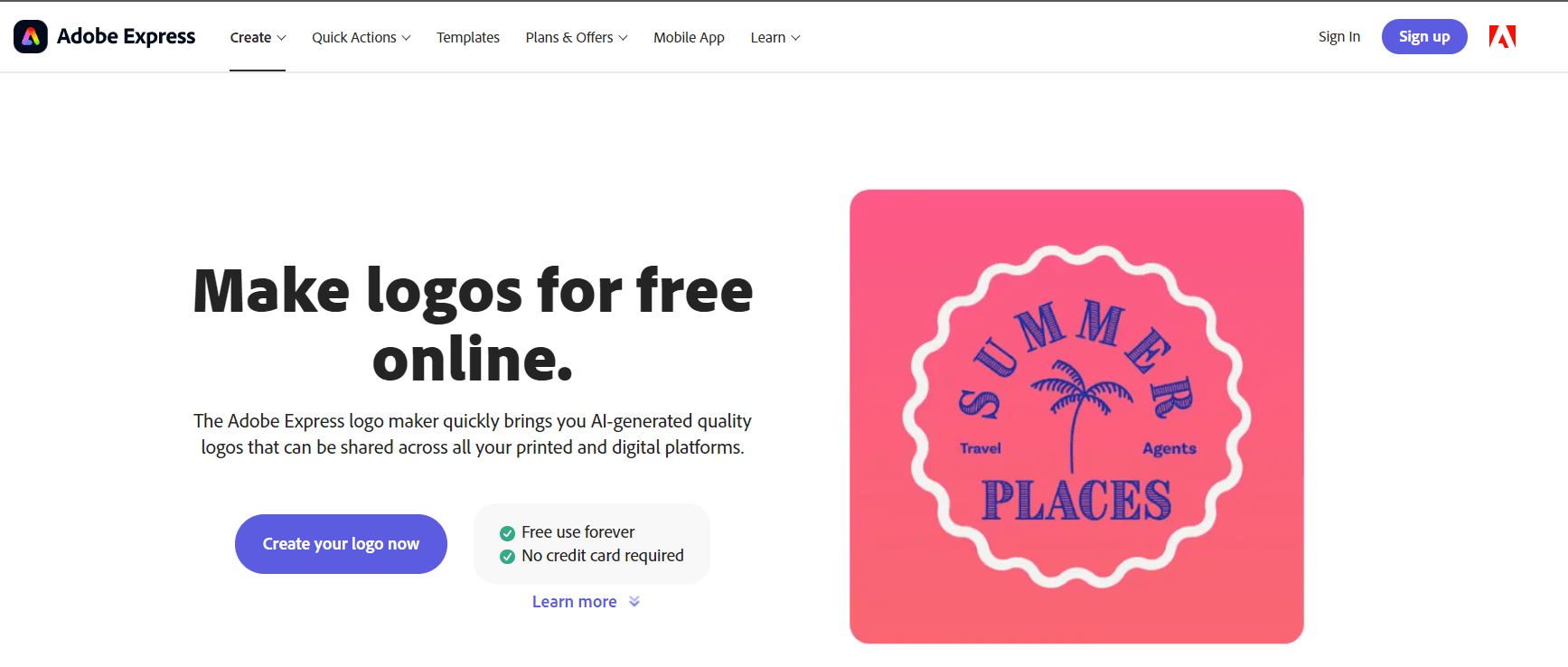 Create your AI-generated quality logo within minutes with this free logo maker developed by Adobe.
This logo maker comes in two variations. The free version and the paid premium version.
While the free version, allows you to have access to the basic editing and design tools and templates, it is limited to other premium features, which can only be accessed in the paid version.
To make your logo, you will need your business name and slogan, then choose your visual style, select from dozens of templates, customize to suit your taste, and download your design ready to use.
In addition, you can create animated icons and styles for your logo used for videos and other social platforms to create visually appealing content.
6. Ucraft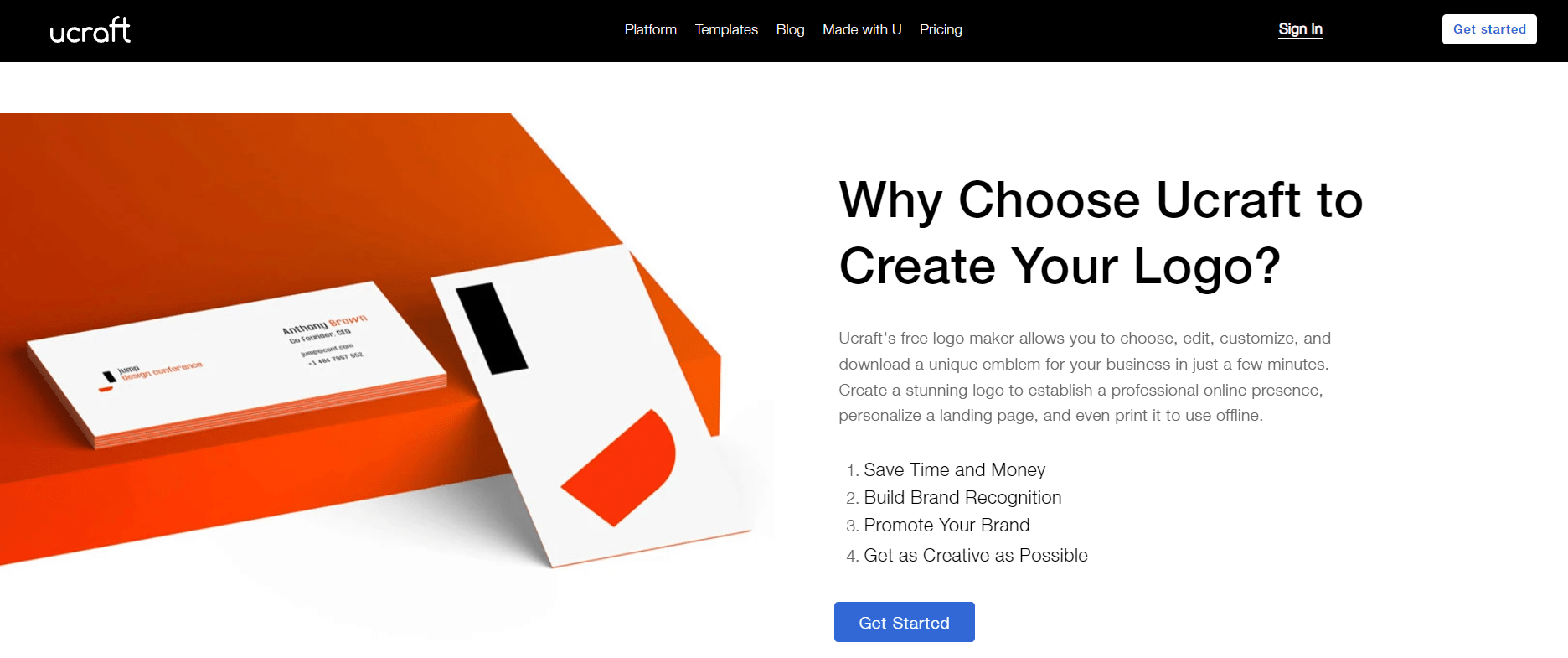 Next on our list is the Ucraft logo maker. This is a really good logo maker for a professional-looking logo.
It is easy to use and has a good user-friendly interface that allows you to create and download your designs in minutes. The design editor gives you access to many icons, text, and shapes to design your logo.
Although the designed logos are high-resolution PNG images, you'll need to sign up and have an account to be able to download and use your designs.
7. Smashing Logo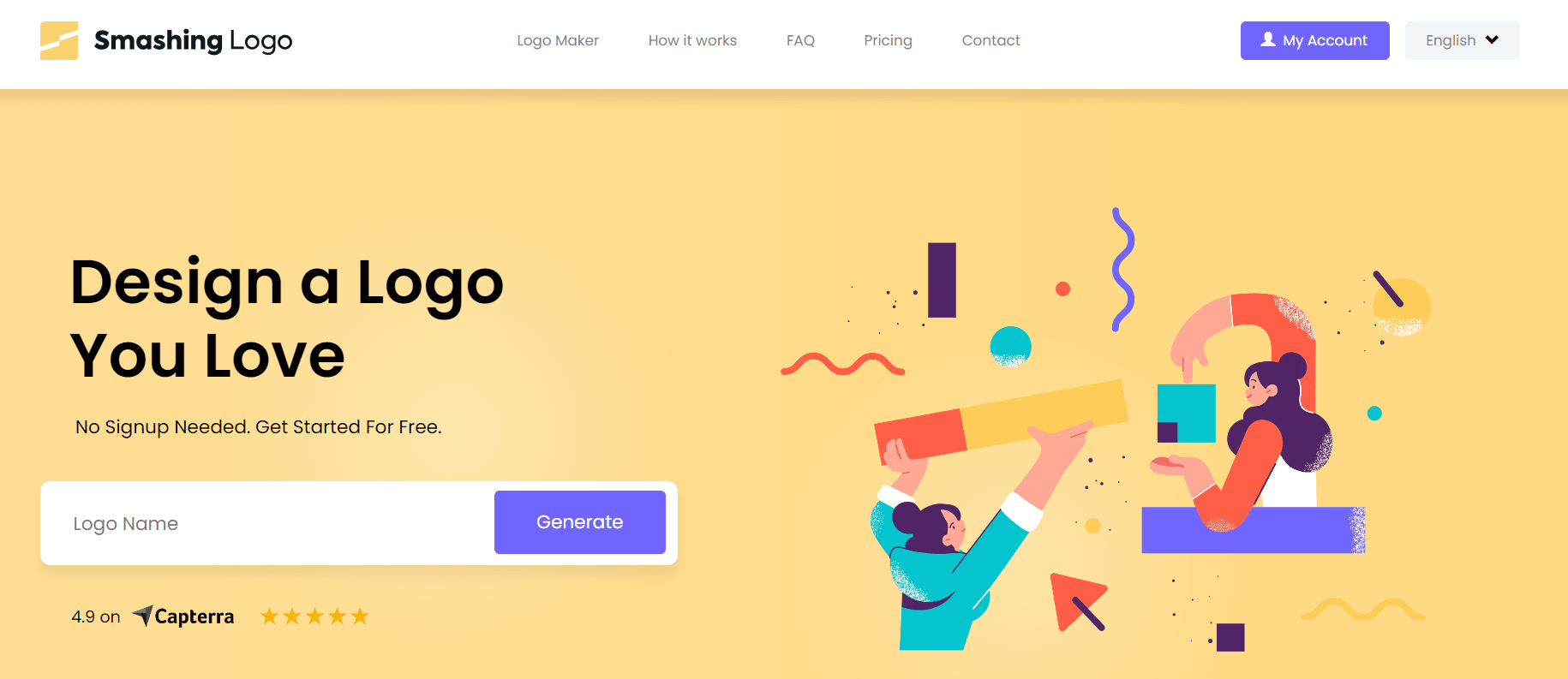 Design and create your logos with Smashin Logo in minutes. No sign-up is required.
For every design, you have full ownership of the design, and you can use them on your website.
To better understand this software, you'll need to follow the guide line below:
First, you will need a name for your logo which is your business name. Of course, you can always change it later.
Next, choose your target keyword. Then pick a virtual designer. Each designer has its own style.
After that, select your preferred brand attributes – you can select up to 5 attributes. Plus, you can select up to 12 colors and 4 icons for your logo designs.
One good attribute of this software is its ability to process design faster.
8. Looka Logo Maker

Looking to create designs on a budget? Looka Logo Maker is your best bet. It helps you to create simple, yet sophisticated logos in a few clicks.
It combines Artificial Intelligence alongside your design preference to create logo designs you will like.
Creating designs with Looka is simple, easy and fun to use, and it makes it easy to get your logo vector files.
Interestingly, there are no pre-designed templates available. Looka generates up to hundreds of logo options to choose from based on your preferences,
And you can download the brand full kit which consists of up to 15+ logo files for your website, business cards and email signatures.
9. Free Logo Design

Next on our list of awesome logo makers for Shopify is FreeLogo Design. Want to create a consistent and credible brand through your logo designs? Free Logo design is the best option.
Why use this logo maker, you may ask? Firstly, it has a user-friendly editor that is easy to understand. In addition, it has various pre-designed templates to choose from, and they are completely free.
Moreso, there are several icons available to make designing easier and faster. It is worth trying for your brand logo design.
10. Zen Business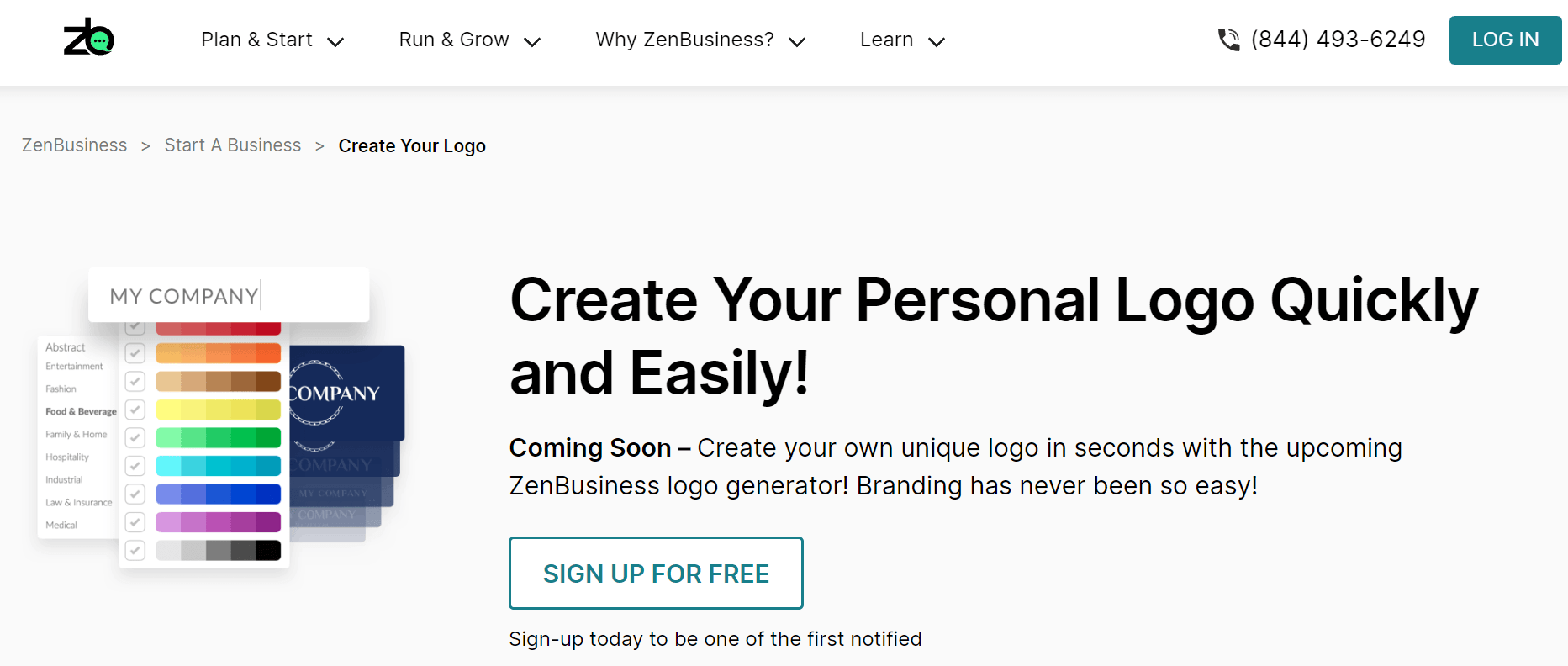 Last on our list of logo makers is the Zen business free logo design software. It makes designing an awesome logo easy and super fast.
Although the designs are generated by an AI, Zen has a team of designers that vet each design.
The best part is that the logo is completely owned by you, and they don't have watermarks.
Conclusion
Your logo is the first impression of your brand and it speaks a lot about your business. This is why creating an amazing and stunning logo that suit your brand's visions and mission is important.
Luckily, you don't have to create these designs yourself; you just need the right Logo maker solution. And there are many of them you can try, including the ones we've shared in this post.
Still struggling to convert your website traffic into sales and subscriptions? Adoric can help.
Adoric comes with several tools and features that make it easy to convert your website traffic into sales and subscriptions.
Add Adoric to your Shopify website right away to see it in action.