Why use images alone when you can create super-engaging videos to promote your Shopify business? Videos have a more lasting effect on your viewers than pictures.
This certainly explains why YouTube is the largest search engine after Google.
Statistics show that people that watch videos remember the message the video passes across 95% of the time. In addition, Biteable found out that 74% of marketers agree that videos increase ROI.
So if you aren't using videos yet to supercharge your marketing campaigns, it's about time you started.
Thankfully, creating engaging videos for your marketing campaigns isn't rocket science; you just need the right video editing app. 
In this article, we will share 10 amazing video editing apps for Shopify that are easy to use – and pocket-friendly. 
10 Best Video Editing Apps for Shopify
As a Shopify business owner, it's pretty accurate to say that one of your primary goals is to increase revenue or boost ROI. But how exactly do you do this? One of the surest ways to do this is by setting up a conversion-driven marketing campaign. 
However, you can't have result-yielding marketing without holding the attention of your target audience.
Videos are a great way to do just that! And fortunately, there are lots of video editing apps that you can use. 
So let's get right into them, shall we?
1. Quik

As a business owner, spending long hours making videos instead of making sales isn't such a great idea.
So, this is one reason why you need a superb video editing tool like Quik. You need a video editing app that will make your work much easier and faster. And luckily, Quik does the job!
Features
Below are some of the amazing features of Quik:
Unlimited imports: You have more than enough freedom to add videos and quality images from your business with zero restrictions. Isn't that superb?
Unlimited editing: Quik allows you to edit your videos however and whenever you want. 
25 different video and photo filters: Another amazing feature of this video editing app is that it gives you 25 different picture and video filters. Thus, with these filters, you have a wide range of options for changing the look and feel of your videos.
18 royalty-free music tracks plus 190 background music tracks: That's quite a number! And you could easily select from over 150 music tracks. Quik makes video editing easy for you as a business owner by saving you stress and time.
Speed adjustment tool: With this feature, you can easily increase or reduce the speed of your videos.
Pros
The Quik video editing app comes with many benefits. Here are some of them:
Quik is very easy to use
It allows you manually select and import pictures and videos
Automatically imports videos and pictures
Automatically creates a video with a befitting track sound for you
Artificial Intelligence assisted editing
Cons
Quik has glitches that can make it sometimes challenging to use
You can only access advanced features when you upgrade to GoPro PLUS
Pricing
Quik video editing app costs $1.99/month and $9.99/month. However, they offer a 2-week free trial for you to try their features out.
2. Inshot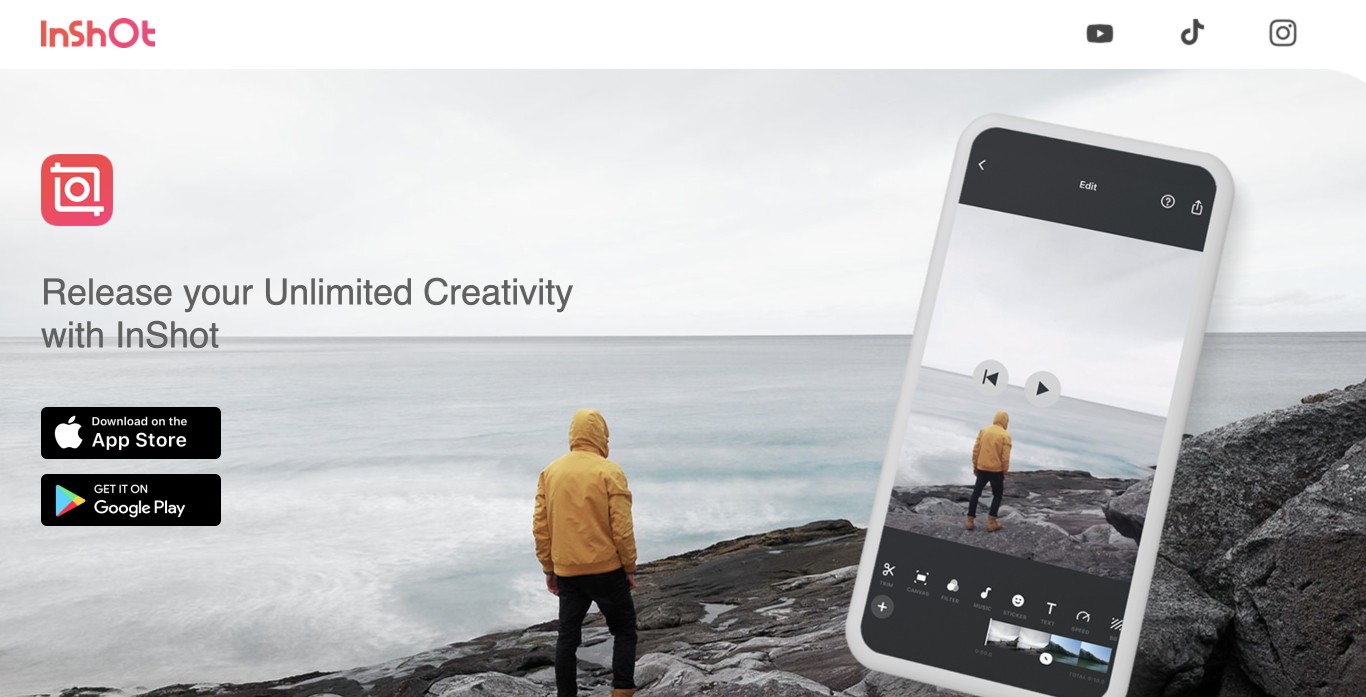 Inshot is arguably one of the most popular video editing apps. It has many easy-to-use features and is highly rated on Google Playstore with about 15 million reviews.
So without further ado, let's get into its features, pros, cons and pricing.
Features
Image blurring: Not many video editing apps have this cool feature. So if you love this kind of feature in your videos, you might want to try this app out.
Video splitting and trimming: Video trimming is one feature many video makers use. Inshot gives you this option to help you create smoother and well-optimized videos.
Voice-over effect: Have you ever wondered how voice-overs are added to videos? Well, this editing tool makes it so simple and easy for you to apply. So if you've always wanted to apply these effects to your business video, it's easy peasy now.
Video Merging: Inshot also allows you to merge two different videos and make them a single one.
Animations, stickers and texts: This is another beautiful feature Inshot provides you with. You can use animation and add text or stickers to your videos to make them more engaging.
Pros
Inshot is highly user-friendly. So you don't need to be a videographer or media savvy to use it.
There are several free tools available to use
The premium cost of Inshot is relatively cheap, with many more awesome features.
There are lots of special effects you can use
The sticker and animations library is constantly updated every week. So there's always a new thing.
Cons
There's a visible watermark on every video you create. However, you can pay a fee to remove it.
You can't zoom in and out or pan across your video.
Pricing
Inshot offers tiered pricing so that you can opt for the most suitable for your business. This editing app has a free plan; however, its paid plans cost $3.99 per month, $14.99 per month, and $34.99 for lifetime access.
3. Adobe Premiere Rush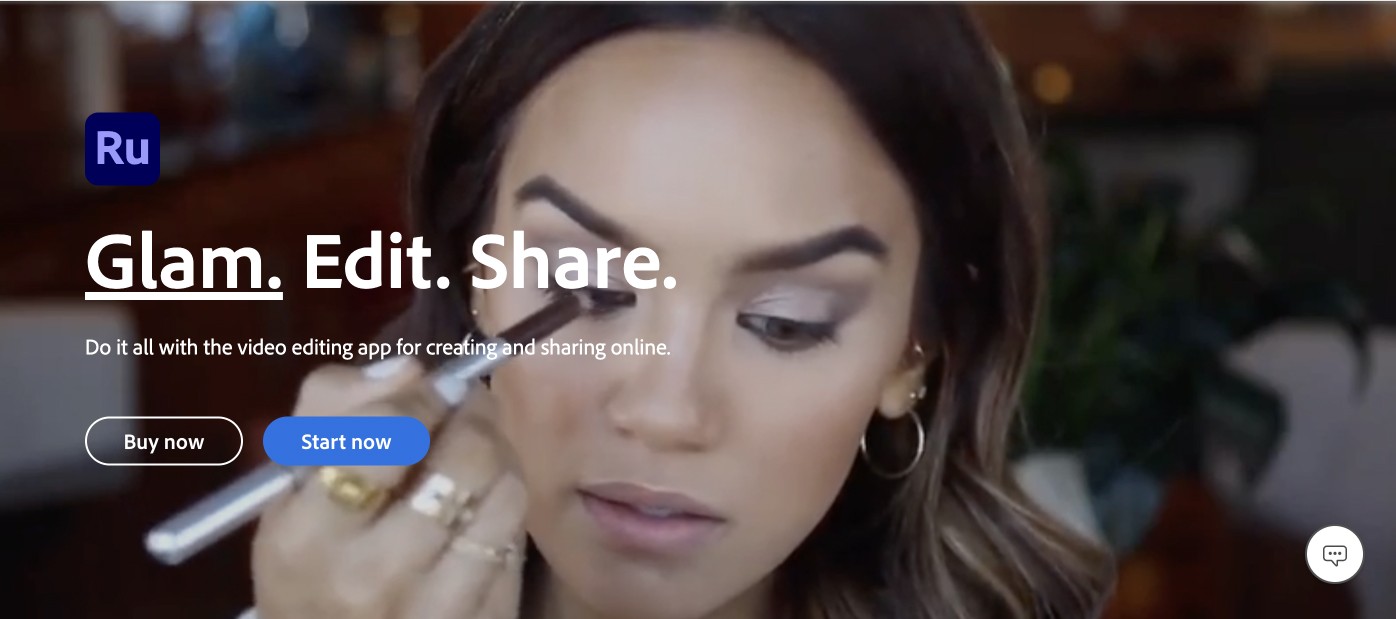 Adobe Premiere Rush has two modes: the customized mode and the automatic mode.
With its automatic mode, everything is done for you. These include effects, animations, and the arrangement of slides. However, in the customized mode, Adobe Premiere Rush allows you to edit your video yourself.
Here are its main features:
Features
Creative cloud library: Adobe Premiere Rush has a library from which you can choose exceptional images.
Video editing: This app lets you add special effects to your videos, making them more creative.
Transitions, pan and zoom effect: You can edit how your videos are presented on your store and add effects like zoom in & out or pan.
Video positioning effect: Adobe Premiere Rush allows you to change the size of your video or how it's positioned. For instance, you can change a landscape video to portrait.
Voice-over effect: With this app, you can add sounds or voice-over files to your videos.
Pros
Adobe Premiere Rush is relatively easy to use.
It supports many file formats without restrictions.
It has several in-built special video editing effects.
Integrates well with other Adobe products.
Cons
Automated video quality is always substandard.
It has limited video editing tools, unlike most video editing tools.
Pricing
This video editing tool has a free starter plan; however, it's limited in many ways. Its paid plan (Adobe Premiere Rush Pro) costs $20.99 monthly.
4. KineMaster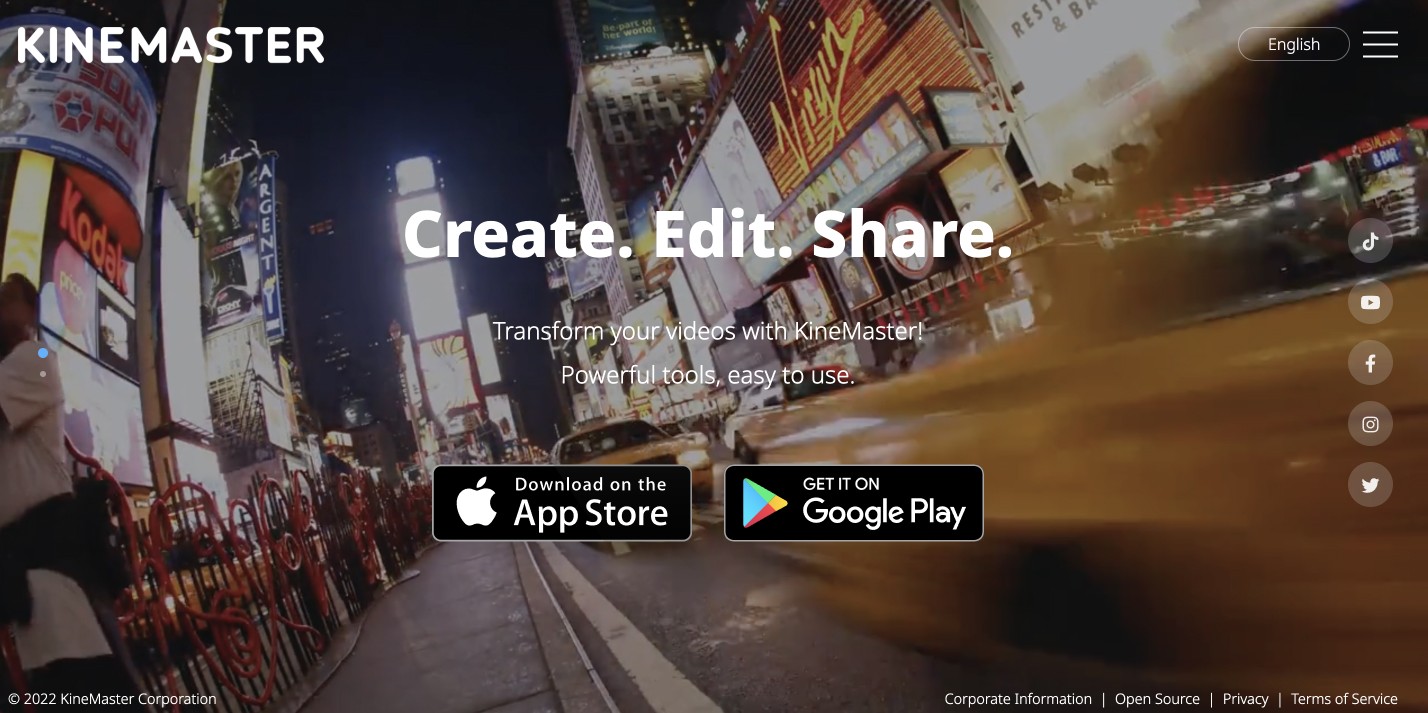 KineMaster is a video editing app with numerous professional features. This video editing app provides many useful tools for creating a great video.
So if you're ready to upgrade your video editing and create better videos, check out this app.
Features
Voice changer and voice effect: This video editing app comes with voice filters that enable you to alter the voices in your videos
Video and picture filters: There are several filters available on Kinemaster, so you should check them out.
Video trimming and editing: You can easily trim off unnecessary parts of your videos or even mistakes. So it saves you the stress of starting all over when your video has an error.
Texts, stickers and emojis: You can spice up your video by adding stickers or texts using this video editing tool.
Pros
It allows you to perform real-time recording in sync with your video.
KineMaster is highly flexible and offers unlimited customization
Multilayered videos.
You can easily share your videos about your business on different social media handles.
KineMaster is user-friendly, so this video editing app won't stress you out, even if you're a newbie.
Cons
For the free version, there's always a watermark after each video.
You might experience some glitches and crashes while creating.
It doesn't work on many android phones.
Pricing
Like most video editing apps, KineMaster has a free plan, but its premium plan costs $4.99 monthly.
5. FilmoraGo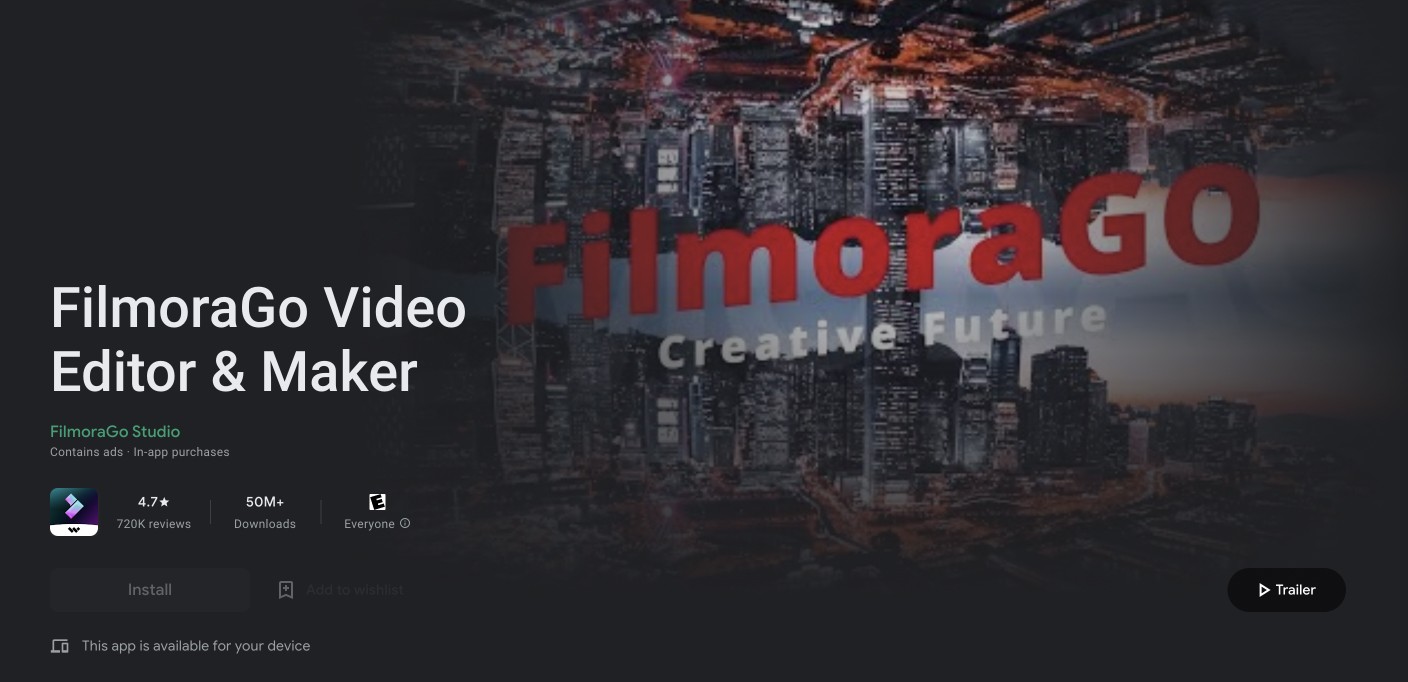 Talk about another excellent video editing app for Shopify, and FilmoraGo comes next. It's a video editing tool that's mainly used for Instagram. However, you can also use this tool to create incredible videos for your Shopify store.
Some of the awesome features that come with this app are as follows:
Features
Excellent video trimming and cutting: Like every other video editing app, FilmoraGo allows you to trim your videos.
Speed Adjustment: With this video editing tool, you won't have any problem making your videos play faster than normal.
Several audio tracks: You can add background audio or voice-overs to make your videos more exciting or descriptive.
Built-in library: You can choose from the available library of songs FilmoraGo offers anytime you need one.
Pros
FilmoraGo is relatively easy to use.
It has an intuitive user interface.
Has adequate and responsive support.
Comes with several presets and filters
It's constantly updated.
Cons
It sometimes develops software lags.
The cost of the premium plan is high.
Pricing
FilmoraGo has a free plan you could use if you do not need the premium tools. However, its premium plans cost $6 per month and $38 per month.
6. Magisto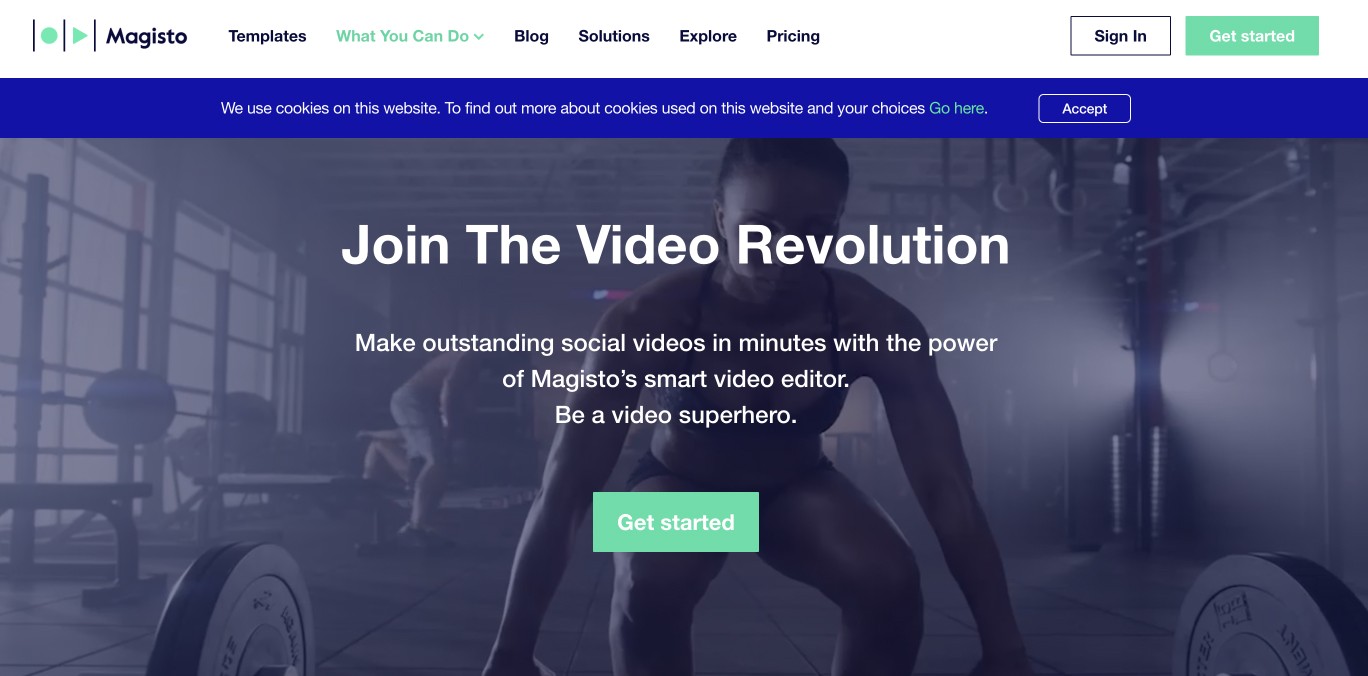 Magisto is one of the few apps that make it easy to automate your video creation process. Everything about this video editing app is automated and has numerous useful tools that could make your videos look better.
Also, it is designed to assist you with the necessary tools you might need to create stunning videos. Find out more about this video editing app's features below:
Features
Multiple themes: Magisto has an inexhaustible gallery of pretty themes you could use for your videos
Video and image importing: With this, you can experience seamless importing of your videos or pictures from your files.
Text and logo fixing: Logos make brands unique, so if you want to stand out on Shopify, you need to be identified with a logo. And this app allows you to fix logos and text in your videos.
Premium editing: Magisto allows you to edit as much as you want.
Pros
It's pretty easy to upload, sort and edit videos using Magisto.
It offers high flexibility.
Extensive library of images, music and themes.
It has pre-made video templates that you can use to create yours without starting from scratch
Cons
They have inadequate customer support.
Many of its templates and features are only available in the premium plan.
Pricing
This video editing app has three tiered plans, which are; the premium plan ($9.99/month), the professional plan ($19.99/month) and the business plan ($69.99).
7. Vimeo Create
In search of professional video editing apps? Then you should consider Vimeo Create. This app has a powerful A.I feature that makes creating nice videos a walk in the park. 
Vimeo is quite popular, with over 200 million users worldwide. So be rest assured that this tool is a good one.
Here are some features of this video editing app:
Features
Over 1,000 beautiful templates: Vimeo Create provides you with many beautiful templates to pick from while creating your video.
Professional video editing: This video editing app equips you with the right professional tools for your business videos.
Social media integration: With Vimeo Create, you can easily share your videos on your business's social media handles.
Text and Logo support: Like Magisto and other video editing apps, you can add texts and logos using Vimeo create.
Pros
Vimeo gives you free tools to enable you to customize your videos.
Availability of great templates
Adoption of Artificial Intelligence
Automated video creation
Cons
Most beautiful templates are only available after the premium version.
There is restricted access to licensed music and stock footage.
Pricing:
Vimeo Create has a free plan as well as a paid plan. So, the pro or business plan starts at $7 monthly.
8. Power Director
Power Director is another video editing app you should consider if you want to create high-quality videos. This video editing app allows you to make 4k-quality videos.
It is a video editing software that integrates well with android devices and desktops. So let's have a look at some of its features.
Features
Motion tracking: This feature helps you focus on objects in a frame.
Video stabilisation: With this added feature, you can drastically reduce the chances of having a shaky video.
Voice-over and sound effects: Power Director also allows you to add unique voice-overs or sound effects to your video to make them more interesting.
Video Collages: This feature is hardly available in other video editing apps. However, Power Director has it as one of its features.
Pros
Great transition tools and effects
Adequate customer support
High-quality videos
Regularly updated
Cons
There are too many advertisements that interrupt video-making or editing
You might experience crashes that may lead to project loss
Pricing
The Power Director has a free plan which is quite limited. Also, it has a monthly plan that starts at $19.99.
9. Vivavideo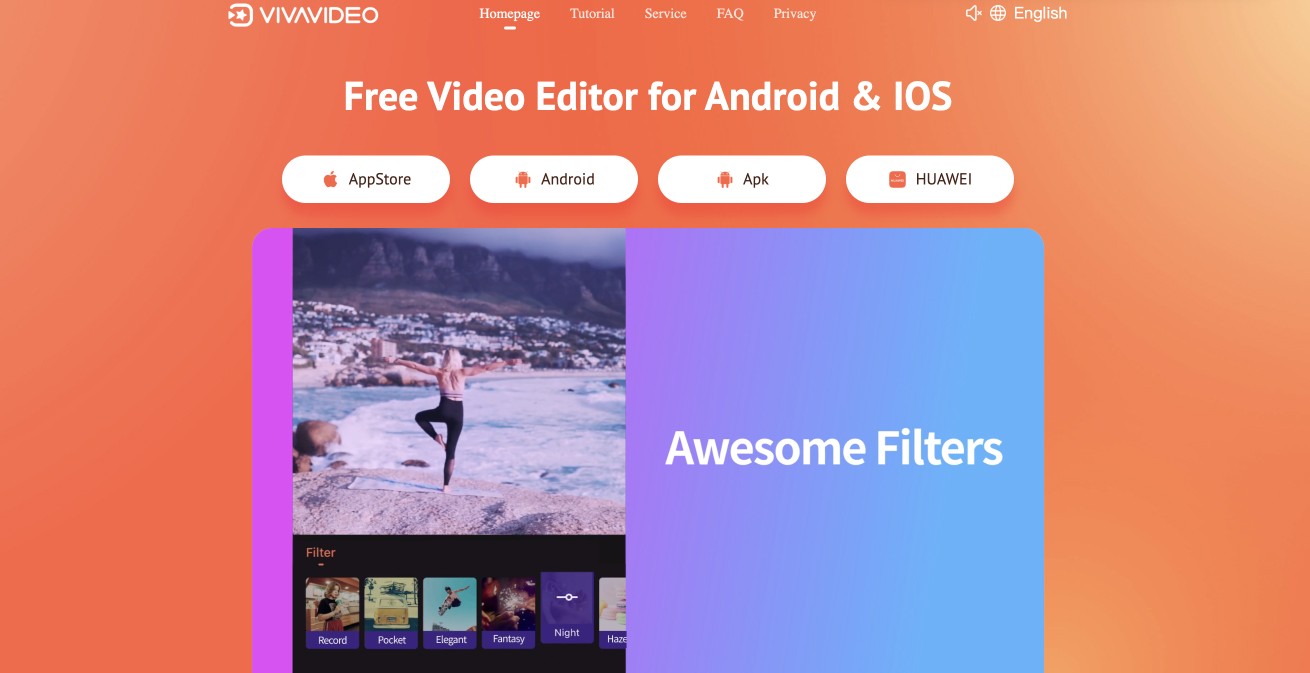 Vivavideo is a video editing software that allows you to edit, trim, and create awesome videos for your Shopify store. Also, this video editing app works well on your android devices and desktop.
Here is a list of Vivavideo's popular features:
Features
Video trimming: You can edit and trim unnecessary parts of your video.
Speed control: Vivavideo allows you to increase or reduce your video's speed.
Cinematic transitions: Vivavideo allows you to create smooth transitions in your videos seamlessly.
Colour Adjustment: You can adjust the colours in your video using filters.
Pros
It has good transition effects
It rarely has glitches or crashes
It has over 60 effects to pick from
It has great editing tools
Cons
You can only edit short videos with this app.
You can't include GIFs while creating your videos.
Pricing
Vivavideo has a free plan and a paid one. Paid plans are $2.60 per month and $31.60 annually.
10. WeVideo

WeVideo is a cloud-based video editing software with several advanced features and functionalities. Some of the features are listed below:
Features
Extensive library of licensed music: If you've been having difficulty finding a video editing app with unrestricted access to good music, you just got one.
4K resolution: You can create and share high-quality videos to add to your Shopify store.
Webcam recording: Wevideo has an impressive webcam recording feature that lets you record high-quality videos with your phone or computer.
Audio level control: With this tool, you can easily control the volume of your videos. So you could increase or reduce the sound, music, noise etc.
Motion effects: WeVideo allows you to add motion using objects like stickers, emojis, and text to your video.
Beautiful templates: This video editing app also has lots of stunning templates that could add that can make your videos more appealing to your Shopify store visitors.
Pros
Your videos are easily accessible from any device
It produces high-quality videos
It's relatively cheap
WeVideo gives monthly tutorials
Great video editing 
WeVideo can also export only audio if you need them for podcasts.
Cons
You're limited to just 10GB of cloud storage.
Videos come with watermarks for the free plans.
The maximum resolution is 480p when you're using a free plan.
Pricing
WeVideo has a free and paid plan that starts at a flat rate of $9.99 per month after a free trial.
Conclusion
A great video can have many advantages for your Shopify business. Videos are a powerful way to grab and retain your store visitors' attention.
Also, there are many ways to use videos on your Shopify store. You could place a video on your landing page to educate visitors about your product. By doing this, you'll be automatically piquing your shoppers' interests, increasing the likelihood of them making a purchase. 
Struggling to generate sales for your Shopify store? Adoric can help. 
Adoric comes with a ton of tools and features to help you convert your visitors into customers and subscribers. Add Adoric to your website right away to put it to the test.