If you want to successfully sell clothes on Shopify, you must have a reliable clothing supplier. This is because the supplier you work with will always impact your business directly or indirectly. The reason is working with the right supplier guarantees quality products and vice versa.  
With the constant growth of the global apparel market, evaluated at 1.53 trillion US dollars in 2022 and estimated to reach 1.7 trillion by 2023, getting into the fashion business isn't a bad idea. And can make a ton of profit. You just need the right supplier, among other things, to get the dice rolling. 
Finding the right supplier may be a tough call. But it isn't impractical. There are hundreds of suppliers or platforms (if not more) that sell apparel.
However, we've done the heavy lifting by searching for the best supplier ourselves. These are vetted suppliers that are suitable for retailers, wholesalers, and dropshippers. 
But before we dive in, let's see how you can decide what product to sell. 
How To Decide What To Sell
1. Competitor Research 
Find out what other sellers are selling and which product is selling out fast. That will help you decide what to offer in your store. 
2. Google Trend 
Google Trends is a great place to see what people are talking about. You can discover items and what is trending across the globe. 
3. Product Analytics
With the help of product analytic tools like Zoho, Google Analytics, and more, you can discover bestsellers with ease. 
15 Best Clothing Suppliers to Use in 2023
1. BrandsGateway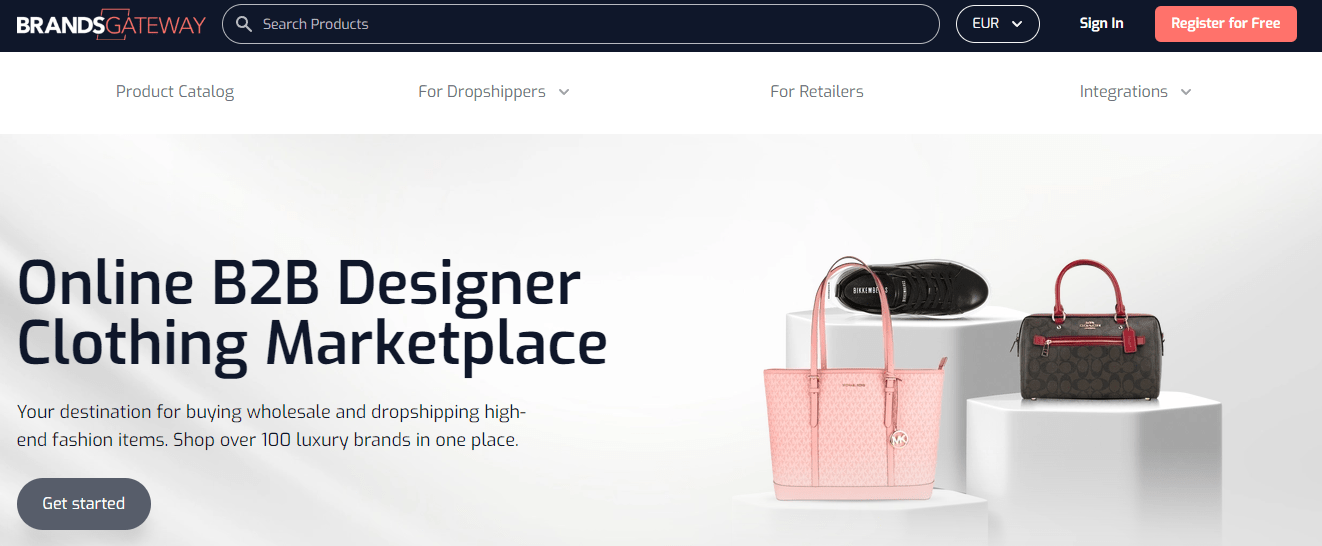 BrandsGateway is a clothing marketplace that specializes in selling luxury fashion items and has over 100 popular brands such as Gucci, Dolce $ Gabbana, Jimmy Choo, Emporio Armani, Michael Kors, and the list goes on. 
They have offices in the US, Germany, Sweden, Italy, and Macedonia. However, their services are available to over 170 countries across the globe. And they allow you to dropship or buy wholesale.
BrandsGateway offers a big discount (up to 90%) to customers on all luxury items, giving you a high-profit margin. Plus, there are no minimum orders for dropshippers.
Additionally, you can integrate it with Shopify, Wix, Woocommerce, and Shift4Shop.
Registration is free, but additional charges may apply. Once you register as a dropshipper or wholesaler, you get to enjoy all the pecks they offer. 
Key features: 
Dropshipping and wholesale deals
International shipping 
Products from high-end brands 
Massive discount 
Free registration
2. Trendsi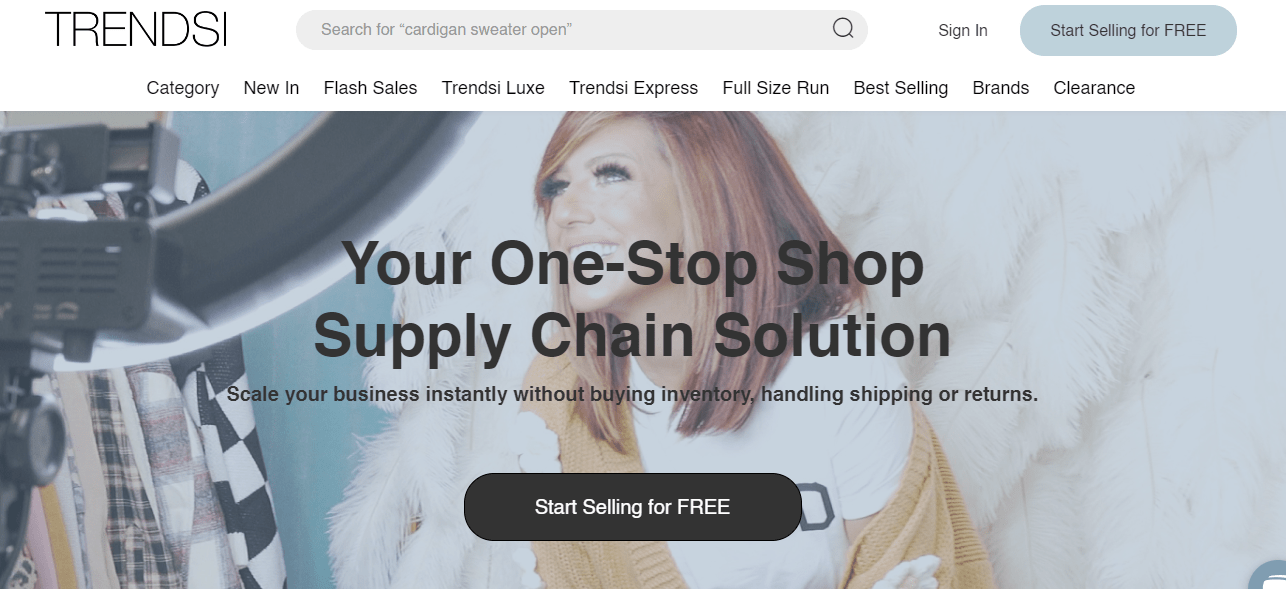 Trendsi is a dropshipping clothing store tailored for women. They offer a variety of clothing in varying sizes, from tops to dresses, jumpsuits, jewelry, shoes, children's outfit, activewear, and more. 
They also provide clothing from more than 70 designer brands with a high market value and profit margin. 
You can buy as little as one item with the open pack offer and have them the logistics from start to finish. Placing bulk orders also attracts a percentage discount on delivery. 
Trendsi doesn't require a monthly service charge from you. All you need to do is pay for the product and delivery and leave the heavy lifting to them. And they also allow a 7-day return window. 
One limitation of this clothing supplier is that they only ship within the US and shipping can take as long as 10 days to arrive. 
Key features 
Women Clothing 
Designer brands with high-profit potential 
Free return 
3. Shop Baby Boutiques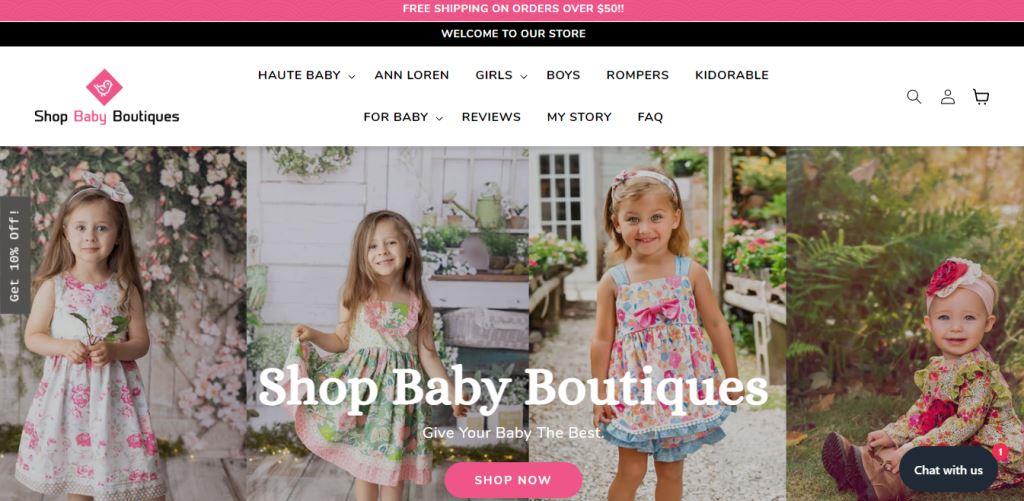 If you are looking for the right clothing supplier to source baby clothes from, Shop Baby Boutiques is where to go. They have a large collection of girls' and boys' outfits from 6 months to 14 years old. 
Also, three stores are operating under this supplier; Ann Loren, Haute, and Kiddorable. However, some of their products are gotten from other sources. You can find many adorable children's clothes at affordable prices. 
Shop Baby Boutiques offers free shipping on orders above $50 and only $3.95 shipping costs for orders below $50. Fulfillment takes about 3-7 days to process and deliver, depending on what store you patronize.
And they have a flexible return policy that allows you to return orders within 30 days from the date of purchase. 
But, they are only open to the US market, though they can source for items from overseas.  
Key features
Male and female children wear
Affordable products 
Free shipping 
Flexible return policy
4. Kakaclo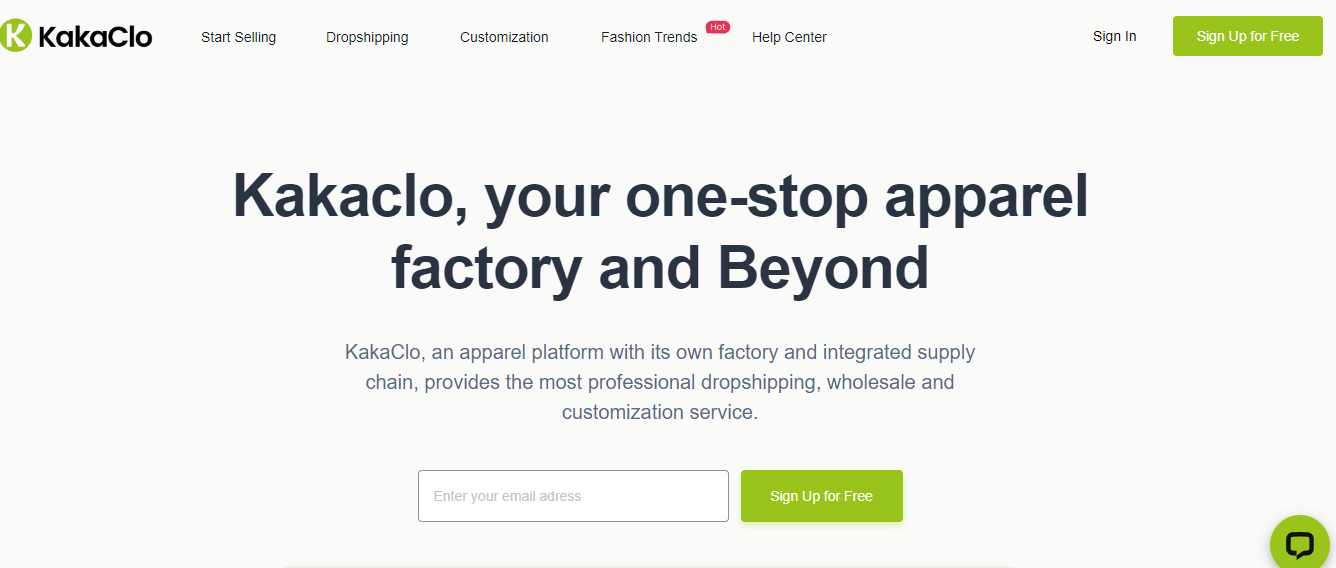 Kakaclo is an apparel clothing manufacturer, that also doubles as a clothing supplier, with its own factory and warehouses in China, Germany, Western Europe, and the US. They also offer dropshipping and customization services. 
Kakaclo is a great marketplace that sells quality yet affordable unbranded clothing. You can find men, women, and children's outfits with multiple categories and options.
Using the dropshipping service is completely free, and delivery time depends on where an order is coming from, which can take up to 20 days in some cases.
Kakaclo allows you to customize your products quickly and cheaply.
Key features
Quality unbranded clothing 
Wholesale, dropshipping, and customization service
Affordable outfits with high-profit potential
5. ModeShe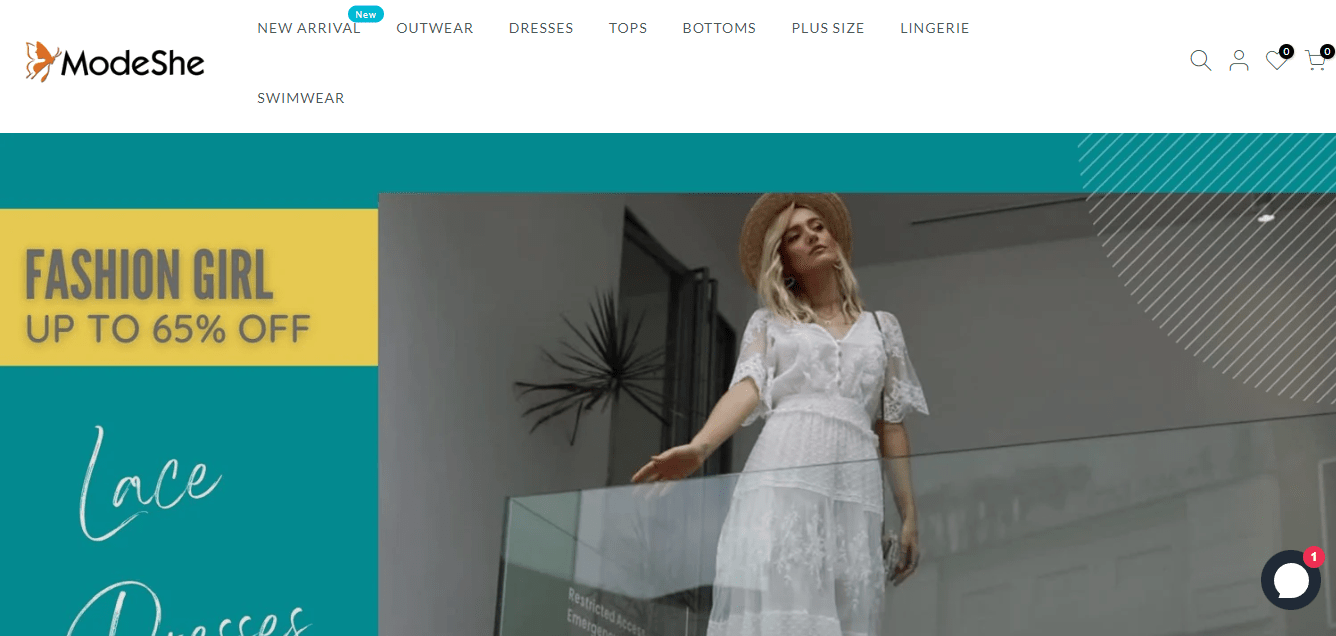 ModeShe is a clothing vendor that caters to retailers, wholesalers, and dropshippers. Their target audience is women between the ages of 18 to 35. And it integrates with Shopify.
This Shopify supplier ships to countries like the US, Australia, France, Belgium, Sweden, Switzerland, and more. ModeShe offers free standard shipping for orders over $60 and free express shipping for orders over $90. 
If you wish to become a dropshipper, you don't have to worry about a subscription fee or minimum order quantity(MOQ). And you can get up to 25% discount on all items. To top it all, order cancellation is fast and easy, and you get a full refund. 
Key features 
Women apparel 
International shipping 
Free shipping 
No subscription or MOQ 
Flexible return policy 
6. Silverts

Silverts is one of the most popular clothing suppliers for Shopify you can source men's and women's products for the elderly, disabled, or the sick. 
Furthermore, Silvert sells easy-to-wear clothes that are also affordable. Plus, you can shop for items by need or condition. 
Since the apparel industry is more focused on fashion items for children and younger adults, this niche remains undersaturated. You can take advantage of the available market to create a lasting business for yourself. 
Silverts offers discounts on bulk orders and allows you to dropship. In the same breath, they offer free rush shipping on US orders above $100 and easy returns. However, they only ship within the US and Canada.
Key features 
Niche: seniors, the disabled, and the sick
Adaptive easy-to-wear clothing 
Free delivery 
Return service 
7. B2B Griffati

B2B Griffati is your best bet if you are looking for a clothing supplier that offers wholesale and dropshipping services on branded wear and ships worldwide. 
This clothing supplier offers a range of designer clothing for men, women, and children from high-end fashion brands like Armani, Fendi, Calvin Klein, Givenchy, Hogan, Burberry, and more. And the best part is that you can get up to 75% discount on these items. 
Furthermore, B2B Graffati offers fast shipping on all orders. That way, you don't have to worry about losing customers to prolonged shipping time. 
If you are a wholesaler, B2B Griffati requires a minimum order of €500. And no minimum order for dropshippers. It also integrates seamlessly with Shopify. 
Key features 
High-end fashion brands 
Up to 75% discount 
Fast shipping 
Worldwide shipping 
8. Handshake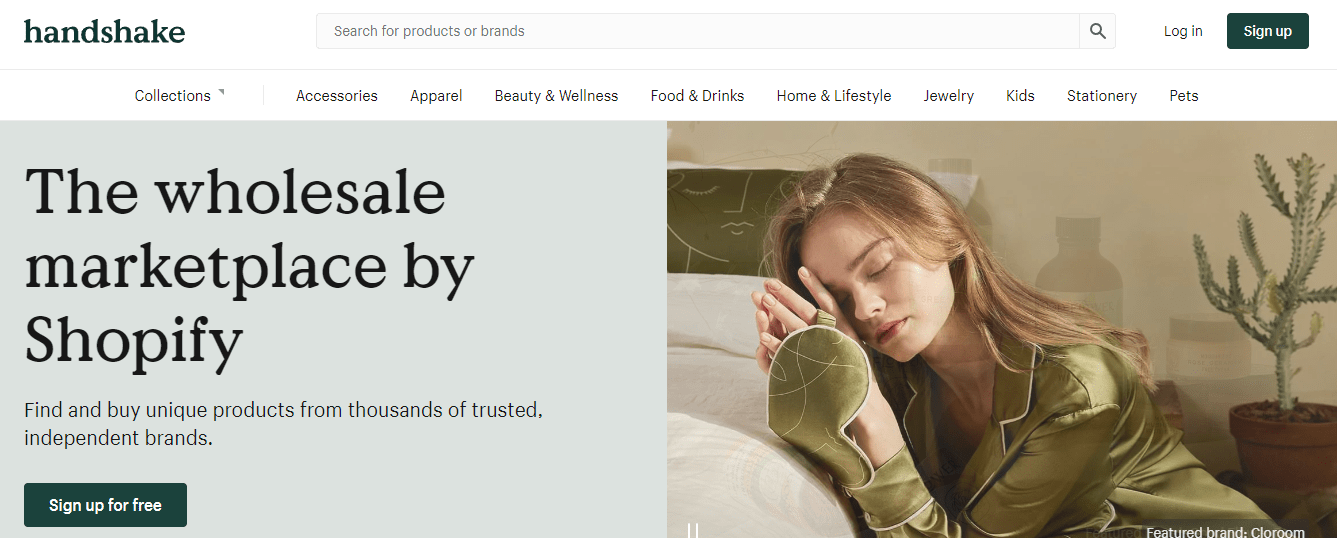 Handshake is a US-based, all-in-one wholesale marketplace by Shopify. It offers a wide range of unique products and categories such as apparel, jewelry, accessories, food & drink, pet, stationary, and more. 
Interestingly, Handshake is free to use, with over 150,000 products available. They not only provide a variety of products but also connect you directly with manufacturers and help you find new customers. 
Key features: 
All-in-one marketplace
Over 150,000 products
Free to use
9. Dresslily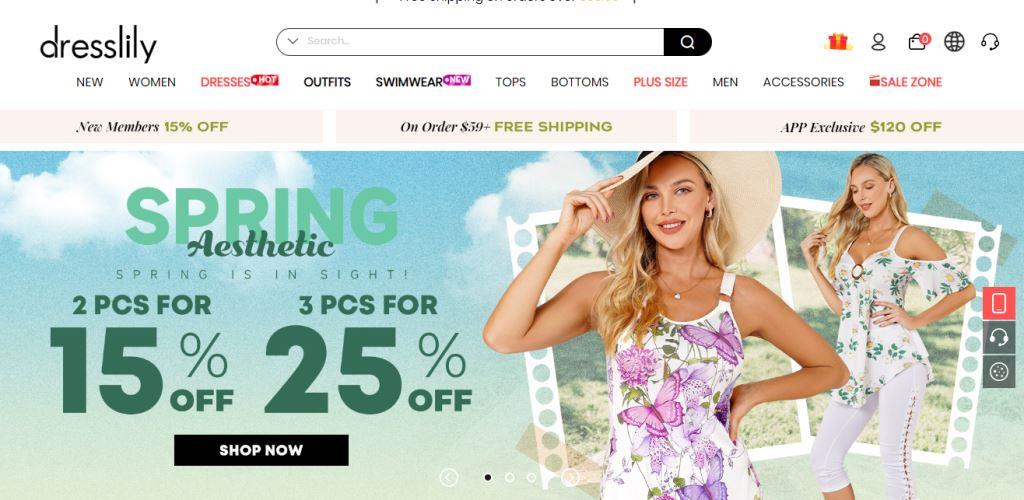 Dresslily is another excellent choice if you are looking for the best place to source male and female wear. The US-based clothing supplier also caters to the need of plus-sized people.
Dresslily is free to use. You can enjoy 15% off as a new member, free shipping on orders above $59, and a whopping $120 discount when you use the app. On top of that, they ship worldwide. 
If you are concerned about getting faulty clothing, ease your mind. Dresslily ensure that all products are carefully inspected before processing and shipping. Plus, they offer a 30-day return warranty. 
Key features: 
Male and female clothing
Plus size wear
Free shipping 
Carefully sorted orders
30-day return guaranty 
10. Printify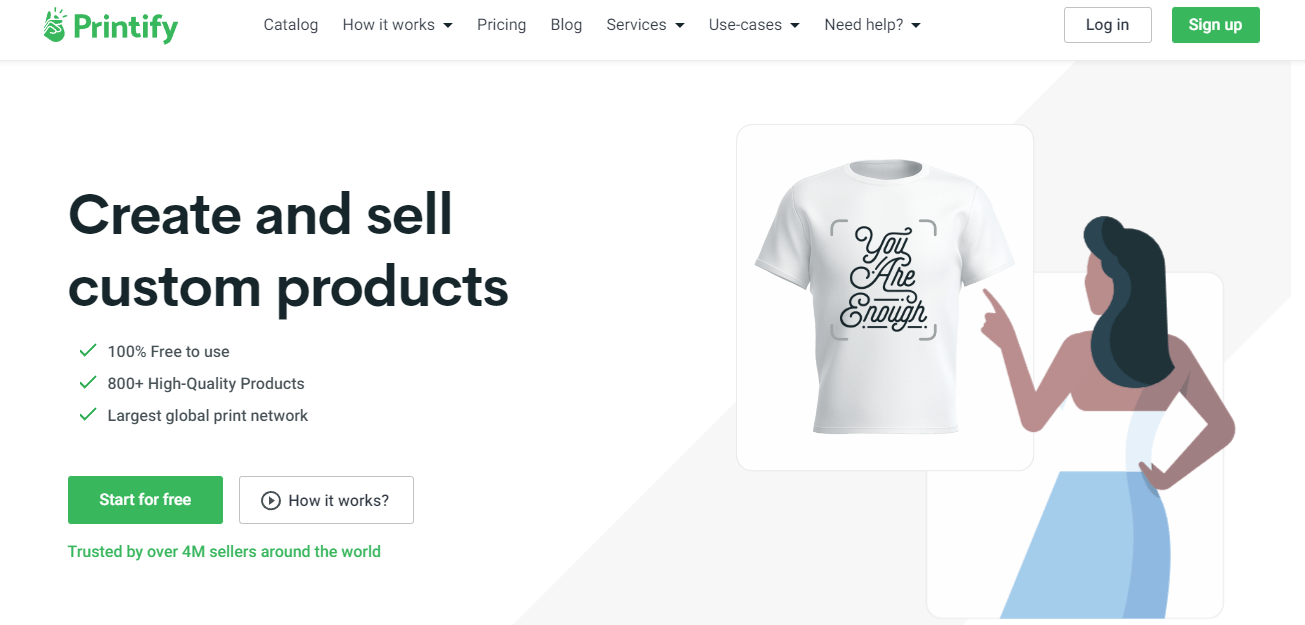 Although not a clothing supplier per se, Printify is a print-on-demand platform that connects you with multiple e-commerce platforms and marketplaces. It integrates with Shopify, Estsy, Woocommerce, and others. 
The idea behind print-on-demand is that you only get to order a product from your supplier once a customer pays for it. This helps to prevent overstocking or understocking.  
It is a great option if you are looking to get into dropshipping.
On Printify, you will find a collection of products for men, women, and children you can customize.
In addition to apparel, you can also find clothing accessories, and home & living items. 
The platform is free, but you can upgrade to the premium plan for $29 per month to enjoy up to 20% discounts on all products. Printify provides 24/7 customer support if you need help. 
Key features:
Print-on-demand service 
Free to use
High-profit margin
Up to 20% discount 
24/7 support
11. Printful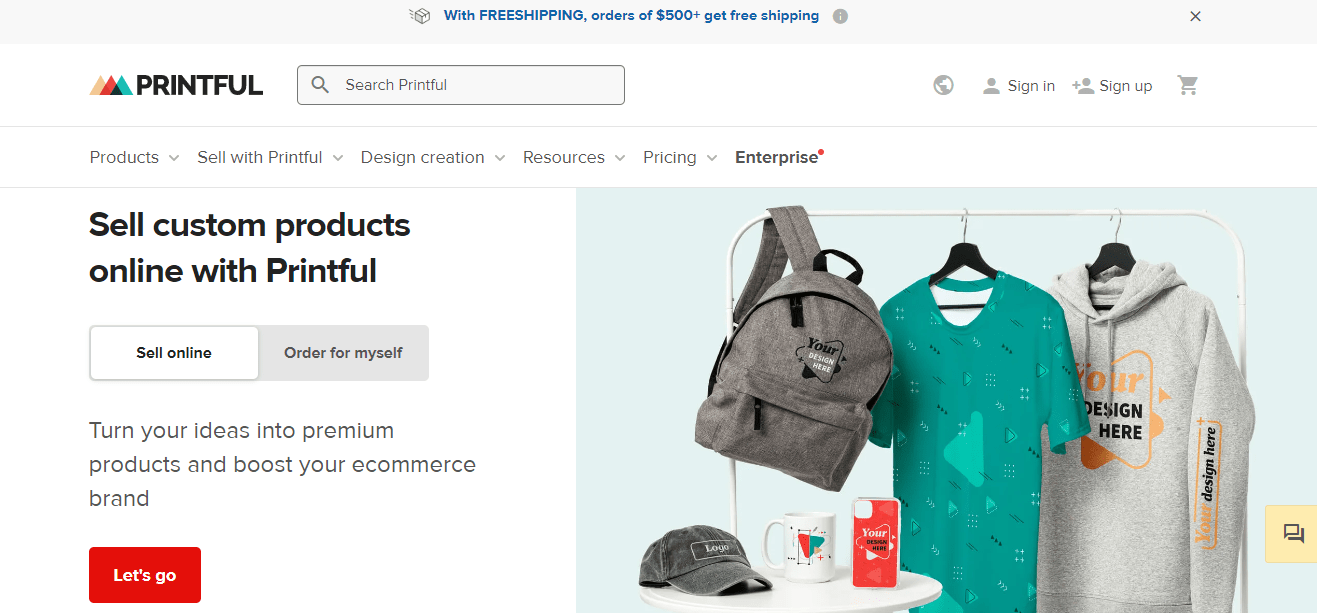 Printful is yet another print-on-demand platform for e-commerce business owners. You can find clothing for men, women, and children. Plus, you can brand the items on request. Printful integrates with Shopify, Woocommerce, Etsy, eBay, Prestashop, and more.
Unlike Printify, they help you fulfill orders after customers make payments. You provide over 330 products you can customize, and you can also send in your own designs. 
Printful does not require any minimum order, and they provide free shipping on orders above $500. However, shipping costs for lesser orders can be on the high side. 
Furthermore, they ship worldwide except for counties like Cuba, Iran, Crimea, Syria, and North Korea.
You can use their warehousing facilities if need be, as they have more than half a dozen warehouses spread across North America and Europe. 
Key features:
Worldwide delivery 
Large product variety 
Warehousing services 
Branding 
12. BrandsDistribution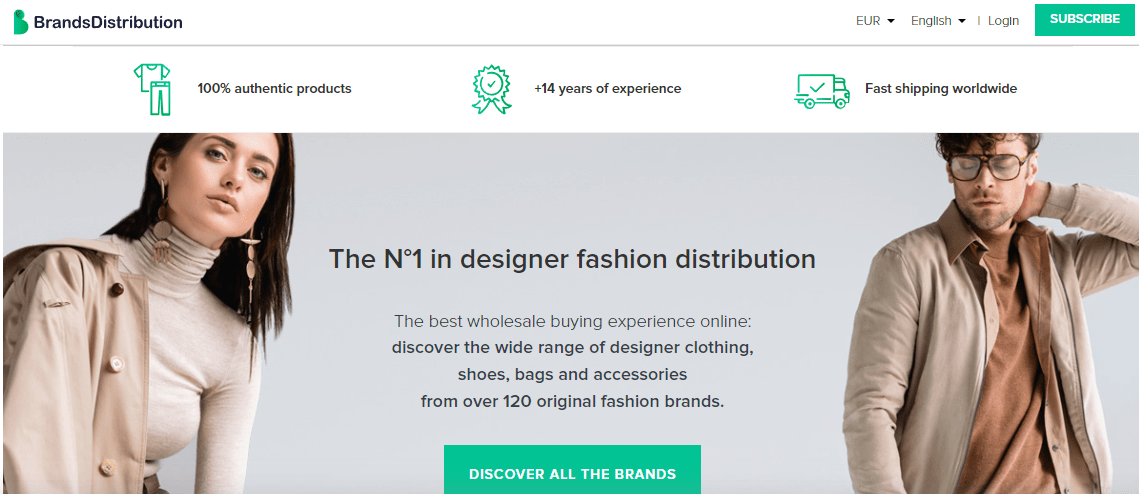 Do you want to sell Italian designer fashion brands in your store? If the answer is yes, then BrandDistribution is your best bet. They have over 120 Italian brands as well as other renowned brands. 
You can become a retailer, distributor, wholesaler, or dropshipper with BrandsDistribution from almost anywhere in the world, as they ship to over 170 countries.
Once you become a member, you get assigned a dedicated sales assistant to help you with all your needs.
Keep in mind that BrandsDistribution requires a minimum order of 500€, and shipping is not free. 
Key features:
High-end fashion brands 
A large catalog of products
A dedicated assistant 
13. Gelato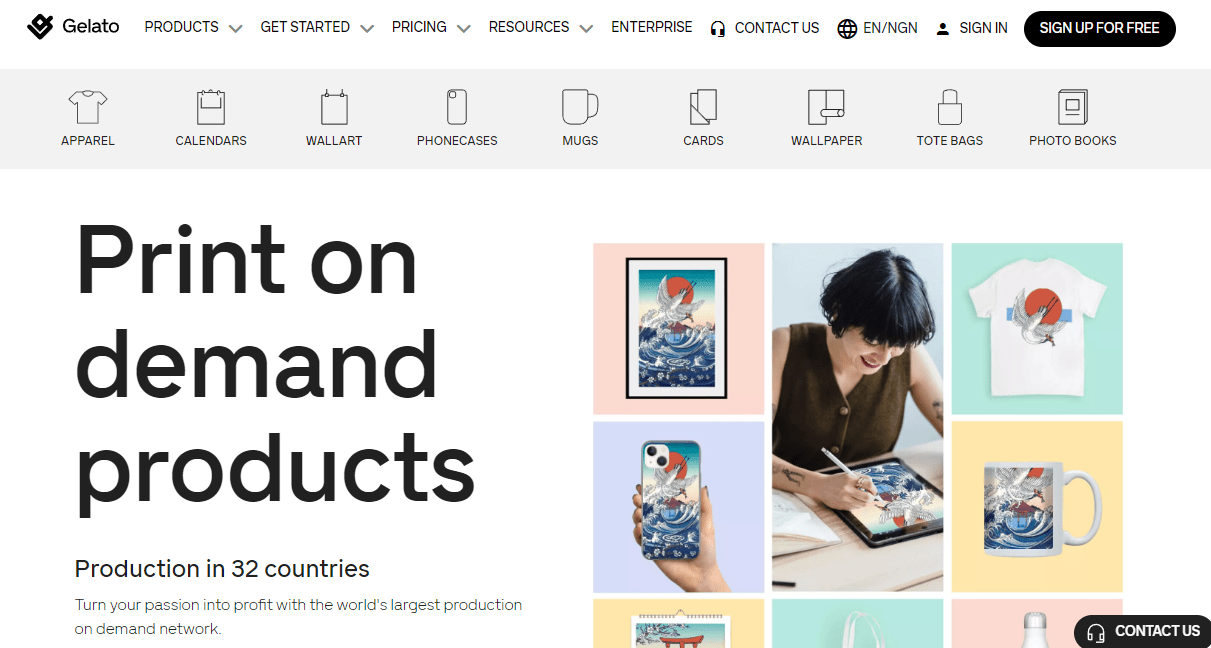 Gelato is a print-on-demand clothing supplier that connects with over 130 production partners in 32 countries across the globe. The app integrates seamlessly with Shopify and other e-commerce platforms or marketplaces. 
What's more, Gelato has several product categories, including men, women, and children's clothes. The wide spread of Gelato production partners makes it a good option for sourcing apparel products wherever you are. 
The best part is that Gelato is free to use. But if you want advanced features such as customization, a dedicated customer success manager, etc., you have to upgrade to any of their paid plans. subscription plans. On top of that, you also get to enjoy a 50% discount on shipping when you upgrade.
They have three Subscription plans; Gelato Plus, Gold, and Platinum starting at $14.99 per month. You can also enjoy fast and reliable shipping services using the platform. 
Key features: 
Fast shipping 
Worldwide order fulfillment 
Affordable subscription plan
14. Male Basics
As the name implies, Male Basics is a wholesale clothing vendor that supplies men's underwear and swimwear. You can get aboard as a dropshipper or wholesaler. 
If you want to dropship products from Male Basics, keep in mind that they charge a processing fee of $4 per order. And fulfillment takes 5-7 business days. Also, shipments are not insured unless specified. 
They partner with some designer brands to bring you the best quality. However, Male Basics have a marketplace limitation as you cannot Waist cinchers on Amazon due to an exclusivity agreement. 
Key features 
Male underwears
Fast shipping 
$4 processing fee per order
15.  Syncee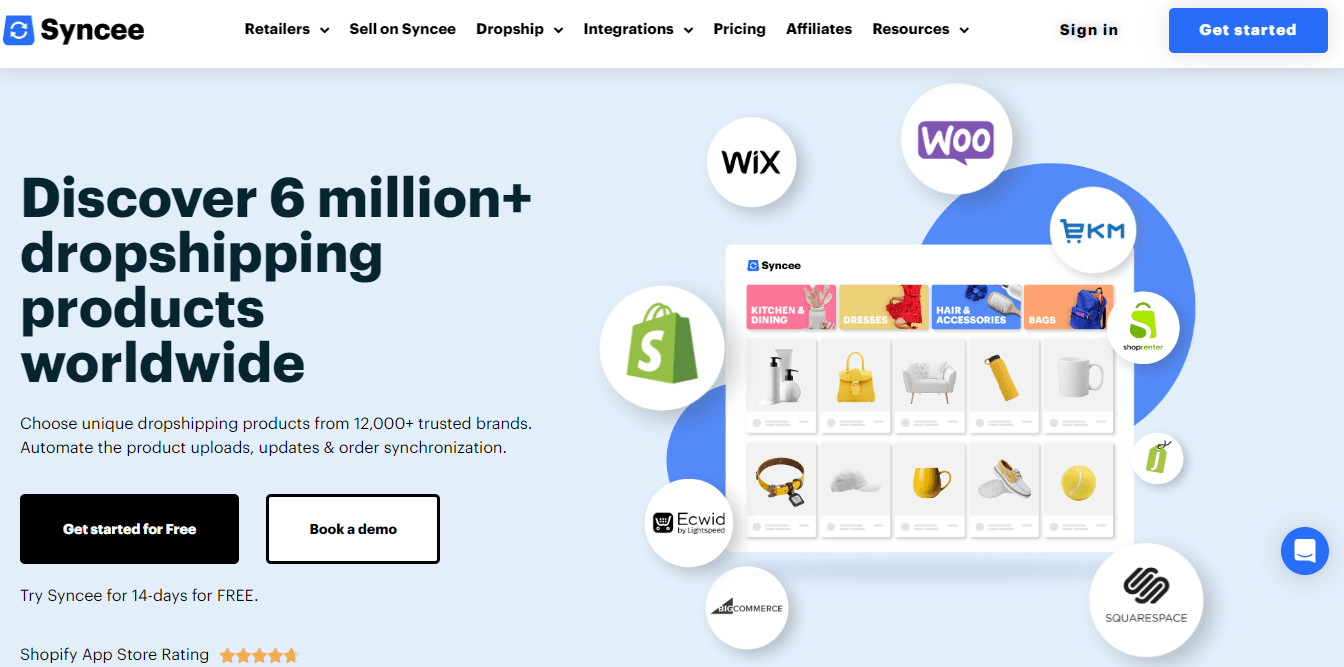 Syncee is a wholesale and dropshipping marketplace that connects retailers and suppliers. You can find more than 6 million products from over 12,000 trusted brands. Syncee is the official Alibaba dropshipping partner. 
Once you integrate Syncee with your Shopify store, it allows you to automate product uploads, updates, and order synchronization. 
Syncee has over 900 suppliers and 400 dropshipping categories of apparel for men, women, and children sourced from the US, EU, UK, CA, and AU. Plus, shipping is always fast.
You can also join Syncee as a supplier to connect with the over 200,000 retailers that use the platform. And as a cherry on the icing, it is 100% free for suppliers.
On the other hand, using Syncee for dropshipping is only free for 14 days. After that, you have three pricing plans available: 
The basic plan costs $29 per month 
The Pro plan costs $49 per month 
The Business plan costs $99 per month
Key features:
Over 6 million products 
Free for suppliers 
Fast shipping 
Direct connection with Alibaba 
Conclusion
Starting an apparel business on Shopify can make you some serious money. The reason is that fashion products are always trending and are always in demand. 
If you are new to selling clothes online, you might want to check out this guide. In it, you will learn tips and hacks for setting up a successful clothing business without spending much.
Are you getting traffic to your Shopify website but are having a tough time converting that traffic into sales? Adoric can help.
Adoric comes with a load of tools and features that enable you to convert your website traffic into sales. Add Adoric to your website right away to see it in action.