If you are looking to reach and engage an audience and promote your brand, hosting a webinar is the way to go. If the mere fact that more than 60% of marketers use webinars as a major part of their content marketing strategy is not an indication that webinars are here to stay, then, we don't know what is.
People love to get practical lessons and tips that can help them function better in their careers, businesses, and in their general lives. This is also the main motivation behind many purchases.
Webinars help them realize how your product can help them achieve the results they need. It's also a way to build trust with your customers, establish your brand as an authority on a subject, and increase your visibility.
Unfortunately, the increasing popularity of webinars alone doesn't guarantee sign-ups and high attendance rates.
You don't need to fret. We've put together 15 actionable tips that will get you more signups and attendees for your webinar. We've also made them so practical that you can start to implement them right after reading this.
Content:
1. Choose A Topic That Appeals to A Wide Audience
If your webinar topic isn't interesting or relevant enough, sorry but your audience won't take an interest. Imagine discussing, say, racing cars with a demographic of audience that comprises of mostly nursing mothers.
How would it possibly turn out? You definitely do not want to find out.
Go for a topic that has wide relevance but make sure it's not vague. If your topic is practical, you'll be able to assure your prospective attendees that they can easily apply the knowledge they gain from your webinar to their career, business, or life.
If you don't know what your webinar should be about, look out for webinars by brands similar to yours. Take a cue from them but make your webinar different by providing even more unique and actionable information for your audience. If possible, bring a whole new perspective to the subject.
Research keywords related to your webinar topic and incorporate them into your other content marketing media. By doing this, your landing page, blog posts, and other web materials you create will rank for those keywords on search engines. This will make your webinar more visible, and attract more sign-ups and attendees.
2. Use Exit-Intent Popups
Exit-intent popups are not as intrusive as other types of popups. They are an effective way to get the attention of your audience as they are about to leave your webinar landing page or other pages on your website.
Exit-intent popups give you a chance to capture abandoning visitors just before they are gone forever.
Making your webinar registration form pop up as your visitors are about to leave your web page is an effective way to get more sign-ups.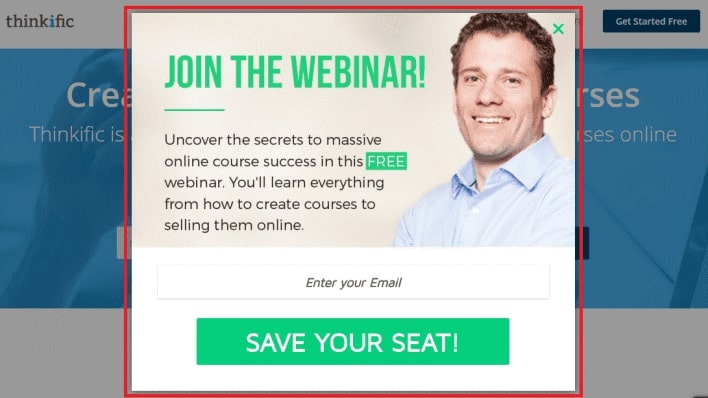 Fastrack used this popup technique to recover 53% of abandoning visitors on their website.
Adoric allows you to create webinar popups with ease.
3 Use A Countdown Timers
A countdown timer feature is a great way to create a sense of urgency among your target audience.
When you can hear or see a clock ticking or running out, you instinctively want to take action quicker than you would have if there was no clock. This is the principle behind a countdown timer. It doesn't just inform your audience of how much time is left till your webinar, it also creates a sense of urgency around registering for it.
The best part is that you can use it with many webinar promotional materials and across different channels. A case study has it that emails with countdown timers had a 400% higher conversion rate and 171% click-through rate.
You can also have it pop up on any of your web pages as your visitor is about to leave. Also, consider placing it in a strategic part of your landing page to further increase your webinar sign-ups.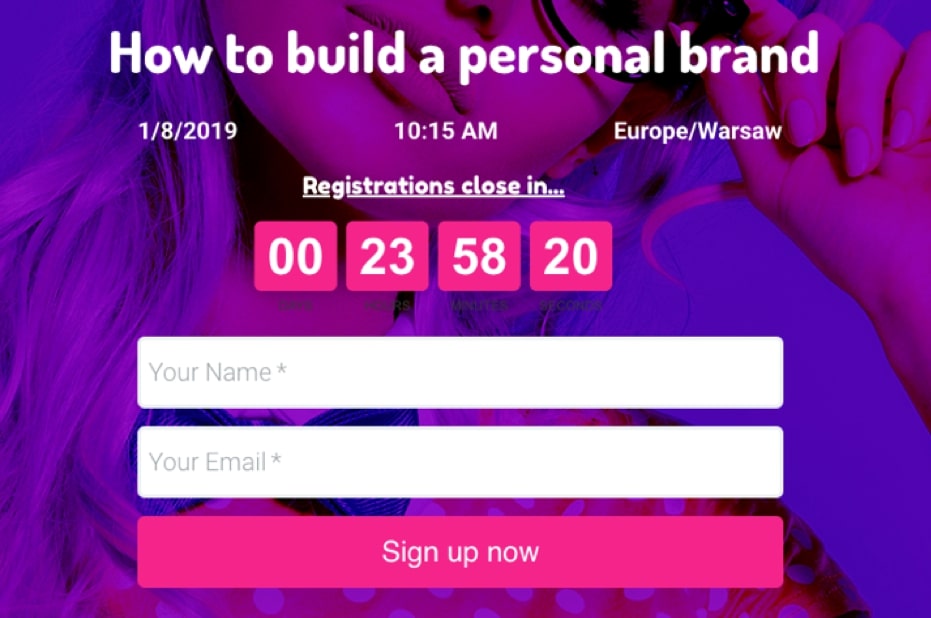 Wondering how you can get a countdown timer done? Sign up on Adoric for free to get access to a wide array of countdown timer templates to choose from.
4 Drive More Sign-ups with Email Marketing
Email marketing will go a long way in helping you increase your webinar sign-ups and attendance. It is capable of driving 57% of webinar registrations. At every stage of webinar marketing, emails come in really handy.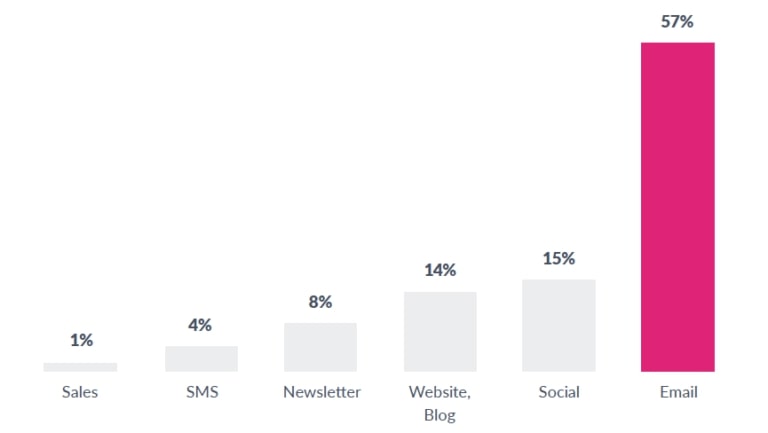 To get the best out of your email marketing, divide your email list into segments, and send personalized messages accordingly. Your target audience is 50% more likely to open your emails if they have a personalized subject line than if they don't. Use this to your advantage.
After every sign-up, a 'thank you' email is a good way to confirm to the registrant that their sign-up was successful. It also gives you the chance to motivate them to take further action to attend your webinar when you go live.
Decide how often you want to remind your audience about your webinar in the days leading up to the event. Send email reminders to keep the webinar fresh on their minds.
If your webinar is a replay or a prerecorded one, this would mean that people can register to have access to it at any time. Send emails to remind them of their scheduled viewing or prompt them to reschedule another viewing when they miss previously scheduled ones.
5 A/B Test Your Email Subject Lines
For email marketing to work for you, be prepared to write attention-grabbing subject lines. Therefore, it is worth A/B testing your subject lines before you decide on the right one. It's also the fastest way to determine which subject line will fly with your audience.
With Adoric, you can test two or more variations of your subject line to see which one gets the most engagement with your audience.
Consider testing your email subject as a question, two joint titles, or with personalization. Send your marketing emails with the winning subject line and watch your sign-ups increase.
6 Choose The Best Time and Day to Host Your Webinar
Knowing your audience also entails knowing where most of them are located and what time zones they live in. You'll end up with attendees across different time zones, especially if your webinar topic is globally relevant.
You also need to know what time they are most likely to be available to attend a webinar. Experiment with different times and days to know what works best for your target audience.
According to the GoTo Webinar, 10 and 11 am are the best times of the day to schedule your webinar to maximize attendance. They also go on to report that Wednesdays and Thursdays attract 26% of attendees which is more than half of all webinar attendance.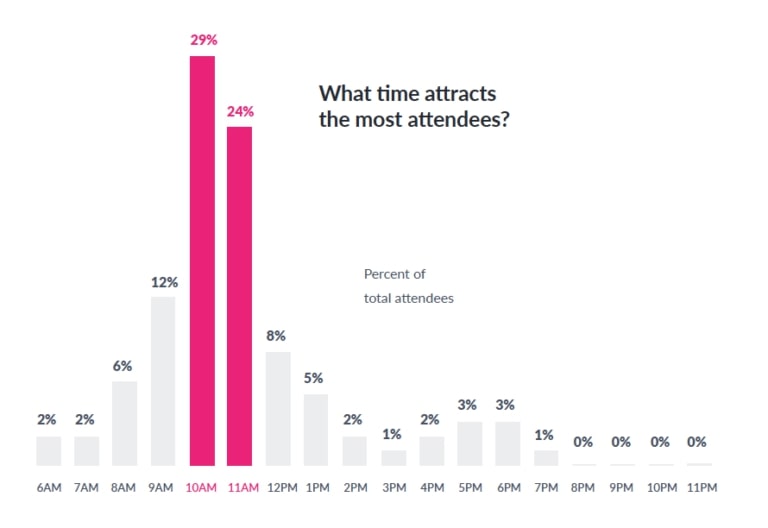 This makes a lot of sense as Mondays are usually greeted with the bustle of starting a new week while Fridays are met with last-minute attempts to meet up with the week's targets i.e. more pressure. Most people wouldn't want to add a webinar to their itinerary for these days.
The downside of relying solely on these numbers, however, is the fact that there will be more webinars competing for attendees' attention on these days and at those times. If that's something you can beat, don't hesitate to use these statistics to your advantage.
Automated webinars are available to everyone round the clock and you do not need to bug your head about the best time to air your webinar.
However, if yours is a live webinar, you want to make the timing as convenient as possible to drive webinar attendance.
7 Create a Landing Page for Your Webinar
When people click on ads you put up around the internet or CTAs on other pages of your website, they'll need to be directed somewhere to register for your webinar. Create a landing page that is specifically about your webinar for this purpose.
Your landing page should contain information about your webinar and content that emphasizes the importance of the webinar. Keep the message straightforward and without unnecessary fluff.
It's a huge turn off when pages don't load quickly. Therefore, put some effort into optimizing your landing page for speed. We don't want to turn potential attendees away after all that advertising, do we?
Make sure the registration form on your landing page has only a few fields and completes sign-ups immediately when your web visitors click on the call-to-action button.
You can also add a button that allows web visitors to share the link to your webinar landing page on social media or email.
8 Publicize via Social Media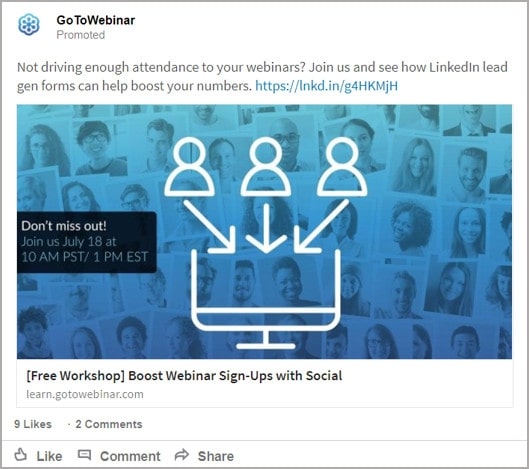 Slideshare is owned by LinkedIn but already has an audience who readily sign up and attend webinars. Promote your webinar on Slideshare to increase your webinar signups and attendance.
Whatever you do, don't neglect Facebook. With Facebook, you have the advantage of setting target audiences for your ads with incredible specificity.
You can also get people to register for your webinar through Facebook Messenger. This is a tip that is worth exploring because of the huge engagement rates Facebook messages get. The average open rate for Facebook messages is 50-80%, with a 20% average click-through rate. These are impressive rates that you don't want to miss out on if you want to increase your webinar sign-ups.
Pro Tip: Consider using a chatbot to automate your Facebook messages to make the process more seamless. These messages should include periodic updates about your webinar.
If you intend to send any last-minute reminders right before you go live, Facebook Messenger is probably your best bet. You can be sure to get substantial engagement within an hour.
9 Blog About Your Webinar Topic
Blog about subjects that are related to your webinar topic but not in great detail that your readers know all there is to know about your webinar. Include a call-to-action specific to your webinar. Let your webinar be the answer to the questions and pending issues you leave hanging in the air after your audience has read your blog post.
If you start writing these blogs early enough, the reactions you get may become valuable in developing your webinar.
The good thing is, after the webinar, the blog post doesn't become a waste. Simply change the CTA and you have an evergreen blog post on your hands.
Also, do guest posts on other blogs that are focused on subjects related to your webinar topic to widen your reach and increase webinar registration.
10 Leverage Collaborations for Publicity
The good thing about collaboration is you don't need to have all the resources you need to get all the sign-ups you want. Tap into your network of blog owners, similar brands (not necessarily your competition), etc. with whom you have a similar audience.
Daniel Waas says he has had a 25% average increase in registrations with 34% of registrations coming from his partner by using this technique.
Consider reaching out to brands that have a large following on social media, or that are reputable. As long as you're offering a win-win proposal, they'll consider it. Do this and watch your sign-ups pile-up.
11 Use An Add-to-Calendar Feature
Another tip that specifically drives webinar attendance is adding an add-to-calendar feature to your webinar marketing materials.
You can add this feature to your 'thank you' email, reminder emails, or webinar landing page.
It's usually a button that you code yourself or simply embed into your marketing materials. When your reader clicks on it, they follow through one or two more steps and your event is automatically added to their calendar.
With an add-to-calendar feature, you can be sure your audience will be reminded when you're about to go live.
12 Make Your Call-to-Action Sound Urgent
The principle of scarcity has always worked since we can remember. Use this principle to craft a CTA that gives people a sense of urgency. If people think there are limited seats, they'll sign up for your webinar faster.
It's also an effective way to subtly communicate the value of your webinar.
13 Give Incentives for Referrals
Don't hesitate to ask people who sign up to invite other people in their network. Give them a reason to do this (other than making the world a better place) by giving incentives for referrals. You could offer an ebook or some other kind of bonus.
If you are feeling magnanimous, consider starting an affiliate program where people who sign up get certain incentives based on the number of people who sign up through their unique links and some other criteria.
14 Don't Advertise Your Webinar Replay Immediately
Webinar replays are awesome- but only when you use them wisely. Wait till your live webinar session is over to advertise a replay.
Your attendance rate drastically reduces when people who have signed up know that they can access the webinar whenever they want. Advertising a replay before going live also reduces the sense of urgency your CTAs are meant to give your target audience.
The exception to this may be in cases where a webinar replay is an incentive or an added value for your target audience if they take a specified additional action.
For example, if you have a member-only forum, you may want to use a webinar replay as an incentive for getting your audience to subscribe for membership in addition to registering for your webinar. In this case, you're still giving restricted access to the replay. Like we said, use the replay incentive wisely.
15 Ask Your Guest Speakers to Promote Your Webinar
If you'll be having notable speakers facilitating your webinar, let the whole wide world know about it. In doing so, you would get more signups.
In the days leading up to airing your webinar, announce your speakers one at a time via social media, follow-up emails, or other channels you choose to use. Highlight their expertise and how it makes them an expert in your webinar subject.
Pro Tip: Design e-fliers like the one below, each featuring one speaker, and highlight the specific value the speaker will bring to your audience. Distribute this across your various advertising channels.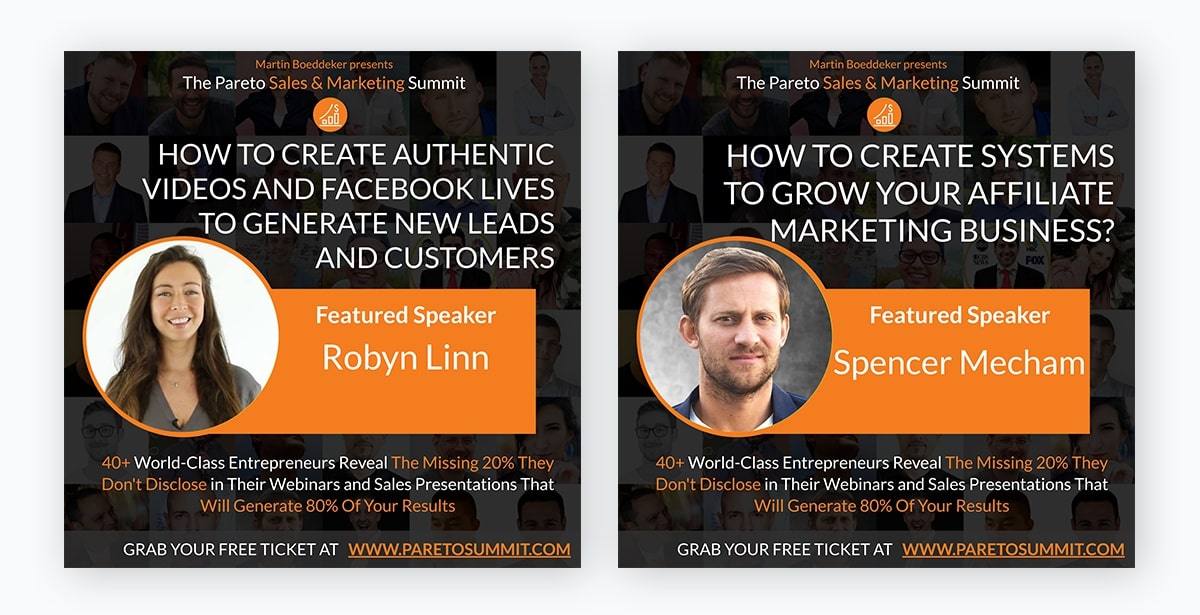 Your speakers have audiences you can also mine for attendees. If you're not leveraging their network, email lists, and social media, what are you waiting for?
Now that you have learned tips to increase your webinar sign-ups and attendance rates, let's take a bit to also consider mistakes to avoid.
Your speakers have audiences you can also mine for attendees. If you're not leveraging their network, email lists, and social media, what are you waiting for?
Now that you have learned tips to increase your webinar sign-ups and attendance rates, let's take a bit to also consider mistakes to avoid.
3 Common Webinar Mistakes To Avoid
After putting in time and resources to create a highly informative webinar, you don't want a mistake to bring everything to naught. Not when the mistake can be avoided. Here are 3 common marketing mistakes to avoid by all means.
Not Starting Your Marketing Early And Often Enough
To increase your chances of getting a high attendance rate for your webinar, start your promotions at least two weeks before the event. If you can start four weeks before the event, that's even better.
Don't be bothered if registrations don't pour in at first. You are likely to get 69% of your total registrations a week before your webinar and 33% on the actual day of your event.
Spread the word about your webinar using the channels at your disposal as often as is reasonable. Map out a communication plan and follow through with it to generate enough buzz about your webinar.
And if getting as many attendees as possible means a thing to you, start your promoting your virtual meeting on time.
Not Respecting Your Audience's Time
When scheduling your webinar, your convenience shouldn't determine its span. Don't let it run for too long, else you risk losing your attendees.
Prioritize starting and ending your webinar on time. It shouldn't run for more than 39 minutes, or max, 45 minutes.
Not Getting The Right Speakers
People sign up for webinars because of the value they hope to gain from it. Your speakers or panelists determine this value. It is important that they are capable of speaking to the subject you have assigned to them.
Apart from the expertise of your speakers, you want to be sure that they can engage your audience. A boring presentation soon loses most of its attendees which is why you should start with a template for your presentation to make it really stand out. Do your due diligence. Find out how good their public speaking skills are by checking for their past experiences speaking at webinars or any other similar videos.
Final Thoughts
So, there you have it: 15 actionable steps you can take right now to make more people sign up for your webinar. We hope you found it useful.
If you did, be kind enough to share this post – you might be helping someone.