Looking for the right WooCommerce plugins to boost your sales and conversion rate? You've come to the right place.
WooCommerce, just so you know, is an eCommerce software made for WordPress. Although it comes with free features to help you sell efficiently on your website, more often than not, you'll need additional plugins to enhance its capabilities.
These plugins help you add additional features and functions that will make your WooCommerce store run just as you want it to.
The problem, however, is deciding which WooCommerce plugins to choose as there are thousands of them.
But don't worry, we've done the heavy lifting for you.
We've made a selection of 35 WooCommerce plugins that will boost your conversion rate and increase your sales. To make it easy for you to follow this post, we've divided these plugins into different categories based on their function.
Let's get into it right away, but first the highlight.
WooCommerce Plugins for Popups
1. Optinly

Optinly is a WooCommerce plugin that helps you to grab your audience's attention with popups. Like Adoric, Optinly also comes with lots of popup templates you can pick from.
All you have to do is choose the goal or purpose of the popup, pick and customize a suitable popup template and launch your campaign.
With this plugin, you can promote special offers, reduce cart abandonment, carry out surveys, and provide social proof in real-time.
Also, with Optinly, you can build your email list with opt-in forms.
It offers a free trial plan and also a paid plan which starts at $25/month.
2. WooCommerce Splash Popup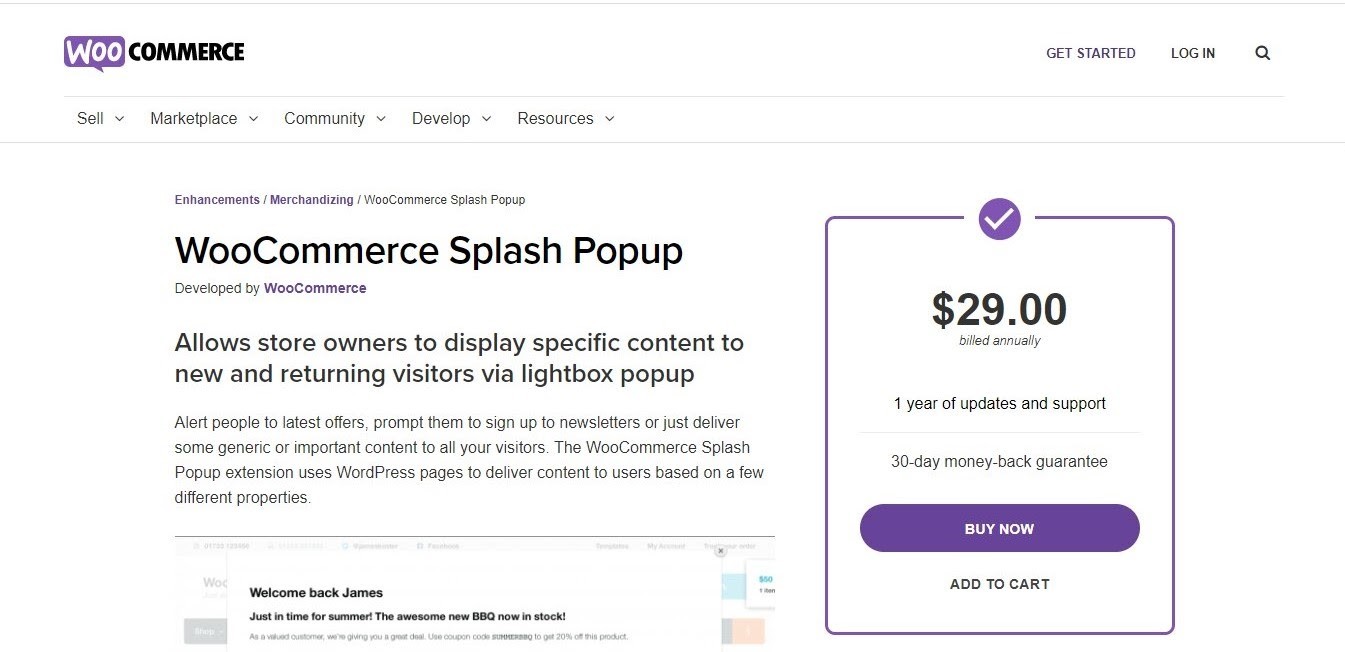 WooCommerce Splash Popup plugin lets you display popups on your website. It is the perfect way to alert visitors about ongoing offers, encourage them to sign up for newsletters, or just convey important updates.
Splash Popup's fees range from $29 to $99 a year and it offers a 30-day money-back guarantee.
3. Adoric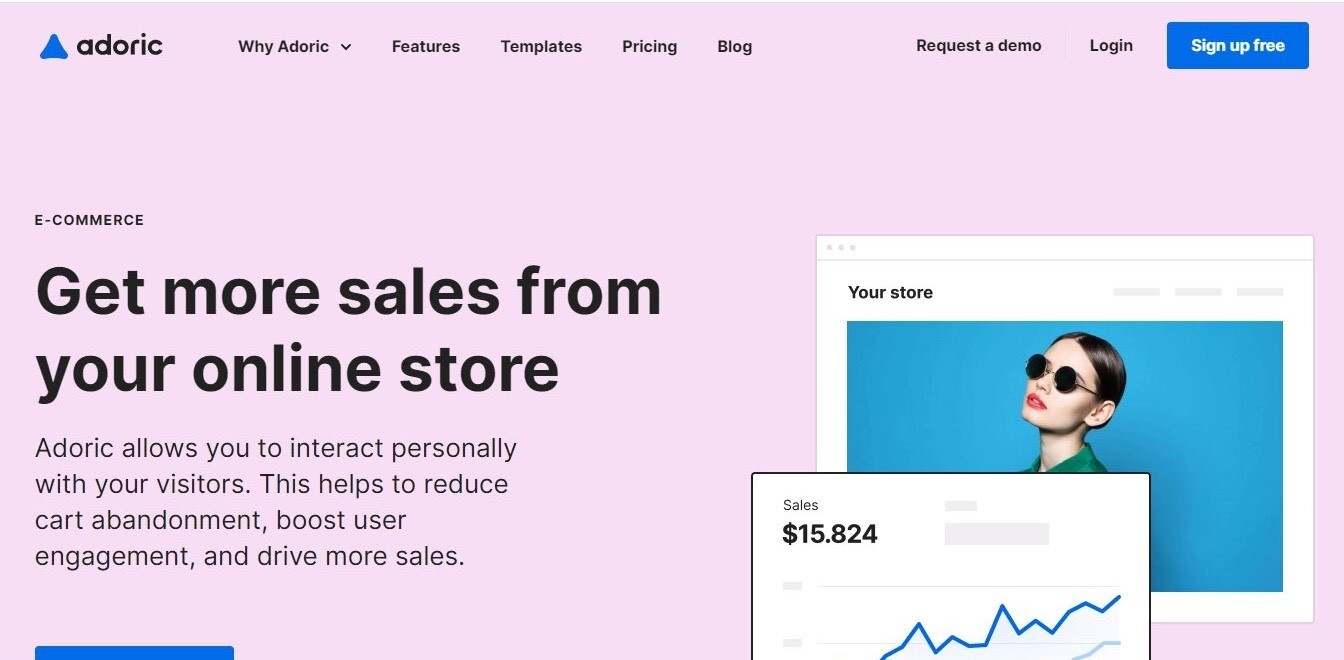 Adoric is a WordPress plugin you can use to enhance your WooCommerce website. It allows you to deliver a personalized shopping experience to your visitors through popups.
With Adoric, you can give personalized product recommendations, reduce cart abandonment, and build your mailing list.
Its built-in graphics editor allows you to create popups from scratch that align with your brand style, or choose from an array of popup templates and edit as you like.
You also get to A/B test your campaigns to see which version will give you more conversions.
It also has a dedicated support team ready to help you out with any issues you may have.
4. Popupally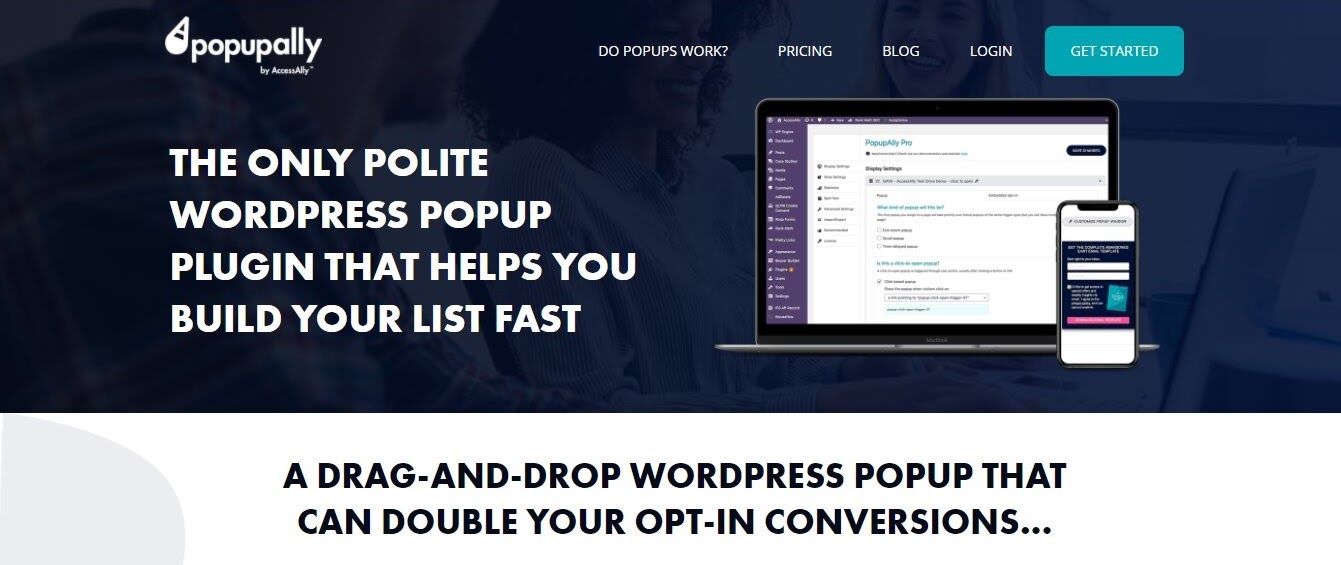 Popupally is a good plugin for building an email list with popups that can be customized and timed.
The Popupally Pro version costs $99 per month. At this price, you'll get an unlimited amount of popups, opt-ins, and a host of other features. It also comes with a 30-day money-back guarantee.
5. OptinMonster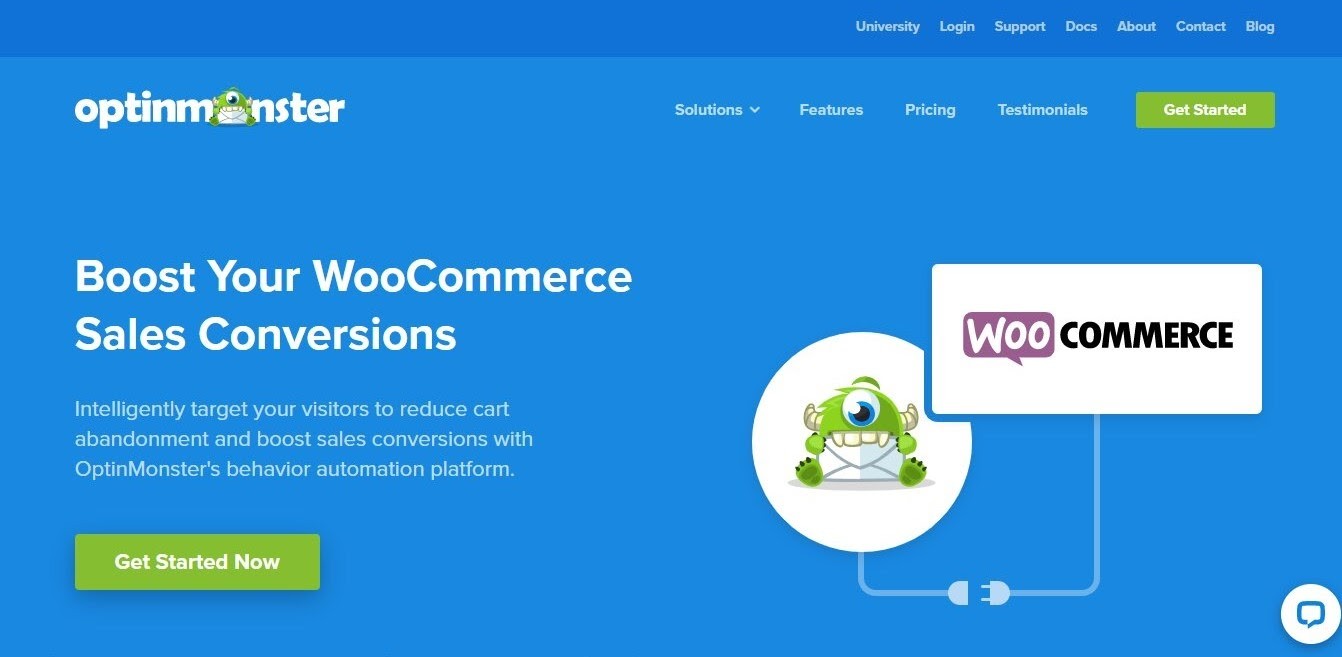 OptinMonster is a plugin that helps you to convert visitors into actual paying customers through popups.
It provides features that help to optimize your website's conversion funnel, reduce cart abandonment, etc. It does all these by creating personalized messages that your visitors can easily engage with.
OptinMonster also enables you to grow your email list with opt-in forms.
6. WooCommerce Product Addon: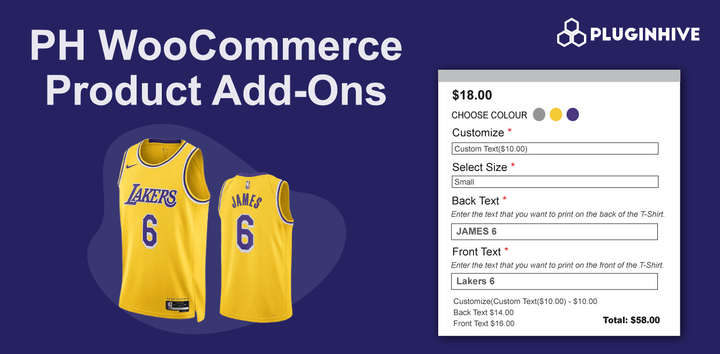 The WooCommerce Product Addon by PluginHive is a powerful plugin for WooCommerce stores, allowing easy creation and sale of customizable products. 
With various control options like checkboxes, radio buttons, dropdown menus, and color pickers, customers can personalize items before ordering, enhancing their shopping experience. This addon offers endless customization possibilities, including pricing and conditional logic, making it essential for WooCommerce merchants.
Its pricing plan starts from $49 per year and it offers a 30-day money-back guarantee.
WooCommerce Plugins for Social Proof
7. TrustPulse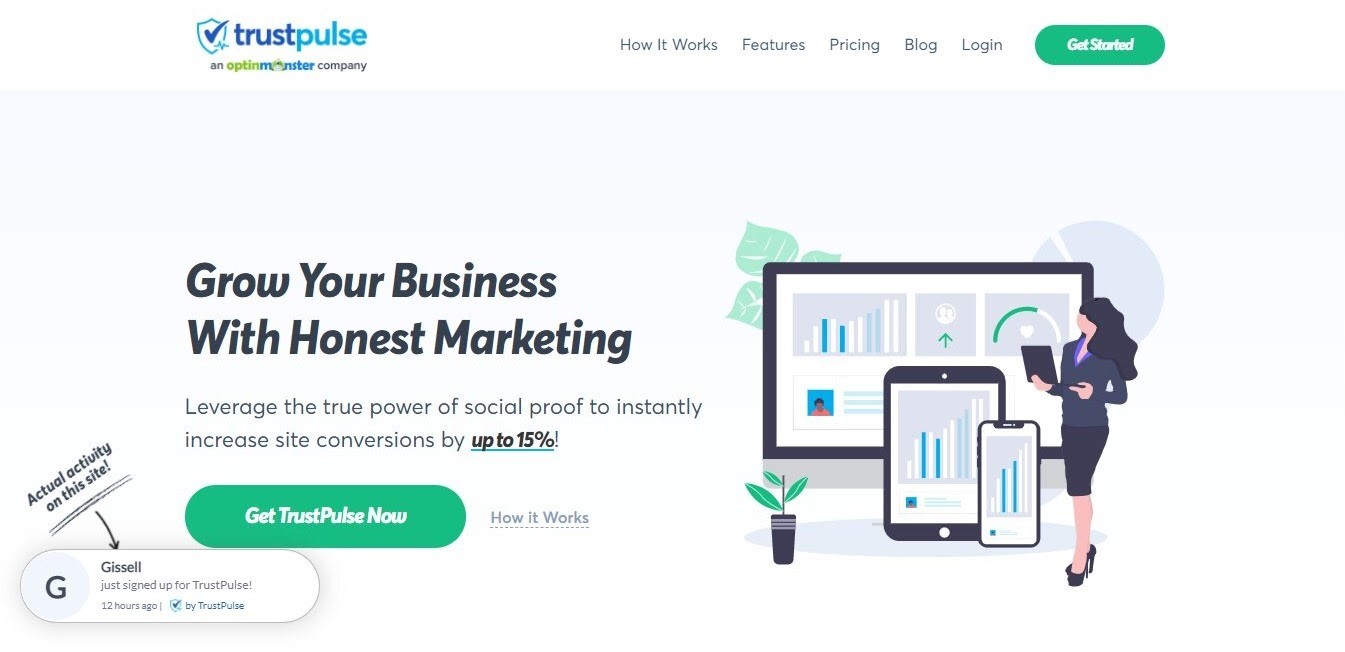 One way to increase your conversion rate is by getting your audience to trust your brand. TrustPulse helps you do this by providing you with social proof on your WooCommerce website.
Social proof refers to recommendations or reviews from people who have bought your products or services at one time or the other.
It offers real-time tracking of customers' activity, smart targeting, and customization. Its subscription plans range from $5 to $39 per month.
8. Customer Reviews Plugin

Nothing beats an honest customer review. Customer Reviews is another WooCommerce plugin that helps to generate authentic social proof.
It does this by letting you set up emails and send them to customers who already made a purchase and encouraging them to leave a review on your website.
The pro version of this plugin allows customers to embed videos and pictures into the reviews they leave on your website. What's more, you are at liberty to set the maximum number of reviews a product can get.
Customer Reviews Pro offers a 30-day money-back guarantee and has a starting price of about $8 a month.
WooCommerce Plugins for Email Marketing
9. Omnisend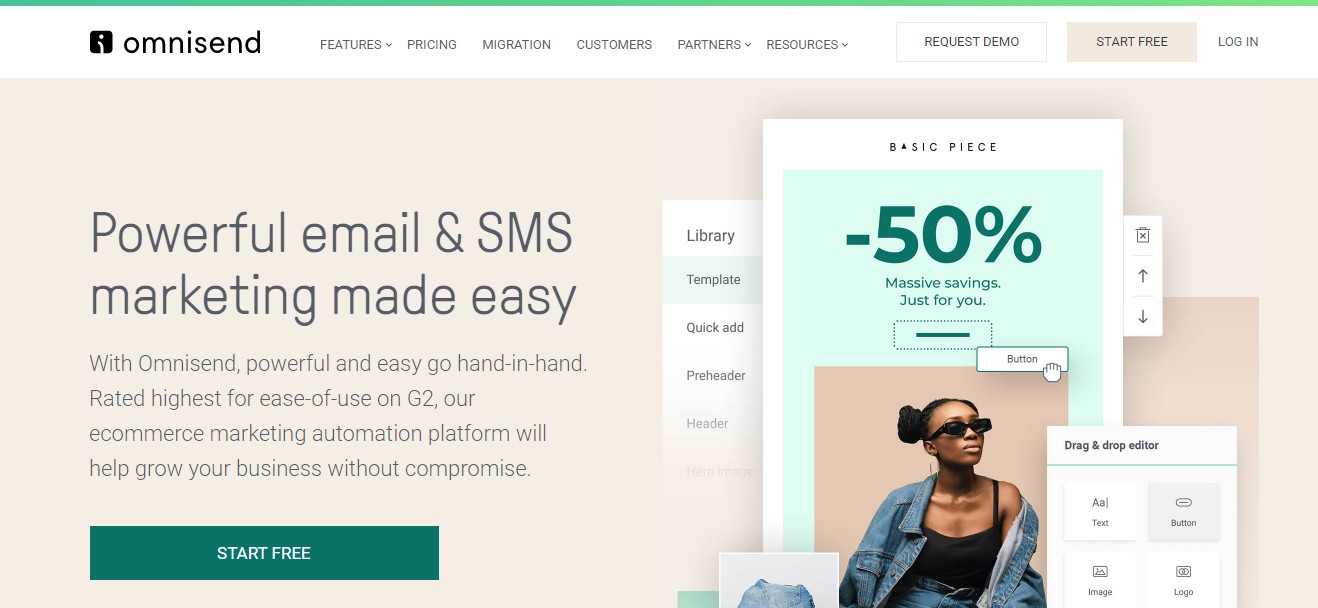 True to its name, Omnisend is one WooCommerce plugin you can use to give your customers an unforgettable omnichannel shopping experience.
Omnisend allows you to personalize your messaging to connect with your customers on a personal level.
On top of that, it comes with a drag-and-drop automation workflow, making it easy for you to customize your marketing workflow.
What's more, Omnisend is packed with dozens of email templates and a drag-and-drop editor, thus saving you the trouble of building a stunning email from scratch.
As for pricing, you can use Omnisend for free if you have 250 contacts or less. You'd have to upgrade to the Standard ($16/month) or Pro ($59/month) plans if you have more.
10. Constant Contact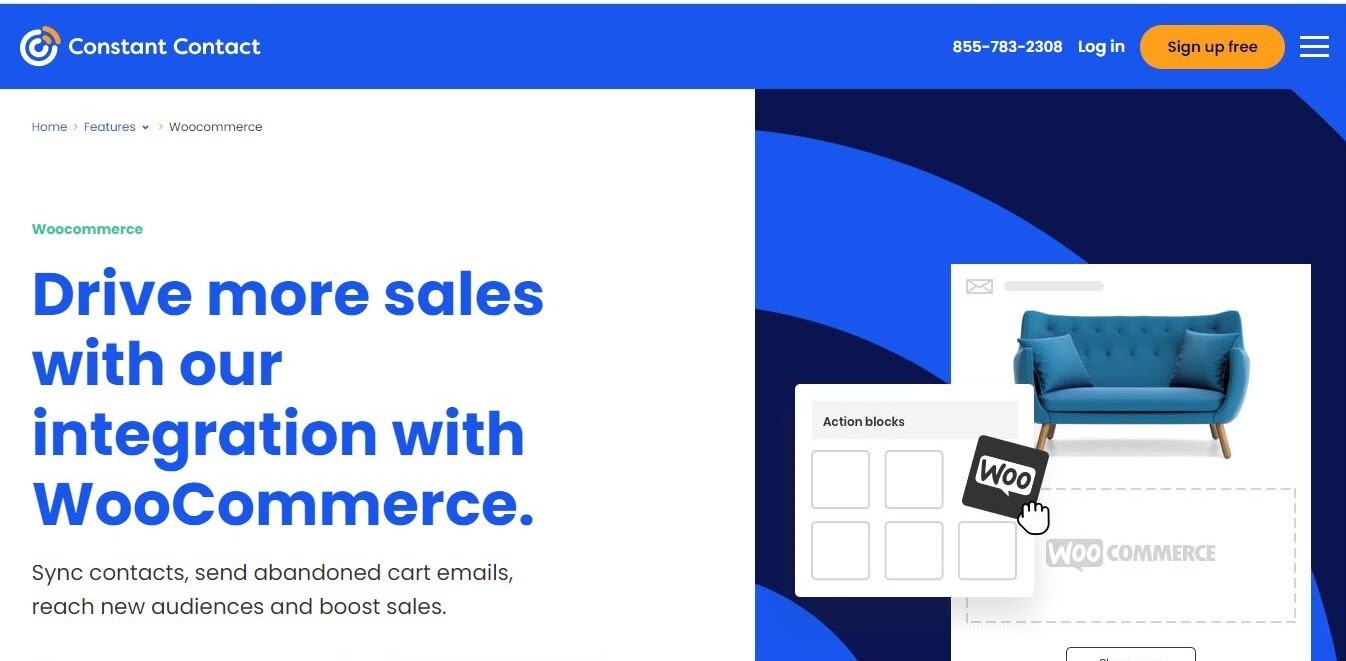 This is an effective email marketing WooCommerce plugin that makes it possible to engage customers by reaching them directly via their emails.
Constant Contact's specialized email tool provides you with free email templates and user-friendly editing tools. With its analytic tool, you can track your store's performance in real-time.
It also makes it easy to upload products to your WooCommerce store and use Google Ads.
Constant Contact offers a free trial that lasts a month and its pricing plan starts at $20 per month. Do bear in mind that pricing is largely dependent on the number of subscribers you have on your list.
11. WP Mail SMTP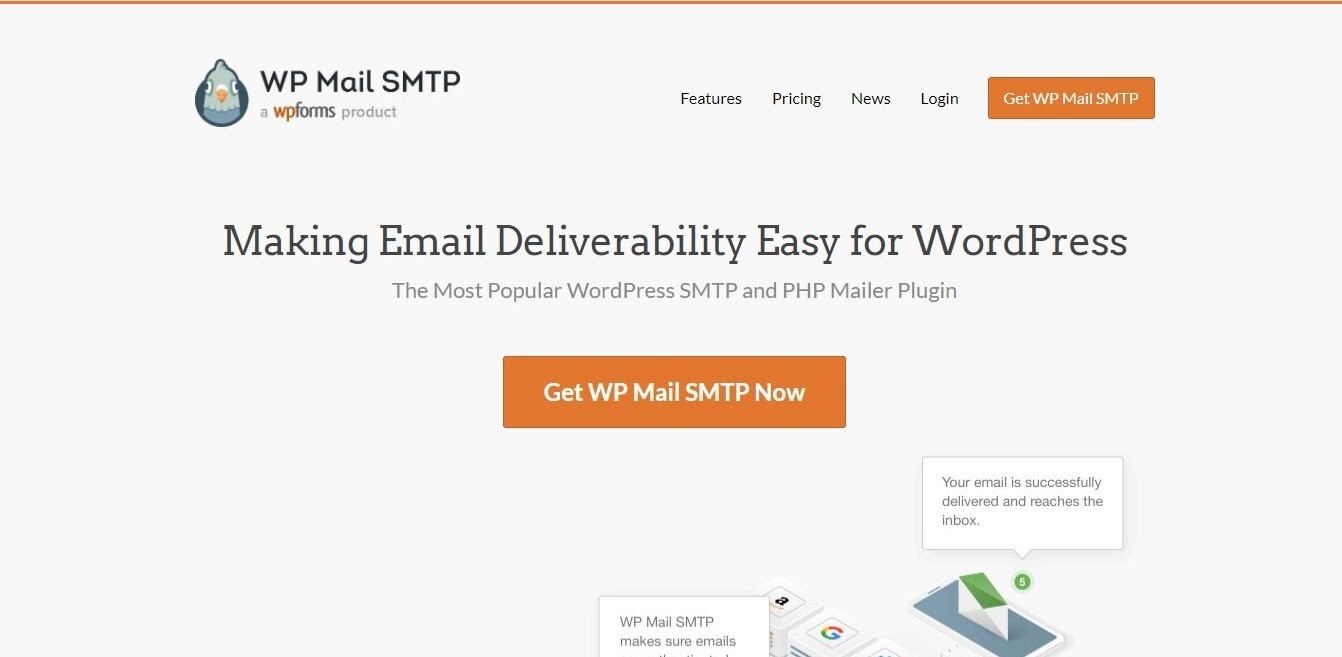 Worried that your emails are not getting delivered to your customers' inboxes? Turn to WP Mail SMTP for help.
How does it work? It simply reconfigures your online store to use an industry-standard authentication called SMTP or Standard Mail Transfer Protocol server to deliver your emails.
WP Mail SMTP is available as a free WooCommerce plugin with its Pro version starting at $49 per year.
12. MailChimp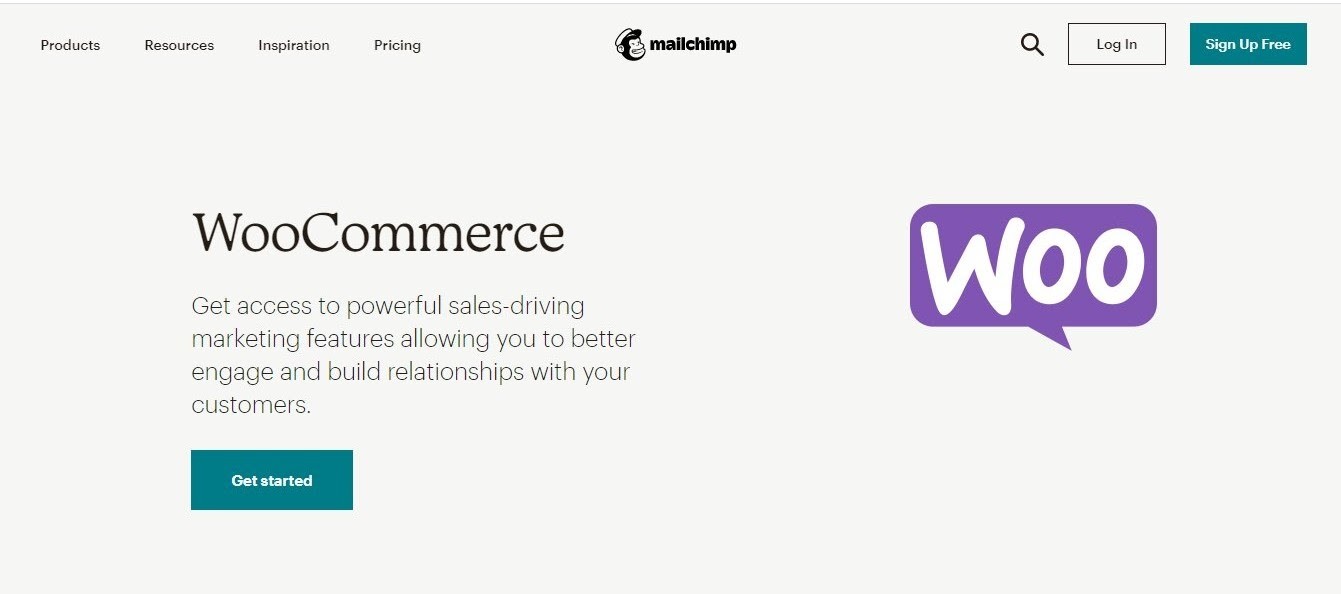 MailChimp's features easily make it one of the best email marketing plugins.
It comes with audience management tools that help you retain existing customers and keep them engaged via an automated mailing system.
MailChimp offers a free plan while its paid plans range from $9 to $299 a month.
13. Kadence WP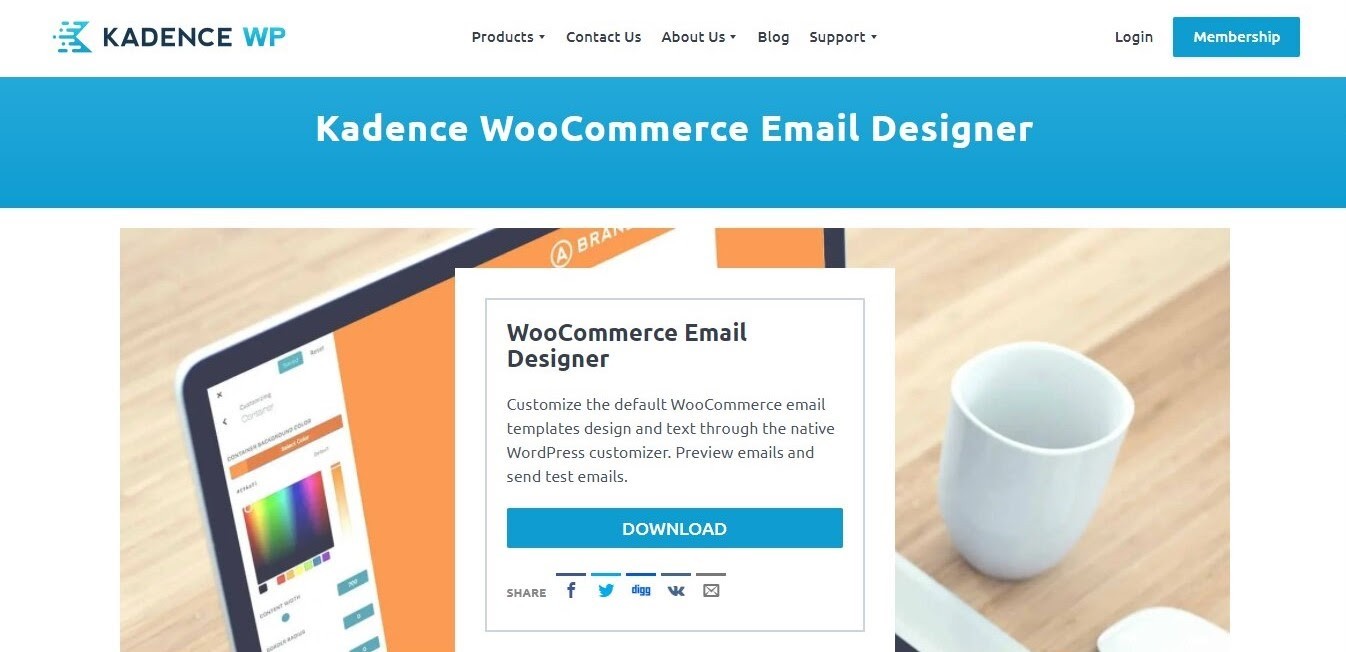 By now, you probably know that email marketing is essential to the growth of your business. However, it is one thing to be able to send emails to customers and another thing to send catchy, attention-grabbing emails that get read.
Kadence WP is a WooCommerce plugin that helps with this. It makes it easy for you to customize your emails according to your brand style or any other design you want and preview before sending them off.
14. SendinBlue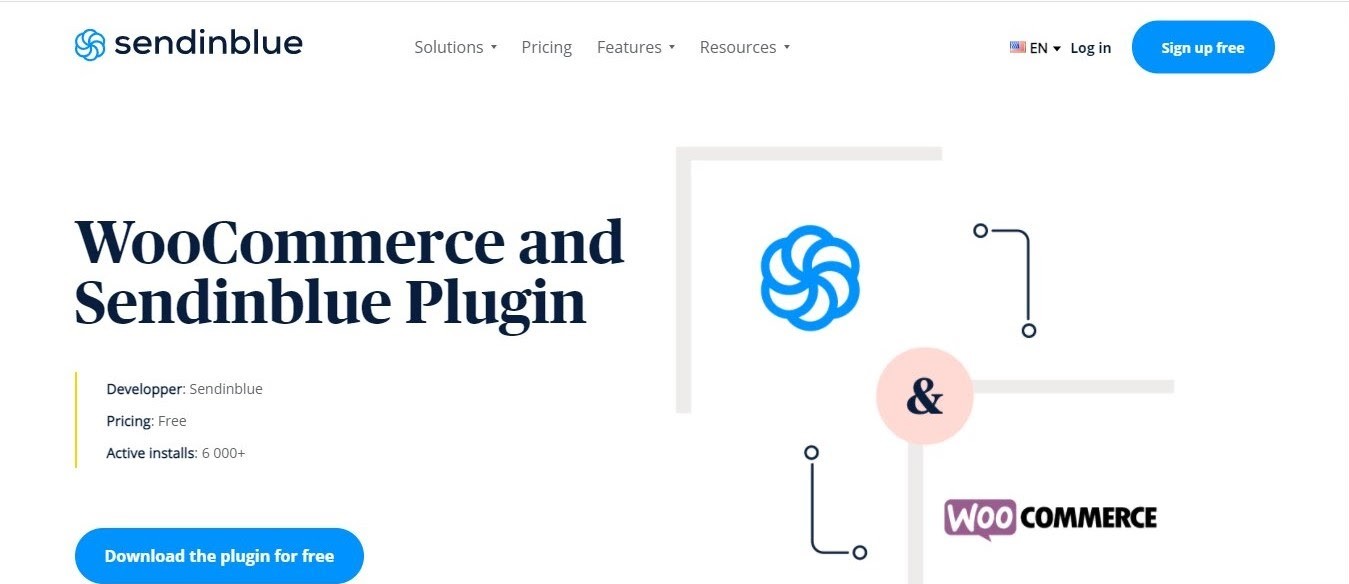 SendinBlue is an email marketing plugin that helps you automate sending of emails. It is an easy-to-use platform that helps you reach your customers via emails and SMS.
With SendinBlue, you also get to manage and segment your mailing list easily and automatically. It also provides you with features to do the following:
Build engaging landing pages,
An automatic sign-up form to enable interaction with new visitors
Retarget online visitors on other websites.
Create campaigns, set conditions, and track performance for your Facebook ads.
SendinBlue is a handy toolbox for your WooCommerce site. It offers a free version with a limit on daily emails and a starting price of $25 per month.
WooCommerce Plugins for Customer Rewards
15. First Order Discount
This plugin makes it possible to offer discounted prices to your customers on their first order. Because incentives are a great way to increase conversion rates, First Order Discount for WooCommerce is a good way to increase your sales.
This plugin makes it possible to control the minimum amount your visitors should spend to be eligible for a discount.
Its Pro version provides additional features that allow you to run a promotion for a specific category of products, offer a range of products for customers to choose from, and show interactive shopping progress to customers.
The limited version is free.
16. WooCommerce Points & Rewards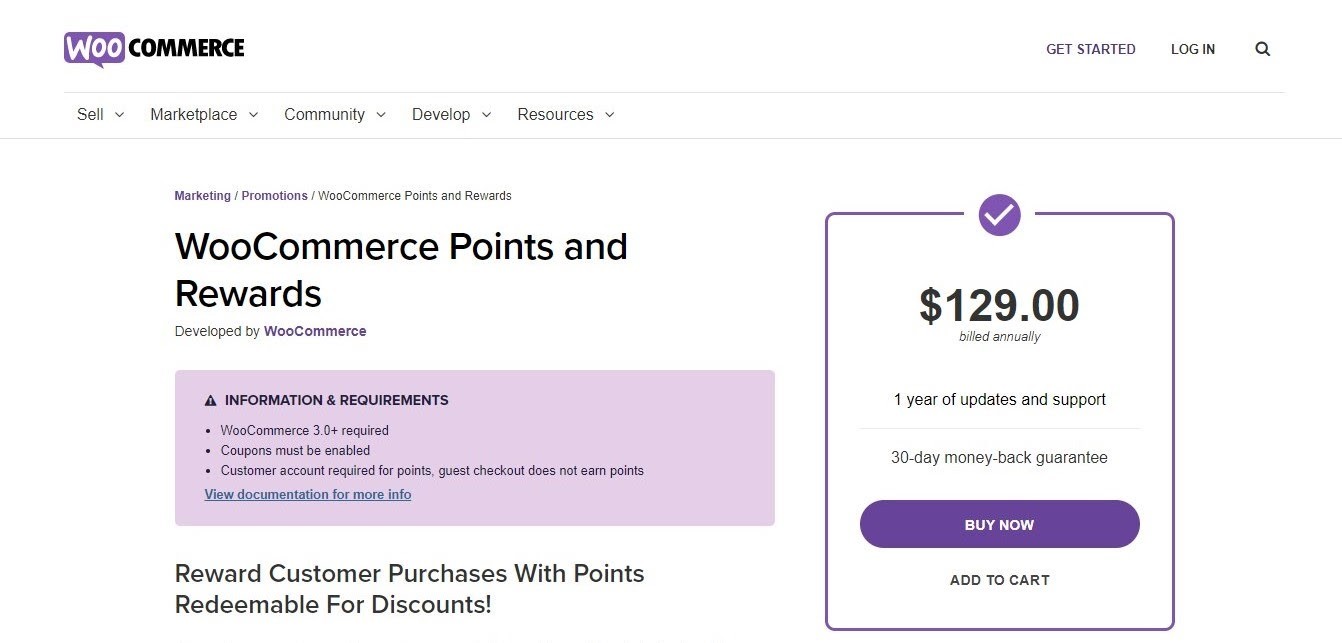 Everyone loves rewards. It can motivate your customers to make purchases and keep them loyal to your brand.
WooCommerce Point and Rewards helps you to reward your customers with points for purchasing products and/or other actions they perform on your website.
These points can be redeemed and used on their next purchase on your website.
Using this plugin can increase your conversion rates and increase your sales significantly.
WooCommerce Points and Rewards offers you a 30-day guarantee while paid plans start at $129 per year.
17. Advanced Coupons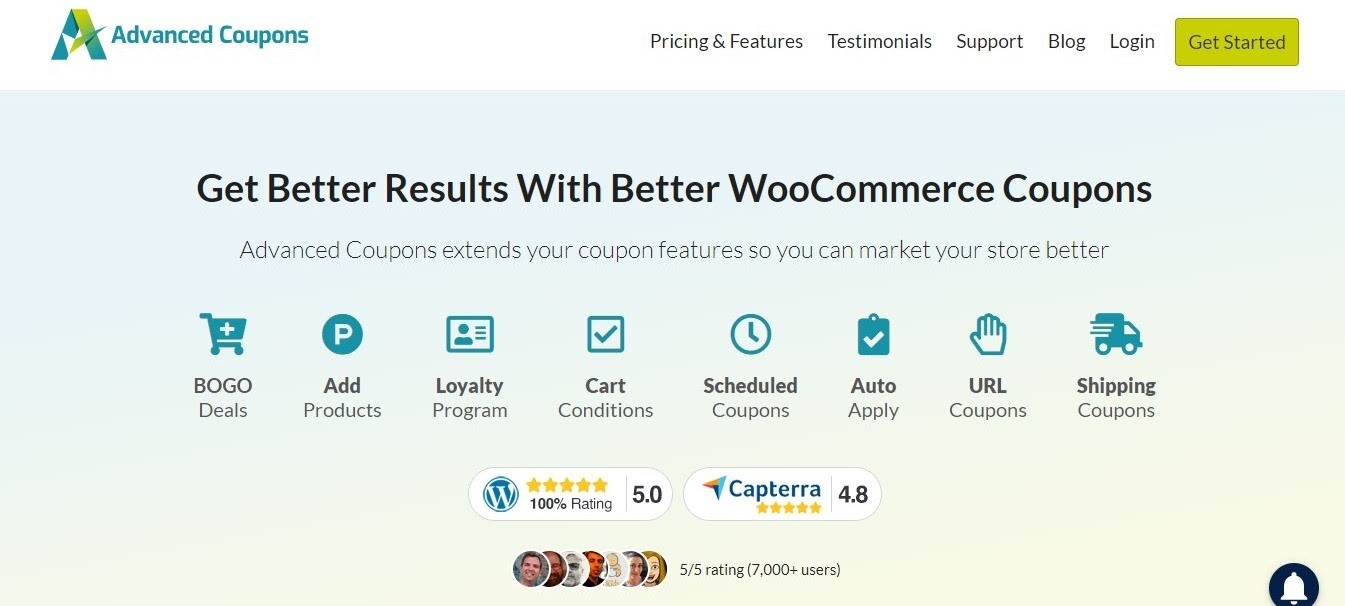 Advanced Coupon helps you to extend the original WooCommerce coupon feature. This plugin helps you award coupons to attract new visitors, boosts loyalty among existing customers, and consequently increases conversion.
With this plugin, you can offer your customers Buy One Get One (BOGO) deals. It also has a feature with which you can schedule the expiration date of a coupon.
Its starting price stands at $79 per annum.
18. RafflePress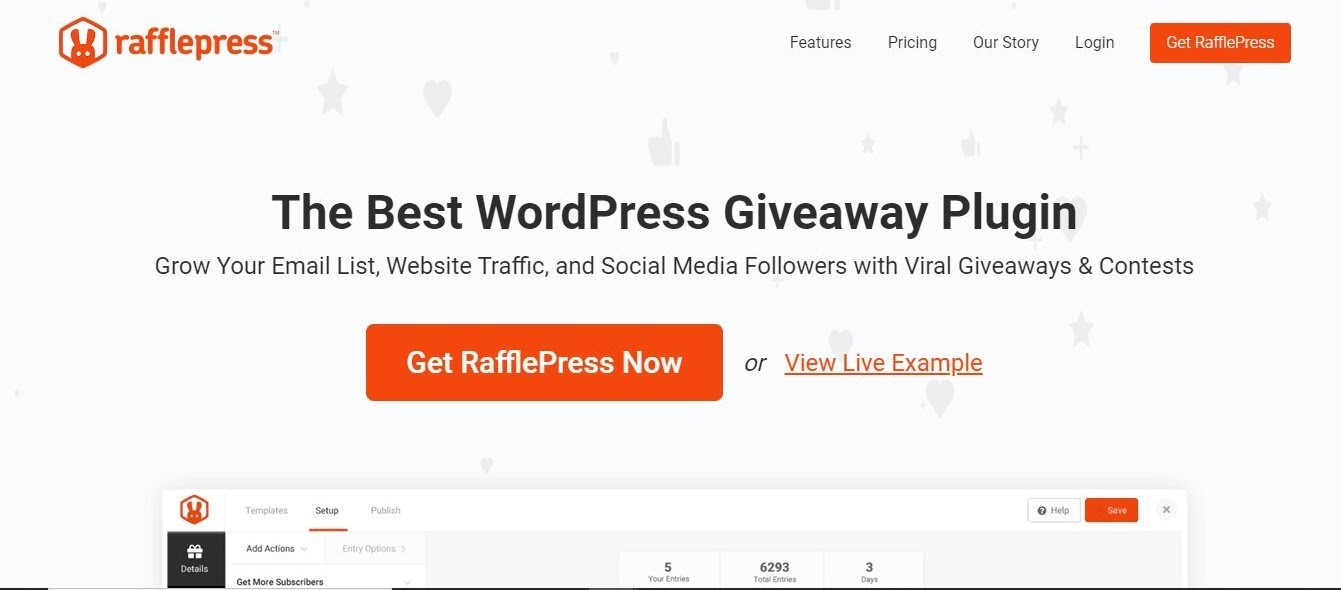 Putting up contests on your website is an effective way to improve engagement. RafflePress is a plugin that adds this feature to your WooCommerce store.
With RafflePress, you can set up giveaway contests using various templates.
Worried about your website's security and safety? RafflePress has got you covered, thanks to its advanced security features.
Its subscription plans range from $49 to $449.
19. WooCommerce Smart Coupons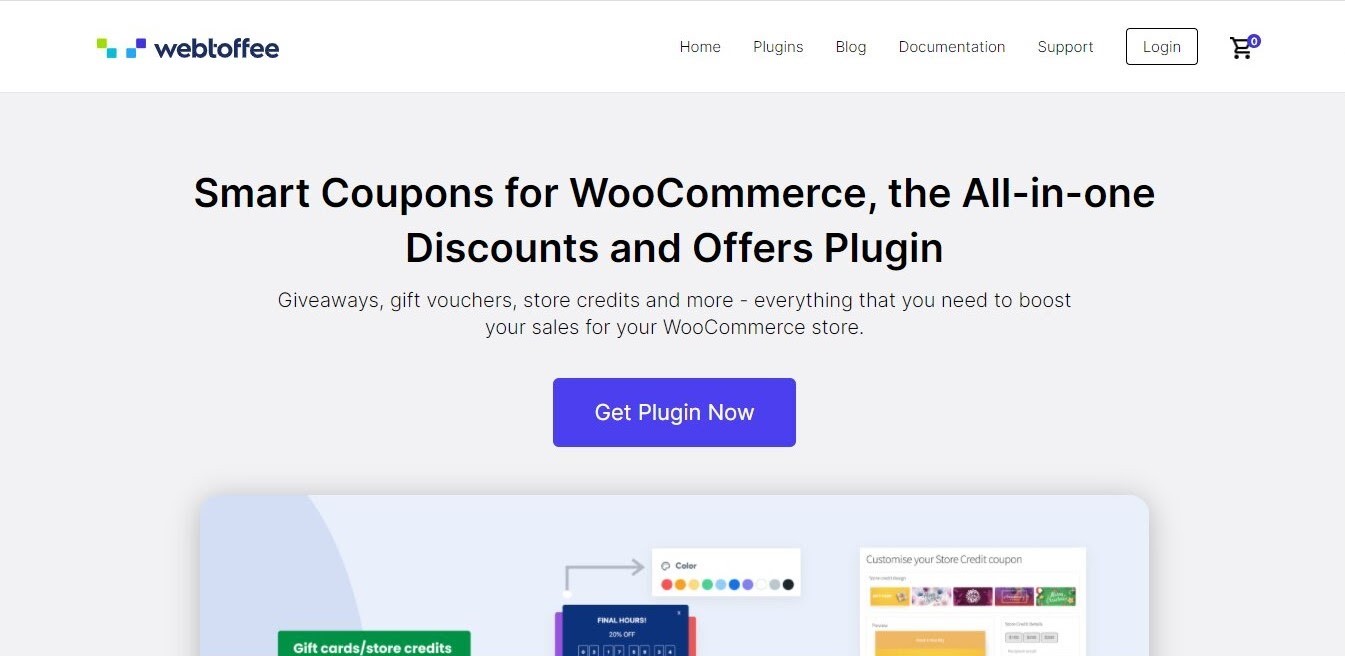 Another good coupon plugin for your WooCommerce is the Smart Coupons Plugin by WebToffee. This plugin makes it easy to improve and optimize your sales funnel by providing coupons and special offers for your visitors.
You can also use Smart Coupons to create instant vouchers for your customers. You also get added features that allow you to create coupons in bulk, create and sell gift cards, add a countdown feature to create urgency among your visitors, and some more.
20. WooCommerce Dynamic Pricing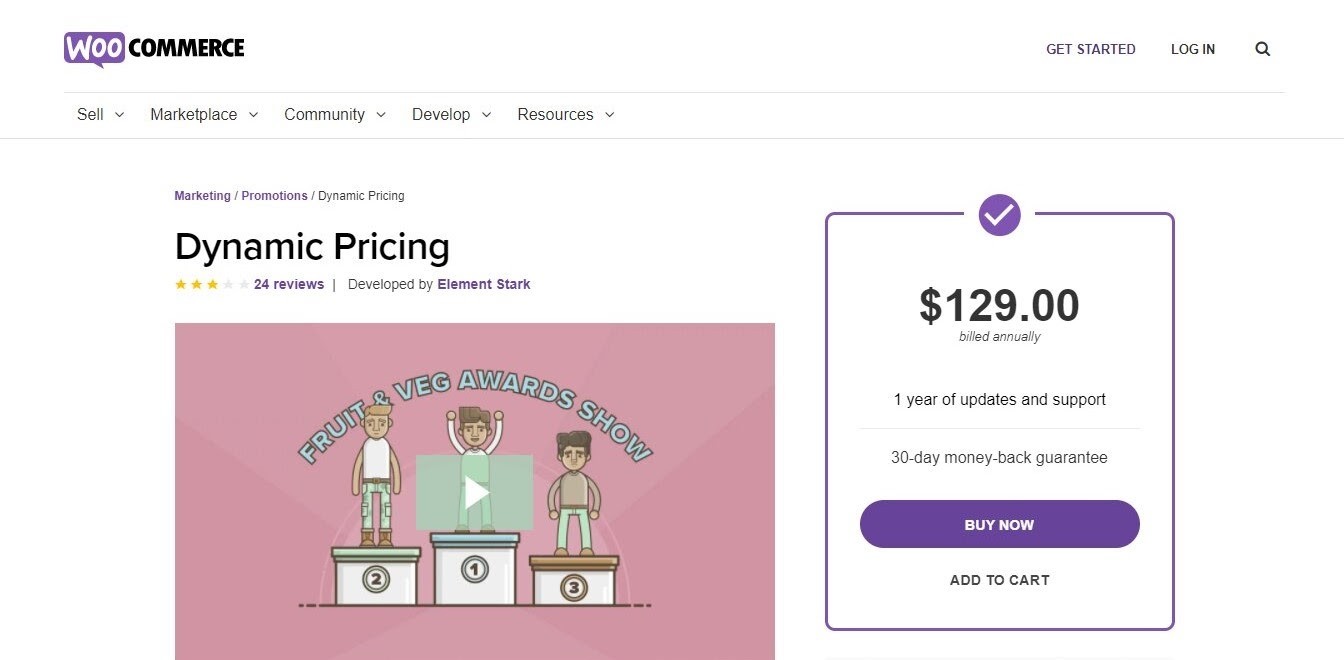 Dynamic Pricing is another plugin that makes it possible for you to offer your customers coupons for the purchase of a certain number of products.
With this plugin, you can set up rules for applying coupons on all purchases with ease. A typical rule would be to offer a Laptop carrying case at a 10% discount if a customer purchases 1 or more items from the Laptop category.
Its pricing plan starts from $129 per year and it offers a 30-day money-back guarantee.
WooCommerce Plugins for Customization
21. WooCommerce Customizer

WooCommerce Customizer is a premium WooCommerce plugin used to customize and manage elements on a WooCommerce site. You can customize your WooCommerce website without using any plugins, though.
However, to do so, you would have to make edits to your website's codebase- a definite no-no if you aren't tech-savvy, else you might break your website.
This plugin provides features and settings that allow you to customize things like Add To Cart button text, store notices, sales badge text, among others. Plus, you don't need any coding skills to use this plugin.
What's more, it's free!
22. StoreCustomizer
StoreCustomizer is another WooCommerce store customizer that doesn't require you to have any coding knowledge. It offers many features to improve your WooCommerce site engagement and user experience.
This plugin provides you with tools to edit elements of your web pages, useful statistics on your product sales, among other features.
Its starting price currently stands at $49 per year.
23. Woo Badge Designer

Woo Badge Designer helps you to customize and add badges to your WooCommerce website.
It adds and customizes text, labels, and product images. Its features make it easy to insert badges for discounts, sales, offers, and other purposes.
With Woo Badge designer, you can create an unlimited number of badges. It also provides countdown timer labels to create urgency with your customers.
Its current offer price stands at $17.
24. Custom Product Tabs for WooCommerce

Custom Product Tabs for WooCommerce is a free plugin that makes it easy for you to add tabs to individual products.
These added tabs may contain images and can be edited, deleted, rearranged, and added to multiple products. This plugin is nice to create tabs that will augment the default description tab.
Custom Product Tabs Pro version offers prices that range from $29.99 to $119.99.
WooCommerce Plugins to Improve Customer Experience
25. YITH WooCommerce Ajax Search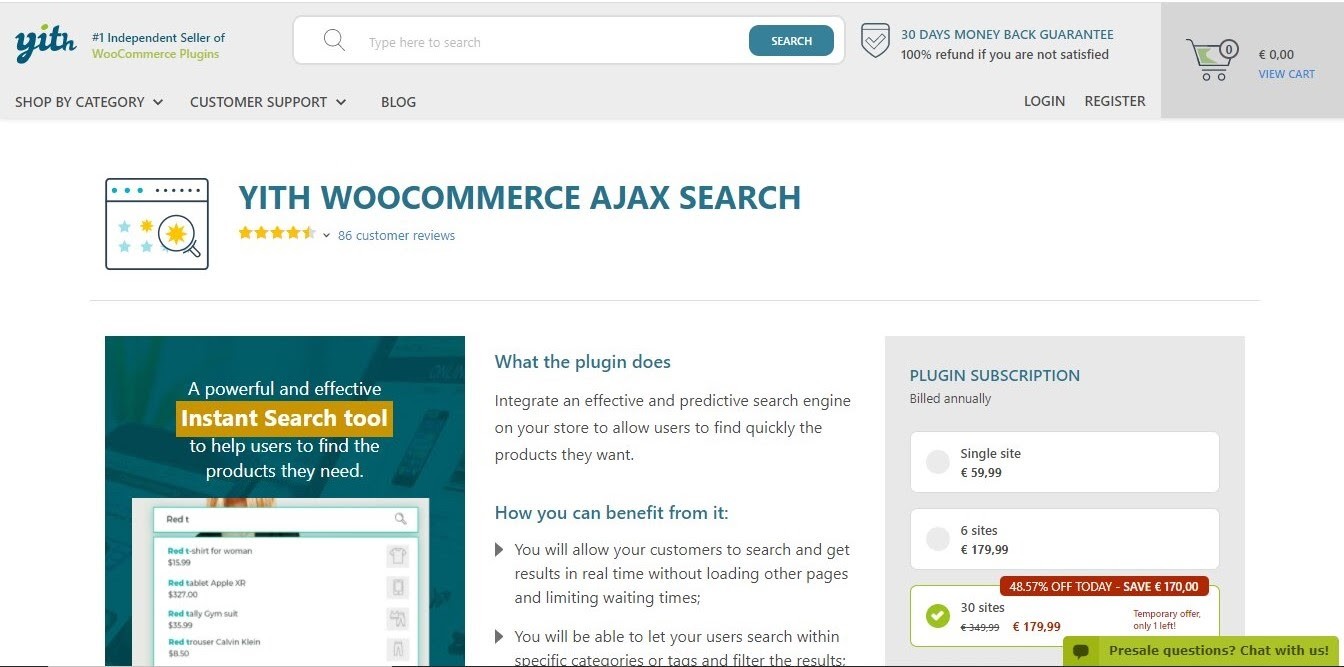 Search bars are one of the most important features of a WooCommerce website. It helps visitors to discover products and services of interest. So, you want to make sure that your search bar is fully functional and efficient.
YITH WooCommerce Ajax Search is a plugin that makes it possible to create a powerful search bar on your WooCommerce store. It runs on a powerful algorithm that is capable of finding whatever a customer searches for in a matter of seconds.
YITH WooCommerce Ajax Search charges annually at the rate of $59.99 for a single site, $179.99 for 6 sites, and $349.99 for 30 sites.
26. WooCommerce Stripe ACH Gateway

WooCommerce Stripe ACH Gateway is a payment gateway plugin that makes it easy to accept payment on WooCommerce sites via direct e-banking transfer. It is a fast, easy and secure transaction plugin with little charges for transactions.
27. WooCommerce Product Variations Swatches

Product Variations Swatches WooCommerce plugin makes it easy for your visitors to quickly browse through products via images, color, and labels. It also enables your products to load quickly.
This improves customers' experience and eliminates the time spent searching for variations of a particular product. The swatches can also be customized to enable professional personalization of your WooCommerce store.
Its starting price is an annual fee of $99.
28. Sticky Mini Cart for WooCommerce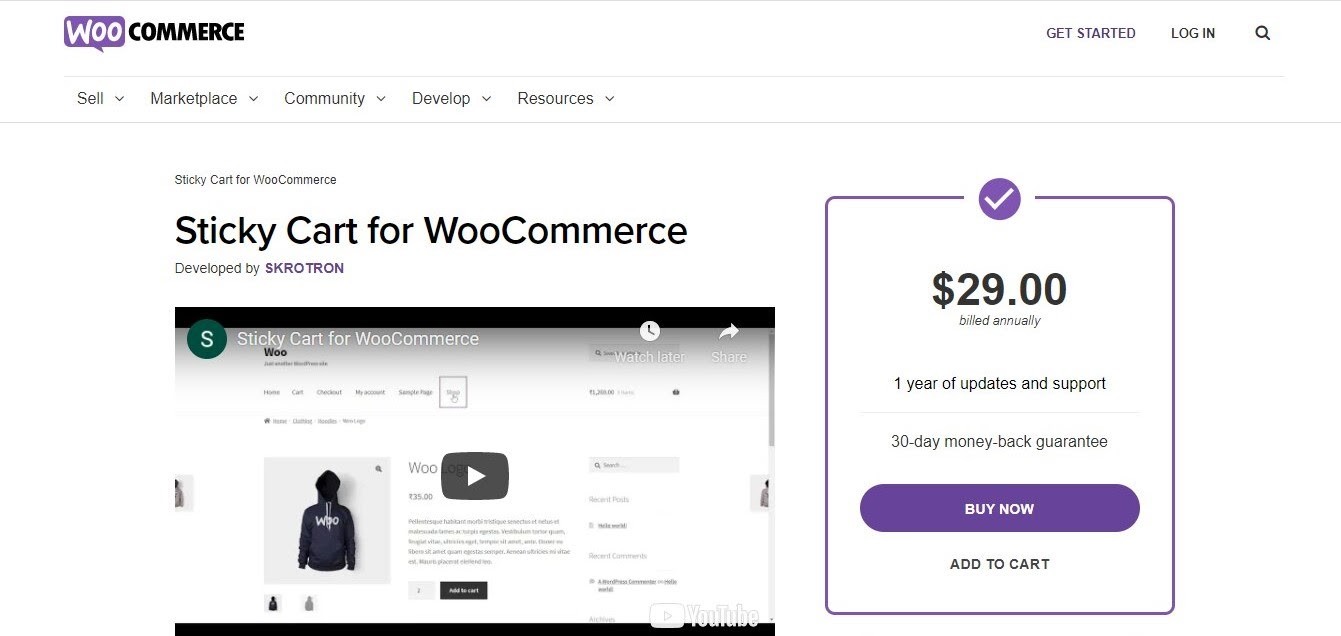 Sticky Mini Cart is a premium WooCommerce plugin that lets customers view the items for purchase in their cart without having to use the checkout section.
This plugin allows visitors to add items to their cart with an Add To Cart feature that appears as they scroll along your product pages. Hence, increasing the chances that your visitors will make purchases.
Its licensed version costs $15.
29. Checkout Field Editor

Checkout Field Editor is a WooCommerce plugin used to customize and control the look of your checkout section. It makes it possible to easily add, delete and arrange the elements on your checkout page.
Its plan costs $49 annually and it offers a 30-day money-back guarantee.
30. YITH WooCommerce Brands Add-ons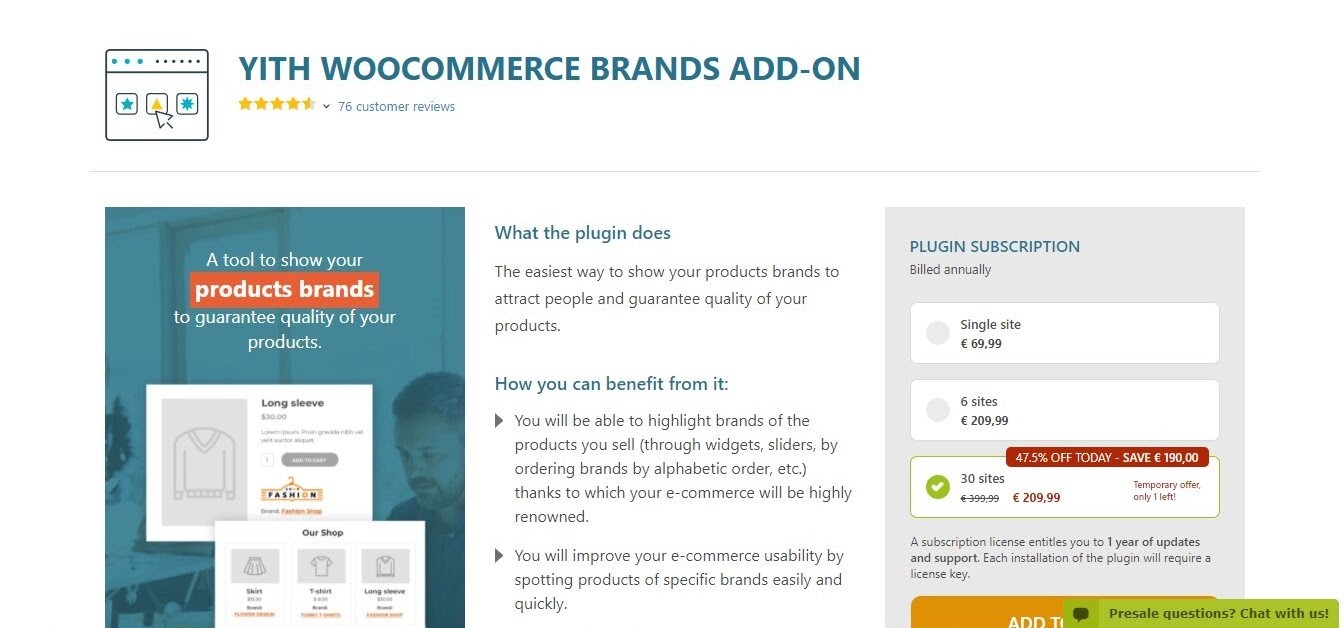 This plugin makes it possible to show the brands of the products available in your store in widgets. These widgets appear as graphical elements of your webpage.
Your visitors can click on them to access products of a particular brand as long as they are available on your store.
Displaying these brands will act as a guarantee of quality to your customers. This will give them the reassurance they need to make purchases on your website.
One obvious perk of this plugin is that your customers will find it easy to find their favorite brands in your store.
YITH Woocommerce Brands Add-ons plugin subscriptions fee costs €69.99 for a single sure, €209.99 for 6 sites, and €399.99 for 30 sites.
31. Weglot Translation Plugin

Weglot Translation Plugin allows you to create and manage your website in multiple languages. It offers a completely simple and automatic translation solution in over 100 languages.
It offers a free trial for new users. Its starter plan is at €99 per year for 10,000 words and 1 translated language while its enterprise plan costs €4,990 and provides advanced features.
WooCommerce Plugins for Managing Orders
32. Order Delivery Date for WooCommerce

Do you like it when your order gets delivered at an inconvenient time? You don't, most certainly. And neither do your customers. This is where the Order Delivery Date plugin comes in.
It is a free WooCommerce plugin that provides a better customer experience by letting your customers choose a convenient date for the delivery of the orders they place on your WooCommerce website.
You'll be able to regulate the delivery plans by configuring the dates for deliveries. It makes the whole delivery process easier and almost hitch-free.
33. Smart Orders Manager and Statistics for WooCommerce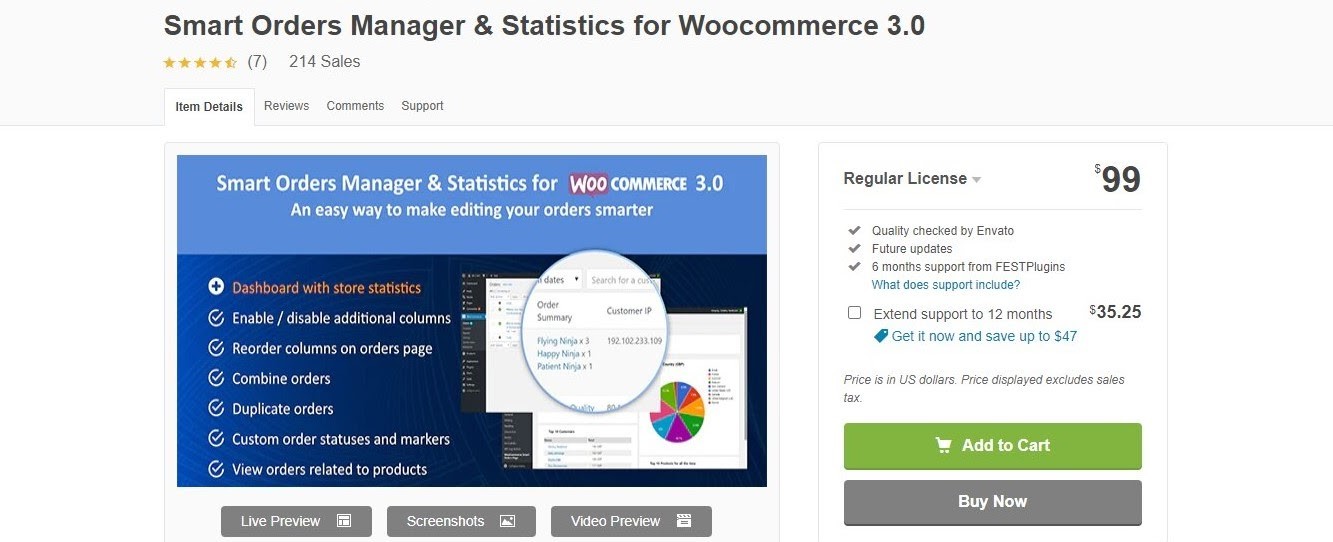 Smart Orders Manager and Statistics for WooCommerce is another plugin designed to improve the order process.
Although WooCommerce has an order process, this plugin provides advanced features that allow you to mark and merge orders. This way, you'll be able to send packages to one address and set conditions for custom orders.
It also provides you with a dashboard that displays useful statistics about your WooCommerce store.
Other WooCommerce Plugins
34. AutomateWoo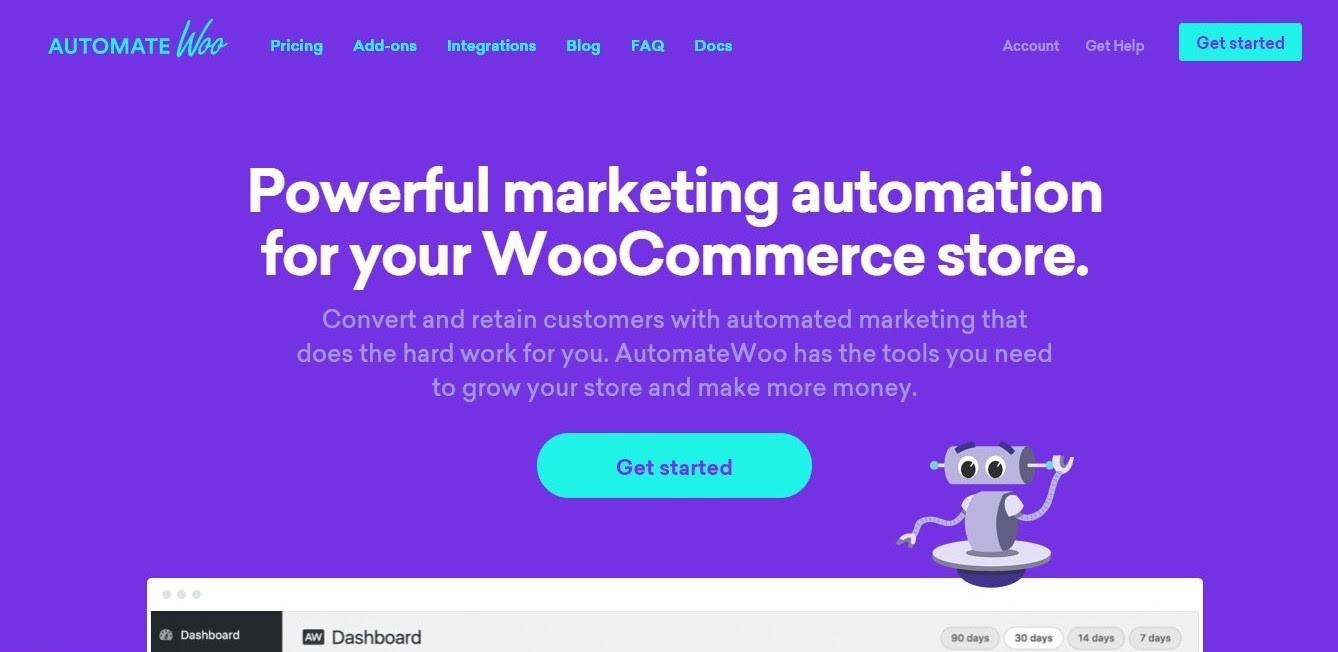 If you are looking to grow your WooCommerce site, AutomateWoo can do this for you. Its features make communication easy by letting you send SMS and emails to customers. This also helps you reduce cart abandonment among your visitors.
AutomateWoo also provides features that allow you to reward your customers with coupons.
Its subscription plan goes for as low as $99 per year.
35. Beeketing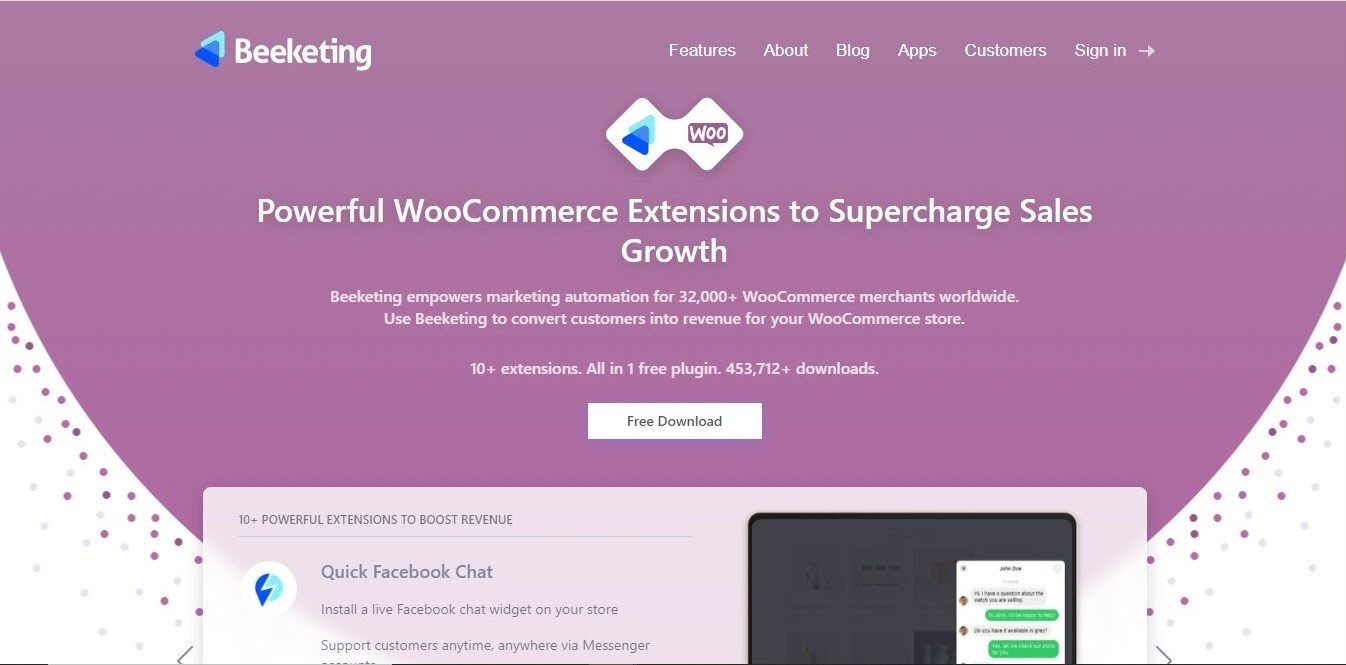 Beeketing was built for businesses – small and large alike – looking to increase their WooCommerce website's conversion rate.
It helps you optimize your eCommerce website conversion funnel to increase sales. It does this by providing you with over 10 built-in features called "apps" to use on your website.
These apps or features help to track and analyze customer behavior, create popups, automate your email marketing, and so on.
Its prices vary for each subscription plan.
36. MonsterInsights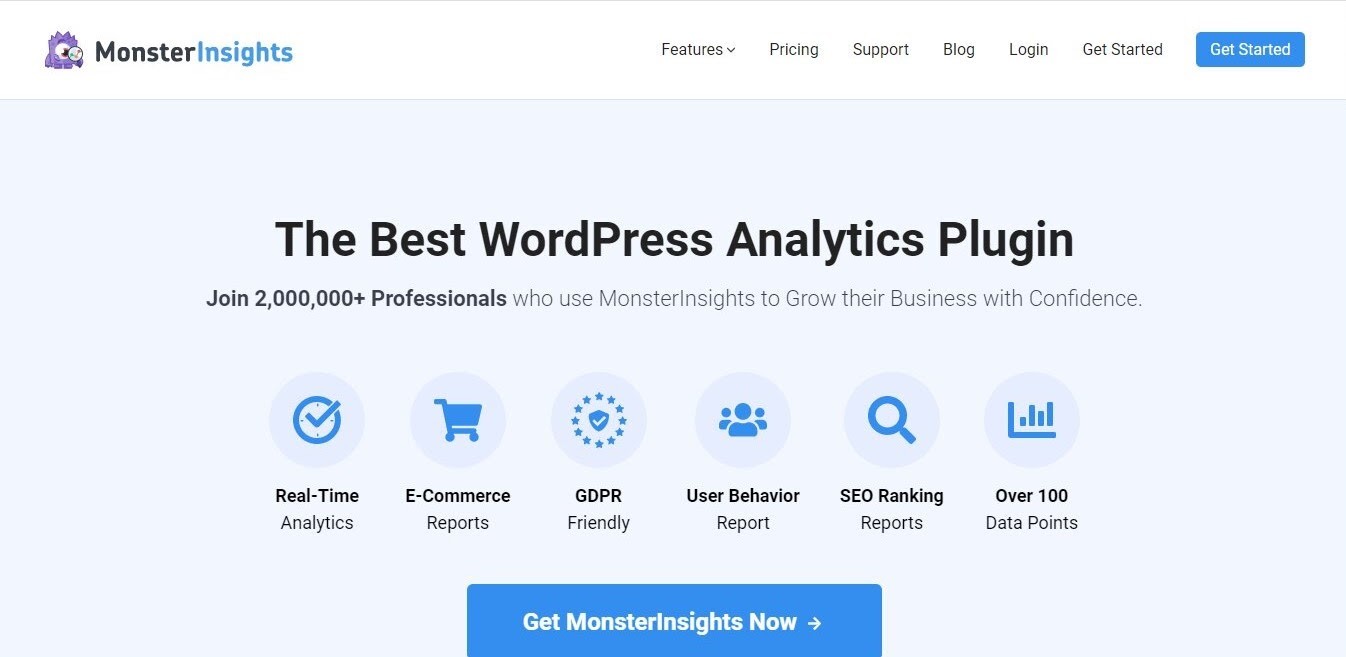 An in-depth analysis of your online store will show you how your audience engages with certain elements on your website. This will in turn help you make better decisions for your online store.
MonsterInsight is a Google Analytics plugin that helps you optimize your WooCommerce store. With this plugin, you can keep track of important metrics such as click-through, bounce, and conversion rate on your WooCommerce website.
With this plugin integrated into your store, you'll get real-time reports on user behavior. These reports, together with your ranking on search engines will be displayed on an intuitive dashboard.
As for its pricing plan, the cheapest is a $399 annual fee.
37. TI WooCommerce Wishlist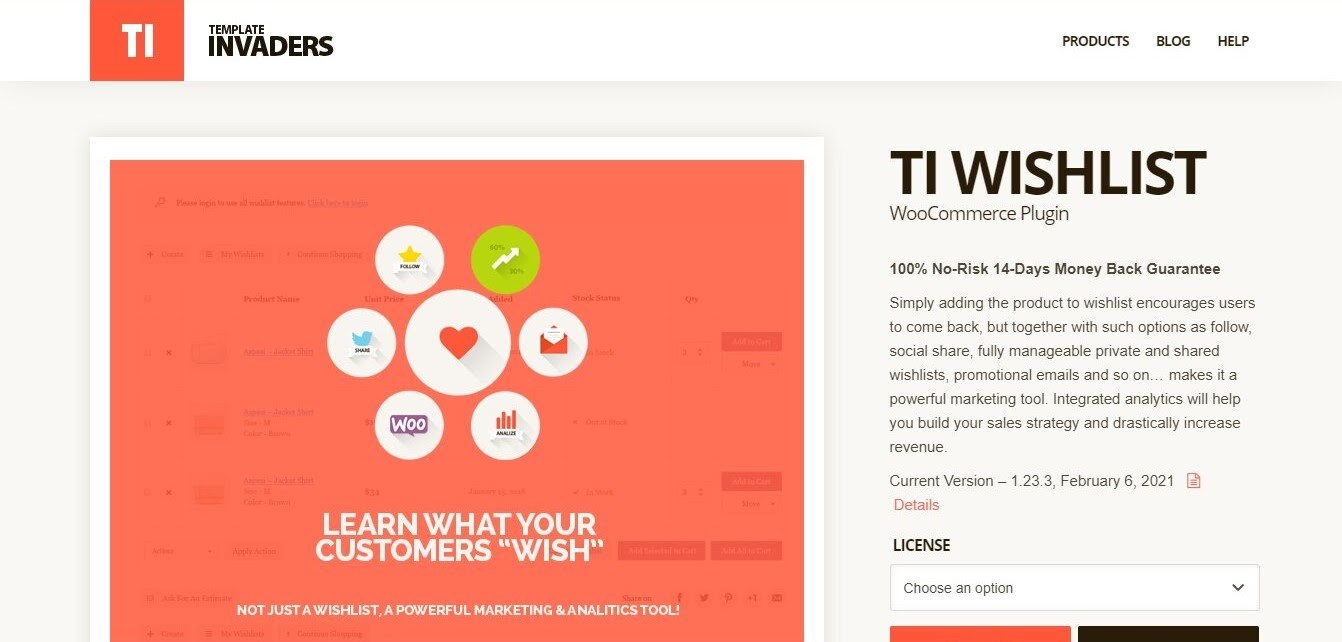 TI WooCommerce Wishlist is a free WooCommerce plugin that is dedicated to helping eCommerce sites optimize their sales funnel for better conversion.
One key feature of this plugin is that it enables your visitors to save an item to a wishlist to be bought later.
It also enables them to share the contents of their wishlist with friends and family. This, in turn, encourages them to visit the website. If you haven't guessed already, this will lead to an increase in brand awareness for you.
38. ELEX WooCommerce Catalog Feed for Facebook & Instagram
The ELEX WooCommerce Catalog Feed Plugin for Facebook & Instagram may be the solution if you want to run sponsored ads on Facebook and Instagram but are hesitant to do so since adding all of your products to a product feed is time-consuming.
You can easily map categories and attributes, create and manage unlimited feeds, add simple and variable products, and sync WooCommerce with Facebook catalogs. There are numerous plugins for this platform, and you can even upgrade it to a higher level for additional capabilities. WooCommerce Migration may be completed in three simple steps. After creating a new store with a new version of WooCommerce, you can migrate everything from your previous store to the new one in a matter of hours.
Conclusion
We hope you enjoyed reading this as much as we enjoyed putting it together for you.
So far, we've reviewed the best plugins for popups, email marketing, rewarding your customers, customizing your store, improving customer experience, managing orders, and so on.
Running your WooCommerce store will be much more seamless with a combination of some of these plugins. So, put these plugins to use and watch your conversion rates soar!