In the early days of the internet, you needed to have, at minimum, a fairly good coding skill to build out web pages, pop-ups, emails, etc.
Not only was this approach time consuming, it was also difficult, especially for non-coders.
But all that has changed now, thanks to drag-and-drop builders. Now, you can build whatever you like on the web, without having to write a single line of code.
Plus you get to do so without hiring a developer, and in a short time frame.
Adoric Drag and Drop Builder
With Adoric's drag and drop builder, you can create stylish, high-converting marketing campaigns like pop-ups, notification bars, and sliders in a matter of minutes.
And the best part is that you don't have to be a developer or know a single thing about coding to use it.
Why Use Adoric's Drag and Drop Builder?
Adoric comes with loads of meticulously designed templates.
Hence, if you are pressed for time or have limited design skills, just pick a template that best suits your campaign, and tweak it accordingly.
Looking to save time without compromising on design quality? Pick from our tons of templates - they are free
But if you have a specific design in mind plus a little time to spare, the drag and drop editor is your best bet.
It allows you to create stunning, visually-appealing campaign designs just by dragging and dropping design elements like buttons, icons, etc. into the canvas area.
Other benefits of using our drag & drop builder include
Better user experience for your visitors
Unlimited customization options
With Adoric's drag & drop editor, your imagination is the only limiting factor to what you can create.
How It Works
Just click, drag, drop, and then tweak. That's all!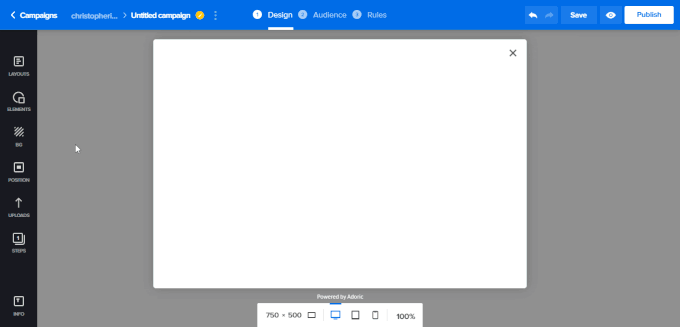 Like earlier mentioned, you don't need to know a single thing about coding to do this.
Also, the design editor has a grid alignment system that lets you position your design elements exactly where you want them.
Design for Mobile
With mobile internet usage steadily taking over the desktop, the importance of optimizing your campaigns for mobile and tablet devices can't be over-emphasized.
Our drag & drop editor allows you to create custom, mobile-friendly campaign designs from scratch.
All you have to do is to set the canvas size to match the screen size you are looking to target, and then build out your design.
Here's an illustration.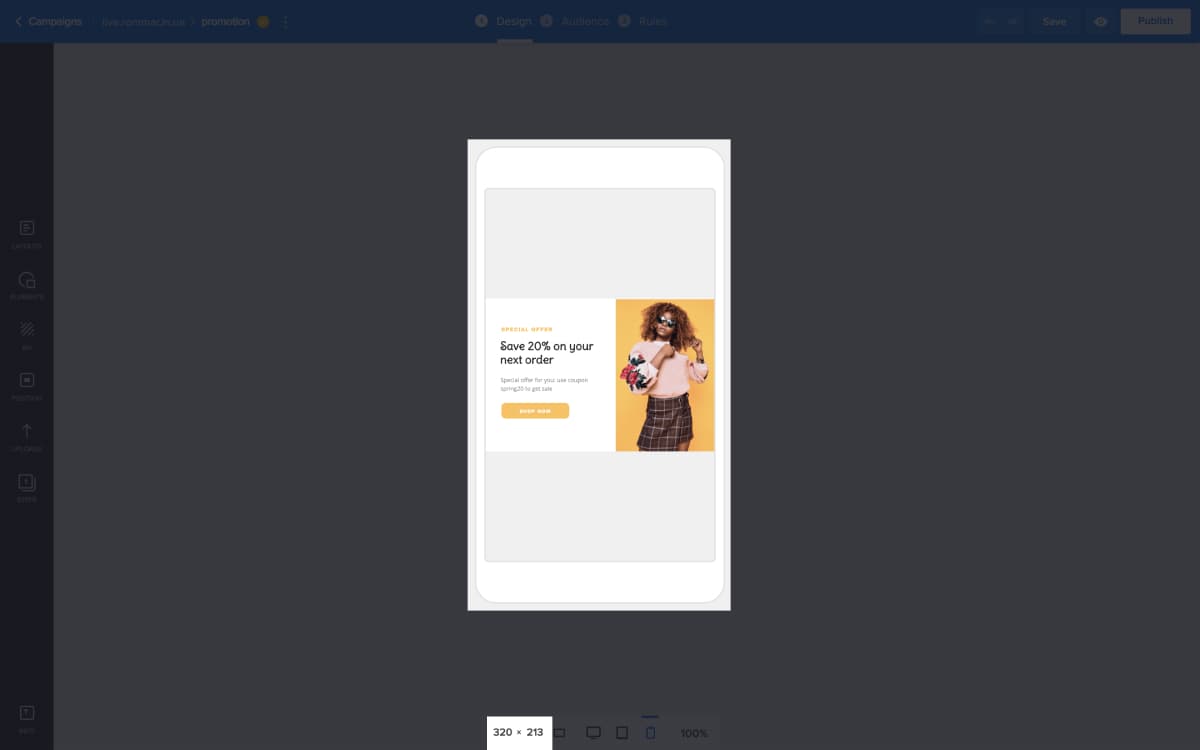 What Can You Create with Adoric's Drag and Drop Builder?
Our intuitive drag and drop builder allows you to build:
Popup boxes
Sliders (slide-ins)
Top bars (sticky bars)
They are an excellent conversion optimization tool, which when used properly can help you get more subscribers and grow your sales.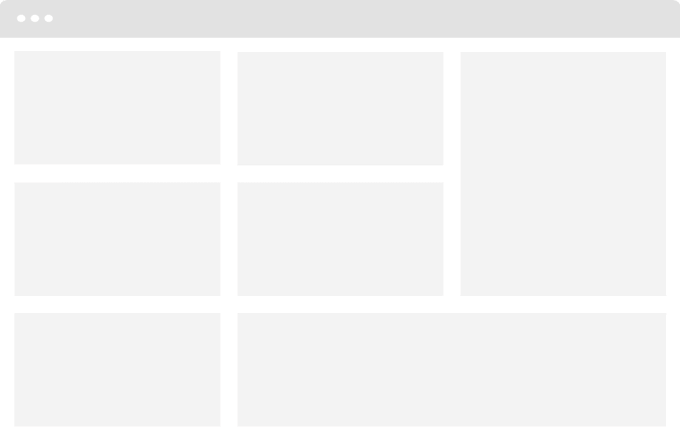 You use them when you want to
Collect emails from your visitors
Promote products to your customers
Conduct a survey
Ask for donations
And lots more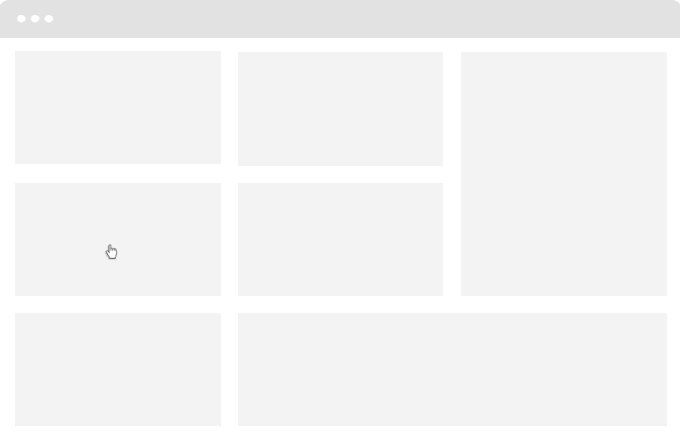 Sliders, are a great option when you are looking to
Fire up your campaign when a user scrolls down your webpage
Generate leads without risking irritating your visitors
Promote dynamic content
Recommend personalized products to visitors
Ask for feedback from your users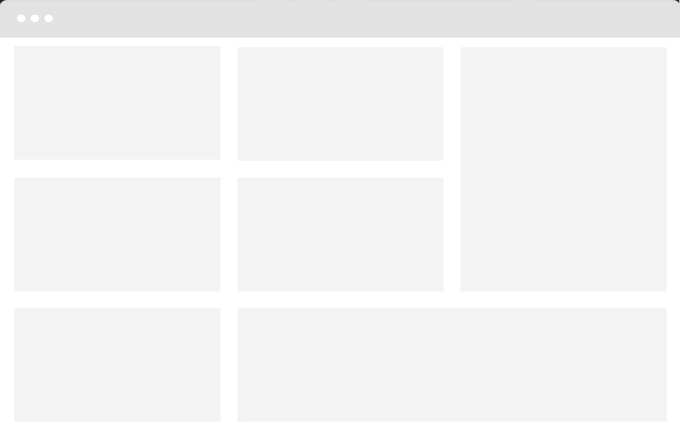 Top bars are best used when you are looking to
Pass across information to your visitors
Promote time-sensitive offers
Subtly ask for your visitors' email
Promote personalized content based on your users' behavior and preferences
Adoric's builder allows you to create high-converting popups, sliders, and top bars in a breeze.
So, aside from popup boxes, top bars, and sliders, what other stuff can you create with Adoric's design editor? A lot! Here are some
In-page forms: these are forms you can insert natively into your pages, without writing a single line of code.
Carousel: Carousels are a great option if you are looking to lower your conversion cost. They are easy to create and can be deployed in a matter of minutes.
Multi-step forms: With multi-step forms, you can drastically improve your website's conversion rate.
Canvas Technology
The canvas is where all the magic happens in Adoric's drag and drop builder.
It is actually where you get to build your custom campaign designs from scratch.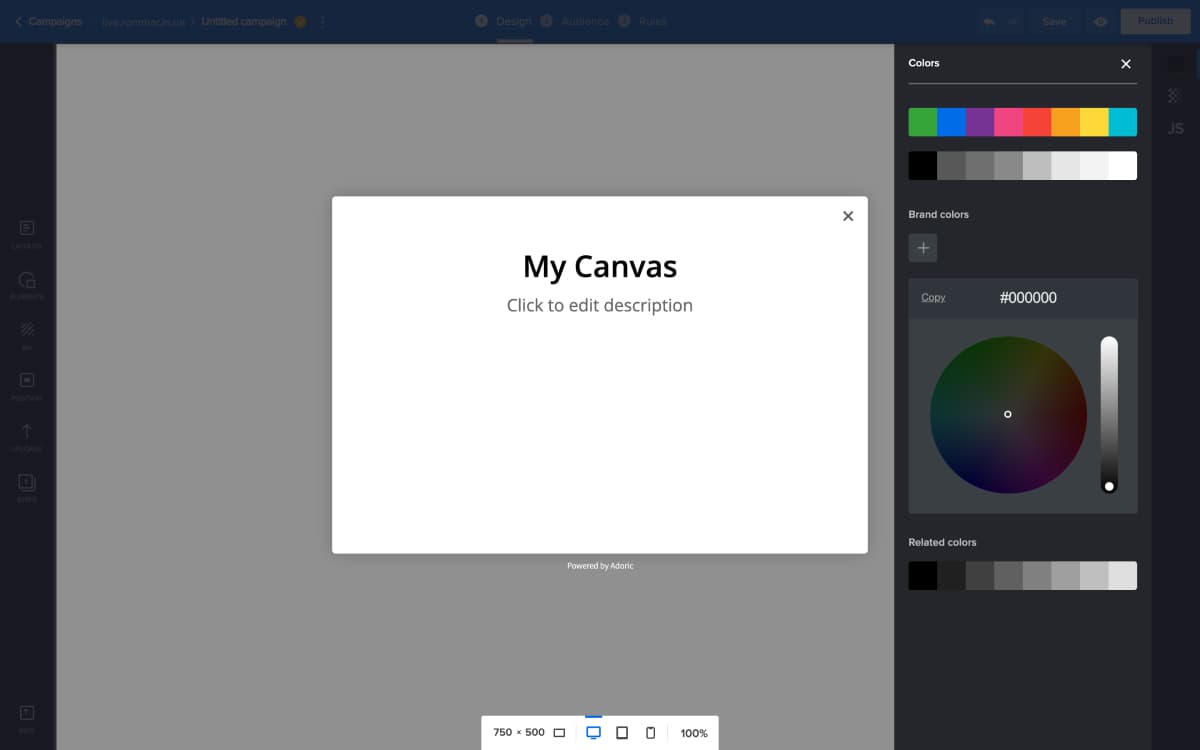 Additionally, with the Canvas, you can
Add background color to your campaign
Set box shadow effect to your designs
Adjust the opacity of your forms
Add and tweak design elements like buttons, fonts, icons, etc.
Preview Option
Wouldn't it be nice if you could see how your campaign design would look like on your website before it gets published?
Of course, it would!
Thankfully, Adoric's design editor allows you to preview your campaign designs before publishing it, at the click of the button.
Audience and Campaign Triggers
To enjoy optimal results with your campaigns, it's important you show them to the right audience, and at the right time.
Adoric allows you to precisely target your select audience based on
Traffic source
Language
Device type
Geolocation
Etc.
On top of that, you can set trigger rules on your campaigns based on
Time delay
Page scroll
Unique event
Exit intent
Mouse action
And the best part is that you can access both the Audience and Targeting features right from the design editor.
What Next?
Now you've seen what Adoric's drag and drop design editor can do, it's about time you created an account, and put your imagination to the test.
Adoric is free, so don't worry – we won't ask for your credit card details.