Undoubtedly one of the biggest eCommerce platforms on the internet, Shopify has its pros and cons. Shopify offers many tools and features that make it easy to set up an online storefront and manage it efficiently.
Nevertheless, Shopify's pros and cons determine whether it's an ideal choice or not for you. In this post, we will be reviewing these pros and cons.
Before we delve into these we should understand what Shopify is and how it works.
What is Shopify?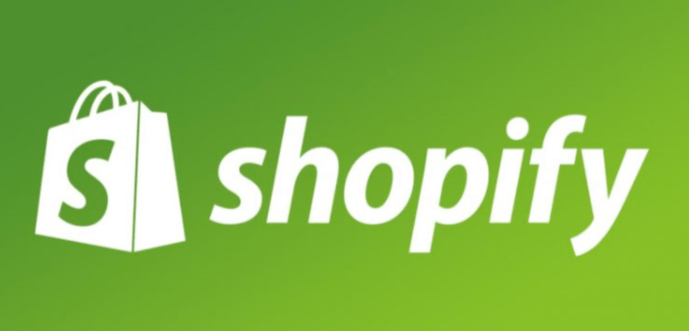 Shopify allows business owners to set up and launch their online stores. Shopify is accessible to more than 100 countries across the globe.
You can sync your social media business page with your Shopify store for more sales. A simple "buy" button is the game-changer.
If you are in a difficult situation, the Shopify standby team is available 24/7 to help you via live chat. Shopify either has the solution to your challenge or allows you to integrate other apps that can be of help.
For a start, you can enjoy a 14-day free trial with no commitment. It offers three paid plans when the free trial elapses. The paid plan starts from $14 per month for a yearly payment or $29 per month. And it goes up to $299 per month.
How Does Shopify Work?
Shopify works in five simple ways.
Select a payment plan. As we mentioned earlier, Shopify has three paid plans. Select the one that s suitable for your business. The basic plan is the most used plan for small businesses. The Lite and Enterprise plans are better options if you own a large-scale store.

Synchronize your business domain name to your online store. Visit platforms like GoDaddy, Namecheap, Hostinger, Squarespace, Hostgator, NameHero, and more to get a domain name.

Choose the templates and themes that best describe your business. Shopify has a myriad of themes and templates for different categories of stores. You can edit them with the use of the drag and drop editor.
Optimize your Shopify website and add products to your store.
Promote your business to your target audience. These are only the basics. You can also learn more about how to start a Shopify store.
Although Shopify is one of the best e-commerce platforms, it is up to you to decide if it is what your business needs to scale. Therefore, we have decided to discuss the pros and cons of using Shopify.
Pros of Using Shopify
1. Easy To Use
One of the strong wits of Shopify is its ease of use. When you decide to take your business online, the goal is to have it functioning as soon as possible. If you have to pick up an extra skill just to launch your business online, then the aim has failed.
With Shopify, you don't have to go through a rigorous process to customize and launch your business online. This platform has a drag-drop tool that allows you to customize your store how you want without breaking a sweat.
2. Available Customer Support
Hitting the rock while using any technology is almost inevitable. Shopify knows this. Therefore, they have created a team of reliable people to help their users. So if you get stuck at any point, help is always available.
Shopify has a 24/7 support team that can attend to you at any time of the day. You can communicate with them via email, live chat, or their hotline. There are four hotlines with each designated to different regions.
Peradventure your region does not fall under the hotline zones, be assured you are not left out. Shopify has a community where users interact with one another and get answers to their challenges.  There is also an FAQs database you can refer to at any time.
3. Multiple Payment Processor
Receiving payment on Shopify is no longer a problem. Shopify now has multiple payment options, which include third-party platforms.
The advantage of this function is how fast and easy it is to process transactions from your store domain. This also means you can widen your target audience and sell to anyone globally.
4. Support Different Categories of Ecommerce Business
Do you own a physical store, are you a dropshipper, a retailer, or a wholesale, or do you sell digital products? No matter the nature of your business, Shopify is the best platform to move your business steps further.
To sell any product on Shopify first, you need to set up and optimize your account. Then specify the kind of products you intend to sell. After that, you proceed to add products to your store. Include a convenient payment method, and your store is ready.
Note that Shopify has restricted users from selling certain products like adult content, pharmaceuticals, event ticket, pyramid schemes, video games, e.t.c.
5. Variety of Themes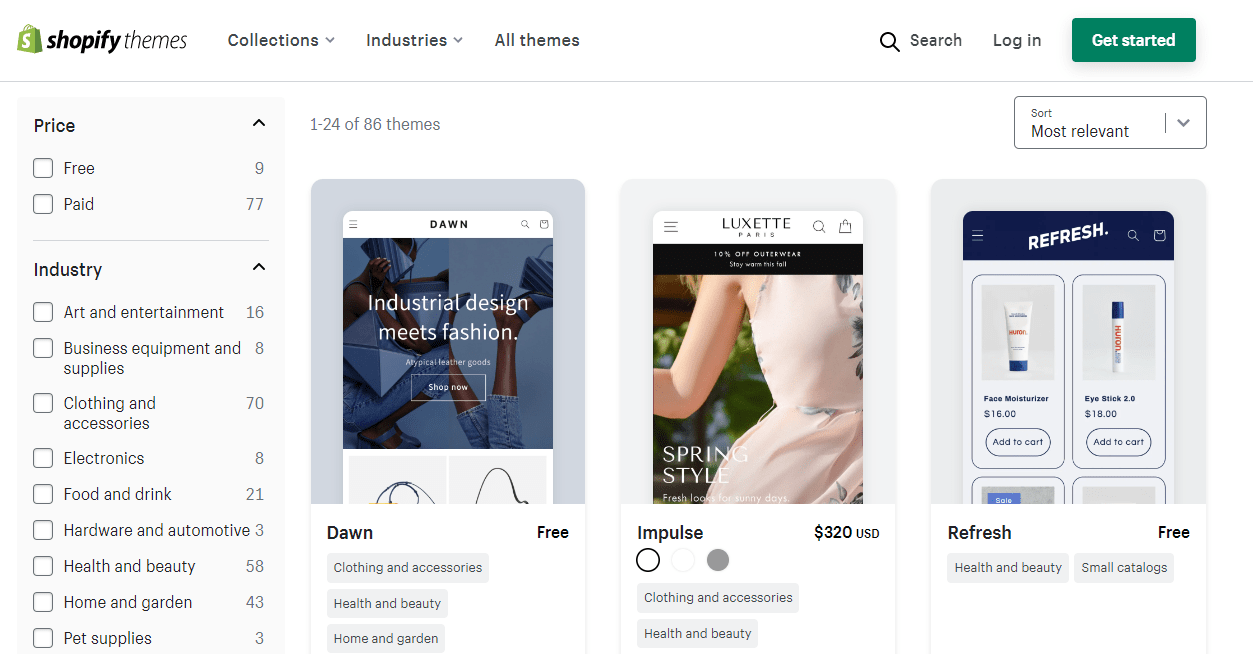 Themes determine the appearance of your e-commerce store. The better your store looks, the higher your chances of retaining more visitors. The more visitors you have, the more your lead conversion rate increases.
Shopify understands the value of themes and has provided you with a ton. Different categories of businesses have a handful specially made for them.
So, there is something for you whether you sell drinks, fashion items, foods, digital products, foot wears, furniture, and more. If you own a physical or an online store, a retailer, a wholesaler, or a dropshipper, your business type is not left out.
In addition, there are many free Shopify themes at your disposal.
6. Apps and Plugins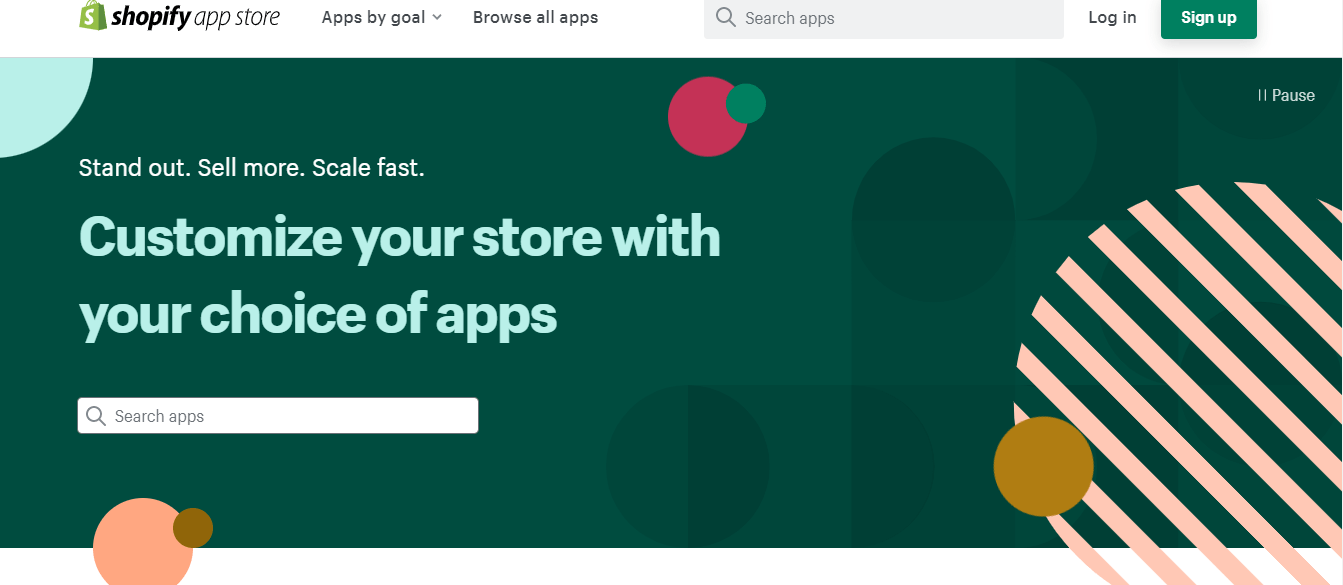 Many factors contribute to the success of an e-commerce business, shipping, inventory management, themes, marketing, customer relationship, e.t.c.
Because Shopify cannot provide all the services your business needs, the brains behind Shopify came up with a built-in app store with more than 1,200 apps and plugins. Each app and plugin has a specific use.
These apps integrate seamlessly with Shopify to ease you of some responsibilities. Even better, most apps and plugins on Shopify are mobile-friendly, automated, and easy to use. You only need to find the right app for your business need.
7. SEO and Marketing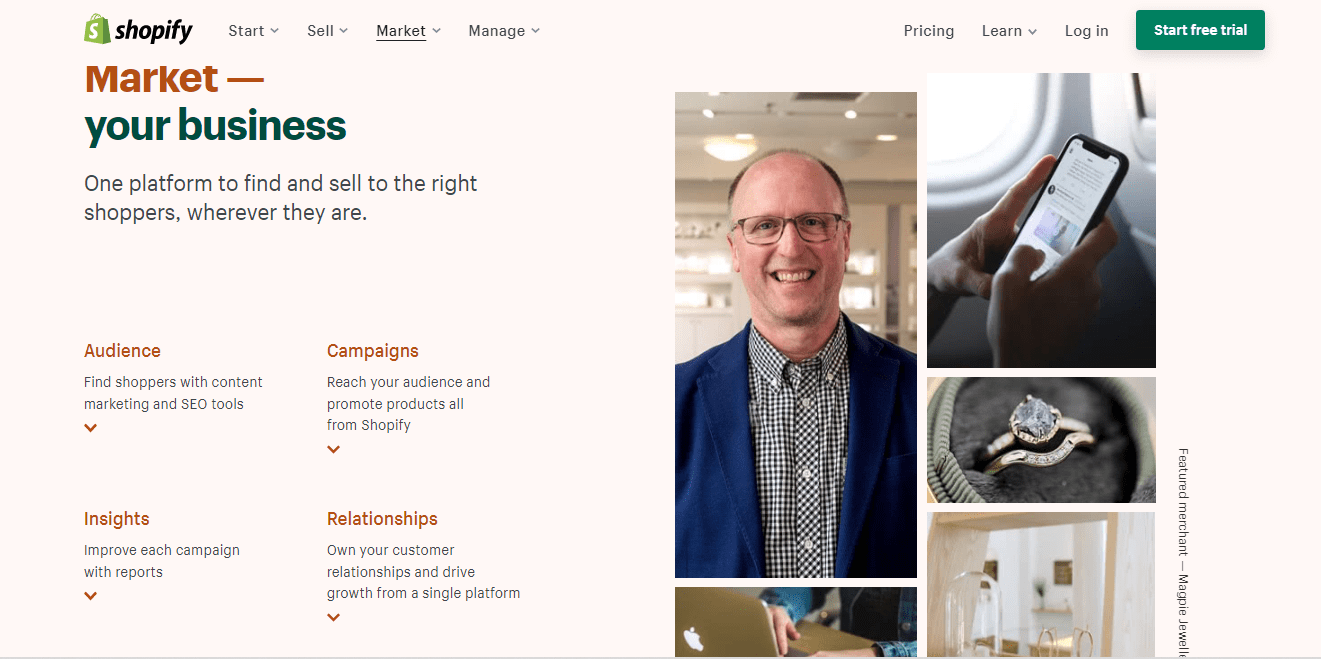 Getting more people to patronize your online stores requires heavy marketing. Email marketing, SMS marketing, Facebook ads, Google ads, Search Engine Optimization, popups, and more are different types of marketing.
Shopify makes it easy to create landing pages and sync your marketing campaign with your store. You can also create coupon codes, store credits, and limited discounts to attract more customers. The platform also provides all the tools you need to achieve your aim.
However, not all the tools are available as a default setting. You can visit the Shopify app store to find a suitable app for your marketing needs. These tools can help you customize your store website to generate more sales.
8. Hosting and Security
Shopify is a Self-sufficient platform that doesn't depend on a host. In other words, it is a fully hosted platform. Using Shopify comes with no extra cost because it takes care of its hosting. The platform is also secure.
Shopify has more than 1,200 in-house apps and allows integration with third-party software. Only a highly secured platform can pull this off. Shopify ensures that all apps and third-party software are bug-free and can sync quickly with your store.
9. Customization
Although Shopify can help you design your store website from start to finish, you may discover that some designs, templates, settings, and themes do not appeal to your taste. It raises the need for customization or editing.
Shopify has made it easy to customize themes and templates with the customizable website builder. With this tool, you don't need a special skill to customize your website.
Also, all the themes are designed to accommodate editing so you can give your website the feel and look you desire.
10. Uncheckered Growth
Growth is the overall aim of every business, no matter the size. And Shopify is one e-commerce platform committed to seeing online stores grow. The developers of Shopify put in a lot of effort to make the platform user-friendly.
With a user-friendly platform, the process of running an online store is like a walk in the park. And since Shopify has everything you need, your business has no reason not to grow.
Cons of Using Shopify
You will agree with me when I say everything that has an advantage also has a disadvantage. And this article aims to weigh the pros and cons of Shopify so you can make an informed decision.
We have discussed the bright and shiny aspect of Shopify, let's find out the downsides of this platform.
1. Pricing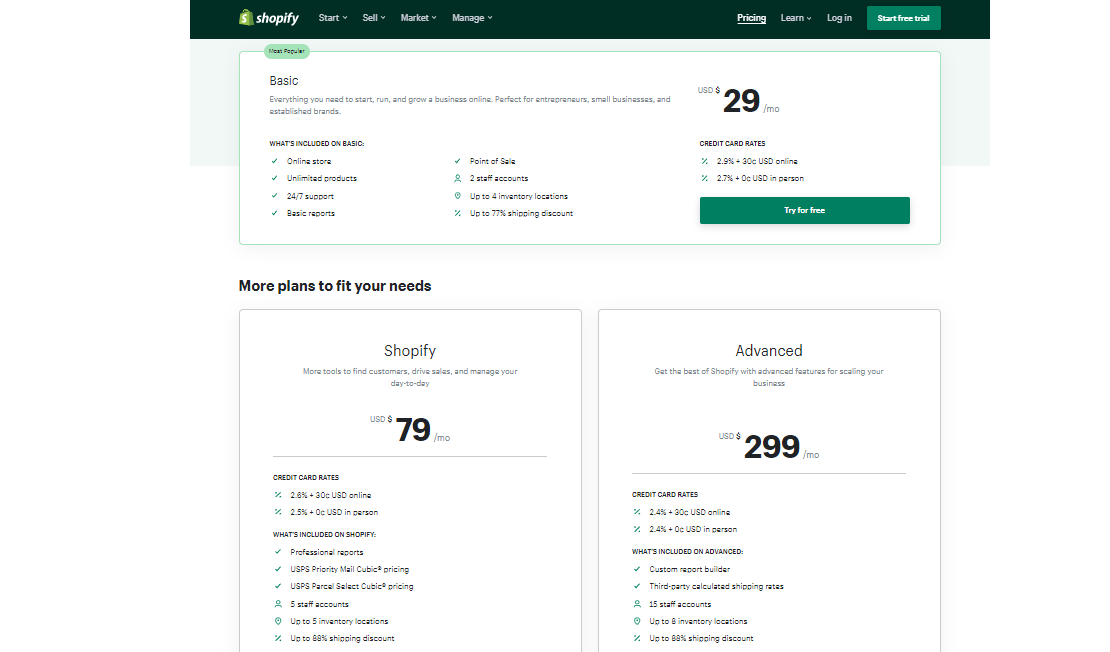 Hosting your online business on Shopify may cost more than you bargained for. Shopify has three paid plans each at the cost of $29, $79, and $299 per month. The platform only offers a 14-day free trial.
When the free trial elapses you can select any of the paid plans. Wondering what the challenge is? Here is the thing. As a beginner, the basic plan has very limited features that can barely meet your needs.
This means that you will need to pay for a higher plan ($79 per month) to access the feature you need. For a business yet to break even, this is quite a lot.
Although Shopify tries to eliminate third-party payment methods through the point of sale (POS) framework, this option is not available to many countries.
Therefore, you pay a service charge every time you make sales on Shopify. In addition to that, some of the themes, templates, apps, and plugins are not free.
2. Difficulty With Content Marketing
promoting your business is as important as starting the business. And content marketing is an effective route to tour. Blogging, SEO, and social media content are a part of content marketing.
Since Shopify is a versatile platform, it allows you to promote your business via its content marketing feature. However, you may not get the best experience blogging with Shopify.
Why? Because the Shopify built-in software is lagging in many areas. For instance, the blogging feature has no category. So, you must include tags in your post, inflexible blog layouts, an outdated editor, and more.
Also, integrating a third-party extension for blogging on Shopify is not an easy task.
3. Limited Customization
We stated earlier that Shopify is customizable. Unfortunately, this feature has some limitations. Unlike other platforms that use PHP for customizing themes, Shopify uses its Liquid setup.
Not many web designers are familiar with this software. Therefore many users may struggle through the process of customizing their themes. Or spend hours learning to use the Liquid setup.
4. No Email Hosting
Shopify does not support email hosting. Therefore, you can only use the web hosting option to launch your online store. The good news is, there is a way around it.
You can forward emails from your customers directly to your email address through a third-party email hosting extension. This way, you can swiftly attend to your customers via emails.
5. Difficult Exit
Shopify is not quite accommodating when it comes to exiting its platform. The lock-in feature hinders you from taking your store elsewhere. If you ever decide to leave Shopify, don't forget you can only take your CSV report with you.
So, before launching your online store on Shopify, ask yourself if you intend to continue with the platform for a long time.
Conclusion
Shopify is the perfect platform for online stores. Going by this article, the pros of using Shopify outweigh the cons. But, in the end, the choice is yours.
So before you conclude whether Shopify is the best fit for your business, compare it against other eCommerce platforms.
If you are having trouble making sales on Shopify, Adoric can help you grow your Shopify business.