Your Shopify website's outlook gives your visitors their first impression of your business. And this goes a long way to determine whether they'll stay to shop or go elsewhere. Designing an elegant Shopify website will help you keep them shopping!
Also, if your visitors get an awful experience using your website, there's a huge chance they'll never return. But not to worry, in this post, you'll learn practical tips for designing an elegant Shopify website. We'll also recommend some Shopify website design templates you can use.
How to Design an Elegant Shopify Website
A website is a business's window to the world. Having one lets you expand your business beyond the shores of your home country. Building a website helps you establish your brand, increase sales and find new customers.
However, you need to ensure that your website is user-friendly, and for that, you can opt for a professional website development agency.
No one likes to walk into a physical store that looks shabby and unattractive. The same goes for your online store or website. What's the impression you want your visitors to have about your brand? What's your Shopify store design plan?
Below are 7 tips for designing an elegant Shopify website in this section. 
1. Avoid Adding Too Many Elements 
When it comes to designing a website, simple and neat does it. If you don't want to discourage your potential customers at first sight of your store, you should avoid adding too many elements to your Shopify website.
A website with too many elements would only be distracting at best.
Customers often don't lose interest in a store because it lacks what they need. They usually lose interest when they get overwhelmed by a complex-looking website.
So, choose simple and beautiful elements when choosing a template or building your website.
2. Pay Attention to Typography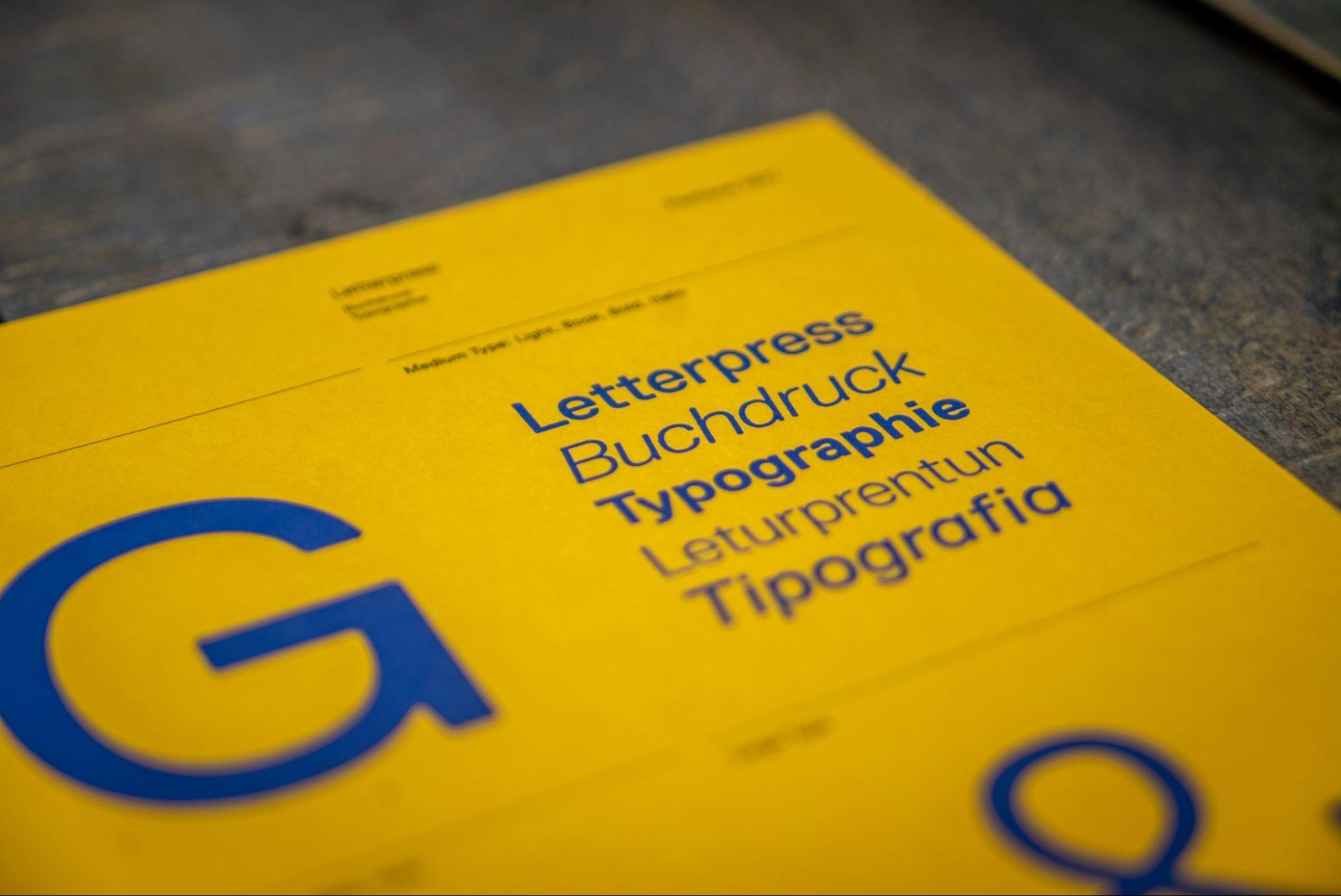 You might have a great Shopify store design but terrible typography. Your typography is simply the arrangement of your fonts or presentation of your text. And how your store's font appears determines how readable the pieces of your business information are.
So, choose a legible font style if you don't want your customers to get frustrated reading the words on your web pages. Prioritize a readable font type and size over a stylish one that's hard to read.
3. Choose Your Color Palette Wisely
Undoubtedly, colors add to the beauty of literally anything, and websites are certainly not an exception. Also, they can communicate your brand's identity.
For example, a farm produce store using blue as its primary brand color may appear off-brand. However, if they use any shades of green or brown, you'll know they're all about greenery and nature. That's how important choosing the right color palette is. So, when building your Shopify website, choose a color that syncs with your brand.
Also, try to avoid combining many bright colors on a single page as much as possible. Colors can appear appalling when combined wrongly.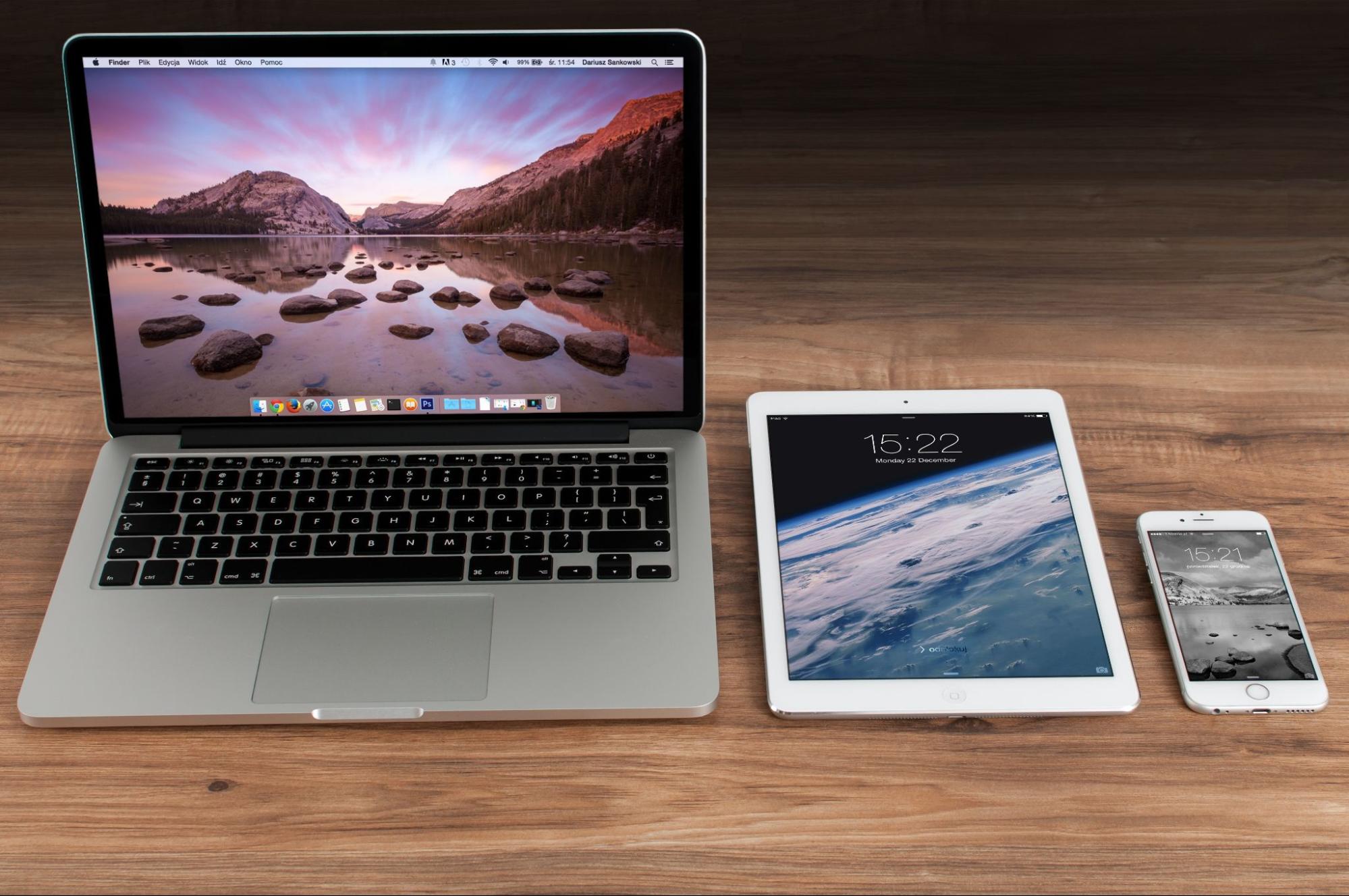 4.  Make It Mobile Friendly
What's the use of building a desktop-only website? You would lose a lot of potential customers who only browse the internet with their mobile devices.
Therefore, when designing your website, it's important to ensure it flows well on mobile phones and tabs.
5. Website Navigation
As a Shopify business owner, it's not enough to have a pretty Shopify store; you must also make your website easy to navigate.
Make your navigation menu visible on all your pages. It will make your visitors' life a whole lot easier.
A website with no navigation menu is like a city with no map. So, if you don't want your customers to lose interest in your store, make it easy for them to navigate your website.
6. Quality Imagery
Images play a significant role if you want to build an elegant Shopify website. However, don't use just any photos. Use images with a high resolution but minimal sizes. Using poor-quality images can give a negative impression of your entire store.
Thankfully, you can get high-quality images from websites like Pexels, Unsplash, and Pixabay for free.
7.  Use Ample White Spaces
White spaces add a balance to the colors on your Shopify website page and improve its visual appearance. So, white spaces are necessary to include in your Shopify store design.
White spaces are empty spaces between the content and elements on your business page. They make your text appear clear and visible and not packed together. So, when building a Shopify website, always use plenty of white spaces.
10 Reasons Why Your Business Needs an Elegant Shopify Website
In this section, you will find out why your business needs an elegant Shopify website.
1. Increases Visibility
You need a website if you want your business to thrive online and be visible to your target audience. Websites have a significant way of boosting the success of your brand.
People search the internet daily for new things and solutions to their challenges. So, if your website has the answer to their questions, they'll come to visit. This helps your brand gain visibility over time.
2. It Builds Credibility
Credibility promotes trust. And you need your audience's trust to get their business and to excel as a brand.
Having a well-designed Shopify website can help boost the credibility of your business before your target audience. So, if you want to make your customers rate your brand highly and trust it, you need a website, not just any website but an elegant one!
3. Social Proof and Portfolio
Your business website is like the portfolio of your brand. It displays vital information your customers need to know about your business. It also showcases what you can do for them.
You can also use it to provide social proof by providing reviews from previous customers.
Also, your Shopify website should have different pages that answer your visitor's questions about your business. At the least, you should have the following pages apart from your product pages: Homepage, Contact Us, About us, and FAQs. Thankfully, you can use this post as a guide to creating your FAQ page.
4. Gives Your Business Professionalism
Ever wondered why you need a website if you want people to take your business seriously?
Getting a website adds a touch of professionalism to your business. A business website has a significant impact on how people perceive your brand. It helps your business appear professional, and this boosts your brand's credibility.
5. Helps You Compete Favorably
As a business, you'll definitely have competitors within your niche. So, one of the ways to compete with these brands is to have a well-designed website.
In addition, investing time and energy to make your website popup can help attract the right audience to your business.
Social media does help. But without a website, it would be pretty difficult to compete with a bigger brand.
6. A Platform to Show Testimonials
Testimonials go a very long way to establish belief and trust in the minds of your customers. Displaying testimonials and reviews will not only boost customer trust, but it can also help to uplift your sales.
Generally, people believe what others say about your business more than they believe you. This means they will be more interested in what other customers say about you than what you tell them.
A website is an excellent place to showcase these testimonials.
7. Attracts Potential Customers
This is one awesome thing having a website does for your business. Studies show that businesses with a website generates better ROI than those without.
Your potential customers have a better chance of finding your business when you have a website rather than a social media page. Of course there are many different businesses like venture capital website design that actually need different approaches to their branding and design, but they also have their focus on usability and SEO.
Highly search engine optimized websites save you the stress of looking for your target audience. This is where keywords come in; they feed the search engine information about your store. Optimizing your website for SEO will make it appear on search engine result pages whenever someone searches for what you sell.
And that's how you attract potential customers and increase your reach.
8. Gives your Business a 24/7 Online Presence
One of the added benefits of having a website is that it makes your business available round the clock.
A website doesn't shut down when you close your physical store. So, with your business online, your customers can shop anytime, and you don't have to be present for transactions to happen. This gives you great convenience as a Shopify business owner. But most importantly, it increases your business revenue.
9. Gives You Actionable Insights
Want to gain insights about who visits your store and how long they stay? Then, you can only have this information when you have a website.
With the use of analytical tools such as Google Analytics, SemRush, etc., you can access your customers' data. These data sets include bounce rate, click-through rate, impressions, the total number of visitors (daily, weekly, monthly, and annually), organic audience, social media audience, referrals, etc.
You can understand your customers better with the insights from these data sets.
What's more, customer insights help you increase the efficiency of your marketing and advertising.
10. Customer Support
With websites, you can deliver customer support via live chat, FAQs, etc. This is one more reason you need a website.
You can't always guarantee that your customers won't have complaints or challenges. Thus, as a business, if you want to retain and attract more customers to your Shopify store, you need to offer excellent customer support.
Luckily, having a Shopify business website provides you with customer support options you can use. So even when you're on vacation, you can rest assured that your customers are getting answers to their questions.
7 Beautiful Shopify Website Templates
Using a website template (which is simply a pre-designed website) can make your life a whole lot easier. However, choosing the right one can be quite tasking for you as a business owner.  So we've handpicked 8 beautiful Shopify website design templates for you.
1. Moltestore Theme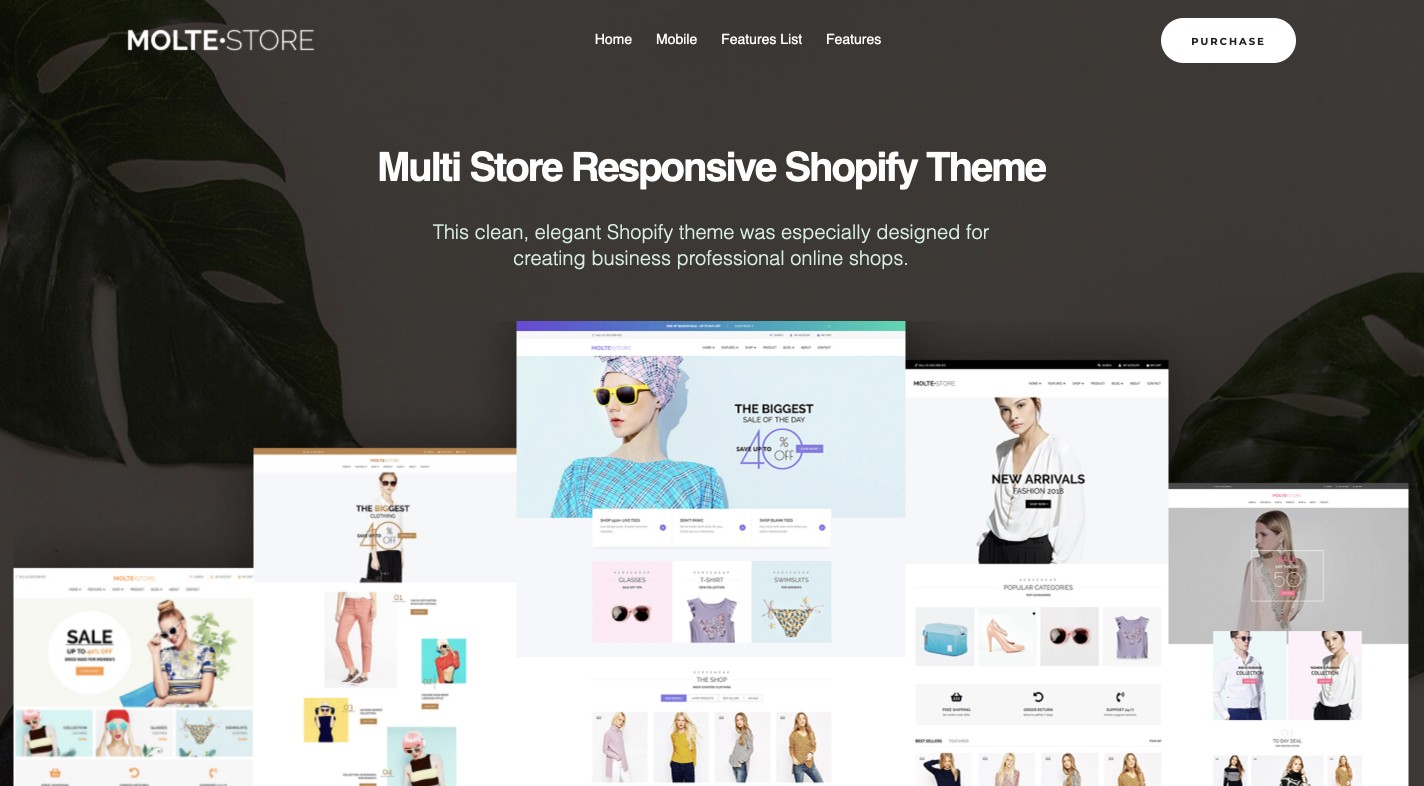 Do you have a fashion brand, and you've been looking for an elegant theme you could use? Then you should consider applying the Moltestore theme and customizing it to your brand style.
2. Elise Shopify Theme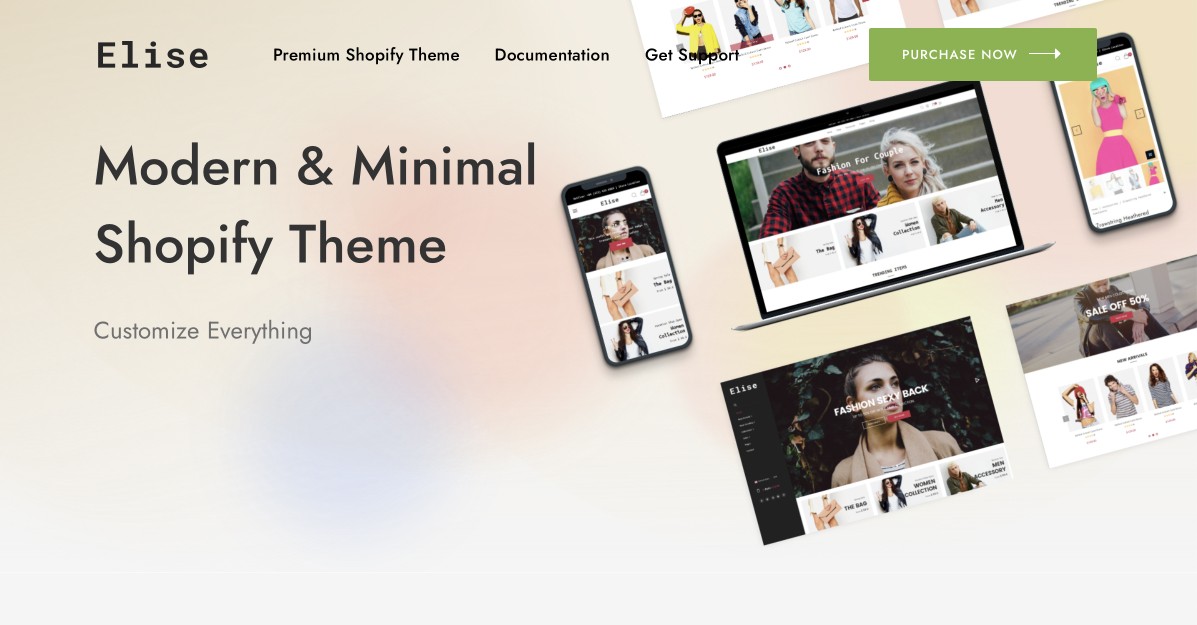 Are you looking for a multi-purpose theme for your Shopify store? The Elise Shopify theme is worth a trial. This theme suits eCommerce businesses like jewelry stores, toys, fashion, etc.
3. Minimog Theme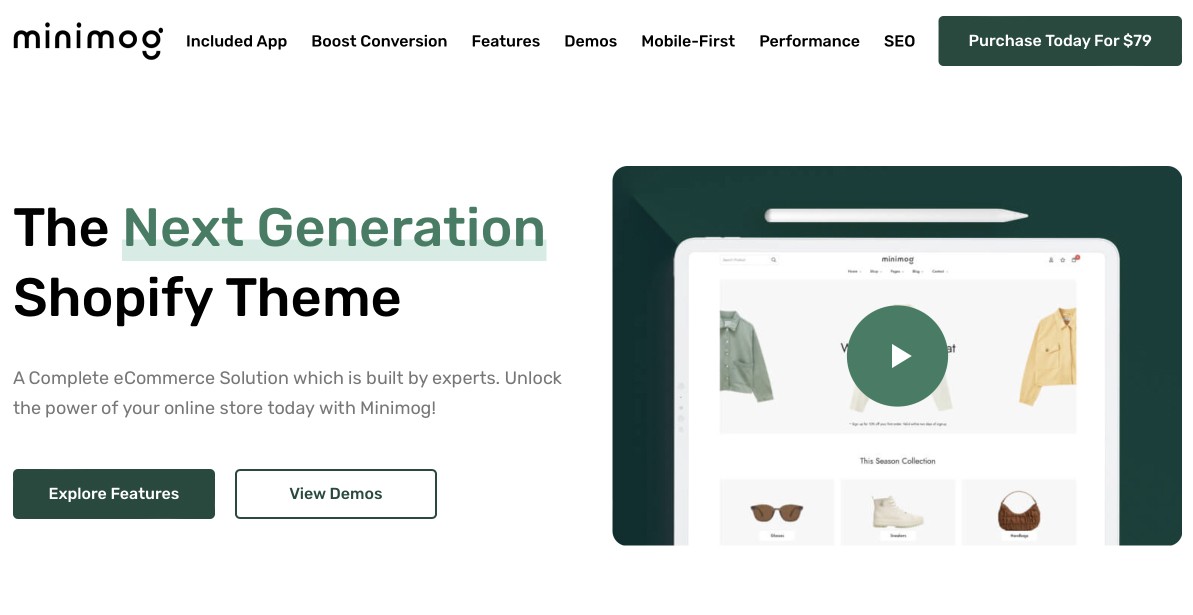 Talk about elegance and professionalism with a touch of class, and it's the Minimog theme. This theme gives you a neat and beautiful website that's just great for your Shopify store.
Also, it's highly responsive and mobile-friendly.
4. Kalles Theme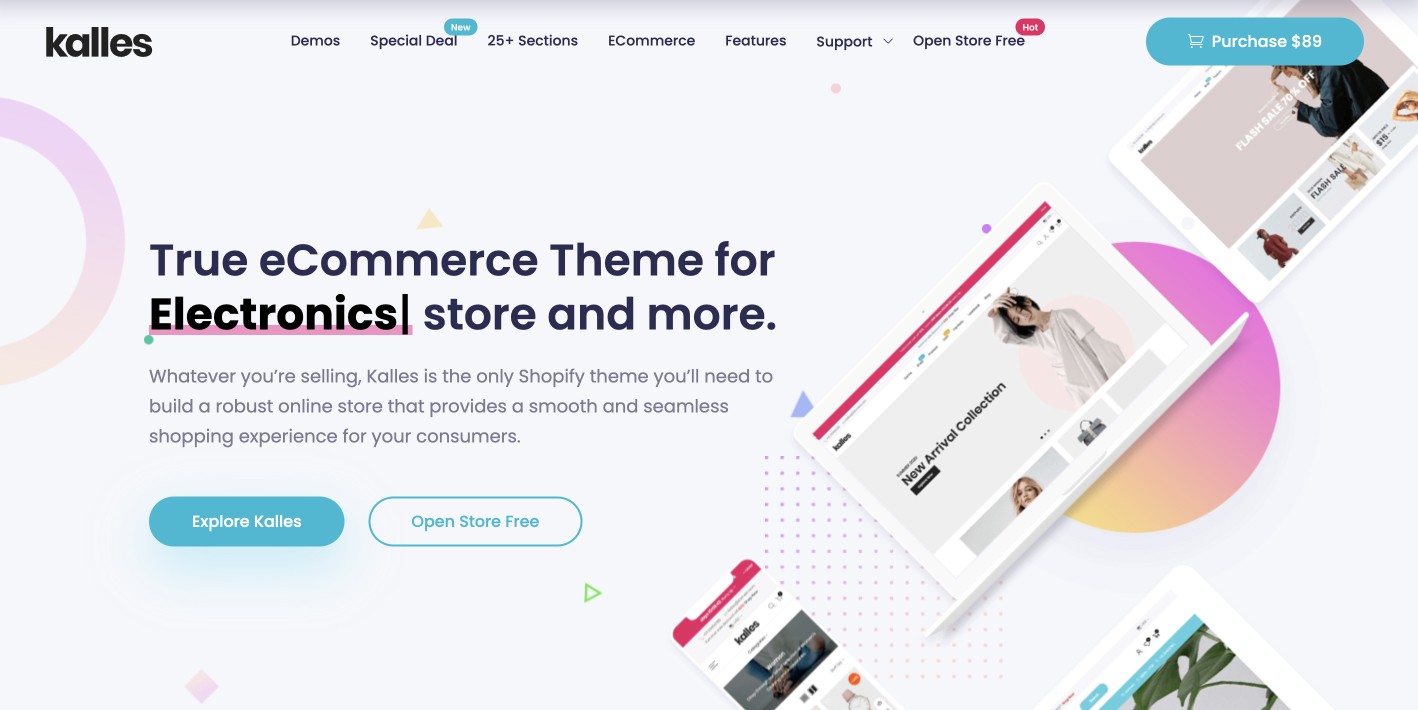 Kalles is a multipurpose Shopify website design template that's exceptionally versatile and clean. Also, it's a fully responsive theme with a mega menu feature, product filters, and of course, a beautiful design layout.
5. Gecko Shopify Theme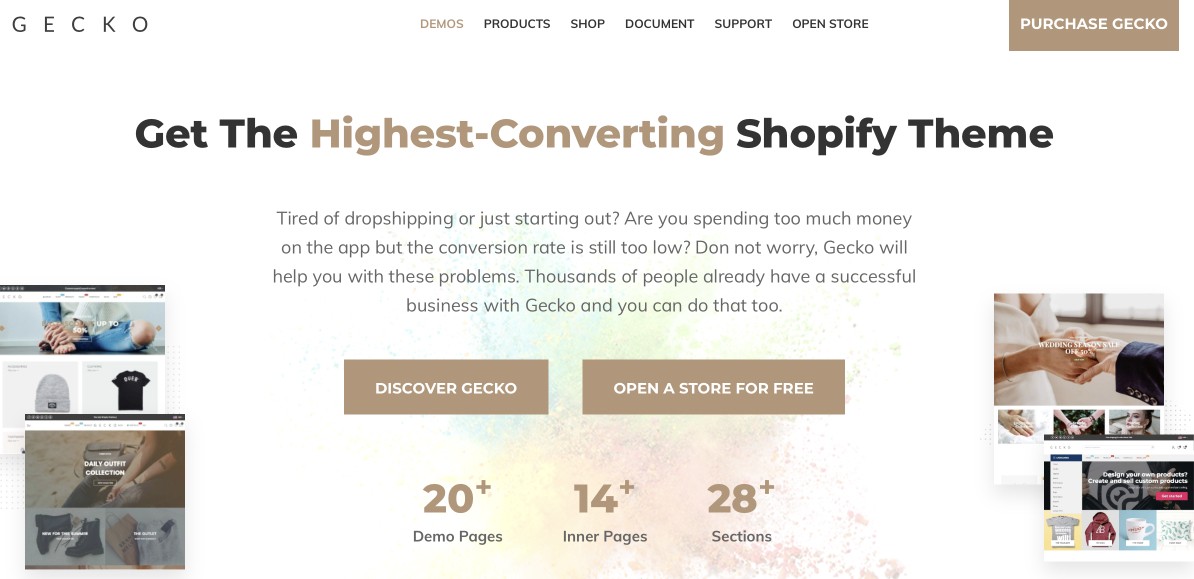 The Gecko theme is certainly one of the best Shopify website design templates. It has so many amazing and helpful features for your business website.
It has option panels, a clear layout, homepages, product bundles, and even an Instagram integration.
6. Home Market Theme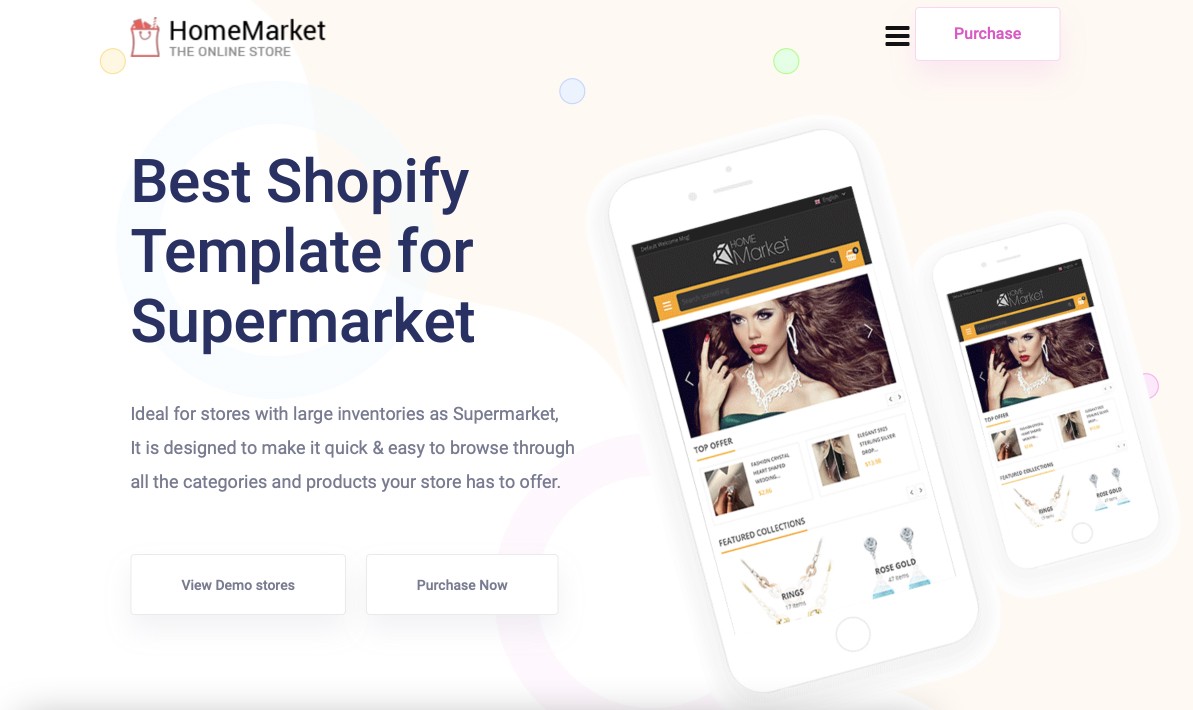 If your Shopify business deals with an extensive inventory, you need a theme like Home Market. This theme makes navigation super easy and smooth for your customers. So they can easily browse through all your shop's categories.
Also, Home Market has a responsive design, flexible layouts, mega menus, and much more. It's undoubtedly one of the Shopify website design templates you should consider using.
7. Goodwin Responsive Theme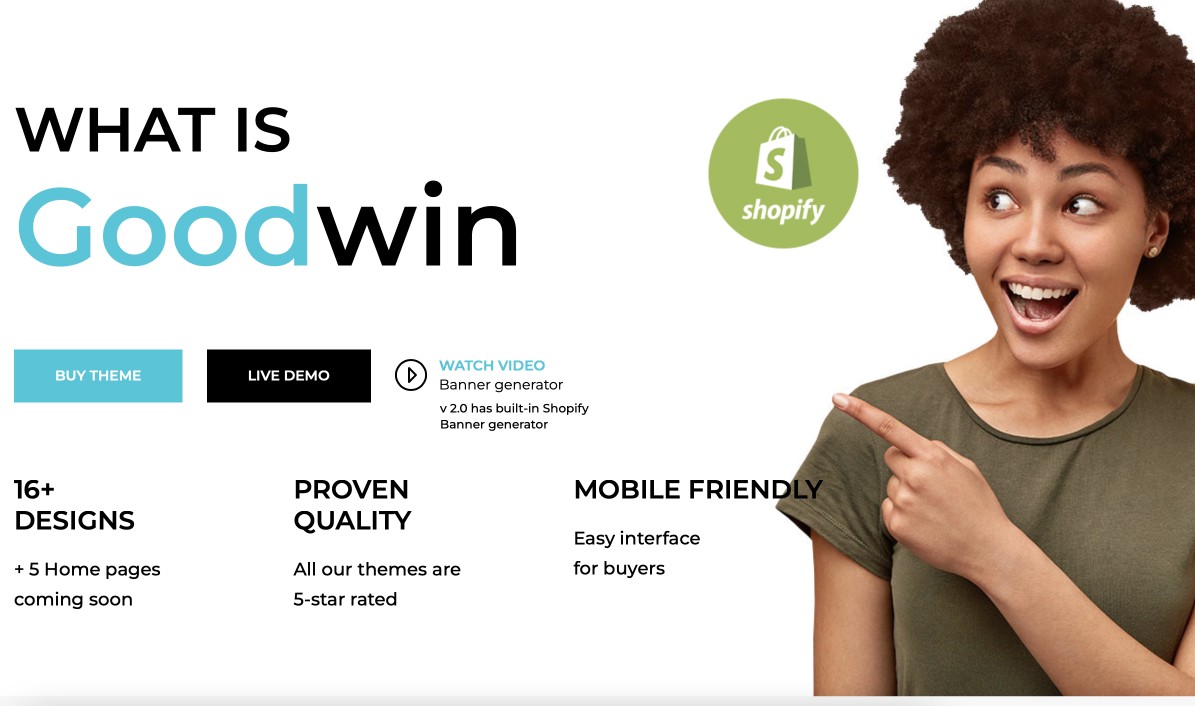 Goodwin is one of the best Shopify design templates there are. It supports businesses with large inventory with its excellent features.
This is one of Shopify's website design templates with over 50 additional pages and 14 different page layouts. Also, it's a multipurpose theme that's highly responsive.
Conclusion
Designing an elegant Shopify website doesn't have to be rocket science. You need to pay attention to its aesthetics and functionality. With the tips we've provided above, you'll be well on your way to designing a Shopify website your customers will find attractive.
We added some examples of beautiful Shopify website design templates for your business to help make designing your Shopify website even simpler.
With an online business, your conversion rates are everything. The Adoric Shopify app can help you increase your store's conversion rate. Want to give it a try, simply sign up for free!
Add Adoric to your website right away to see it in full action.