Are you looking to announce new sales, capture more leads, or just make an announcement on your WordPress website? A Notification bar plugin is your best bet.
Also called a Hello, Floating, or Sticky bar, Notification bars appear as a slim banner stretched across the top or bottom of a visitor's screen. Here's what it typically looks like on a web page: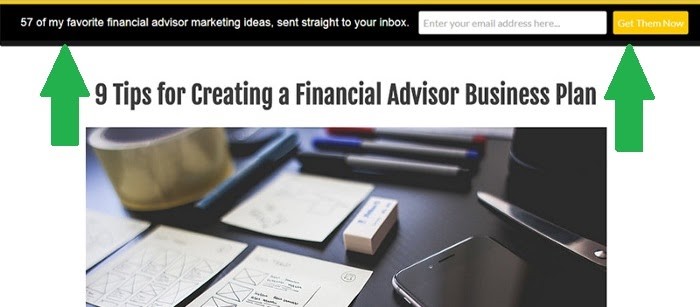 Notification bars are easy to create. When used properly, they can help you to increase your conversion and engagement rates, and ultimately increase your sales.
What's more, you can use it in building your mailing list.
In this post, you'll learn:
Benefits of Using WordPress Notification Bars
Assuming you have a sweet deal you'd like your visitors to know about. Or, maybe, an important update that you need to bring to their attention. How do you go about that without being intrusive?
This is where a WordPress notification bar comes in.
Here are some more reasons for using notification bars:
Unlike popup boxes, notification bars are non-intrusive. Thus, they don't hurt users' experience on your website.
They are the perfect way to drive your visitors to a particular page on your website instead of waiting for them to discover it by themselves. This is useful when you need to direct people to a landing page. It is an easy way to drive more sales and eventually increase your website's conversion rate.
A notification bar allows you to promote time-sensitive offers by inducing urgency via FOMO.
Notification bars are great for implementing lead magnets, thus allowing you to grow your mailing list.
With a notification bar, you can drive traffic to your social media pages simply by embedding social media icons to the bar.
Tips for Choosing the Right Notification Bar Plugin
Choosing the right notification bar plugin for your WordPress website is very important. But how do you know which is best to use since there is a slew of them out there?
The key lies in knowing what to look for in the right plugin solution. Let me show you some of them:
1. Price
Whatever plugin solution you go for should be affordable – if not free. When choosing a WordPress notification bar for your website, consider the pricing and make sure that the plugin you choose is worth every penny.
2. Ease of Use
Before you decide to settle for a plugin, check how easy it is to use. Not all plugins function in the same way. Some are a bit more technical to use because you would have to build from scratch. Others, however, come with customizable ready-to-use templates.
Knowing how easy it is to use a plugin will let you know if it suits your website. Thankfully, most of these plugins offer free trials. Within this period, you can explore and decide if it's the right fit for you.
3. Accurate Analytics
Does the plugin allow you to monitor how effective your notification bar is? If you can't monitor your campaign performance, you'll always have to guess what works or doesn't. That's bad for your business.
A good WordPress notification bar plugin should have analytic features that help you track your campaign's performance.
4. Responsiveness Across Devices
Notification bars may work fine on desktops. But what about mobile devices and tablets? And you know, most of the visitors to your website are mobile users.
To this end, whatever plugin you go for should allow you to create mobile responsive bars that flow well on all devices.
5. Email Service Integration
If you intend to build your email list with notification bars, get a plugin that can integrate perfectly with your email service provider. This will ensure that your email marketing runs seamlessly.
6. Targeting Options
A good notification bar plugin should be able to let you target the right audience. This will go a long way in improving your conversion rate.
7. Customization
Your notification bar does not have to be boring. A good WordPress notification bar plugin should provide you with the necessary tools to customize the look and feel of the notification bar you add to your website.
8. Support
If you experience technical difficulties when using a plugin, where do you turn to for help? This is why it's important to check to see if the plugin you are looking to use offers technical support.
Now that you know what to look for when choosing a notification bar plugin let me show you 15 of the best of them!
15 Best Notification Bar Plugins for WordPress
Here are 15 cherry-picked notification bar plugins you just can't go wrong with. I call them the creme de la creme of plugins.
1. Adoric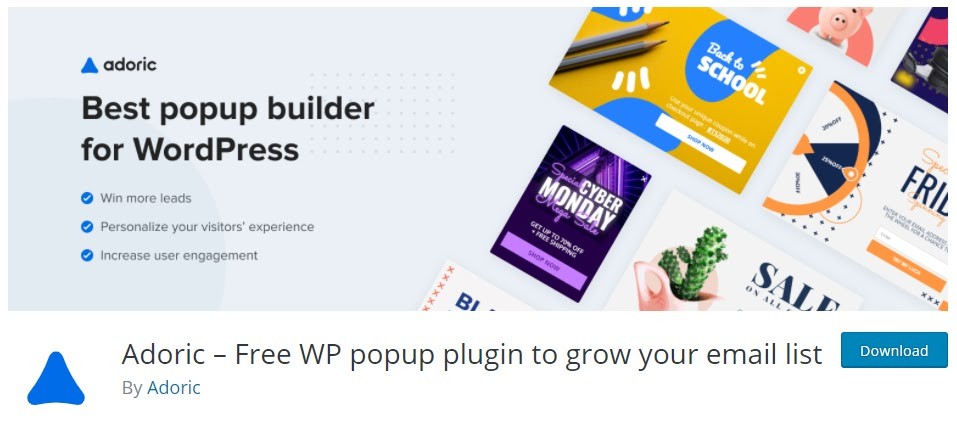 Adoric's WordPress plugin doesn't just let you create popups but also allows you to create highly converting sticky bars in mere minutes. It's easy to use, comes with ready-to-use templates, and doesn't require you to have any technical knowledge to use.
With Adoric, you get access to:
Our plugin integrates well with all major email service providers. Plus, it lets you create highly responsive sticky bars.
Did I forget to mention that it is compatible with the latest version of WordPress?
2. Hello Bar

Hello Bar is one of the best website notification bar plugins on the market. It is currently used by over 500,000 marketers and is the oldest and most popular plugin you can lay your hands on.
It is easy to use and provides features that allow you to convert visitors into customers, build email lists, generate new leads, reduce bounce rate and help drive traffic to certain pages or posts on your website.
For pricing, Hello Bar offers a free trial and subscription plans that begin at $29.
3. WPFront Notification Bar

WPFront Notification Bar is an easy-to-use notification bar plugin designed to help you boost conversions.
What's interesting about this plugin is that it allows you to automatically close the sticky bar you create with it. For example, you can make your sticky bar hide 5 seconds after a visitor sees it.
Other additional features are as follows:
Allows you to set your notification bar on a fixed display. That is, it remains in place even as a user scrolls down your webpage
Adjusts your notification bar's height and width, so it doesn't get in the way of your users
Can be hidden on small devices
The WPFront Notification Bar has a free version and paid plans that start at $29.99.
4. HashBar WordPress Notification Bar
Are you looking to create professional-looking floating bars? HashBar WordPress Notification Bar plugin is your go-to solution. With it, you can create as many notification bars as you please.
Hashbar comes with unlimited colors and images to help you create highly customized notification bars that suit your needs.
With this plugin, you can also build your email list by implementing opt-in forms on your notification bars.
Although it has a free version, its subscription plans start at $29 yearly for one website.
5. Easy Notification Bar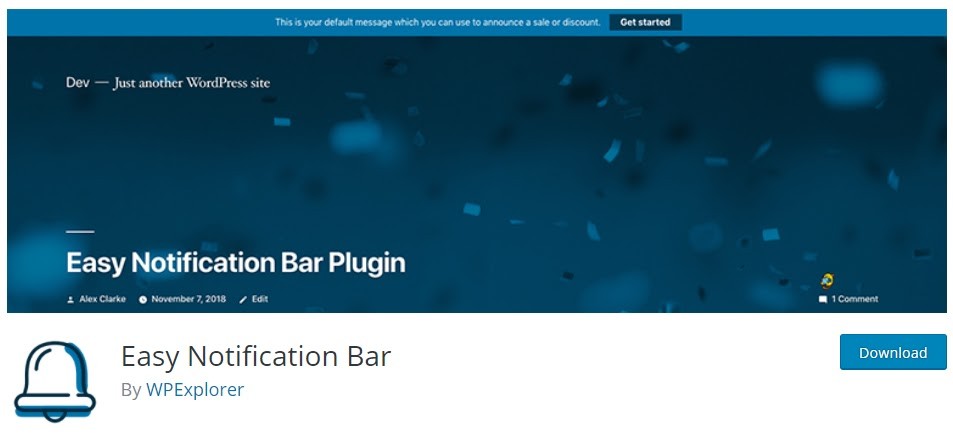 The Easy Notification Bar plugin is perfect for notifying your visitors about a current sale, an upcoming event, or other kinds of announcements.
By default, notification bars you create with this plugin are displayed at the top of your webpage. You can either choose to let it disappear or remain on the page as your visitor scrolls. It also allows you to enable a "close" button that allows your visitors to close the notification bar after viewing it.
The Easy Notification Bar plugin makes it possible for you to create responsive designs that equally appear attractive on mobile devices. It allows you to customize background colors, font size and align your text to suit your requirements.
6. WP Notification Bar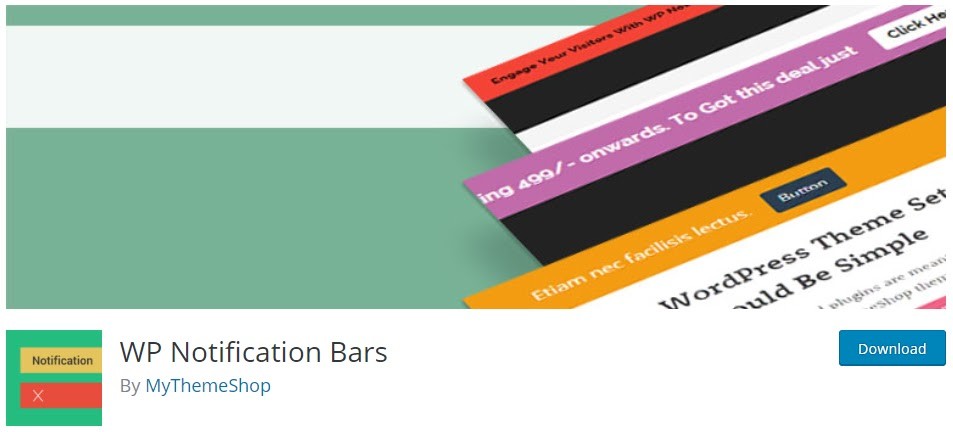 Sixth on this list is WP Notification Bar. With it, you can alert visitors about your promotion. It is a simple, easy-to-use marketing solution.
The WP Notification Bar is lightweight and so won't affect the performance of your WordPress website. It enables you to create as many notification bars, also letting you customize them as you wish.
With the WP Notification bar plugin, you can customize your CTA button, notification bar size, and positioning. It also comes with a targeting feature that lets you display your floating bar to the right people.
WP Notification bar provides language translations and has a support team that is available round the clock.
7. FooBar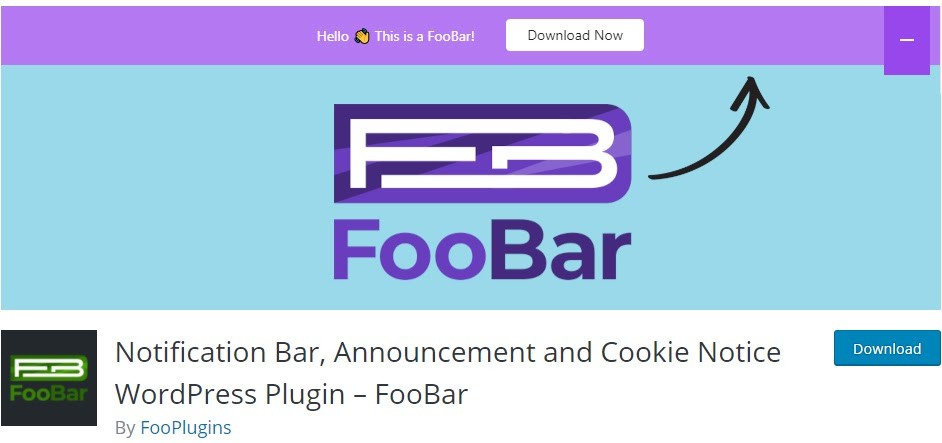 If you want to create an attention-grabbing, colorful notification bar that converts like crazy, FooBar is the plugin to use.
Also, it lets you implement FOMO in easy steps. You can use it to notify your web visitors about cookies on your website.
Setting up and using this plugin is a breeze. Interestingly, it comes with dozens of pre-made floating bar templates that you can use right off the bat, thus saving you the trouble of building one from the ground up.
8. Themify Announcement Bar

Created by Themify, this is one dependable plugin you can use for creating highly responsive, noticeable, but less intrusive notification bars. Not only can you customize the contents of your notification bars, but you can also schedule the implementation of the notifications bar, so they are automatically displayed at a specified time.
Themify Announcement Bar plugin is compatible with all WordPress themes. It provides customization features that allow you to:
Align texts in the notification bar
Select whatever font style you want
Select colors you want
Customize the height, width, and display options
Add a close button to your notification bar
It also lets you display your announcement bars anywhere on your website.
Want to buy this plugin? It costs only $19.
9. Apex Notification Bar Lite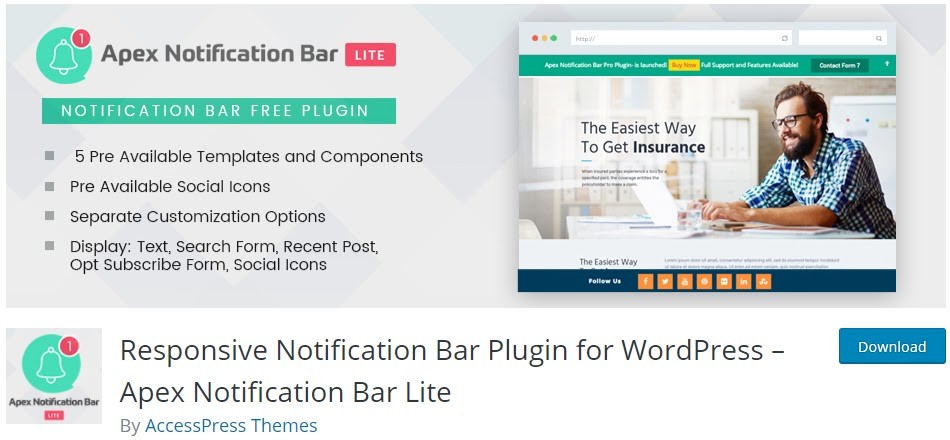 Apex Notification Bar is a highly responsive WordPress notification bar plugin that is easy to use.
The Apex Notification Bar comes with 5 pre-built templates to get you started on creating your notification bar. You get 15 templates when you upgrade to its paid plan. It also provides additional pre-built components like ready-made social icons.
This notification bar plugin makes it possible to alert your visitors of recent news and updates on your website, as well as current promotions and offers.  You can as well use it to let your visitors know that you use cookies.
With the Apex Notification Bar, you can customize your notification bar's size, shape, style, orientation, and color.
The Apex Notification Bar supports language translation and is compatible with all browsers.
10. Top Bar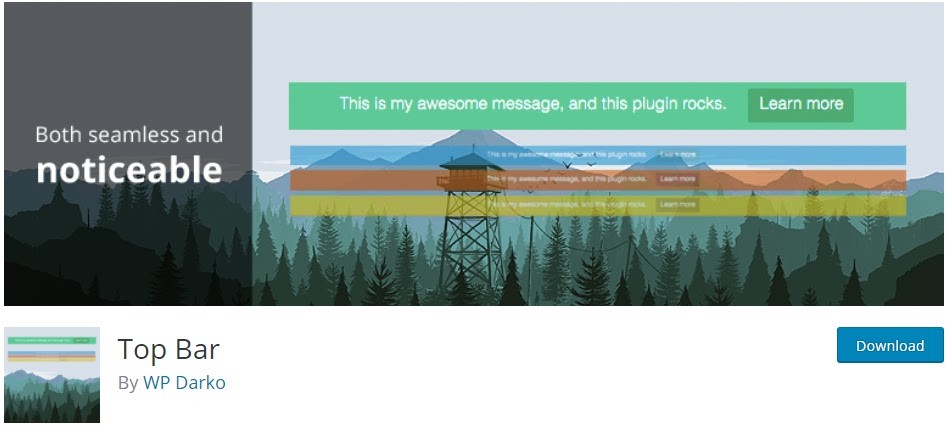 Top Bar makes adding a floating bar to your WordPress website easy peasy, lemon squeezy. It is free, easy to use, and makes it possible to create efficient notification bars.
With this free plugin, you can customize your message and add a custom link to your floating bar. Top bar plugin WordPress supports language translation.
The free version of the Top Bar WordPress plugin is, however, limited. As such to get the most out of it, go with the pro version.
Subscription plans start at $16 per year for a single website and $39 per year for an unlimited number of websites.
11. SeedProd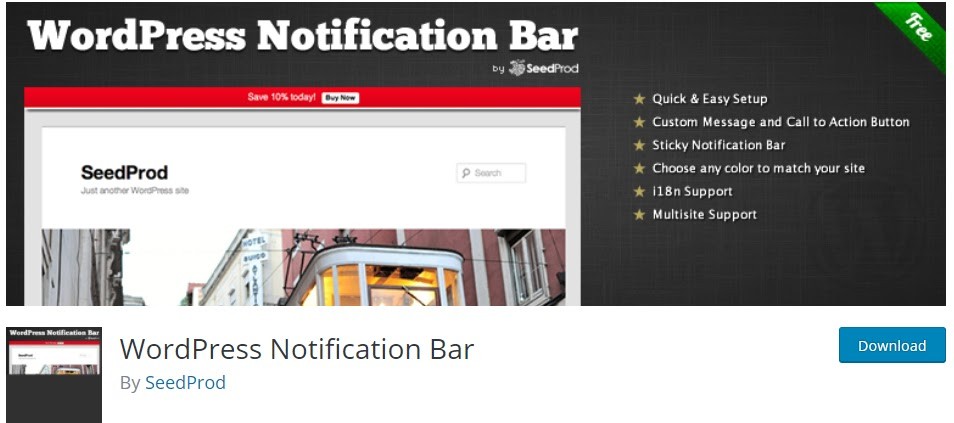 SeedProd's WordPress Notification Bar provides many great features and helps you increase sales and grow your customer base.
This plugin comes with design features that allow you to customize your notifications bar as you want. You can tweak the font style, colors, and positioning to your heart's content.
12. Icegram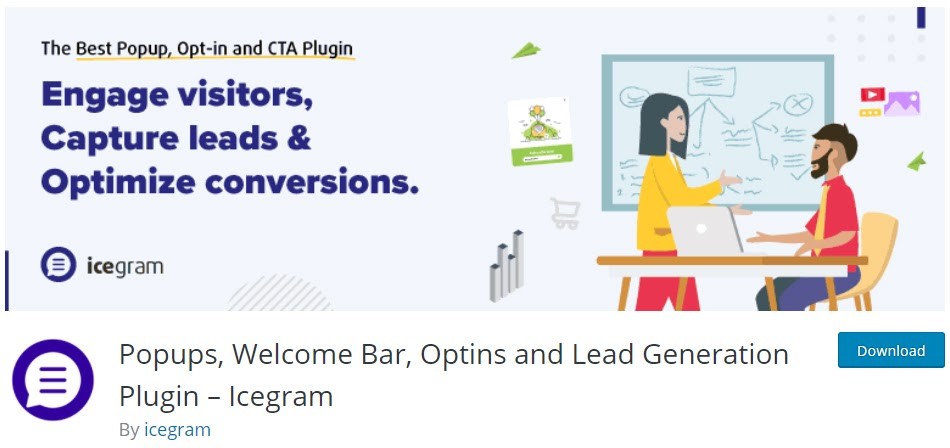 Icegram has all you will ever need to create an attention-grabbing announcement bar for your WordPress website.
You will find this plugin particularly useful if you are looking to grow your subscriber base.
It does this by providing 4 different opt-in types:
Lightbox popups
Header and footer action bars
Toast notifications
Slide-in messengers
Icegram also provides powerful features like A/B testing, targeting and trigger options, analytics and reporting, exit intent, and VIP support.
13. Poptin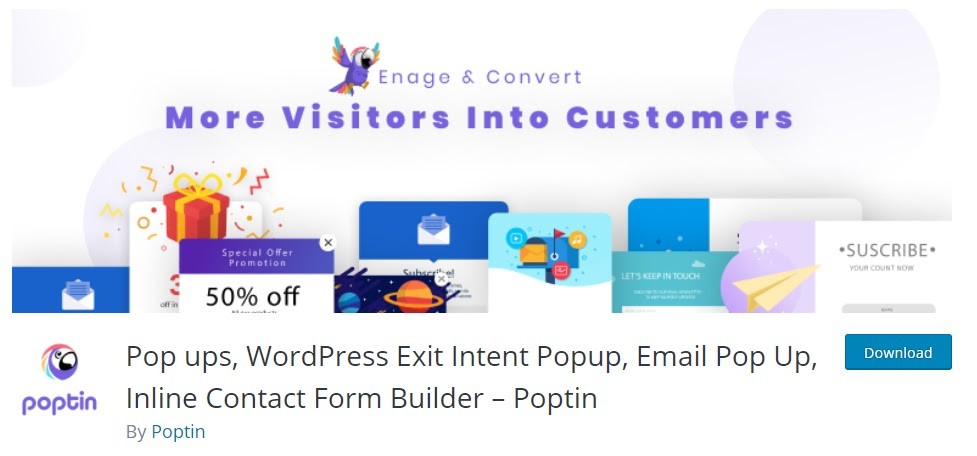 If increasing your visitor's engagement is your top reason for using a notification bar, Poptin is your best bet. With Poptin, you can easily create a notification bar for your WordPress website with zero coding skills required.
Poptin notification bars help to increase engagement, capture leads, improve sales, get more email subscribers, and reduce cart abandonment. It comes with various text options, colors, and form options for you to choose from. Additionally, Poptin lets you allows you to place your notification bar at the top, middle, or bottom of your webpage.
It also has a drag-and-drop builder. Plus, you can create exit-intent floating bars with it. That is floating bars that appear when a visitor motions to leave your website.
14. Sumo Smart Bar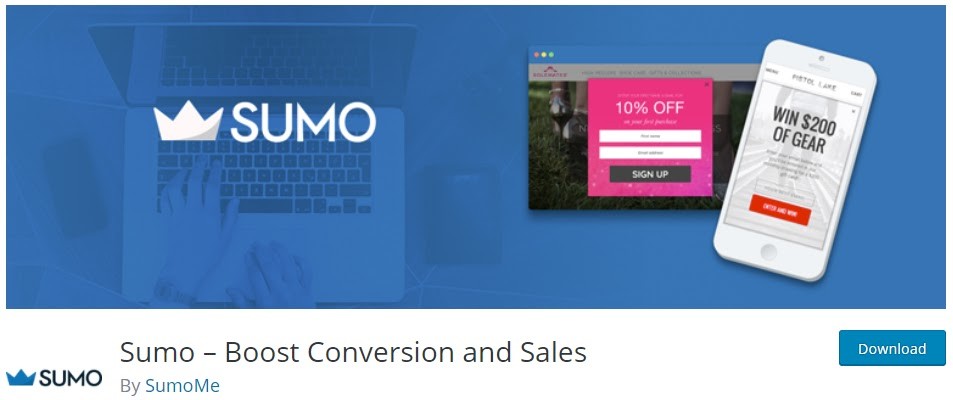 Sumo Smart Bar is yet another plugin that lets you create high-converting floating bars on your website.
With Sumo Smart Bar, you can customize your notification bar just as you want. You also get 15 gorgeous templates to choose from for every campaign you create. With Sumo, you can set display rules and carry out A/B tests on your notification bars.
Sumo allows you to use their plugin for free and upgrade to paid plans as your customers increase.
15. Mailchimp Top Bar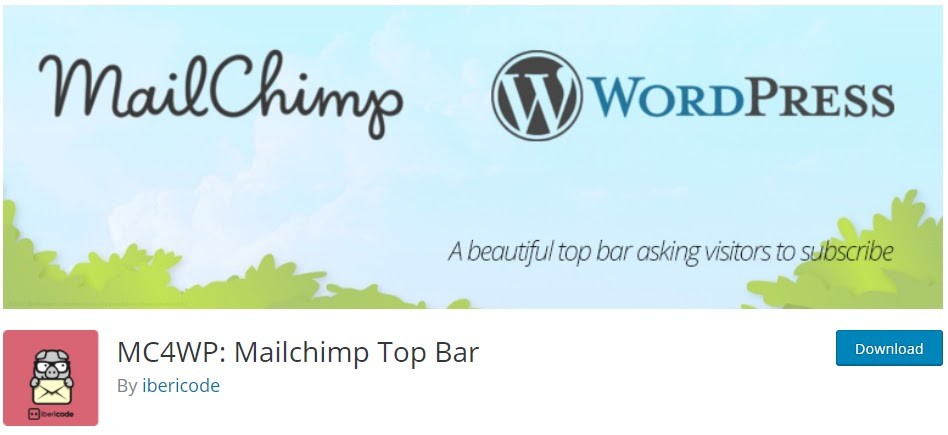 Mailchimp Top Bar is an easy-to-setup plugin that allows you to create attractive, non-intrusive notification bars. It enables you to customize your notification bar and gives you the option to implement it either at the top or bottom of your website.
Conclusion
There you have it- the 15 best notification bar plugins for WordPress.
Is using a notification bar on your WordPress website really worth the effort? Well, I believe that by now you have your answers.
On a closing note, Adoric is undoubtedly the best notification bar solution on the market. Why not sign up for a free account to see things for yourself.