Adoric's drag and drop builder is packed with thousands of free graphic elements you can use to create stunning, visually appealing campaigns.
And the more visually appealing your campaigns are, the better your chances of converting visitors that interact with them into customers.
The best part is, these elements are all free! No hidden fees.
Let's now dive in to see some of these elements, and how you use them to improve your designs.
GIFs
Gifs, since their inception in the '80s, have been actively used by brands looking to connect with their audience.
Compared to images, Gifs are better at generating and retaining users' attention. On top of that, they are more fun to interact with.
What's more, Gifs are more effective than videos for marketing, in that they are cheaper and consume less bandwidth, but yet deliver amazing results.
You can access the millions of Gifs available on GIPHY, right from Adoric's design editor.
Here are some creative ways you can use Gifs in your campaign designs.
1. Show different colors, sizes, and variants of your products, without taking up much space, like so: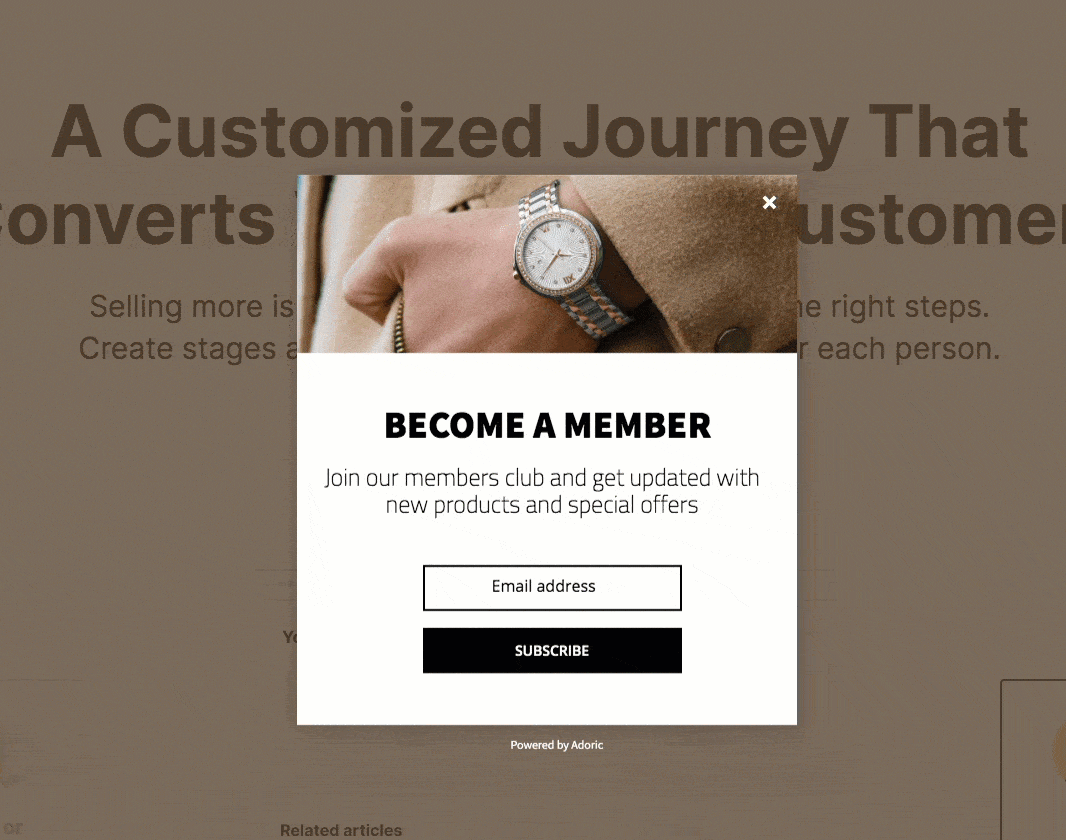 2. Use them in your call-to-action (CTA) components
3. Encourage users to share your content on social media
Stuck on ideas? We created a detailed guide to ways you can use Gifs creatively in your marketing. Do well to check it out.
Illustrations
Did you know that using illustrations in your marketing strategy can make your brand stand out from your competition?
When used creatively, illustrations can make your business come off as unique and memorable.
And the more memorable your brand is, the more loyalty you will get from your customers.
Adoric's design editor comes with a ton of illustrative elements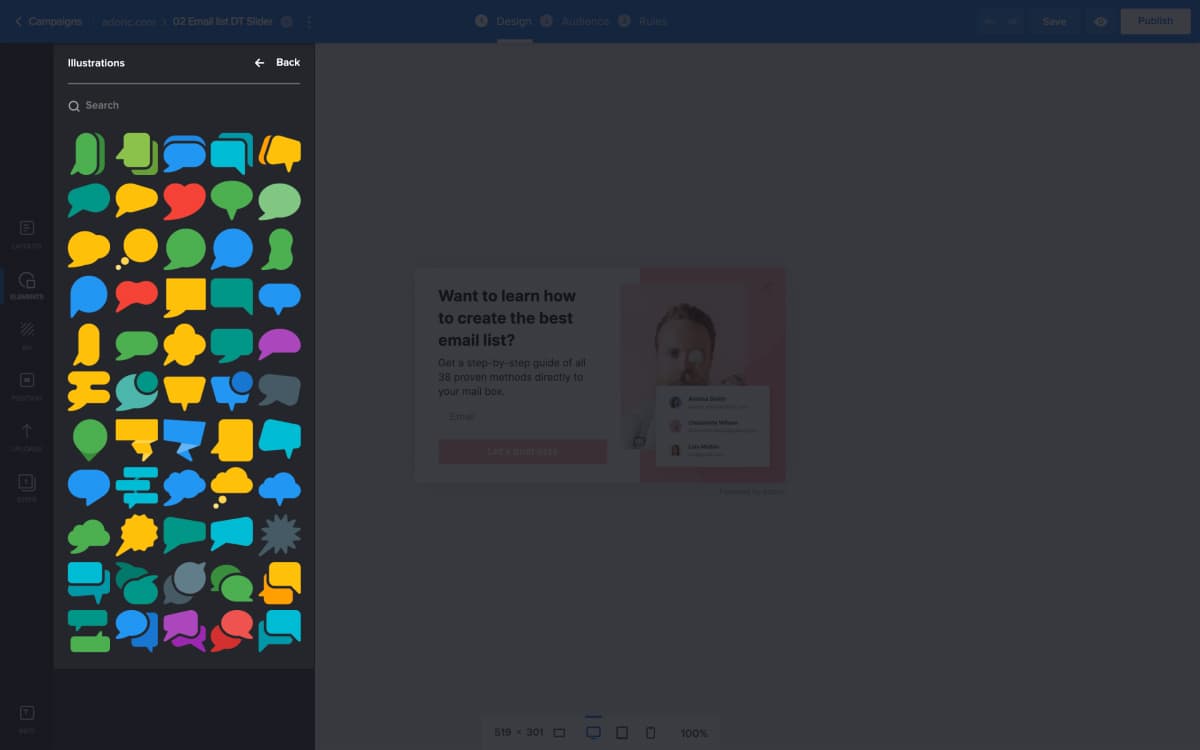 Using these illustrative elements in your popups, sticky bars or sliders will make them more attention-grabbing.
Icons
Icons are another visual communication tool you can use to amp your marketing.
You will find loads of carefully-crafted, free icons in Adoric's design editor.
Thus, you no longer need to spend hours searching the web for icons to use in designing your campaigns.
Here are some creative ways to use Adoric's icons in your marketing designs.
For describing how features of your product work.
To provide direction for using your product
For creating attention-grabbing call-to-action buttons
To drive traffic to your social media pages
The possibilities are endless. Your imagination is only what limits you.
Emoticons
Emoticons are graphic icons that allow you to communicate your emotions to whoever cares to listen.
Hence the name emoticons: emotion + icons.
You often use them when texting and chatting, right? Definitely 😎!
But did you know that you can use them in your marketing campaigns to increase conversion rate and improve user engagement?
Here are more ways you can use emoticons
Personalize your campaigns
Add fun and humor to your messaging
Arouse curiosity
As you might have guessed, Adoric is no slacker with emoticons. No matter what you wish to communicate, there is an emoticon for it in Adoric.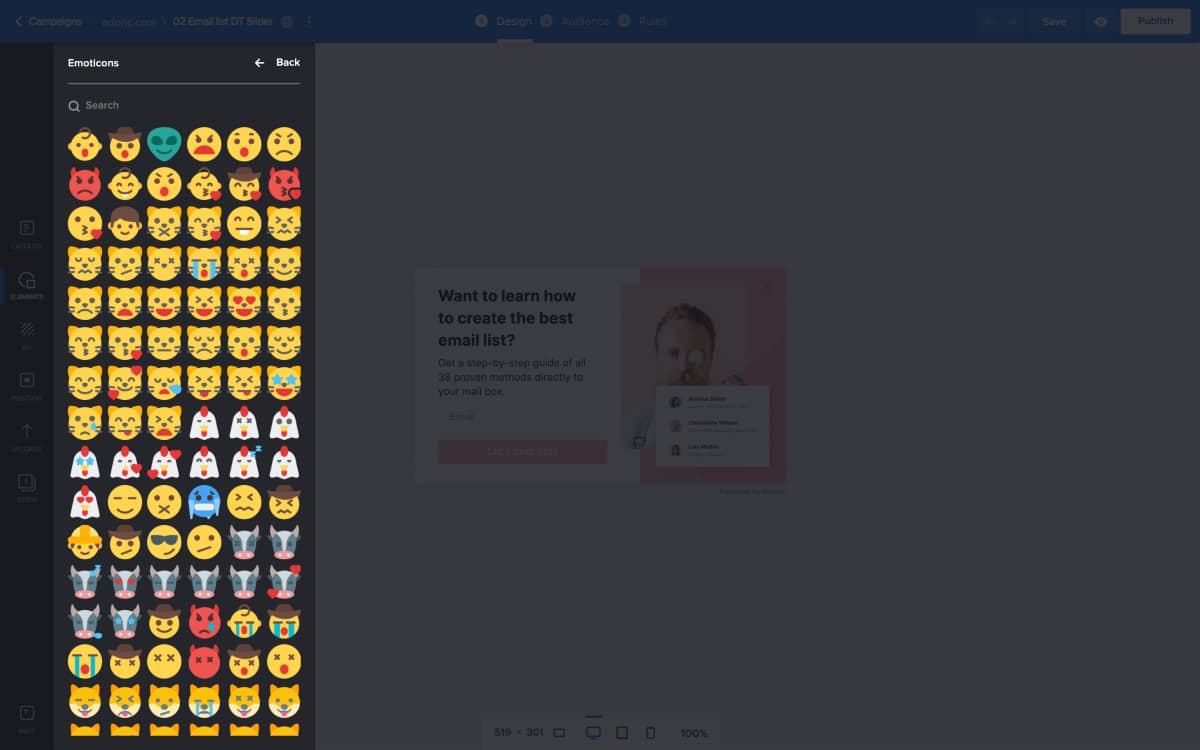 What Next?
Curious to know how Adoric's free graphic elements can help amp your marketing campaigns? Why not sign up for a free account today.
Yep, it's free, and it's going to be so forever!